Subscribe to the CameraIO Newsletter
Photography & Camera News + DEALS
Photographers have a variety of gear and essentials that they carry with them to make their life easier and help them achieve quality results. However, if you travel from time to time, you may have a hard time choosing a backpack that allows you to carry the equipment conveniently.
Some of the factors you should keep in mind when choosing the right backpack for your needs include portability, comfort, security, durability, and stylish design. You may also want to think about your budget and the backpack category in which your preferred bag falls.
This handy guide contains information on some of the best camera backpacks for airline travel and the factors to consider when choosing a camera backpack. A comparison of these top models is designed to make your work easier and help you make an informed choice.
Best Cameras Backpacks for Airline Travel
To choose the best camera backpack for your needs, you should not only understand your needs but also familiarize yourself with the options available on the market. Here are some of the best camera backpacks for airline travel: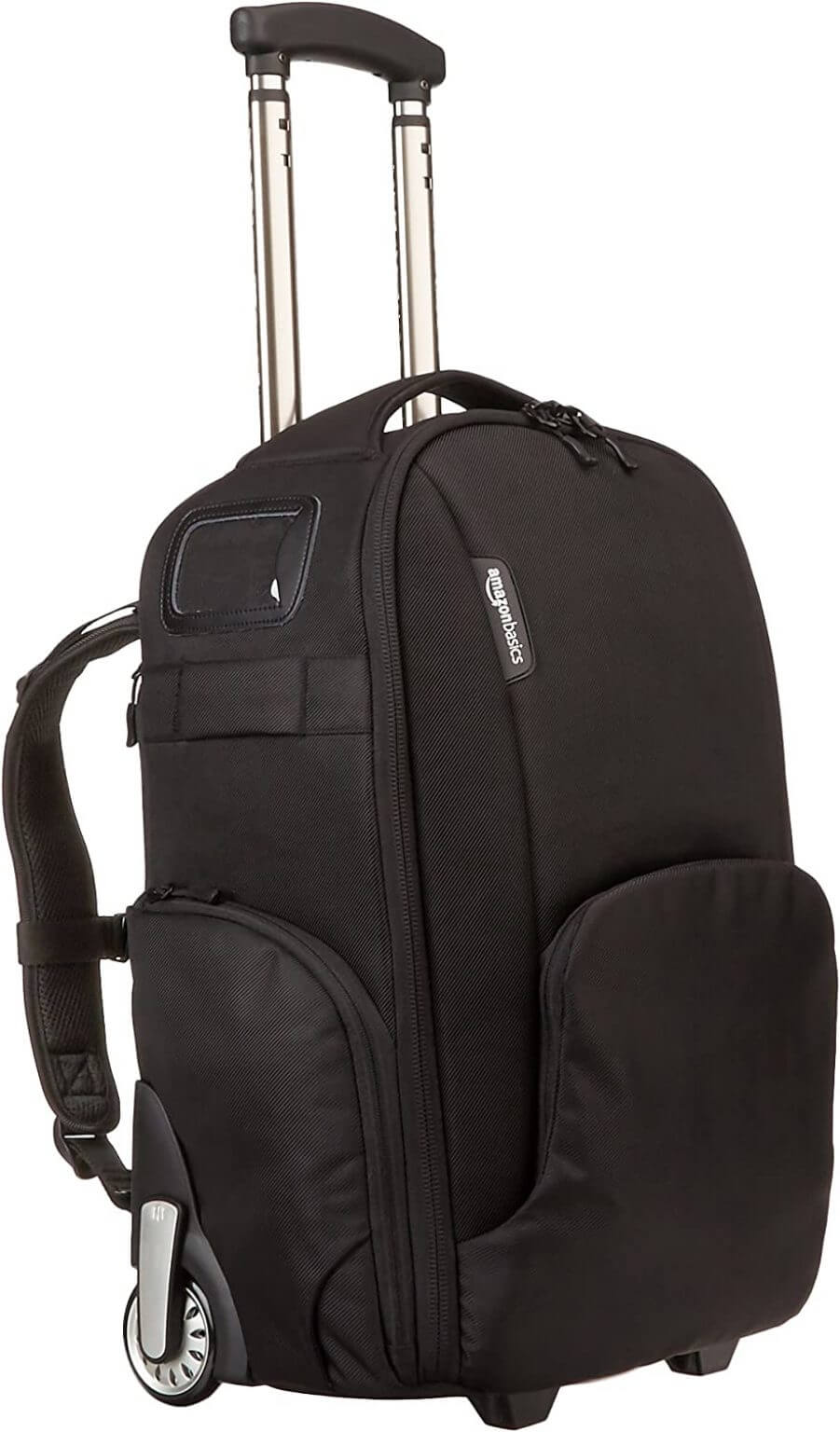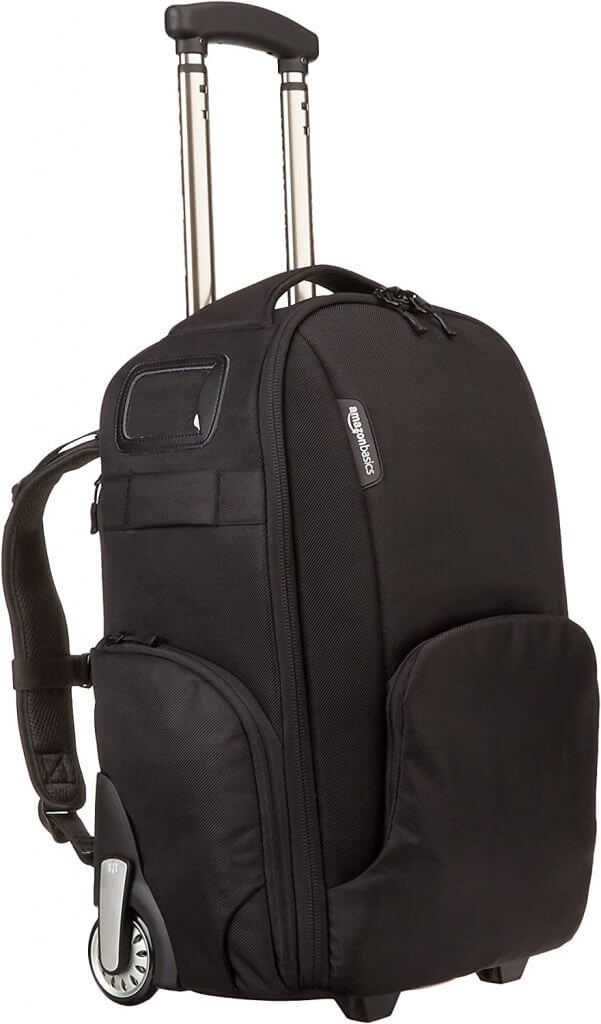 1. Best for Portability: Amazon Basics Camera Backpack Bag
There are several reasons why you may want to consider this backpack. The travel bag is versatile and has a large capacity to accommodate all your supplies. This bag has wheels for easy mobility and padded shoulder straps for increased comfort.
In terms of utility, this bag converts from a rolling case to a backpack, allowing you to transport your photography equipment easily and conveniently. The bag's large size accommodates plenty of gear and equipment, while the rollerblade-quality wheels promote straightforward mobility.
Whether you are in an airport terminal, moving from home to an event, or have to cover uneven terrain, this backpack ensures you do not leave any gear behind. To ensure effortless transportation, this bag features adjustable padded shoulder straps for a secure hold and enhanced comfort. These straps clip onto four loops on the back of the backpack and can be hidden when not in use.
The backpack is thoughtfully designed, with several compartments that make for innovative storage space. The main compartment can fit a full DSLR body with a lens attached. The other eleven compartments are perfect for holding batteries, chargers, lenses, filters, and other essentials. There is also a padded compartment that is ideal for a laptop or mobile device and two side pockets for personal supplies.
A telescopic handle extends smoothly so you can roll the backpack from one place to another, and collapses down for easy storage when not in use. A rugged top handle offers a secure grip for when you need to carry the backpack over shorter distances.
This bag has a luggage ID tag holder so you can attach your contact for easy and quick identification of your luggage. There is a rain cover that protects your bag and valuables from dirt, dust, rain, and outdoor elements while ensuring easy access to stored contents.
---
2. Runner Up, Best for Portability: Lowepro ProTactic 450 AW Camera Backpack Bag
The Lowepro 450 AW backpack is another great option for those looking for a portable bag. The bag has a large capacity and padded dividers, making it possible to hold a variety of items and keep them separate. A waist belt provides support and an all-weather cover keeps your bag and valuables safe from the elements.
This backpack features a max fit System of padded and adjustable dividers and generous dimensions, ensuring the bag can accommodate plenty of camera gear. The ActivZone harness promotes ventilation and targeted comfort so you can enjoy enhanced support while on the move.
This technology provides support at the shoulder blades, lumbar, and waist for effortless transportation. A waist belt can be worn to increase support and storage and is removable to reduce the profile when packing or traveling. Five modular accessories that include an accessory case, water bottle pouch, two cinch straps, and tripod cup deliver versatility. The backpack has a lightweight design that makes it great for photographers who travel frequently.
The Slip-lock compatible strap system lets you create limitless set-ups for flexibility. The Cradle Fit pocket holds and protects your laptop so you can achieve professional results and share your content conveniently. This backpack has multiple interiors and exterior pockets that let you keep your accessories organized and within easy reach.
As you travel from one place to another, you will want a bag that helps to keep your valuable gear safe from damage. The built-in all-weather AW cover of this bag safeguards your valuables and protects the pack from the elements.
---
3. Best for Comfort: Beschoi Waterproof Camera Backpack Bag
The best camera should be comfortable to carry, allowing you to transport your gear and equipment over both long and short distances. This Beschoi backpack has a large enough capacity to hold and help to protect your valuables. The multiple compartments make it easy to keep your items organized and easy access points let you retrieve stored items easily. The wide and thick shoulder straps have an air mesh design for easy carrying and ventilation.
The Beschoi bag is designed to help you carry and protect a DSLR camera with a maximum of the eight-inch lens attached, tripod, additional lenses, and other accessories. This multi-functional camera backpack has three main storage areas.
The tops compartment holds small items such as data cables, batteries, cellphones, wallets, and keys. You can store your SLR camera kit and auxiliary lens in the middle compartment, while the bottom one houses a flashlight and a telephoto lens whose maximum length is 22cm. This bag features a special design that includes body-side access, allowing you to retrieve your gear quickly and easily.
In addition to holding your photography equipment, this backpack offers protection from damage. The construction of the bag features a waterproof high-quality nylon material that is also scratch-resistant, wear-resistant, and tear-resistant. These qualities ensure durability and long-lasting performance. Other notable features that you are likely to love to include an external tripod attachment and air-mesh straps.
The widened and thickened shoulder straps make it easy to carry the bag and have D-shaped metal rings for hanging items such as water bottled. The air-mesh design keeps you cool when traveling in hot weather.
---
4. Best for Stylish: K&F Concept Multi-Functional Camera Backpack Bag
The K&F concept backpack is lightweight, making it a great airline for travel. It also holds one camera as well as other accessories, a factor that lets you keep your supplies in one bag for convenience. The quality, waterproof material offers protection from the elements, while the breathable air mesh shoulder straps promote easy travel. Intimate protection safeguards your camera essentials against damage.
This multi-functional bag is divided into two parts: the upper compartment is designed for clothes while the lower one holds your gears. This ensures that you have the supplies you need when traveling for several days. The inside of the backpack provides increased protection for your equipment and four small pockets keep batteries and SD cards.
There are also four divided compartments and a removable PE board so you can adjust the space according to your needs. Bodyside access lets you access your camera, lenses, and other accessories without having to put the bag down. Backside access guarantees the safety of your valuable gear.
The backpack features tripod straps that allow you to bring a lightweight tripod along. There is also a dedicated pocket that holds up to 17-inch laptops for editing and posting your content conveniently. The wide and thick shoulder strap and back work together with the adjustable chest belt to provide support and reduce weight.
This ensures comfort and easy carrying, especially for long-time travel. The rain cover protects your camera essentials against dirt and dust outdoor.
---
5. Runner Up, Best for Stylish: Bagsmart Anti-Theft Camera Backpack Bag
Photographers looking for a stylish traveling bag can also consider this bagsmart backpack. The backpack has two main compartments that let you keep stuff separate and a padded compartment to protect your gadgets from impact. The shoulder straps promote easy and comfortable carrying, while the generous dimensions and tripod holder ensure you carry all the gear you need.
This backpack is lightweight and features 210D water-repellent and rugged polyester material to protect your equipment from the elements. The lightweight design promotes portability while multiple storage zones accommodate one DSLR camera, laptop, a tripod, clothing, and other small accessories.
Two side pockets provide additional storage space for water bottles and an umbrella. You also get a front zipper pocket with divided sections, a back zipper pocket with a Velcro strap, two internal spaces, and an upper part with a small bag inside.
This backpack offers great convenience when traveling and in daily life. The camera insert and dividers are well padded to ensure maximum protection; while the padded back and harness let you carry the bag comfortably.
Dedicated pockets are designed to help you keep your essentials well organized and the unique design means not everyone will know it is a camera backpack. Some of the other features that offer convenience include the waterproof and durable rain cover that keeps the bag and content dry.
The anti-scratch and durable materials are easy to clean while the simple straps provide anti-theft security. This versatile camera backpack is compatible with a wide variety of camera models for flexibility.
---
6. Best for All-Weather: Endurax Waterproof Camera Backpack Bag
This Endurax backpack is great for traveling, thanks to the modern design, large capacity, and flexible dividers. The bag is also lightweight and is made from high-density weather-resistant material that stands up to extreme weather conditions. Hardshell protection for your DSLR keeps your device safe from impact and the elements. The material is not only water-resistant but also strong and durable for long-lasting use.
This backpack features customizable dividers and multiple pockets that provide ample room for all your photography gear. You can remove the padded dividers when you want to use the bag as a normal daypack or laptop bag. The main compartment fits one camera body with a lens attached, one flash, four extra lenses. There is also a small pouch that holds a tripod foot and a strap for protecting your small travel tripod.
In addition to the tripod pouch, you have a small zipper pocket where you can store tiny stuff. Since you will be carrying valuable gear, the backpack has a PVA front armored panel that ensures maximum protection for the equipment.
In addition to the hard shell protection, the waterproof fabric from which this bag is made also works to protect your gear from a variety of outdoor elements. This material is also built to last, a factor that assures you of rugged outdoor use for many years.
The luggage strap that slides the backpack over the luggage tube ensures that your travel is easier, while airflow back padding and adjustable shoulder straps make it more comfortable to carry the bag during outdoor activities.
---
7. Runner Up, Best for All-Weather: TARION Waterproof Camera Backpack Bag
If you are looking for an all-weather camera backpack for airline travel that will still offer durability, this Tarion backpack may be just what you need. Apart from having a large capacity, the bag is made from waterproof material that keeps your gear dry and protects them from outdoor elements. The bag distributes weight to ensure easy carrying and provides easy access to contents.
It is important to understand some of the features that make this bag all-weather. The backpack is made of durable, water-resistant material to safeguard your camera essentials from dust and heavy rain. Whether there is a drizzle or downpour, the gear inside the bag will be safe and sound.
This helps you travel to different locations and shoot in almost all conditions. A huge capacity holds one DSLR camera, a compact camera, three lenses, a flash, and an iPad. There is also room for a travel tripod and other essentials that make your life easier.
You will also like the side and back access that lets you grab items quickly and easily. The main bottom compartment is accessible from the back to enhance security and help prevent theft of your belongings. There is an expandable inner top drawstring that offers up to 10% of additional space and anti-theft clips that provide added protection for your equipment.
The tablet compartment holds two tablets comfortably and the laptop pocket that accommodated 15.6-inch laptops has ample room for accessories such as batteries and SD cards. S-shaped padded shoulder straps provide comfort and the inner lining features shock-proof protective padding.
---
8. Best for Security: Think Tank Camera Backpack Bag
The think tank camera backpack not only offers security but also features a unique design that promotes portability. The bag accommodates lots of gear so you have everything you need when traveling. The lightweight design lets you carry your equipment comfortably over long and short distances.
Every photographer who travels from time to time has gear and accessories that they need to bring along. With this Think Tank camera bag, you have adequate space for holding your stuff, thanks to the generous dimensions. The bag meets the US and international carry-on requirements, a factor that makes your traveling experience seamless and stress-free.
There are dedicated padded laptop and tablet compartments in a lockable pocket that allow you to store your mobile devices safely. The main compartment features TSA-approved zipper locks for increased security, while the laptop compartment has a high-strength coated cable and combination lock. The cable lets you secure the bag to an immovable object to help minimize theft.
Other features that make this bag ideal for traveling photographers include the adjustable handle that extends when you want to roll the bag and collapses down to conserve space during storage.
The padded top and side handle offer a secure grip when lifting and carrying the bag over short distances. Two wheels offer effortless mobility when moving around airport terminals, uneven terrain, or traveling from home to events.
---
Buying Guide For The Best Camera Backpacks for Airline Travel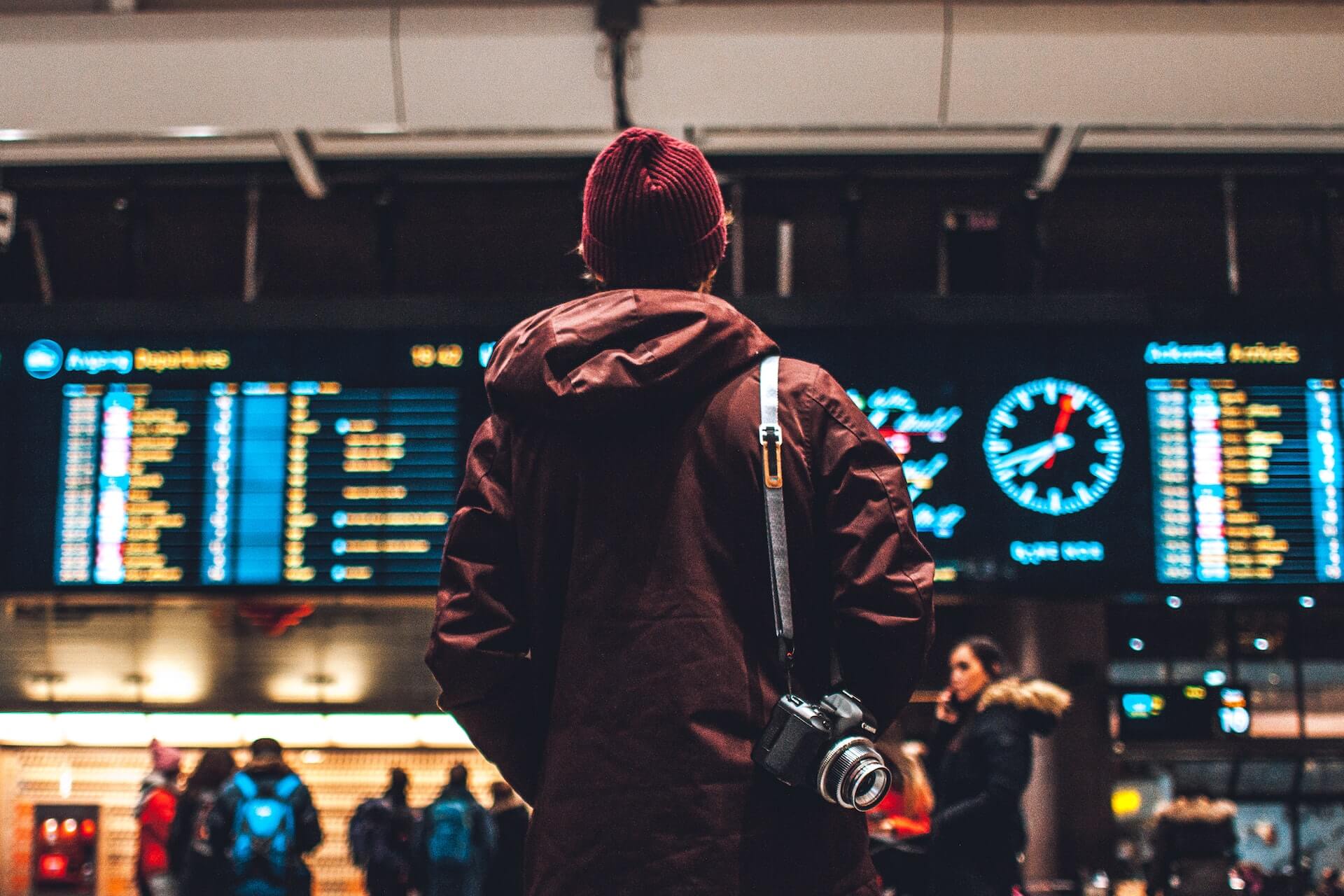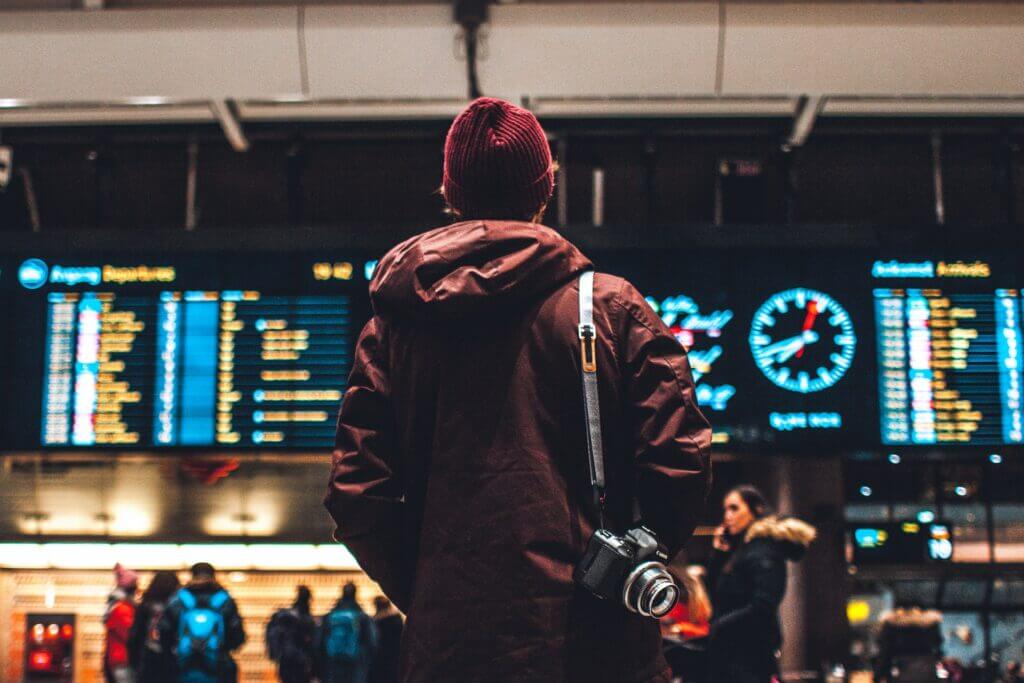 With the numerous options available on the market, choosing the best camera backpack is a difficult task. If you are to make the right choice, there are several factors you will have to keep in mind.
Weight capacity
Whether you pursue photography as a hobby or profession, you will need to bring along different equipment to help you achieve professional results. If you travel frequently for your shooting sessions, you will need a backpack that allows you to carry the gear conveniently.
The best backpacks for airline travel should not only offer adequate storage space but also have a reasonable weight capacity so you can carry all the gear you need. The weight capacity should be such that the bag can comfortably hold your camera, travel tripod, mobile devices, clothing, and other essentials.
Portability
Besides being able to provide ample space for lots of camera gear, the camera backpack you choose should be portable. This will promote easy carrying and make for a great travel experience. Some of the factors that increase portability include a lightweight design, wheels for mobility, a telescopic handle as well as top and side handles that deliver a secure grip.
These features let you move around easily in airport terminals, over uneven terrains, and to an event or preferred shooting location. You can try out different backpacks to find out if they provide effortless portability over both short and long distances.
Durability
Photographers travel to different locations and work under various conditions to get the perfect shot. To ensure that the backpack you choose will serve you for many years, you should choose a product made from quality and durable materials.
Materials that stand up to heavy-duty use and extreme weather conditions will offer durable performance and protect your camera gear from the elements. Also, the seams should be strong and well-done to ensure that the materials do not come apart when the bag is in use. A durable camera backpack will also offer you the flexibility you need, allowing you to travel to almost any location.
Comfort
A good camera backpack should be comfortable to carry so that you can enjoy a hassle-free traveling experience. Excellent comfort when carrying the bag means that you will be able to carry as much gear as possible and will avoid back and shoulder pains.
Most of the camera backpacks that provide comfort have padded shoulder straps made from breathable material so you remain cool even when traveling in hot weather. Some bags feature a waist belt to enhance comfort, while others ensure even weight distribution so you can carry your equipment for long without straining.
Stylish
Apart from functionality, every photographer will want a camera backpack that looks attractive and stylish. You will need a backpack that, in addition to helping you carry your camera gear, will make you look forward to your next photography session.
A stylish bag will make you feel great about yourself and your passion, allowing you to spend more time taking photos and improving your skills. Most stylish camera backpacks for airline travel have unique designs that offer you amazing features for stress-free travel and photography. In the end, however, you should never compromise quality when looking for a stylish look.
Security
Camera gear and equipment make for an expensive investment. When traveling with your gear, you will want to ensure that your stuff is safe from theft and damage. A good camera backpack will hold your equipment and help to keep it safe from thieves.
Some of the features that help to enhance security are smart zipper locks, simple straps for anti-theft, compartments that are accessible in a unique way, and bags that let you attach your luggage ID for easy and quick identification. Such bags ensure you enjoy peace of mind regardless of the destination you are traveling to.
Bottom line
Before choosing a camera backpack for airline travel, you should take the time to understand your needs. This will make it easy for you to identify the features to look for in a bag. You should also compare the different options available on the market.
This will help to determine what works for you depending on the use to which you want to put the backpack. In the end, the camera backpack you buy should accommodate lots of camera gear, be portable, ensure comfortable carrying and keep the contents safe and secure.
Related Posts:
Read More:
Subscribe to the CameraIO Newsletter
Photography & Camera News + DEALS