Subscribe to the CameraIO Newsletter
Photography & Camera News + DEALS
Don't you just hate it when you take blurry videos and images? A slight shift in movement during filming can affect what could have been the best shot. Since you cannot stop moving or limit the movements during shots, you must use a gimbal to hold your camera in place as you film. Other than helping you to hold your camera, a gimbal also helps to stabilize it and make sure the shot is not affected by your movements.
Gimbals exist in different shapes and sizes and will vary from camera to camera. If you own a Sony A7 series such as A7iii and A7riii, then read on to learn which gimbals are perfectly suited for your camera.
Best Gimbals for Sony A7iii & A7riii (Reviews)
This article will highlight the five best gimbals to suit your A7iii and A7riii by looking at different features that make them uniquely qualified for the job.
We have compiled some of the best products on Amazon based on their performances, how they have been rated by people who have bought and used them, and the different price ranges.
After reading this article, you will make an educated decision and only be exposed to the best in the market. Read on to find out: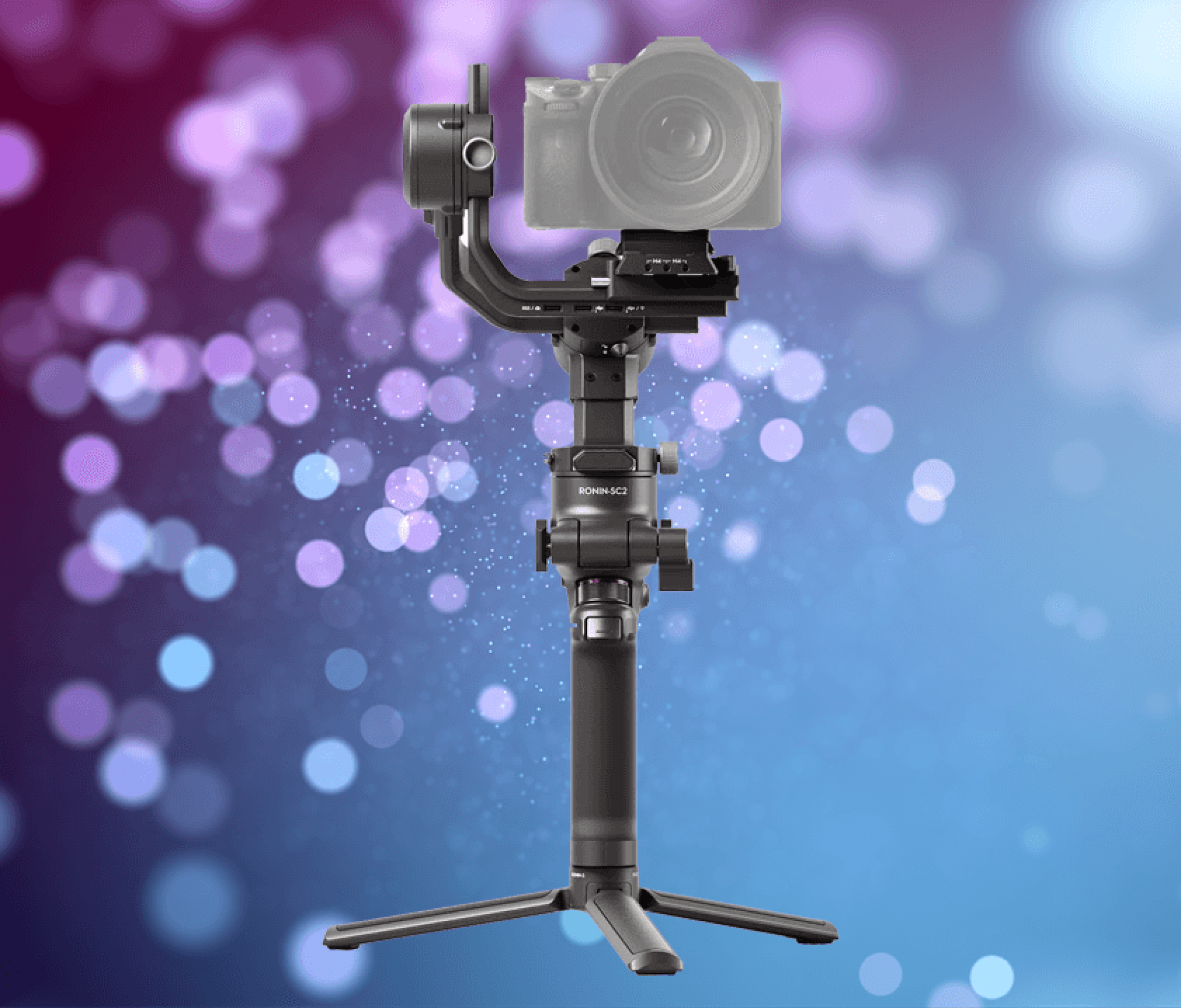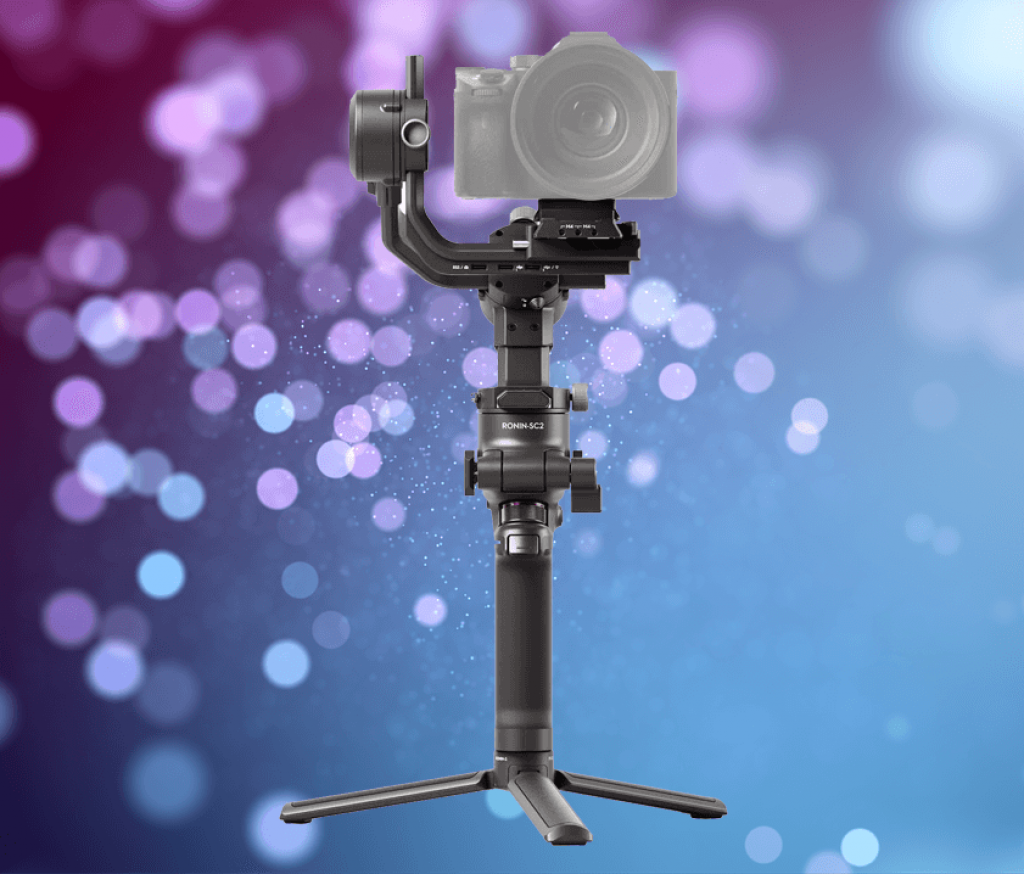 Best gimbal for sony a7iii: DJI RSC 2
The first thing that captures your attention with this product is the design. The camera holder is designed to handle and keep a camera firmly in place and won't allow it to move. A twist grip dual-handle is extending from the camera holder, allowing you to hold the camera in place without worrying about it slipping. The design is also foldable in multiple places allowing you to store and transport easily. When folded, this product is smaller than an A5 paper.
Aside from what you can see, there is also the issue regarding performance. Built to offer stabilization, this product comes equipped with a Titan stabilization algorithm, which is the best in the world to offer steady shots and improve torque. To compensate for micro-movements, the manufacturers have included the SuperSmooth mode that helps to correct these small movements during shoots, allowing you to stabilize even the 100mm zoom lenses.
Swift control is something that the manufacturers focused on when they built this product. For starters, camera control buttons, power buttons, Joystick, M button, battery level button, and trigger are all located within one area where you can access them easily. Through the ingenious design, you can also switch to portrait mode, which comes in handy for those people making social media content. It also weighs less than 5 pounds, making it easy for you to carry and move around your set as you shoot from different angles. If you want to make professional videos with little to no blurry scenes, then this is the product for you.
---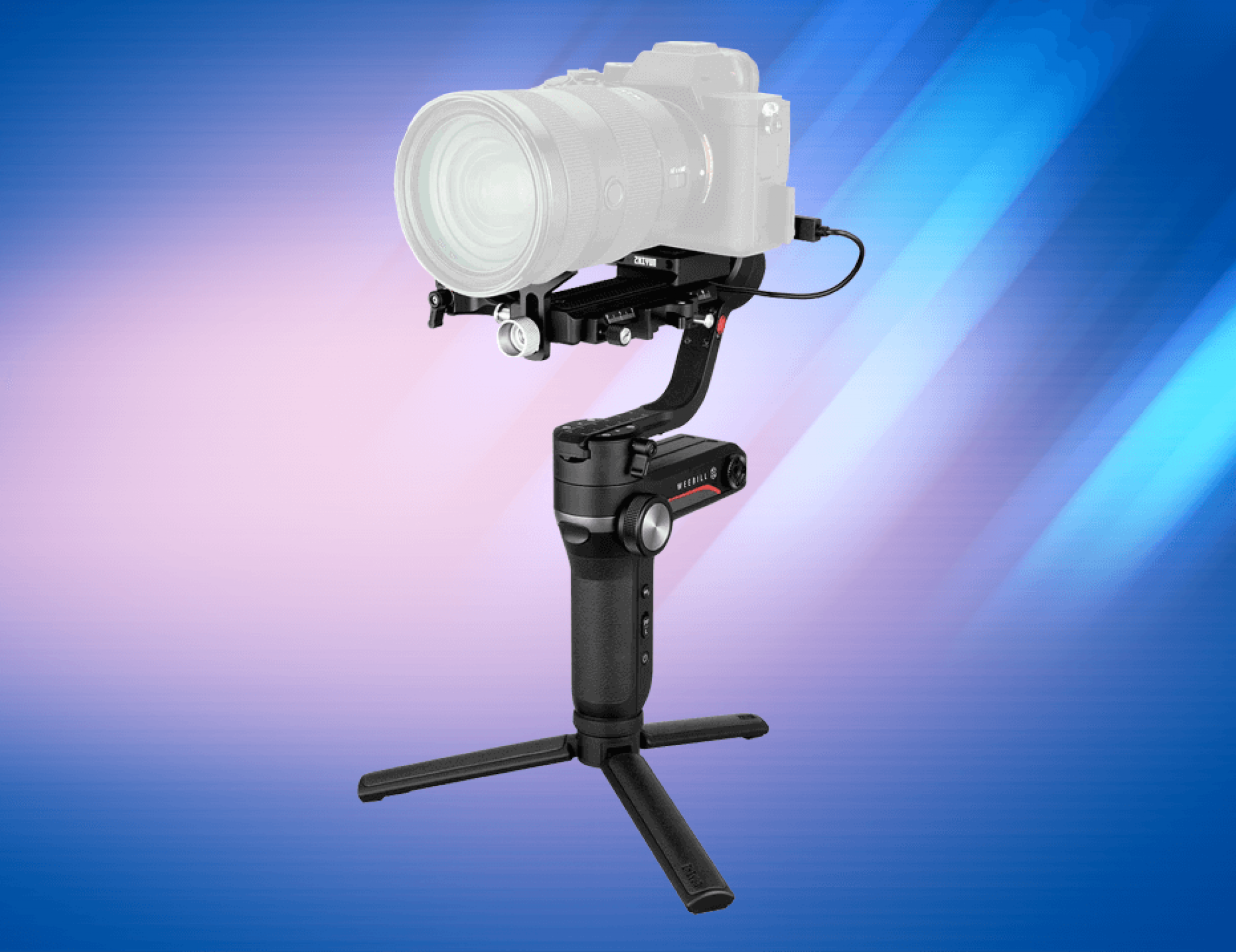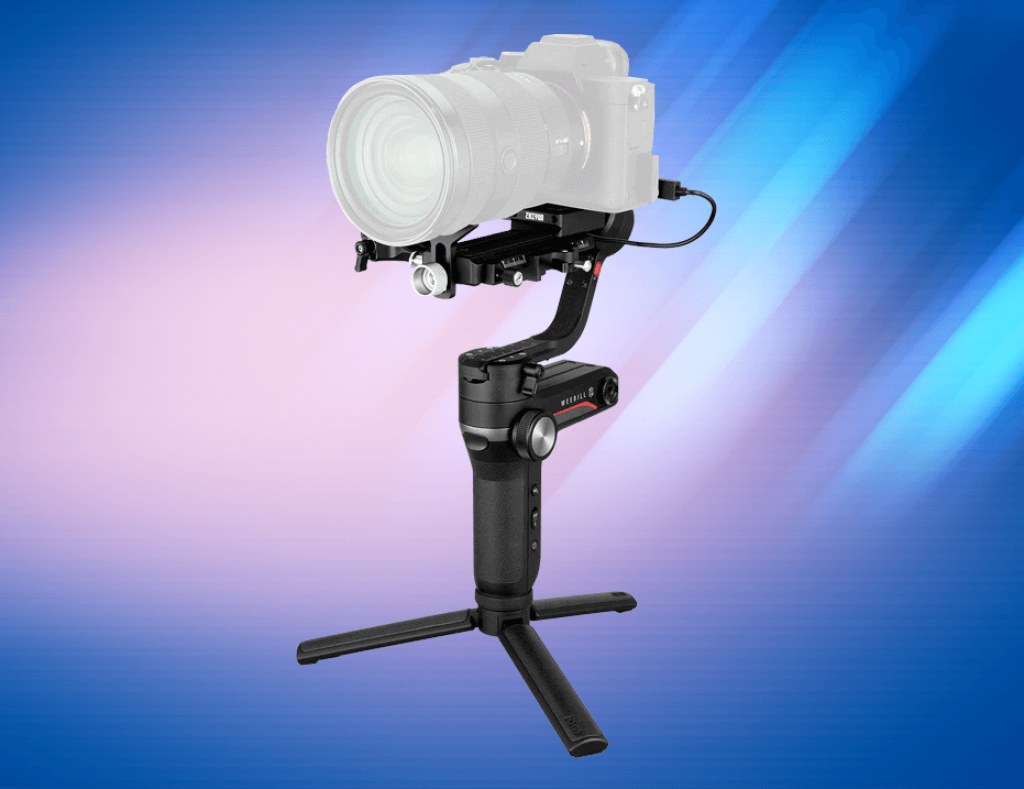 Best gimbal for sony a7riii: Zhiyun Weebill
There are a lot of things that stand out when you're using this device. For starters, it's versatile enough to handle up to three devices through its sync mode. Other than the camera, you can also attach a smartphone and a monitor to this stabilizer. The device is also equipped with a two-in-one quick-release system that is enabled by the two plates, Arca-Swiss and Manfrotto. The system allows for a quick switch between devices without a need to re-balance.
In terms of performance, this is where it outshines the rest. It comes equipped with a 1080p 30fps ultra-low latency transmission. This allows shooting clear images up to 100 meters away, making it perfect for live streaming and professional monitoring.
The use of the WEEBILL S stabilizer ensures proper image shooting that can adjust to minor changes and movements. To eliminate jittery in fast movements, the manufacturers have equipped it with the 8th Instune algorithm that works by providing high responsiveness to these changes and allows you to concentrate on shooting.
There is also the option of wireless remote control that allows you to interact with the device meters away. To achieve precise movement, it's equipped with a motion sensor that picks up any changes and adapts to them. The use of the TransMount Image Transmission Module and ViaTouch 2.0 allows you to turn your smartphone into a remote controller or a professional monitor. The inclusion of Bluetooth 5.0 ensures you can connect to other devices wirelessly without needing cables.
---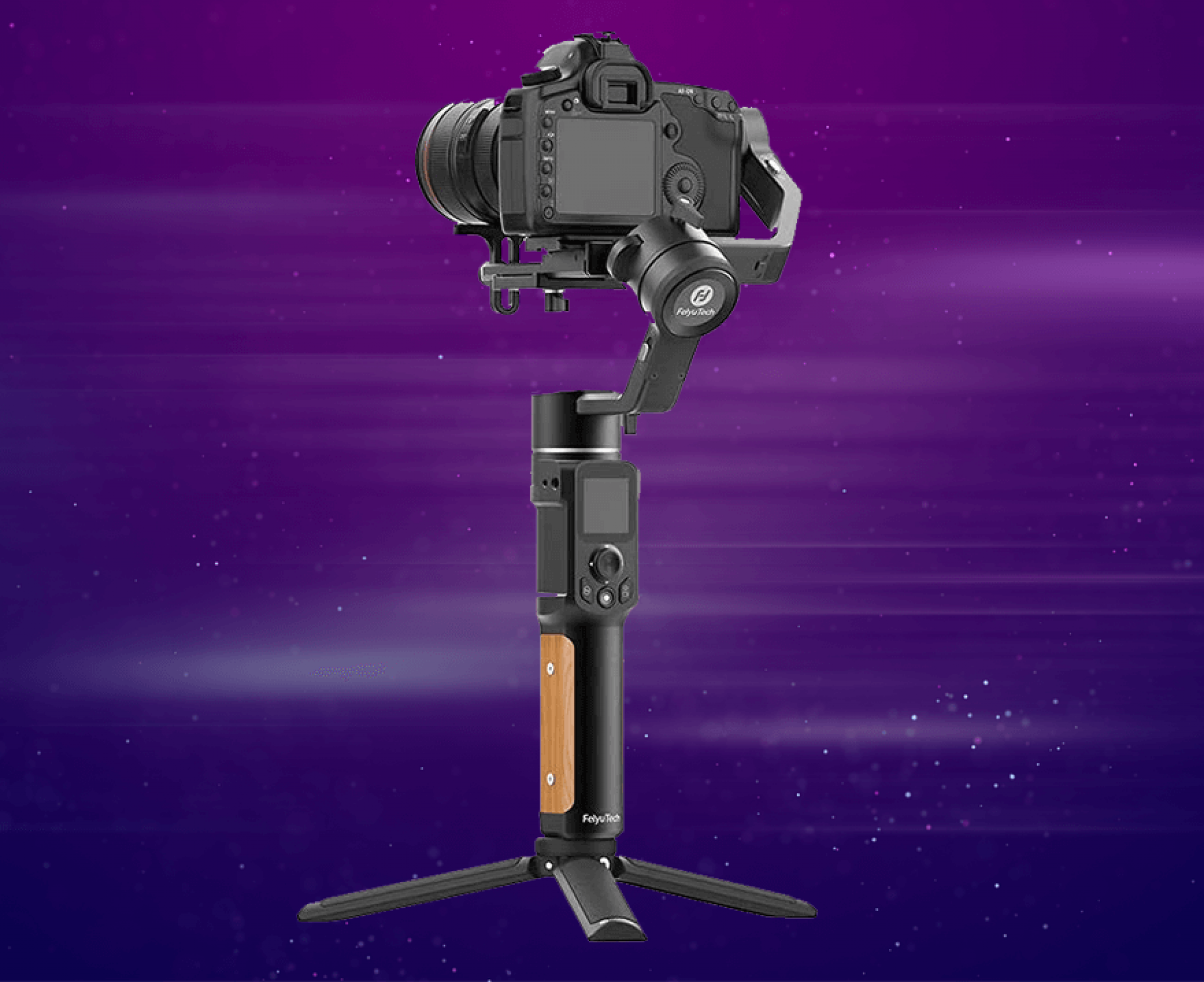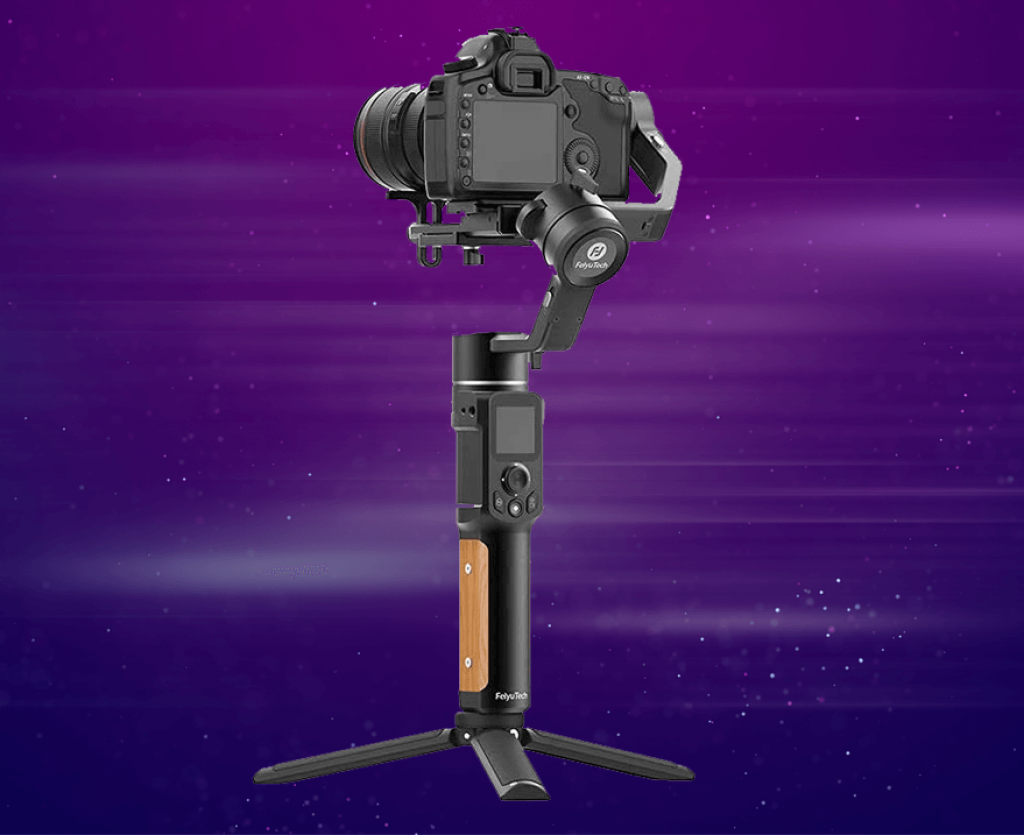 Best budget gimbal for Sony: FeiyuTech AK2000C
It doesn't matter if you choose to use this gimbal for selfies, live streams, or whatever shooting, it comes equipped with a DSLR stabilizer that helps to keep your camera steady when shooting. It's capable of adjusting to accommodate the slightest movements in the camera and keep it fixed in one position during the shoot.
The manufacturers have taken wireless control to the next level with this gimbal. For starters, they have made it Wi-Fi enabled, meaning you can connect it to your local network and control it remotely using an internet connection. Other than a remote control, the manufacturers have made it easy to use. You can also access video recording, take pictures, and adjust the camera parameters easily without following a guide. There is also the option of customizing the trigger button features to suit your specific needs in a shoot, which makes it one of the best gimbals around for the A7 series.
A lot of thought went into designing this device the manufacturer has to use aviation aluminum that weighs an astonishing 1kg, making it easy to carry and shoot without exhausting yourself. It can support up to 2.2kg, making sure you can attach the camera to it, and still it would be light enough to carry. The device comes equipped with a Type C Quick Charging that takes around 1.5 hours to completely charge. Once fully charged, the device can take up to 7 hours to drain the power. For better-personalized selections, the device comes with a customizable handle pattern.
---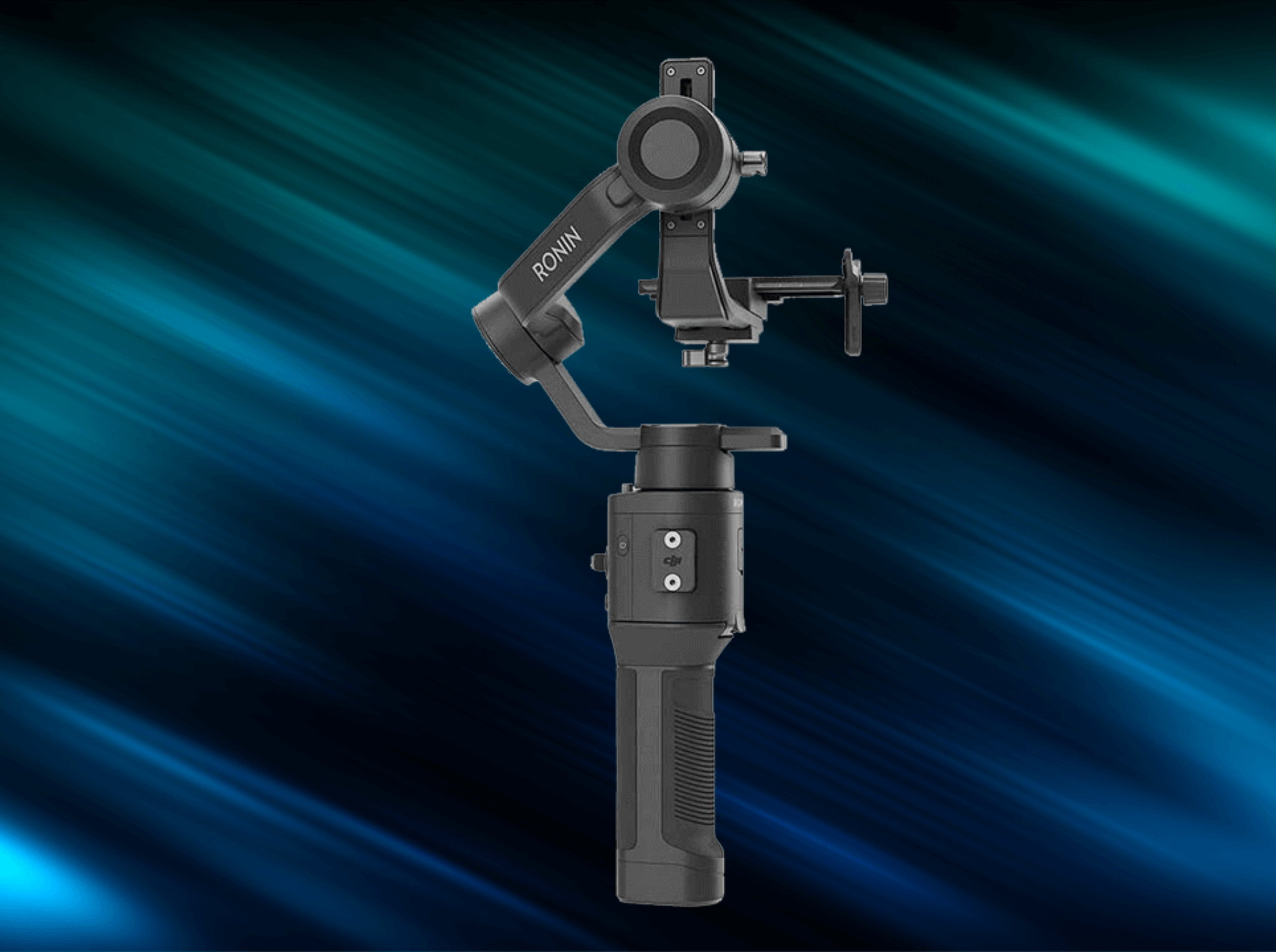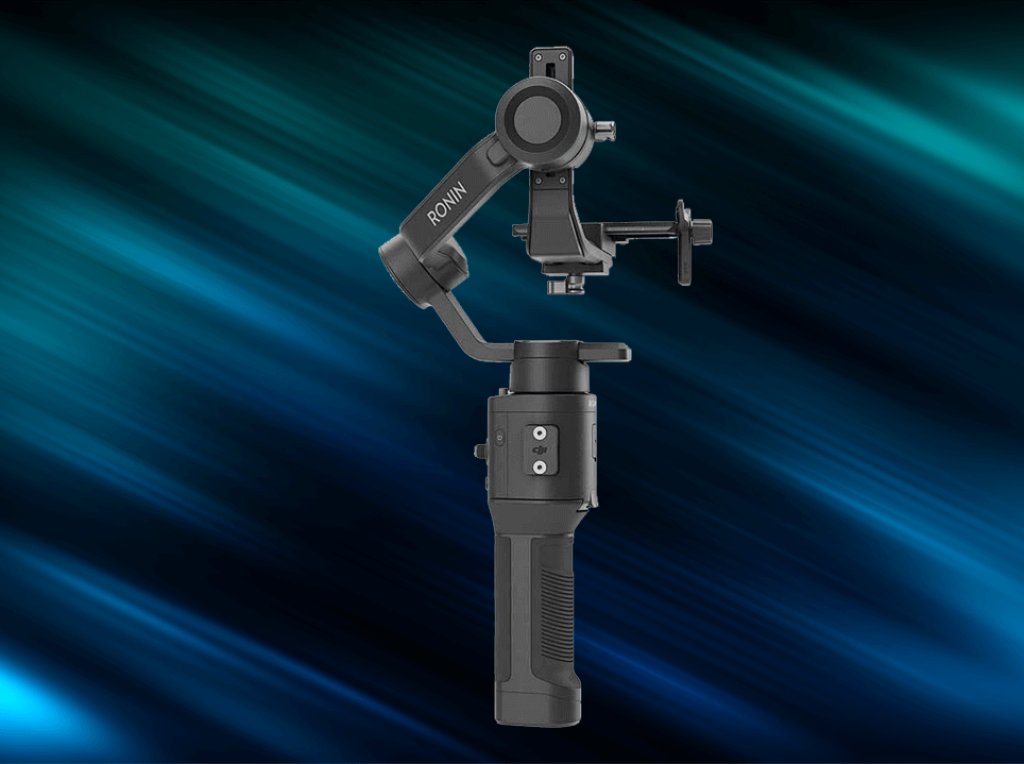 Best value gimbal for Sony a7iii: DJI Ronin-SC
If you're in the market for a gimbal that offers the best services, then this product is for you. The manufacturers have equipped it with a Ronin-SC stabilizer that holds the camera in place and adjusts to minor changes in your movement. As a result, you get to shoot clear and professionally-looking images without worrying about how your movements might affect the shot.
You can also use the Ronin app that gets you to access the camera balancing guide, and preset scenarios, together with the tutorials that help you learn how to use the gimbal. The app supports iOS 9.0 and above, as well as Android 5.0 and above. It's compatible with a huge number of smartphones such as iPhones, Samsung, Oppo, Xiaomi, Google Nexus, and Huawei brands.
For faster storage and individual axis balancing, the device is equipped with axis locks on each arm. For instant remounting your camera on this gimbal, it utilizes the Quick-Release plate that memorizes the camera position.
In terms of performance, this device stands out from the rest in different aspects. What stands out the most are the advanced capturing features such as motion control, time-lapse, Panorama, and ActiveTrack 3.0.
It's also designed to support a good number of cameras and is capable of handling a load of 2kg without compromising the balance. The protruding handle is equipped with a rugged rubber that offers more grip when using it. It also supports Type-C USB that allows for quick connection to the camera, as well as a charging port. It comes with a built-in battery that offers sufficient power to last the entire shoot.
---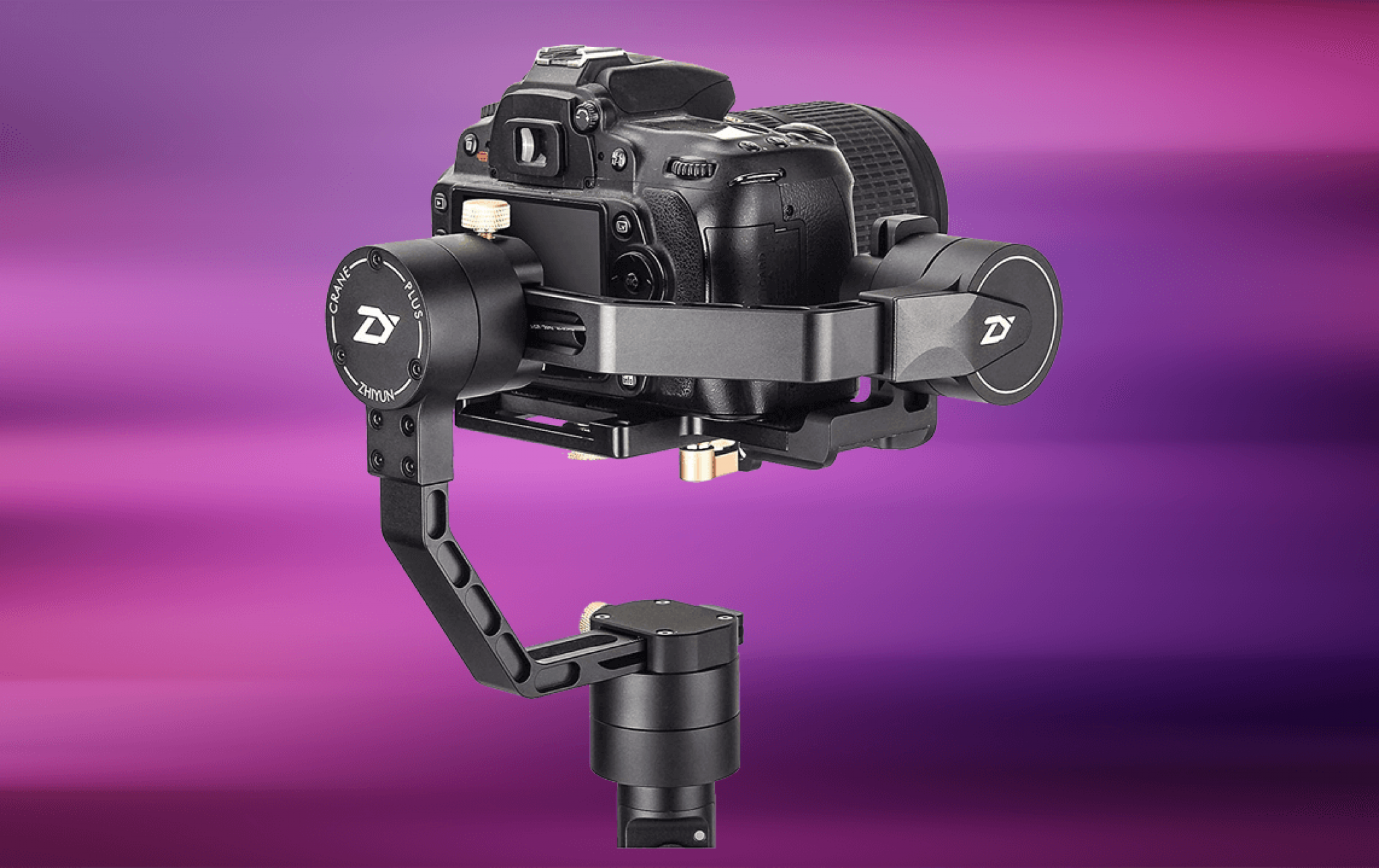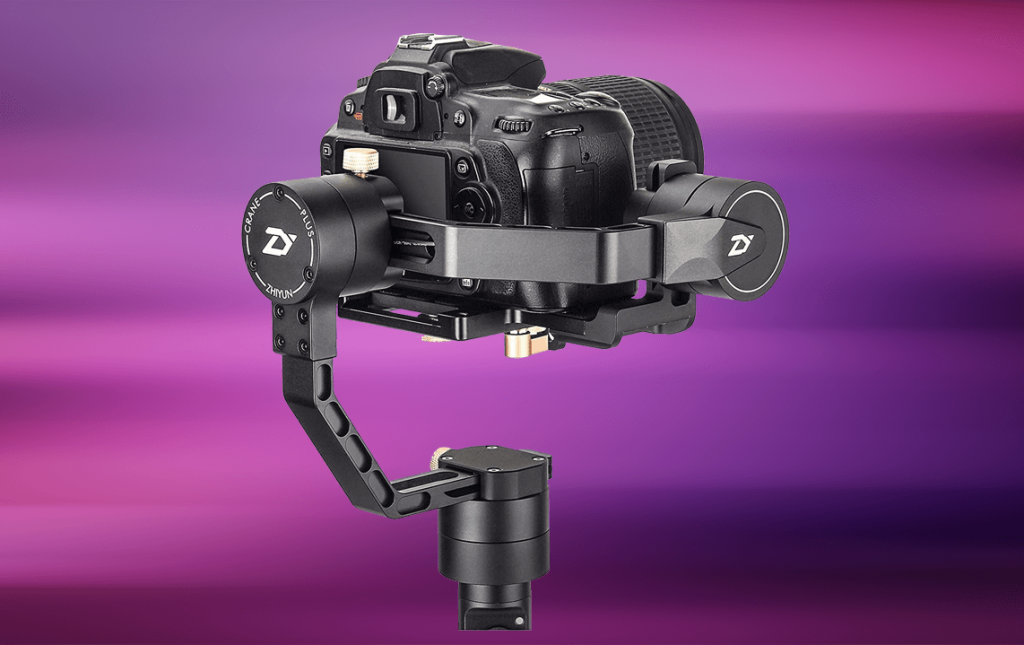 Best affordable gimbal for Sony: Zhiyun Crane Plus
The manufacturers of this gimbal have put a lot of effort into improving its performance. For starters, they have equipped it with impressive, intelligent object tracking capabilities allowing you to keep track of your target even when they're moving. This revolutionary technology is a game-changer that has been adopted by many filmmakers and professional photographers. To use this technology, you just need to draw around the object you want the gimbal to follow, and it does the rest.
Combine this technology with MotionMemory which allows you to set up advanced camera movements that can be followed by the gimbal. MotionMemory also remembers important aspects such as the number of shots, time-lapses, and even the duration. The inclusion of NightLapse is another one worth noting since it allows you to create gorgeous and long-exposure time-lapses, something only this gimbal uses.
Performance-wise, the manufacturers have done an incredible job of making it easy to use while also providing you with outstanding features such as a newly designed point of view. This feature allows additional camera movement, which adds around 45 degrees of rotation on the roll axis.
The camera control cable makes it possible for you to control the stabilizer and the camera, such as zooming and photo shoots. To sweeten the deal, they have made it possible for you to control it with a phone app – ZY Play, which puts the power of an advanced photoshoot in your hands. The batteries also have an outstanding 18 hours of maximum operation and can take up to 3 hours to fully charge.
---
Things to Consider Before Buying a Gimbal for Sony A7iii & A7riii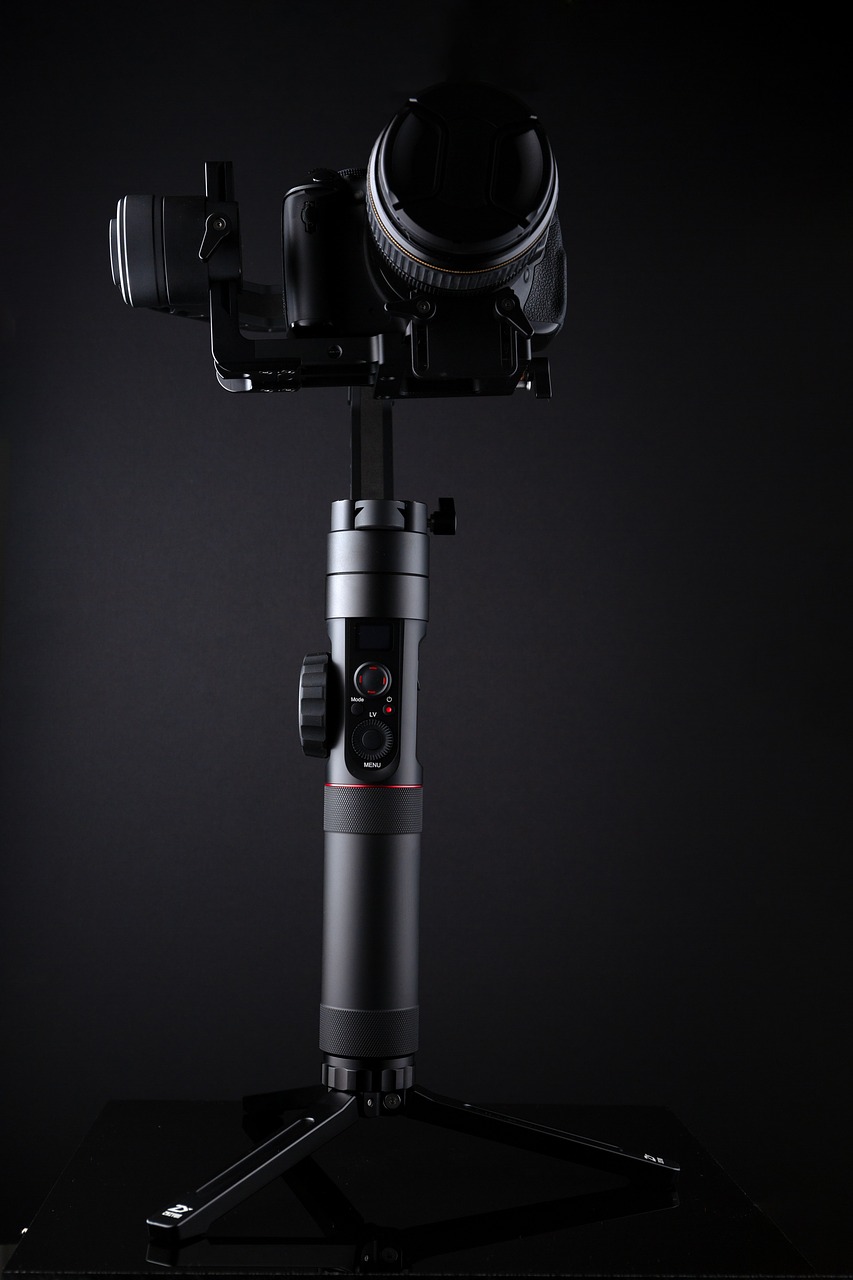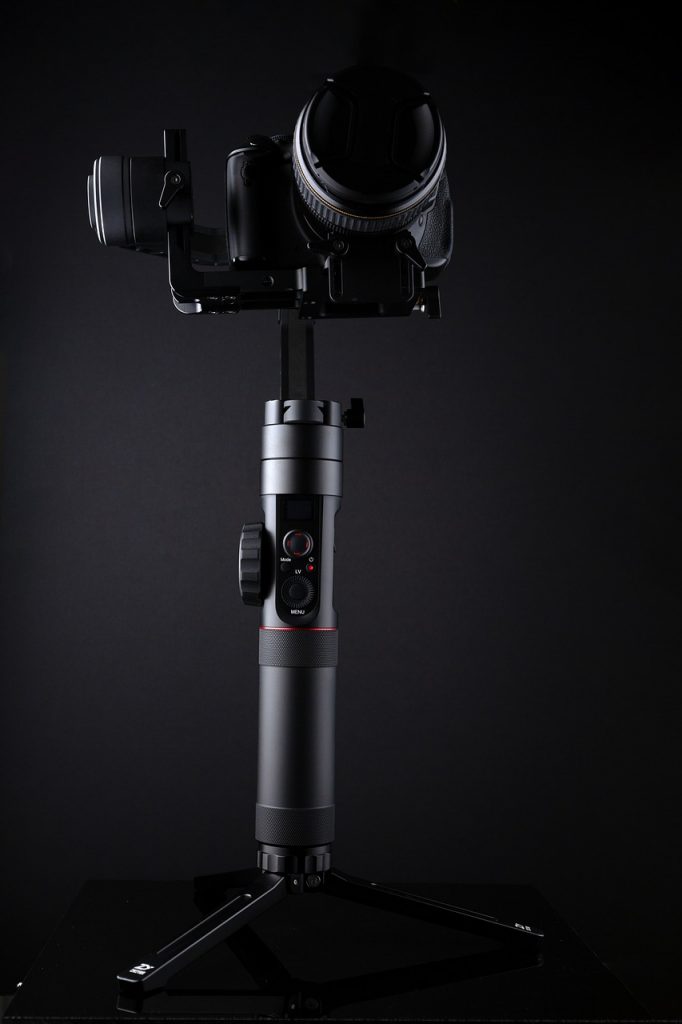 If you're in the market for a great gimbal for Sony A7iii and A7riii, then there are several things that you should keep in mind. Not only will mastering and considering these things help you get your gimbal fast, but it also allows you to bypass substandard products and only pay attention to those that are of quality and worth the money. They also come in handy since the market is filled and saturated with products that promise you quality only to end up disappointing you in the long run. Here is what you need to get the best gimbal.
The weight of the gimbal: Weight is probably among the core characteristics you should check for when buying a gimbal. A majority of cameras are 2kg in weight, and choosing a heavy gimbal could lead to increasing the load you. What you need is a gimbal that weighs less than the camera, but it's also capable of supporting the camera. In this case, an ideal weight for a gimbal should be around 1.5kg.
2 Vs. 3 Axis Stabilization: Stabilization is the key factor when choosing a gimbal. 2-axis stabilization offers stabilization for both the tilt and roll of the camera. Three-axis stabilization, on the other hand, adds stabilization to the Pan axis. By adding more stabilization, you get to shoot dynamic, smooth shots from different angles and triumph over the two-axis stabilization.
Versatility: You might need to look into how the gimbal operates before you buy one. The best gimbals for Sony A7iii and A7riii are the ones that are versatile enough to support more than one device. You don't need a gimbal that is limited to one type of camera. However, you also need a gimbal that accommodates smartphones, hence allowing you to mount your phone during filming.
Build quality: As a filmmaker or a photographer, you should always go for quality over quantity. Keep in mind that gimbals are made using different materials. Choosing a gimbal made of mold-injected plastic is a poor choice since they don't last long and they feel cheaper.
The best option is choosing a gimbal that is made of nylon-reinforced plastic or aircraft-grade aluminum which offers durability and is resistant to impact. As a result, you get a gimbal that will last longer and won't crumble when dropped.
Batteries: Power plays a major role when using a gimbal in your shoots. The best gimbal is the one that has removable batteries since they allow you to replace them once they start to deteriorate. Removable batteries also offer you the option of carrying extra batteries to your shoots and give you the opportunity of shooting continuously without the need for recharging. Another crucial detail to consider when choosing a gimbal based on the batteries is the lifespan of these batteries.
A standard gimbal should last at least 10 hours when in use. A high-end gimbal has a power lifespan of around 12 hours. This power lifespan is more than enough for your daily shoots. Also, focus on the time it takes for the batteries to fully charge. An optimal gimbal should have at least 3 hours of charging time. Anything else above this is not ideal since it will delay your shooting.
Software: It's common for a gimbal to be equipped with utility software. The purpose of the software is to allow optimal gimbal control and connection to external devices. The software also plays a crucial role in interacting with your cameras, such as sending signals like zooming and recording. For this purpose, make sure the software is compatible with your PC.
It's also important to check if the gimbal you're about to buy supports mobile applications and the version of operating systems these applications support. For example, an ideal gimbal that supports mobile apps should support Android 5.0 and above and iOS 9.0 and above.
Performance and Functionality: Other than offering stability to your camera, a great gimbal should also offer additional functionality, such as built-in camera controls. These functions help to make your shooting sessions easy by putting automation power on your hands.
It should also offer multiple stabilization options, which comes in handy by keeping your camera as steady as possible during the shoots. Built-in charging is also another option that you must consider if you want a great gimbal for your Sony A7iii and A7riii. The best gimbal should support a weight load of up to 2.5kg, which is the standard weight of the majority of cameras.
Reliability: The reliability of a gimbal is a big thing to consider. For starters, the market is saturated by companies that are selling knock-off products. These products won't last long, and they easily break in the first few weeks. Choose an established brand with a strong reputation to back it up.
Be sure you read the customer reviews on Amazon or watch YouTube reviews on these products. Stay away from products that have little to no customer reviews and look fishy because they are mostly not worth the money. It's easy to be tempted to save some money when buying a gimbal. However, ask yourself whether saving a few dollars is worth the headache you'll get once the gimbal stops working or falls short of the promises.
Customer support: A reputable manufacturer will spend much of its time interacting with the buyers. The customer support offered comes in handy, especially if the device breaks down, doesn't work, or some accessories were left out during shipping. Customer support is also a great place to follow up in case your shipment gets lost.
They also help with troubleshooting problems in case the device stops working as advertised. If you want a refund or exchange the device you bought with another one, especially when it turns out faulty, you should do this through customer support. Make sure you check how fast and often the manufacturer responds to requests before committing to buy from them.
Additional Accessories: Accessories might not be a big deal, but make sure you only choose a gimbal that offers additional accessories. Gimbal docks, handlebar systems, wireless follow focus, and titan support arms are among the few accessories you should keep in mind when buying a gimbal. Even though a gimbal can work well on its own without these accessories, it does add more functionality that helps to ease the burden of shooting.
Frequently Asked Questions: (FAQs)
What is a gimbal, and how does it work?
A gimbal is a tool used to offer pivoting support and allows you to rotate an object around a single axis. It's used to hold cameras steadily in place and accommodates any movements during a shoot. Without it, the shots would appear blurry and out of focus which is caused by the moving camera. It also allows you to operate the camera when it's mounted without needing to touch the camera.
For instance, you can zoom in and out of a shot, trigger the shot button, and focus on an object through the buttons located on the gimbal without pressing them on the camera. A common three-axis gimbal is preferred by filmmakers and photographers since it allows more stability and the ability to move the camera smoothly without interfering with the shot. You must first set the gimbal to balance well before taking a shot to avoid it shaking during the shoots.
Why is it called a gimbal?
The word gimbal comes from the Latin word gemellus, which means twins. Initially, it was meant to refer to the finger ring that could be divided into two separate rings and was popular in the 16th century.
In this case, the inclusion of the two-axis is what led to many people referring to it as a gimbal. Before it was used to stabilize cameras, it was used in the ships to keep the compass and other navigation tools suspended so that they wouldn't be affected by the waves of the unstable sea.
How do I turn on a gimbal?
A gimbal is easy to turn on since it comes equipped with a power button. The button is also labeled, and some even have lights in them to indicate when the device has been turned on. You just have to push the power button to turn it on.
However, if the device doesn't turn on, you should check whether the batteries are fully charged or, in the case of removable batteries, check whether they're fixed the right way. The battery charge levels are also shown by the gimbal.
If the batteries are fully charged or placed the right way, and the device doesn't come on, try troubleshooting it by removing the batteries and inserting them once more. If this doesn't work, make sure you get in touch with the manufacturer.
How do you walk with a camera stabilizer?
Walking while taking shots is usually the most challenging part, even when you're using a gimbal. That's why it's critical to make sure you follow the right walking styles to achieve the right shots. For starters, bend your knees and keep your muscles tense.
This will help you to balance your body and divert the focus to the camera. Take small steps, and don't rush your walking. Walking slowly is effective in keeping your shots in line while also ensuring you capture the moment swiftly.
Keep the gimbal close to your chest when shooting. This helps you to have a clear view of the monitor and keeps your elbows locked. Locked elbows have proven to take off the pressure and load from your cameras and keep your hands steady.
What does a stabilizer do on a camera?
The stabilizer helps to hold the camera in place and compensates for unwanted movements and shakes. It also steadies the camera against the photographer's body, making sure to take clear and distortion-free photos.
Conclusion
A gimbal is an important instrument to have as a photographer and a filmmaker. It helps to keep your camera steady and hold it in place when taking shots. It also allows the camera to rotate around its axis without interfering with the shots and keeping the shots clear. As a result, you don't have to worry about moving while taking shots, as the gimbal is built with a stabilizer to compensate for the camera movement.
Modern gimbals come equipped with additional features such as camera buttons to allow easy use. Most of them are also supporting the use of mobile applications, making it easy to use your phone and your camera at the same time. Choosing a gimbal for your Sony A7iii and A7riii is influenced by features such as the versatility of the gimbal, its ease of use, its weight, and whether it's compatible with other cameras or not.
Subscribe to the CameraIO Newsletter
Photography & Camera News + DEALS