Subscribe to the CameraIO Newsletter
Photography & Camera News + DEALS
We have seen some major devices that have been introduced to the market and have changed many industries forever. Among them are the digital picture frames with wifi. Since the market is flooded with many digital picture frames with wifi, it has become impossible for many people to choose from different options. There are many things that you need to look into before you buy one.
That's why you need to know certain things about the frames before you commit yourself. Many people have been buying and using these frames since they were introduced to the market. They have been becoming popular and they have attracted the attention of many people. Their simplicity and effectiveness are among the top reasons why many people use them.
Which are the

best digital picture frames with wifi

?
The following is a detailed list of some of the best digital picture frames that have WiFi capabilities:
Dragon Touch 10 Inch Frame
Dragon Touch 10 Inch Frame
Last update on 2023-12-03 at 12:44 / Affiliate links / Images from Amazon Product Advertising API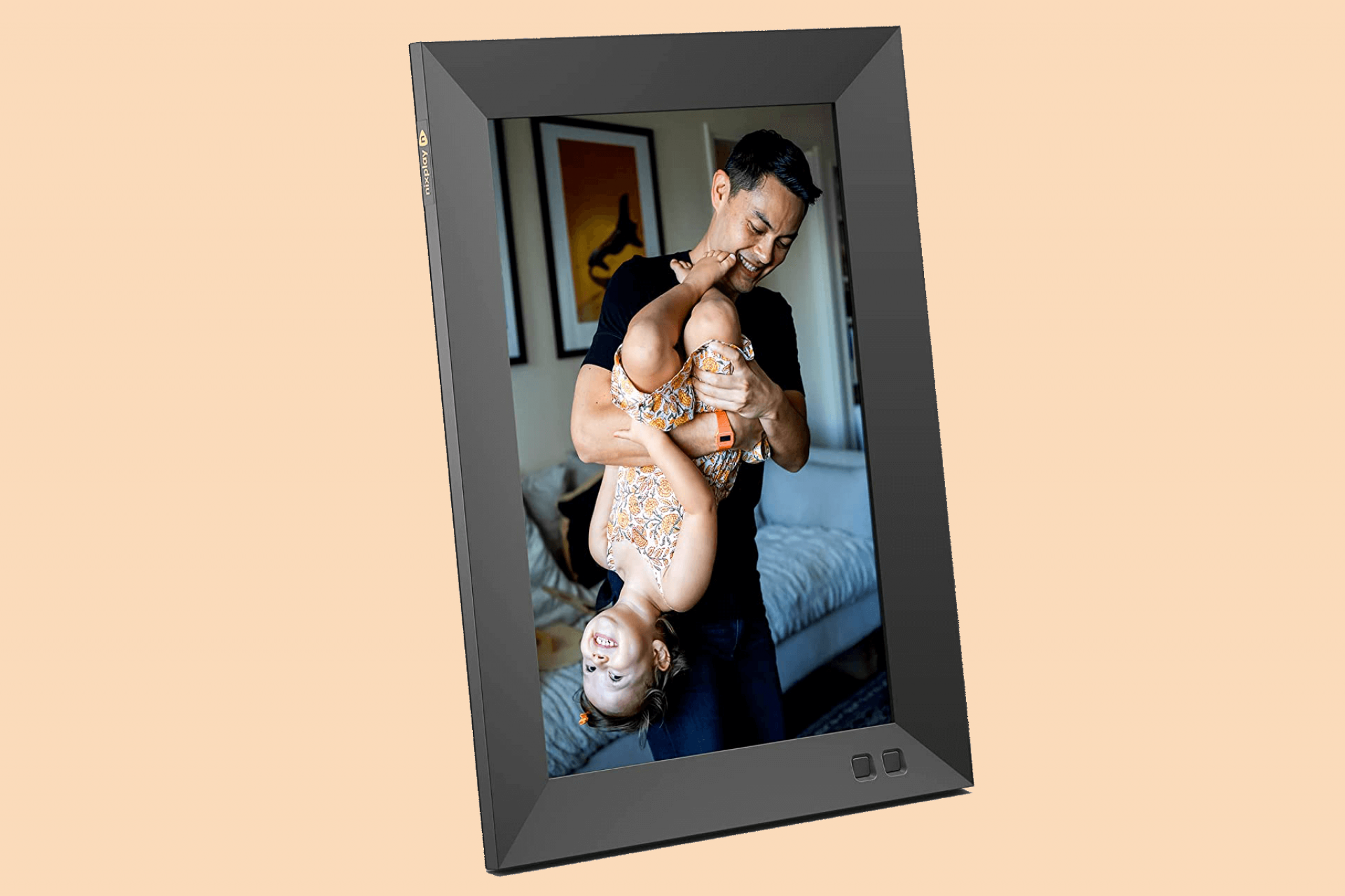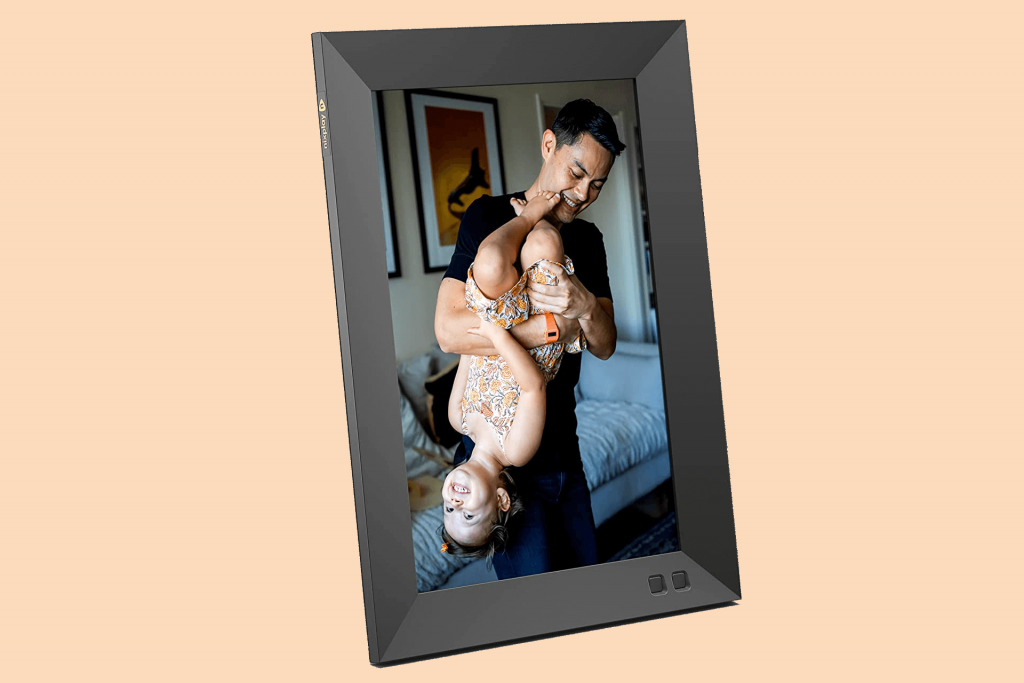 Best smart digital picture frame: Nixplay 10.1 Inch
The Nixplay app is versatile, making it suitable for both Apple and Android users.
It has both a wall-mount and freestanding feature, making it easier for users to view and share their photos and videos.
It is sleek and modern with a perfect matte finish, which makes it perfect for millennial users with a fine taste for lavish decor in their homes.
It has a movement detector that allows it to turn on and off automatically.
It has a remote control for easier navigation.
Out goes the regular picture frames and income digital picture frames with Wi-Fi. Sharing photos and videos with your loved ones is a pretty memorable experience, but only if you are using a Nixplay digital Smart photo frame. The Nixplay app built for both iOS and Android devices allows you to stay connected with your friends privately and securely, regardless of the distance between you.
Each time you connect it to Google Photos, it will automatically be updated thanks to its connectivity to Wi-Fi. The device supports social media including Dropbox, Facebook, and Instagram, making it smarter than any other technological product. With 1280 by 800 HD IPS display, you can choose to go with either a portrait or landscape.
This device gives you full control over it thanks to the remote control that comes with it. If you want to spruce up your wall with something modern and functional, you can consider using the Nixplay photo frame. This makes it a perfect birthday, wedding, or graduation gift that keeps you present and close to your loved ones.
---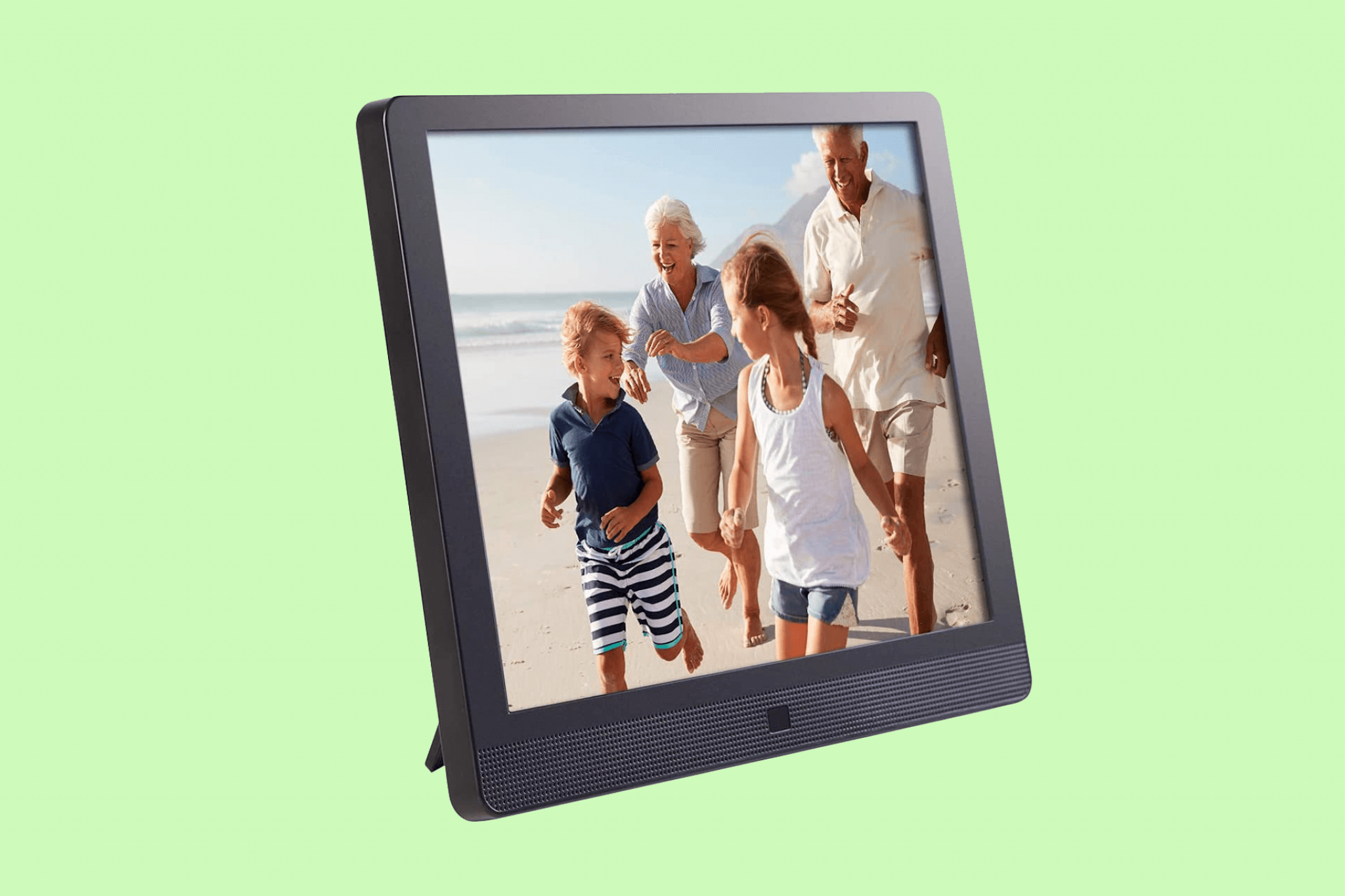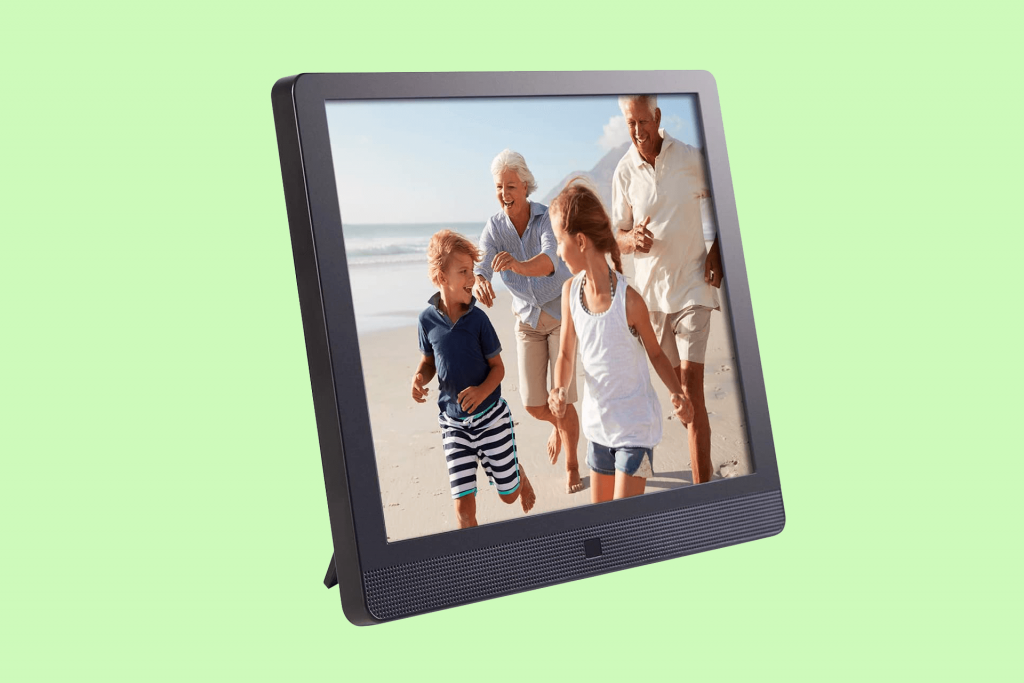 Best digital photo frame: Pix-Star 10 Inch
It is easy to learn how to operate thanks to its nice big screen that can be controlled remotely.
It produces bright clear and natural pictures, making it perfect for people who love high-quality results from high-end digital products.
The full HD photo frame allows people to share pictures via email and apps downloaded on smart mobile gadgets.
Its cloud storage allows you to store more than 10,000 photos. If this isn't enough, you can buy and install a separate SD card.
It makes the perfect gift for any occasion including staff retreats, birthdays, baby showers, bridal showers, and graduation among others.
The second on the list is the Pix-Star 10-inch Frame. What makes it stand out is that it has a 9.7-inch HD display which is perfect for viewing pictures. It also consumes a little-led backlight making it a perfect choice for someone who travels a lot. You can also use the free option which allows you to control around 25 frames with just one account.
This makes it perfect for you if you have a huge family that uses the frames regularly. When you use this device, you will be able to send your photos via email through the 3G network as well as the WiFi connection. It comes equipped with an 8 GB memory stick which can store up to around 30,000 photos at a go.
It is capable of supporting the SDXC card, as well as the SDHC and the USB stick. Another reason why many people love it is that it gives you the ability to receive photos through a dedicated email all for free. You no longer have to use multiple accounts to send and receive pictures anymore.
You can also send the photos to others from your frame without the need of installing another application. There have been some complaints from people who use other frames that require them to install the application. The Pix-Star frame helped to address this issue perfectly without any problems.
It also has a unique feature that allows you to access over 20 online providers. You also get to view pictures on online platforms like Flickr as well as Facebook and other social media. People have been impressed by this option as it is quick and very convenient.
---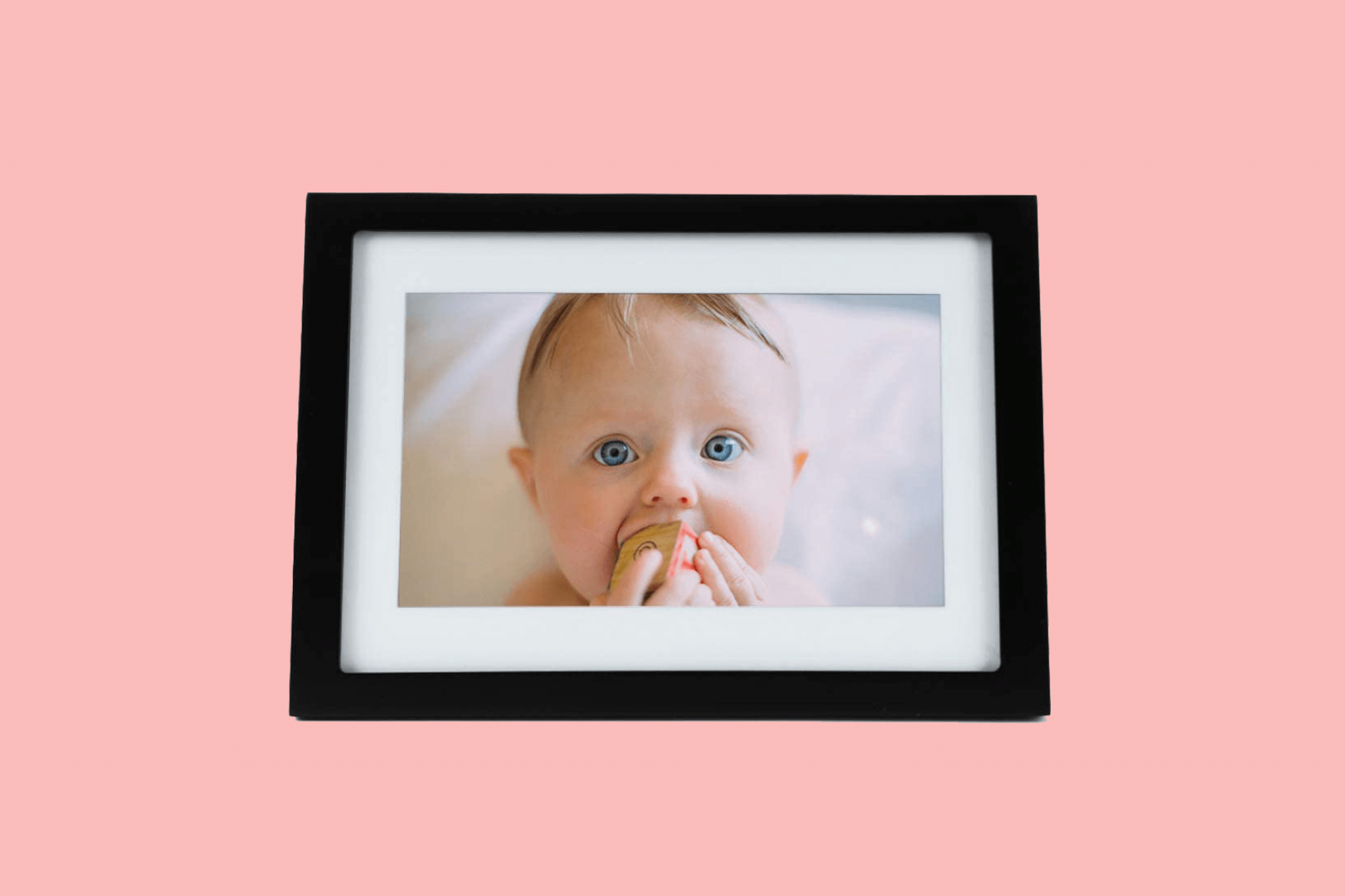 Best-rated digital picture frame: Skylight 10 Inch
Its easy-to-use touch screen feature makes it perfect for non-tech savvy users.
It is lightweight and has mounting features that allow users to carry or mount it on walls and other flat surfaces.
It has an app that allows users to email files directly without installing other apps or software devices.
It takes less than a minute to set it up and connect it to reliable Wi-Fi.
It relies on Wi-Fi to download and view photos, but it can also continue displaying them offline.
If you are a fan of digital Picture frames with an effortless setup, Skylight Frame will impress you. It takes a minute to log into your Wifi network after plugging in, and then you are good to go. Thanks to Skylight's customized email option, your loved ones can not send you photos from their phones or computers. It's easy-to-use touch screen display makes it easier for you to swipe through the photos, enable the slideshow, or browse through the gallery.
As long as you have reliable internet access, Skylight's notification feature will allow you to see the details of when the photos arrived. This only happens when you receive new photos, but you can still view the photos offline. If you love what you see, feel free to hit the "heart" button.
Skylight only weighs 1.5 pounds and it has a mounting feature that can spruce up your wall or desk. Because it has a gorgeous 10-inch color display, it will produce natural images as they come. Its modern and sleek design qualifies it as a perfect gift for loved ones with extravagant tastes.
---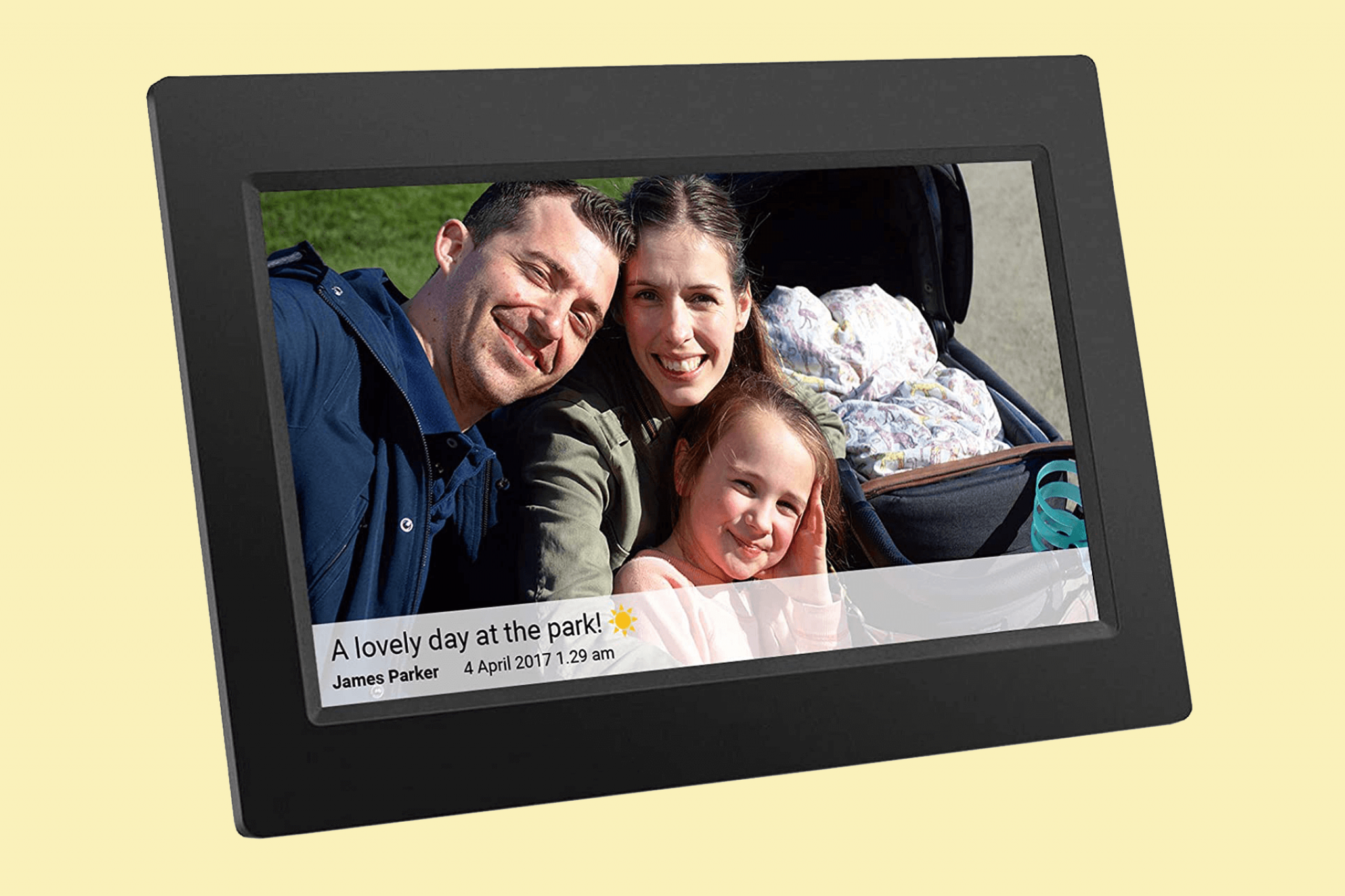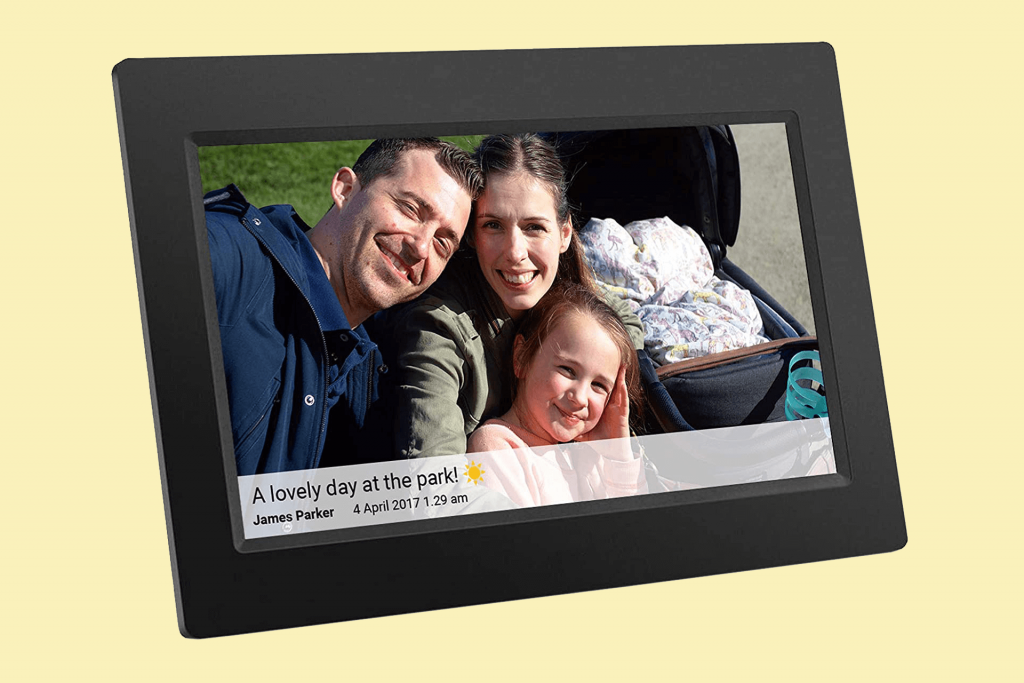 Best affordable digital picture frame: Feelcare 10 Inch
Feelcare is easy to set up and easy to use, making it perfect for non-tech savvy users.
Its touch screen features give full control to users who want to customize their photo-sharing and downloading functions.
It has an easy-user Frame app that allows users to access all their photos.
Its packaging and quality make it ideal for gifting.
It comes with other accessories that may aid in efficient photo sharing and downloading.
If you are looking for a senior-friendly photo-sharing device, look no further than Feelcare digital photo frame. It takes less than a minute to power and connects it to a Wi-Fi spot. Its actual photo viewing area allows it to display photos either chronologically or in a shuffle mode. Since all the photos are on default to fit into the frame, you can view the photos from different angles.
Feelcare photo frame has an app that makes it easy to add a picture, and can also allow you to send separately to multiple frames. Its easy-to-use app downloads easily and it received the pictures seamlessly. You don't need to separate the pictures as and when they come; the interface has already done that for you.
In terms of display clarity, you can never go wrong with a Feelcare product. It has a high resolution of IPS panel 800×1280 that improves the picture clarity. Its versatile touch screen features also allow you to adjust other settings like brightness, cropping, and contouring. The device is a perfect gift for non-tech savvy users including children and senior people.
---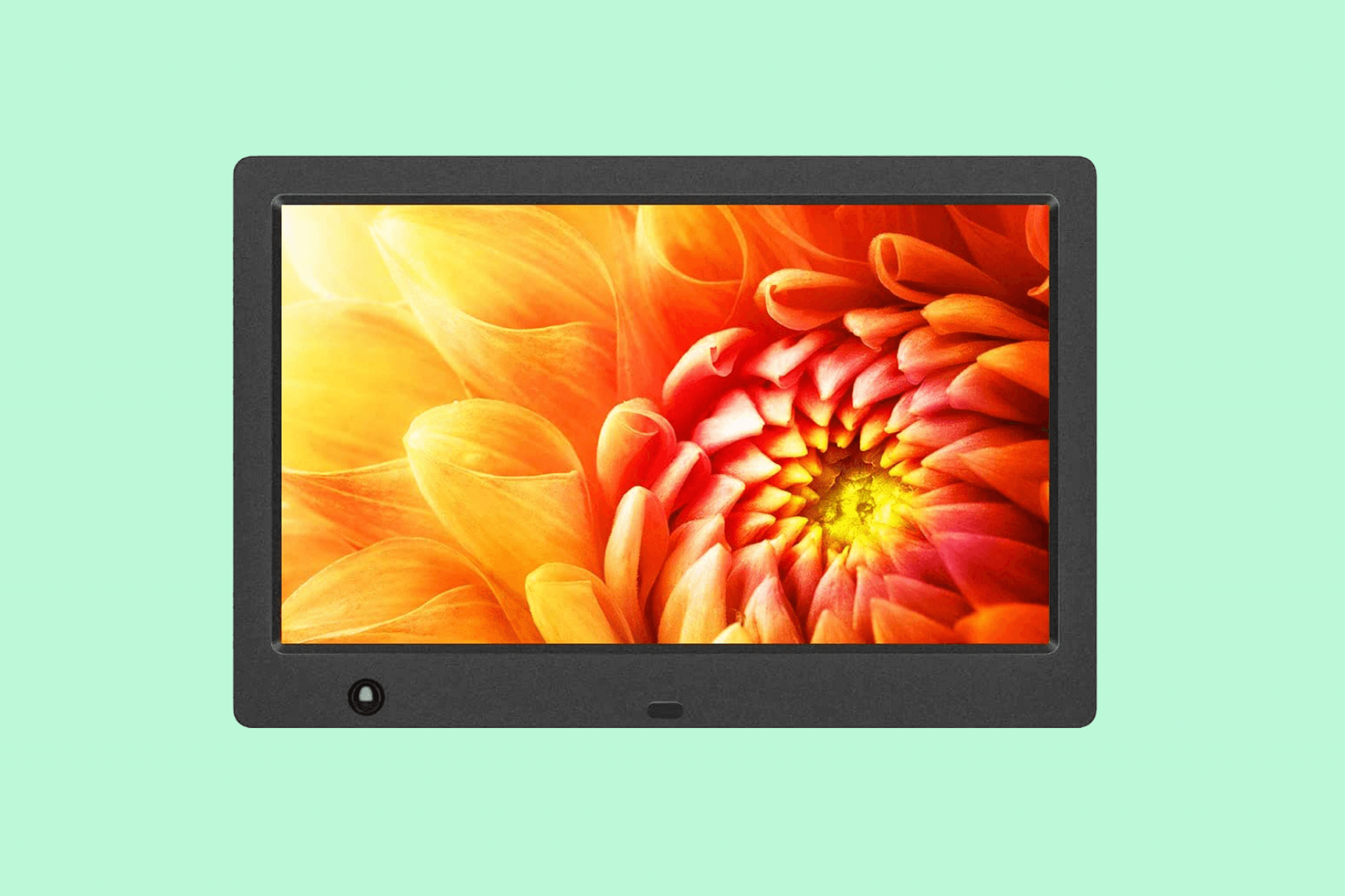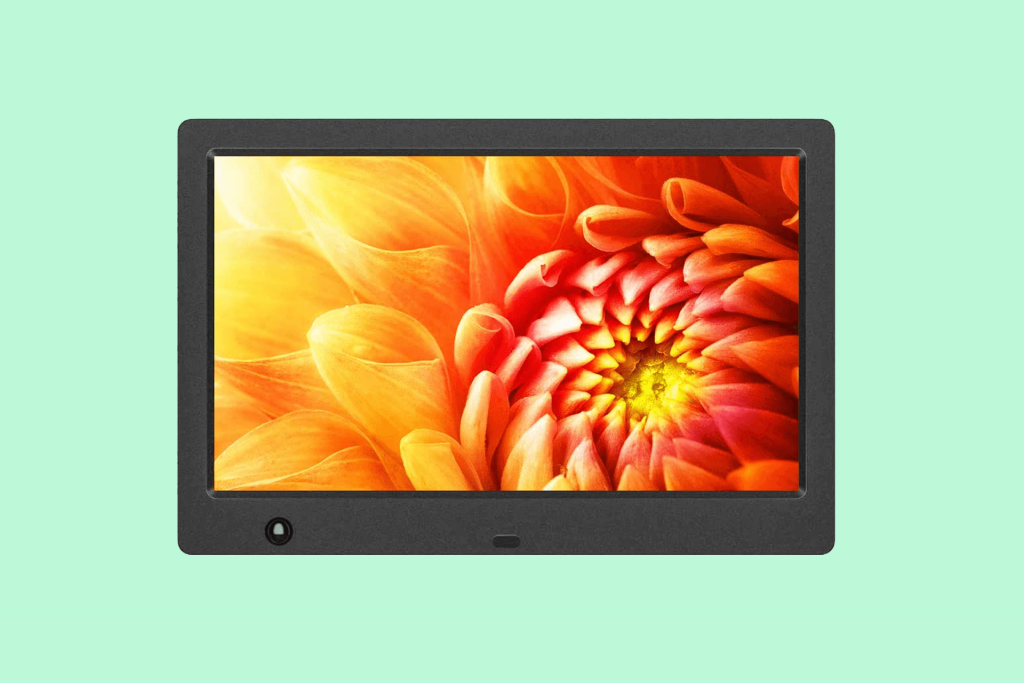 Best inexpensive digital picture frame: MRQ 10 Inch
It has a separate slot that can accommodate most SD cards and USB drives regardless of their storage sizes.
Its 14-inch color display is an ideal size for people who love viewing pictures.
It is easy to set up, making it perfect for non-tech savvy users.
It is made of a raw material that guarantees top quality and superior performance.
Its slim and sleek design makes it ideal for transportation and mounting on walls.
It does not come with internal storage which is why it is fast when it comes to displaying photos.
If you want a photo frame that spruces up the walls of your parent's or friend's house, MRQ 10-inch fits the purpose. The screen resolution of 1920 by 1080 produces very good high-quality pictures. Unlike other picture frames, MRQ is a full HD which is a good size for viewing pictures. Even though it lacks an app, you can still rely on it to upload some of the pictures you have received from your loved ones.
With MRQ, you don't need to be worried about uploading pictures because it is compatible with most SD cards and supports USB drivers. It also comes with a 3.5mm slot that allows you to enjoy the videos without distracting others.
A smart digital picture frame should be easy to set up; this is what the makers of MRQ have considered. You only need to power it up, connect it to the phone's hotspot or Wi-Fi, enable the notification feature, and wait for notifications to pop up on your screen. Alternatively, you can start by sharing the pictures or videos with your loved ones, and wait for them to do the same.
---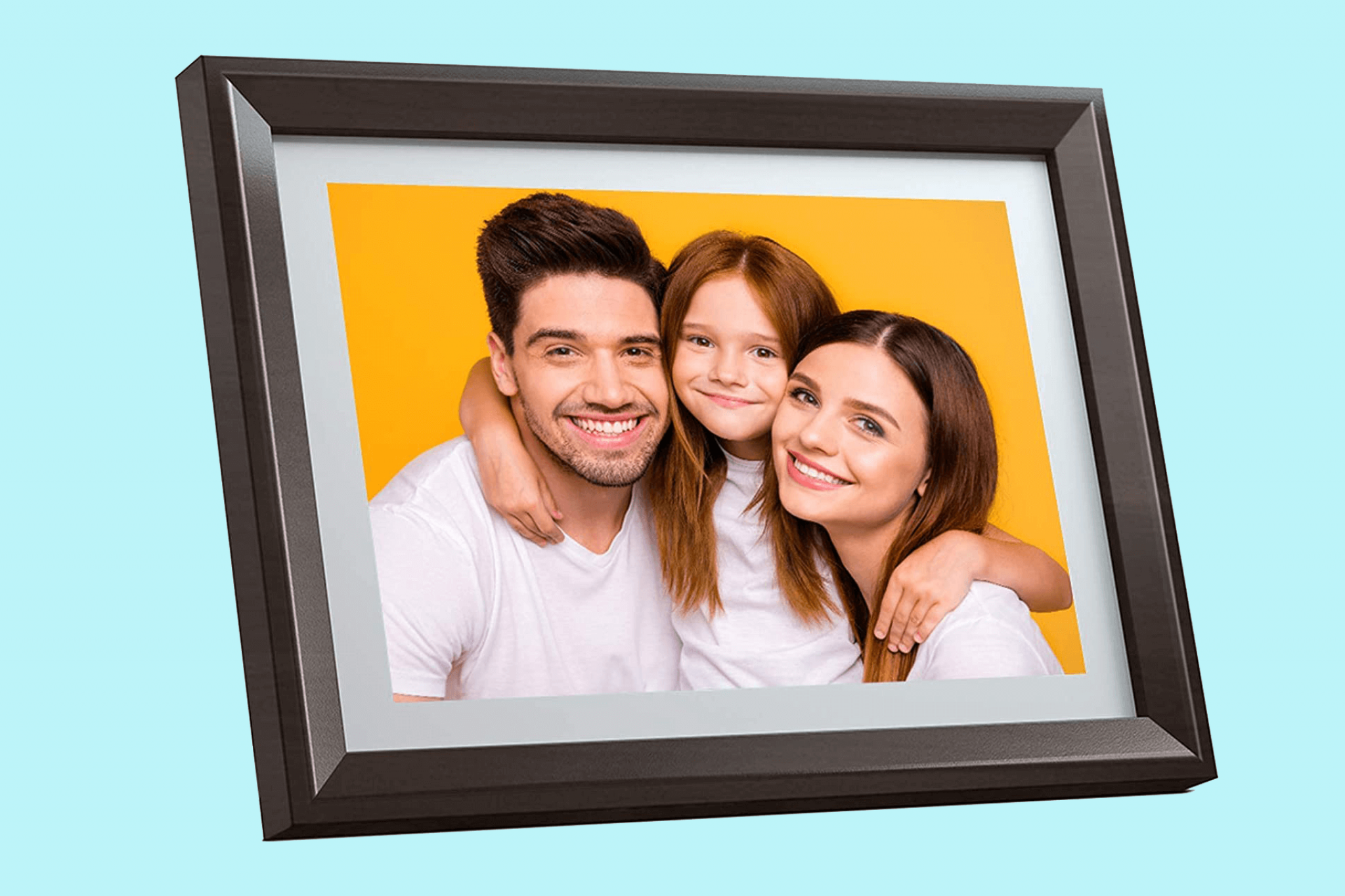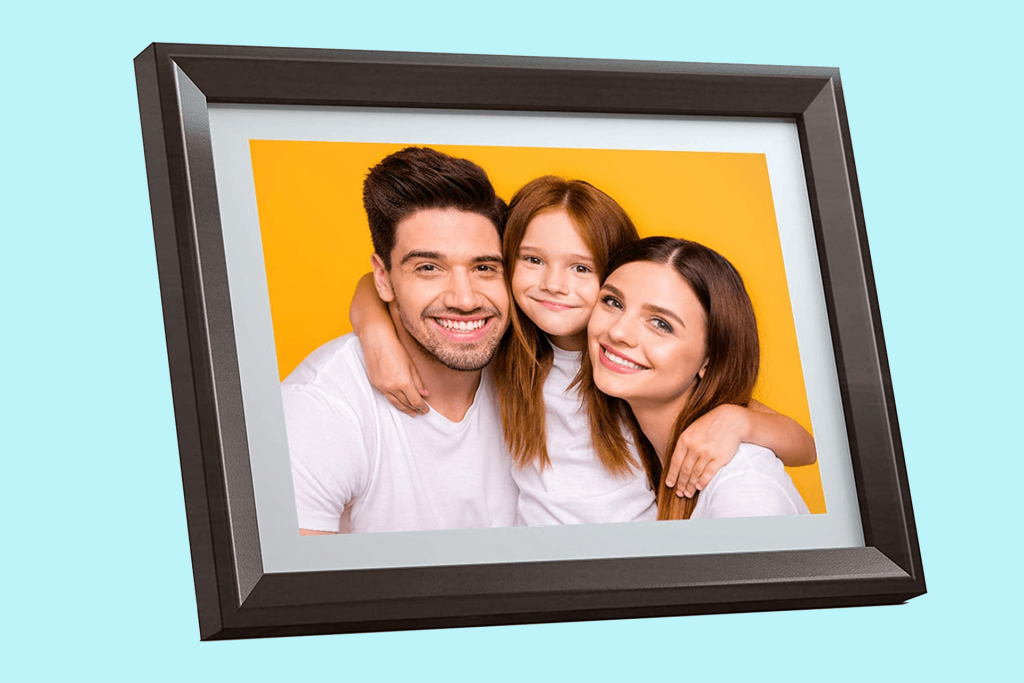 Best budget digital picture frame: Dragon Touch 10 Inch
The device has an IPS display that allows you to view photos at an angle without colors or being reflective.
With 16GB worth of storage, the device allows you to store photos. If the storage isn't enough, you expand it with budget-friendly Micro SD cards.
It helps you to upload photos remotely without going through the trouble of removing your SD card to transfer any photos.
It is lightweight and bears a classic design of a built-in stand that allows users to fold it up for transportation or wall hanging.
It has a built-in gyroscope that senses rotation, making it easier to adjust to either portrait or landscape mode.
Its easy-to-use touch screen menu makes it easier for you to personalize all the settings to suit your needs.
The perfect way to stay together with your loved ones is by sharing your wonderful moments through photos and videos. Dragon Touch Digital frame comes with a Wi-Fi cloud that lets you update your life moments with your family wherever you are. With an instant wireless sharing feature, you can share your moments with the frame using smart devices such as phones, tablets, and computers.
It's a touch screen display with a high resolution of 1280×800 that lets you record every precious moment. Its sleek and modern design allows you to place it either in portrait or landscape mode. The device boasts a RAM of 1GB which makes things quicker when you switch between two or more browsers.
That also means you can store more than 40,000 photos. Once you have received the files, you can use either an SD card or USB drive connected to your computer for easy album management.
The device is mostly suited for users who want something that can multitask and produce high-quality photos. You can never go wrong with Dragon Touch digital frame if you are looking for a budget-friendly device.
---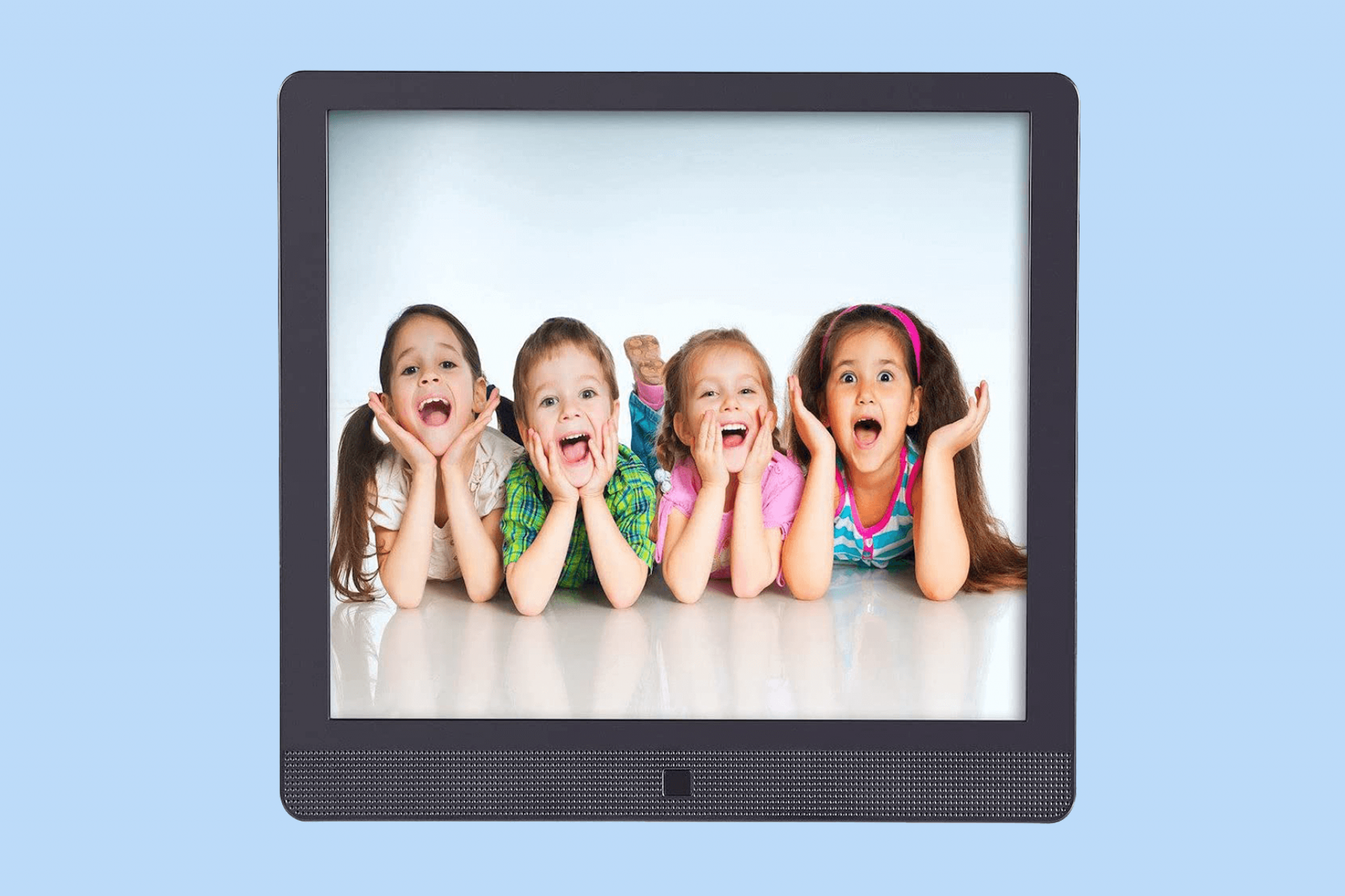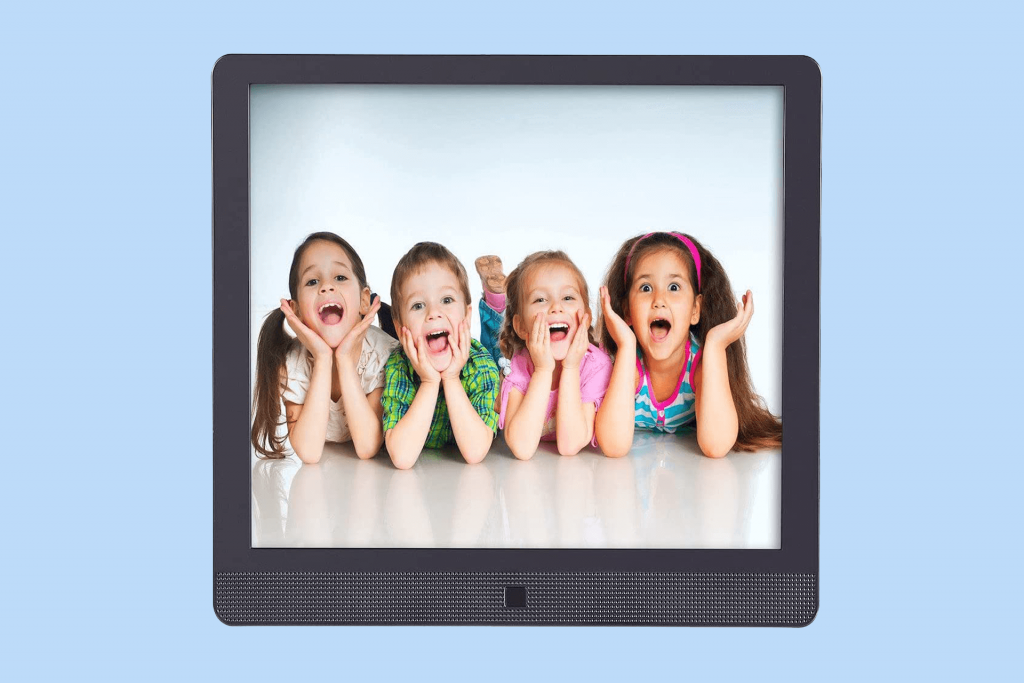 Best user-friendly digital picture frame: Pix-Star 15 Inch
The price is moderate and can be afforded.
Just like the other ones, you can carry them easily today.
Share your photos easily through the WiFi connection.
If you have many photos, you need to be aware that the devices offer the best storage space.
It doesn't matter if you are technically savvy or not, but you can use it pretty easily.
Just like the 10-inch frame, Pix-Star 15 Inch framework perfectly. It will provide you with some impressive features that will make you fall in love with it. However, it has some differences that make it stand out. Among them include. It has a 15 inch HD display that gives you a great experience viewing your photos.
The display is effective when you want to have all the details regarding the photos and the videos. It also allows you to connect and send your photos through the in-built WiFi capability. Configuring the WiFi is very straightforward and everything that you will need is the password of the WiFi if it is encrypted.
You don't need to install any software as it comes loaded with everything that you need. The device is designed to be used by both young people and adults. It has 8 GB of internal storage that can be used to store up to around 15,000 photos at a go.
This makes it a perfect device to take with you if you are going on a long journey and would like to document the entire experience. It can support the SDHC and the USB memory cards which give you an additional storage capacity if you are planning to view more pictures from external sources.
You can also use the dedicated email to receive photos directly to your frame from the internet without incurring additional costs. This option is best if you usually receive and send photos more often. It also helps you to eliminate any time that you may waste using many sources to send and receive the pictures.
You can also use the frame to send photos to other people from your frame through email. The best thing about this option is that you won't have to worry about using different applications and sources to send photos at all. The device also comes with unlimited online storage, which means that you can store all your photos online without worrying about losing them or running out of space.
The cloud is also equipped with the best security that makes it safe for you to store your pictures. Since we are living in a world where information can be lost at any moment, it would be better if you focused on the security of your information first.
There is no need of installing software as the device comes loaded with powerful software that runs the entire process of sending and receiving photos. When you compare this option with others on the market, you will notice that it gives you the flexibility of using it with much ease.
You will also have access to over 20 online providers where you will be able to view the images from popular sources like Facebook and Flickr. You will also receive daily updates through the device which will keep you up to date with the information.
---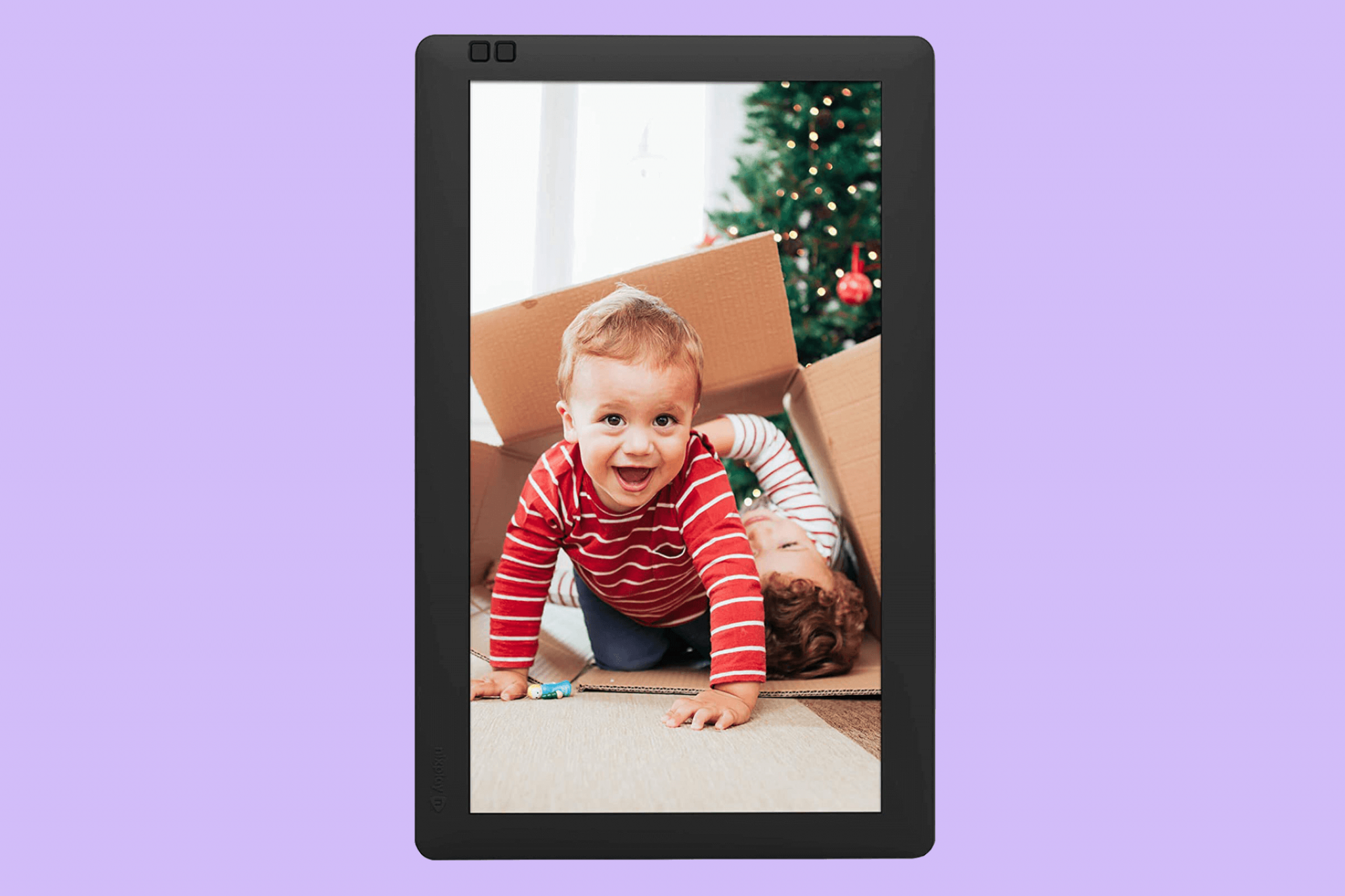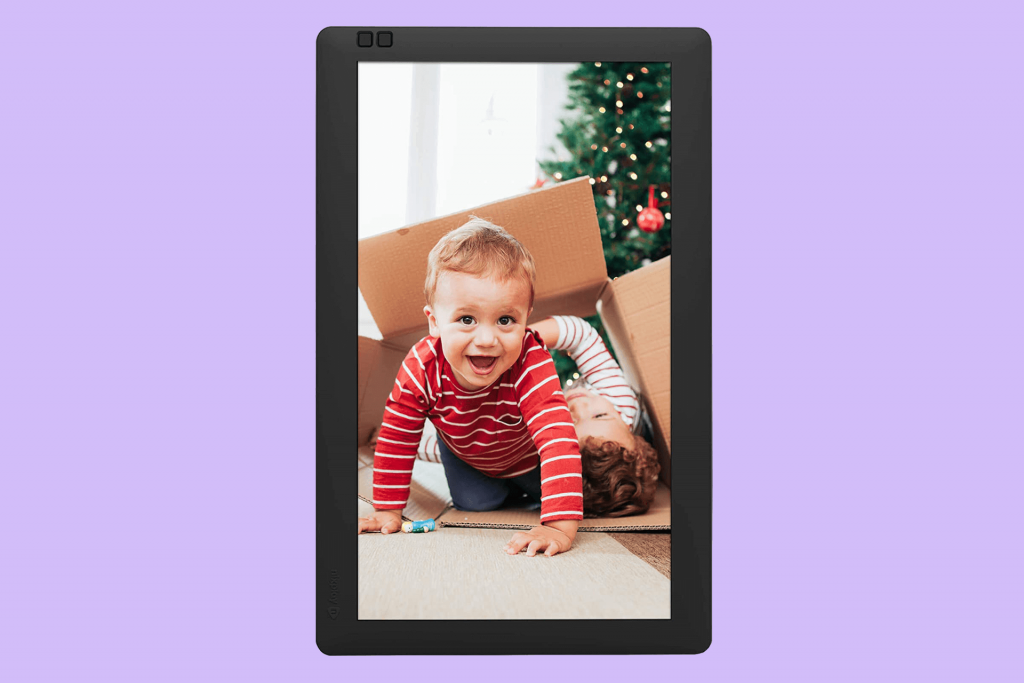 Nixplay Seed 13.3 Inch: (best value digital picture frame)
The price is very affordable.
You can now carry your device easily when running your errands.
The WiFi connectivity gives you the option to send and receive photos from anywhere.
Make use of the huge internal storage and additional cloud space.
You can use this device with much ease and you won't need much experience.
For those who have been in search of the best digital picture frame, the Nixplay Seed 13.3-inch frame is the best thing on the market. It has everything that you need and scores very high when compared with other frames. It has a 13-inch high-resolution display. This gives you the best viewership and helps you to get all the details of the photos.
If you like to adjust your frames from time to time, then you would love this frame as the cord acts as a frame stand. The frame also includes a remote control and you can also use an application on your smartphone to turn it into a remote. You can also mount it on the wall to act as a wall picture frame.
This way, you will be able to show your amazing pictures to other people who come to your home or office. The frame also contains internal storage of over 8 GB, which means that you no longer need to use the memory stick or memory cards. To top it up, you will also get over 10 GB of additional space when you are online through the cloud.
The cloud is also known for having the best security, which means that you won't lose any of your pictures when you save them in it. If you have been struggling to find a perfect gift for your loved one, you should consider this frame. You can view and share the pictures through smartphone applications or email them to other people.
---
Things to Consider Before Buying A Digital Picture Frame with WiFi
Price
One of the things that made the products that I have mentioned above stand out is the price. Given that you will be receiving the best products at a lower price, there is no denying that the prices are a bargain. Many people who have bought them have been impressed by the impressive services that they get.
Portability
Since the devices are designed with a slim shape, they score very high as far as portability is concerned. They are very light and can be fitted in small spaces. They will not burden you with unnecessary weight and this feature has been welcoming many people.
Connectivity
The fact that you can connect the device to WiFi is impressive. The feature allows you to send and receive your pictures from the frame without the need for computers and other devices that can connect to the internet. The frames stand out from the rest due to this feature.
Storage capability
Another impressive feature that I found to be useful is the storage capability that you get from these frames. They are equipped with over 10 GB of internal storage. If this is not enough, you also get more cloud storage space that you can still use on your device.
Ease of use
Since we live in a world where people are looking for something that can be operated easily. The frames are made with this in mind and it won't take long for anyone who would like to use them. You don't need much experience or technical skills to operate it.
Frequently Asked Questions: (FAQs)
How do I pick the best?
For me to pick the best from a huge pool of digital picture frames, I was able to buy all the products and evaluate them physically. The products have been responding well compared to others in the market.
I also managed to get both skilled and new users of the frames and managed to let them use them. I recorded their experience and was able to categorize them in terms of how easy they are to use.
I also managed to compare all the features that they have with others and found out that the ones that I have recommended score very high in the market. I also paid close attention to the storage space that each device comes with before I classified them together.
Why trust me?
Given the years that I have been evaluating electronics, I have managed to build strong intuition as well as an eye for a great technology device. I have bought all these products and have used them personally.
I have interacted with other people who have used other devices and have managed to get their input on the devices. Given the time that I have spent on them, I have been able to collect all the information regarding these frames and what makes them stand out.
I like to consider myself among the people who have more experience in this line of work. My ability to research and reach out to the manufacturers means that I get only the best information in the market. Many people who have bought the products that I have recommended have been impressed and reached back to me to air their gratitude.
Is it for me?
If you have been searching for some of the best digital picture frames, then you are in the right place. The content will equip you with the best knowledge and information regarding the best frames that are available in the market.
The frames that are recommended here will provide you with all the services that you need and you will not see the need of buying another one in a while. The content is also great for those who would like to further their skills and knowledge on the devices. A little information will never hurt anyone and you would be surprised to learn just how helpful it can come when you need it.
Recommendations
There is no denying that technology is changing. The world is being digitalized and it is just a matter of time before everything that we have is digitalized. Soon, we will be having more digital equipment than we do right now.
The frames that are mentioned above are classic examples of this. They all provide you with ease of use and give you a great experience at the same time. If you had been struggling with finding the right digital picture frame with WiFi capabilities, then you would love the ones that have been mentioned above.
You can either use them or buy them for someone special. The device that you choose will depend on the features that you are searching for as well as the price tag. Next time you are planning to shop for any digital Picture frames, make sure that you try buying any of the ones that are mentioned above.
Read more:
Subscribe to the CameraIO Newsletter
Photography & Camera News + DEALS