Subscribe to the CameraIO Newsletter
Photography & Camera News + DEALS
Planning to buy a new Digital camera but can't decide which one will be best for you? Well, there is nothing to worry about. We are going to introduce an amazing brand's digital camera. You will love its appearance and features as well.
For photographers, a good quality camera is a must. Among hundreds of brands and thousands of models, choosing the best camera is quite tough. In this circumstance, you can go for the Kodak Pixpro AZ252 digital camera. But why this one?
Let's have a look at our review section. We are on the way to revealing the amazing features and functionalities of the Kodak Pixpro AZ252 Digital camera. So, without any further due, let's dive into the review section:
Why did we choose Kodak Pixpro AZ252?
Either for personal use or professional purposes, Kodak Pixpro AZ252 digital camera is a complete package for photography lovers. The Kodak brand introduced this digital camera with convenient functionalities as well as all DSLR camera features. Also, it is user-friendly. One can explore the world with her/fingertips.
What is not in it? The Kodak Pixpro AZ252 offers Astro Zoom, 25X Optical Zoom, 3″ LCD 16MP lens, 720P HD videos, USB ports, Photo editing modes, and so on.
Kodak Pixpro AZ252 Review
Now it's time to reveal the entire features and functionalities of the Kodak Pixpro AZ252 digital camera. Here we go:
Noteworthy Features of Kodak Pixpro AZ252 Camera
Large Wide-Screen
High Quality and Resolution
Astro Zoom
Optical Zoom
OSI (Optical Image Stabilization)
Wide Angle Lens
16mp Camera Sensor
720p Hd Video
Standard Sd/Sdhc Memory Card
Wi-Fi Connectivity
Battery Convenience
Up To 22 Scene Modes
In-depth review of Kodak Pixpro AZ252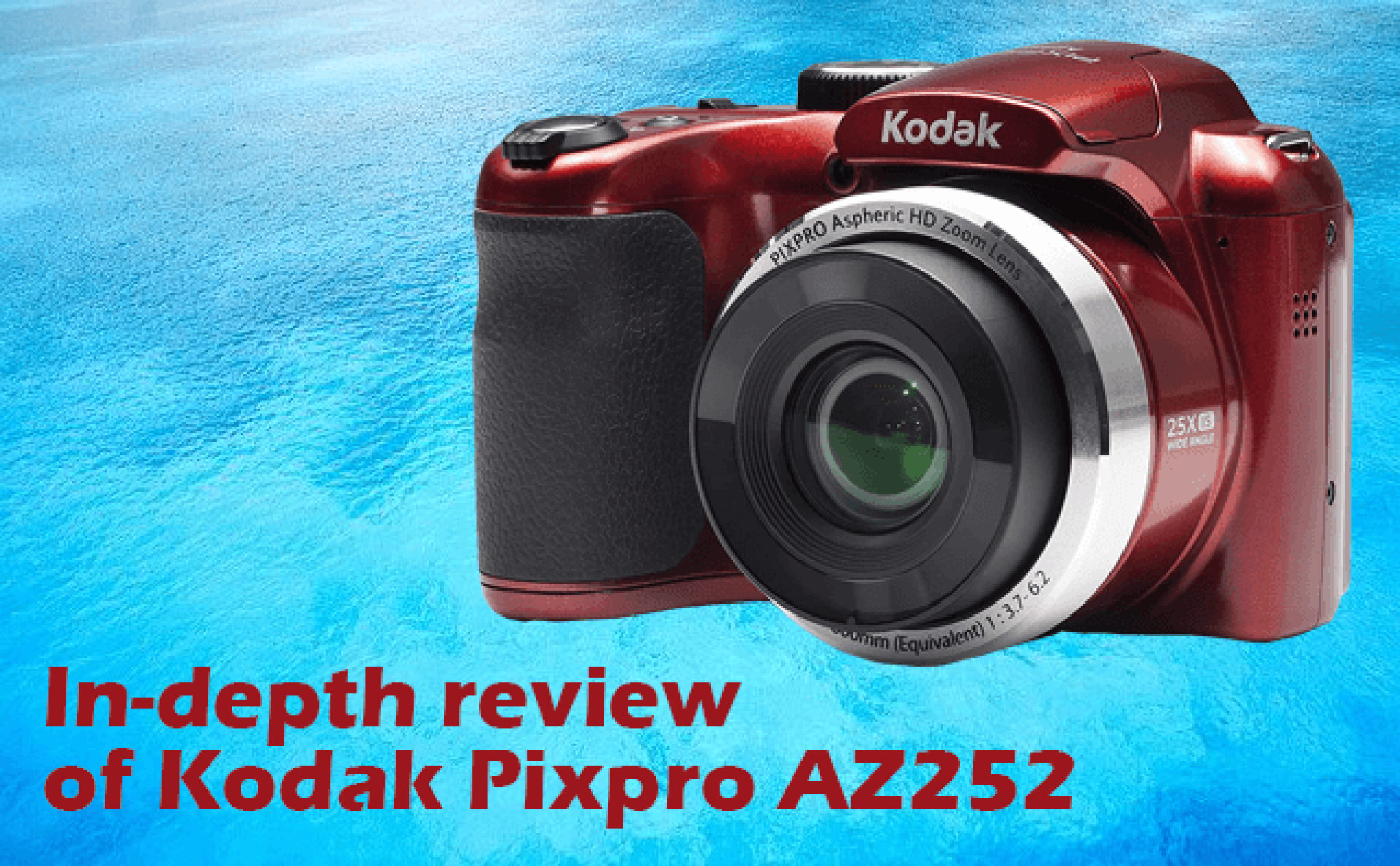 1. Large Wide Screen
The Kodak Pixpro AZ252 Digital Camera comes with a large wide LCD screen. The screen size is 3 inches so that you can see every detail clearly during shooting. Also, you can adjust and change the setting and angles at the same time. The vivid view in the 3-inch LCD helps to capture more appealing and perfect photos.
2. High-Quality Performance
With a wide display, the Kodak AZ252 can take high-quality pictures and videos. Can you imagine? This camera takes a picture with a 16MP sensor which means the sensor has 16 million pixels.
That can capture every single detail and sharp image without noise. Also can decrease the amount of noise in your photos as well as videos. Even if you zoom or crop the image, the resolution will not be destroyed. They look realistic like before.
3. Astro Zoom
The Kodak brand manufactures this Pixpro AZ252 digital camera with a point-and-shoot superzoom capability. It comes with the ability to boast a massive telephoto lens. It offers the user to get the perfect and sharp photo in a distance shoot. Besides, you can dabble in astrophotography as well.
4. Optical Zoom
The Kodal Pixpro is designed with a large 25X optical zoom capacity. It will help to capture the long-distance scenarios and objects without compromising the quality. If you like to take wildlife, sports, or landscape shots, this one will be the best choice for you. It will enhance the beauty of the photos by capturing full details and adjusting the contrast.
5. OIS (Optical Image Stabilization)
The must-have feature of a digital camera is Optical Image Stabilization (OIS). The Kodak AZ252 has a built-in optical image stabilization feature so that it can smooth out the bumps during taking photos. Also, can remove jerkiness and shakiness during recording a video.
With this OIS technique, the Kodak Pixpro AZ252 camera can capture beautiful and smooth photos even when you are walking or running. You don't need to use an extra gamble for this. In addition, the same factor works for videos as well. It will reduce the haziness and blur of the videos.
6. Wide Angle Lens
The Kodak Pixpro AZ252 is engineered with a 24mm wide-angle lens. This wide-angle lens is considered best for professional photography as well as videography. Whether you are a beginner or pro photographer, a wide-angle lens is a must. For a maximum digital camera, you need to buy an extra lens.
Whereas the Kodak PIXPRO AZ252 contains a 24mm lens. You don't need to buy an extra lens. It will save you money as well. The 24mm wide-angle lens can capture portraits and landscape shots. Also, you can get closer shots using zoom. The photo and video will be smooth and sharp along with all details.
7. 16MP Camera Sensor
The main goal of a digital camera is to take beautiful and quality pictures. For this, a camera should have a high-resolution camera sensor. In this case, Kodak Pixpro AZ252 is up to the mark. It comes with a 16MP camera sensor. So that you can capture quality photos. They will be free from blur and noise. Also, you can zoom in and take close shots without any distortion.
8. 720p HD Video
You may not buy a digital camera just for taking photos, right? It should have the ability to capture your happy moments videos as well. The Kodak AZ252 digital camera can record videos in 720p HD. You can capture any videos with clarity and all details as well.
9. Standard Sd/Sdhc Memory Card
What about the storage? Changing or replacing the memory card after a certain recording or capturing isn't possible all that time. Also, it's a hassle for you if the camera shows memory full during an event. So, the memory should be vast enough to capture your happy moments as much as you want.
The Kodak Pixpro AZ252 digital camera comes with a standard Sd/SDHC memory card. The storage is up to 32 GB. You can cover any event by shooting photos and videos without any storage full warning.
10. Wi-Fi Connectivity
The Kodak Pixpro AZ252 is convenient. The built-in wifi connectivity option makes it user-friendly one step further. You can transfer photos and videos from the camera easily by connecting to the wifi. Then you can directly transfer them to your cell phone or PC from the camera. Not only for storing and transferring photos and videos, but you can also share your special moments with your friend via social media for this feature.
11. Battery Convenience
The Kodak AZ252 is battery convenient. It uses AA batteries which are rechargeable. Also, they are detachable and replaceable. The battery will provide a long-time backup so there is no chance to miss any moment.
12. Up To 22 Scene Modes
The Kodak Pixpro AZ252 digital camera comes with 22 scene modes. You can capture photos and videos by selecting any of them like a firework, fisheye, sports, etc. Also, the settings will adjust automatically based on your selecting mode, lights, and movements. It's appreciated, that the Kodak Pixpro offers up to 22 scene modes in one device.
The 22 modes with a short description are given below. They will be useful while you capture any photos or videos. Have a look:
22 Photography Modes of Kodak Pixpro Az252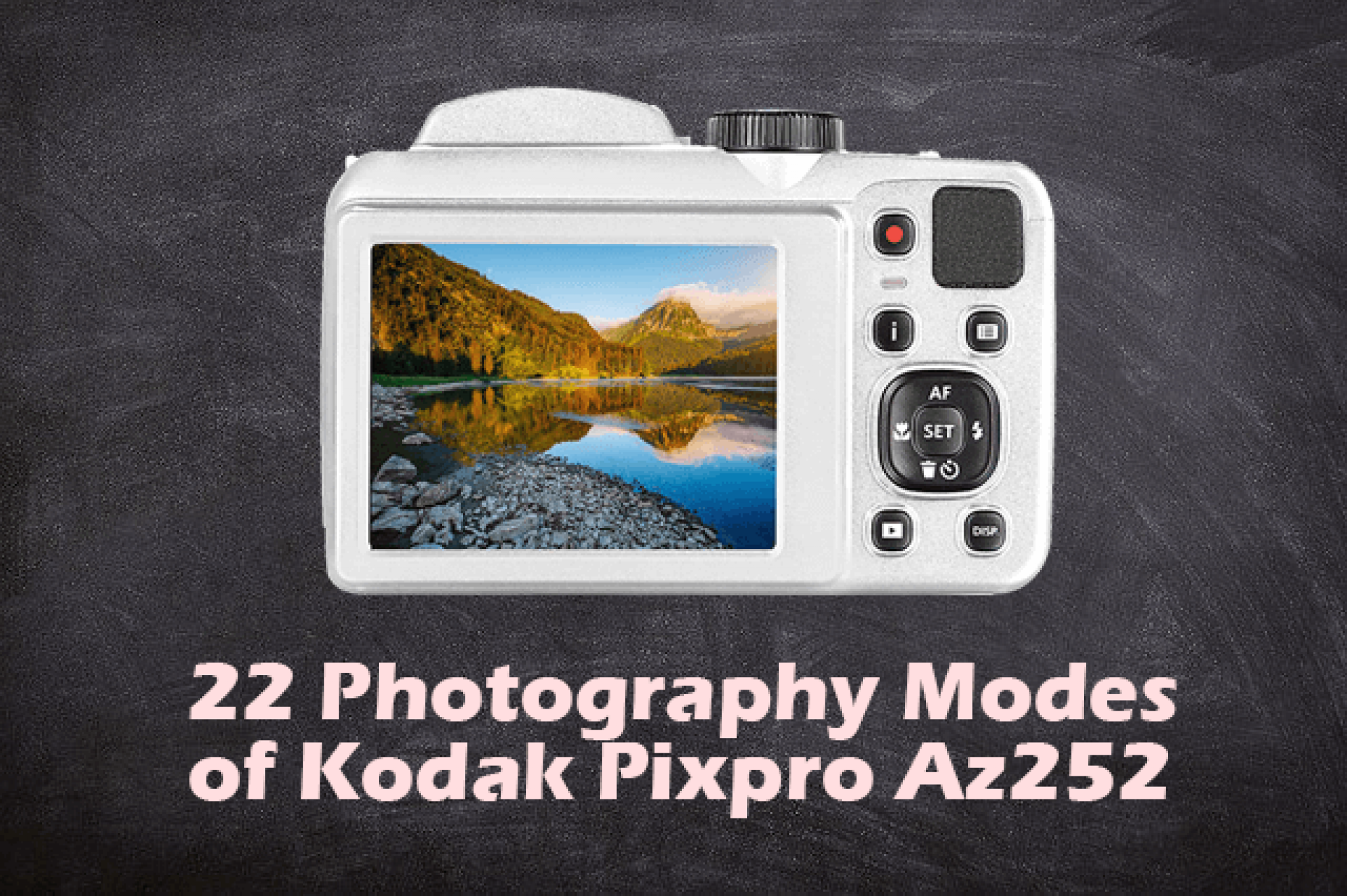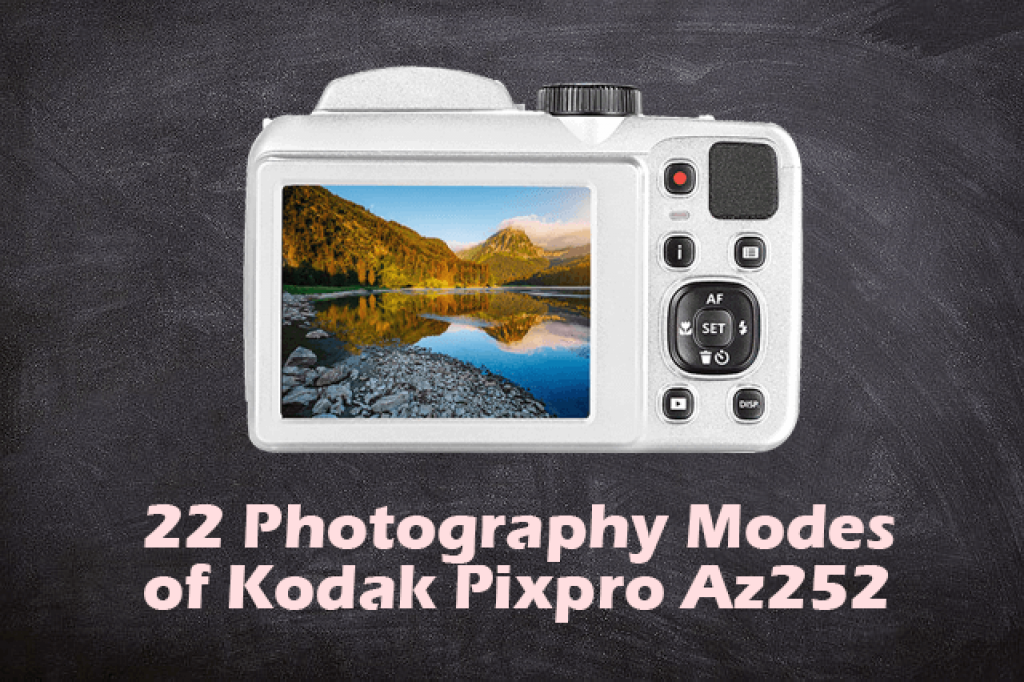 | Mode | Description |
| --- | --- |
| Auto Mode | In this mode, the camera can identify any object automatically. For example, it can identify the lighting, human, landscape, etc. |
| Sports | This mode is usually used for taking sports photographs. Also, you can use this mode for capturing fast-moving objects. |
| Firework | This mode is usually used at night time to record or capture fireworks. Using a tripod will make your shot more stable and beautiful. |
| Beach | Beach mode is already defined by its name. Beach mode is used for taking strong sunlight on the beach. |
| Night Landscape | At night, the lights are reduced. You should use a tripod when you capture using night landscape mode. This mode is suitable for taking photos and videos at night. It will adjust with the low light and can take photos and videos with proper resolution reducing noises. |
| Sunset | Sunset mode is appropriate to shoot in direct sun during the sunset. |
| Glass | When you need to capture an object behind a transparent glass-like juice, you should use glass mode for more appalling photos. |
| ID | To take ID cards photos like an Identity card or licensee etc, the ID mode is applied. |
| Snow | Snow mode is applied to capture natural white scenes like ice or snow or sky. |
| Sketch | To take a drawing or sketching objects, sketch mode is preferable. |
| Portraits | When you need to take portraits by blurring the background and focusing on the people, you should use this portrait mode. |
| Children | To capture kids and pets, child mode is used. |
| Panning shot | To capture a fast object blurring the background with high shutter speed, the panning mode is perfect. |
| Photo frame | This mode adds varieties of beautiful frames to your photos and videos. |
| Party | For shooting indoor and outdoor party photos and videos, party mode will add a more colorful and vibrant vibe to your capture. |
| Fisheye | If you want a fisheye effect on your photos and videos, you can apply this more. |
| Indoor | This mode is suitable for indoor photography. It will enhance the color and reduce noise. |
| Museum | In case the flash is prohibited, this mode is applied. For example, to capture photos in the museum without a flashlight. |
| Leaf | To capture the natural scene, leaves, and flowers, the leaf mode is appropriate. |
| Night portrait | For capturing portraits at night, this mode can be applied. It will blur the background and focus on the object you want to shoot. |
| Pet mode cat | If you are a cat lover, this mode is used for cat photography. |
| Pet mode dog | Applied while taking dog photos. |
Pros and Cons of Kodak Pixpro AZ252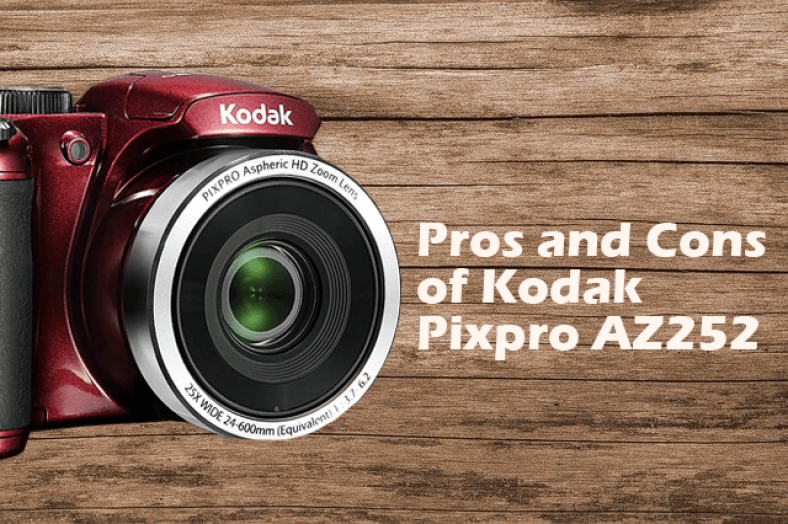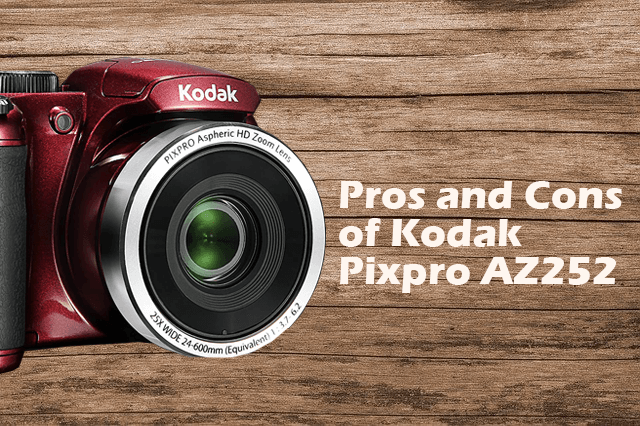 Kodak Pixpro AZ252 Specification at a glance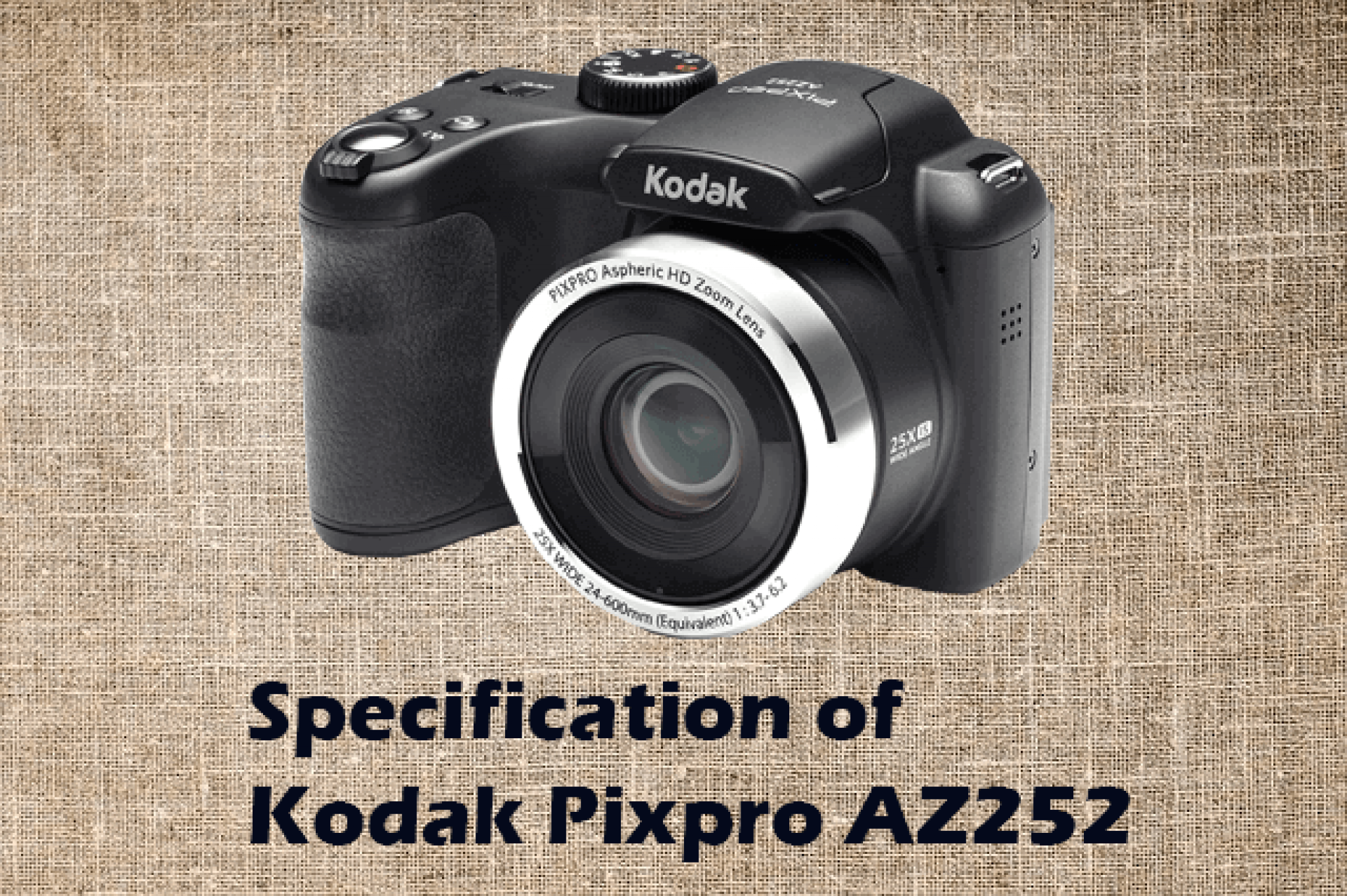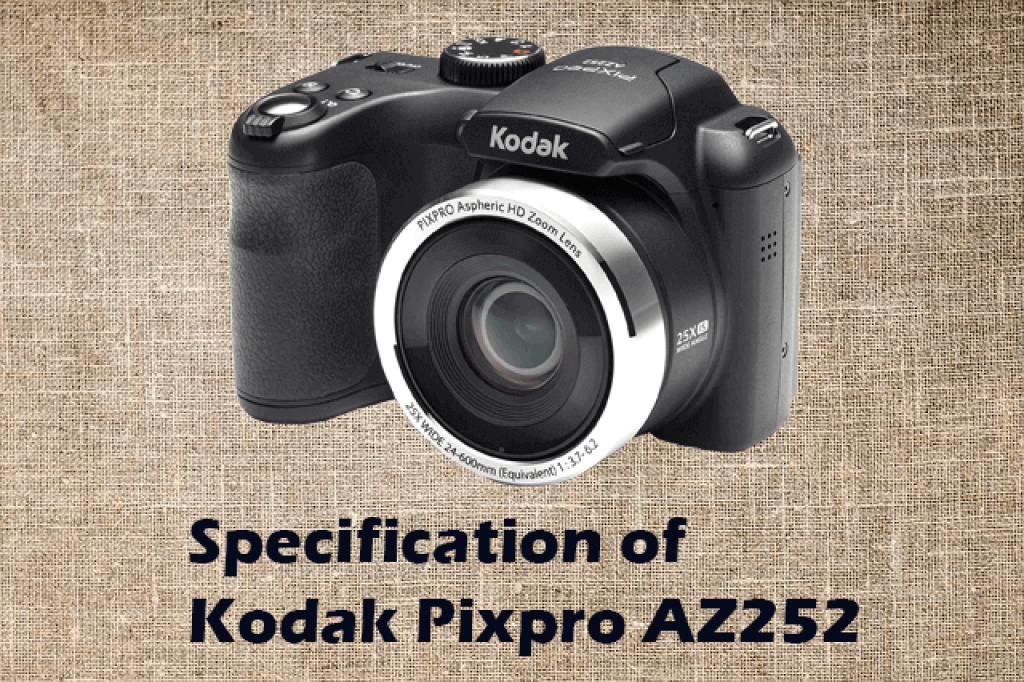 | Specification | Description |
| --- | --- |
| Brand | KODAK |
| Model Name | Kodak PIXPRO AZ252 |
| Form Factor | Point and Shoot |
| Skill Level | Amateur |
| Lens Type | Zoom |
| JPEG quality level | Basic, Fine, Normal |
| White balance settings | Auto |
| Special Feature | Image-stabilization (OSI) |
| Shooting Modes | Auto Mode Panorama Mode, Shutter Priority, Custom Settings Manual Mode, Landscape Face Beautifier, Program AE Scene Mode |
Frequently Asked Questions (FAQ)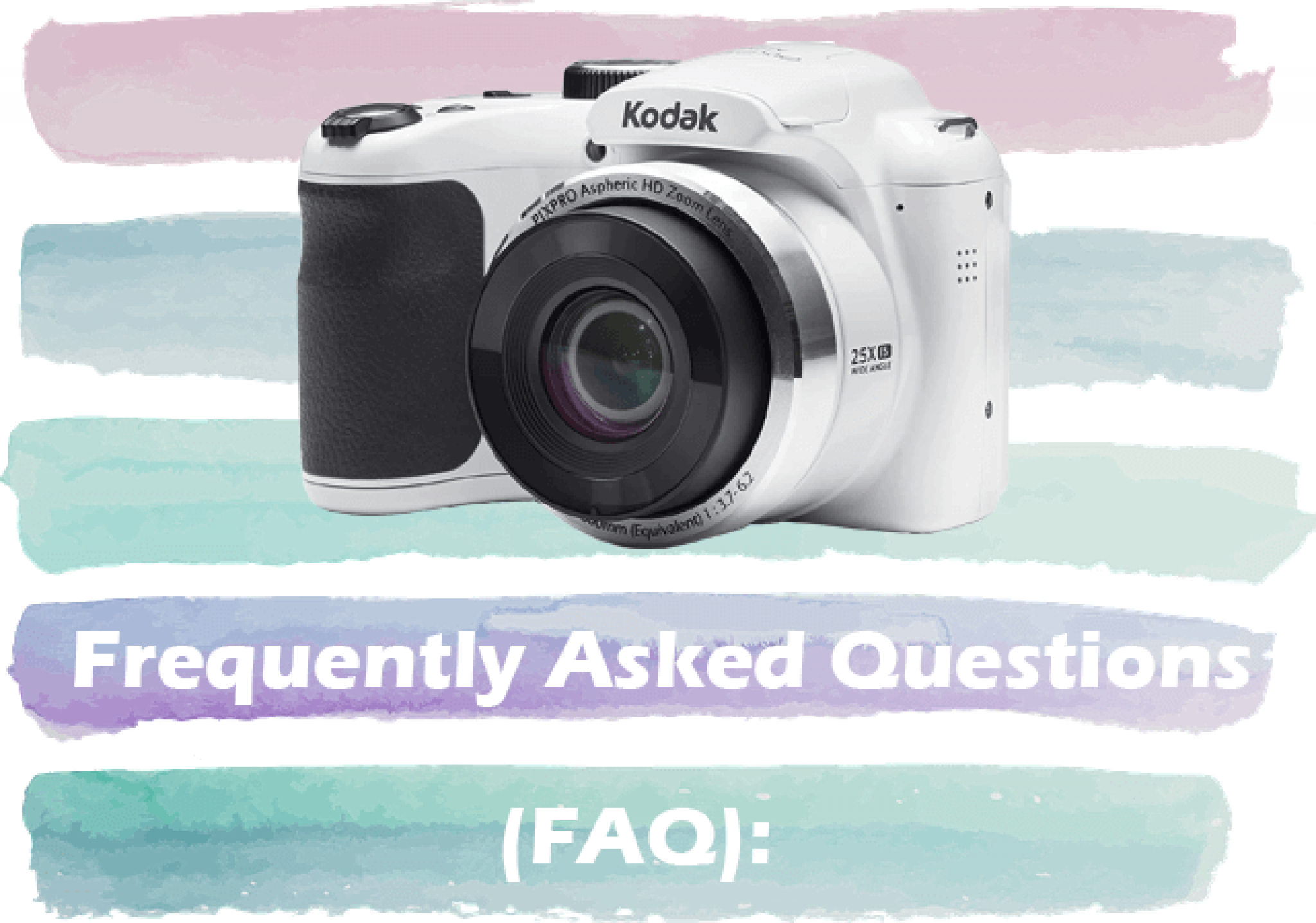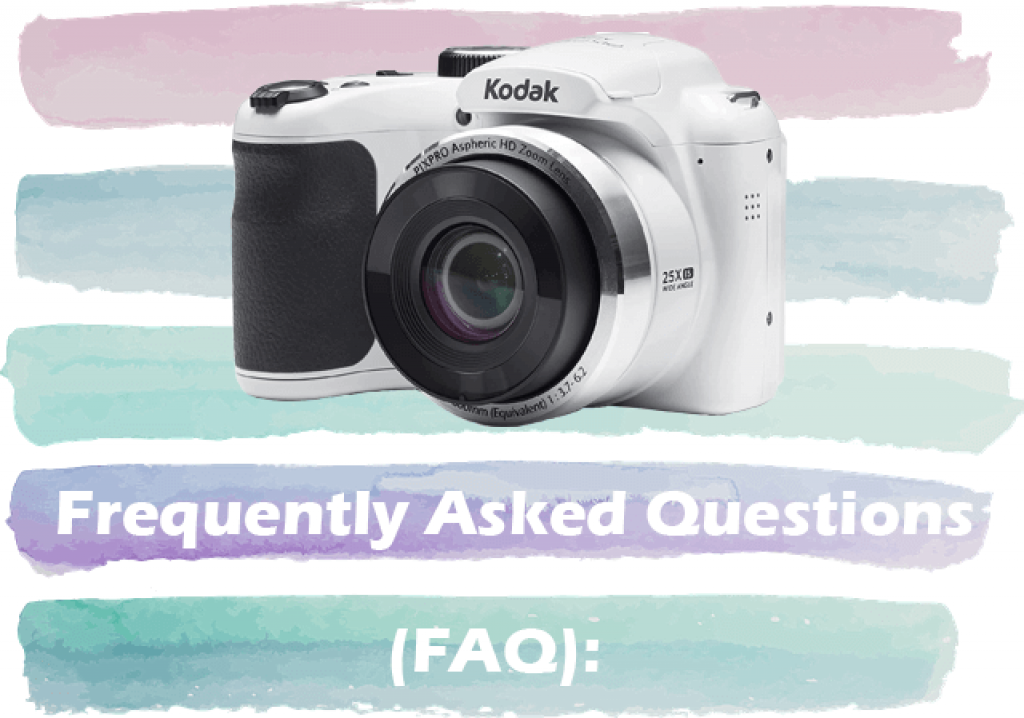 How do I charge my Kodak Pixpro AZ252?
You can use a type C USB port for charging your Kodak Pixpro AZ252 camera. Also, you can use Micro USB for charging purposes. Just plug the adapter into the socket and then connect the USB to your camera. It will take around 4 hours for a full charge.
Does Kodak Pixpro AZ252 support Micro SD?
No, Kodak Pixpro doesn't support Micro SD cards. Also ist not convenient with Extreme, extreme Plus, Extreme Pro, or SDXC cards micro/adapter, Ultra, Ultra Plus, etc. Only SD/SDHC memory cards are supported by this camera.
When was the Kodak-Pixpro AZ252 made?
On January 10, 2017, JK Imaging Ltd released The Kodak Pixpro model Az252. It is enriched with a 16 MP sensor, 3-ch LCD, 25x zoom, 720 HD video resolution, 22 scene modes, and so on.
How do you focus on a Pixpro AZ252?
To focus on any subject, you need to press the shutter button. After pressing halfway down, you will see a square around the subject on your display. Then you can press to take the desired photo.
Is Kodak's Pixpro AZ252 a DSLR camera or Point and Shoot?
The Kodak Pixpro AZ252 is not only a DSLR or just a Point and shoot camera. It's like a combination of both. It is considered a bridge between these two which fulfill all requirements of DSLRs and point-and-shoot cameras.
Is the Kodak Pixpro AZ252 a good camera?
When you are looking for a good camera in an affordable price range, Kodak AZ252 can be the best option for you. It has all the necessary features that you need to take high-resolution photos and videos. The 16MP camera sensor, 25x zoom, 720 HD videos, 22 scene modes, AA batteries, 32 GB storage, and so on! What else do you want from a digital camera?
Wrapping It Up
It's time to wrap up the Kodak PIXPRO AZ252 review. Here we try to cover all of the features and functionalities of the Kodak Pixpro AZ252 digital camera. It comes with such an amazing appearance without compromising the qualities.
The camera is designed to take high-resolution photos and videos. Also, it won't cut your pocket. In terms of quality, features, mode, design, battery backup, and affordability, this Kodak Pixpro stands out among other cameras. So why are you waiting for me? Capture your happy and special moments by Kodak Pixpro AZ252 Digital Camera!
Subscribe to the CameraIO Newsletter
Photography & Camera News + DEALS