Subscribe to the CameraIO Newsletter
Photography & Camera News + DEALS
Nikon D3200 lenses are ideal if you want your subjects to stand out from their backgrounds because it offers a beautiful background blur for indoor and outdoor shoots. Regardless of whether you are capturing still images or HD videos, these lenses are designed to capture every visual content with color vibrancy and sharp details.
Best Lenses for Nikon D3200 (Reviews)
Here are some of the best lenses for Nikon D3200 you are likely to come across: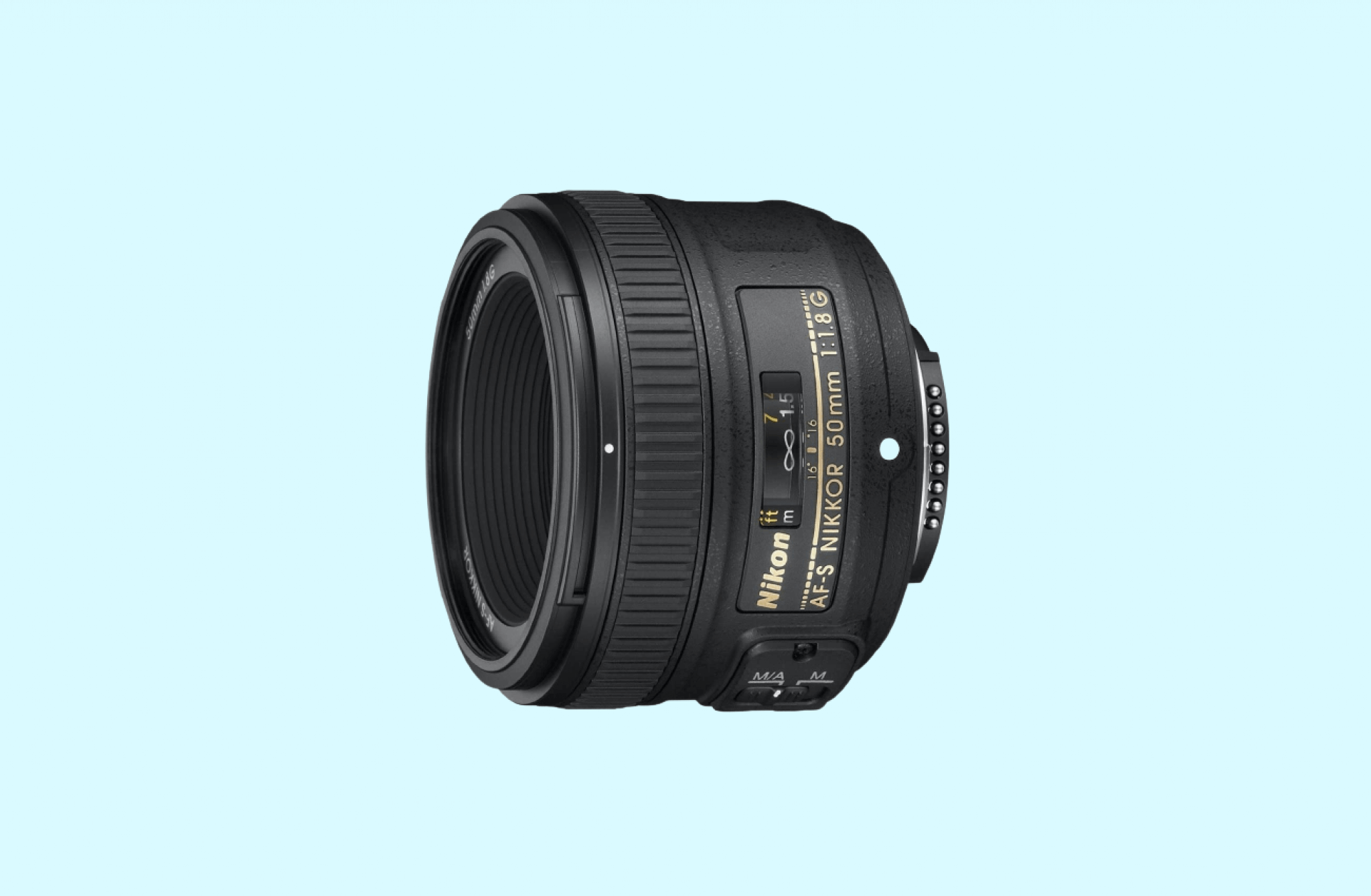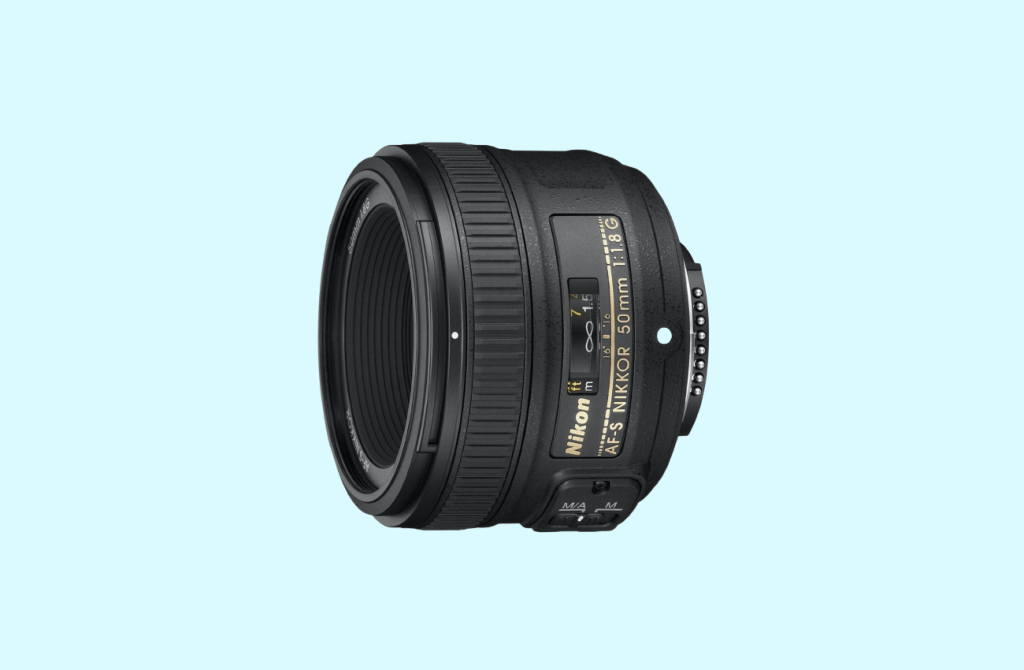 Nikon AF-S 50mm Lens
This product is a must-have for every photographer, and the lens will marvel at you. This standard lens allows you to capture fantastic images and get impeccable low-light results. It is perfect for travelers who take photos often, and its fast aperture is guaranteed to capture pictures with a flash of stunning brilliance. The more comprehensive aperture settings and the 50 mm focal length is suitable for giving your images a natural perspective.
This lens comes with an improved optical design and a bigger lens barrel, making the lens more durable. This design prevents the front lens element from shifting during autofocus so that you can use filter holders or circular filters.
Besides, the lens is curved and with a non-spherical surface, which enables compatibility and reduces aberrations. It has a fast maximum aperture, which allows more light to the camera's sensor to be used for low-light photography.
This lens allows you to capture every single detail and shoot tack-sharp portraits always. It has a Super Integrated Coating that allows an efficient transmission of light. This lens is preferred because it gives your images a reduced flare and offers a superior color consistency. It is an Aspherical Lens Element that eliminates all types of aberrations and allows you to shoot even at the widest aperture available.
It has a fantastic lens sharpness, contrast, and color rendition, which makes its performance excellent. This lens also yields a better bokeh, which is a crucial characteristic of 50mm lenses. This lens's ghosting and flare are controlled very well compared to the previous generation, mostly because the new 50mm lenses are located much inside the barrel.
---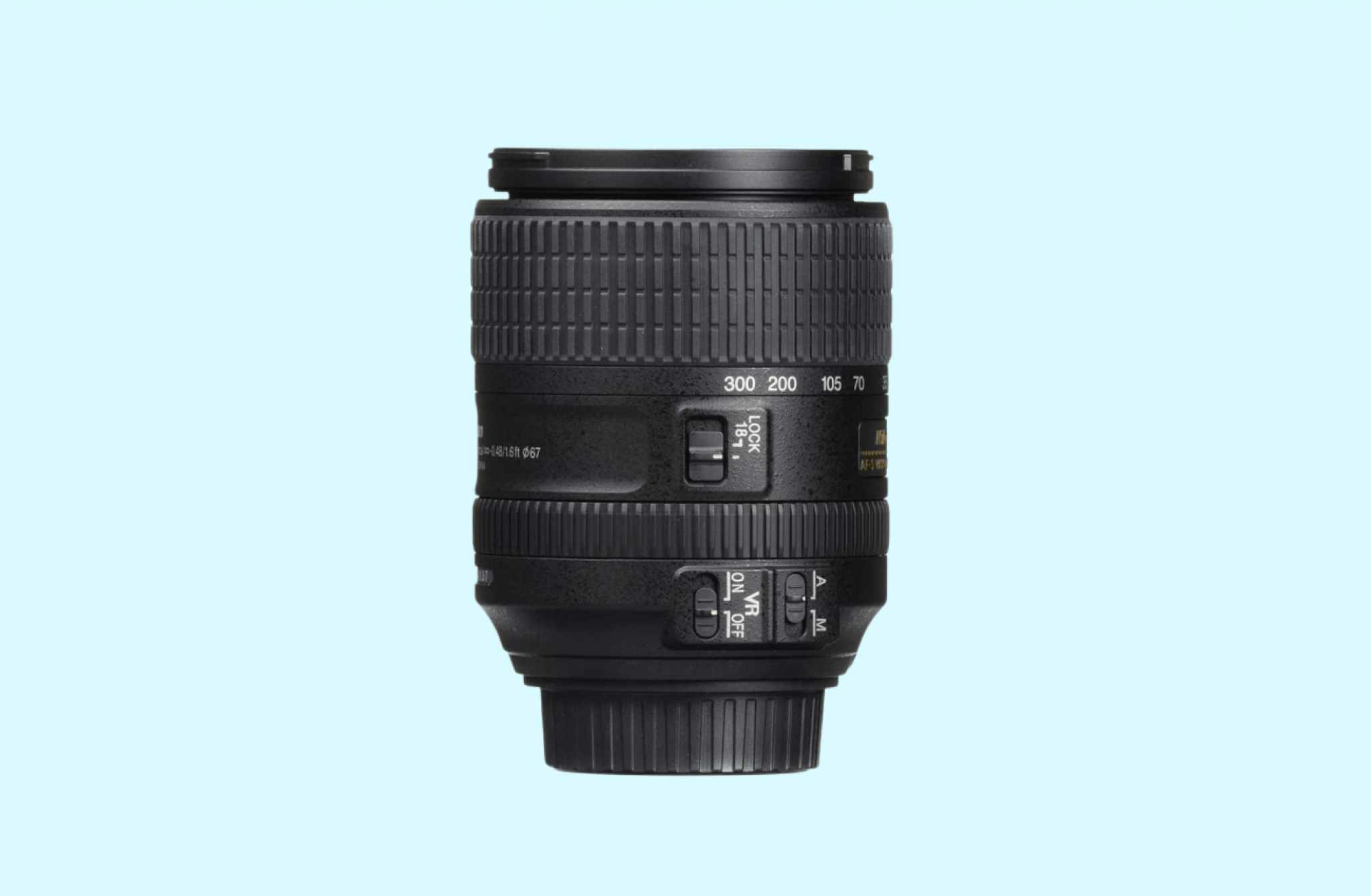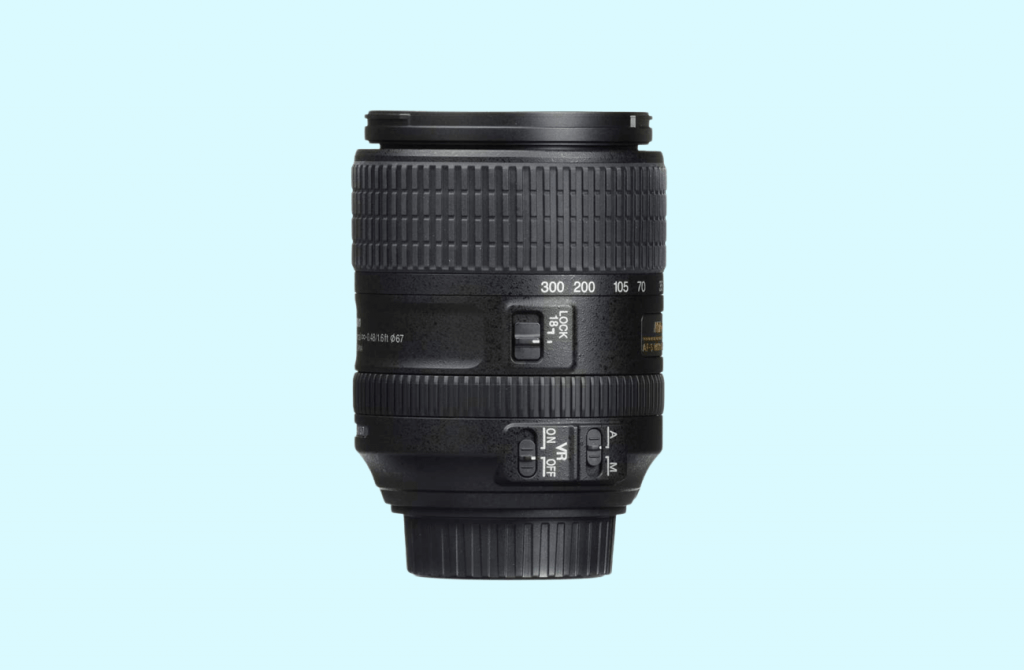 Nikon AF-S 18-300mm Lens
This is to get rid of specific lens aberrations that affect image quality. An ED, Extra-Low Dispersion Glass, is used in conjunction with the regular optical glass to get a maximum correction of chromatic aberrations. The 18-300mm is designed the same as every other modern Nikkor zoom with a black polycarbonate with gold accents.
The zoom ring and the manual focus ring of this lens have a textured finish, with the lens supporting 67mm front filters. It is designed with an A-M, Auto-Manual Mode that is incorporated in the lens barrel. This mechanism allows a smooth focusing operation in Manual mode.
This lens has very reliable and outstanding performance, just like the renowned NIKKOR lenses. It delivers superb image quality with sharp detail, a very vibrant color, and minimal or no distortion. Nikon's advanced technology enhances its optical performance and increases the lens's versatility to take both photos and images. This lens allows for compact and closer focusing of distances because only the internal lens group shifts when you focus.
It is designated for DX-format photographers who want to get more out of their D-SLR cameras, and with it, you can shoot vacations, sports, or wildlife confidently. If you're going to keep your camera at your side without gravity causing the barrel to creep out, this lens has a lock switch that ensures the zoom is set at its shortest setting.
The world is full of amazing views, and there is no better way to capture these beautiful memories than with this lens. It allows you to capture crisp and clear photos and sturdy videos even when your hands are not steady. Its Vibration reduction technology allows the capturing of sharp images in lowlight situations.
The Silent Wave Motor Technology allows a near-silent autofocusing of the optics by conversion of traveling waves into rotational energy. An A/M setting enables you to switch between manual focus and automatic modes and an on/ off switch for controlling the VR (Vibration Reduction) system.
Since it is a NIKKOR, this lens features some of the best optics, which is perfect if you want a lens that offers you maximum versatility. This lens is ideal for photographers who find inspiration and want to take shoots everywhere they go, as it allows blur-free shooting. You can also slow down the shutter speed, and it doesn't compromise the sharpness of the images.
---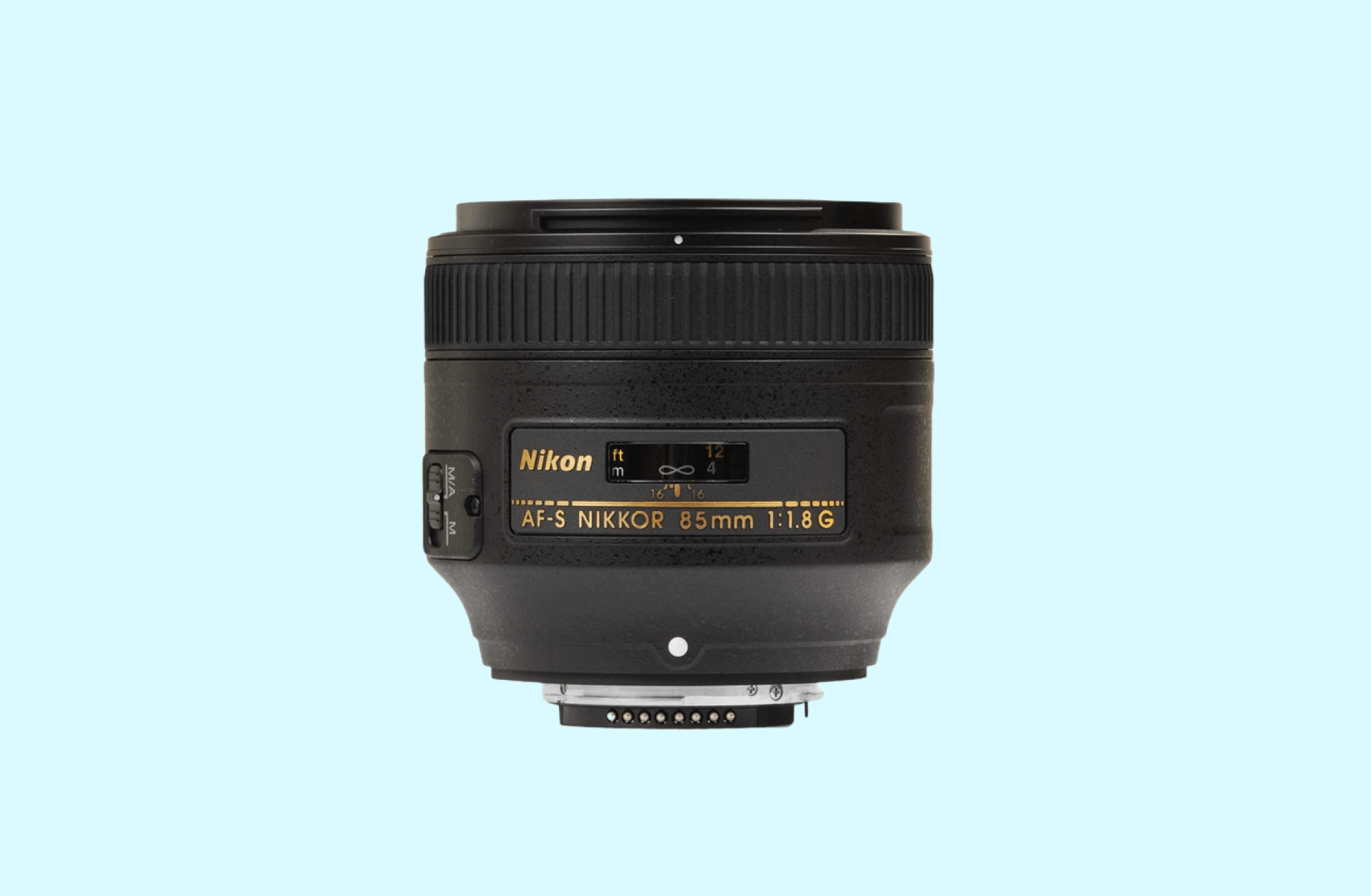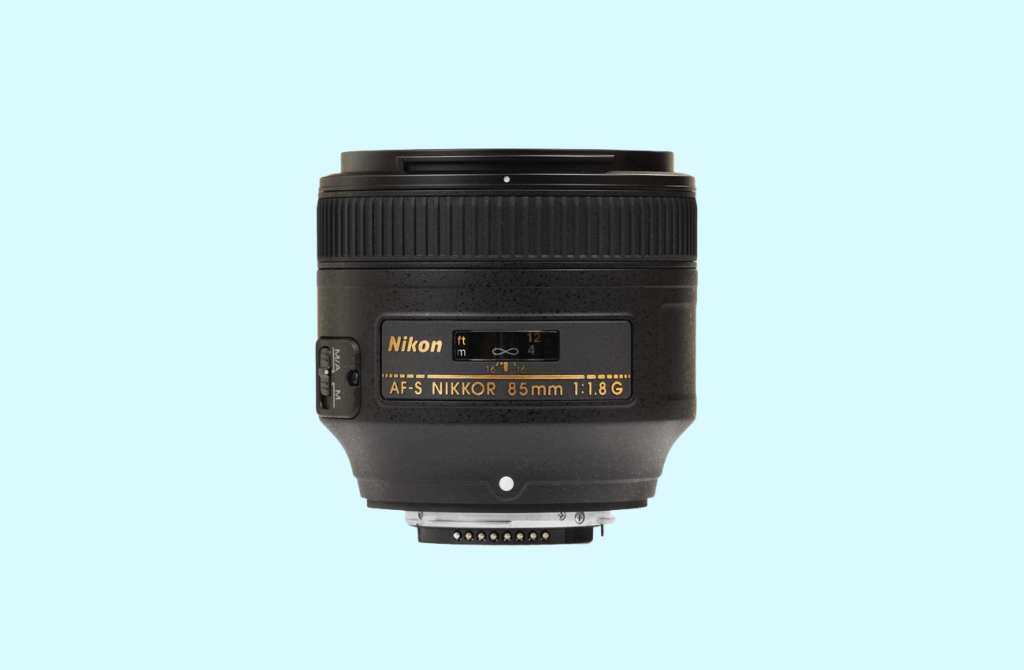 Nikon AF-S 85mm Lens
This product has a bigger size and a bulky lens barrel, but it balances very well and feels just right in terms of weight, focal length, and scope on any DX camera. This lens is exactly what every portrait photographer is looking for in portrait lenses.
This lens has solid built, with a metal mount and a plastic exterior. It has a rubber gasket located on the lens mount that protects the camera from any sensor dust and the dust that potentially ends up inside the lens. It comes with a bigger filter thread, and since the front element is round and settled inside the lens, you can comfortably shoot against the sun.
This lens doesn't have gold rings that are meant to help withstand severe weather, but you can still use it in hot/dry/wet/cold weather without a lot of trouble. It does not have the same intricate optical design as the 85mm f/1.4G, but it comes very close in color and Bokeh, with an excellent resolution and contrast at all apertures.
When it comes to performance, this lens's rear element does not shift when focusing, so you don't have to worry about alternating the lens focus. It has a M/A and M switch located on the side to allow autofocusing of optics with both a fully manual focus operation and a manual focus override. This lens's AF performance is awe-inspiring, and the lens guarantees the delivery of accurate and sharp optical images, no matter which Nikon DSLR is used.
This product is designed with convenience, with the focus ring on the front barrel making it easy for you to manually focus with your fingers when shooting. With its low price, this lens is a steal compared to its predecessor, and it allows the shooting of low light photography with shallow depths that separate subjects from their backgrounds, making beautiful background highlights.
This lens has a lot of potential for photographers who are crazy about Bokeh. The ghosting and flare are controlled quite well, and the amount of distortion experienced with this lens is also very minimal. The chromatic aberration is also controlled, even in situations that require shooting high-contrast images.
This product seems to be an excellent performer, and it competes fairly with some of the more expensive and bulkier competitors. This light and compact lens are suitable for portraiture, and it is quite sharp and affordable as well, so you should consider getting it.
---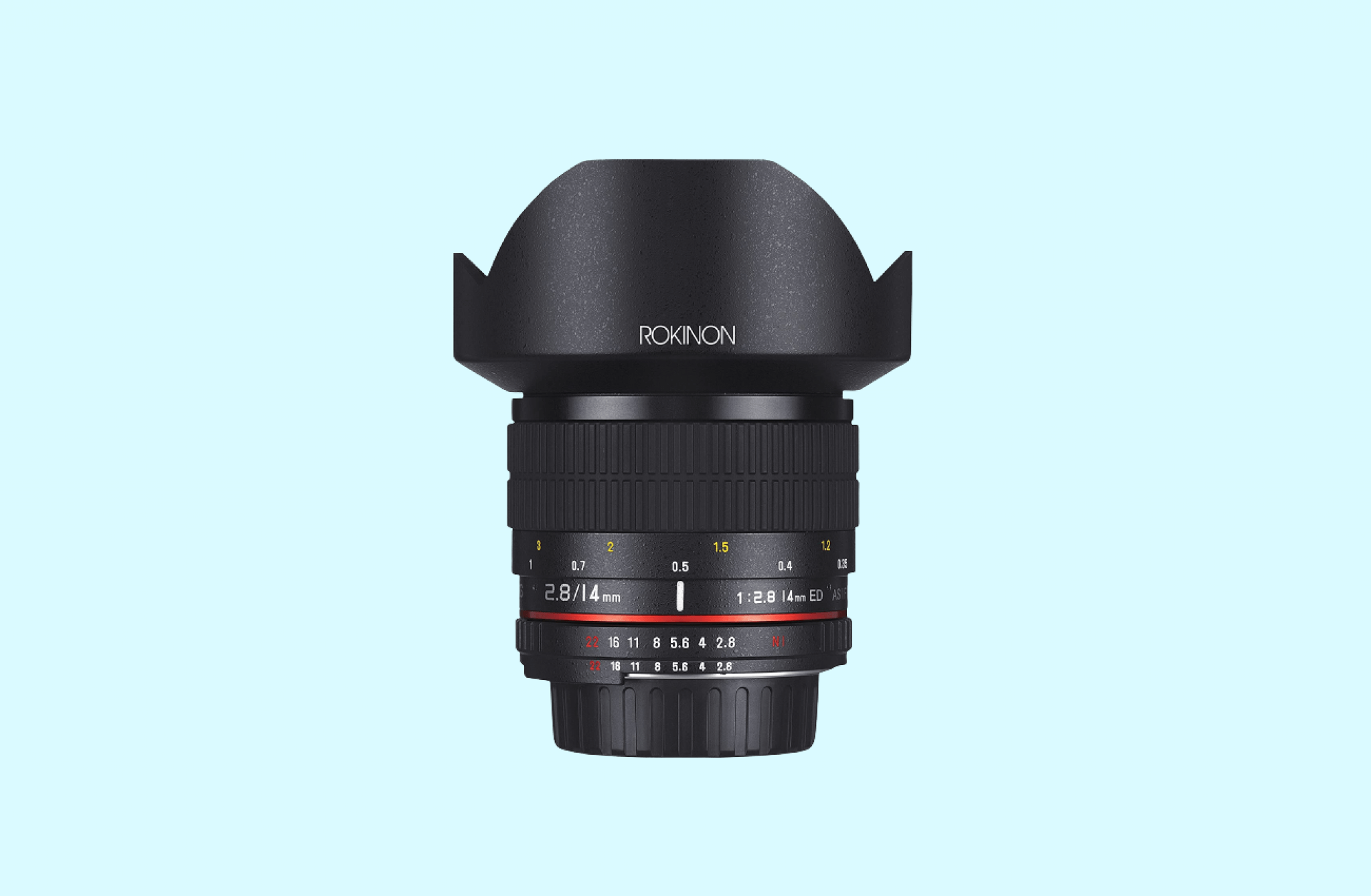 Rokinon 14mm Lens
As a professional photographer, there are times when only a wide-angle lens will give you the results you need and capture the whole scene matching the imagination you have. This lens is an excellent piece of glass and an aspherical lens element that reduces the spherical aberration present in big and bright lenses.
The spherical lenses hinder light rays from converging on one point, which causes fuzziness even when there is no clear focus. As such, it guarantees to save on money, focus, time, and attention. It has a non-removable petal lens hood that protects the glass. This, however, is an inconvenience because the lens cap looks and feels like a massive cylinder. It has an enormous front element, probably why the lens hood is integrated with the lens body.
This lens provides a frame-filling and ultra-wide view that is perfect for street photography, astrophotography, and any photography that requires capturing the entire scene. It has UMC Multi-Coating that increases light contrast and transmission while minimizing flare and ghosting.
With this lens, you can capture spectacular images of the night sky due to its excellent sharpness and low coma that hinder comatic aberration.
This lens is designed to provide a dramatic view on full-frame cameras. It is suitable for landscapes, real estate photography, and astrophotography. It functions well with Mirrorless and DSLR cameras to provide a wide angle of view. This lens, when used with live view mode, shoots very sharp images.
This lens is incredibly sharp and at all apertures, so it's a good choice for any professional photographer. Besides, it produces very low coma levels, which ensures the comatic aberrations are kept to a minimum. This lens is a bright one, perfect for astrophotography and capturing the night sky with its super-wide ultra view.
---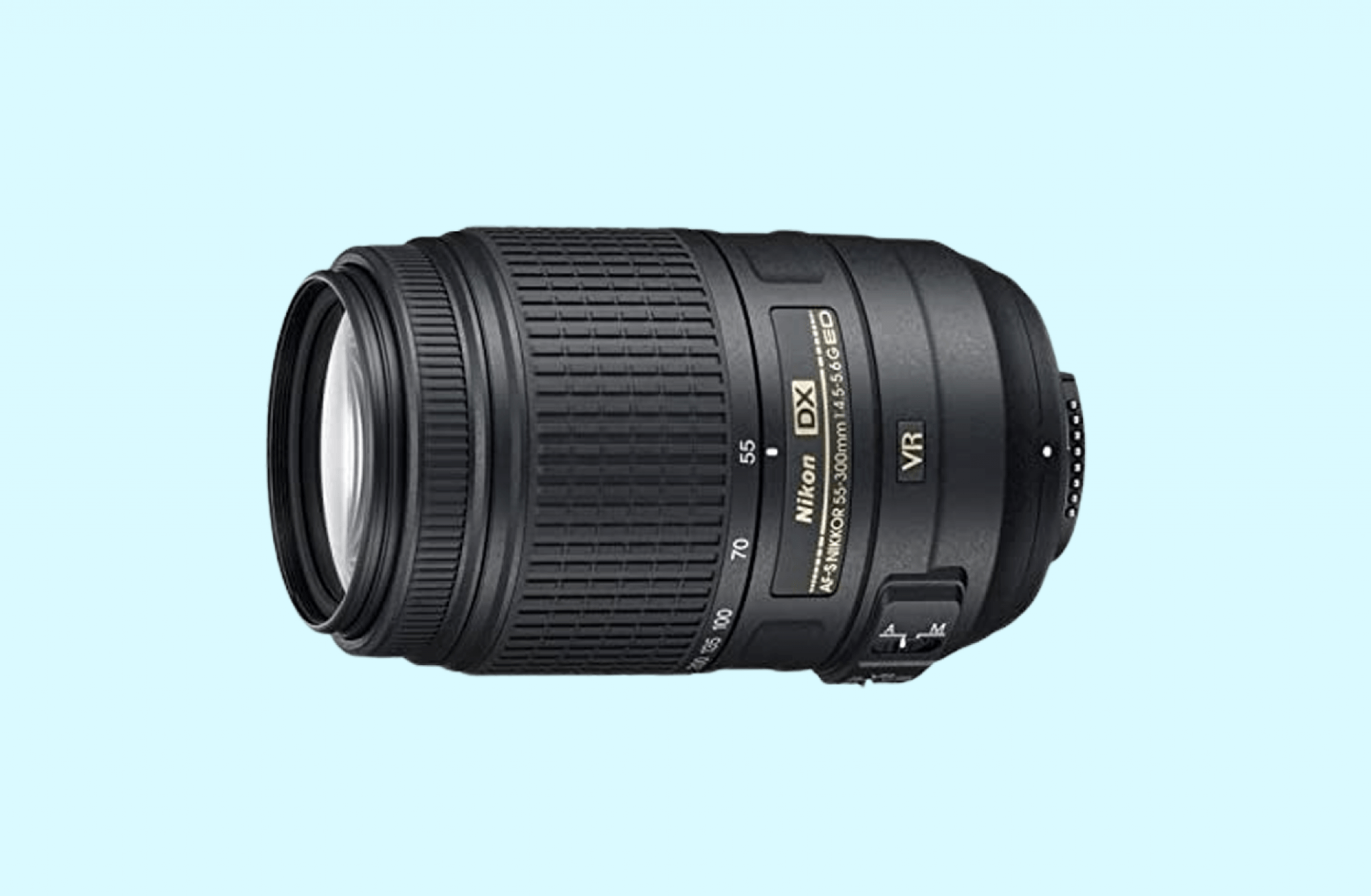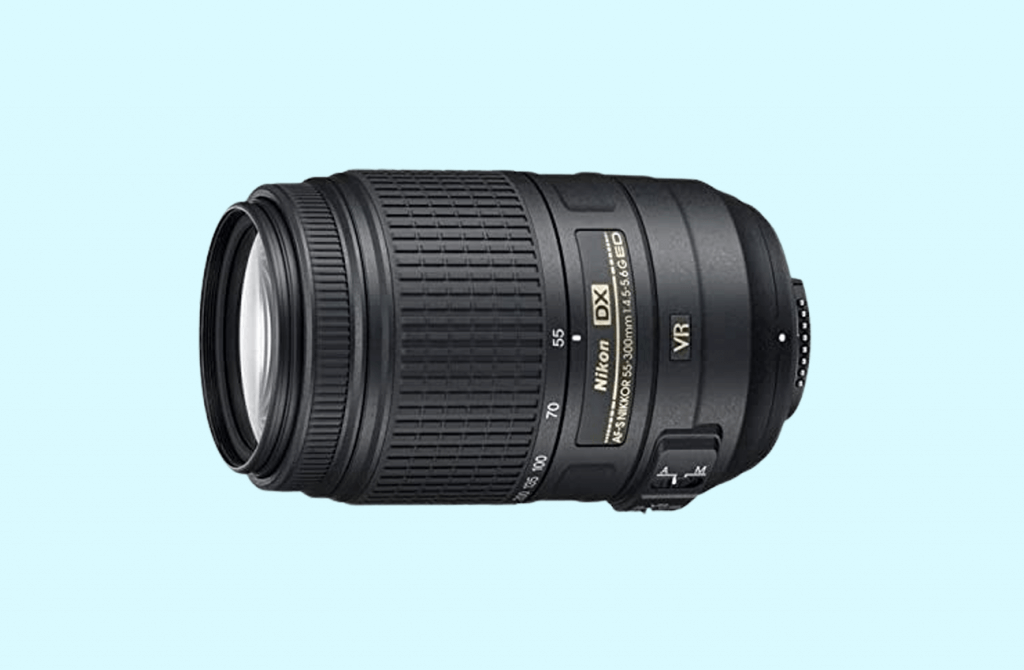 Nikon AF-S 55-300mm Lens
This powerful zoom lens allows photographers to use both DX-format and D-SLR cameras to attain 300mm super-telephoto. It allows clarity and sharpness due to the Vibration Reduction image stabilization incorporated in the design. This lens is a practical and versatile choice for photographers who want a single lens that is capable of handling any shoot and any opportunity.
This lens has a High Refractive Index element and 2 (ED) extra-low dispersion glass elements that allow capturing images that are far away. The VR element allows for image stabilization and shooting of blur-free handheld images and sharp HD videos.
Nikon's latest lens technologies; silent wave motor (SWM)' Super Integrated Coating(SIC), and Tripod Detection Mode technology. Nikon's exclusive SWM allows for a precise, ultra-quiet, fast, and autofocus operation. The SIC technology is for enhanced performance in low light situations and minimization of flare and ghosting. This lens's Tripod Detection Mode is sufficient for the reduction of vibrations during tripod shooting.
This plastic lens has a metal mount that makes it easy to carry around, and although it has 17 optical elements, it is not bulky. It has a high refractive index lens element that allows you to use a single lens element instead of multiple elements of regular glass and does not affect your images' quality and sharpness. This lens is also preferred because of its gigantic zoom ring, making it easy to operate while still holding the camera with the other hand.
This lens is a versatile one, and it allows you to shoot at 55mm to 300mm, which is perfect, especially for wildlife photography. It doesn't have an issue with lens breathing, which is a common issue for Nikon lenses. This lens also doesn't creep, even with heavy gradual use, and its lens hood is uniquely designed to snap on easily.
This lens produces a very good quality of Bokeh, though a little edgy. It has no issues with vignetting as a telephoto lens, and even when shooting at the largest aperture, the quality of images is impressive.
---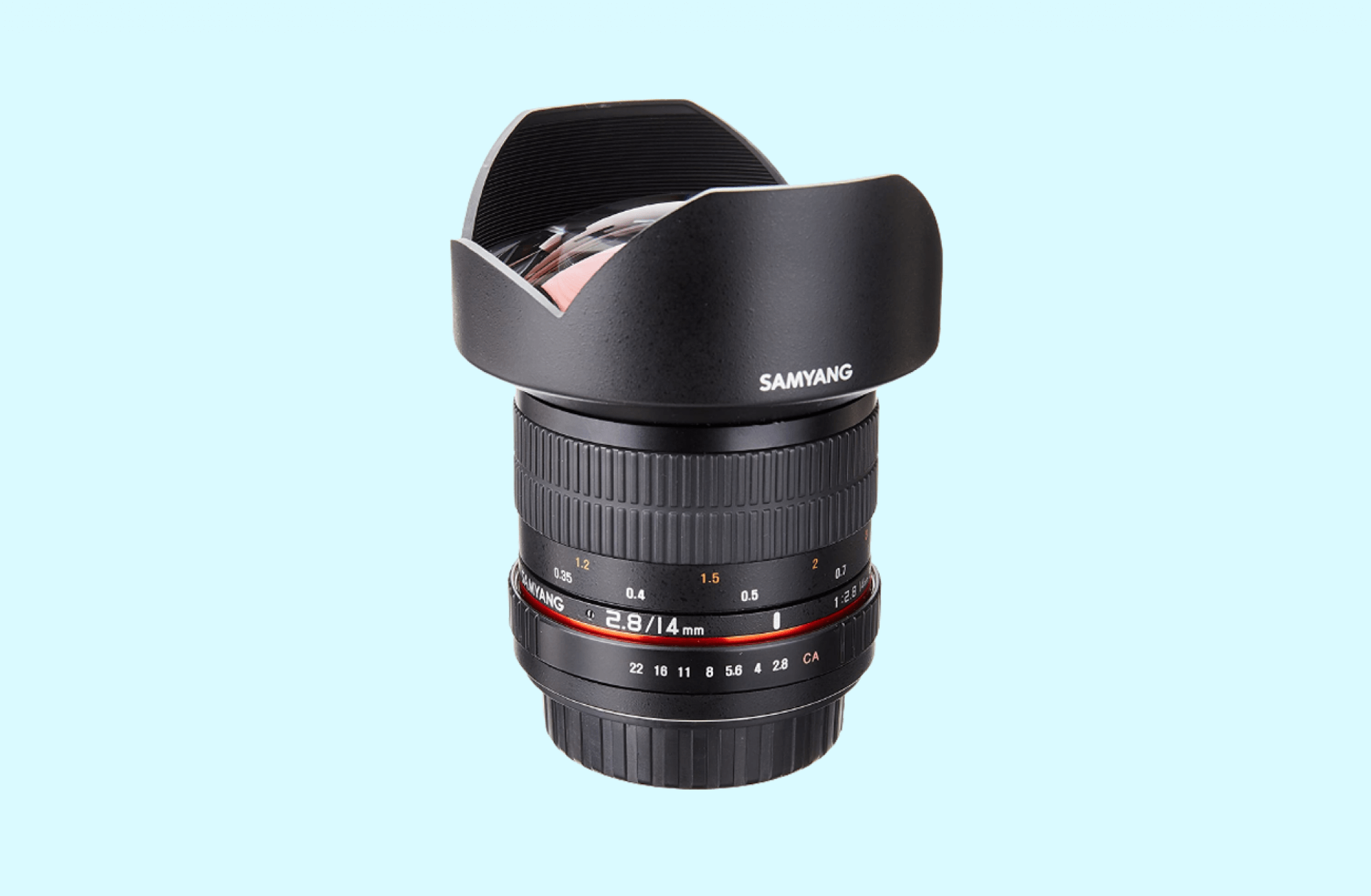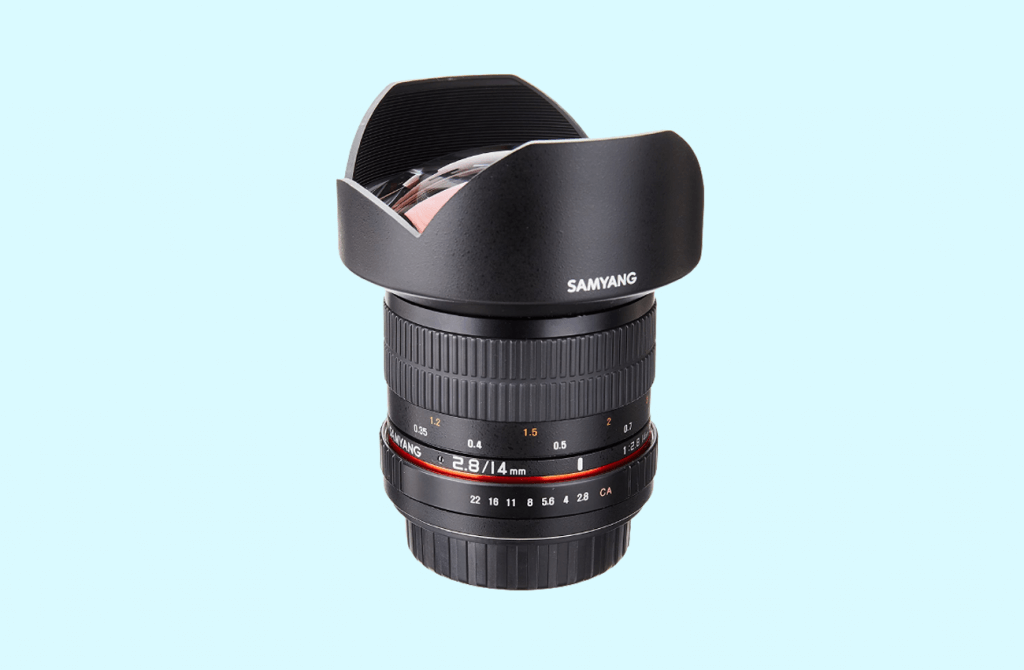 Samyang 14mm f2.8 Lens
The 14mm F2.8 features an ultra-wide-angle lens for manual focus. It can be used for both APS-C cameras and Full Frame cameras. This lens is suitable for landscape photography as it features excellent optical performance and produces exceptional image quality. The Ultra Wide Angle lens is a wide-angle lens suited for Nikon AE cameras.
This Aspherical lens has a high-quality build and a petal-shaped hood that has been built in to hinder unwanted light behind the camera. A smooth, comprehensive, and well-damped manual focus ring and a 115.7° Ultra Wide Angle allow you to capture images in a creative space and exceed what meets the eye.
This lens is designed with 14 elements in 12 groups featuring a glass aspherical lens element and a hybrid aspherical lens element. It has a focal length of 14mm, and it is designed with an inbuilt petal-type hood. It is constructed with all the premium quality components that make it very durable and useful for a long time.
The performance of this lens is impeccable due to the multi-coloring feature of this lens. This lens minimizes the effect of ghosting and flares in the images and ensures their quality is excellent. It is a superior Samyang lens that offers excellent image quality by reducing all types of distortions and aberrations.
The most impressive thing about this lens is that it has a very outstanding performance in different kinds of photography, ranging from landscapes, and portraits, or close-up images. If you want to have a good and fun career in photography, this lens is perfect for you.
This lens is suitable for night city landscapes and portraits that are out of focus. It has six rounded aperture blades that give your images an artistic feel and a great sense of soft dimension as well as fantastic bokeh.
The smooth focus ring ensures that you have good control of the shots you are taking, and it produces high-quality images in both indoor and night shoots. Also, it has a multi-layered coating that prevents ghosting and flares, and it is compatible with both APS-C Cameras and Full-frame Nikon cameras.
Regardless of whether you are a professional photographer or an amateur, this lens is perfect, and it works smoothly for photography and videography. It gives you a broad view field and a viewing range of about 114 degrees, which is impressive. It is perfect for photographers who prefer manual focusing when photographing or video graphing with DSLRs.
---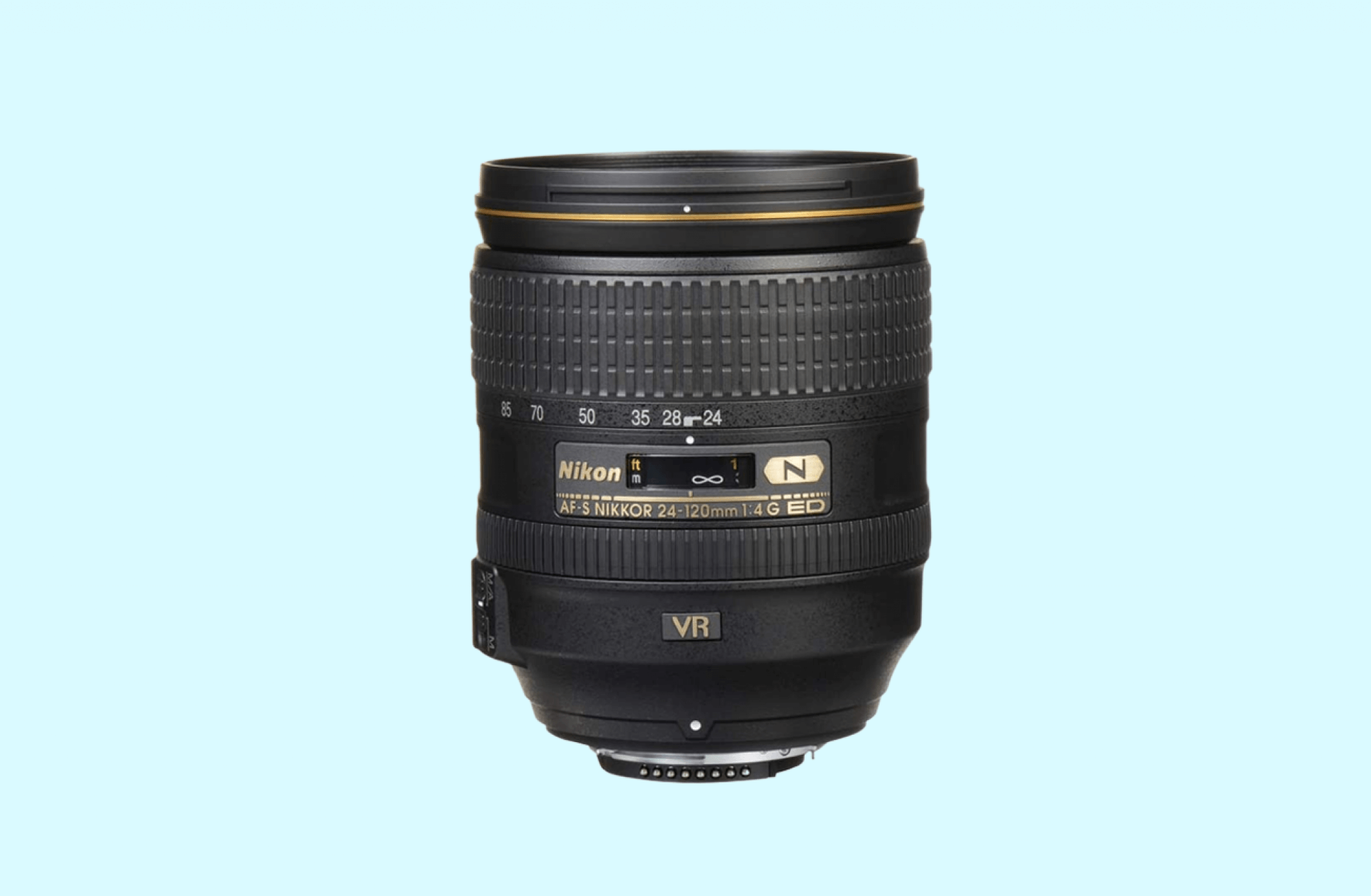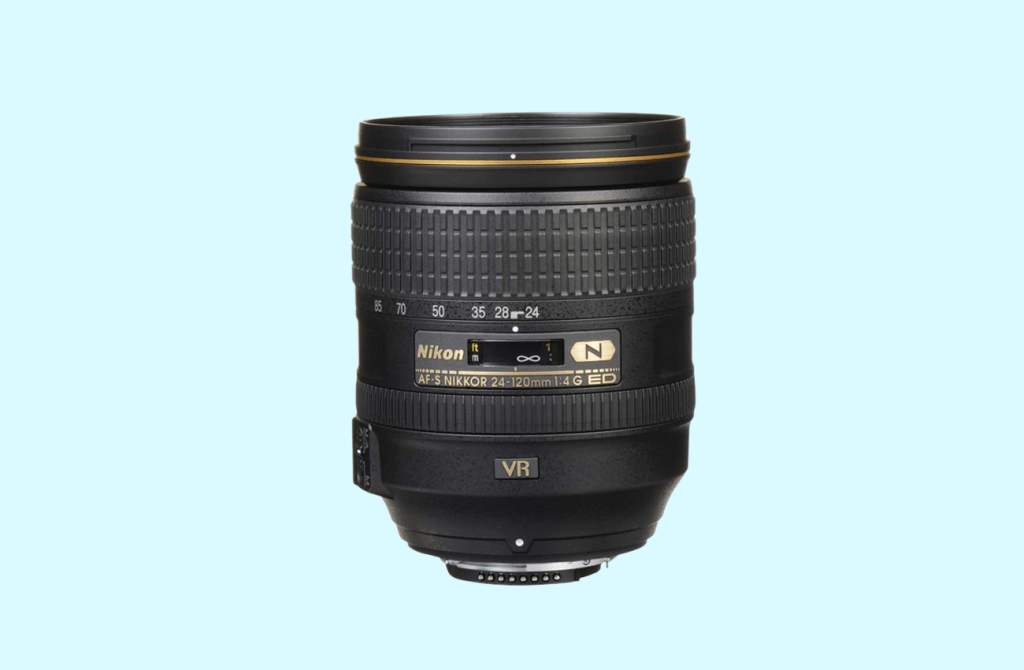 Nikon AF-S 24-120mm Lens
This lens is an advanced upgrade to the telephoto 12omm zoom lens, which delivers fantastic image quality at a focal length or aperture. This lens is an excellent utility value for standard zooming and is most preferred by FX-format photographers. This lens is suitable for landscape photography, weddings, and for distances that are not close. It has an incredibly slim and compact body and a built-in Vibration Reduction.
It offers a constant maximum aperture that regulates exposure settings throughout the entire zoom range. It has a compact and versatile 5x standard zoom lens with an F/4 maximum aperture that is suitable for distant subjects, photography, landscapes, and portraits.
This standard zoom lens offers a constant maximum aperture to maintain exposure settings throughout the entire zoom range. Its VR II image stabilization facilitates its performance by empowering your handheld shooting, making it very compact and powerful. It is an advanced lens for advanced D-SLR cameras. It has developed very remarkable technologies to guarantee exceptional performance in any indoor or outdoor setting.
This lens boasts many of Nikon's latest lens technologies, the Vibration Reduction II (V R) image stabilization, Silent Wave Motor (SWM), 2 Extra-low Dispersion (ED) elements, Nano Crystal Coat (N), Super Integrated Coating (SIC) and several more. This makes it very consistent and assures an exceptional performance in any setting.
It is designed with a Nano Crystal Coat that further reduces ghosting and interior flare across a wide variety of wavelengths. This assures excellent and sharp image quality in different settings. It has three aspherical lens elements responsible for eliminating coma and other types of aberration, even when shooting at a wide aperture.
This lens has a tremendous Internal focus (If) that guarantees fast and quiet autofocus without changing the length of the lens. This helps in retaining the working distance throughout the focus range and for convenience. The Nikon super integrated coating (SIC) of this lens promotes light transmission efficiency. It also offers superior color consistency and reduced flare.
This lens offers superior sharpness as well as color correction even at wide aperture settings. The two extra-low dispersion elements allow an effective reduction of chromatic aberration. It also allows a quick change between autofocus and manual operation as a result of the M/A focus mode switch. Its rounded 9-blade diaphragm gives a more natural appearance to out-of-focus image areas.
---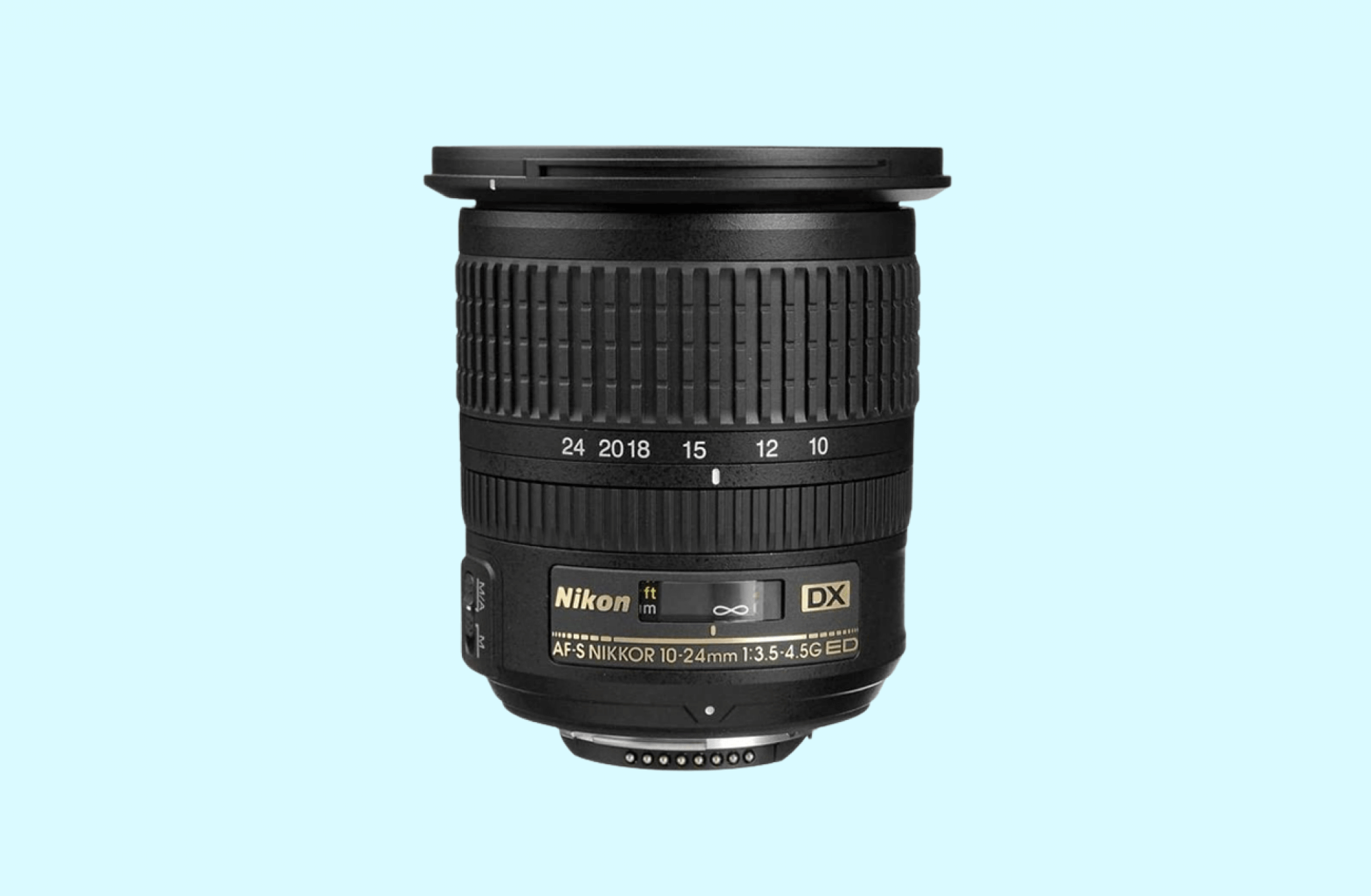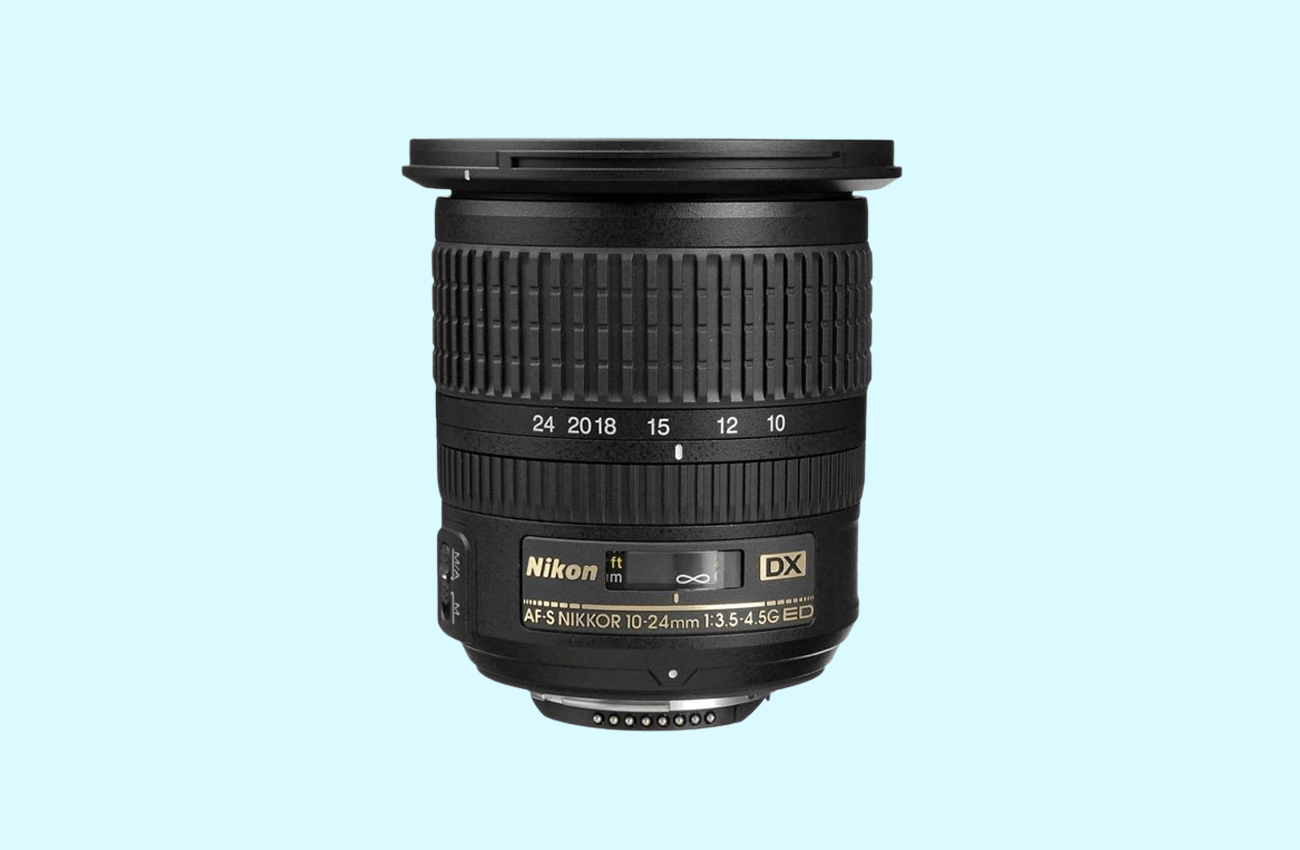 Nikon AF-S 10-24mm Lens
There is no joking when it comes to the build quality of this product, and this lens is solid, just like other Nikon lenses. It has a metal lens mount and a polycarbonate barrel that is very tough for durability.
This lens is designed with rubberized rings to ensure zoom adjustment and for use in manual focus. The rubberized zoom ring is wide and at the front of the lens. It has a narrower manual focus ring behind the focal length markings located closer to the mount.
This lens has an ultra-fast, ultra-quiet Silent Wave Motor (SWM) autofocus motor and a Nikon Super Integrated Coating (SIC) for reducing flare and ghosting on the lens. This lens's performance is exceptional, and there is no rotation when zooming or adjusting focus, which makes it easy to use a circular polarizing filter.
This lens has only one control switch, which toggles between manual and autofocus. It lacks a built-in stabilization, but that is not new for such a wide-angle design.
This lens is suitable for shooting quality and sharp photos and HD videos of landscapes, interiors, cityscapes, architecture, and more.
Its versatility allows autofocus on subjects and images as close as 0.8-ft. Also, this lens has a host of Nikon technologies, so you can rest assured your world and pictures will be captured with remarkable precision and clarity. It helps your D-SLR achieve peak and exceptional performance in both still photography and HD video shooting.
---
Things to Consider Before Buying A Lens for Nikon D3200
The Nikon D3200 is among the leading entry-level DSLRs on the market, and many photographers are considering it for HD videography and quality photography.
If you have a Nikon D3200 and you are curious about the best lens to use, there are some things to consider before settling for a specific lens. Many factors go into making a great photo, and the lens is a very vital factor.
Using a different lens or the wrong lens for a particular setting can dramatically change how a photo turns out or looks. This has a big effect on the finished product. However, with so many different lens options in the market today, it is not easy to know which one to buy.
There are hundreds of other models that can make picking the right one a bit difficult, but with the right information about these lenses, choosing the right one won't be challenging.
Frequently Asked Questions (F. A. Q.s)
Is the Nikon d3200 a good camera?
This camera is a subtle and significant upgrade from its predecessor, so it is a good camera. It has a high-resolution 24.2 MP DX-format CMOS sensor, and it allows full HD video recording capability. This camera is light in weight, and it is a suitable and capable DSLR camera for amateur photographers. Technically, this camera is unbeaten, but it all depends on the setting and the photographer behind the lens.
Why are 50mm lenses so cheap?
There are many reasons attributed to the cheapness of 50mm lenses, but the most direct and obvious reason is simply physicking. These lenses have designs that are usually old, and they don't have much R&D cost to recover. 50mm lenses are small in size, and they require a large amount of glass for efficiency. Over the years, these lenses have been massively manufactured, so there is no need for new machinery, making the available ones cheap.
Do professional photographers use autofocus?
Before the twentieth century, most photographers used manual focus to make the quality of their images good and bring out the contrast. These days, however, autofocus has become a standard feature of cameras, which has made manual autofocusing not very popular.
However, for most professional photographers, manual focusing is preferable because they have total control of their images, so they tend to forego autofocus features. There is no single given way for professional photographers to operate, so it depends on the setting and the specific photographer.
Is the Nikon d3200 good for sports?
Nikon d3200 makes the right candidate for sports photography as it has a 74 score. It satisfies your photography requirements and needs, but it isn't the best recommended for sports photography. To capture great action and sports shots during a game or match, you need a camera that will freeze the action at the perfect and right time, so you need a fast shutter speed.
To achieve these fast shutter speeds, you require a lot of light to reach the sensor, which is easy if you are photographing at midday and when there's bright sunlight. When shooting in low light or the evening, this can be a problem. To be able to shoot sports and action shots in low light, you need to use lenses that have a wide maximum aperture, like f/2.8 or f/4.0, which can be rather expensive
What f stop using for sports?
In sports, shooting with f often means shooting with your lens's maximum aperture. The f/4 and f/5.6 are the two common telephoto lens maximum apertures, and they are perfect for shooting sports. If you prefer to shoot with a more field depth, consider using f/8 or f/11, as long as you regulate and watch your shutter speed.
Raising the ISO allows you to shoot at a faster shutter speed, which will enable you to capture the perfect shot. Professional sports photographers use a shutter speed of around 1/1000 seconds to stop motion, which is easy during the daytime. At night, however, a faster F is needed, so to compromise, you increase your camera's ISO, allowing it to seem lighter.
Conclusion
These lenses allow taking pictures with outstanding quality and fantastic precision. They have amazing features and qualities such as the aspherical lens that permits slight distortion and spherical aberration. The images taken using these Nikon lenses are crystal clear and sharp, and their quality is impeccable.
Related Posts:
Subscribe to the CameraIO Newsletter
Photography & Camera News + DEALS