Subscribe to the CameraIO Newsletter
Photography & Camera News + DEALS
Nikon produces a variety of wide-angle prime lenses for both DX-format APS-C and Nikon FX full-range cameras. Most of these lenses begin at wide-angle but eventually reach the standard or telephoto lengths upon zooming.
When choosing a wide-angle lens for Nikon FX, you should consider the diaphragm's maximum aperture and the focus modes. The weight of the lens is also important, especially if you are a travel photographer. A good lens is pricey, but the functionality and features are worth the price.
Best Wide Angle Lenses for Nikon FX (Reviews)
Here are some of the best wide-angle lenses for Nikon fx you are likely to come across: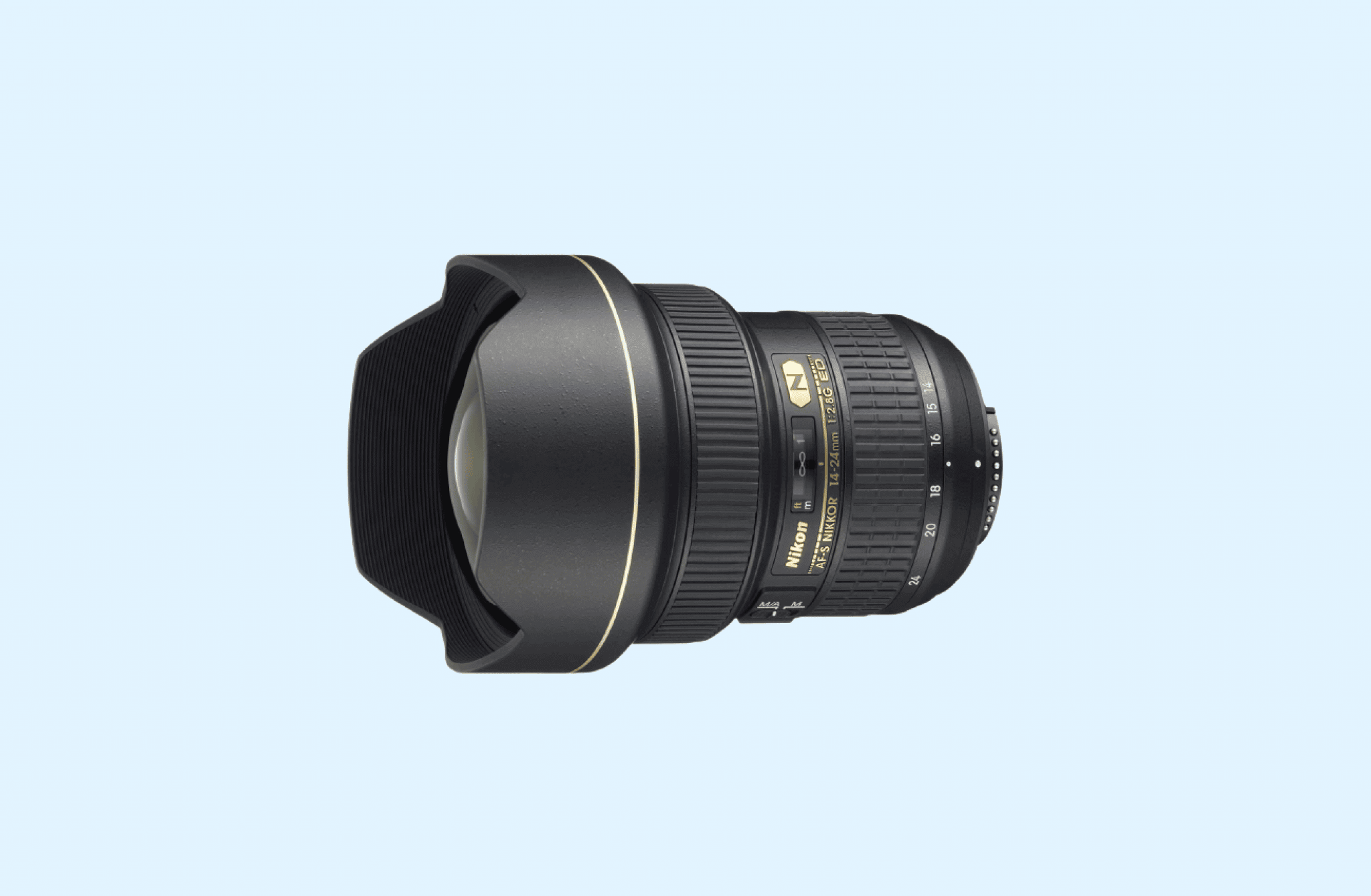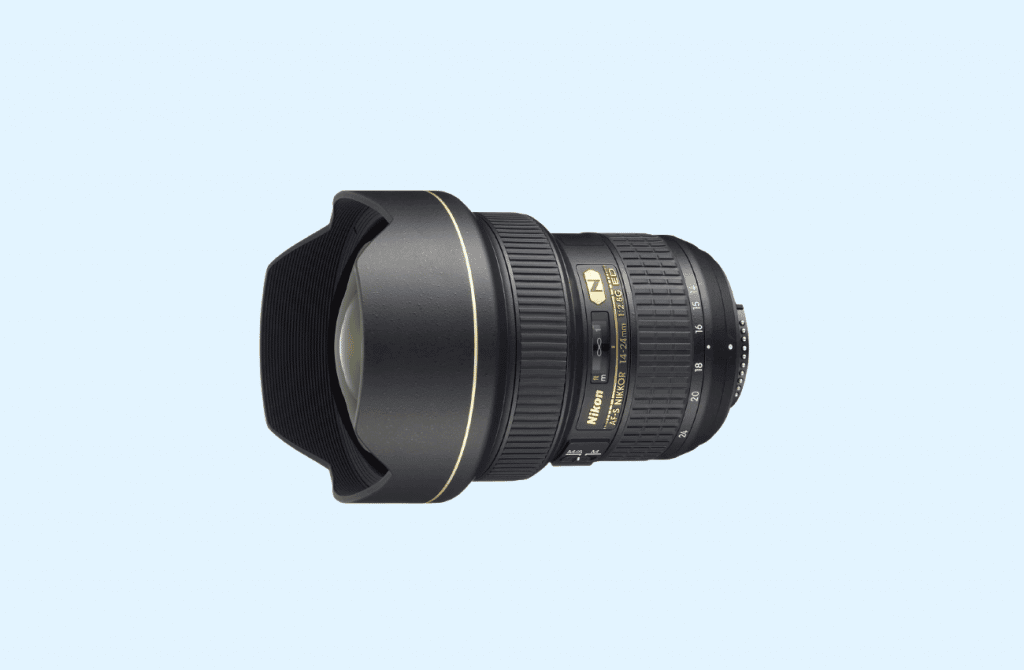 Nikon AF-S 14-24mm Lens
This fast, ultra-wide-angle zoom lens is optimized to deliver edge-to-edge sharpness on both DX-format and FX cameras. It incorporates the latest and most advanced Nikon Technologies, and optical design innovations to deliver a superlative performance with brilliant photo and HD video quality. It has a rugged construction, which makes it ideal even in the most trying conditions as it protects it from dust, moisture, and harsh weather conditions.
This lens has an intricate 14-element optical design, which features three aspherical elements and two ED elements. This lens is incorporated with Nikon's Nano Crystal Coating and a Super Integrated Coating, making it ideal for various types of photography and edge-to-edge image sharpness.
This lens also features Silent Wave Motor Technology from Nikon, which ensures a fast, silent, smooth, and precise autofocus operation. The outer construction of this lens is rugged, so it can withstand the field's heavy usage.
This lens is famous for its remarkable performance as it produces brilliant colors with excellent contrast across the full range. It is incorporated with Super Integrated Coating and a Nano Crystal coating that facilitates light transmission to minimize flare and ghosting. This lens is no ED lens and an Extra-low dispersion lens meaning that it delivers a very superior image sharpness with minimal chromatic aberrations in images.
The Silent Wave Motor technology drives the lens AF performance to maximum, and the lens snaps into focus almost immediately, as do other f/2.8 lenses. In low light conditions, this lens performs exceptionally as it is rarely difficult to focus. As it is silent in comparison to the loud screw drive motors, autofocus accuracy is excellent. This lens has a quiet, smooth, and constant focus, which makes it stand out.
This wide-angle lens is beautiful craftsmanship that has set new standards in the performance of zoom lenses. In terms of contrast and sharpness,t was designed for different wide-angle photography needs.
It incorporates the advanced optical features of Nikon that make it useful in both cropped and full-frame sensors though initially designed to work best on FX full-frame sensors. It also has a fixed f/2.8 aperture that allows it to deliver superlative performances in any setting. This lens produces images with outstanding sharpness and detailed color contrast even in backlit conditions.
This lens has some of Nikon lenses' most advanced optical features, such as SWM/AF-S, which ensures quiet and fast autofocus, a SIC, and Nano Crystal Coating for a drastic reduction of flare and ghosting. Also, this lens is weather-sealed, hence protected against tough weather conditions, dust, and moisture.
It is tough yet reliable and exceptional for landscape photography, architecture, and general photography for photographers who demand the best quality in their photos and HD videos.
---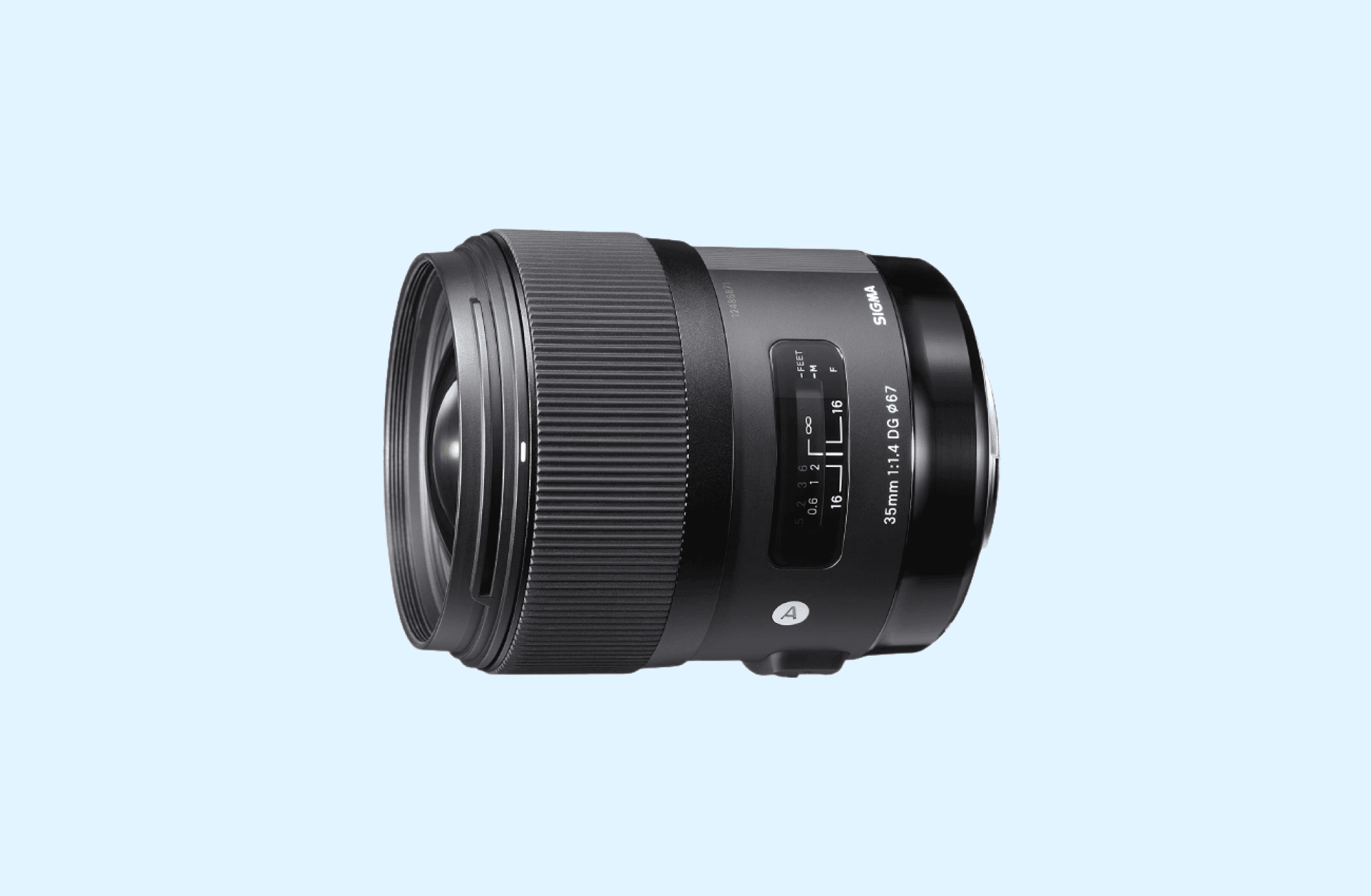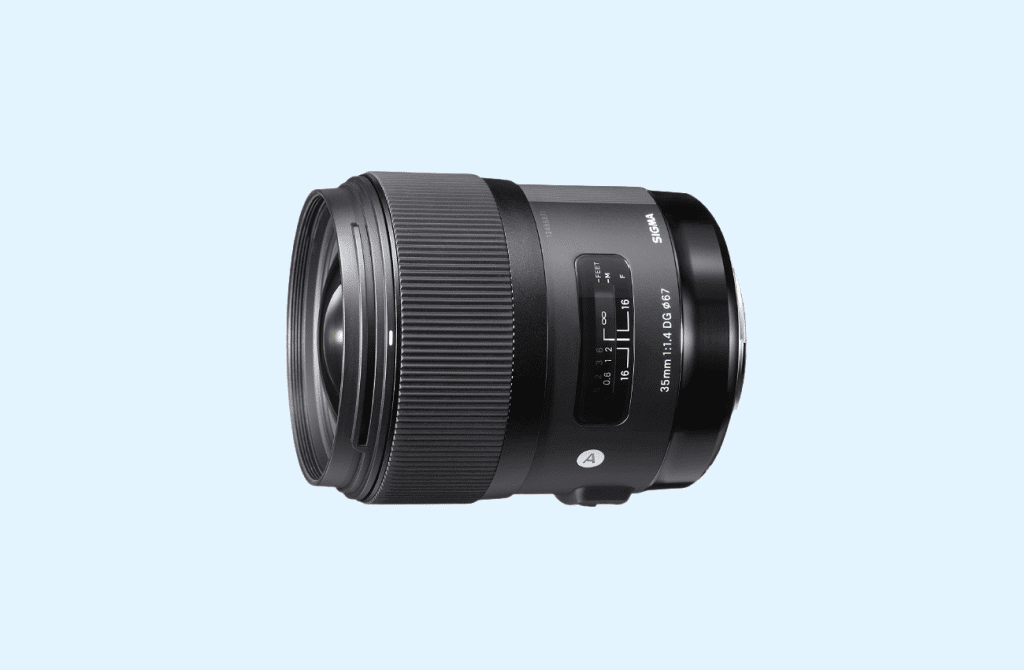 Sigma 35mm Lens
Sigma introduced this art lens substantially for the pro-consumer market. It was designed for full-frame bodies, but it's also suitable for use on sub-frame APS-C cameras, and it can fit well on Pentax K, Sony A, Sony E, Canon EF, Nikon F, Sigma SA mounts. This lens has a constant and fast aperture of f/1.4, which is among its greatest features, and it comes with a petal-shaped hood include.
This lens has a very good design and is built, compared to the previous sigma versions. Instead of a plastic barrel, this lens has a nice metallic barrel that has a solid and better feel in your hands. This lens features a broad manual focus ring on the front of the barrel, which doesn't shift during autofocus, allowing for a smooth, distortion-free operation.
In terms of finish and fit, this lens is superb, but it isn't weather-sealed, so you might want to consider that. This lens is fairly chunky, and it's also the longest and heaviest optics of all autofocus 35mm F1,4s., but it balances greatly on larger SLRs and most mid-size full-frame cameras.
This lens has a large aperture of f/1.4, which is suitable for low light photography and effective in isolating subjects from their backgrounds. If you want to shoot in a shallow depth of field, this lens renders beautiful background highlights, and it works well with both APS-C/DX and FX sensors.
This lens employs Hypersonic Motor from Sigma to ensure fast, silent, positive, and constant autofocus. This lens has a focus ring that doesn't rotate or shift during autofocusing, and if you want to override the autofocus results, you simply turn the focus ring.
This lens produces sharp results, and even when used at its widest apertures, you are guaranteed maximum photo and HD video. This lens produces images with a sharp center and significantly soft corners, and it works perfectly in isolating the subject from the background.
It provides an exceptional level of resistance to chromatic aberrations, and it is constant across the range of apertures. Vignetting or corner shading isn't an issue with this lens, and it does very well to hinder distortion in images and HD videos. This lens uses HSM, Hypersonic Motor technology, which improves fast and near-silent autofocus operations.
---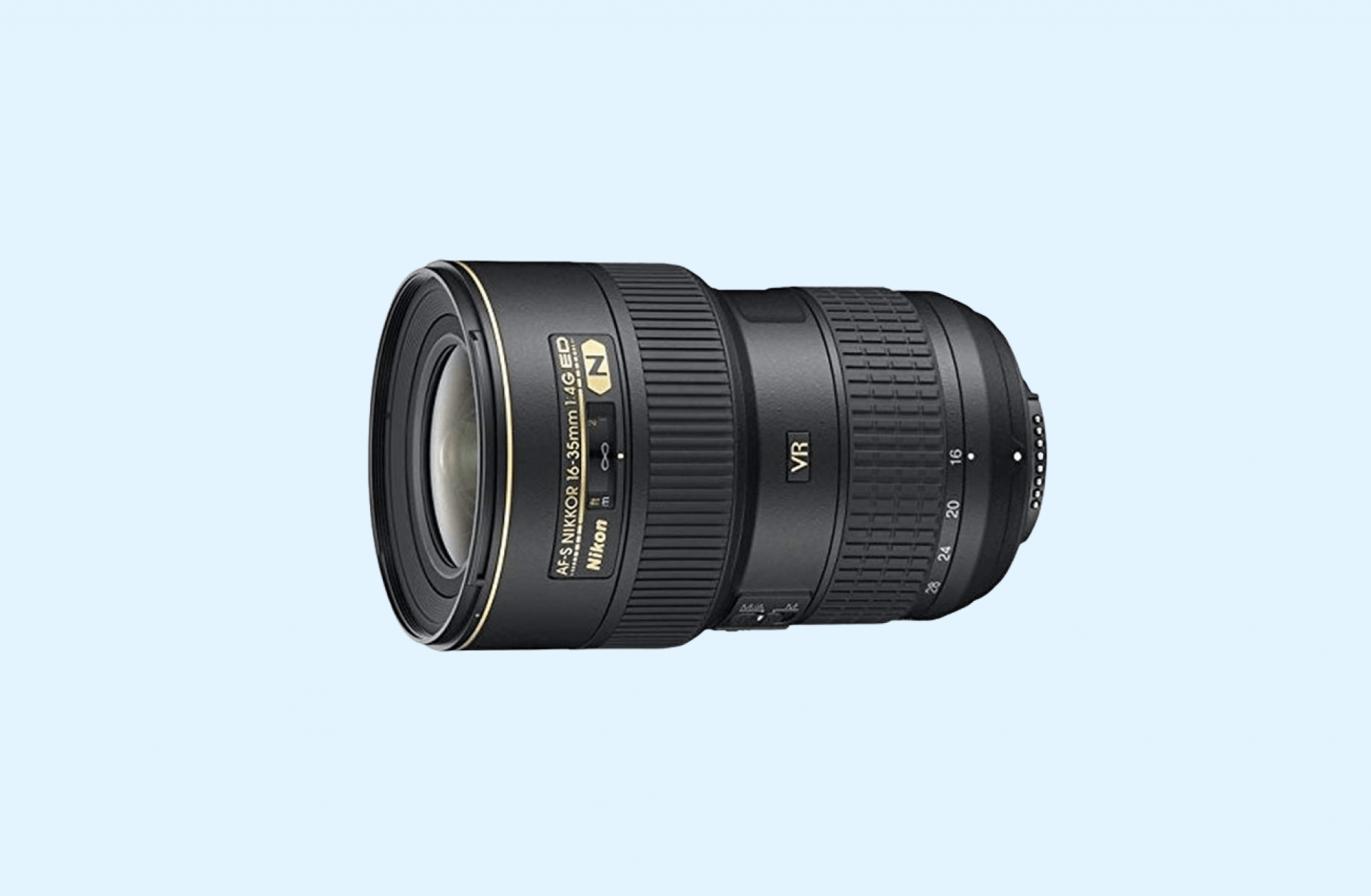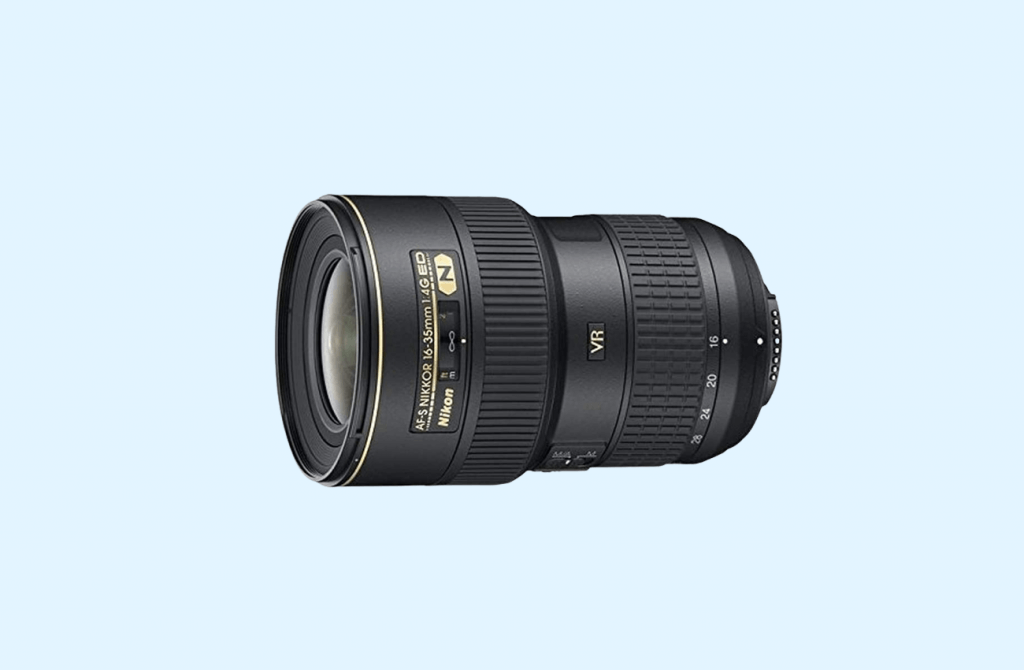 Nikon AF-S 16-35mm Lens
This camera will awe any photographer who loves to travel. This lens's general build quality is great, even though its outer shell is made of plastic. Its lens primarily targets professional photography, so the quality has to be exceptional.
This lens has an almost flat front lens and a 77mm filter thread, which, together with the IF system, don't rotate during focusing. This lens has a fixed aperture of f/4, which offers coverage of the entire focal length without compromising field depth.
It has 2 ED glass elements and three aspherical lens elements, which help in achieving a high-resolution quality through the entire zoom range. The lens has an excellent build quality, and it uses Nano Crystal Coat to reduce internal reflections while minimizing flare and ghosting.
This lens has an outstanding performance in capturing wide-angle images of landscapes, interiors, and cityscapes. It allows coverage of focal lengths at remarkable broad ranges, and the images also get the benefits of Vibration Reduction image stabilization from Nikon. With this lens, you have assured images and HD videos with a sharp focus, a rich color rendition, and brilliant quality.
The outer barrel is made of magnesium alloy, and the lens has three seals for protection against dust and moisture. The zoom and the focus ring are well-damped, and they operate very smoothly. This lens has an internal focusing system (IF) tube that stays static when you're focusing.
Regardless of whether you are shooting in daylight, low light, indoors or outdoors, at far or near range, this lens has a surprising versatility that ensures unwavering sharpness in images. This lens features VR image stabilization, which is responsible for blur-free handheld shooting.
There is the ease of use and convenience, so you don't have to walk around with a tripod every time, and even when light conditions are not ideal, you still get a great shot. This lens uses Nikon's Vibration Reduction Image Stabilization for dramatically sharp and still images and videos, even when handheld.
This lens offers exceptional versatility, and with some of the most advanced Nikon technologies, it guarantees exceptional performance in different settings. This lens uses Nano Crystal Coat to reduce flare and ghosting and a Silent Wave Motor system for an ultra-fast, ultra-quiet focus.
---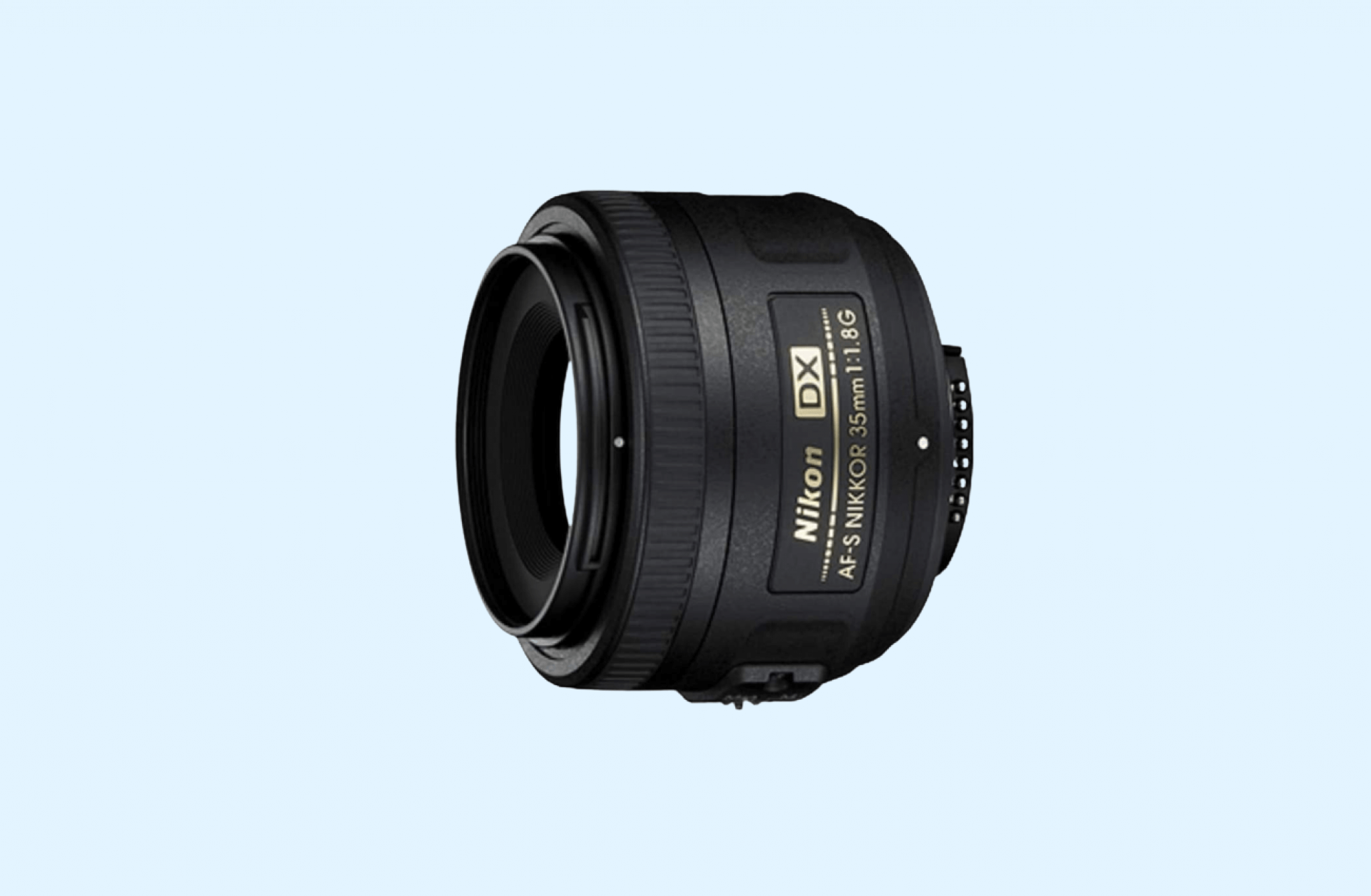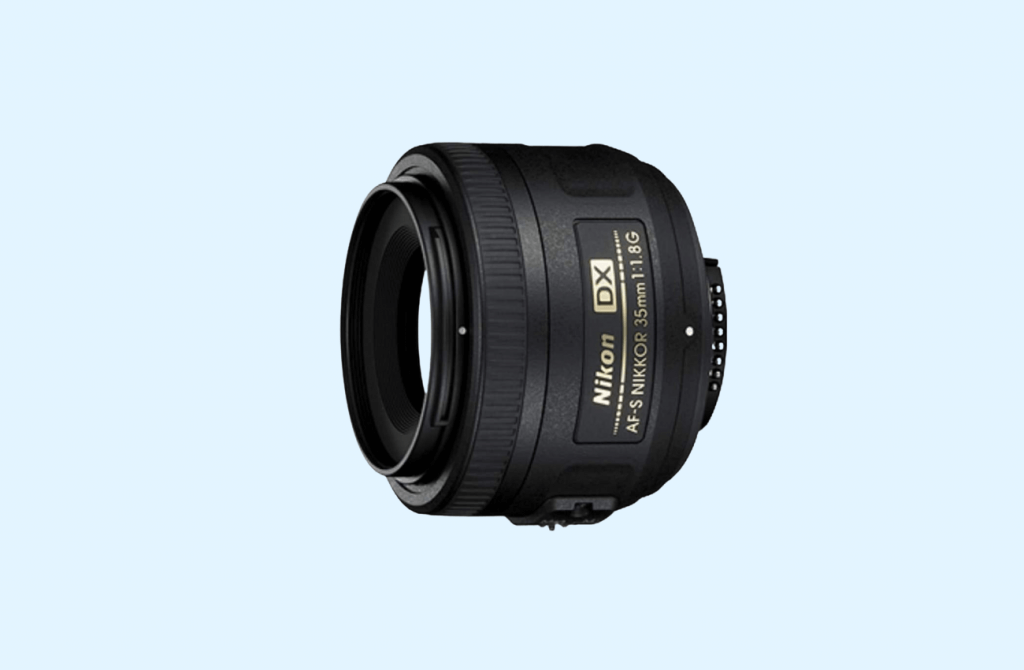 Nikon AF-S 35mm Lens
This lens is solid if you are looking for a lightweight option for your Nikon SLR. This lens is a low-cost, high-performance one with autofocus that is compatible with APS-C sensors of X formats and Nikon-mount DSLRs. It is a compact, lightweight lens that allows the capturing of vibrant natural images and HD videos with soft, blur backgrounds even in low-light settings.
This moderate wide-angle prime lens for FX-format SLRs features a Silent Wave Motor system that ensures fast and quiet autofocus. It features one aspheric element and one ED element in the optical design.
The Aspherical and Extra-Low Dispersion glass elements are responsible for combatting sagittal flare and ghosting at wide aperture settings. It features Super Integrated Coating (SIC), which promotes color contrast and detail and minimizes ghosting even in low-light settings. This lens also features Nikon's Silent Wave Motor technology for fast, accurate, and quiet autofocusing.
This lens draws maximum definition and brilliant image quality from its high pixel count image sensors. It allows capturing naturally beautiful videos and photos by combining the natural perspective with a maximum aperture of f/1.8.
This lens has a focus ring, which can be rotated to override autofocus mode, and even in low light conditions, this lens assures you a controlled depth of field. This peak performance lens delivers a superlative and very consistent performance, even in tough shooting situations.
This lens is a versatile one from Nikon's advanced f/1.8 prime lens featuring the latest Nikon advancements and optical features for superlative and consistent performance. It allows shooting at each focal length, and it is ideal for wide-angle, medium telephoto, and standard photography.
---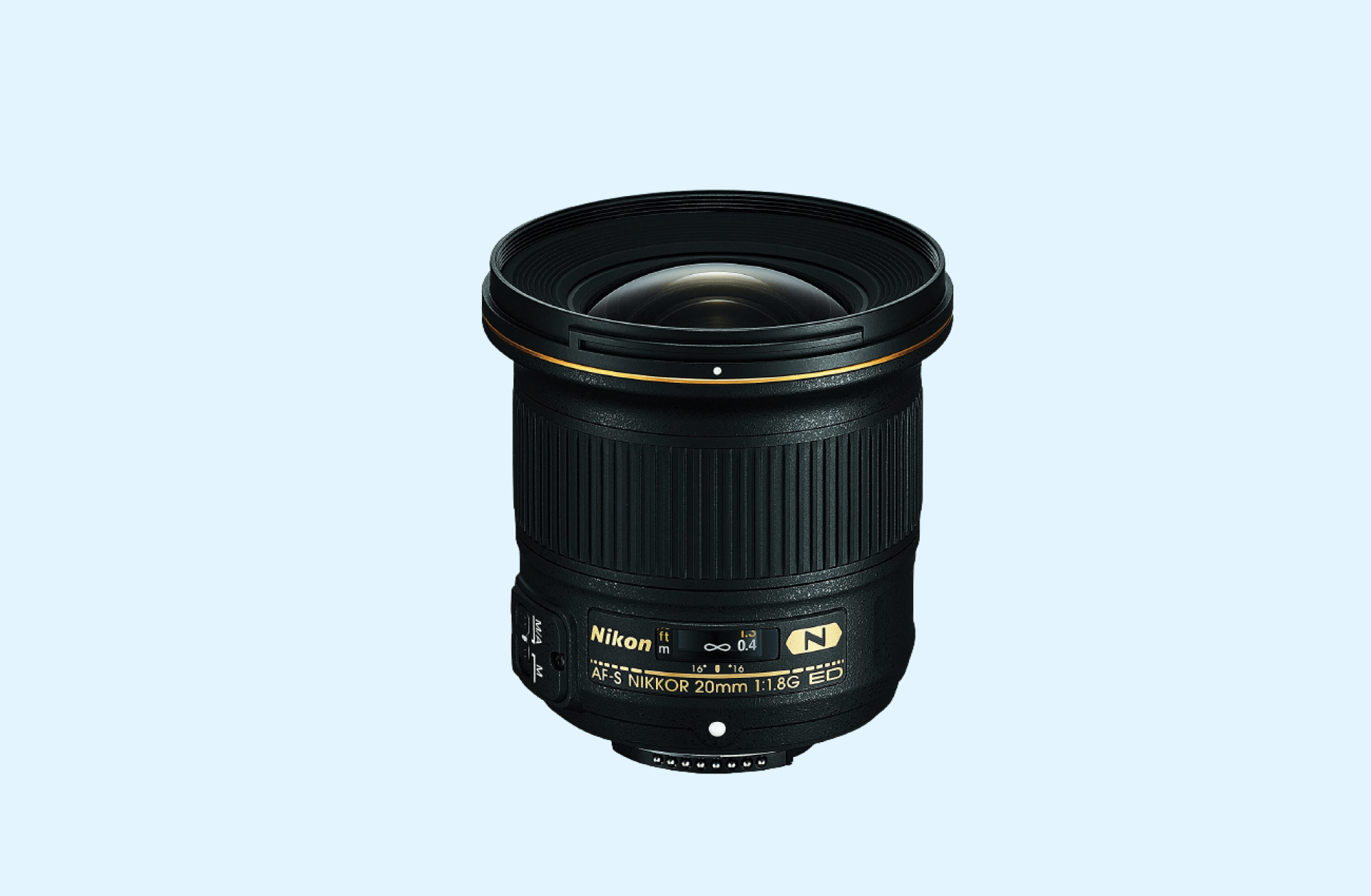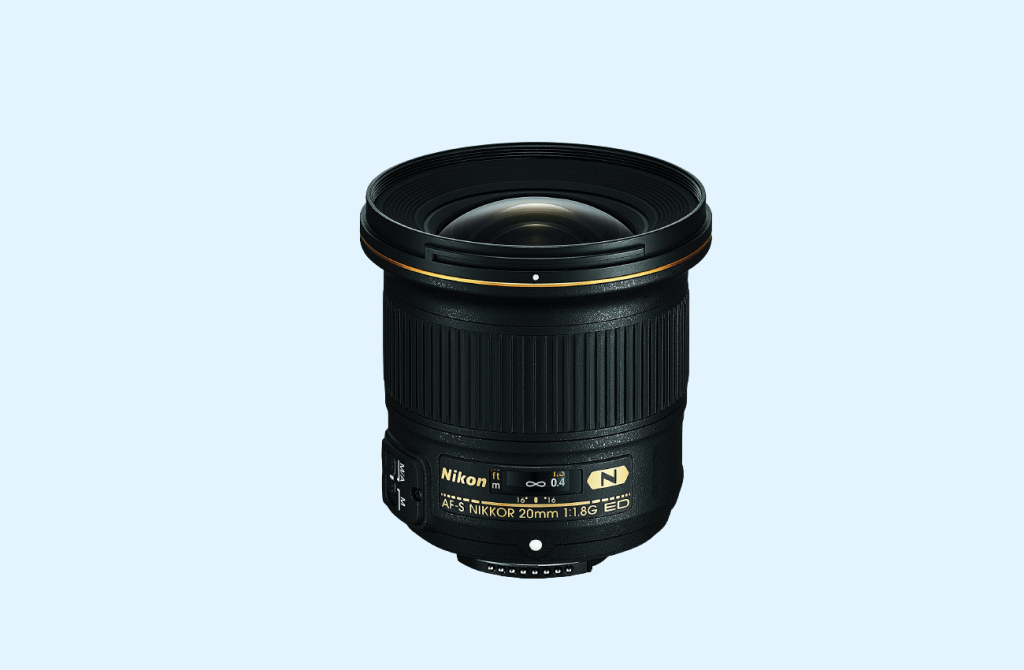 Nikon AF-S 20mm Lens
This lens is a compact and lightweight FX-format option that integrates an ultra-wide perspective of a focal length of 20mm and a maximum f/18 aperture for brilliant image quality. This lens is ideal for still and motion captures, and it delivers a dramatic ultra-wide-angle perspective in your images and HD videos. It has plastic filter threads, and the hood's mount and bayonet are also plastic.
This lens features a Silent Wave Motor system that uses ultrasonic waves to deliver fast, accurate, and quiet autofocusing even at a wide range. This lens has a 7.8-inch close focus capability, which allows shooting even in tight spaces and nearing your subject for a more accentuated focal point.
It features Nikon's most advanced technologies, such as Aspherical lens elements and Extra-low Dispersion glass elements. This lens uses Nano Crystal Coat to reduce chromatic aberrations and sagittal flare for brilliant and sharp rendering across the entire range. It uses Nikon's Silent Wave Motor Technology for a fast, accurate, and quiet autofocus at close range.
The ultra-wide view allows you to capture expansive architecture and landscape images, and even in low-light situations, the depth of field is controlled. This lens increases your shooting options using its maximum f/1.8 aperture setting for beautifully blurred backgrounds, even in low-light settings.
This lens allows you to shoot at low ISO settings, which is good for image quality retention. You can open the aperture to the maximum to increase the shutter speed to prevent camera shake and motion blur for superlative images and HD videos.
This lens offers versatility and exceptional performance and has a high image resolution in both still and HD video applications. Its lens construction is quite advanced for an affordable ultra-wide-angle lens. This lens has 13 elements in total, 2 Extra-low Dispersion (ED) elements, and two aspherical lens elements.
The former is used on high-end Nikkor lenses to boost the image and HD video sharpness and color contrast, and the latter corrects spherical aberrations. It has a near-instant autofocus speed, which makes it super-fast and easy to change from near focus to infinity. This lens's autofocus accuracy is also very impressive, and it performs exceptionally in bright light, low light, indoor, or outdoors.
This lens is easy to use with a simple lens barrel and a long gripped focus ring. It allows both Manual and Autofocus mode shooting using a simple switch on the barrel's edge. This lens features a gold ring from Nikon and a lens hood to protect the lens from dust and moisture in tough weather conditions.
Its lens vignetting is hardly noticeable at f/1.8, and it disappears at higher apertures. This lens has minimal distortion too, which is expected of an ultra-wide-angle lens, and the image color is rich and contrasts.
---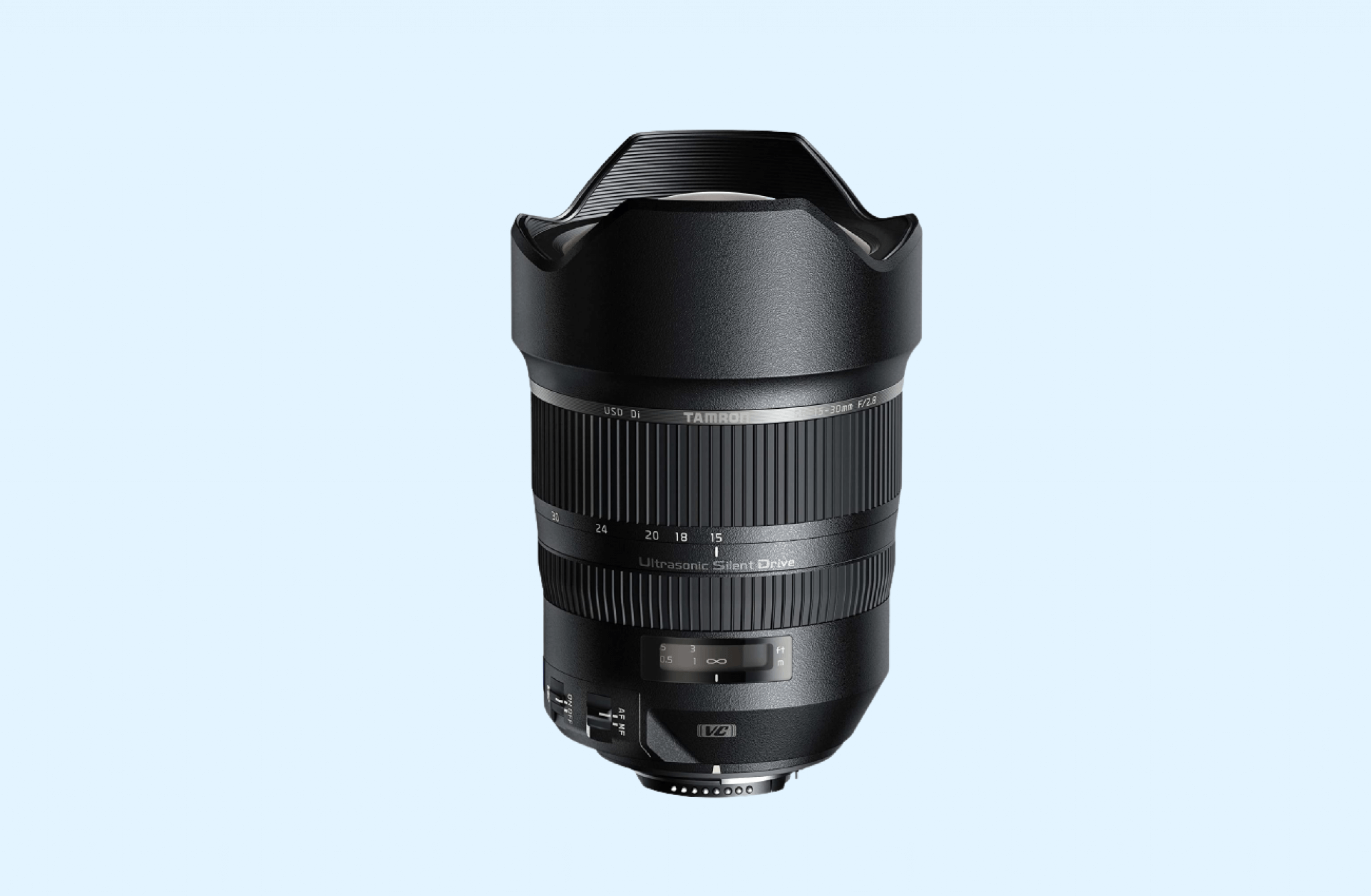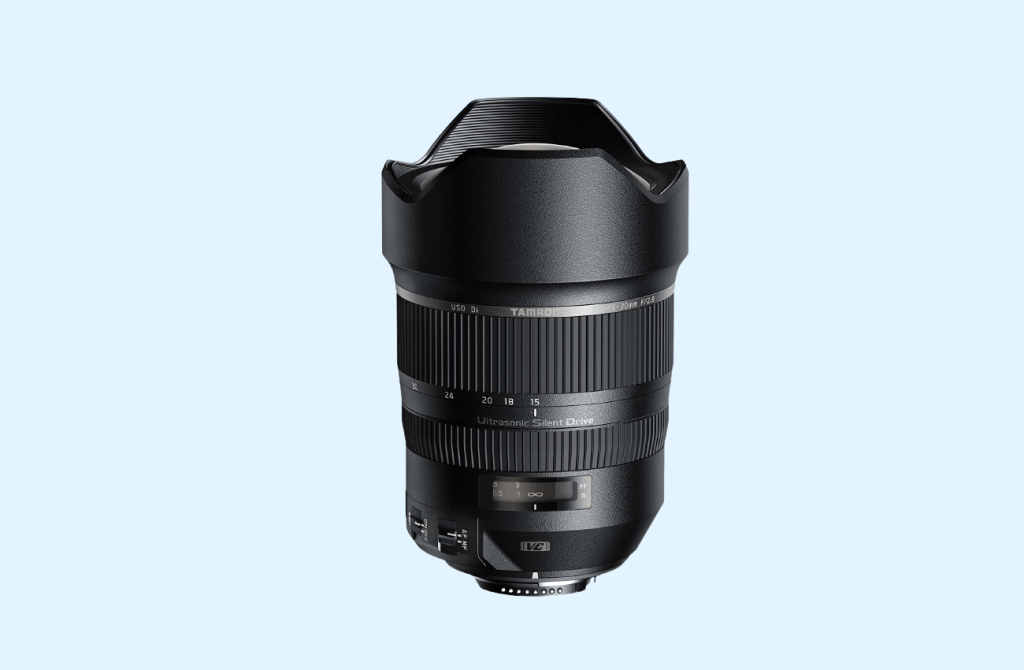 Tamron SP 15-30mm Lens
This ultra-wide full-frame zoom lens is ideal for Nikon, Canon, and Sony mounts because it is relatively compact. It features a vibration correction image stabilization system from Tamron, an ultrasonic focus motor, Eband and Flourine coatings, and a nine-bladed diaphragm. It is an ultrasonic Silent Drive lens, and a USD designation means that it has faster and noiseless focusing.
This lens features Tamron's Ultrasonic Silent Drive, which facilitates a high torque and a fast response speed for tack-sharp images. It has a nine-bladed diaphragm and a near-circular aperture opening, which delivers ideal background blur and Bokeh quality. Its features (Extended Bandwidth & Angular-Dependency) and BBAR coating are Tamron's proprietaries.
The eBAND Coating subdues tangential reflections, while BBAR (Broad-Band Anti-Reflection) Coating delivers an optimized for ultra-wide angles of view. They work together to effectively correct flare and ghosting, resulting in stunning images of extraordinary clarity and quality.
It features a full-time manual focus mechanism, and you can easily adjust to auto-focus without necessarily exiting Autofocus mode. The lens offers a natural and smooth blur with enhancing depictive features of wide-angle photography. It has image stabilization capability, especially on a full-frame fast f/2.8 zoom lens, and these features enhance images depicting night scene shooting and low light situations.
With its uncompromising quality, this lens aims for the highest photography standards with the Super Performance, 15-30mm F/2.8. It can cover modern full-range DSLRs, and it has a zoom range that delivers great versatility in all light situations.
This lens has an optical construction of 18 elements in 13 groups. An expanded Glass Moulded Spherical (XGM) element and several Low Dispersion elements help minimize aberrations and geometrical distortion.
It has a fluorine coating applied to the front element, which helps in repelling water and dirt and makes it easier to wipe off smudge and fingerprint marks on the lens. It was designed for full-range cameras, but it works just fine with cropped sensor cameras as well. Using Tamron's Image Stabilization, this lens ensures vibration compensation so that you get sharper images even when shooting at slow shutter speeds.
This lens features XGM (eXpanded Glass Molded) Aspherical lens elements with several LD elements in its 13-group optical design. Combining these elements in the groups regulates chromatic aberrations and controls distortion, which are issues affecting wide-angle lenses. This XGM element can enhance image sharpness at its periphery, and the molded-glass design allows the fabrication of a range of lens shapes.
This lens offers high levels of durability and operability with exacting design specifications. Many of the components designing the lens drive unit are made of aluminum alloy. Their quality is manufacturing design, and precision results in lens bodies that are resistant to wear and deterioration.
---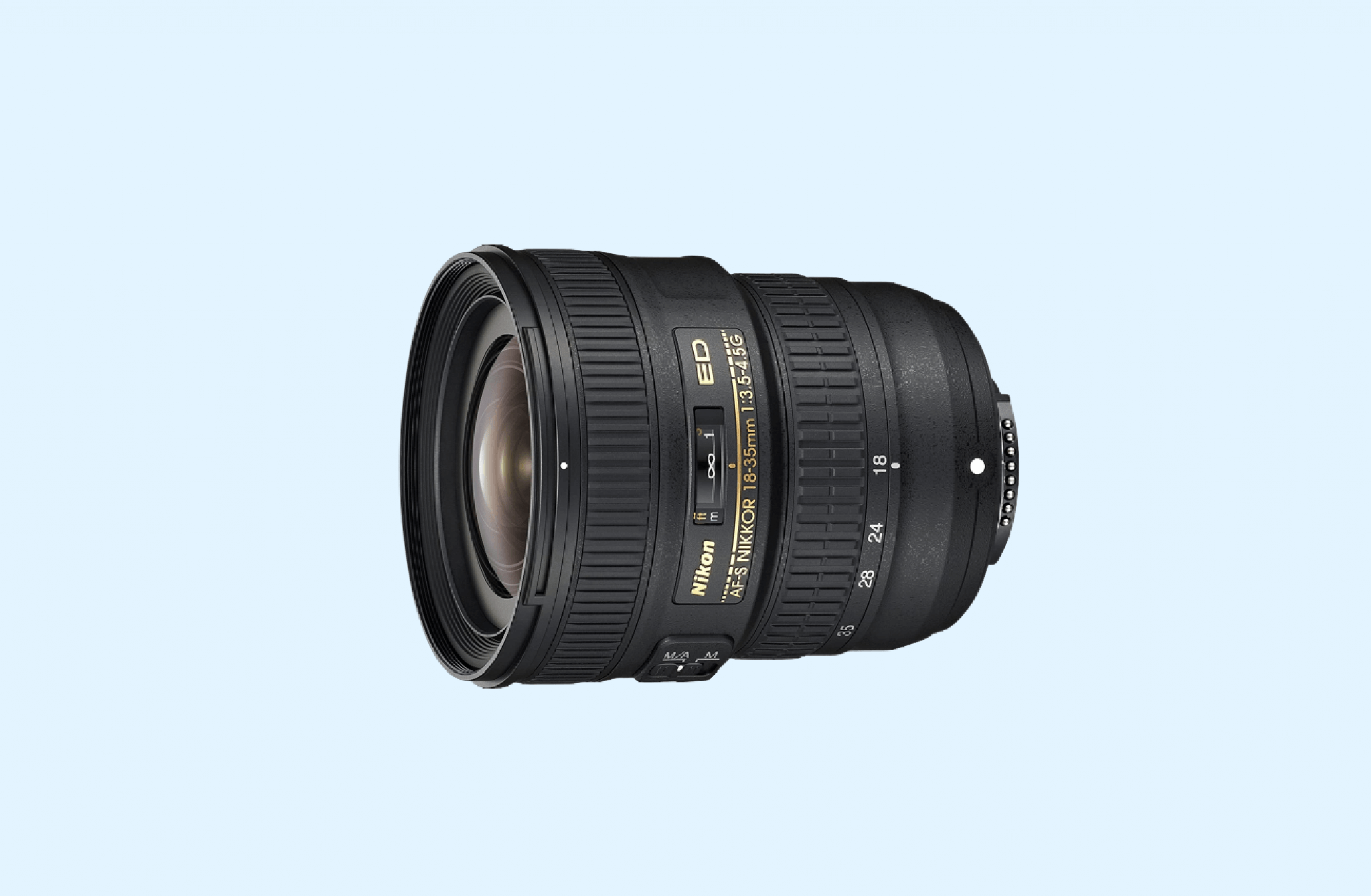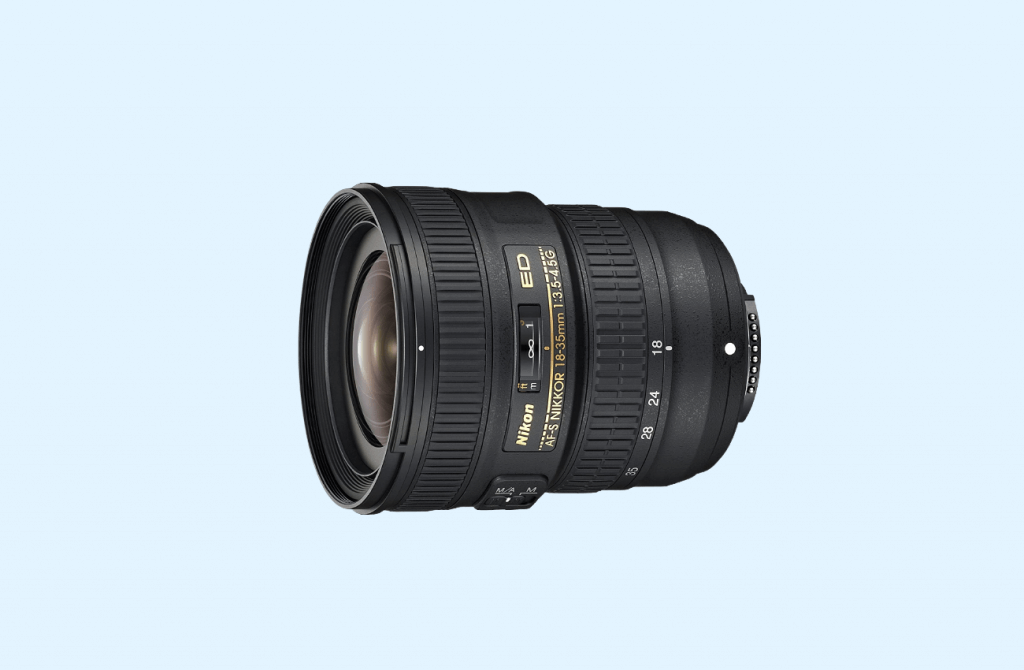 Nikon AF-S 18-35mm Lens
This lens is primarily designed for FX-format cameras, but it is compatible with Nikon SLRs, even the entry-level DX-format models. The optical design of this lens features advanced elements, and the lens has a modern Silent Wave Motor (SWM) AF drive, which makes it ideal for quality still images and HD videos.
This lens has a re-designed optical system that is inclusive of 12 elements in 8 groups. This includes three aspherical lens elements and two Extra-low Dispersion (ED) elements. The lens's design is optimized to suit high pixel count DSLRs.
This lens is lightweight due to the extensive use of plastic in its design and construction. It has a plastic barrel and a metallic mount, and it has a thin rubber gasket to keep off dust and moisture even if it's not weatherproof.
This lens has Internal Focusing (IF), which remains constant throughout the zoom range, a front element that doesn't rotate during zooming or focusing. The rear group elements are closest to the sensor and farthest into the barrel, so they shift in and out over a short distance as you adjust the focal length.
It has a focus ring with a wide ridged rubber grip band, which prevents distortions and ensures a stable handheld shooting. There is a slider on the lens barrel side, which allows you to choose between /A and M focus modes with manual override.
This lens's focal length range makes it ideal for photographing cityscapes, architecture, and landscapes son FX sensors. This lens's performance is good, with nicely damped zoom and focus rings for a smooth operation.
It uses ultrasonic Silent Wave Motor to deliver a fast, quiet, and accurate autofocus and a smooth operation. This lens is a good performer, and even though there is some edge softening at wider aperture settings, the quality for still images and HD videos is great.
This lens is lightweight, so you can conveniently carry it around to take spontaneous images. It has a very durable polycarbonate construction, and it produces very sharp images with minimal or no color fringing and no distortion.
The images and HD videos from this lens are sharp at all apertures, and it is a relatively inexpensive option for its specifications.
This lens works great with Lee and Nisi 77mm polarizers and filter systems, and it comes in a compact size that fits in any camera backpack, so you can conveniently carry it for your travels. It has an 18-35mm FX zoom range, which remains versatile even on a DX sensor camera.
This lens features two focus modes, M/A and M modes, and Fast autofocus with manual override. It has a close minimum focus distance, so you can take stunning images with a beautiful Bokeh.
---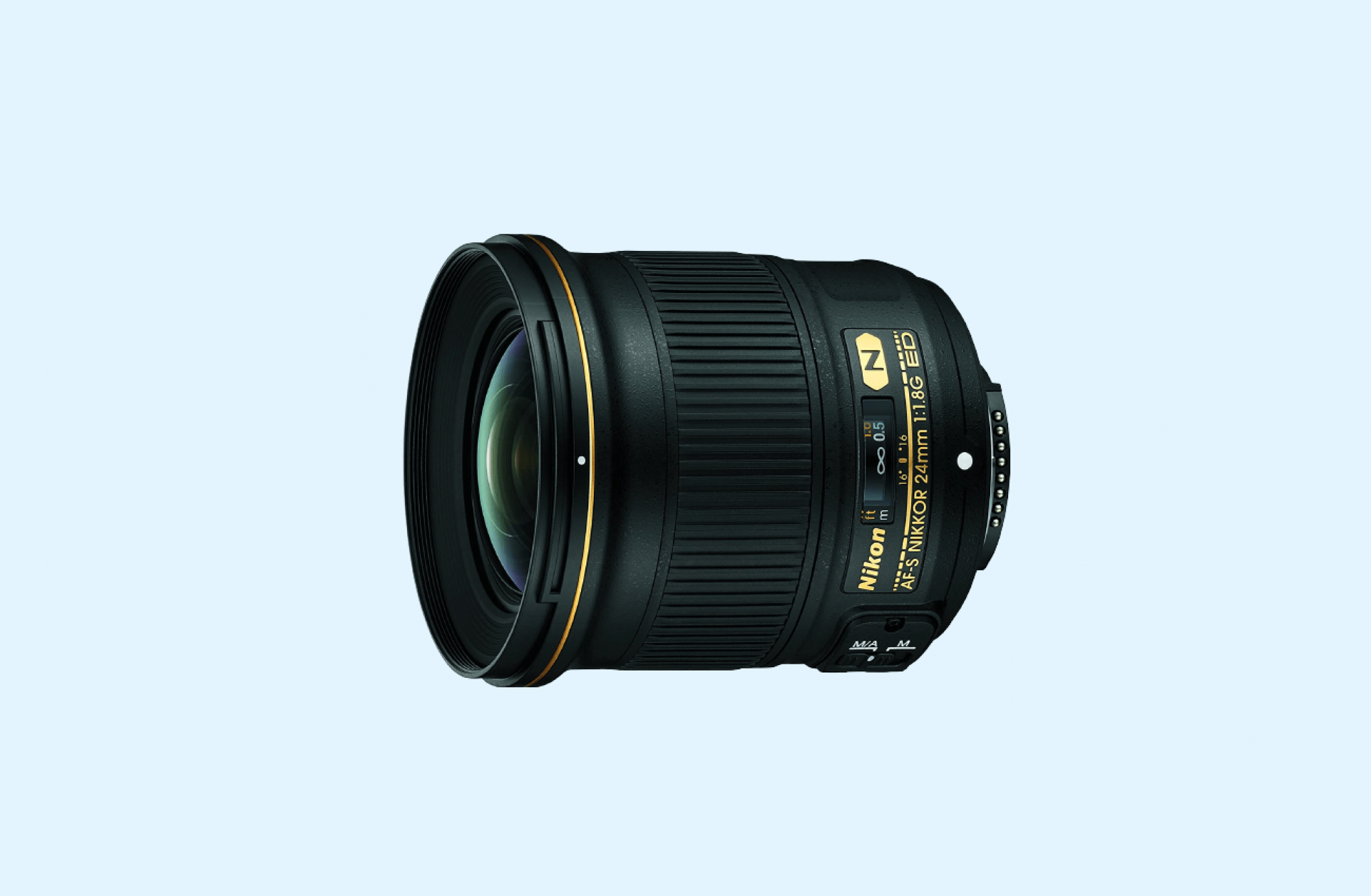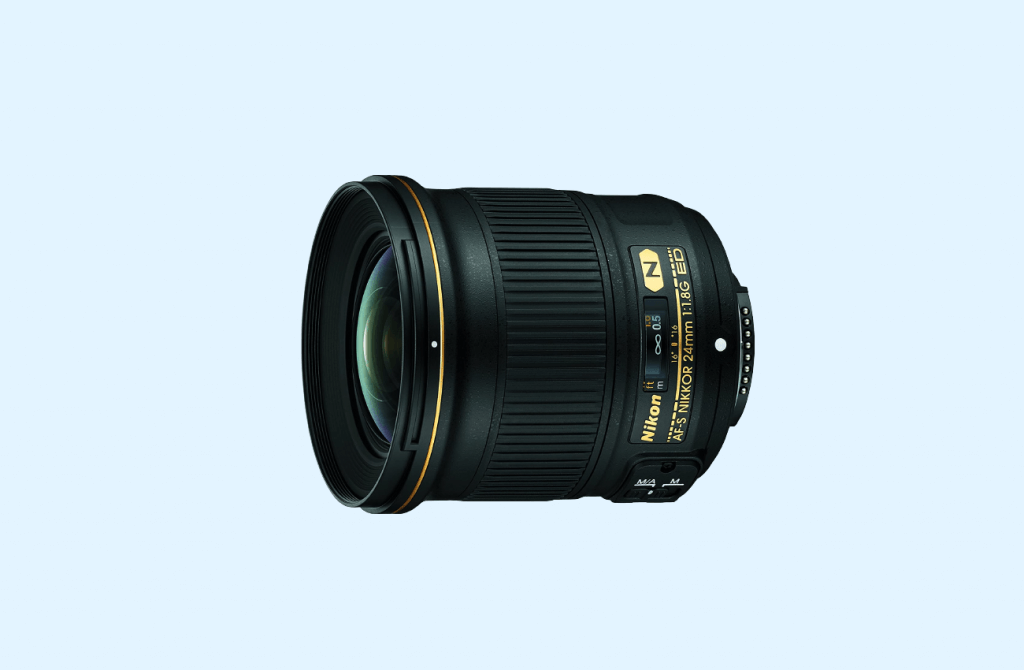 Nikon AF-S 24mm Lens
This fast wide-angle lens is the widest f/1.4 prime in the Nikkor lens categories. It allows close focusing and captures stunning images with a shallow depth of field. This lens is a fast and solid choice that combines a compelling wide-angle perspective and an ultra-fast f/1.4 aperture for professional photography, even in tough conditions.
It features Nikon's ED (Extra-low Dispersion) glass elements for superlative image sharpness. It contrasts even at wider apertures and a Nano Crystal Coating for reduction of lens ghosting and flare, which is common for wide-angle lenses. This lens has Nikon's highly advanced optics for superior imaging, superlative performance, and very outstanding capabilities.
This lens has a natural angle of view, and it features the latest Nikon lens technologies for extraordinary performance. It has extreme light-gathering abilities, and it excels in low-light settings for professional and amateur photographers as well. Its natural wide angle of view has extreme light gathering capability, which ensures delivery of an extraordinary performance even in challenging shooting situations.
This lens features Nikon's latest technological advancements, enabling a quick change between manual and autofocus operations. It uses Nikon's Silent Wave Motor technology for accurate, fast, and quiet autofocus for brilliant still images and HD video quality. The 9-Blade rounded diaphragm renders a more natural appearance and feels to image elements and subjects that are out-of-focus.
This lens is ideal for professional and amateur photographers as well. With the latest Nikon technological advancements, it is easy to operate with the capabilities to gather light even in low light settings. This lens guarantees a brilliant and impeccable performance to produce brilliant still images and HD videos even in challenging shoot settings.
---
Frequently Asked Questions (FAQs)
When buying a wide-angle lens for Nikon FX, there are several factors to be taken to account. Prime wide-angle lenses deliver optically superior results when compared to most zoom lenses. Wide zooms have their convenience when it comes to quality and functionality. They are ideal for low-light photography, and the wide apertures ensure a nicely blurred background with pleasing bokeh.
What are D and G in Nikon Lenses?
Nikon has both D and G lenses, G lenses are AF-S lenses that have a focus motor inside the lens, and they are ideal for use with entry-level camera bodies. These G/ AF-S lenses also lack an aperture ring and are not compatible with older Film cameras.
On the other hand, the D lenses are older lenses that include an aperture ring and are compatible with older Film cameras. There are few D lenses without an autofocus motor inside the lens.
These lenses can work on entry-level Nikon cameras, but you need manual focusing. The D lenses are also cheaper than the G lenses, but to use auto-focus on the D lenses with AF, you need to invest in a higher-level camera.
Are Sigma lenses as good as Nikon?
Different people have experienced some quality control issues with some early Sigma lenses and Nikon lenses as well. Over time, Sigma has improved the quality of Sigma lenses to match Nikon lenses, with very few exceptions. In terms of price, Sigma beats Nikon prices by a considerable margin. Both Sigma and Nikon manufacture and sell more than one "level of quality" lens line.
Is FX better than DX?
Yes, FX camera bodies and lenses are preferable to DX as they are full-frame! The FX sensors have a "light gathering" area, which offers higher image sensitivity and lower noise for an accurate, quiet, and fast operation. HOWEVER, the DX lens is smaller, and it corresponds to the size of a DX sensor.
Can you put Sigma lenses on a Nikon?
Sigma delivers high-quality lenses in a variety of sizes that are not available from Nikon. These lenses are compatible with a Nikon SLR mount and fit most Nikon SLRs and DSLRs, so you can use them on a Nikon.
Conclusion
Wide-angle lenses effectively add depth and a dramatic effect to landscape images, architectural photographs, and generally still image photography. If used well, these lenses are indispensable and provide a very short focus distance, allowing you to get as close as possible to the subject.
Related Posts:
Subscribe to the CameraIO Newsletter
Photography & Camera News + DEALS