Subscribe to the CameraIO Newsletter
Photography & Camera News + DEALS
A wedding is more than just a big day for the couple or the guests. It is also important for the photographer who has been assigned to cover it. The most nerve-wracking event you'll ever photograph, according to most professional photographers, is a wedding. This is because wedding photography is much more than a hobby for photographers. It entails both the greatest challenge and the ultimate pleasure.
Camera Manual Setting
At a wedding, shooting with automated camera settings is simple. However, if you want to take some incredible photos, you'll need to learn how to use the manual settings.
The shutter speed option and aperture focus option are two of the most important manual settings. These fundamental features are available on all camera models while shooting a wedding.
To capture the moments of the newlyweds in set the shutter speed to 1/500th of a second while shooting in shutter priority mode. You can change these options to capture dance, walks, best laughter moments, and more memorable moments.
But there's no such thing as a one-size-fits-all method when it comes to shutter speed. Focusing on keeping your camera stable during your photos is the key to success. During most wedding ceremonies, try to utilize a tripod since this will help to prevent blurring irrespective of your shutter speed settings.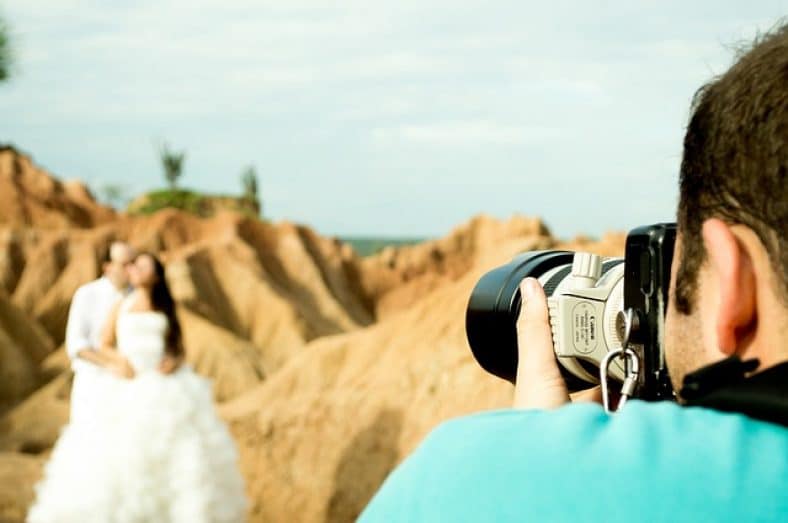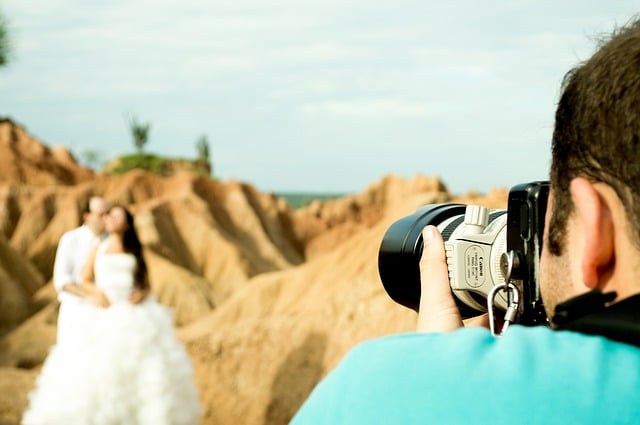 Using Shutter Speed in Wedding Photography
Shutter speed, along with the rest of the hdr triangle, is your friend when it comes to weddings. When you need crystal sharp photographs, the shutter speed comes in. It's crucial because, while you might be able to restore a dark or bright shot in post-production, you won't be able to fix a blurred image.
To avoid a blurred image during ceremonies, experts suggest not going below 1/60 second. Because there's a significant probability you'll be employing lighting during receptions, photographing at 1/200th to 1/60th offers the finest results.
The tripod aids in maximizing the photo's sharpness while also making it easy to move about and control the shoot. They virtually always use flash for indoor weddings.
When trying to fit the venue or entire wedding party into one image, it's ideal to keep a focal length of about 35mm. This may need to be adjusted according to the scale of the wedding party. Upgrade to 85mm for photographs of guests and wedding group members, begin with 100mm for macro features like shoes and rings, and adjust accordingly.
In conclusion
As a professional photographer at a wedding, bear in mind that your camera is just a gadget. Your ability is what can make or ruin your wedding photos. What matters is your skill at handling the camera. Your setting power gives your outcomes the final touch and charm that makes you stand out in your profession.
Well, just follow the guidelines to the letter. But don't be too strict with them; instead, use them as a starting point for exploration. Demonstrate your creativity through your camera settings!
Subscribe to the CameraIO Newsletter
Photography & Camera News + DEALS