Subscribe to the CameraIO Newsletter
Photography & Camera News + DEALS
So, you've made up your mind to step into the world of wedding photography. Most likely, you already have some experience, and your portfolio is expanding. What you now need is the right gear so you can begin creating a formidable wedding kit. But how do you know which kit to invest in?
As you'll find out, there are so many options in the market, with each brand claiming to be just what you need, which makes it so confusing to know what to choose. To make matters worse, you are not likely to get clear guidance from other wedding photographers as each person swears by their camera body and lenses.
Now, you probably already know that in professional photography, it's the kit that makes the photographer, and getting your equipment right can make your job so much easier, besides building your reputation. Assuming that you already have a great camera body, your next step should be to find the right lenses for your needs.
In this article, we shall take a look at five of the best lenses for wedding photography. This guide focuses exclusively on canon lenses as they're the ones we have experience working with. Before we delve into the specific lenses, it's important to state that ultimately, your choice of a lens will depend on a few factors.
First of all, it's essential to understand the features that make a good lens. You need to know about the importance of camera-to-subject distance and how it relates to the focal length of the lens. Understand such features as zoom capability, portability, and image quality too.
Finally, you need to have a budget as you head to the market to shop for the lens. That said, here are five of canon's highest-ranking wedding photography lenses:
Best Canon Lenses for Portraits and Wedding Photography (Reviews)
1. Canon EF 100mm f/2.8L Lens
The Canon EF 100mm f/2.8L lens is a hit with both amateur and professional photographers because of several reasons. First of all, it produces very high-quality images, besides having a useful focal length. And since it has a compact size and is quite small, it is also a joy to use.
The lens features a fast and quiet AF that has 1X macro capabilities besides hybrid image stabilization for top-quality pictures. Even when shooting images in a very windy environment, you are still guaranteed excellent pictures.
Before Canon introduced this new macro lens back in 2009, the existing lens had some pretty great features, including fast AF and top-quality images. And while another lens– boasted one of the best builds and image qualities in the line, it could still use a better AF system.
These qualities were present in the new lens. On the MTF chart, this lens has higher lines, which means it has superb image qualities. The lens is impressively sharp. Being a lens, this lens isn't made from the usual lens metal.
Rather, the focus ring, nameplate, and lens mount are made out of aluminum, while the rest of the parts are made using engineering plastic, which is the preferred material when it comes to the lens.
Thus, the lens does not have the cold and hard feeling that comes with a metal lens, although it still feels solid and looks very attractive. This lens includes weather sealing and, overall, the camera's build quality seems very good.
The lens features a fast and quiet AF that has 1X macro capabilities, besides high image stabilization. When you mount this lens to a Wi-Fi-enabled camera, you can share the superior images it takes with your iPhone and other compatible devices.
Canon's L series lenses deliver excellent image quality. Many pro photographers consider this lens to be the most fun for the dollar lens. For those just starting in macro photography, then this is the canon lens most frequently recommended.
This macro lens can internally focus very fast, extremely quietly, and impressively accurately for superior image quality. Like most other macro lenses, the lens is remarkably sharp, ensuring that you capture the tiniest of details while shooting. The color and contrast are impressive, with distortion kept at a minimum.
If you are going to be carrying your camera for hours during the wedding ceremony, then you want a portable lens. The lens does not disappoint in this regard as it comes in a relatively compact and light body. It is quite comfortable to hold and use.
Due to the f/2.8 aperture, this lens makes it possible for fast shutter speed. The image stabilization capability of the lens is impressive too.
---
2. Canon EF 16-35mm f/4L Lens
For photographers in the market for a highly sharp and ultra-wide-angle zoom lens, it doesn't come any better than this lens. Not only does this lens deliver very high-grade image sharpness, but it also performs excellently in terms of AF speed and accuracy.
The high-performing IS makes this lens even more useful. The camera has a focal length that's just over 2X, and although that will not necessarily capture a lot of attention when it comes to marketing, the range is quite normal when compared to the other full-frame lenses in the same class.
The 16-35mm focal length is a must-have for most portraits and wedding photographers' kits. The lens may not be that great for shooting in low-light environments when compared with most other f/28 lenses in this class, but image stabilization is especially valuable in these kinds of venues.
When shooting in low light conditions, consider using a flash as the main light to mitigate low light problems. Besides portraits and weddings, this lens is also great for indoor events including parties and stage work.
This lens features an impressive 2X focal length range Mount this lens on a Wi-Fi-enabled camera body, and you get to enjoy sharing high-quality imagery with other compatible devices. This lens is extremely sharp and has ultra-wide zoom capabilities.
The lens captures prime-grade images right into full frame corners, rivaling any other lenses out there. Expect stellar performance IS as well as remarkable AF speed and accuracy. This lens has a small and light design, making it quite easy to carry around and use all day. Due to its wide aperture, this lens makes it possible to capture images at faster shutter speeds.
---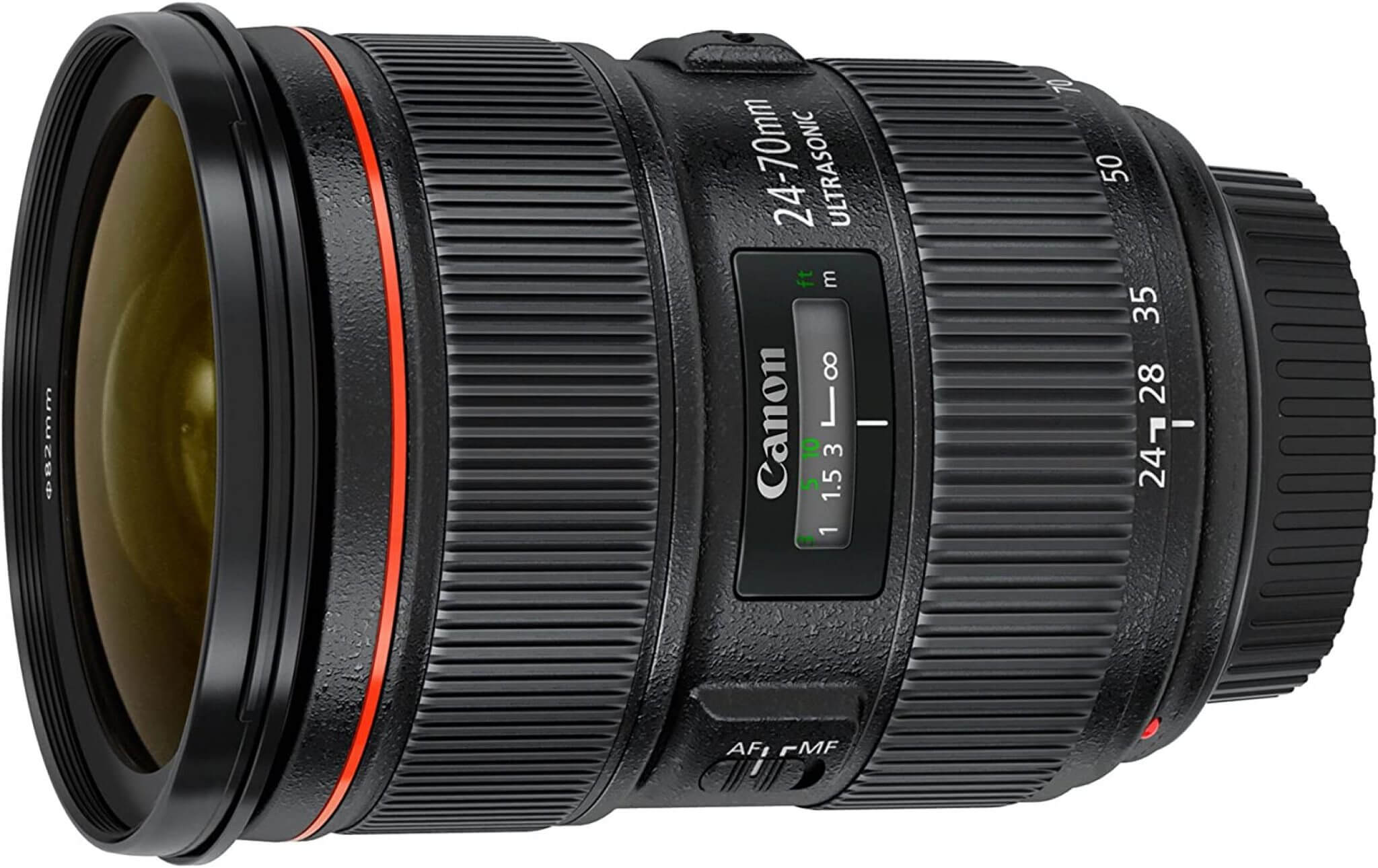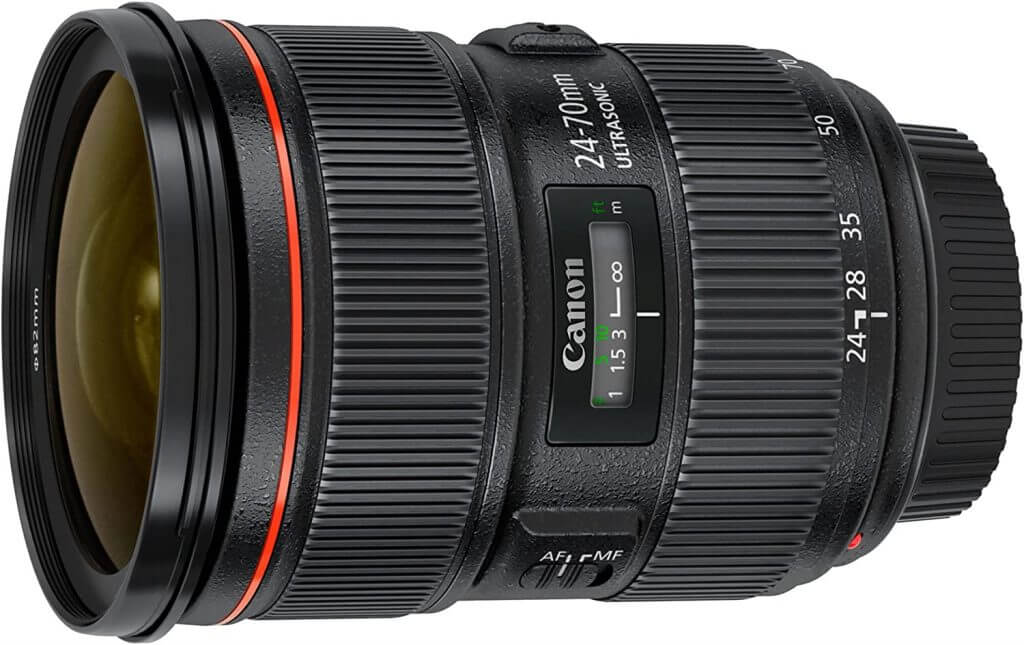 3. Canon EF 24-70mm f/2.8L II Lens
One of the first things that make this lens so impressive is the fact that it is designed to function in all conditions. Whether there's a hurricane or you are shooting in a storm, this lens works just fine, and as it is built from very sturdy and durable materials, the lens doesn't get spoilt by a few spills.
The lens is also fully weather-sealed. Its finish is superior, with all the switch flicks into lace. As for the focus and zoom dials, they have adequate resistance and throw. The lens's heft weighs under 2lbs and is easy to stabilize if mounted on a full-frame camera body.
This lens typically balances well with the larger grips in the 5D Mark III and the EOS-1D X, but prepare for some bear if you are going to be shooting for a whole day. While this lens is on the other end of the spectrum when it comes to smaller, light eight gear, it is still a great option for the pro who requires high-grade image quality.
For the regular person, the hefty lens may seem too cumbersome. This lens is the latest normal zoom in the market, featuring impressive zoom capabilities and among the best image stabilization in its class.
If you are using this lens with a Wi-Fi-enabled camera body, then you get to share the sharp imagery this lens delivers with other compatible devices. This lens is so remarkable that chances are most of the journalistic photography you see is done using it.
The lens has a focal length that impressively extends from wide-angle to short telephoto, as well as a relatively wide constant telephoto. Such flexibility is irreplaceable if your life depends on superior portraits and wedding photography.
Expect unbelievable sharpness and few optical compromises. This lens is a bit hefty, making it a bit of a bear if you are shooting throughout the day. The lens's f/2.8 to f/22 aperture makes it possible for quick shutter speed, delivering impressive burst mode.
---
4. Canon EF 70-200mm f/2.8L II Lens
The lens is impressive in both build and image quality. This lens can focus extremely accurate and very fast. It has a 4-stop IS and comes with full weather sealing. It also has a very useful focal length range. The predecessor to this lens, this lens was quite remarkable, but the new version features some significant improvements that make it even better.
First of all, this lens has a higher line on Canon's theoretical MTF chart, which means that the lens is expected to have superior optical performance in comparison to its predecessor. This lens produces real-world image quality.
The lens does not have Chromatic Aberration, which is an improvement to older models that show some CA in the full-frame corners. The distortion features of this lens are quite similar to those of the original 70-200 f/2.8 IS lens.
Due to the rounded 8-blade aperture of this lens, the foreground/background blur quality that's not much different from the original 70-200 f/2.8 image stabilization. The lens, due to its f2/8 maximum aperture, can create a highly blurred background.
While this lens is not without flare, it is still a big improvement compared to its predecessor. The original Canon EF 70-200mm lens is more susceptible to flare, but the new II provides much better performance, delivering greater image quality when the environment is back-lit.
This lens has an impressive 4x, 24-105mm zoom range. Mount this lens to a Wi-Fi-enabled camera body, and you can easily share top-grade imagery with your PC and smartphone. This top-of-the-line lens delivers a very sharp image quality. It focuses extremely accurately and very fast.
The lens features 4-stop image stabilization and full weather sealing, as well as a very useful focal length. At 1490 g, the lens is quite hefty. But it has grips that make it comfortable to use and carry around. This lens features one of the most impressive burst modes, given its wide aperture.
---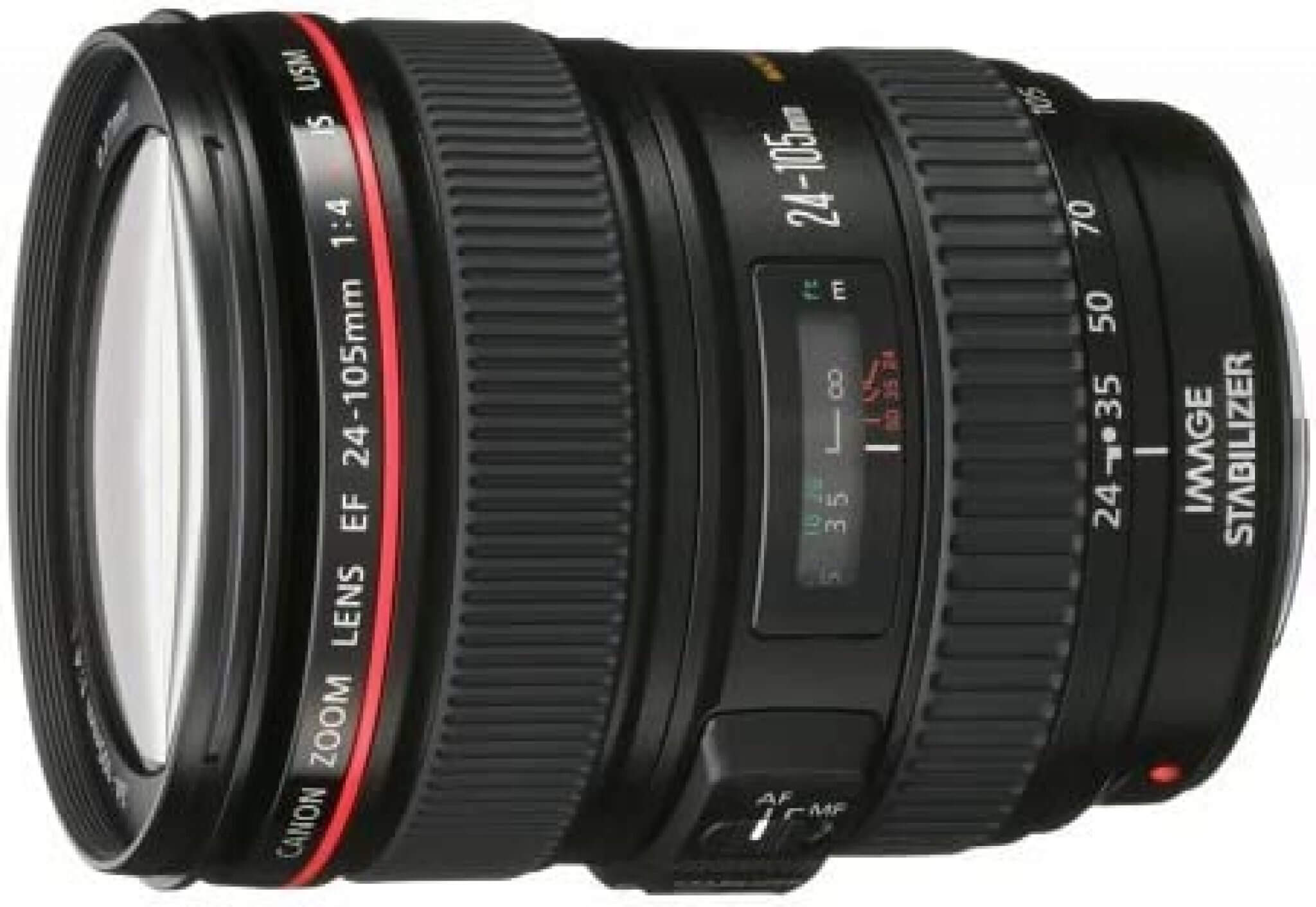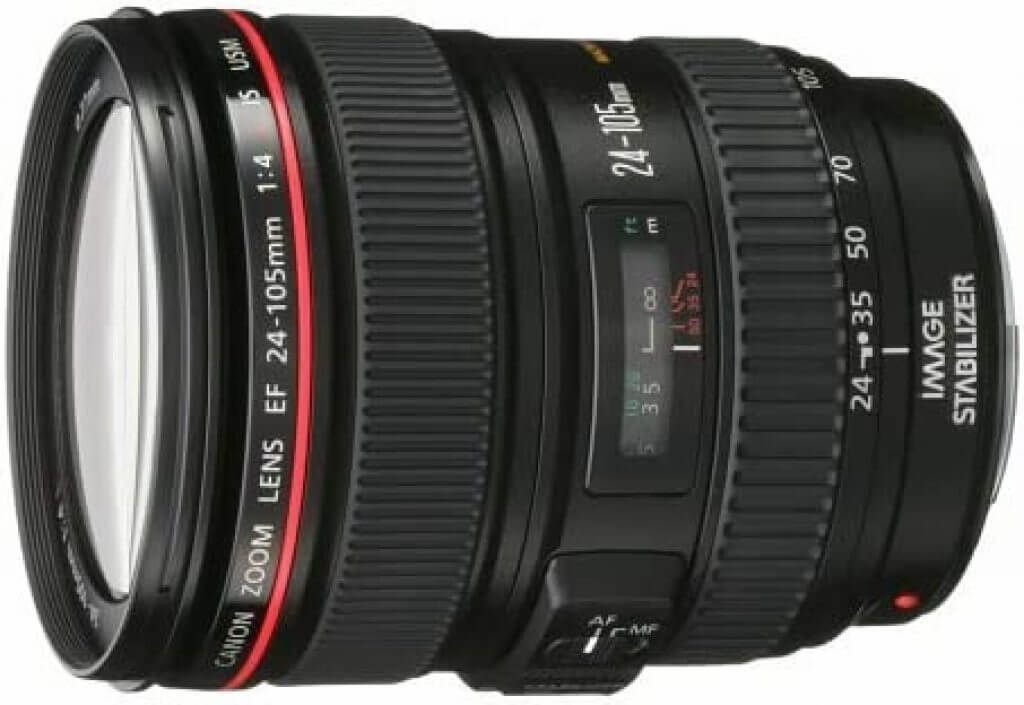 5. Canon EF 24–105mm f/4L II Lens
Since its production, the Canon 24-105mm version II lens has become an instant hit with many amateurs, enthusiasts, and professionals. It's a fantastic general-purpose lens and will fit well in various full-frame DSLR kits. In any case, which photographer doesn't love a general-purpose lens?
Of course, getting a high-quality version of this lens is the best option, and they don't come any better than this lens, which is an improvement of the first version. At the moment this lens is arguably Canon's leading general-purpose lens thus far. This lens features some really impressive qualities.
First of all, it has unbelievable maximum magnification capability. The focal length of this lens is quite useful for shooting in different scenarios. It covers an impressive 24-105 mm range, which is a superset considering that the heart of the general-purpose focal length is usually about 28-70mm for full-frame cameras.
The additional 4mm on the lens is quite useful both for landscape photography and shooting in tight areas. As for the extra 35 mm on the length, users will enjoy capturing tightly framed portraits like headshots. Of course, the 24-105mm lens isn't what many people would consider being super-zoom.
However, it is still an impressively long general-purpose full-frame focal length and will deliver the high-end image quality pros look for. The lens zoom range has a host of very popular individual focal lengths packed in the 4X, 24-105mm zoom including the 24mm, 35mm, 50mm, 85mm, and 100/105mm.
As earlier mentioned, this lens is great for landscape photography as it is quite simple to create compelling landscape compositions with a 24mm perspective. Using this perspective, it is possible to provide emphasis on foreground subjects against in-focus backgrounds.
The 105mm on the other end is ideal for modestly compressed landscapes with distant subjects. These subjects include mountains. This lens is useful when you want to capture your most important subjects, including portraits and weddings, parties, and documentaries.
This lens is far better than the cheaper standard zooms. Its maximum aperture stays at a constant f/4 right through the zoom range. This lens makes it a joy to share those top-quality portraits and wedding images as long as you are using a camera body that's Wi-Fi enabled. This lens offers a remarkable 4-stop image stabilization system besides controlling vignetting much better than its predecessors.
The lens also provides greater versatility, which is why it's fast becoming a hit with professional photographers. The lens is designed to withstand the rigors of professional use with its enhanced resistance to shock and vibration.
This lens delivers high-quality images. This lens is bigger and heavier by 125g than the lens it replaces. Thus it's a bit hefty to carry around. The lens wide aperture makes it easy for faster shutter movement.
---
Things to consider (Buying Guide)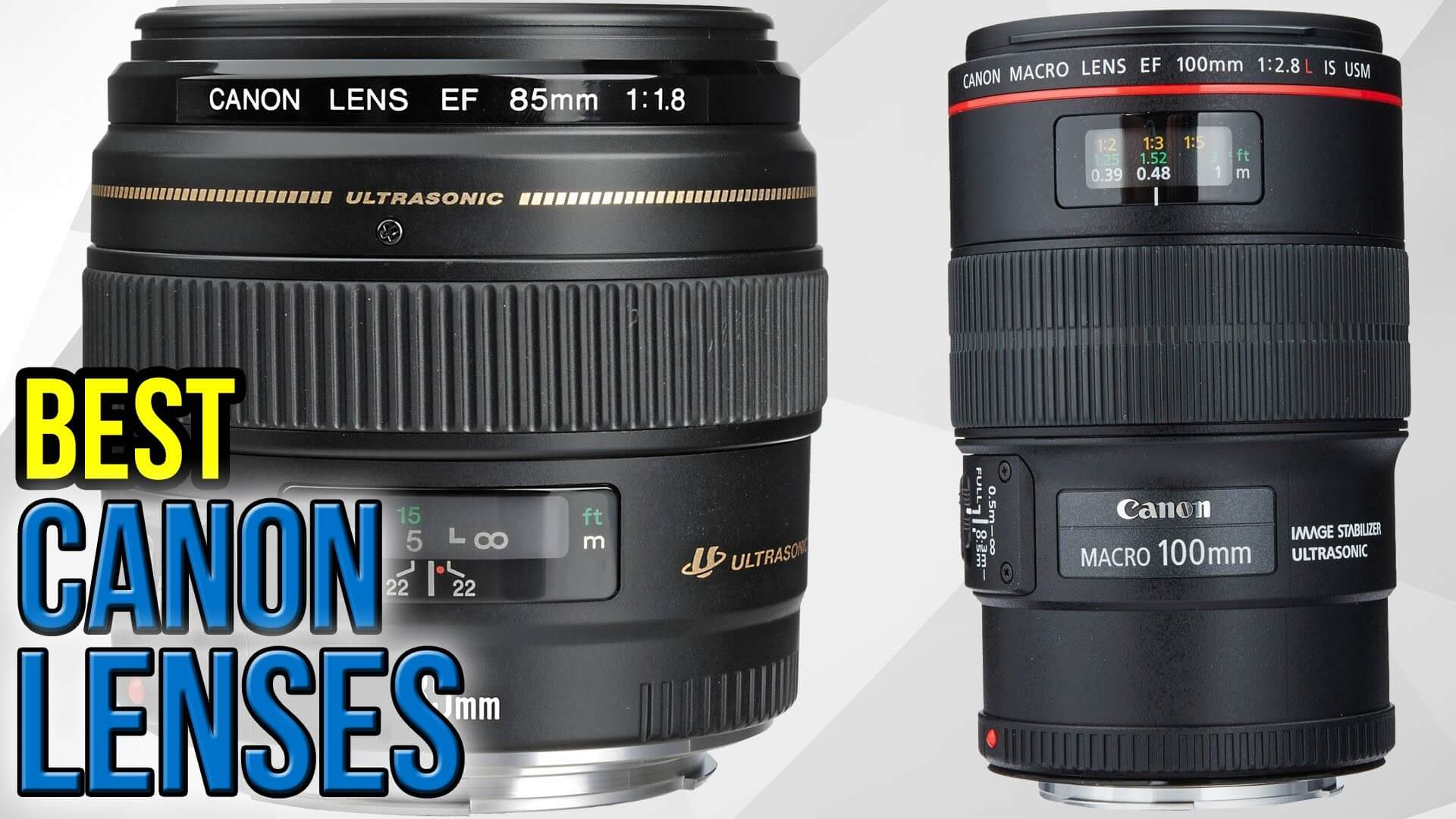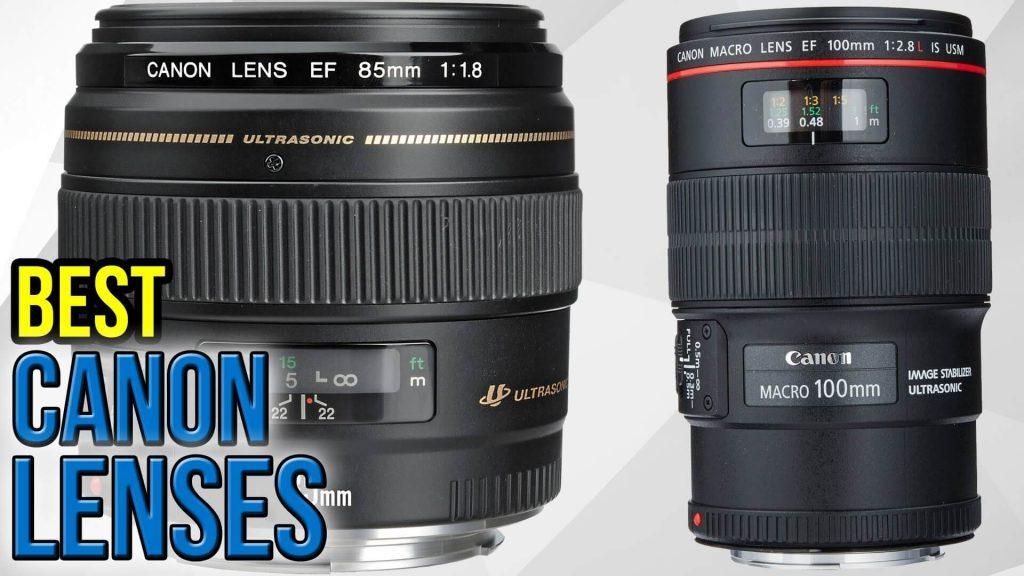 A wedding is a momentous event, and it's essential that when capturing it you use a high-quality lens, so you get the priceless moments perfectly. Such a lens needs to be fast, bright, and have a superior resolution.
Canon lenses have long held the distinction of being among the best in the market for this job. But as there are so many variations of canon lenses, how do you pick the best one for you? Here is a list of factors to look out for.
Price
The cost of a camera is a key determinant in whether you'll buy it or not. Just like camera bodies, different lenses are priced differently depending on the features that the lenses have. You can find a decent canon lens for any price between less than USD 1000 to well over two grand depending on the features the lens has.
Regardless of what you decide to purchase, the secret is to avoid buying. Thus, you need to buy the fewest, top-quality lenses you can. Find out how much the lens you want to buy costs before hitting the market to avoid surprises.
Zoom capabilities
One of the most recurring questions when it comes to buying lenses is whether you should invest in a zoom or a prime lens. The decision boils down to the kind of occasion you are planning to shoot. For instance, if you want a lens that you'll be using for wedding events, then opt for a zoom lens.
Such a lens makes it easier to zoom from a wider-angle photo to a telephoto as opposed to changing lenses. Zoom lenses are quite popular for landscape photographers in general. However, beware of falling into the trap that you need to zoom a zoom lens that covers every conceivable focal length.
Connectivity
After capturing all those sharp images, then you may want to share them with your other devices such as your smartphone, other cameras, or PC. The great news is that most cameras that use top-of-the-range Canon lenses come with built-in Wi-Fi and NFC to allow for sharing of the portraits and wedding imagery you capture.
Quality
The best lens should deliver excellent optical capabilities and top-grade image resolution. Canon lenses are arguably the best in their classes. As you narrow down on the best lens for your arsenal, ensure that it is a wide-angle lens, a macro lens, or a zoom lens. If possible, opt for one that offers a combination of all three features. Such a lens is very useful when shooting group shots without having to move in too close to the people.
As a portrait and wedding photographer, it's now an expectation that you have macro and prime lenses to cover those dramatic shots of the wedding rings, the bride, the crowd, and other aspects of the big event.
Go for lenses that have a bright aperture of f/1.2 or above for the sharpest and creamiest background bokeh. You also want a lens that can focus on subjects at great speeds, capture backgrounds beautifully, and soften the bride's skin, creating gorgeous portraits.
Portability
If you are going to be shooting portrait and wedding events, then you need to be prepared to spend long days out there. For that reason, you must consider the size and weight of the lenses you are about to buy very keenly.
You want a lens that you can carry around easily, so go for the smaller lenses. The added benefit of buying a smaller lens, of course, is that it comes cheaper and will sometimes save you hundreds of dollars while still delivering impressive performance.
Continuous shooting modes
If you are looking to reach high shutter speeds, then you'll need to go for the fastest lens you can find in the market. The f/2.8 and f/4 lenses should do excellently. If you are using a high-speed lens, then you can still hit high shutter speeds even when the maximum aperture is down by one or two steps.
For a cheaper lens that has a maximum aperture of f/5.6 and below, then you'll have to open the aperture as wide as possible to allow as much light as possible inside, particularly if you are shooting indoors.
Frequently Asked Questions (FAQs)
Q: How I picked the best?
Answer: Choosing the best lenses out of so many options available in the market is by no means a simple task. It takes a long time to test the types of lenses to come up with a few that offer superior performance.
Once I had made a list of Canon lenses that I thought were of high quality, I narrowed down on the specific features of each, comparing and contrasting them till I picked the lenses that I thought to be better than the rest in terms of performance and price.
Q: Why trust me?
Answer: While different photographers work differently while photographing, there are several essential things that all photographers want. One of them is a great lens-one with the ability to create superior images.
Canon lenses have not disappointed when it comes to this. And, having worked with these types of lenses for many years, I can attest that these lenses are among the best in the market for events such as portraits and weddings. Again, each of the lenses in this list was thoroughly tested before concluding that they deserved to be on the list.
Q: Is this for me?
Answer: Once you've stumbled upon the Canon EF 70-200mm, your first impulse to halt the hunt for lenses, grab this lens and go home. Indeed, this lens is arguably Canon's best release, given its ability to capture stunning images.
What's more remarkable is the fact that this high-quality zoom lens captures these high-grade images from a remarkable distance, making it the perfect choice for shooting portraits and wedding photos.
And since a significant number of portraits and weddings are held inside buildings, you want a camera with a wide enough aperture that lets in more light and produces bright photos, even at a greater distance. The Canon EF 70-200mm does just that. The size and the price may be a little inhibitive, but this lens is well worth your investment.
Recommendations
When you set out to buy a lens, you're not looking to purchase a lens that you think you need, but a lens that you need. Several factors come into play, influencing what decision you make at the end of the day.
Go for a lens that delivers the best images for your clients. You'll want to think about the price of the lens, but that should never be the determining factor. Ultimately, you want a lens that's fun to use, weather-resistant, and can guarantee top-quality work.
Related Lens:
Related Posts:
Subscribe to the CameraIO Newsletter
Photography & Camera News + DEALS