Subscribe to the CameraIO Newsletter
Photography & Camera News + DEALS
They say a picture is worth a thousand words, and that's why it's critical to capture all the details. Lighting is one of the important aspects of crystal-clear images. While natural light is readily available, it doesn't hurt to add in a bit of artificial lighting. It's advised to do so, and that's why you must invest in the best strobe lights for photography.
These lights help to illuminate the scene hence helping you capture all the essential details. They usually are the difference between a crisp image and a dull one. Proper lighting will help to eliminate shadows, and unwanted lights in the photos and improve the definition of the photo. Strobe lights are preferred due to their automation and easy-to-use function.
Best Strobe Lights for Photography (Reviews)
With a huge variety of strobe lights available, it's critical to choose the right one. In this guide, we will look at some of the best strobe lights you can use for your photography. We will focus on what makes them critical, their strengths, and most importantly, why you should buy them: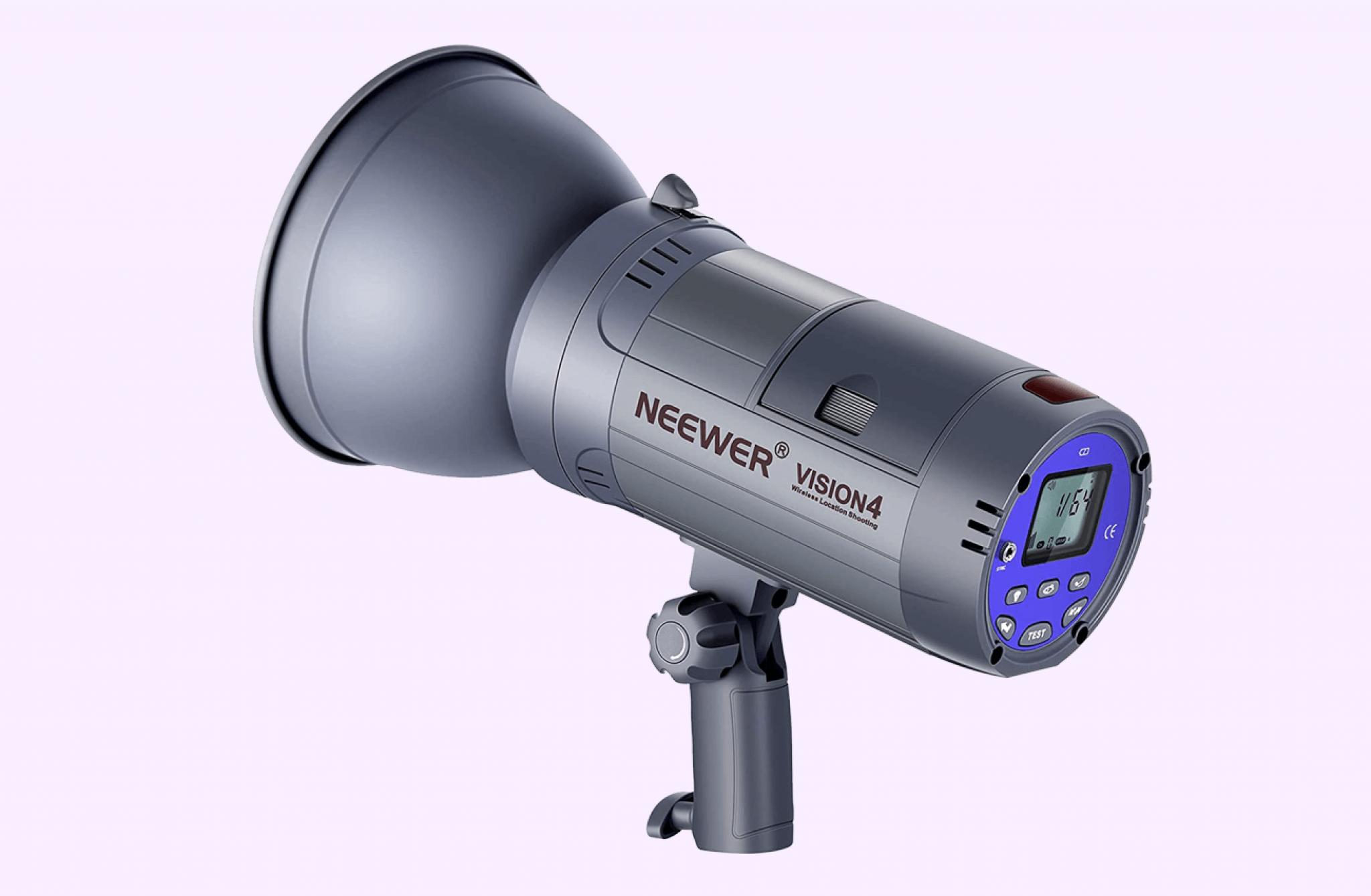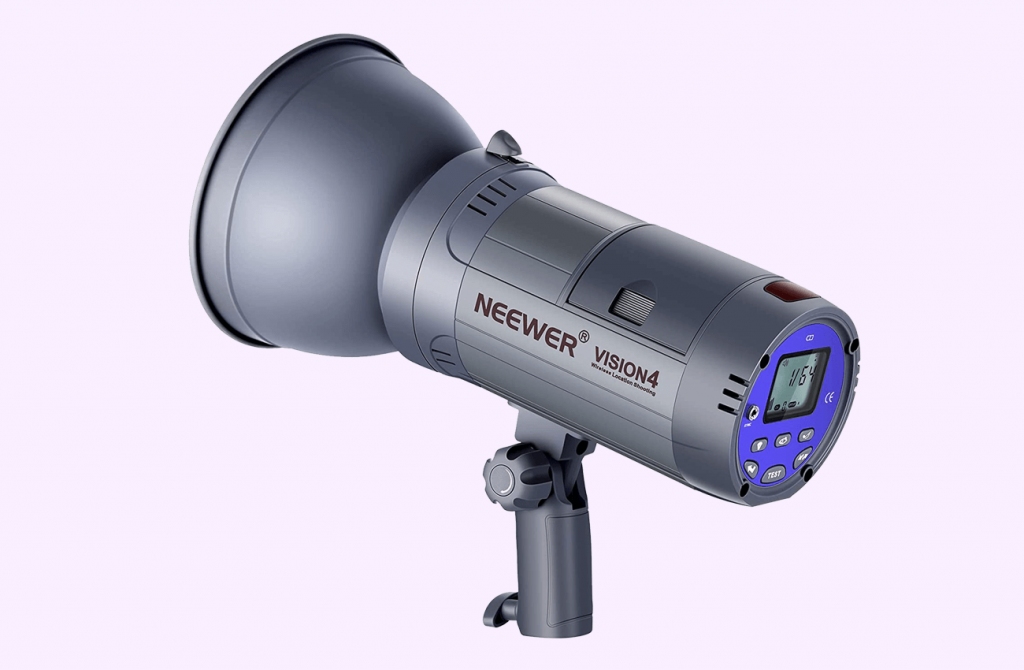 Neewer Vision 4 300W Strobe Light
For starters, this strobe light is capable of producing 700 full-power flashes because of the large-capacity lithium battery pack. The German-engineered strobe light has an impressive 0.4 to 2.5 seconds recycle time which is one of the fastest in the market. It's perfect for anyone who uses Sony Camera and Canon Nikon Panasonic.
This model has six steps of power adjustment and also supports a multi 2 4G wireless remote. It also comes with a trigger included. To help you keep up with technological advancements, it has included sub firmware upgrades with lifetime email support included.
The performance of this strobe light is what impresses me the most. It has an extremely short flash duration coupled with a high Gn60. Equipped with a 300W flash, this light is perfect for all location shooting. It's also compatible with a majority of high-end cameras, such as the Sony A7 A7S.
What impresses the most with this strobe light is the extremely 0.4 seconds fast recycle time which gives you enough time to take as many shots as possible. The 700 full power flash is amazing to get all the details of the object.
Like any photographer, capturing the details is crucial. This strobe light packs enough power to illuminate any object, allowing you to get crystal clear images. The multi 2 4D wireless remote allows for hands-free operation, while its compatibility with the majority of cameras makes it a must-have. The 6 steps power adjustment offers 3, 5, 7, 10, 12, and 15 shots, which is more than enough for a decent strobe light. The trigger power supply comes with CR2 3V batteries.
---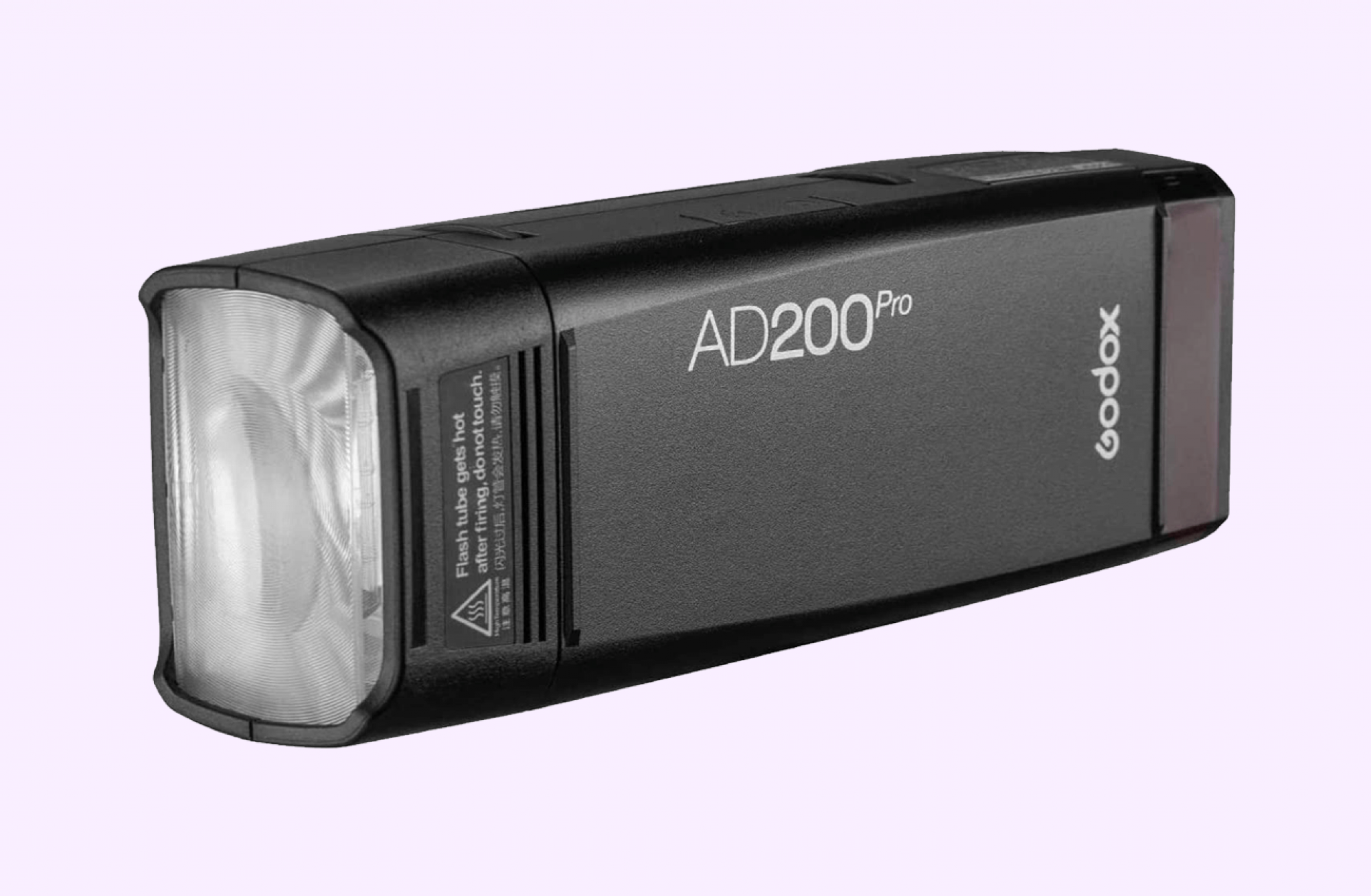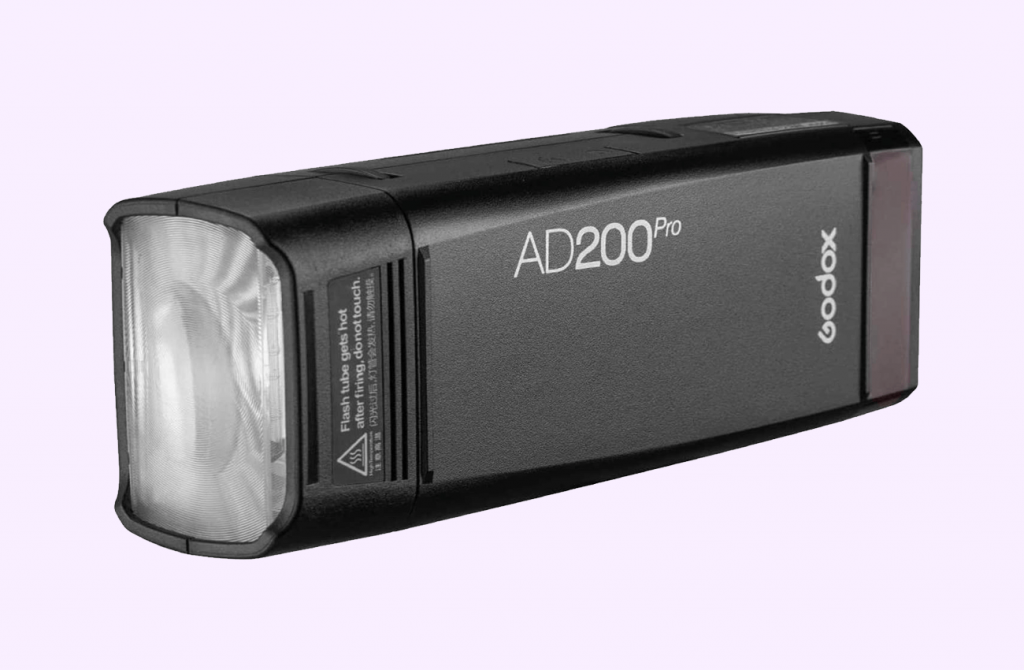 Godox AD200Pro Strobe Light
This strobe light comes with a rechargeable and interchangeable 2900mAh lithium battery that packs 500 powerful flashes. It also includes 32 channels which are more than enough for a decent photoshoot. It offers a super clear with a high-contrast center that every professional photographer has always wished to get.
The strobe light comes equipped with 2.4GHz wireless radio coupled with a TTL system that allows an impeccable 330ft range, making it perfect for outdoor shooting. To make sure you get the most out of it, the strobe light comes with improved no-twist tilt heads as well as a 2 way stand mount. To stop full power adjustment, the light is armed with an expanded manual 9-stop range. This way, you can adjust your power full to 1/256 easily.
As you would expect, this strobe light has impressive performances. For starters, the 500 full-power flashes offer enough lighting for any photoshoot. It also comes with 3 interchangeable studio-quality modular flash heads, namely; Round Diffusion Head, Bare Tube, and Fresnel. It's also equipped with a state-of-the-art Stable Color Mode that assures 5600°±100°K color temperature.
The strobe light supports all popular cameras such as Sony TTL, Olympus TTL, Canon ETTL II, and Fujifilm. The impressive manual 9-power adjustment is amazing for any experienced photographer. Shorter flash durations are great for any photoshoot. Over the 6-stop range with a 1/3rd stop, increments offer you more power in your hands.
It's very lightweight and portable to carry. The rechargeable and interchangeable lithium batteries pack over 500 flash powers, making them perfect for all environments shooting. The 300ft range and 200ws make this strobe light compete with some of the best out there.
---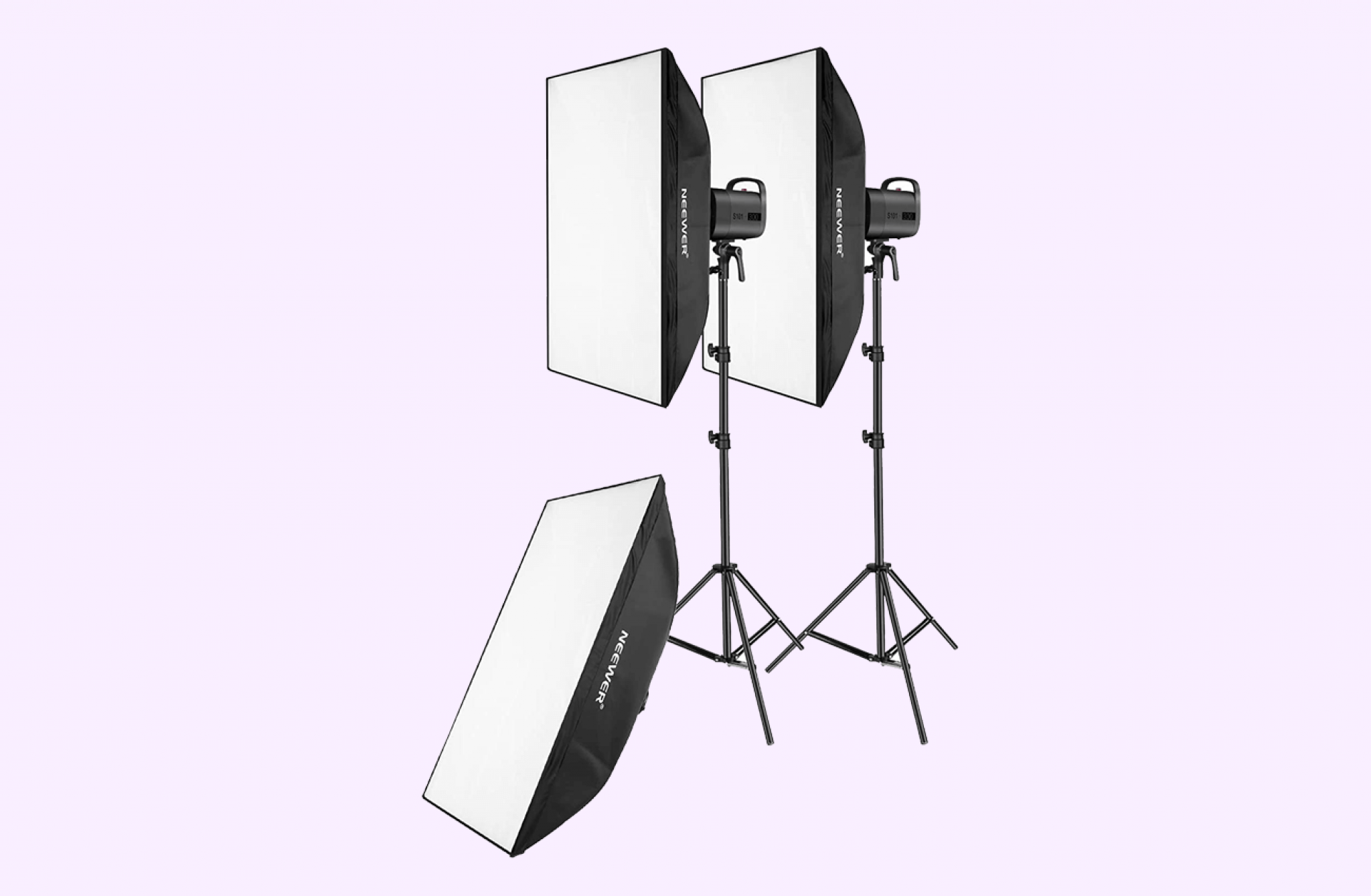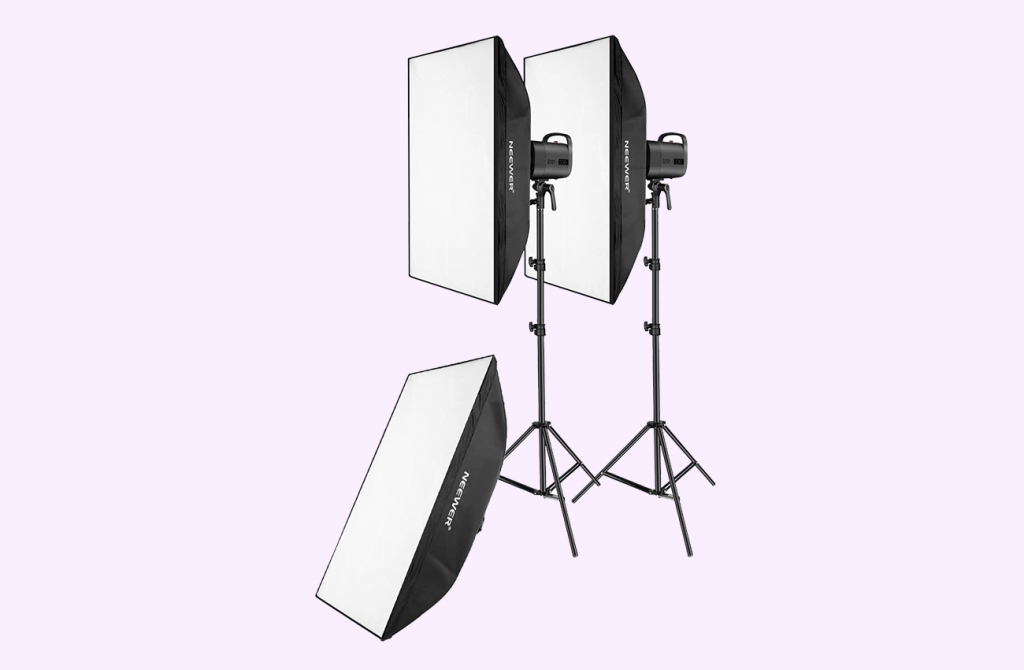 Neewer 900W Strobe Light
The strobe light has an amazing 0.3 to 1.8 seconds of recharging time, making it one of the fastest in the business. With a flash duration of 1/2000s and a 10-meters sync distance, this strobe light has a decent intensity to it. It's also versatile enough to be used as the hair light, backlight, or main light.
The strobe light comes equipped with a 3-legged stand for quick mounting. It also has a removable front cover that allows the camera lens to access its interior. The use of a wireless trigger helps the camera to trigger the hot shoe flashgun. It also comes with an RT-16 wireless receiver.
The strobe light is designed for performance with an impressive 300WS high flash energy. It also takes between 0.3 and 1.8 seconds to recharge after a shot. It's versatile with multiple applications such as the main light, hair light, or backlight. For fast precision height adjustments, the light comes with quick single-action locks. For even light distribution, it utilizes SOFTBOX which is effective in light diffusion.
For starters, it comes equipped with a wireless trigger and a wireless receiver which helps to make the photographer's work easier. It also has an impressive 30 meters working distance. The 3-6.5ft adjustable height stand allows you to control how high in your set you wish the lights to go.
The 10 meters sync distance is perfect for outdoor shooting sessions. Combine that with the 1/200 seconds sync speed, and you have a high-end strobe light for photography on your hands. The 50×70 cm Soft Box allows for maximum light diffusion on the set. And an impressive 1/2000s flash duration is more than enough for a decent photoshoot.
---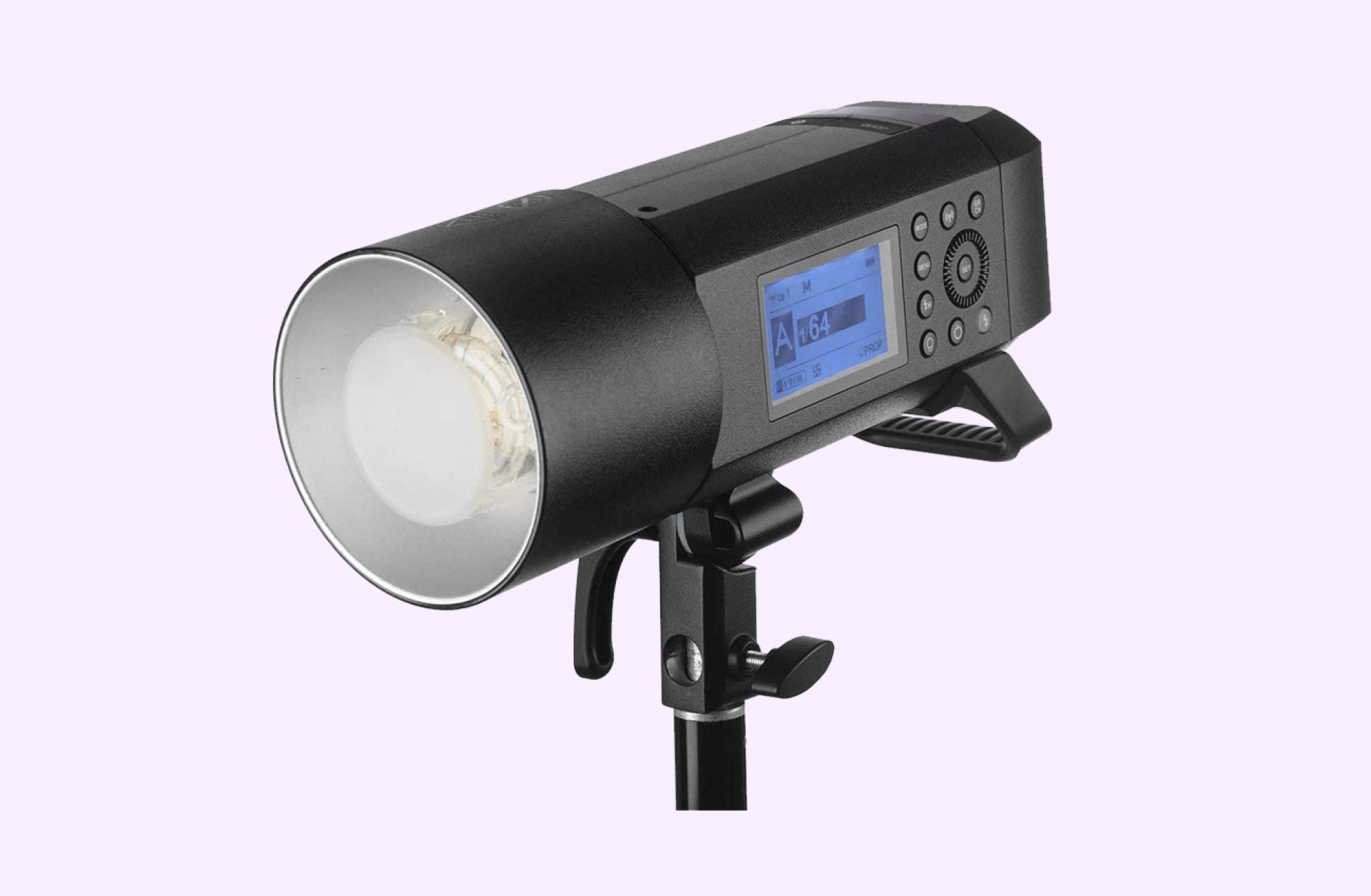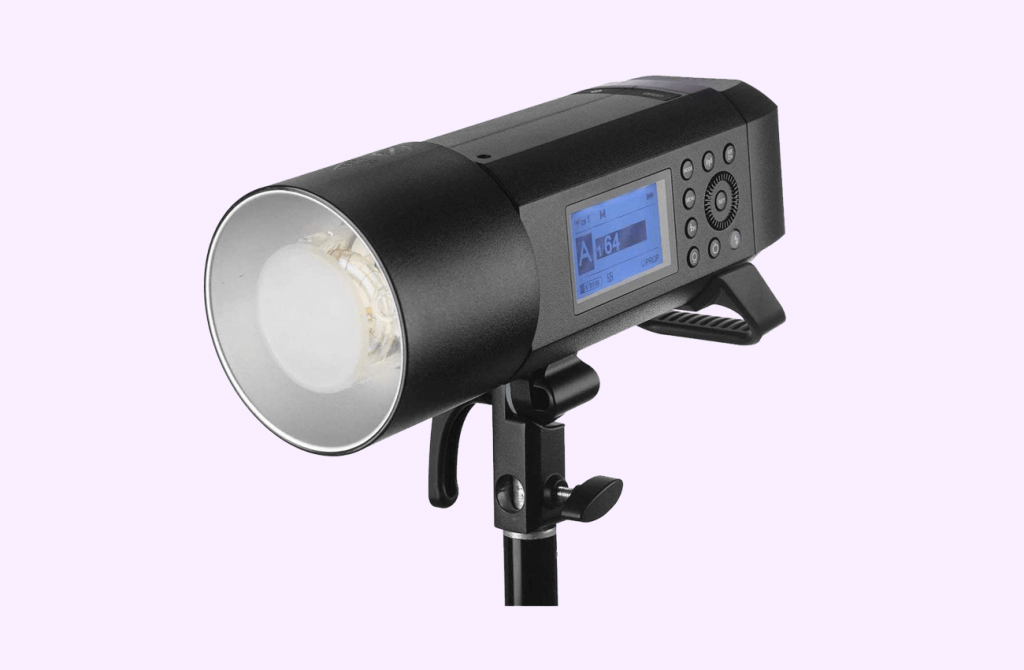 Godox AD400 Pro Strobe Light
The strobe light comes equipped with 400Ws strong power, making 12 continuous flashes and 0.01-1s recycle time, making it a one-in-all outdoor flash. You also get a chance of choosing between AC and DC power sources by purchasing the Godox AD-DC power source adopter. Weighing just 2.1 kg, this strobe light is very easy to carry and move around.
The manufacturer has focused a lot on the design, which allows it to perform optimally. For starters, they have included the 3.5mm sync cord jack, which brings the possibility of multiple Sync triggering methods. You can also use multiple mount accessories since its design allows you to mount any adapter rings. It also comes with 12.6V large-capacity lithium batteries that offer more than enough power during your shoot.
As you would expect, this strobe light is second to none when it comes to performance. 0.01-1s recycle time is probably the best in the market. Combine that with the 400Ws Strong Power, and you have a very reliable strobe light on your hands. It's also compatible with multiple TTL and E-TTL cameras, hence improving its versatility.
The 390 full-power flashes combined with the impressive 0.01-1s recycle power to give this strobe light enough power for prolonged use. It also comes with two power supply method that supplies you with enough power for your shooting session. The ability to combine TTL outdoor flashes and Godox TTL camera flashes provides you with enough lighting.
If you need a reliable strobe light with impressive recycling time, then this is a product for you. The 30W LED modeling lamp is complemented by the 12 continuous flashes that come in 1/16 power output to offer you more power and lighting. It's compatible with different cameras, making it perfect for anyone regardless of the machine they use.
---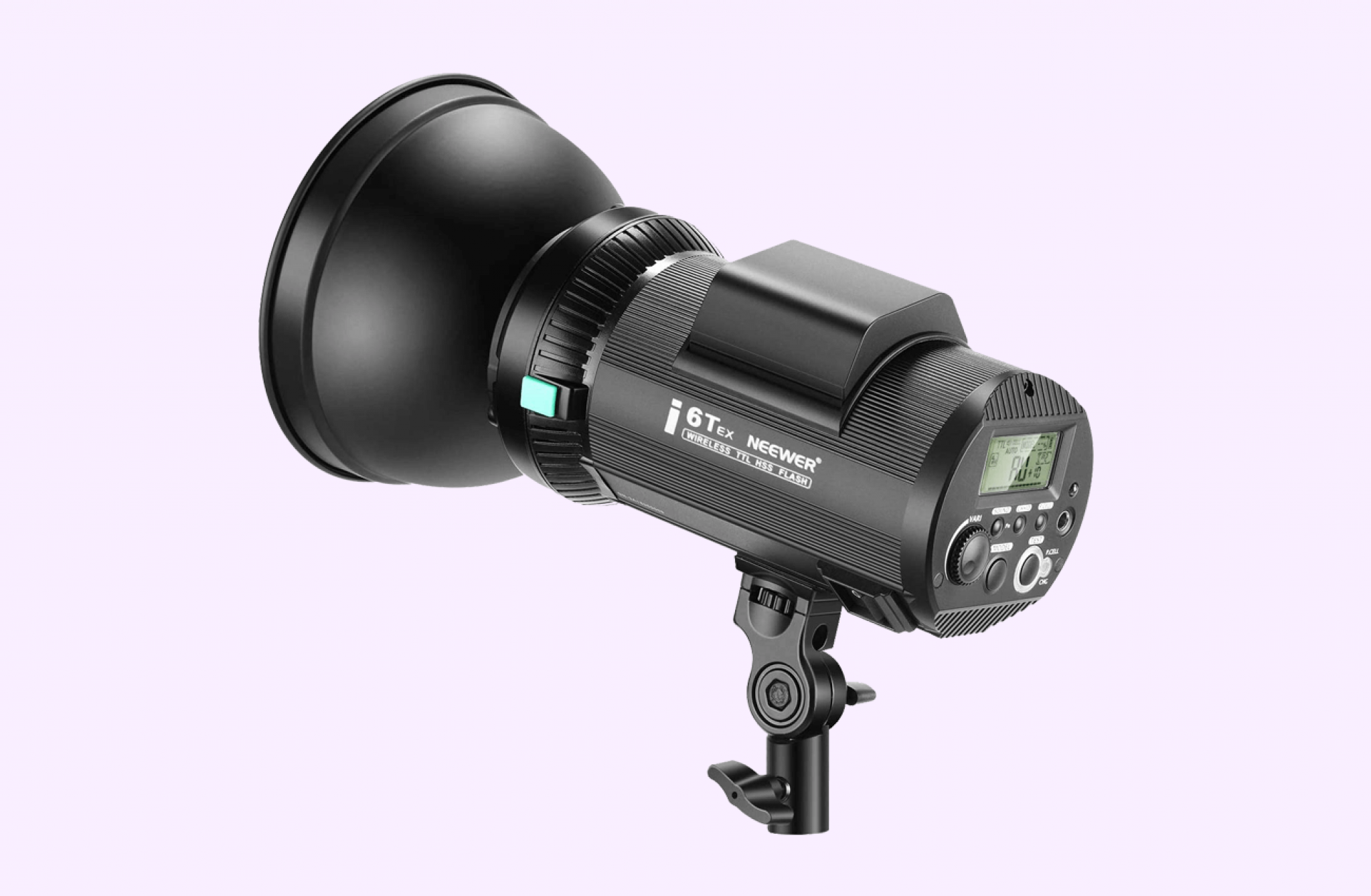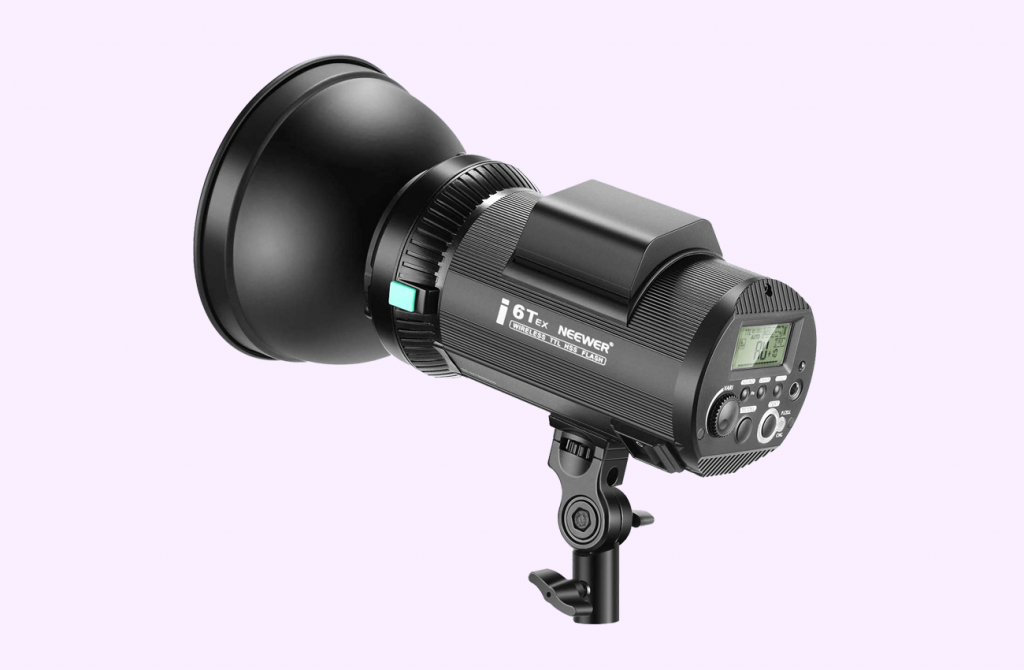 Neewer i6T Strobe Light
4000mAh high-capacity Lithium battery helps to supply the needed power capacity. The high-speed Sync offers over 1/8000s of Sync mode. The light is equipped with the TTL/M flash mode. It also comes with a 2.4GHz and 50m wireless range, which is more than enough for a decent photoshoot.
The design is where this strobe light scores the highest. First, it comes equipped with a flash protection function that protects the flash from overheating while charging. It comes with a wireless remote receiver and a wireless trigger for perfect hands-free operation. It also comes with umbrella holes where you can attach an umbrella and Bowens mount to mount to a stand.
For better performances and improved lighting, the manufacturer has included the TTL/M flash mode. It also scores high in terms of flashing recycle which takes an amazing 0.2/1s. With 600W power output, this strobe light is optimal for any professional photographer. The built-in wireless remote receiver communicates with the wireless remote trigger to automate operation. The flash duration comes in two modes; the quick mode1/18500s and the ordinary mode with 9500s.
The 0.2 -1s recycling mode in quick mode is very impressive, with the ordinary mode taking only 0.3-3s for the same. The flash protection function is capable of keeping the flash safe during charging. The wireless trigger works together with the Sync cable and the Optical to improve the Sync Mode. The 15W energy-saver modeling lamp is perfect for a simple photoshoot.
If you need a reliable strobe light, you should get this product. It's compatible with almost all Canon series. It provides 400W full power flashes is coupled with an amazing fast recycle time. This power makes it possible to use it for indoor and outdoor shooting sessions. It also comes with USB firmware that helps to keep up to date with the latest upgrades.
---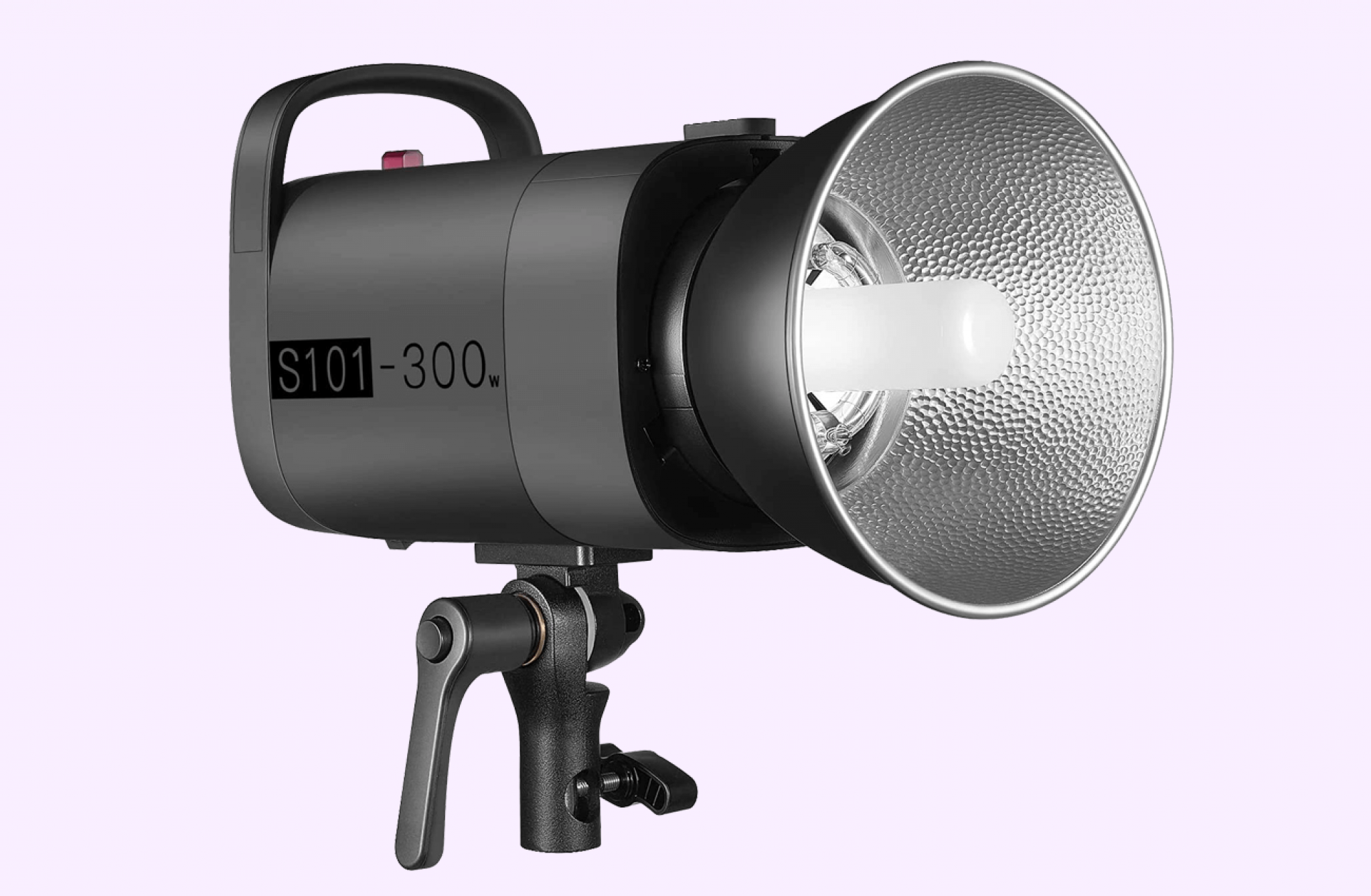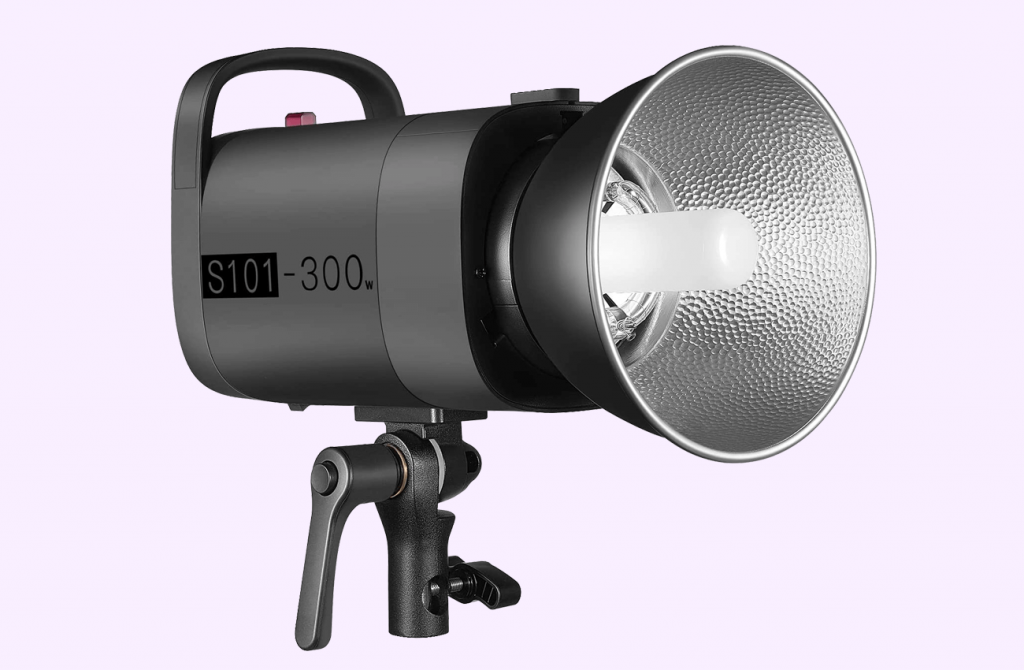 Neewer 300W 5600K Strobe Light
The strobe light comes with a flash energy adjustment with a 1.0-6.0 digital diming, allowing you to control the amount of light you want. Weighing an impressive 1.41kg, it's one of the lightest strobe lights in the market.
It comes with an LED power display, a dimming knob to allow you to control the amount of light, and an asynchronous socket for optimal performance. The aluminum alloy makes it strong and durable, while anti-static helps to keep your shots clear and bright. It also has an umbrella socket to attach to an umbrella for even distribution of light. You can also mount it on a stand which offers you an 180°angle rotation.
The 300WS high flash energy combines with the 75W modeling bulb to offer strong light intensity. The modeling bulb is also capable of being adjusted to three levels; Prop, Full, and Off. You can switch off the flash and use it as a fill light. An impressive 1/2000s flash duration enables you to light the set for long.
It comes equipped with a Test Button Trigger, Flash Trigger, and a Photosensor for optimal performance and easy operation. With a sync distance of fewer than 10m and a 0.3-1.8 recharge time, this strobe light is capable of competing with the best in the business. The ability to adjust the modeling lamp to 3 different levels allows you full control of your set.
The large LCD allows you easy control and enables you to monitor the power levels. The aluminum alloy makes it durable and capable of withstanding impact, which makes it ideal for studio use. The 300W high flash energy is more than enough for studio lighting.
---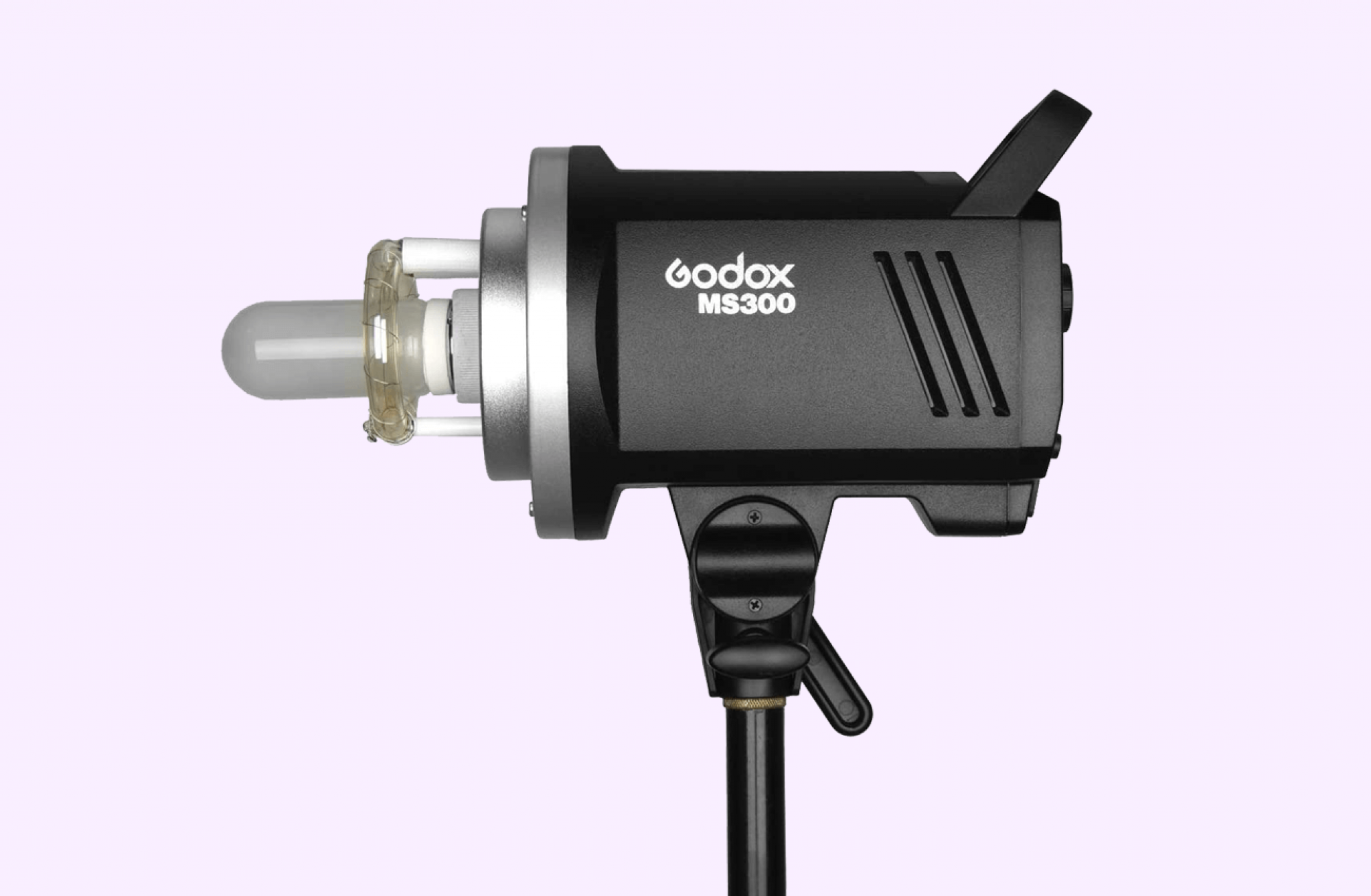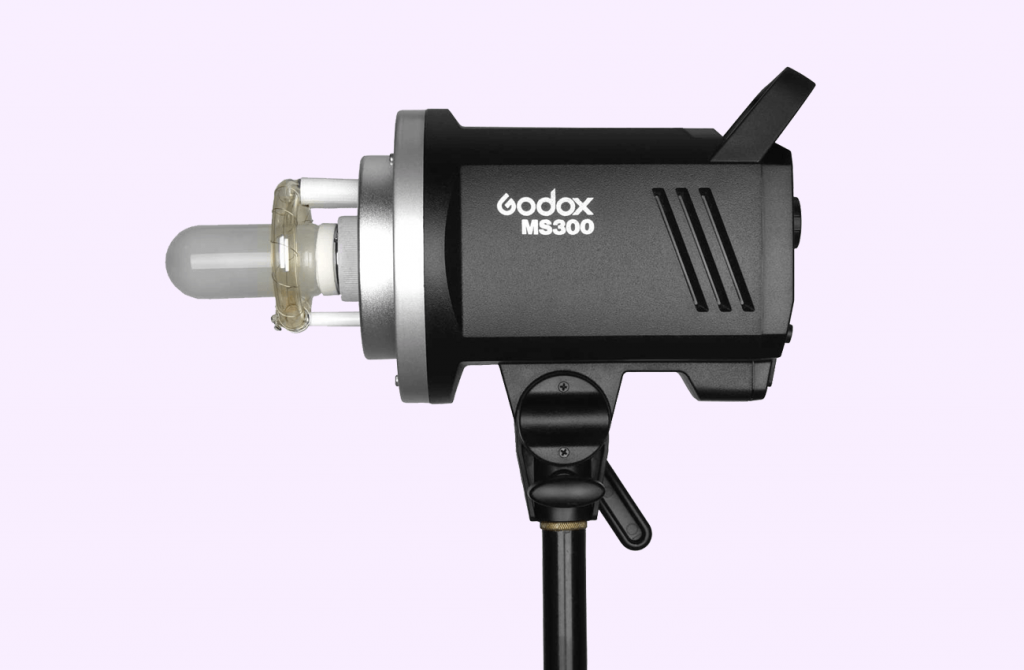 Godox MS300 Strobe Light
This strobe light packs an impressive 300Ws max power, a flash duration of 1/2000s to 1/8000s, and light modeling of modeling lamp falling between 5% and 100%, all powered by the operating voltage of 110V-120V AC.
It comes with a solid hand-grab handle to carry easily, a super clean display screen to operate easily, and a wireless control port. It also contains the 150w built-in modeling lamp that is capable of adjusting the brightness to fall between 5% and 100%. The built-in 2.4GHz wireless control system allows for hands-free operation.
The power can be adjusted in 50 steps from 1/1 to 1/32, with the 150W modeling lights capable of adjusting from 5 to 100%. It features a 0.1 to 1.8 second recycling time, making it the fastest out there. You can recover previously-used settings through auto memory and recovery. A super clean display screen allows you to see how the light is performing while still monitoring the power levels.
The ability to control several functions such as the buzzer, the modeling lamp and the power output remotely makes it an ideal strobe light for anyone passionate about photography. It's capable of sensing and operating under 32 channels, as well as the 16 non- TTL groups. We were also impressed by the consistent GN 174ft/58m output.
If you want a strobe light with an impressive rich color spectrum with a 1/800s- 1/2000s flash duration, then this is the product for you. You can link this light to a camera cable link through the 3.5 mm Sync port. It also comes with an inbuilt Godox 2.4GHz wireless system for hands-free control.
---
Things to Consider Before Buying (Buyers Guide)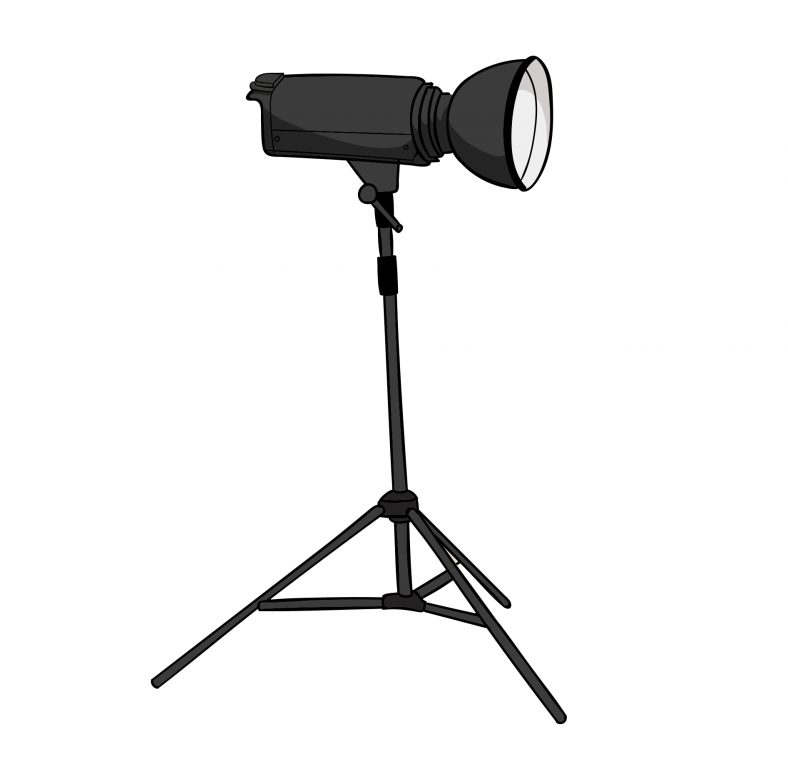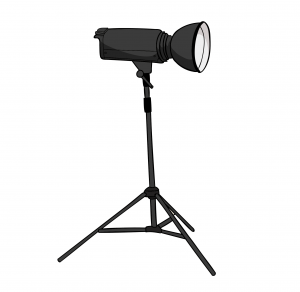 While in the market for a strobe light, it's best if you know what you need in the product. With a good number of strobe lights in the market, finding the right one will determine how they perform and rank in the following;
The recycling time: Professional photographers take hundreds of shots and later on choose which are best for their work. With powerful cameras invented that take tens of shots within seconds, it helps if you have a strobe light that can match this speed.
The power supply: A great strobe light should have sufficient power to last the entire session. A lithium battery will offer sufficient power for this purpose.
Modeling light: Strobe lights are either available in incandescent or LED format. The choice you make will depend on your experience and how you intend to use the light.
Flash duration: Strobe lights with the highest flash duration are preferred to those with slow flash duration. An ideal strobe should have a flash duration of 1/2000s.
Your budget: Strobe lights are available at different price levels. As you should expect, high-end strobe lights are not cheap. But that doesn't mean you cannot get a decent strobe light within a reasonable price range. $500 can get you a great strobe light today.
Manual or Automatic: Manual strobe light requires constant interaction in your photo set. They're perfect for people learning photography. Automation, on the other hand, will have everything done for you.
Compatibility with a Camera: You need a strobe light that is compatible with a majority of cameras out there. The ability to connect to your phone is also another added advantage since it gives you a different angle to work and capture images.
Frequently Asked Questions: (FAQs)
What type of lighting is best for photography?
There are two types of lighting in photography; strobe lighting and continuous lighting. Continuous lighting remains on all the time, with strobe lighting only flashing when taking photos. In this case, strobe lighting is more powerful than continuous lighting and is preferred by many photographers.
How do you set strobe lights for photography?
The idea of using strobe light in a photoshoot might sound more complicated than it is in real-time. The first step is setting the object to be photographed in a lightbox. This box helps to keep off all ambient light not needed in the photograph. The second step is to compose the object to be photographed in the viewfinder.
The third step is to set up the strobe equipment in a way that the light from them will illuminate best. Make sure the strobe is facing toward the texture of the object. This way, you will be able to add the shadow in the right places, hence improving the definition.
The fourth step is to use the sync code to connect to the camera. After the connection, make sure you execute metering. For better performances, make sure your camera automatically adjusts to the strobe's power output. The fifth step is to take photos and compare the results on the computer. Make the necessary adjustments as you see fit. Also, make sure you have a camera with a fast shutter speed.
What is the difference between a strobe and a Speedlight?
There are significant differences between strobe light and Speedlight. They include; Strobe lights come with inbuilt modeling light for learning, they also recycle very fast and create lighter. Strobe lights are also better for outdoor activities due to the amount of light they create.
Speedlights are versatile with multiple applications, such as acting like backlights. Their lightweight makes them easy to carry hence being portable. Speedlights can create the same effects as strobe lights. Speedlights are perfect for indoor lighting, where much light is unnecessary.
Which is better, strobe or continuous lighting?
Strobe and continuous lights are used in photography. However, the two lights have different applications and serve different purposes. What makes them different?
Strobe lights are activated by the camera since they remain off unless they're triggered. They deliver a flash that is Sync by the computer and are usually very powerful. Most of them have a 0.1 recycle time to accommodate for more shots within seconds. They're also capable of overpowering the sun when used correctly.
They're capable of preventing the outside light from affecting the shots through a process known as black boxing. Strobe lights run on affordable lithium batteries. Continuous lights, on the other hand, remain on all the time. It's usually preferred by people learning photography since they don't require much knowledge to use.
You can also modify them easily, especially when mounted on a Bownes mount, where you can choose the amount of light you want in a set. To further diffuse the light, you can also attach a softbox. Continuous lights offer a cinematic look. They're perfect for video production and still images since you're flexible to use one light. Continuous lights are also perfect for capturing soft, blurring motion pictures that would be difficult to get with strobe lights.
What is the best lighting for indoor photography?
The amount of light you need to take indoor photos is different from that required outdoors. The reason is that outdoor photo lights have to outshine the sun, while indoor lights need to be brighter than the room. This way, indoor photos require little lighting.
For starters, the type of bulbs used in indoor lighting matters the most. LED bulbs have been known to work better indoors than outdoors. They give off a bright light, and they don't emit any heat. They're also durable and energy-efficient. They are perfectly used as the key light. The only downside is that they're very expensive.
Continuous lighting is preferred in indoor photography since it gives you the flexibility of controlling the amount of light you need for a particular set. Indoor photography uses little light compared to outdoor photography. You also need three lighting categories; key light to help illuminate the darkroom. It takes the place of the sun by acting as the spotlight.
Fill light adds more lighting to your subject, making it more visible. It also helps to soften the light emitted by the key light. However, you don't need this light if you want to shoot your subject in little indoor lights. Backlight helps to illuminate the subject from the back, which helps to separate your subject from the shadow formed by the key and fill light. The subject gets a 3D appearance free from unwanted shadows and lights.
Conclusion
Whether you're doing it professionally or out of your hobby, a photographer is required to take note of the lighting in the room. The type of strobe light you choose will depend on whether you're taking indoor or outdoor photos. Unlike continuous light that remains on all the time, strobe lights are only activated by the camera when taking photos. They give off a huge amount of light compared to continuous light. They're also affordable, can be automated, and are powered by lithium batteries. When choosing a strobe light, you must focus on aspects such as the recycling speed, flash duration, budget, and most importantly, the compatibility with many cameras.
Related Posts:
Subscribe to the CameraIO Newsletter
Photography & Camera News + DEALS