Subscribe to the CameraIO Newsletter
Photography & Camera News + DEALS
Lighting is everything for a professional photographer. Despite relying on natural lighting such as the sun, it's still better to have extra lighting in place to help bring out the object correctly. Proper lighting is also important as it helps to eliminate any shadow from appearing on the object, hence keeping the images clear by providing all the details.
Choosing the best photography lighting kits for beginners is not as easy as many might think. You still need to know what you're looking for in the light, such as the intensity of the light, the lifespan of the light, and whether you still need any more accessories to give your light more intensity.
This article will look at some of the best photography lighting kits for beginners and highlight what makes them uniquely qualified for this task. After reading this article, you'll have enough information and knowledge to know how to choose the best photography lighting kits.
Best Photography Lighting Kits for Beginners (Reviews)
Photography lighting kits come in all shapes and sizes. This means that you will have to take time to determine and choose the right kit for your needs and requirements. Here are reviews of some of the best photography lighting kits to make your work easier when shopping around for the right equipment.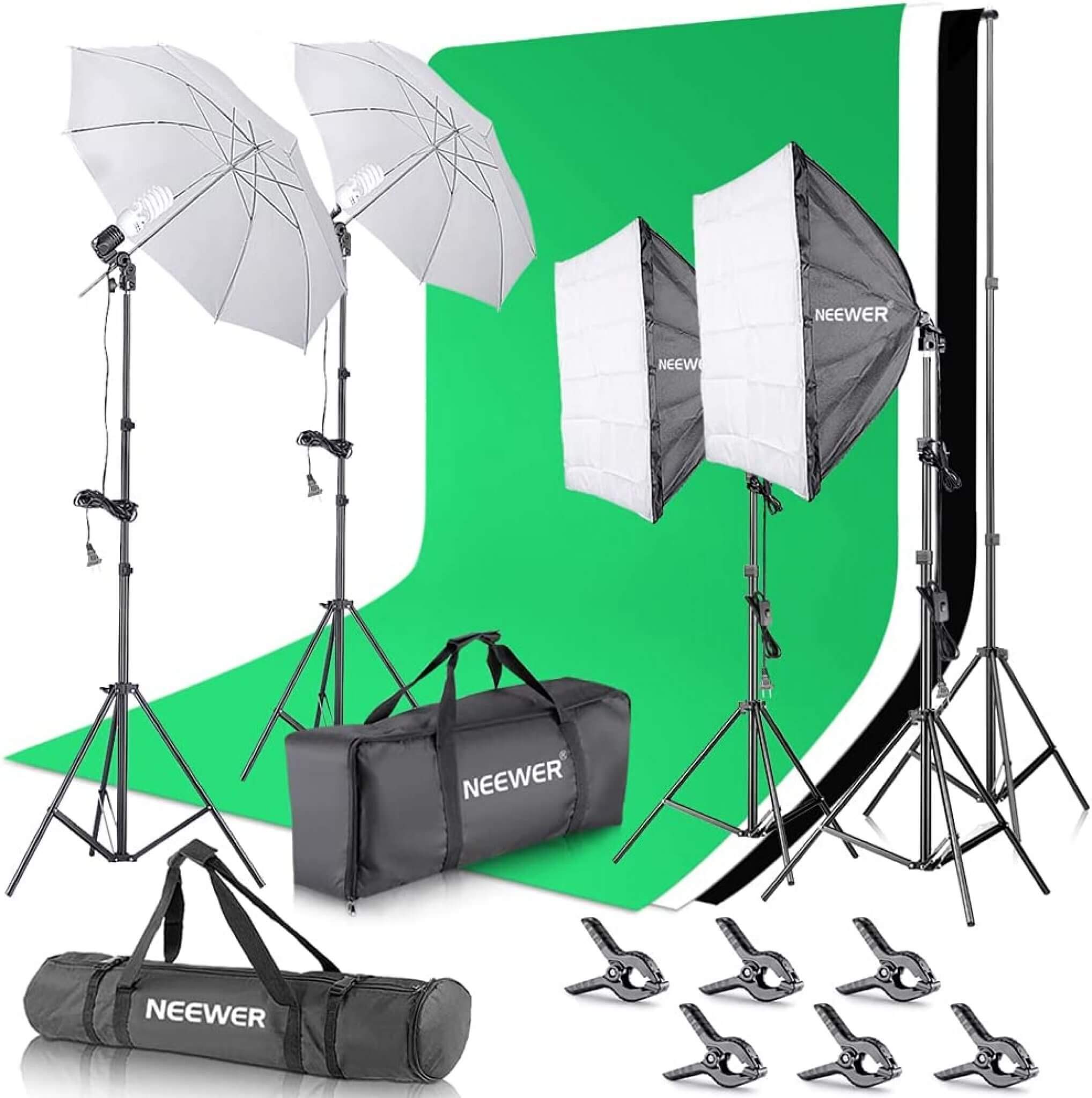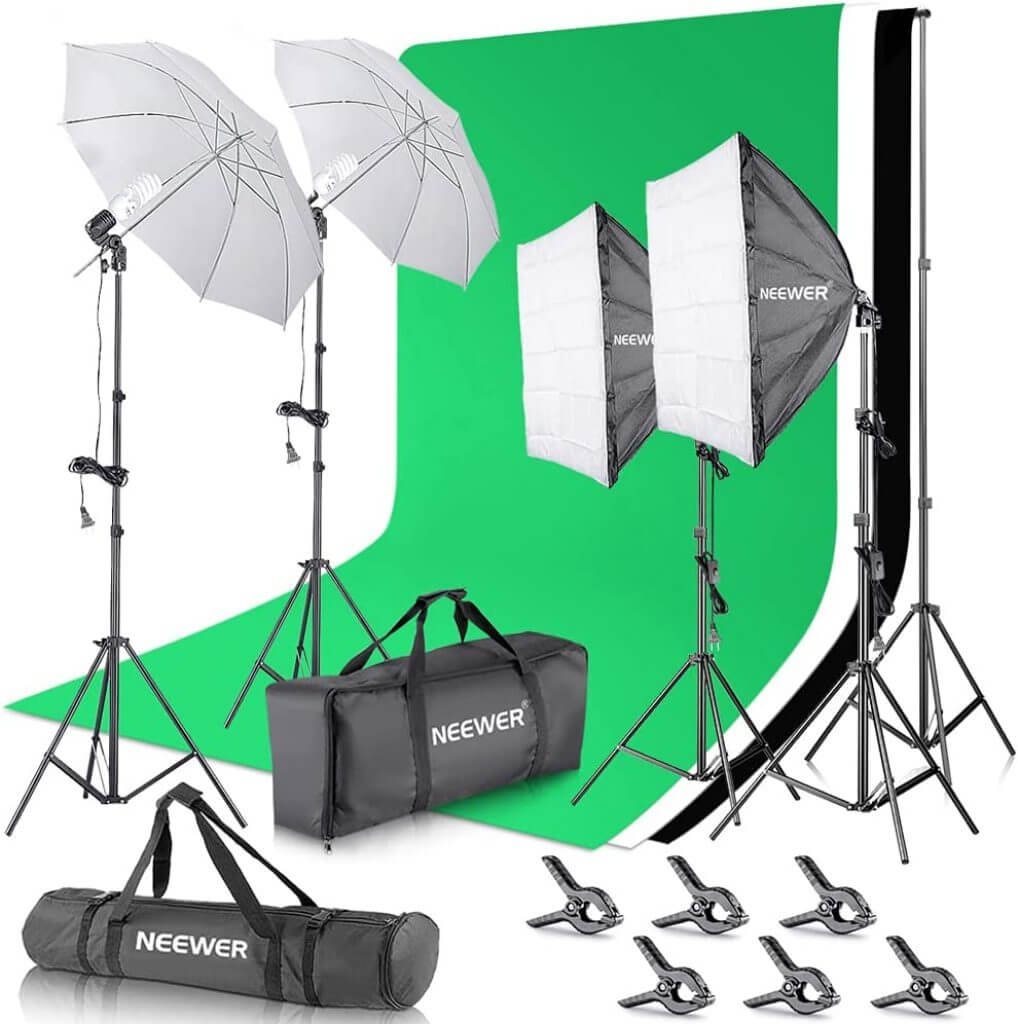 Neewer 800-Watt 5500K
Strong muslin backdrop.
White translucent umbrella.
E27 sockets.
Wrinkle-resistant backdrop.
5500K color temperature.
This Neewer lighting kit is for beginner photographers looking to invest in equipment that will offer them value for their money. The kit includes four light stands, two single headlight holders, four daylight bulbs, two umbrellas, two softboxes, a background stand support system, and two carry bags. The continuous lighting kit is designed to help you shoot both video and still images in different environments.
The 45W day-light studio light bulbs produce enough light to let you capture the perfect shot, while the 5500K fluorescent spiral bulb generates light that almost matches natural daylight for a crisp view of the items being illuminated. This makes the lighting kit perfect for photography lighting. The light stands are made of aluminum alloy, giving them exceptional strength for heavy-duty work. Aluminum construction ensures that the stands are lightweight and collapse easily for simple storage and transport. They also feature quick single-action locks that let you achieve height adjustment with precision. These stands have three legs stages that ensure solid safety and increased stability during photo shoots. There is a single headlight holder for attaching a bulb to the nightstand and including an umbrella. This light holder is made of high-impact plastic and aluminum that hold up against tough working conditions.
A muslin backdrop and background stand support system lets you take unique and quality photographs. The background kit is designed for television, video production, and digital photography, giving beginner photographers great flexibility. Two white translucent umbrellas reflect and diffuse the light from any studio flash source or tungsten and produce even lighting, so you have the perfect conditions for the best shots possible. Softbox also spreads out the light output to eliminate glare and remove shadows, effectively making it easy to focus on the object. The E27 socket allows you to connect light bulbs, a slave flash, or fluorescent lamps so you can have additional light.
When you buy this lighting kit, you get two heavy-duty carry bags that promote simple storage and easy transportation. This allows you to practice your photography skills, both indoors and outdoors.
---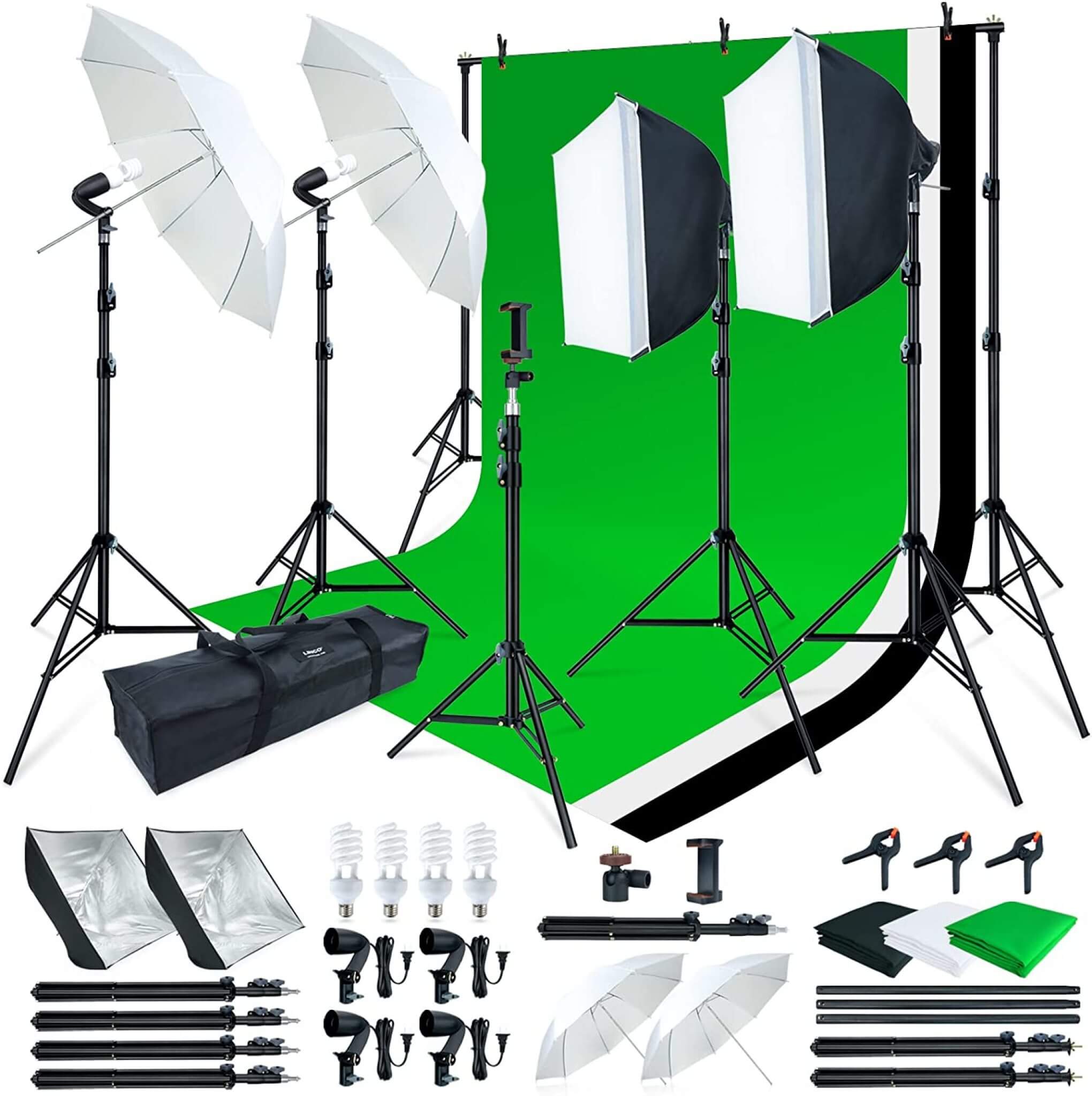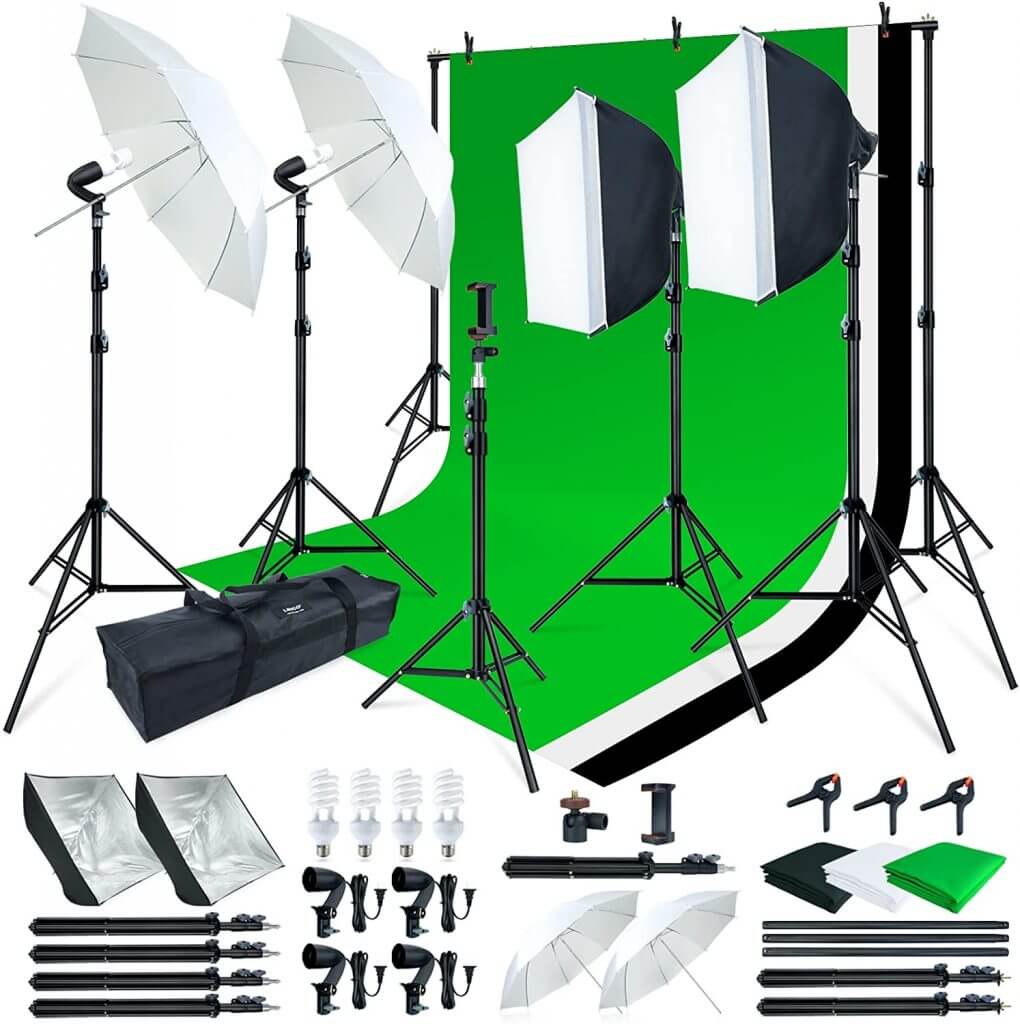 Linco Lincostore Light Kit AM169
Four 23W Premium Photography Studio light bulbs
Black Back Side and Silver Reflective Internal Face
LINCO Zenith backdrop stands support system
Chromakey green screen
High-quality white umbrella reflector
For starters, the photography light kit comes packed with everything you need to illuminate your set. The manufacturers have outdone themselves, especially by including the Chromakey green screen that you can use as a background. The green screen is large enough to fit even three people at once.
The high-quality white umbrella reflectors are incredible for adding white light to the set, which helps to improve the lighting of the objects. The reflectors help to capture the light from the light bulbs and reflect it all over the set, particularly on the objects. This helps to eliminate any shadows from the objects.
The inclusion of premium photography studio light bulbs ensures you have adequate lighting since the bulbs are among the brightest in the market right now. The bulbs also have an impressive lifespan, with most of them capable of lighting for hours before they run out of power.
The manufacturer has done an incredible job of making the items durable, which makes them last longer. The premium polyamide construction helps to offer more girth and stability to the whole structure while also keeping the entire structure strong for a long time.
The inclusion of the Pheno Square Umbrella helps to disperse the light in all directions on a set, allowing you to have proper and incredible lighting. There is also a spacious carry bag capable of handling all the equipment in one place.
---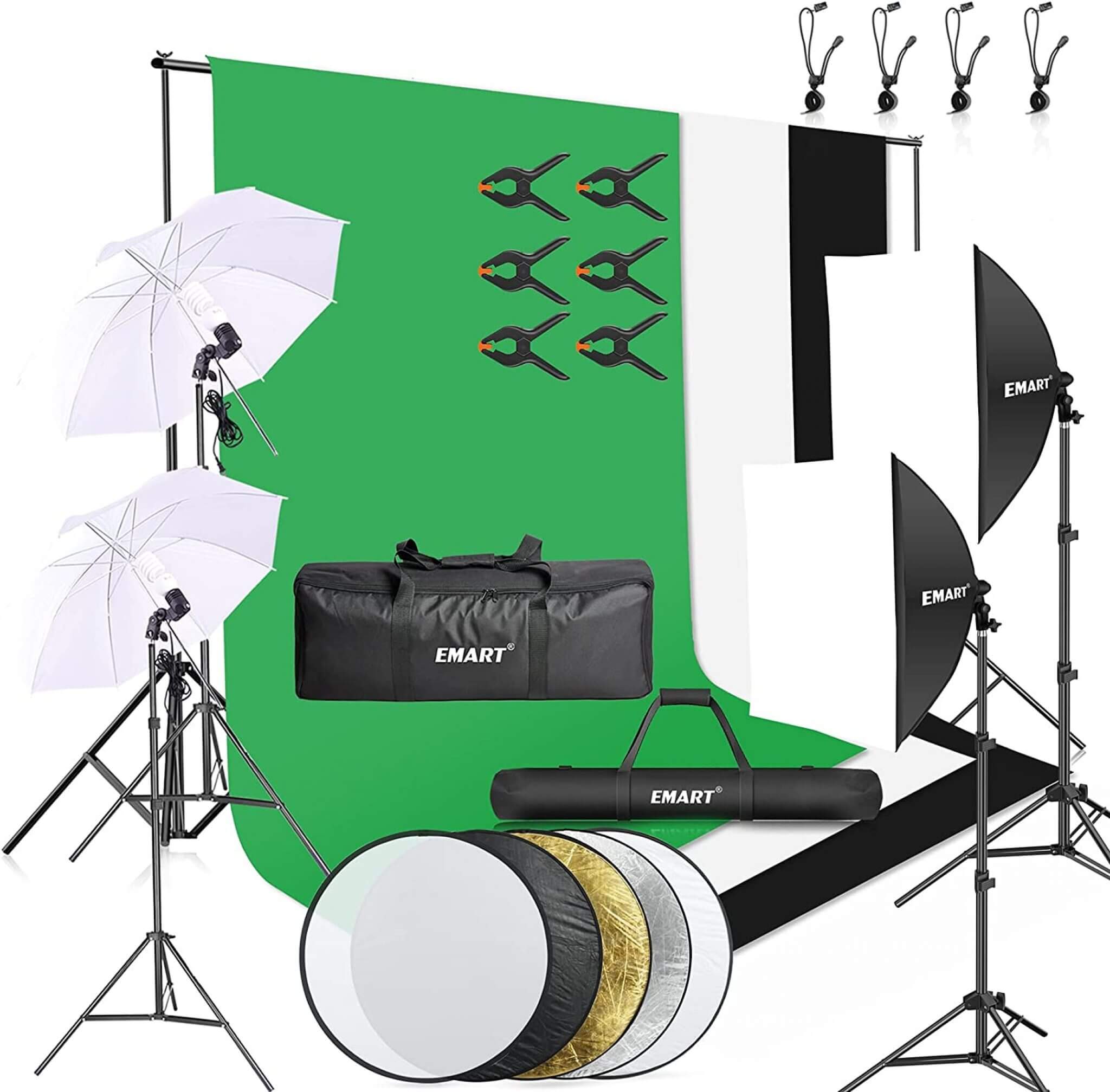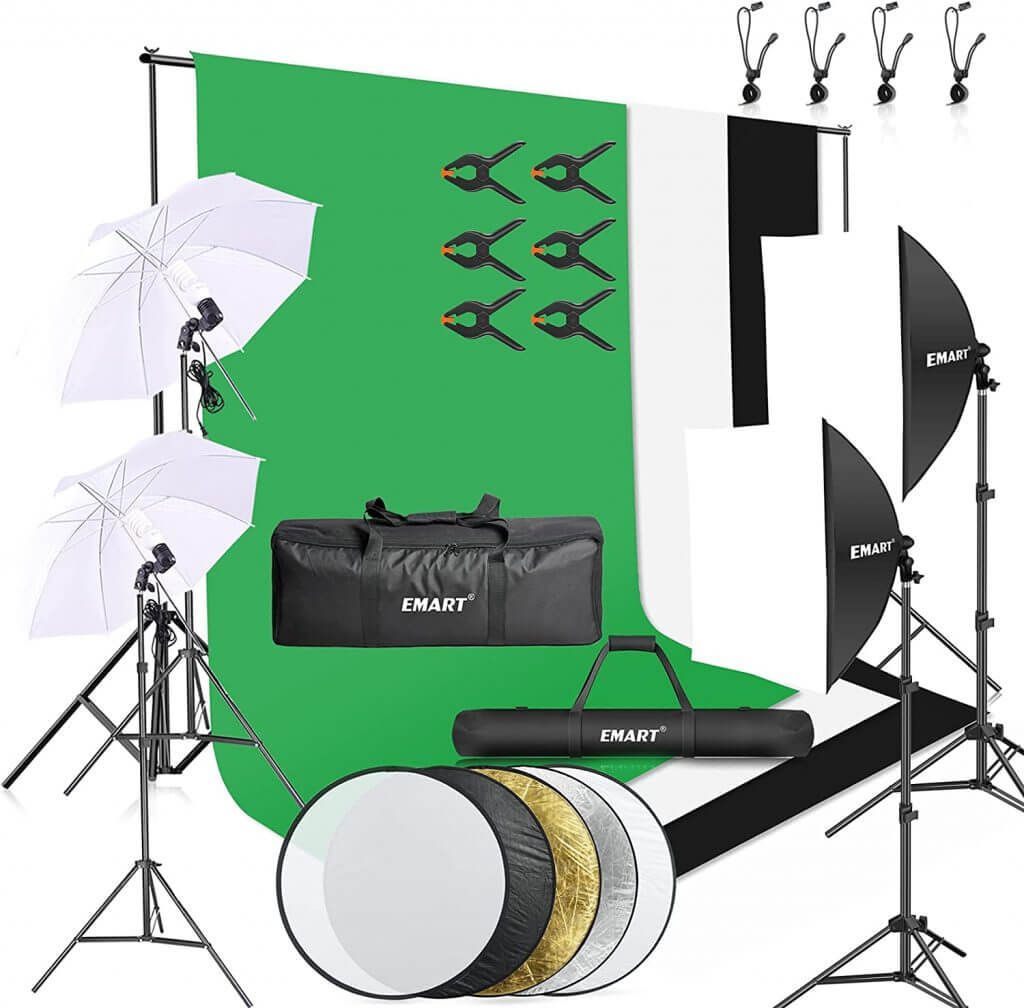 EMART 8.5 x 10 ft Studio Lighting Kit
Green, black, and white backdrop
43″ 5-in-1 reflector
Aluminum alloy construction
Standard top stud
210° adjustable angle
For starters, there is a large enough backdrop to accommodate more than one person at a go. There is also the option of adjusting the backdrop stand to 8.5 ft high and 10 ft wide, allowing you to fit it into any set, no matter the size.
The product emits enough lighting for any set partly because of the powerful bulbs. The reflectors also help to spread the light across the room, allowing you to capture all the details of the object at once without having any shadows. The 5500K color temperature is the best in the market since the product doesn't overheat or reduce the bulb's lifespan at all.
The kit is pretty strong and durable since it's made of aluminum alloy construction that lasts longer and can withstand any impact. It also comes with a large carry bag that offers enough room for all the equipment to fit in. To minimize the loss of light, the product comes with a silver internal face that also helps to maximize light spread. You don't have to worry about any equipment falling on the set, as they come with safety three legs stages to offer more stability.
---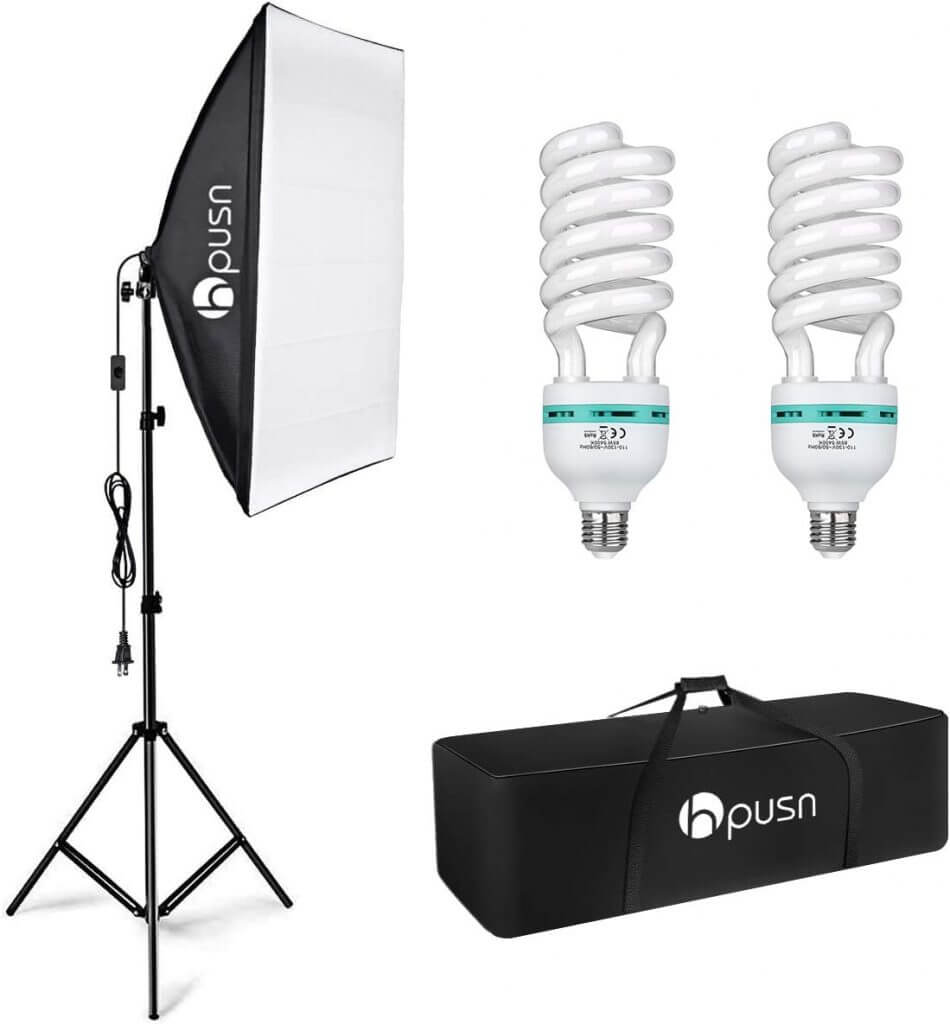 HPUSN Softbox Lighting Kit
Supports under 800W fluorescent illumination.
5500 Kelvin color temperature.
Standard E27 sockets.
210° rotatable head and adjustable stand.
3-section column design.
This lighting kit stands out from the rest for many reasons, one of them being that it's small enough to light a small shooting studio. Although it comes packed with just two bulbs, it packs enough lighting power to supply you with enough lighting for a photo shoot, video recording, or even product shooting.
To make sure that the bulbs are held into place, the product comes equipped with a standard E27 socket capable of handling two 85W CFL bulbs capable of lasting up to 8000 hours of total lifespan.
It's also one of the best lighting kits on the market since it comes equipped with high-quality PET to reflect enough light and still perform to the highest level even when the bulbs overheat.
You don't have to worry about the quality of light, as the lighting kit is capable of producing pure white daylight light, all thanks to the 5500K color temperature.
You can also rotate the softbox up to 210° to cover different angles within a set because of the 210° rotatable head and adjustable stand. The stand is also durable and strong enough to support the weight since it's made of aluminum. You can also adjust the height very fast because of the 3-section column design that also contains single-action locks.
The lighting kit is also small and light enough to carry around and shoot, even in small places. It comes with a carry bag capable of fitting all the equipment and is also light enough for traveling shoots. The manufacturer is also offering a 24-months guarantee with no questions asked.
---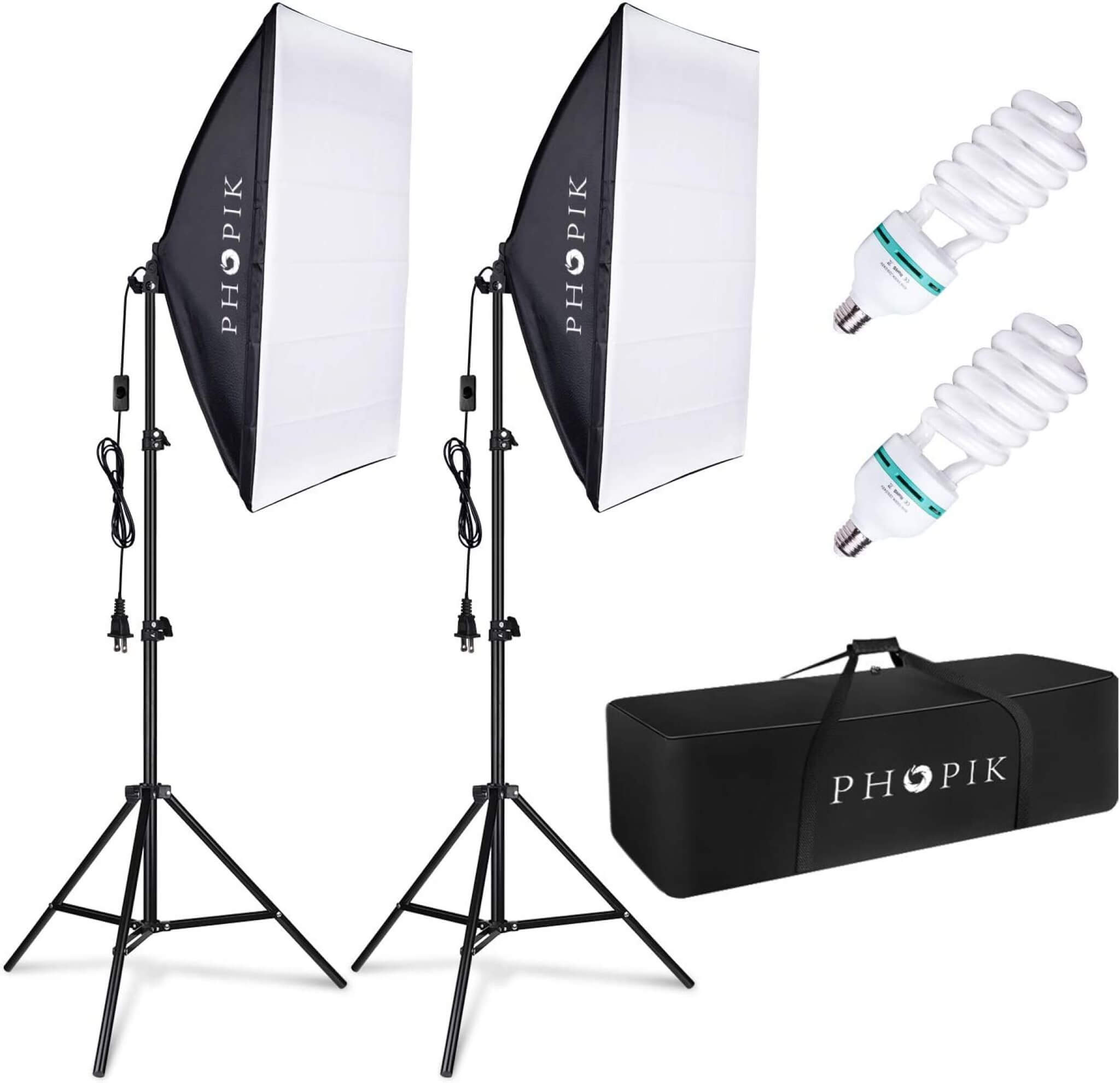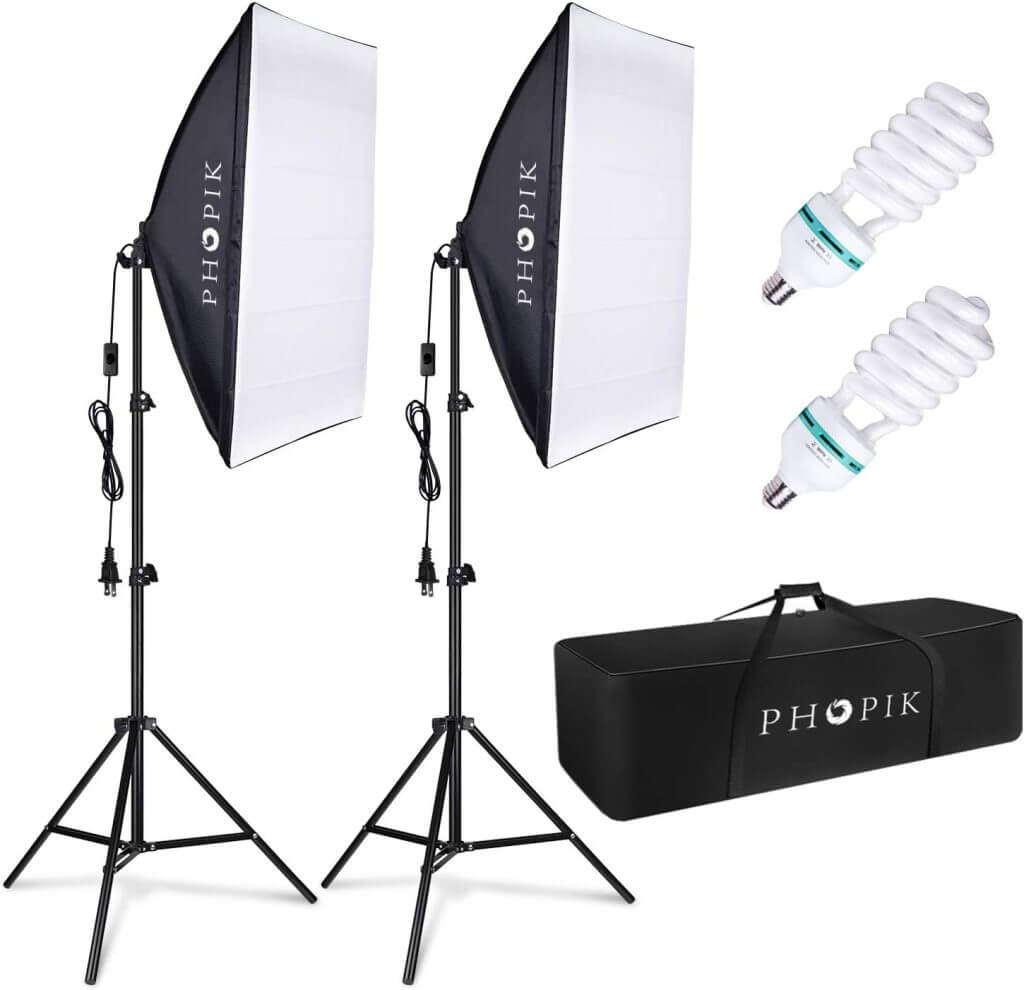 PHOPIK Softbox Lighting Kit
Standard E27 socket
210° rotatable head and adjustable stand
5500K color temperature
3-section column design
80″ height-adjustable light stand
If you're looking for the best photography lighting kit that offers all the features but remains at an affordable price, then this product is for you. For starters, it comes equipped with bright two bulbs that help to provide you with enough lighting for your set. The bulbs also have an outstanding 8000 hours lifespan which means you can use them for a very long time without needing a replacement.
The adjustable stand is also capable of rotating up to 2100, allowing you to cast the light at any angle of your set. The 3-section column design allows you to extend up to 79 inches high and even down to 26 inches. To minimize the loss of light, the kit comes with a silver inner surface and helps you to conserve power. It's also small enough to fit into any shooting studio, no matter the size. You can put the kit into multiple applications, such as still photography, video recording, and live recording.
The double lighting capability is better for additional lighting but also saves you 80% of the bill. It also comes with a big carry bag that fits everything perfectly.
---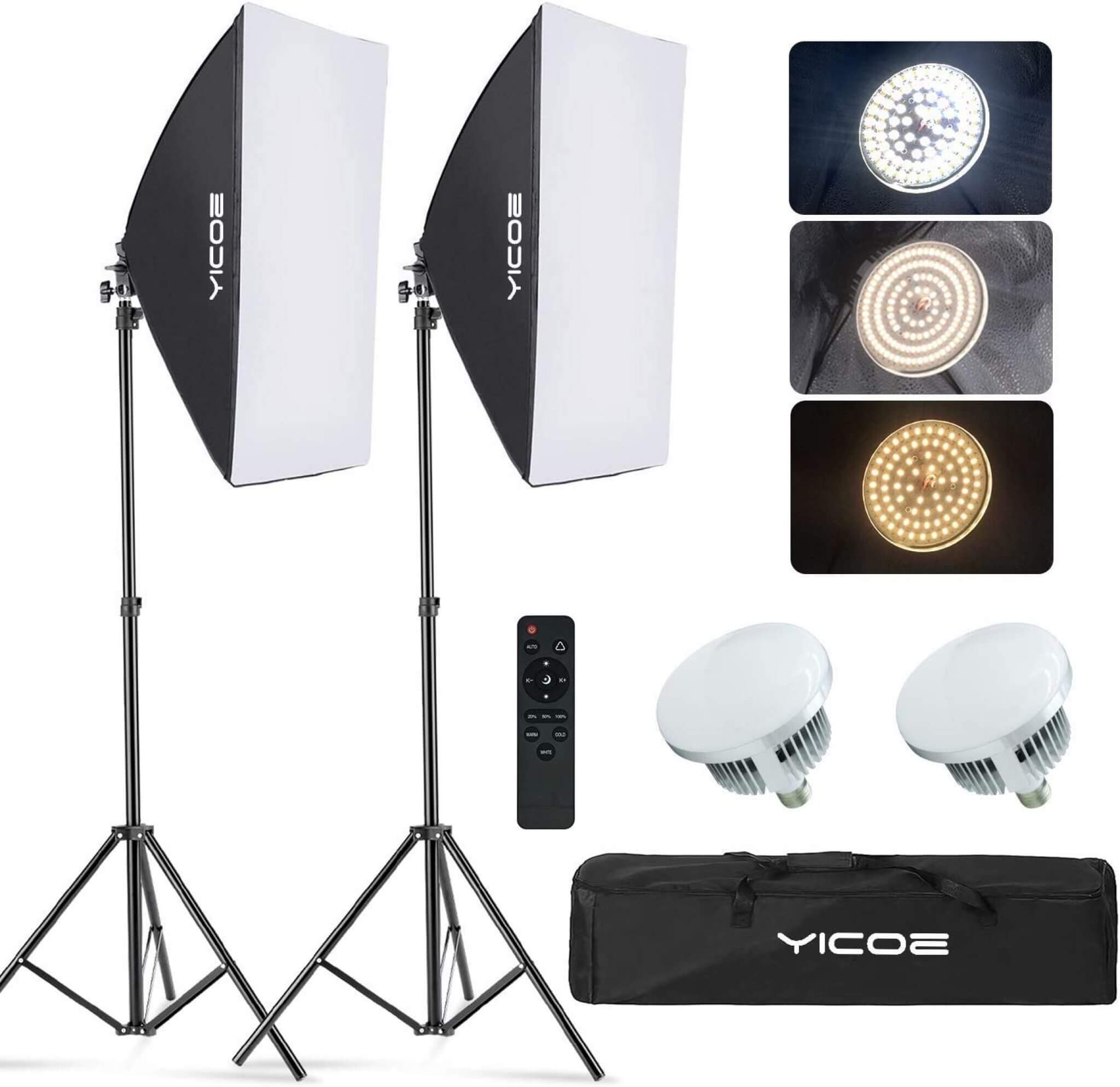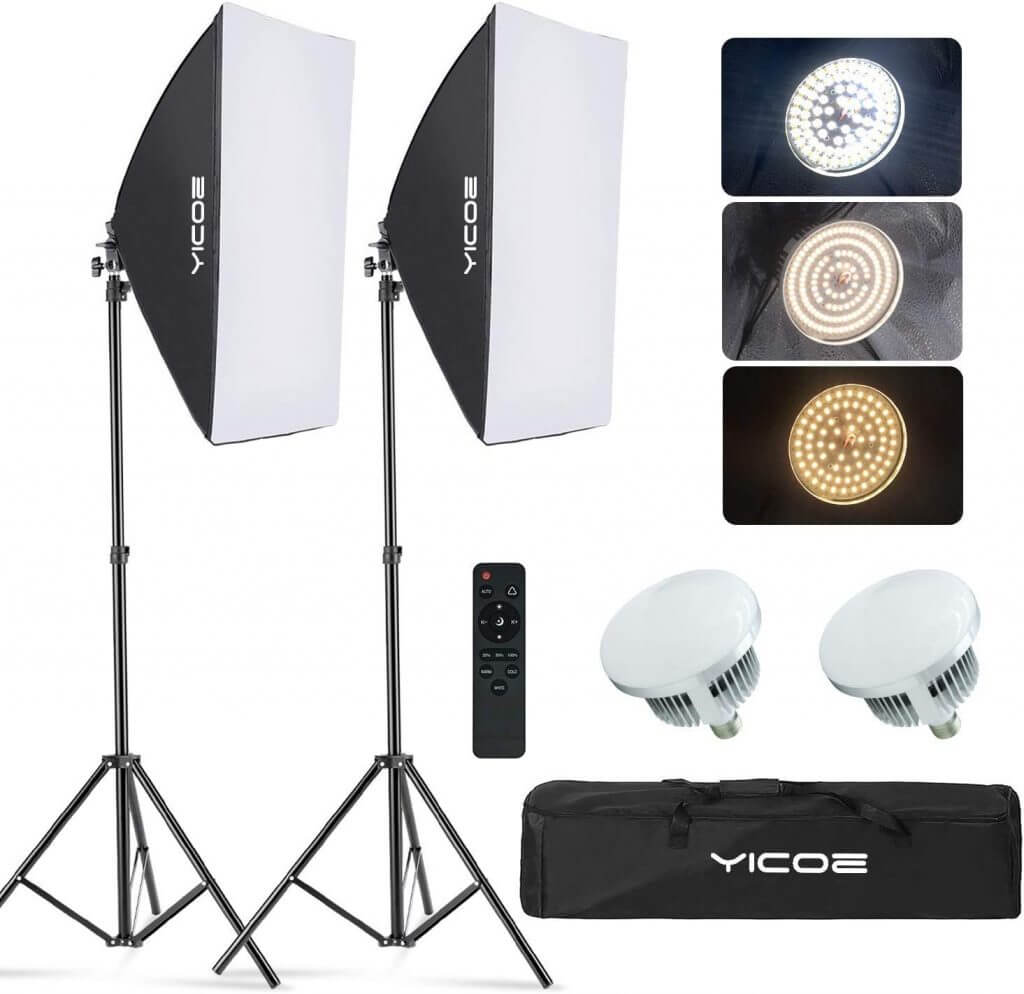 YICOE Softbox Lighting Kit
Two remote controls
210° rotatable unit
Dimmable Tricolor
5700K color temperature
Adjustable tripod
The product comes equipped with two remote controls, with the second one being a bonus. This means you can operate the kit using both or one at a time. Secondly, you get power-efficient but still powerful bulbs to illuminate the entire set without worrying about the shadows that might damage the shot.
The dimmable light capability also helps you choose between three colors; white, warm, and cool. You can also adjust the color temperature from 2800K to 5700K, allowing you to capture all the details from your shot. You also get the option of adjusting the light intensity from 1% to 100%.
It's very versatile and capable of lighting children's photos without casting a lot of light that might damage their eyesight.
You also get an 80″ tall studio light stand made of aluminum alloy, making it strong and sturdy to support any weight. It's also very durable and can withstand impact. The softbox is made of premium clothing that helps to reflect the light around your object, allowing you to distribute the light evenly without casting any shadow around the object.
You also get a very large and stylish carry bag that can fit all the equipment without leaving anything out.
---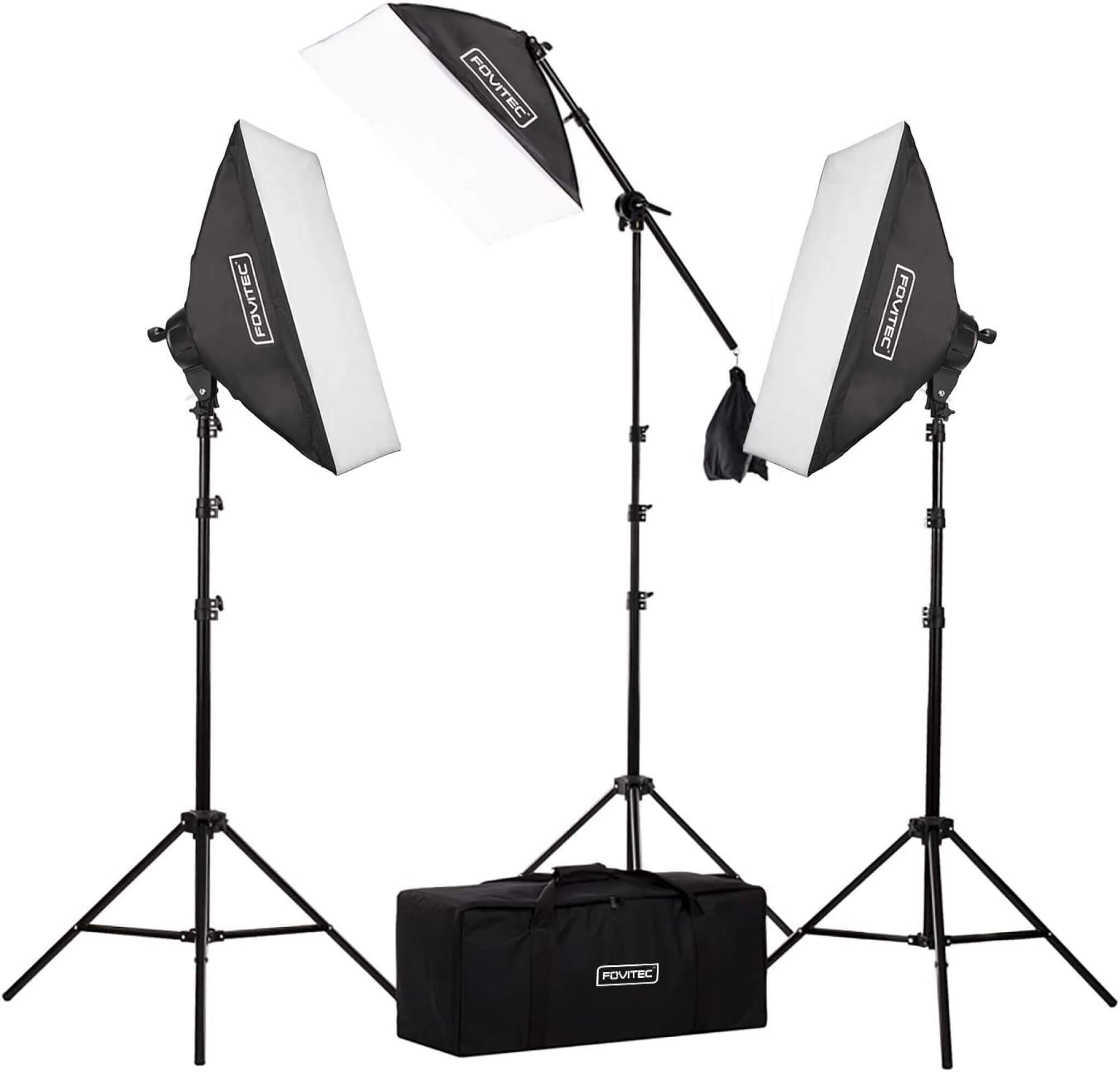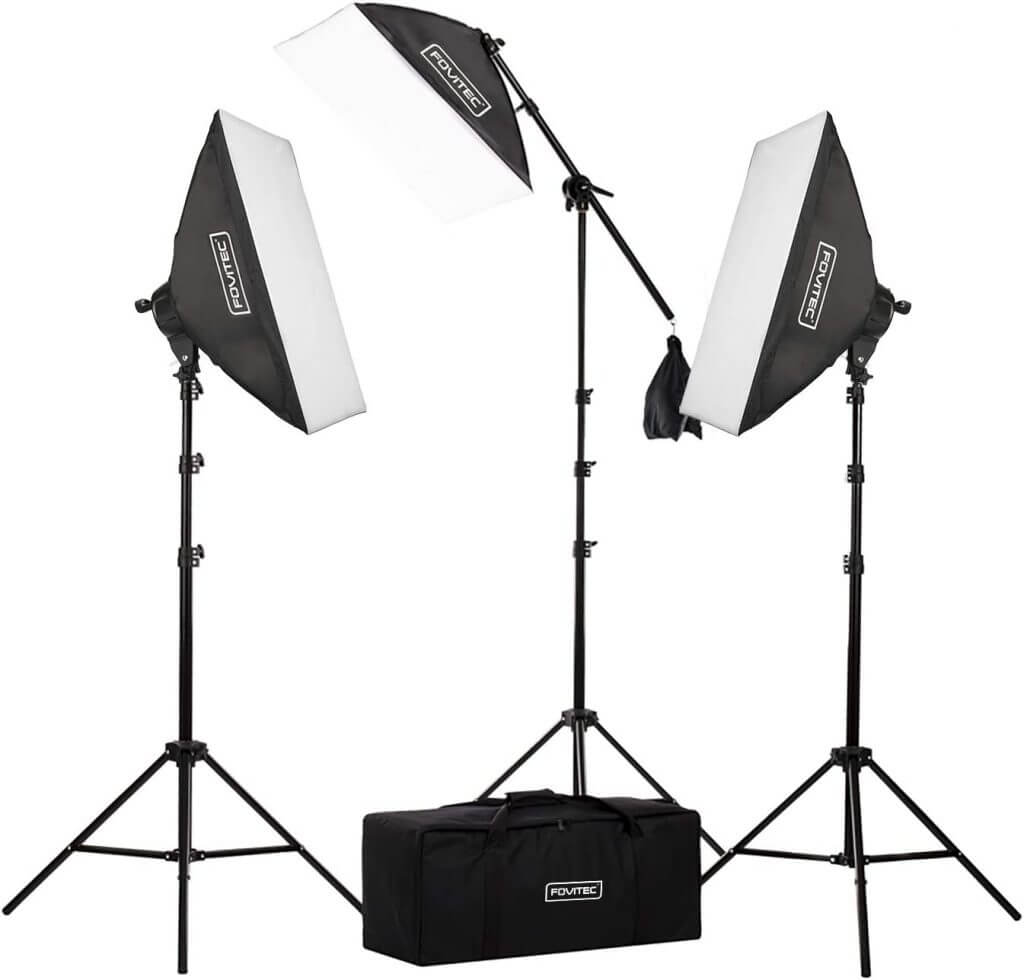 Fovitec Studio Pro 2500-Watt
11 fluorescent lamps
Two socket-head fixtures with 20″ and 28″ softboxes
2250W total equipment output
3 ON/OFF switches are located on the back
Standard screw-in base
If you want to open up endless creative possibilities, you should consider buying this Fovitec lighting kit. The versatile kit is perfect for both photography and video. It is also easy to use, making it great for beginners and professionals alike. The good news is that no camera syncing is required, a factor that gives you the flexibility to use it with any camera. But what makes this lighting kit the best for a beginner photographer?
One of the main benefits of this kit is that it contains softboxes, stands, a boom stand, and a carry case. This not only offers convenience but also makes the kit perfect for multiple uses. Beginners can use it for photography, which includes portraits, headshots, and product photography. It also works great for videos such as YouTube tutorials, vlogging, company videos, interviews, and live streaming.
The added boom light makes it easy to create a beautiful hair light and makes the subject pop from the background. The continuous lighting that this kit delivers allows you to try out different techniques as you seek to improve your photography skills. This kit features 45W fluorescent lamps that ensure color accuracy and bright-white 5500K bulbs for daylight color temperature.
The adjustable height of the stands lets you loosen and tighten the stands, locking them into the desired position so you can focus the light properly. With this kit, you will have the freedom to decide which bulbs to use during your shoots by using the rocker switches to adjust light angle and output. This gives beginners the room they need to bring their creativity to life.
This kit produces a broad light ray so you can play with shadows and create a glow for the perfect shot. The soft and balanced light helps with lines, disguises blemishes, and improves tones, effectively helping to create depth in your images. The different components of this kit remain cool to touch, making them ideal for a wide range of applications and helping to reduce your electricity costs. The softboxes collapse into the compact carrying bag and open up easily to ensure a quick setup.
---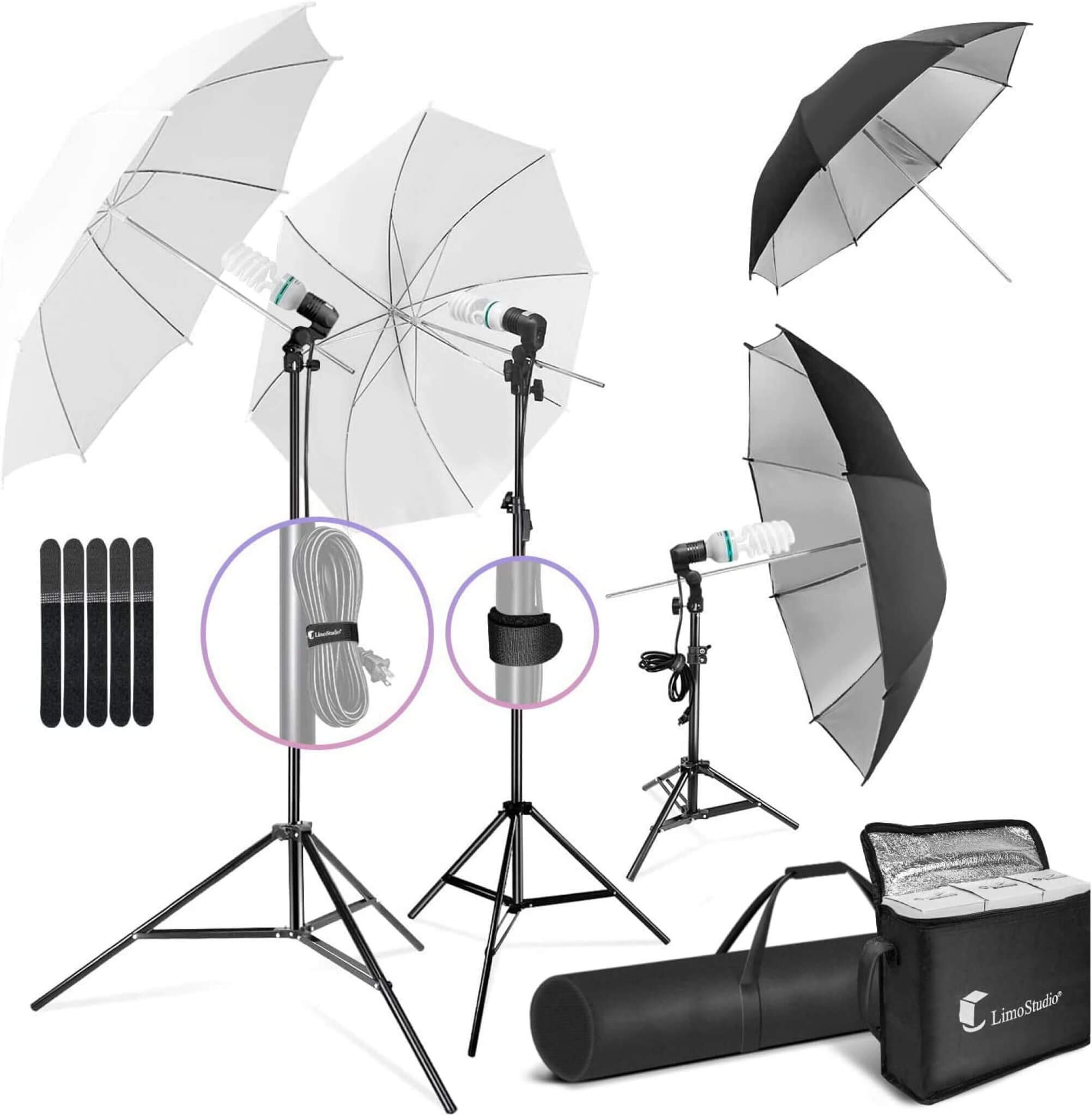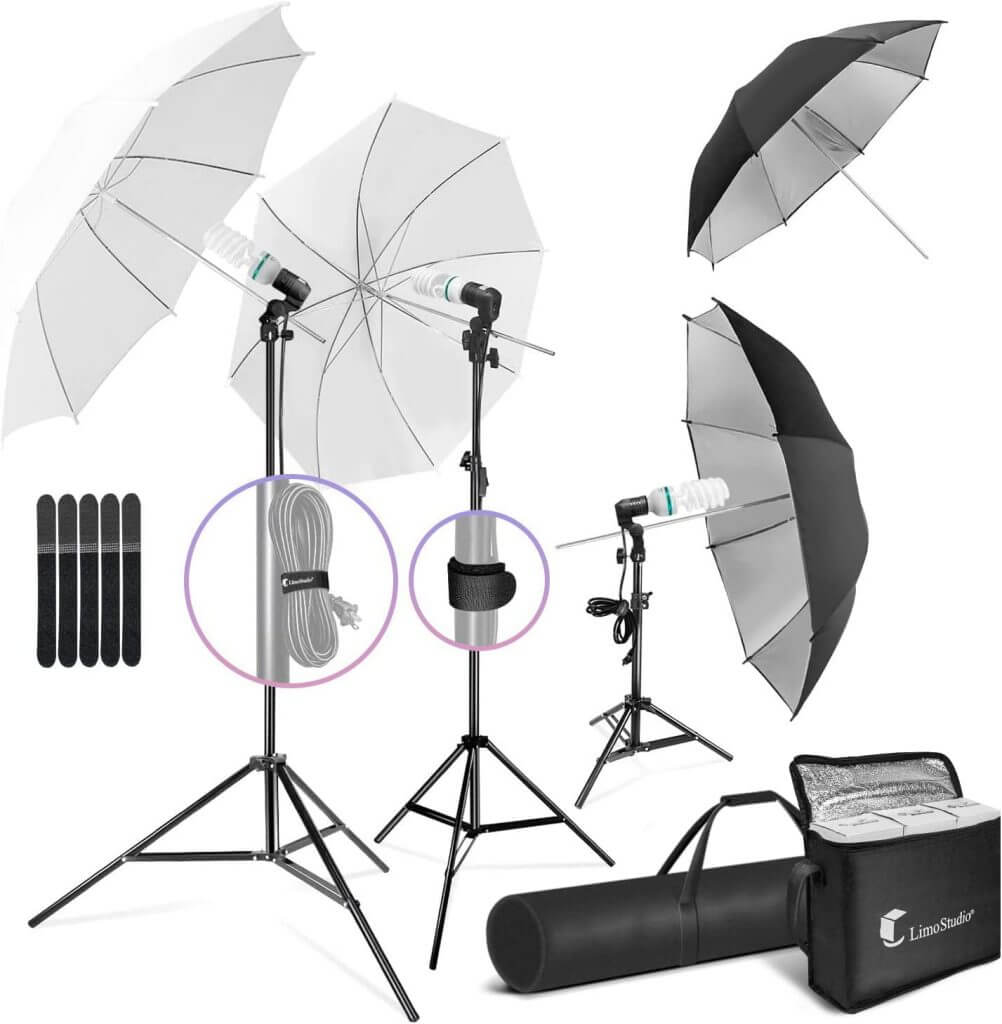 LimoStudio 700-Watt
33″ translucent white umbrella reflector
45W photo CFL bulb
82.3″ max-height light stand
33″ silver reflective umbrella
Bulb and kit carry bags
If you have just walked into the world of photography and are looking for the right budget-friendly lighting equipment, you should consider buying the LimoStudio lighting kit. The set includes three stands, three bulbs, and bulb sockets, two umbrella reflectors, and two carrying bags. This makes the equipment easy to set up and promotes portability to offer any photographer or videomaker the convenience they need.
The adjustable stands are made of lightweight aluminum, a material that promotes portability while at the same time ensuring durability. The 6500K color temperature bulbs fit perfectly in the bulb socket heads, allowing you to easily make angle adjustments so you can focus light on the subject. One of the most notable features of this lighting kit is the umbrellas that are made from thin, translucent nylon material. The white, reflective material absorbs the hard light and ensures light spreads evenly so you can eliminate glare and reduce shadows. This allows you to get an image with the least contrast and soft light. These umbrellas open like the regular ones and lock into place, so your studio setup remains intact throughout the shooting session. Another advantage of the umbrellas is that they work well with any flash or lighting fixture, giving beginner photographers the room, they need to develop their skills.
Although the kit does not produce very much light, it works well when used in environments with some other lighting. This includes sunlight or the lights in your house. One of the kit's strengths is that it eliminates problems arising from existing light sources, making it ideal for shooting YouTube videos, taking portraits, and amateur product photography. The stands feature standard-size screw threads on top of the heads to ensure universal mounting capability and have three solid legs that promote stability.
The process of setting up this lighting kit is straightforward, a factor that saves you time and effort. This also provides a frustration-free experience, regardless of whether you are working in an actual studio or a studio garage. The three 45W photo CFL bulbs are designed to consume less energy so you can take photos and shoot videos for a long.
---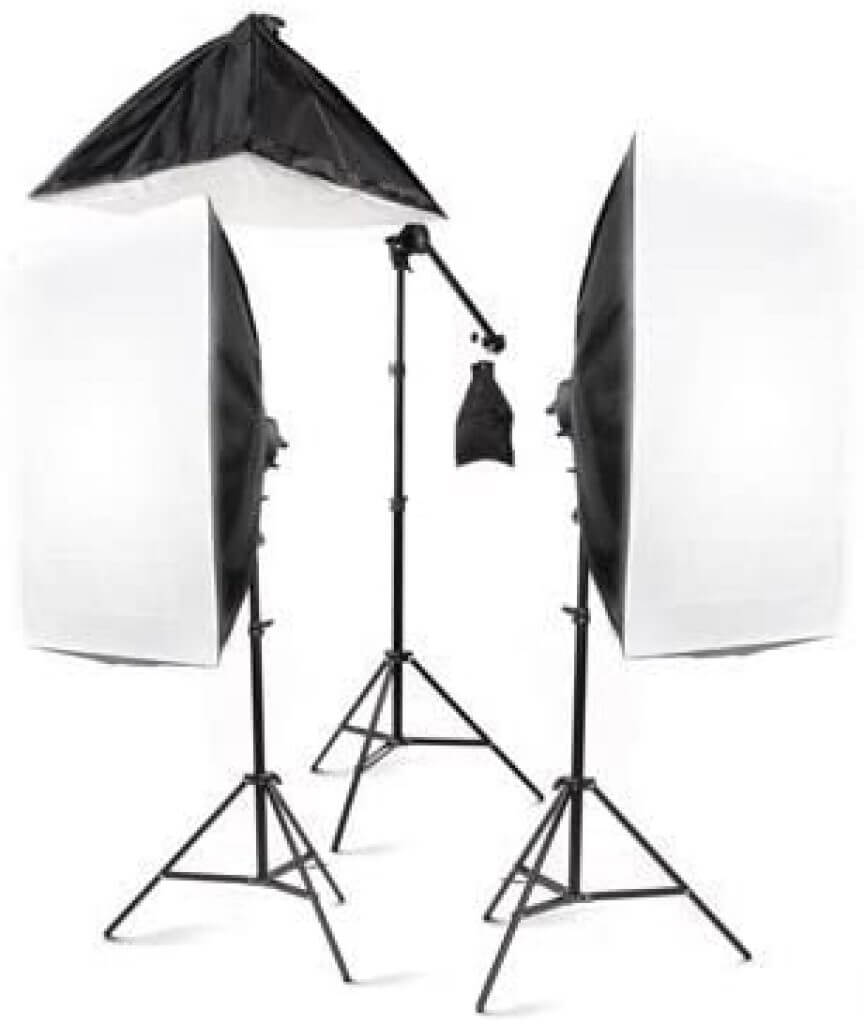 StudioFX 2400-Watt
Two 7-foot light stands
5500K color temperature
Outer Diffuser Cover
Adjustable tripod
One overhead hairlight boom softbox
The StudioFX 2400-Watt lighting kit is also a great option for beginner photographers looking to achieve professional results. Featuring two softboxes and one hair light boom softbox, This studio portrait video lighting kit is complete, and nothing additional is required to make it work. The lights work great with digital DSLR cameras and are ideal not only for beginners but for all-level photographers. Here are some of the reasons why this lighting kit is the best.
The versatile nature of this lighting kit ensures that beginners can practice their photography skills regardless of their interests. You can use the lighting kit for product photography since the natural white light helps to enhance the quality of the images you take of products. Taking the photos, yourself will save you both time and money. The three-light system is also great for natural portraits, allowing you to set up a home studio and take professional photos for your social media needs. Lastly, constant lighting provides a great way to meet your video project needs. When making YouTube videos or live streaming content, you will not have to wait for the perfect time of day to shoot your project. The kit is also ideal for portraits, studio, and photography, ensuring that beginners can focus on their area of interest.
This lighting kit includes a boom overhead light that delivers unobtrusive lighting and can be rotated easily for the perfect angle and focus on the subject. There is also a studio-quality and five-light bank holder that helps to eliminate glare and promotes even distribution of light for superior performance. It also features switches that let you control each of the bulbs individually. This gives you great control so you can adjust lighting according to your unique studio setup needs.
Other reasons why this lighting kit is great for beginners are that it offers convenience. The lightweight design makes it portable so you can shoot in different environments, while the quick setup makes it possible for you to achieve professional results. The continuous lighting kit delivers high light output so you can shoot both video and stills.
---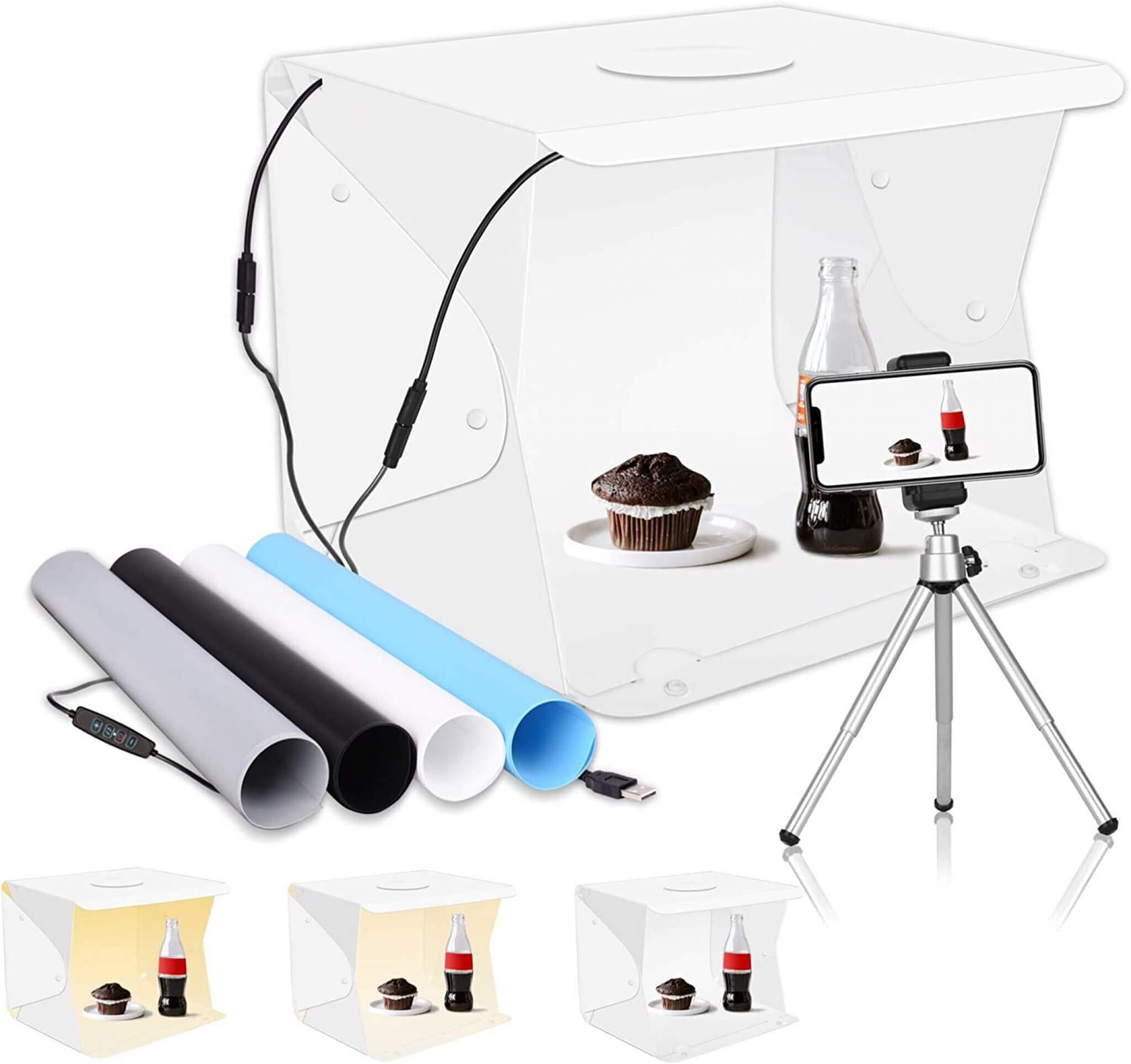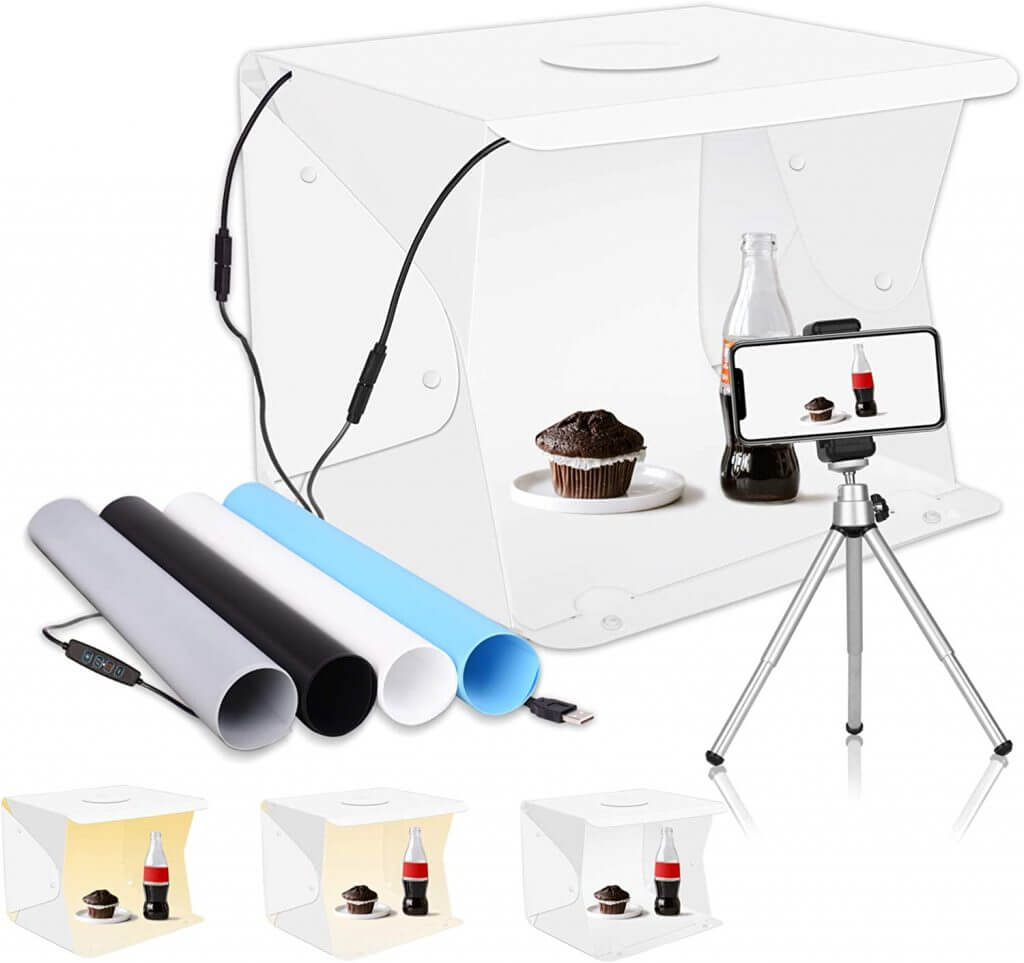 Upgrade Emart 14″ x 16″ Light Box
4 color backdrops
Overhead shot, phone shot, and camera shot
5500K color temperature
Portable mini tripod stand
Rechargeable with a power bank
This photography lighting kit stands out from the rest due to reasons such as the 4 color backdrops allowing you to choose between gray, black, blue, and white, which provides you with more versatility during the shoot. Having more than one backdrop color makes it possible to shoot different objects that might require specialized backdrop color.
The tripod is so small and light to carry around. Due to its small size, it suits shooting small objects such as fruits or other items of the same size. This allows you to take overhead, phone, and camera shots. The 5500K color temperature allows you to get clear details of the object you're shooting, adding more lighting to the set, compared to shooting using natural light.
To top it up, you can also recharge this lighting kit with a power bank, providing you with more powering options, especially if you travel a lot. It also comes with two powerful 104 LED light strips that help to add in more power and lighting at the shoot, hence eliminating any shadow from the objects.
---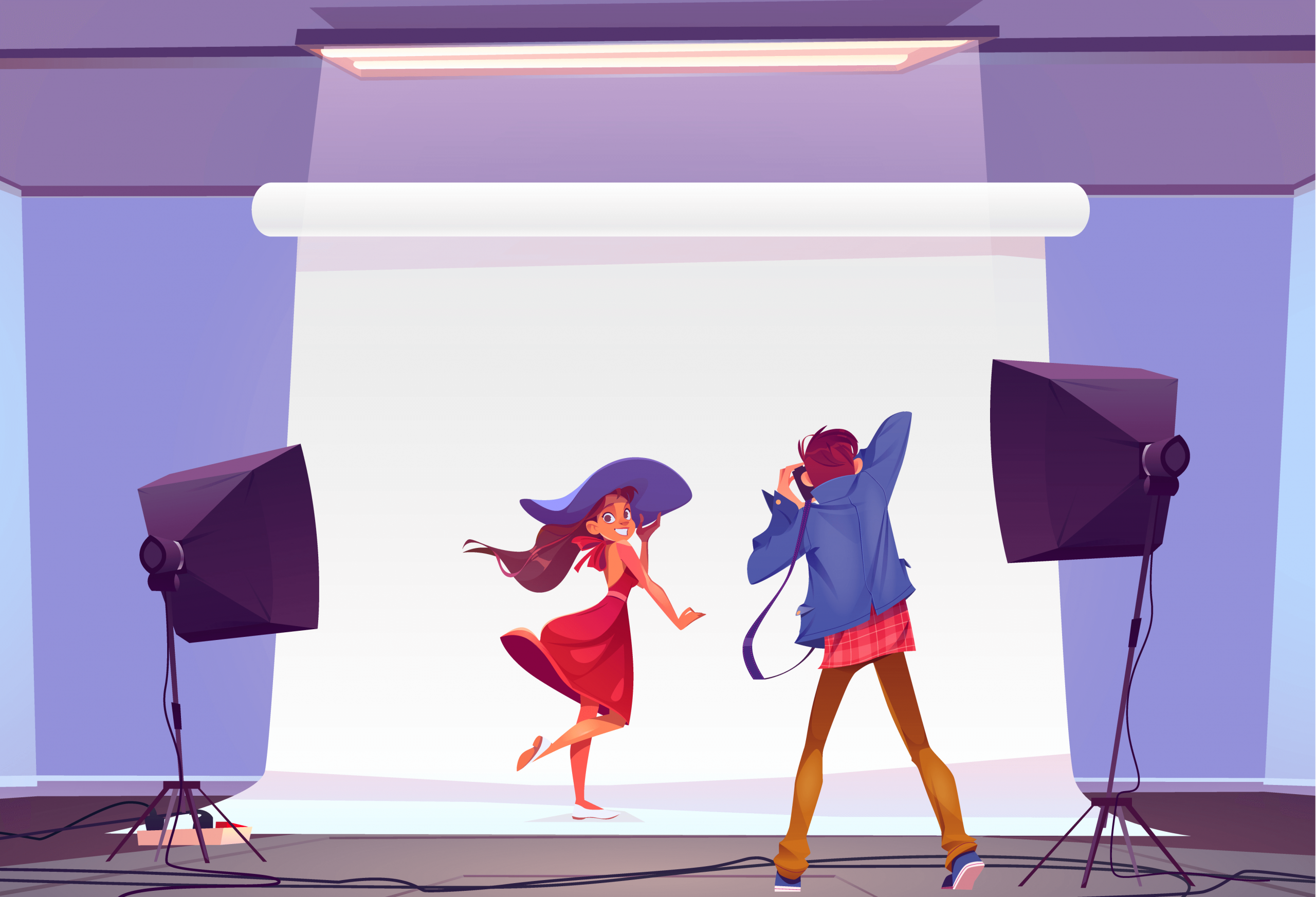 Things to Consider Before Buying A Photography Lighting Kit for Beginners
Buying the best photography lighting kit can be a daunting task, especially if you are a beginner. You need to know the features to look for and the factors to consider. One of the most important things to keep in mind is your style of photography and the reasons for buying the lighting kit. Here are a few things you should be mindful of if you are to make your work easier.
Type of light source
When choosing photo lighting equipment, you should consider the type of light source. Generally, there are three types of light sources: continuous light, strobe light, and flash. While continuous lights emit light continuously, strobe lights are used with a softbox or umbrella and produce high-intensity light for a short time. A flash, on the other hand, is simply a strobe that is smaller and less bulky.
Wattage
In addition to deciding the right type of light source for you, you should focus on the wattage that the lighting system offers. Mostly, lights with high wattage tend to be bright and will create optimal conditions when combined with bouncers and reflectors.
The temperature of the light source
The temperature of a light source can be said to be a white balance. Natural light, which is considered the most ideal for photography, has a temperature of 5500 Kelvin. When shopping for a photography lighting kit for beginners, you should ensure that the temperature of the equipment is close to that of natural light.
Light intensity
Light plays a crucial role in determining the quality of your photographs. Some of the photography lighting equipment will let you adjust the intensity of the light. Sometimes, adding a diffuser to the equipment will allow you to adjust the power. However, strobes come with a switch that you can use to control power. Some softboxes and umbrellas feature several layers of diffusers for changing light intensity.
Accessories
A good photography lighting kit should include all the accessories you need. As a beginner, some of the components you need to focus on include a broad source of light, an umbrella or softbox, a hair light, a fill light, and a general-purpose light for the background.
Your needs and budget
It is also essential to consider your needs and budget when making a decision. When it comes to your needs, think about the amount of space you have available, the purpose to which you want to put the equipment and whether you will be moving your studio from one place to another. Lastly, just like with any other product, you should have your budget in mind. However, you should never compromise on quality to save money.
Bottom line
Amateur photographers need photography lighting kits that will allow them to develop their skills and have fun while at it. However, with the wide range of options available, buying the best kit can be a daunting and time-consuming process. To pick and buy the right equipment for your needs, you should familiarize yourself with the different options available. You can also try the various lighting kits to identify the ones that will help you meet your needs. Make sure the lighting kit you go for offers you the convenience and flexibility you need to take the perfect shots.
Related Posts
Read More
Subscribe to the CameraIO Newsletter
Photography & Camera News + DEALS