Subscribe to the CameraIO Newsletter
Photography & Camera News + DEALS
The demand for clearer and ultra-resolution cameras has been growing, which has forced technological giants to introduce 4K cameras to curb this demand. At first, such cameras were reserved for high-end use, but as time passes, they have become affordable and widely available.
They're designed to provide stunning pictures which turn your small project into a professional one. Other than an impressive resolution, these 4K cameras are equipped with additional features such as Bluetooth connectivity to allow you to share pictures easily and connect to other devices that support this feature.
Most 4K cameras under $500 allow live streaming, which eliminates the need of connecting to additional devices such as a laptop. These cameras have been preferred by YouTube content creators due to the stunning and clear pictures they produce.
Best 4k Cameras Under $500 (Reviews)
If you're in the market for a 4K camera that costs less than $500, then you're in luck since we have compiled a list of such cameras below. We have also analyzed their key features and what makes them perfect.
All the 4K cameras discussed below cost less than $500 and offer value for money.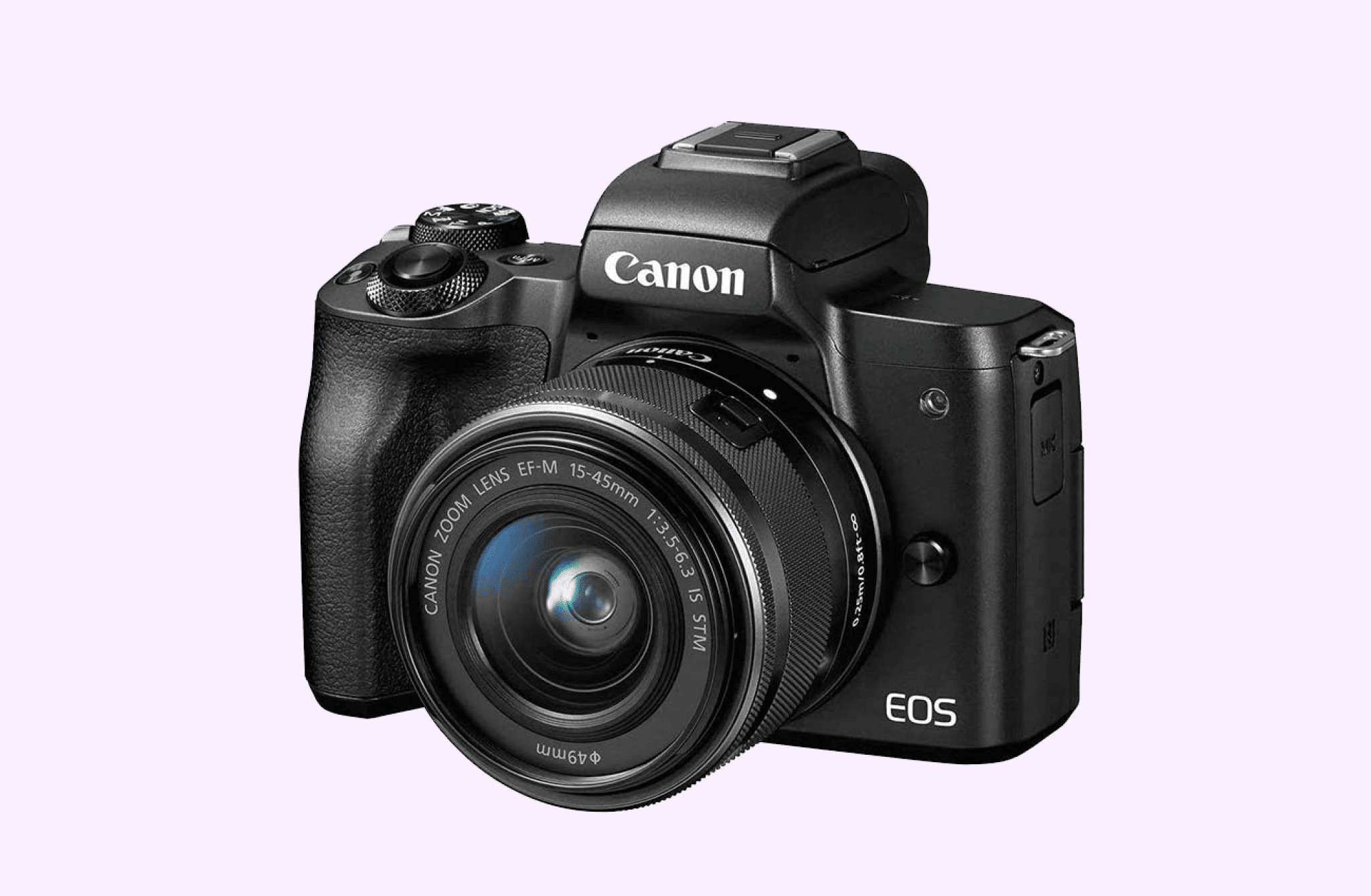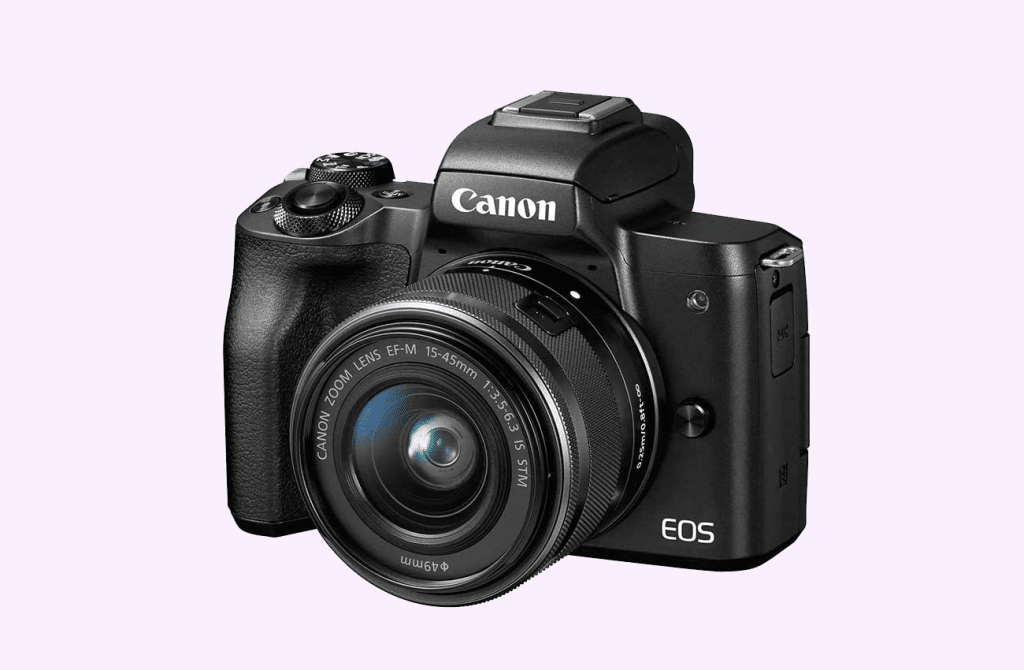 Best 4k canon camera under $500: Canon M50
Video quality is something that the manufacturers have focused on when creating this product. It's equipped with 4K UHD resolution and supports up to 2160p which gives you high-quality images. You can transform this compatible camera into a stunning webcam by connecting it to your Windows or Mac computer through an EOS Webcam Beta Software.
Autofocus tracking enables you to track the subjects in your frame even when they're on the move. For stabilized crisp shots, the camera comes equipped with Eye Detection autofocus and comes equipped with an improved Dual Pixel CMOS autofocus.
The camera also gives you well-colored images and clear details because of the DIGIC 8 Image Processor coupled with the 241 Megapixel APS-C CMOS sensor. If you like shooting videos in slow motion, you will love this camera since it comes with 4K UHD 24p and 120p HD. The result is clearer images and footage shot in slow motion.
The touch and drag autofocus combines with OLED EVF to make this camera very easy to use. The camera also supports wireless connectivity such as Wi-Fi and Bluetooth, which enables you to connect and send images wirelessly. You can also connect the camera to your phone or computer and send images to these devices automatically, all thanks to the Image Transfer Utility 2.
---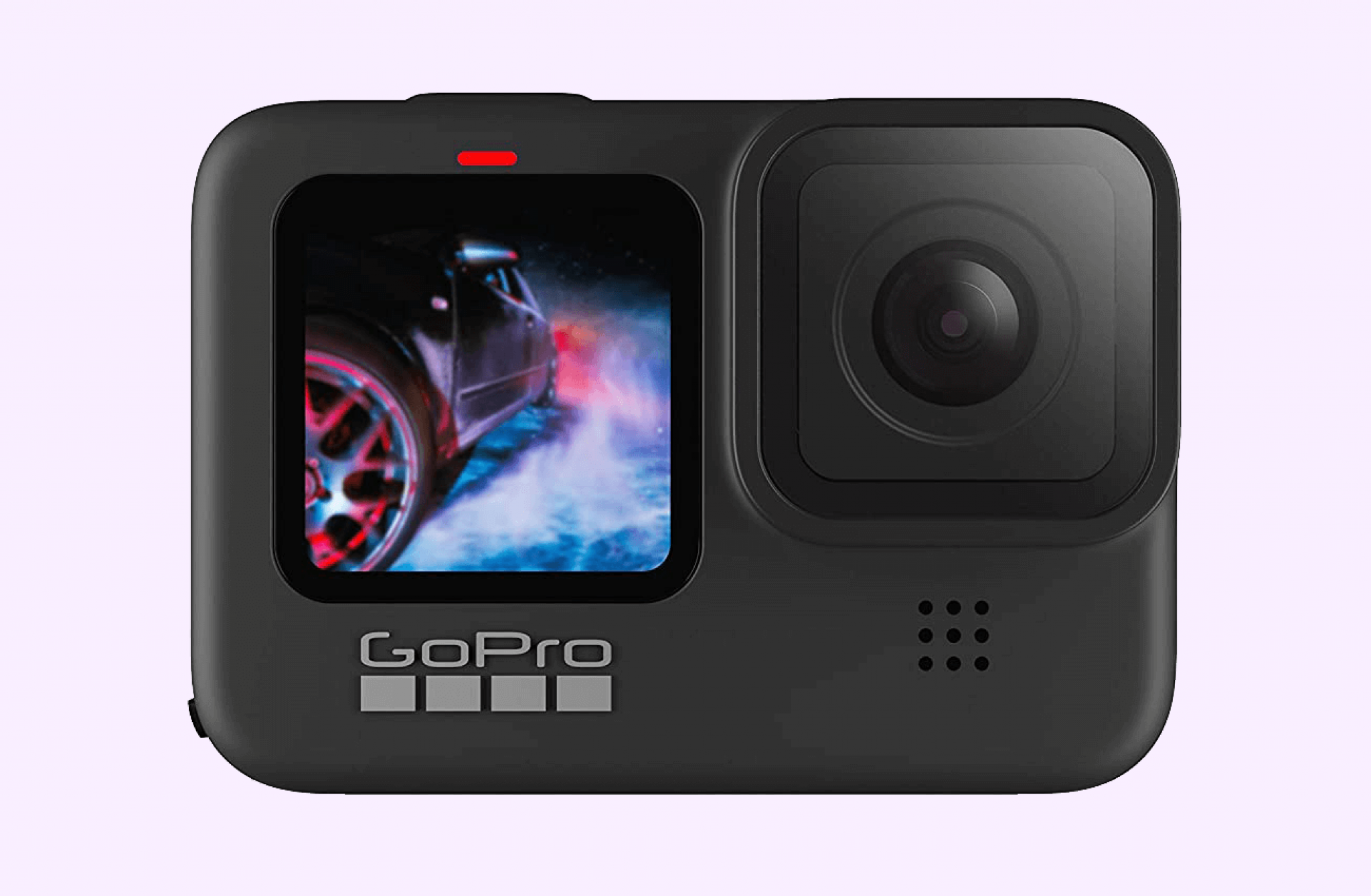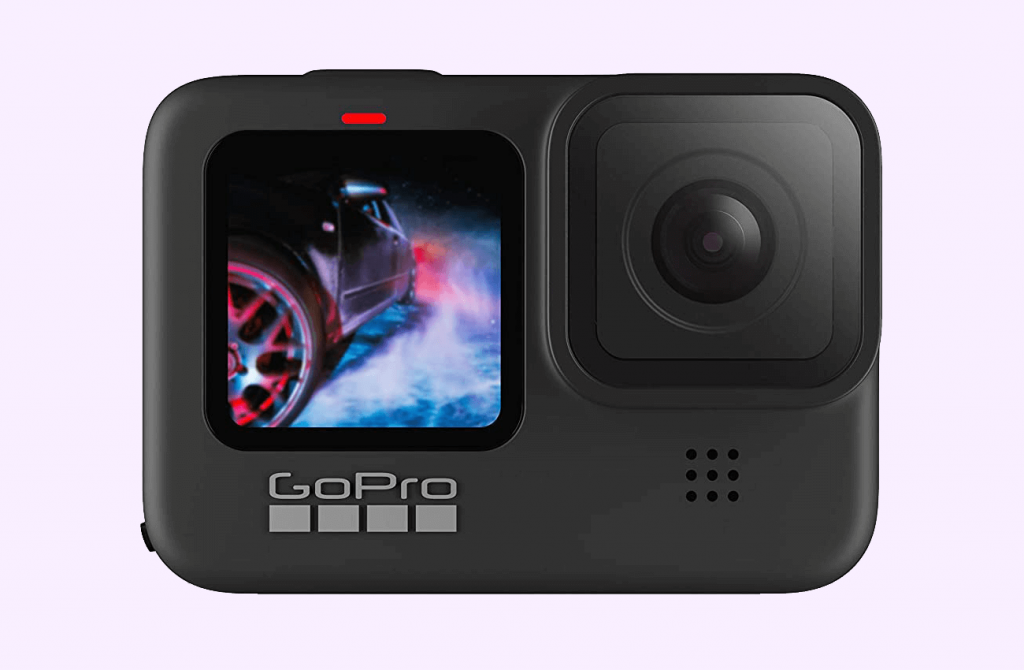 Best 4k action camera under $500: GoPro HERO9
You can shoot crystal clear and crisp images because of the 20MP capability. To improve on clarity, the manufacturers have included a 5K resolution which enables you to see clear images even when zooming. Coupled with the SuperPhoto technology, you should be able to take your small video project and make them look professionally done.
Video stabilization is a big thing with this camera. To make sure that your shot doesn't appear shaky and unprofessional, the manufacturers have equipped it with HyperSmooth 3.0 technology that comes in handy in keeping your shot in place. The technology allows you to shoot videos even on the go without worrying about them appearing shaky.
Framing your shot with this camera is now easy because of the front display. Operating the camera is also made easy since this model comes equipped with a large rear touch screen that contains settings such as touch zoom.
You can live stream using this camera and still produce 1080p video quality. This product is among a small number of 4K cameras that can offer this feature while still maintaining high-quality videos.
The security and safety of the camera have been taken to a different level by the manufacturers. The camera is waterproofed to make it possible to shoot even in tough terrains without compromising the quality or the lifespan of the product. It's rugged enough to offer grip, which prevents slipping when shooting. The hard protective plastic case is tough enough to withstand impact and pressure.
If you enjoy high-speed outdoor sports and activities, you should get this product as it allows slow-motion shooting. You can select a maximum of 8x slow-motion shooting.
---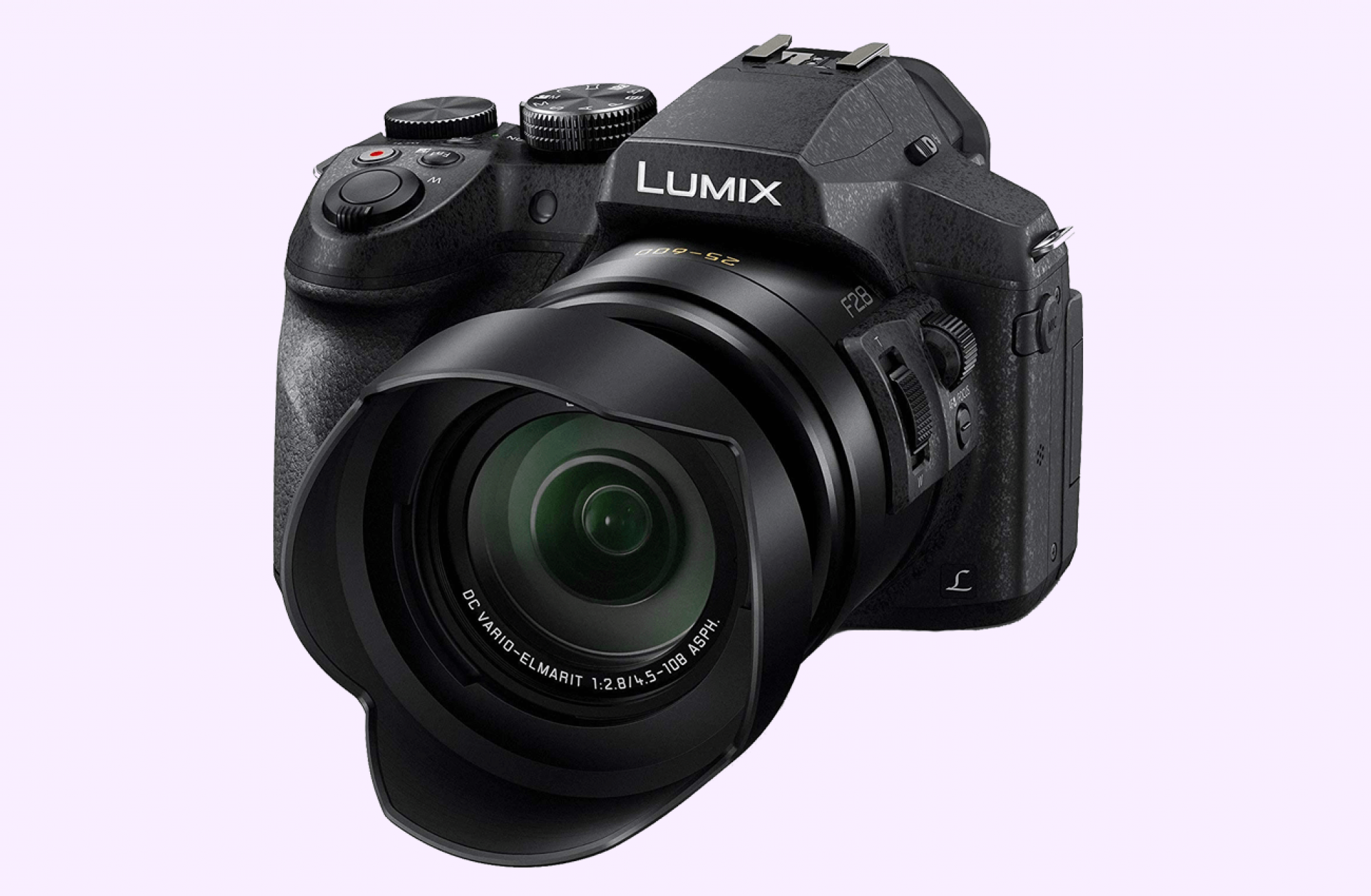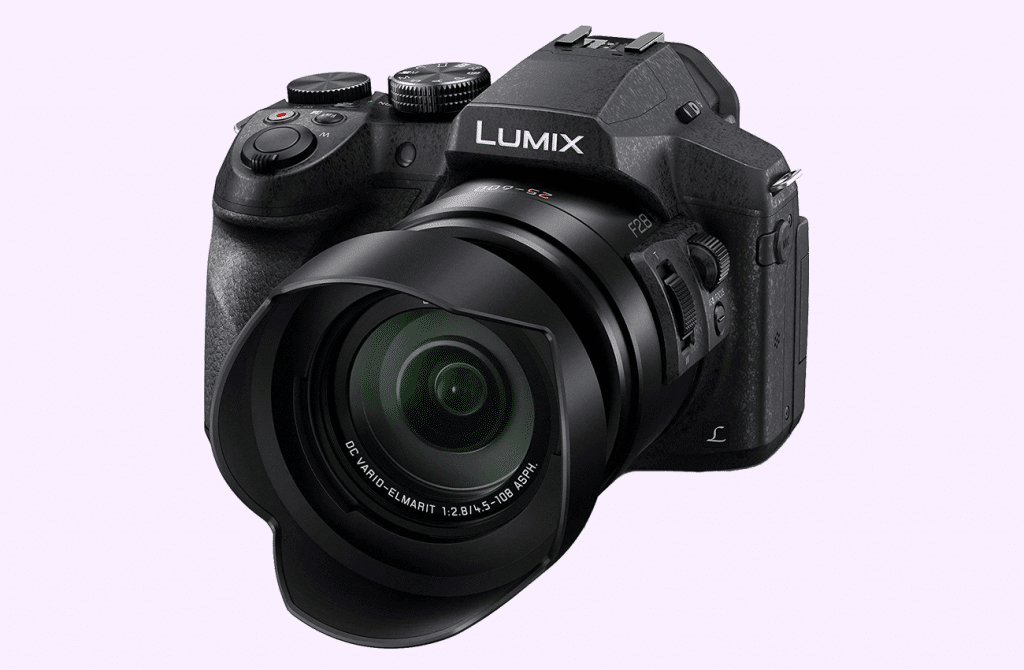 Best 4k point and shoot camera under $500: Panasonic FZ300
You can take clear and colorful images and video footage with this camera because of the 4K video and 4K picture modes. You can also extract photos from a pre-recorded video since the camera comes equipped with 30 frames per second capability which are also in 4K resolution. The result is crystal clear images that you extracted from the video.
Zooming is also another area this product has outdone others in its class. The LEICA DC VARIO ELMARIT lens is capable of zooming images at 24x or 25-600 mm. This allows you to take close-up macro shots with a minimum focus distance of 1cm.
Taking pictures in low light conditions is not a problem with this camera since it comes equipped with Venus Engine that combines well with the 12.1-megapixel High sensitivity MOS sensor. The two allow you to capture clear and crisp images, even when there is a small aperture in your settings.
The touch monitor can be tilted or swiveled for a comfortable vertical composition. The touch feature allows you to activate focus by touching the screen. If you have struggled with blur images and footage when shooting with one hand, then that's not a problem with this product. The 5-axis hybrid Optical Image Stabilizer Plus helps to compensate for five movements and combines with the Level Shot Function, which allows you to take pictures even when the camera is tilted by detecting horizontal lines and maintaining them.
Taking pictures of fast-moving objects is not an issue as well since the camera comes equipped with autofocus technology that combines with Depth-From-Defocus technology to bring these objects into focus and maintain it continuously during the shoot.
---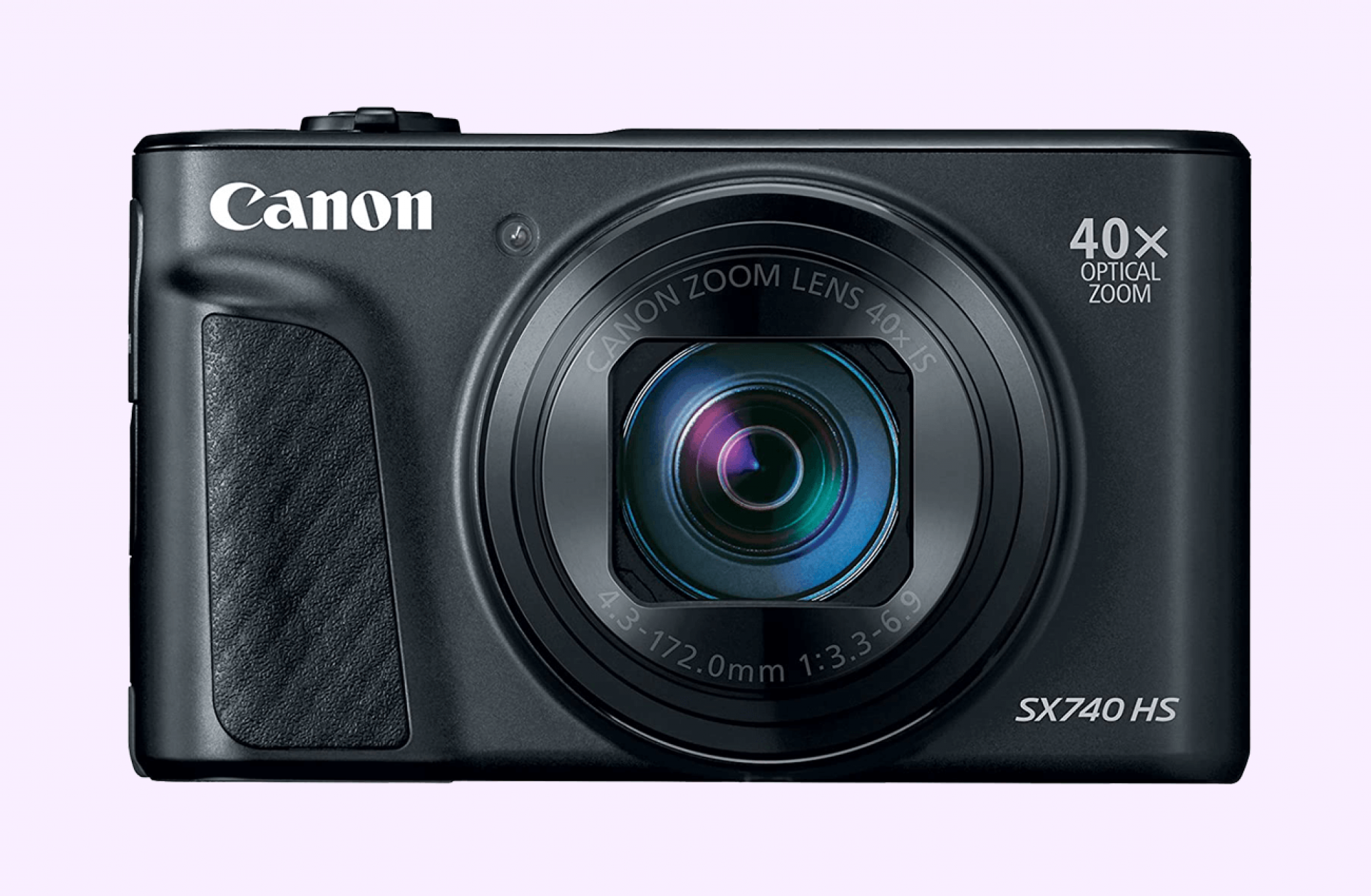 Best value 4k camera under $500: Canon SX740
The manufacturers have invested more in picture clarity since this camera shoots entirely on 4K mode and supports up to 30p. You also get a chance to crop 4K still images from the 4K frame without using any software. To improve picture quality, the manufacturer has included Optical Image Stabilizer that results in steady and sharp results. The camera captures all details in a frame and results in footage and images that are rich in color and very bright.
Other than the performance, this camera has an impressive design. For starters, the slim design measuring 1.57inches is the leanest in the market. It's also 4.33 inches wide and 2.51 inches high, making it small enough to fit in your pocket. Its small size makes it portable and takes up a very small space in your luggage. Sticking on the design aspect of this camera, it comes equipped with a tilt-type LCD that is also 3 inches. The screen can be tilted upwards to a maximum of 1800, which makes it perfect for dramatic perspective and selfie shots.
To help correct unwanted shakes, the camera comes equipped with Dual Sensing IS, which helps to stabilize the images even when zooming, hence giving you crystal-clear images regardless. It's also capable of zooming an astonishing 40x and still maintaining high definition and brighter images, making it perfect for macro filming.
The Camera is Wi-Fi and Bluetooth-ready, allowing you to connect to other devices remotely. For easy geotargeting, the product comes equipped with GPS, making it one of the few cameras in its class to have this feature. It also allows remote shooting by connecting it to a compatible device such as a smartphone. However, you still need to use applications for this feature to work. You can also choose to backup your images online or send them to your devices instantly.
---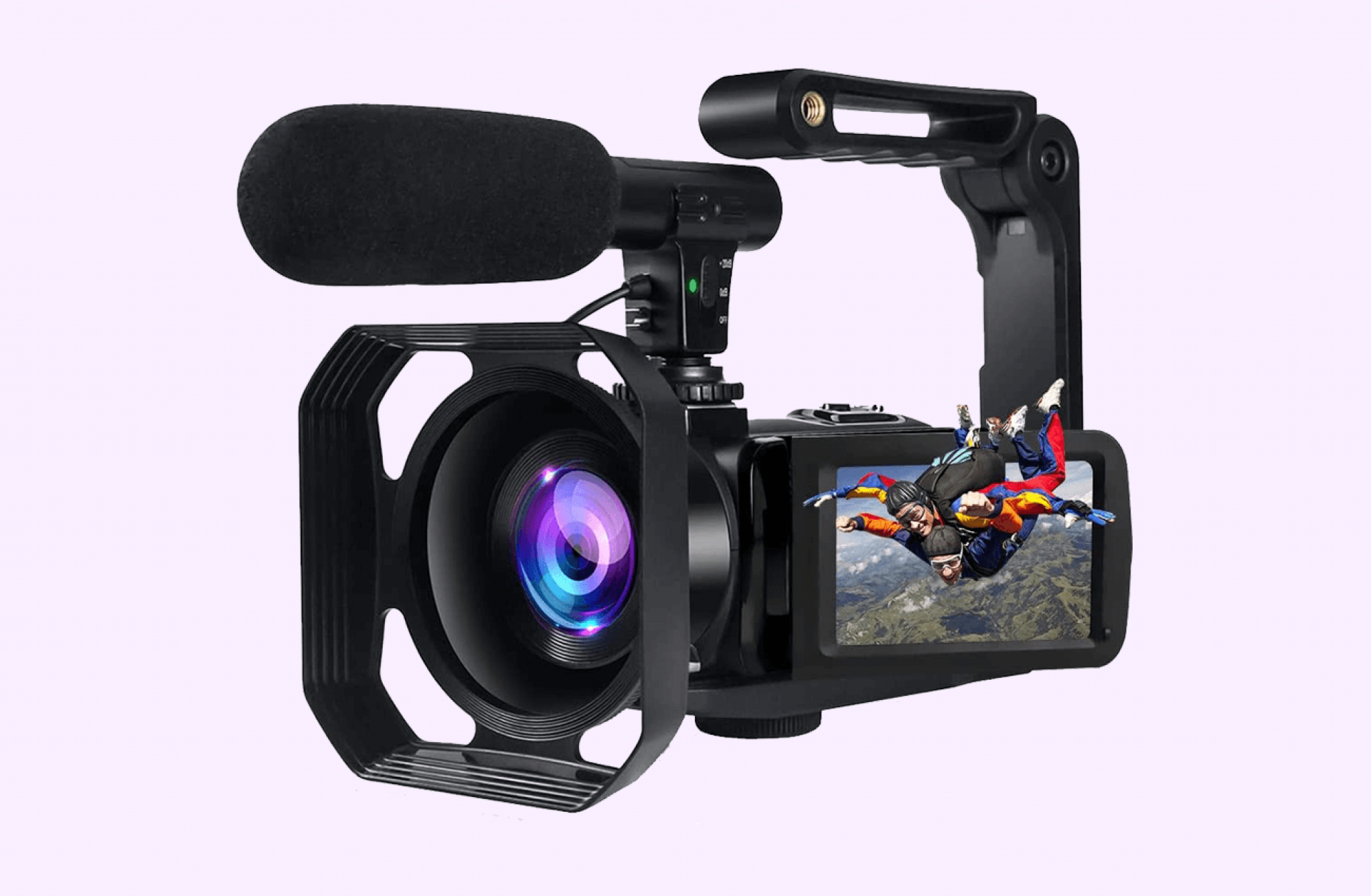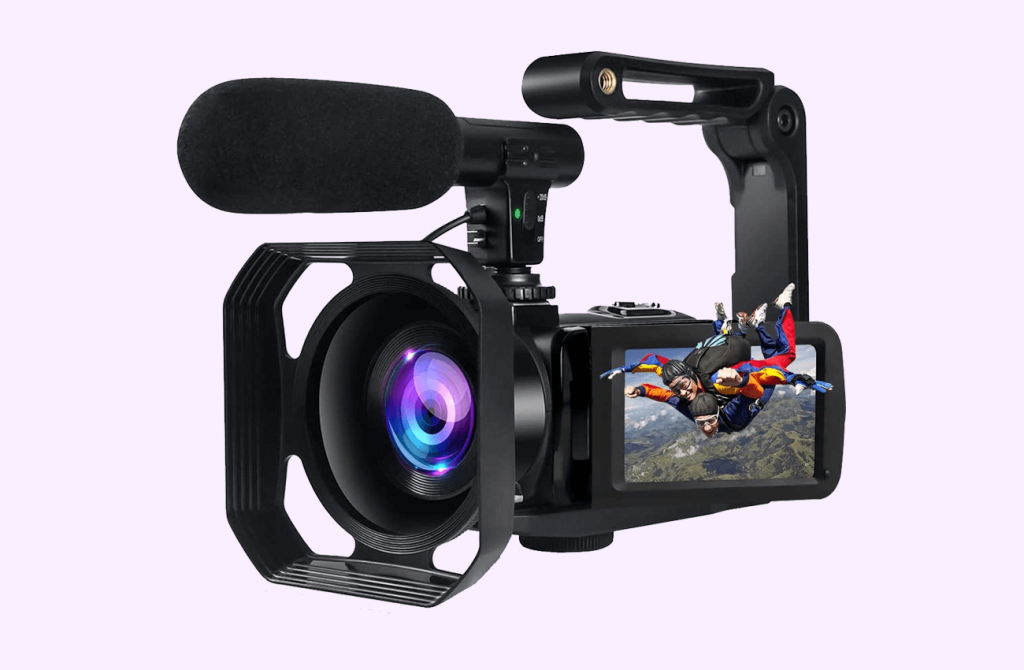 Best budget 4k camera under $500: S&P Safe and Perfect
For starters, the manufacturers have done amazing work in equipping this camcorder with 4K capabilities which help to produce stunning, clear, and colorful videos. You also get 48MP pictures and images with this camera, making it one of the best in its class. To improve the contrast and color of the pictures, the camera comes equipped with a lens hood that helps to block out excess light that might ruin the shot.
The camera also supports Wi-Fi connection capability, which enables you to connect to other devices. You can also use the XDV Pro application to download the 4K images from the camera to your phones instantly, hence eliminating the need to use cables to connect to your phone. The camera can also be converted to a webcam and used to live stream videos on Skype and social media platforms like Facebook and YouTube. You can also connect the camera to an HDTV and playback HD videos.
The product also comes equipped with a remote control that you can use to operate the camera from across the room. If you have had a hard time shooting videos in dark places, you shouldn't worry since this camera allows you to switch to IR night vision mode, which allows you to shoot black and white footage. The fill light mode allows you to shoot HD videos and pictures in prime conditions.
The fact that you can pause while recording makes this camcorder a must-have for any content creator. You can also opt for the time-lapse feature, which allows you to condense hours of video into a short video.
The camcorder comes equipped with an external microphone for better sound transmission. It also supports 18x digital zoom for macro shots, a motion detector to help you keep the objects in focus, and an anti-shake to keep your pictures blur-free.
---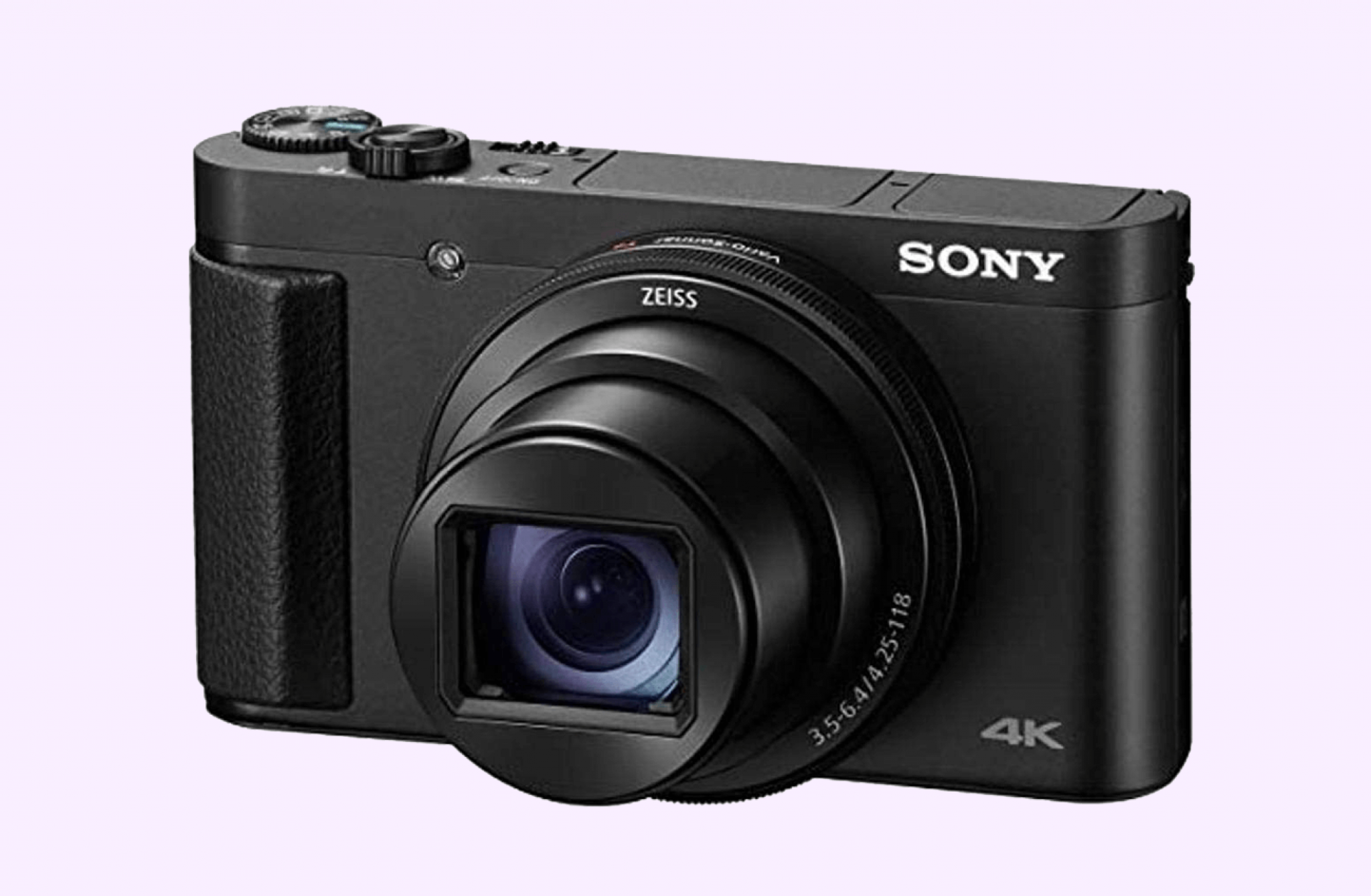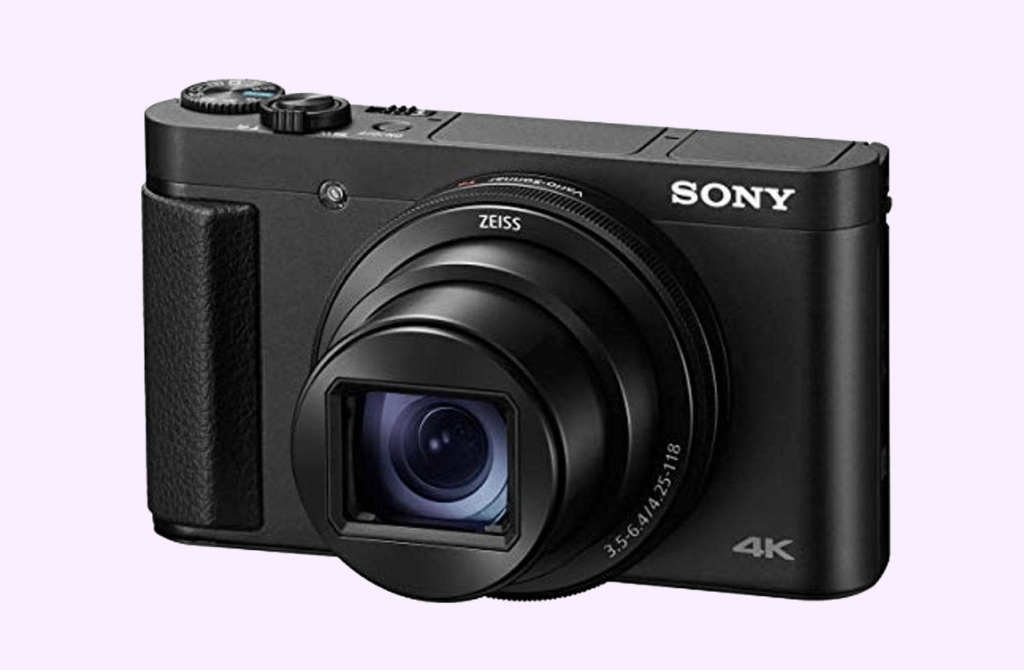 Best 4k compact camera under $500: Sony HX99
The manufacturers have invested a lot in the performance of this camera. For starters, you get to shoot stunning 4K videos with no pixel binning and full sensor pixel readout. As a result, you get a camera that produces more and jaggies-free images and pictures, rendering your work look professional. You can also shoot high-frame HD videos at an amazing 120 fps, which you can later edit into slow motion while still maintaining high quality.
The camera also impresses in terms of having a continuous recording of up to 5 minutes. To ensure you get superb image quality, the camera comes equipped with an 18.2 megapixel Exmor R CMOS sensor that combines with the BIONZ image-processing system that has been updated and advanced to produce high-quality images. You can also shoot in low-lit rooms without compromising on the quality by utilizing ISO 80-6400.
Given the physical size of this camera, you wouldn't expect it to have the capability of having a 30x zooming feature, which allows you to bring objects closer while still maintaining HD capacity. This is made possible by the ZEISS Vario-Sonnar T lens which has been known to shoot clear images even when zooming. To top it up, the camera utilizes the Clear Image Zoom feature that allows up to 60x zooming capability while still shooting HD pictures.
To improve on the focus, the camera comes equipped with the game-changing eye autofocus that detects the eyes of the object automatically and focuses on this area, allowing you to shoot detail-oriented pictures. It can detect eyes even in dimly lit rooms, making it a unique camera in its class. The 3 inches LCD is tiltable to a maximum of 1800, making it perfect for selfies and framing low-angle shots.
---
Buyer's Guide for the Best 4k Camera Under $500
There is a lot that you must consider when in the market for the best 4K camera under $500. While the design might be appealing to you, the features and how the camera performs are among the things you must keep in mind. That's why you need to know several things before you decide to buy a 4K camera. They include;
Frames per Second: This translates to the number of frames a camera is capable of shooting within one second. A majority of 4K cameras that are within a $500 price range tend to have 25 or 30 fps which is more than enough for a small personal project. However, it's not uncommon to come across 4K cameras with 40fps.
Image Stabilization: Shaky hands are common, especially when you have been shooting for long hours. As a result, you get shaky pictures that can be blurry or out of focus. A great 4K camera should have an image stabilizer that helps to correct shaky footage. The stabilizer allows you to shoot clear images even when on the move.
Wi-Fi and Bluetooth Connectivity: Living in a world where technology keeps changing, it's paramount that you choose a 4K camera that supports Wi-Fi and Bluetooth connectivity. These options allow you to connect the camera to other devices wirelessly and transfer the images instantly to these devices. The Wi-Fi option also allows you to backup your data online instantly since relying on the SD card for this task is risky.
File Storage: Nearly all 4K cameras come equipped with SD cards to store your data. Make sure the camera can support SD cards with massive storage spaces and allows you to backup the data online.
Slow Motion Editing: A 4K camera you choose should be supporting slow-motion editing. At first, you should be able to shoot footage in high-speed 120p and later convert this footage into slow-motion footage.
Autofocus: Autofocus feature is not optional in any 4K camera. The product you choose should be capable of identifying and allowing you to focus on the object for clear shots. Continuous recording is also another vital feature you need to consider.
Zooming: Every 4K camera is equipped with a different zooming capability, and an optimal range should be 30x. Also, ensure that the camera is capable of maintaining HD images at this range.
Frequently Asked Questions: (FAQs)
Should I get a 4K camera?
Yes, a 4K camera is a must-have for anyone who wishes to create stunning images and footage. The quality of the footage will make your work look professional and catch more attention. The wide focus field is another impressive feature offered by these cameras as it allows you to focus on different parts in one frame. These cameras also come packed with impressive features such as impeccable zooming capabilities that allow you to shoot HD pictures of objects that are 30 feet away.
The autofocus allows you to get clear images of the objects you're shooting, and you don't have to adjust the settings. Some 4K cameras can shoot clear images in dimly lit rooms without needing extra lighting. There is also the option of transferring data instantly to your computer or phone. Some 4K cameras will allow you to backup the data online, which helps you to safeguard your work. Image stabilization is also another area that which 4K cameras perform better than other cameras.
Is 4K better than a 1080p camera?
4K cameras have a higher resolution of 3840 x 2160 and sometimes 3840 x 1600, making them better than a 1080p camera. Even though 1080p cameras are great, they cannot still compare to 4K cameras. For starters, 4K cameras are capable of capturing more details in a frame than 1080p cameras due to their superior lenses. They also produce clearer and crisp images than 1080p cameras.
There is also the issue with zooming that you must consider as 4K cameras not only can they zoom further, but they also do so while producing HD pictures. 4K cameras are also equipped with features such as autofocus and contain a wider field of focus compared to their 1080p counterparts. A majority of 4K cameras can live stream videos at an outstanding quality, something that the 1080p cameras have been found to lack.
Is 4K DSLR worth it?
Upgrading to a 4K camera is not only a great option, but it's a requirement for anyone who wishes to shoot and share their work. These cameras are equipped with superior lenses that allow you to capture crystal-clear images. These lenses also make it possible to zoom in greater distance and still shoot HD pictures.
They're four times clear, colorful, and brighter than 1080p cameras. They usually come with impeccable features that not only help to improve your shot but make your work easier, allowing you to concentrate on the most important thing; shooting. Given that you can get a 4K camera for below $500, it's worth upgrading to this equipment as they will help you get your work done fast and make it look professional.
Is 4K good for YouTube?
4K is excellent for YouTube, especially if you want to stand out from your competition. Shooting with a 4K camera allows you to capture as many details in your shot as possible. The fact that you can have HD slow-motion videos makes it a perfect camera to shoot high-speed outdoor activities.
People will love how clear the pictures are and how many details they can see in them. Live streaming is also another feature that should make you choose 4K cameras for YouTube. It has been proven that Live Stream videos perform better on this platform, and by making them clearer, they will attract more views, and retain more viewers, which in return, will help to improve your YouTube channel ranking. You will get more engagement from your viewers and grow the number of your subscribers.
What percent of 4K is 1080p?
Given that 4K is four times the resolution of 1080p, it's safe to say that 25% of 4K is 1080p. This means that a quarter of 4K is equivalent to 1080p. The figures highlight just how superior and impressive 4K is compared to 1080p. 4K cameras have four times color, brightness, and contrast to that found in 1080p.
This means that the pictures produced by 4K cameras are four times better than those produced by 1080p. Given that a great number of 1080p cameras retail at $300 and you can get a 4K camera at $500, it's a no-brainer that 4K cameras are the next-generation devices.
Conclusion
4K cameras are great at everything, and there are no cameras available today that can outshine them. From crystal-clear, colorful, and brighter images, it's clear that 4K cameras will revolutionize the film and photography industry.
As opposed to before, when you needed to break the bank to get your hands on one of these devices, you only need $500 to start enjoying what 4K cameras have to offer. When in the market to buy a 4K camera, it's best if you focused on features such as frame per second, image stabilization, and Bluetooth/Wi-Fi connectivity. Other features such as slow-motion editing, zooming, and autofocus are also crucial in determining how good a 4K camera can get.
Related Posts:
Subscribe to the CameraIO Newsletter
Photography & Camera News + DEALS