Subscribe to the CameraIO Newsletter
Photography & Camera News + DEALS
One of the most important decisions that every vlogger has to make is choosing a camera for their activities. The many cameras out there have different features and prices, a factor that can make the exercise confusing for beginners. Most cameras can fulfill several tasks at the same time.
However, what vloggers need is a device that will be exceptional for this particular job. This is why it is necessary to know what to look for in a vlogging camera. This guide contains information on the features of five of the best vlogging cameras under $400 to make your work easier.
Best Vlogging Cameras Under $400 (Reviews)
It is important to choose the best vlogging camera if you are to shoot quality pictures and videos. However, considering the numerous options available in the market, the process can be overwhelming.
When shopping around, buyers should look at the specifications, design, and connectivity of the camera, among other factors. Here are some of the options you can consider if your budget is below $400: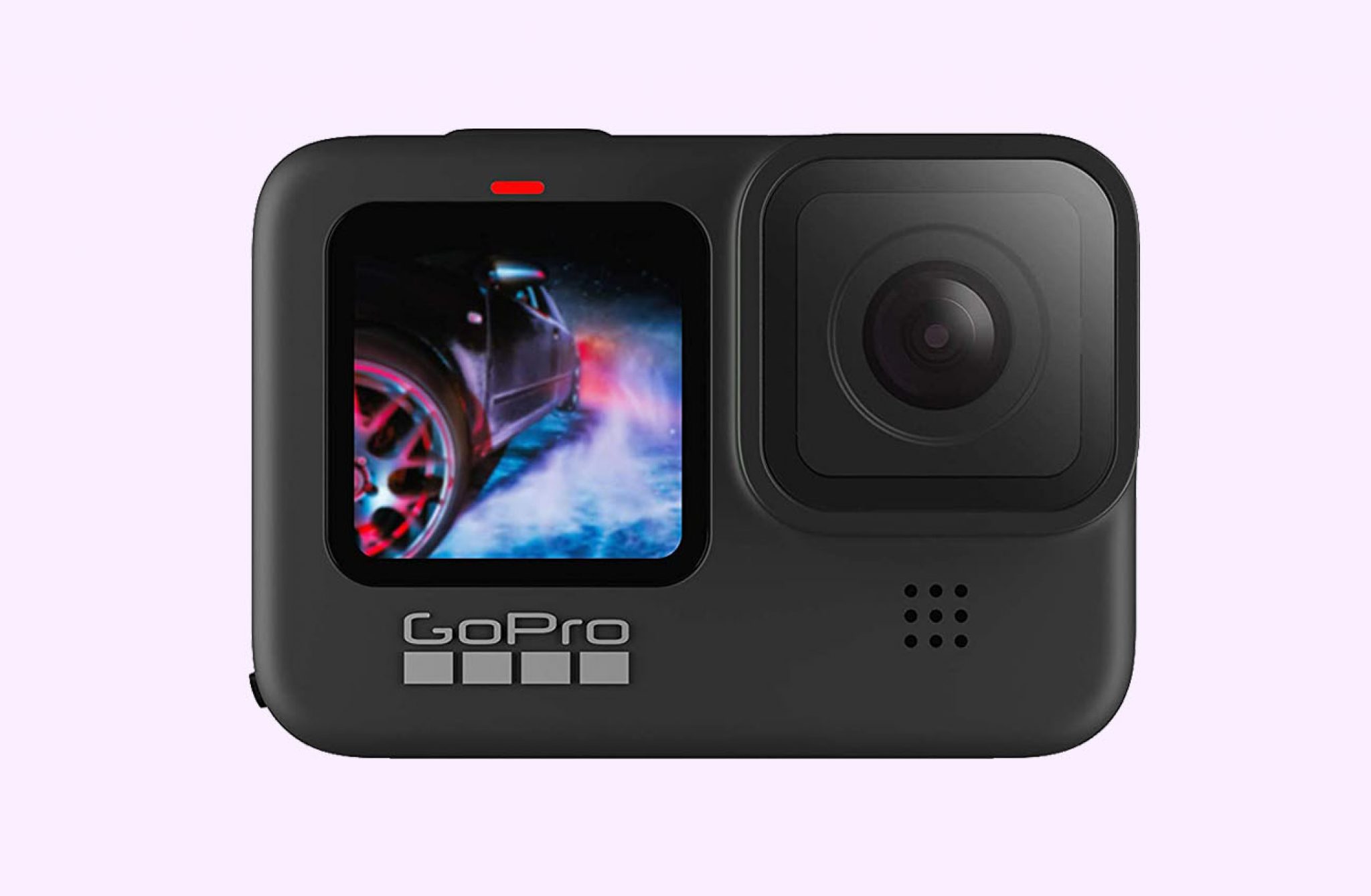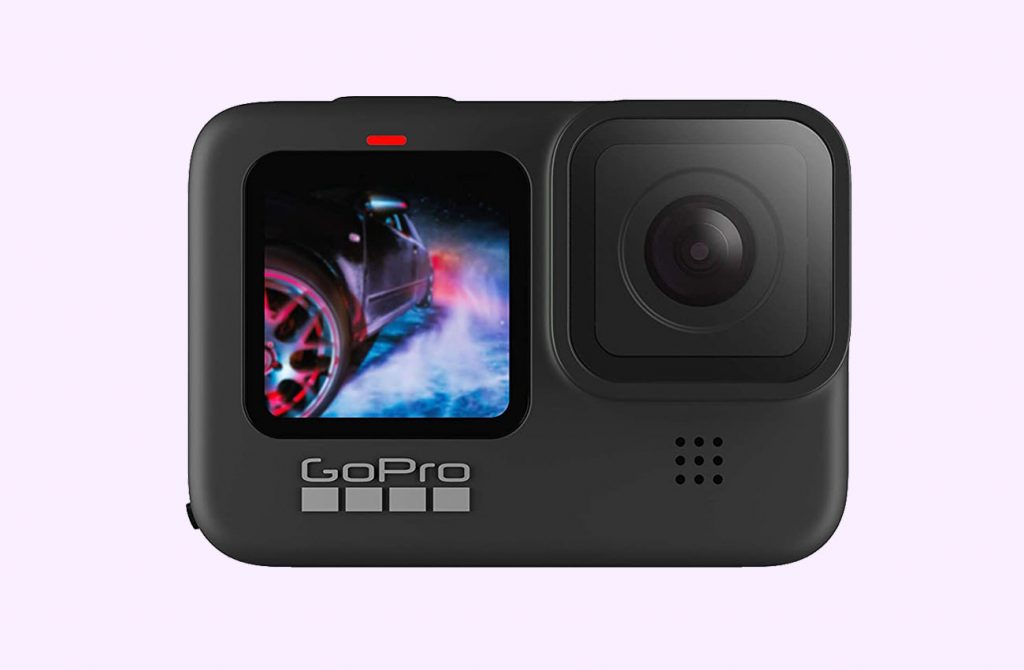 Best Action Camera Under $400: GoPro HERO 9
3.0 HyperSmooth setting lets you capture smooth footage even when shaking.
Solid feel and durable design.
The compact design makes it a great on-the-go camera.
Amazing video quality.
The battery life is great.
Easy to edit footage.
The GoPro HERO 9 action camera is one of the best options for vloggers. The camera is perfect for both small and big adventures, allowing you to capture all the amazing moments. However, vloggers will also want to ensure that the camera they choose will offer them convenience and flexibility.
Some of the reasons why the GoPro HERO 9 camera is one of the best for vloggers are because of the unique design and superior specifications. The camera also features great connectivity that lets you share content directly on social media, a factor that ensures your vlog posts reach a wide audience.
Most vloggers shoot their pictures and videos in different locations and at any time. The camera features a rugged and waterproof design without housing so you can shoot in various conditions. This design makes the HERO 9 tough and offers protection in case of drops, while at the same time keeping it waterproof down to 33 feet.
Using this camera ensures you can take still, action photos, and videos as well as share experiences, something you would not be able to do with your phone. The camera is also compact, allowing you to grab it easily and use it on the go. There is an intuitive touch screen with three streamlined capture modes for simple operation.
When it comes to specifications, this camera delivers high-quality performance and offers the convenience you need. The 3.0 HyperSmooth video stabilization is designed to predict your movements and corrects for camera shake to deliver smooth footage. TimeWarp 3.0 video lets you capture stabilized time-lapse videos even as you move about while shooting.
You can also increase the speed by up to 30 times, a factor that allows you to turn longer activities into shareable moments for easy vlogging. The Super Photo features make it possible to get the most perfect shots automatically through local tone mapping, HDR, and noise reduction.
There is also a voice control function that supports the hand-free operation by allowing you to issue voice commands. One of the factors that contribute to the success of any vlog is the quality of the photographs and videos.
Other specifications that make this camera ideal for vlogging include the 5K UHD 2880p video and 20 MP photos that ensure you capture videos and photos of stunning quality. You will also love the slow-motion video feature that helps you slow things down by up to eight times.
This lets you relive interesting, funny, and epic moments so you can make your vlog what you desire it to be. The ability to shoot vertically is great for Instagram Stories and Snapchat as it lets you capture images in portrait position.
This camera features a photo timer that makes it easy to take a group shot or GoPro selfie. Another area where this camera performs impressively is connectivity. Once you have taken your photos and videos, you can move them to the GoPro app from where you will share them easily.
Live streaming also allows you to share your story at the same time that you are living it. In case you are streaming to Facebook, you will require a Facebook app and account. However, live streaming to other platforms will involve the use of an RTMP URL. Streamed videos can also be saved to an SD card in high resolution and watched at a later time.
---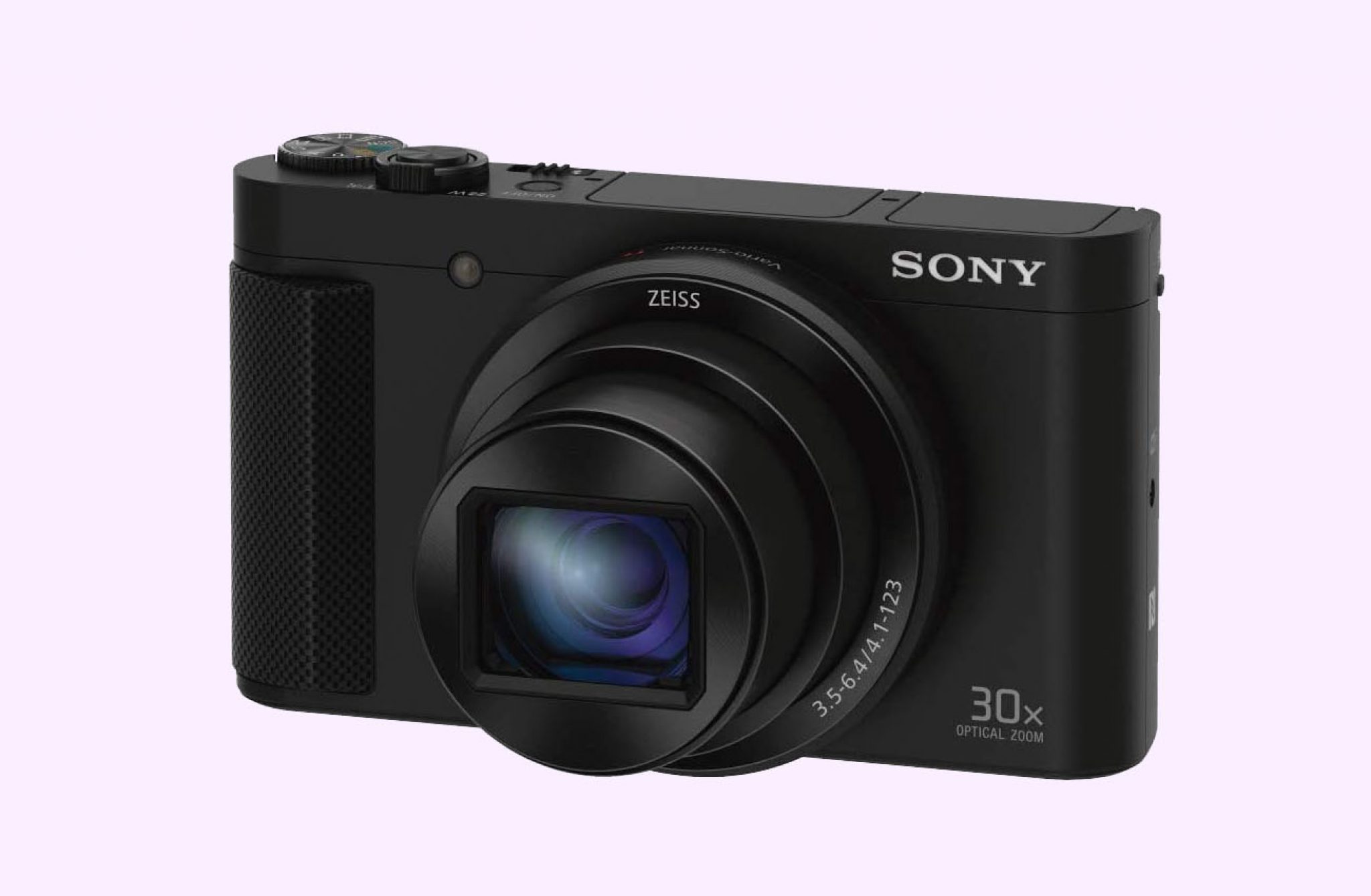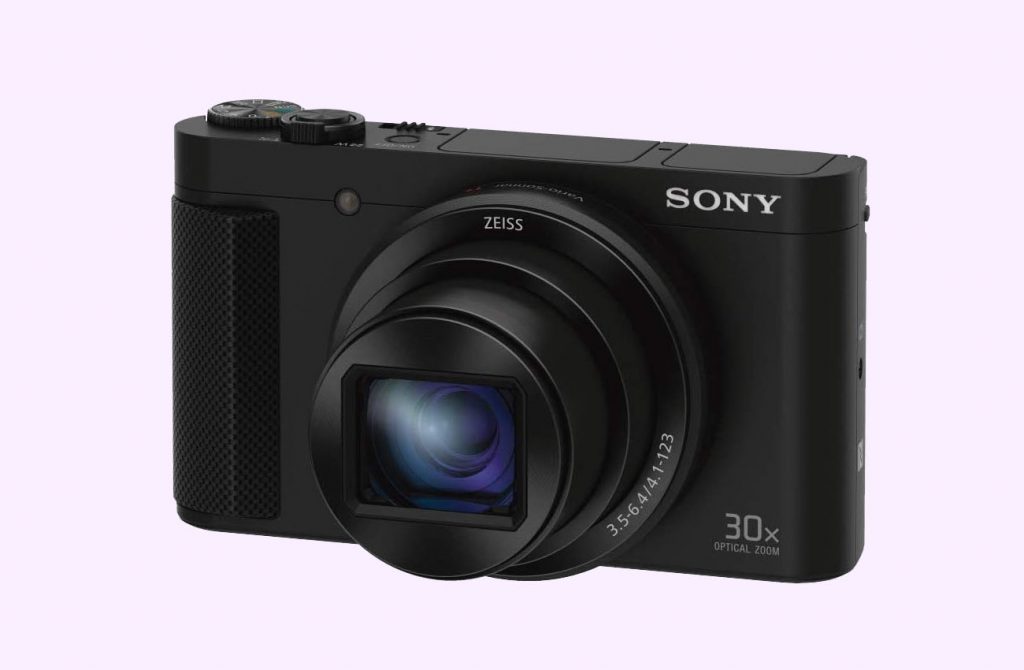 Best compact camera under $400: Sony DSCHX80/B
The small and light camera delivers sharp detail up close.
Low light Exmor R sensor ensures stunning picture quality.
The interface is user-friendly.
Image stabilization lets you capture clear images even when the camera shakes.
Share photos instantly with Wi-Fi and NFC.
The Sony DSCHX80/B is a high zoom point-and-shoot camera. This camera features a unique design that makes it compact and lightweight so you can shoot your vlog posts from almost any location. A built-in viewfinder shows your recording to allow you to monitor your results before sharing them with friends and family. This camera lets you shoot clear videos with minimal compression noise and great image stabilization.
Choosing this Sony camera will give you great opportunities to capture decisive moments, take selfies, and keep your subject in focus with the lock-on autofocus function. Once you have captured the still and video content you want, you will conveniently share it with your smartphone or post it on social media.
This camera is compact and lightweight so it can fit perfectly in your pocket or small bags. The design makes it easy to carry the camera with you when traveling or venturing outside to enjoy the outdoors. The good news is that despite the design, it still delivers sharp detail up close for stunning pictures.
There is a built-in retractable OLED Tru-Finder viewfinder that lets you view every scene in rich detail. The ability to display your recording as it will appear gives you a chance to monitor the results. The design also features a tilt screen for beautiful selfies and dramatic perspectives. In terms of performance, the 30x optical zoom lets you get close to the subject while ZEISS T coating reduces ghosting and flare on the lens surface to improve image quality.
The powerful BIONZ X image processor helps to deliver realistic and high-quality images, and the clear image zoom doubles optical zoom further supporting closer photos. A superb 18.2-megapixel Exmor R CMOS image sensor delivers great image clarity and reduces grain both for still photos and videos.
The image sensor also ensures high-resolution photography in low-light areas. The 50Mbps full HD video recording enables you to capture beautiful videos even in areas with a lot of movement. This camera records in AVCHD and is perfect for HDTV or highly compresses MP4 HD video that works well for the web.
While Sony's Optical SteadyShot image stabilization lets you achieve sharp images, the advanced frame-analysis technology helps to reduce blur that occurs when the camera shakes. This means that you can move along with the action when shooting a movie and still get clear images of the subject in motion.
These images remain clear and sharp even when you zoom in. There is an Xtra fine LCD that tilts for selfies, ensuring easy focusing operation and brilliant-quality images and movies. When it comes to connectivity, the camera features Wi-Fi connectivity that connects to your compatible smartphone or tablet.
You will also be in a position to transfer images to your mobile devices for quick editing, uploading, and sharing. With the downloadable camera apps4, it will be easy for you to get creative by applying artistic effects and retouching images to produce professional results. The apps also offer added functionality since they make it easy to upload photos on Facebook and Instagram.
---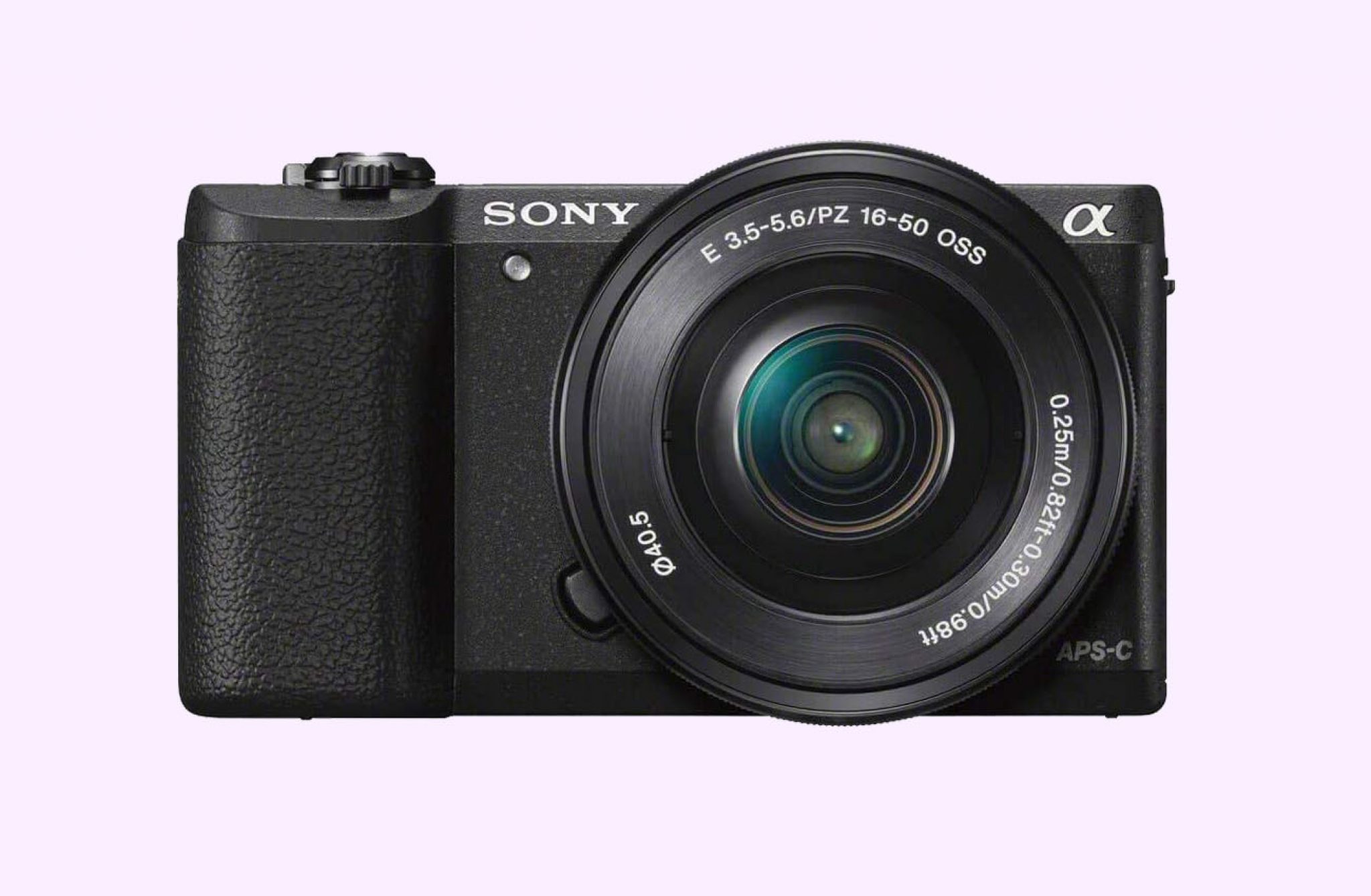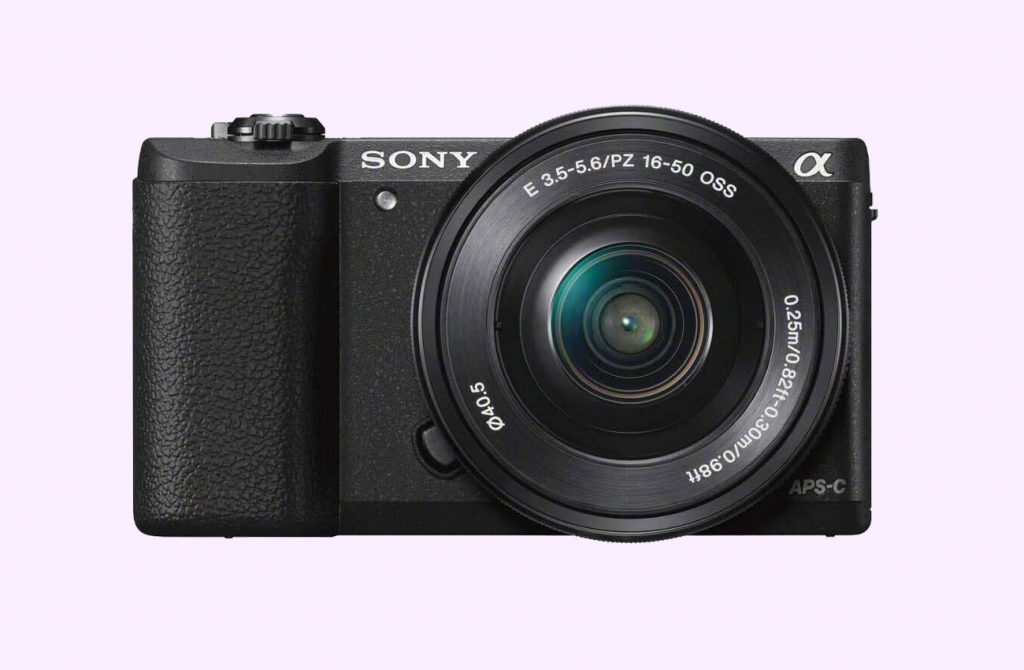 Best mirrorless camera for vlogging: Sony a5100
Great for taking Facebook and Instagram photos as well as shooting YouTube videos.
Camera with a small, lightweight design but with a lot of power.
High-quality, easy-to-use device.
Great battery life.
This Sony A5100 mirrorless digital camera is another option that vloggers can consider buying. This camera has a compact and lightweight design that promotes easy portability and convenient use. Apart from allowing you to capture quality images with great detail, the camera features ultra-fast autofocus and continuous shooting so you can capture all the special moments.
If your vlogging adventures take you to areas with low light conditions, this would be the right camera to bring with you. In addition to ISO sensitivity, the camera features a built-in pop-up flash that lights up different scenes to help you get the perfect shot. Another quality that makes this camera ideal for vlogging is the tiltable LCD screen that lets you shoot self-portraits effortlessly.
One of the areas where this camera scores highly is the design. As a vlogger, you will not want a camera that limits you in terms of the location where you can have your shooting sessions. This Sony A5100 camera is lightweight so you can carry it with you wherever you go.
The compact design ensures that you get all the quality you need in just half the size and weight of other cameras in the same category. The device features interchangeable lenses and an E-mount system to make it more versatile and allow you to do more. The body of the camera features a new zoom lever that promotes easy one-handed operation and smooth zooming.
When it comes to specifications, numerous qualities make this A5100 camera one of the best for vlogging. The ultra-fast and accurate autofocus is designed to ensure that you do not miss any special moments. Continuous shooting with AF tracking lets you get the perfect shot both during still and video capture, including when you want to capture a moving subject.
This Sony camera has a 24MP APS-C sensor that delivers images in high resolution, bringing out all the important details and ensuring beautiful enlargements. The sensor puts this camera way ahead of most other DSLR cameras in terms of image quality and light sensitivity.
With the 179 point autofocus system, recording high-quality video up to 50MB/s will be a breeze. Vloggers can track moving subjects effortlessly and produce broadcast-quality video content. Serious and seasoned videographers can use HDMI connection to external recording devices for clean-screen video files.
This camera has a special combination of Exmor CMOS sensor and BIONZ X processor. The combination delivers stunning detail in low light from the ISO range of 100-25000. There is also a pop-up flash in case you need additional light when shooting in low light conditions.
The built-in pop-up flash is designed to brighten the scene so you can shoot comfortably in almost any kind of setting. Using this Sony camera makes it easy for you to create selfies with the touchscreen LCD. The screen flips up so you can shoot self-portraits with ease and experiment with different angles to capture a group of people or important landmarks.
By simply pressing the shutter, this camera will do all the work. Most vloggers will want a camera that makes it easy to share content with their smartphones and social media accounts. With this camera, you can share photos through built-in Wi-Fi or camera apps.
In this way, you will be able to post content directly on Facebook and back up images to the cloud without the need to connect to a computer.
---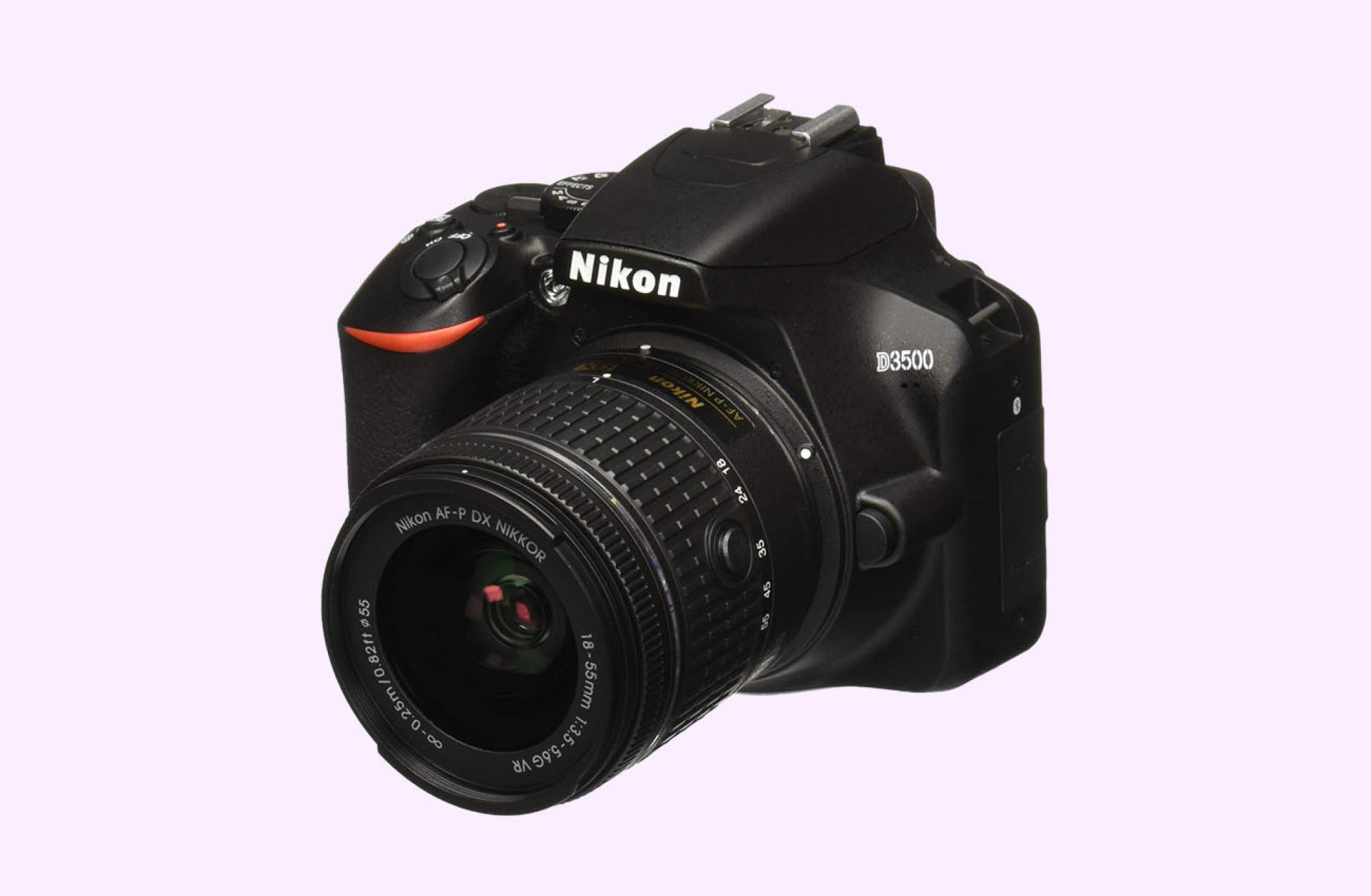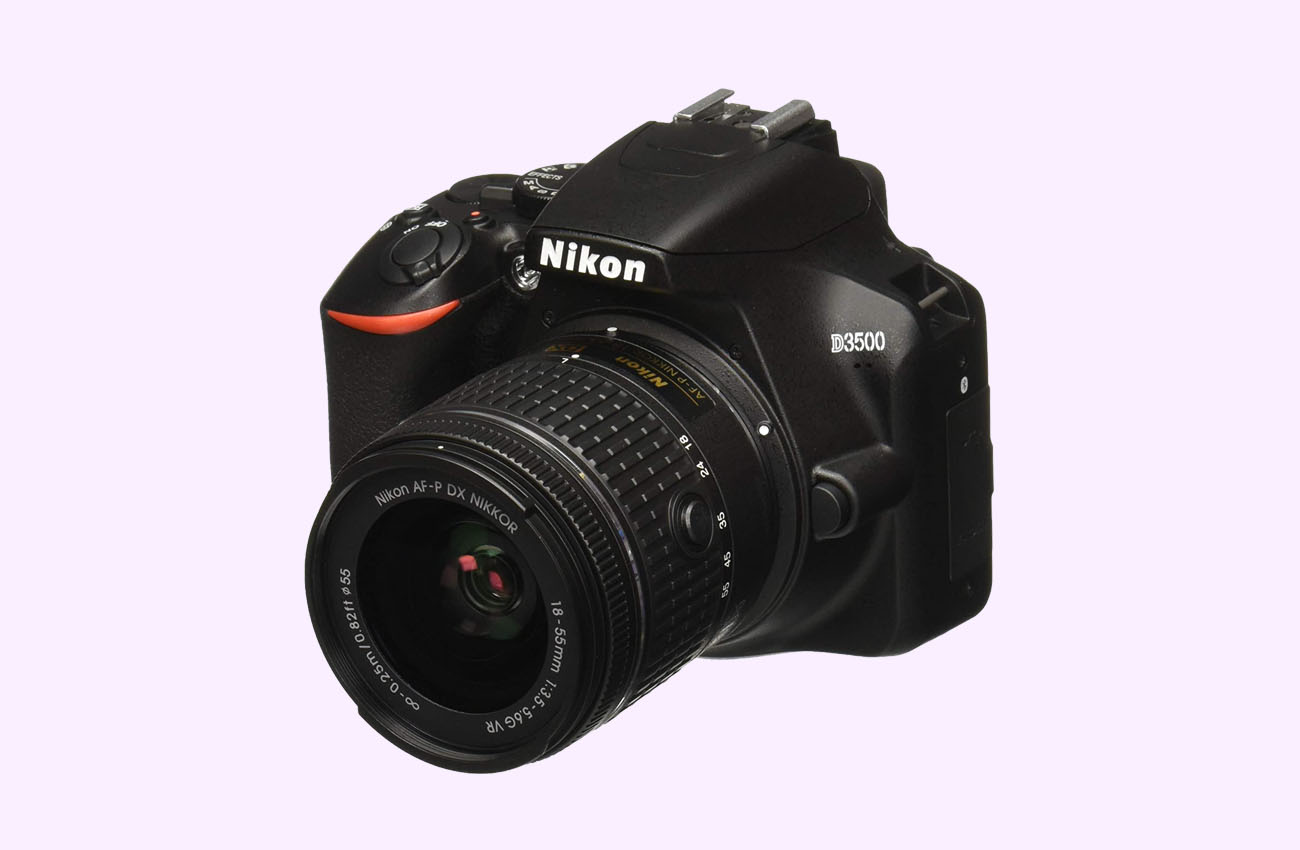 Best dslr camera for vlogging: Nikon D3500a
Excellent ISO and autofocus performance.
High-quality photos and video.
The ideal camera for beginners.
SnapBridge app lets you transfer and share pictures.
If you want a great DSLR camera for your vlogging activities, you should think of buying the Nikon D3500 camera. Portability and ease of use make it perfect for beginners and seasoned bloggers alike. The camera is also durable and versatile, with features that allow you to shoot in all conditions and bring out your creative side.
The fast and accurate focusing of the D3500 makes it possible to capture amazing shots of moving subjects without any problem. Recording beautiful videos are just as easy as shooting photos since the device has features that help you capture full HD videos instantly and effortlessly.
As a vlogger, you will enjoy the convenience that this camera offers when you want to share content with your audience. In terms of the design, this camera is compact and lightweight so you can carry it with you wherever you go. It is also comfortable to hold and operate, a factor that makes it ideal for travel and special events.
The camera is balanced even when the telephoto lens is attached, and all the buttons and dials are strategically placed. This goes a long way in promoting ease of use and comfort whenever the device is in your hands. The simple and intuitive menu is easy to navigate, giving you the control you desire when taking memorable images.
One of the advantages of the Nikon D3500 is that beginners can learn while they shoot. Anyone who can take photos with a smartphone can use this camera. Amateur photographers and videographers can rely on the auto mode and Guide Mode to achieve amazing results.
All these features are designed to ensure that you think less and instead dedicate more time to shooting. The fast and responsive camera ensures that you capture all the important and special moments. With the ability to capture up to 5 frames per second at full resolution with tack-sharp focus, you will always land those shots that matter.
This Nikon camera has a large image sensor that lets you capture sharp, clear images with rich details. The photos will grab the attention of viewers and get you like since even those who are not photographers will notice the great photos when they see them.
This camera is equipped with two available travel lenses that allow you to capture great images on the go. The two-lens kit allows you to cover all the angles when shooting, making it perfect for landscapes, portraits, videos, and wide perspective shots.
Vloggers who are interested in nature, concerts, sports, and similar activities will have twice the fun, thanks to the versatile telephoto zoom lens. The DSLR also has a specialized computer inside it for fine-tuning the settings with every shot.
You can use the lens's zoom capability to shoot tight close-ups and wide-angle videos, a factor that offers flexibility. There is also the renowned Expeed image processing system that is associated with the brand. This system helps to take stunning photos and videos in almost any condition.
When you choose the Nikon 3500 to be your preferred vlogging camera, you will be on the path to discovering new worlds with endless possibilities. Once you have your content ready, this camera will be your bridge to the world.
You can use Nikon's free SnapBridge app on your mobile devices to post photos to social media sites, share them with loved ones, or as backups. The app can also be used to trigger the D3500 to take photos.
---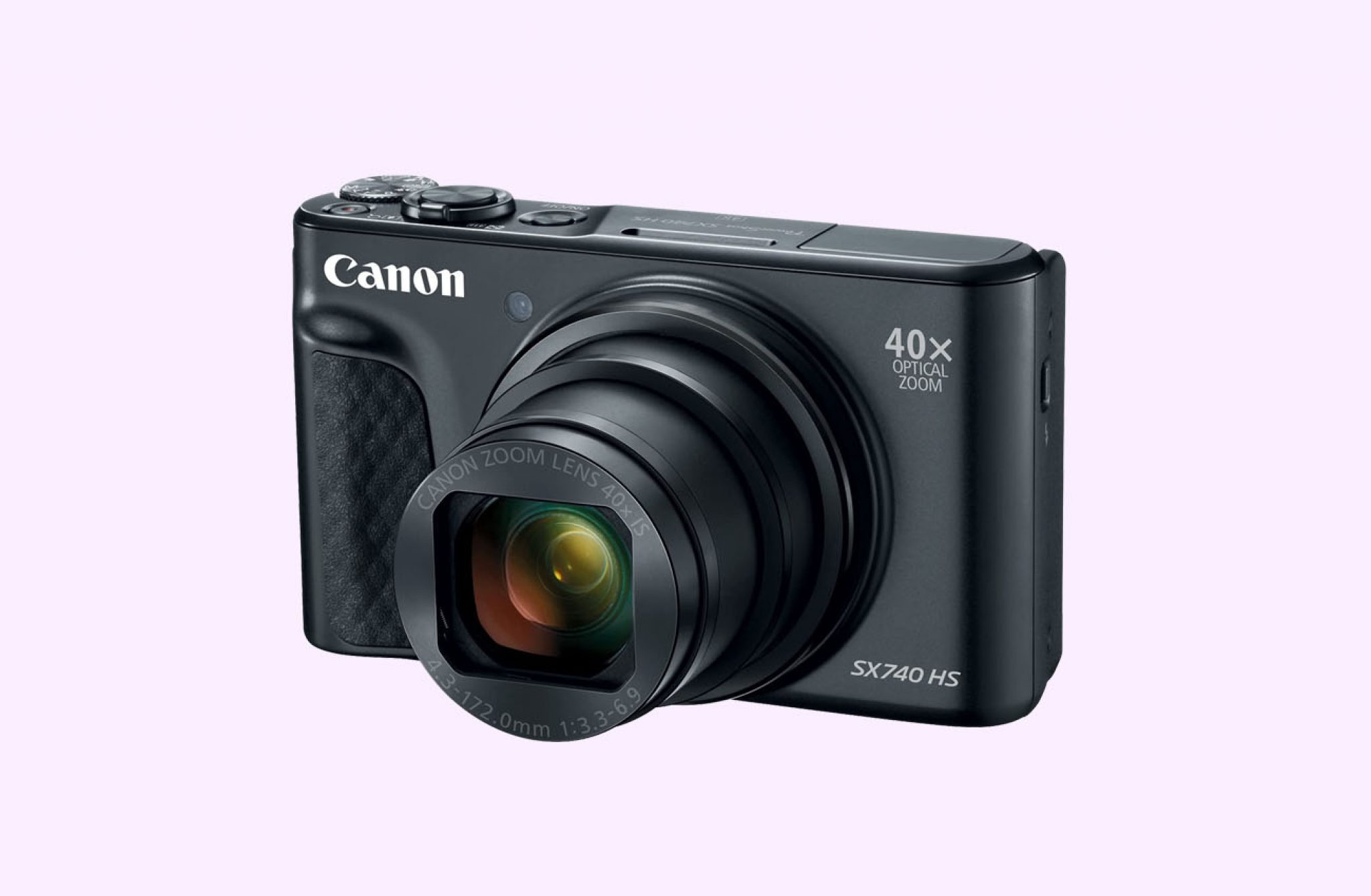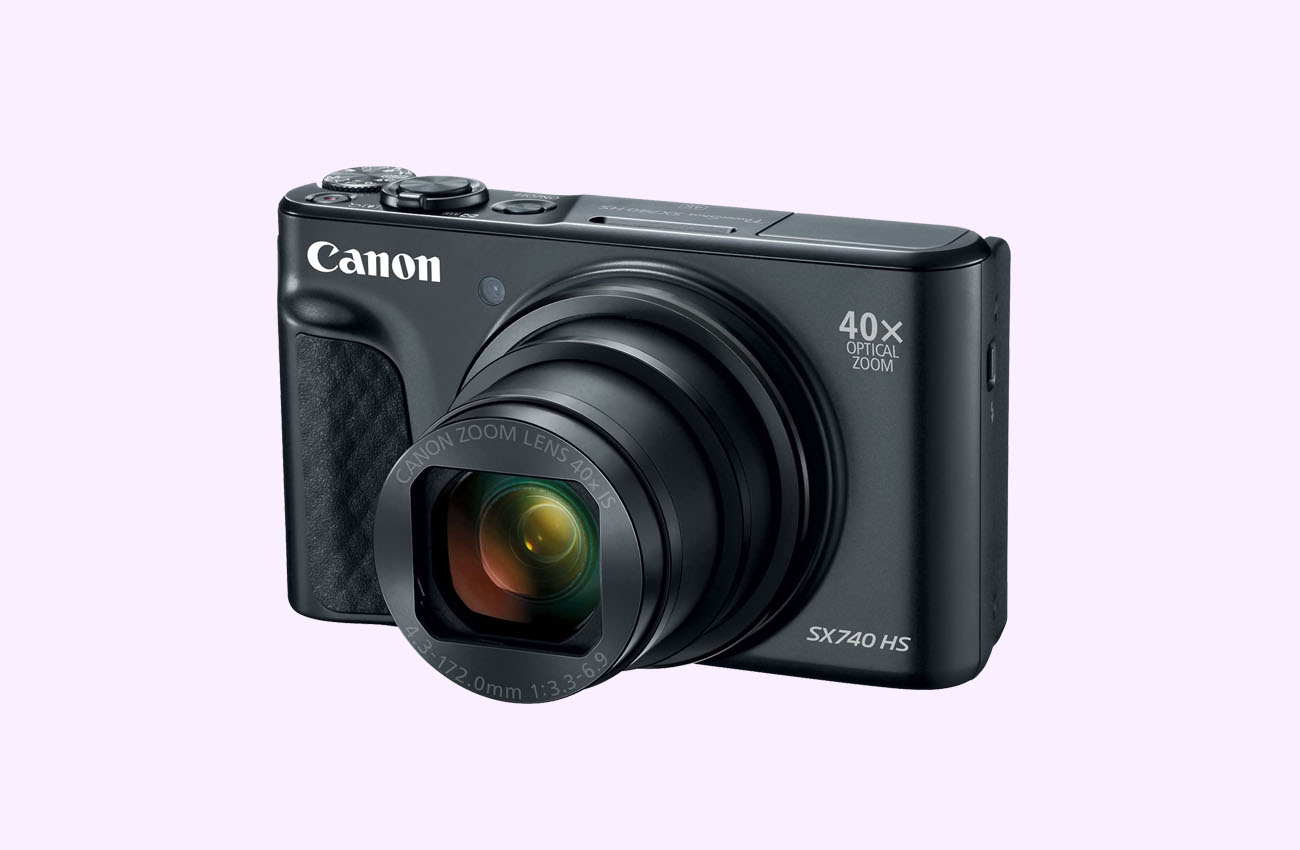 Best point and shoot camera for vlogging: Canon PowerShot SX740
Great utility and functionality.
Lightweight and compact design for easy travel.
Zoom works great to ensure you take quality photos.
Easy to use the camera.
Excellent audio and image stabilization.
Another option for vloggers to explore is the Canon PowerShot SX740. The point and shoot camera features advanced technology that makes it possible for you to capture quality shots. It also has a slim design that promotes portability, allowing you to capture moments both at home and on the go.
One of the strengths of the Canon PowerShot SX740 is that results can be captured with amazing quality. The ability to capture still photos and shoot videos gives you the flexibility you need and lets you post your content on various social media platforms. Built-in Wi-Fi and Bluetooth technology further make it easier to share photos with friends and family.
Most seasoned vloggers will look at the design of a camera before choosing it for their activities. The slim design of this Canon camera makes it lightweight while still maintaining a stylish appearance. This means that you can comfortably travel with and bring the camera on your adventures.
It is also compact, a factor that ensures it fits perfectly in the pocket for portability. There is a 3-inch tilt-type LCD screen that can be tilted upwards to take perfect selfies and capture dramatic perspectives. This adds to the beauty of your photos and videos.
When you post beautiful still photos and videos on social media, there is a good chance that the content will capture the attention of your audience and get people to be interested in your vlog. This camera is also great when it comes to specifications and performance.
The 40x optical zoom and optical image stabilizer ensure sharp and steady results regardless of whether the action is happening up close or afar. The dual sensing IS is responsible for reliable image stabilization by eliminating unwanted shakes caused by an accidental movement.
With these features, the result will be sharp and clear images for quality vlog posts. Zoom frame assist makes it easy to track a moving object when the zoom lens is fully extended. You will be able to focus on the subject until you are ready to take the perfect shot.
Other features that make this Canon camera ideal for vlogging include the 20.3 megapixel CMOS sensor and DIGIC 8 image processor. The powerful sensor allows you to shoot in low-light environments, producing quality and clear images that you can share with your audience.
The image processor refines your photos, so they are clearer and show greater details. The high-speed continuous shooting ensures you capture all the precious moments. High-resolution 4K video recording presents endless possibilities characterized by stunning detail and beautiful colors. This camera offers a range of creative shooting modes to suit different needs.
For instance, there is Food Mode for fun food pictures, Self-Portrait Mode for selfies, Video Snapshot for capturing those memorable movies as well as Hybrid Auto which is designed for capturing photos and videos simultaneously. These creative shooting modes not only provide flexibility but also help beginners explore their creative side.
A camera that helps vloggers share content easily and conveniently is a great asset to the content creators. With this Canon PowerShot SX740 camera, you get Wi-Fi and Bluetooth technology that lets you share photos and videos with your smartphone or tablet as well as with your loved ones.
---
Things to Consider Before Buying A Best Vlogging Camera Under $400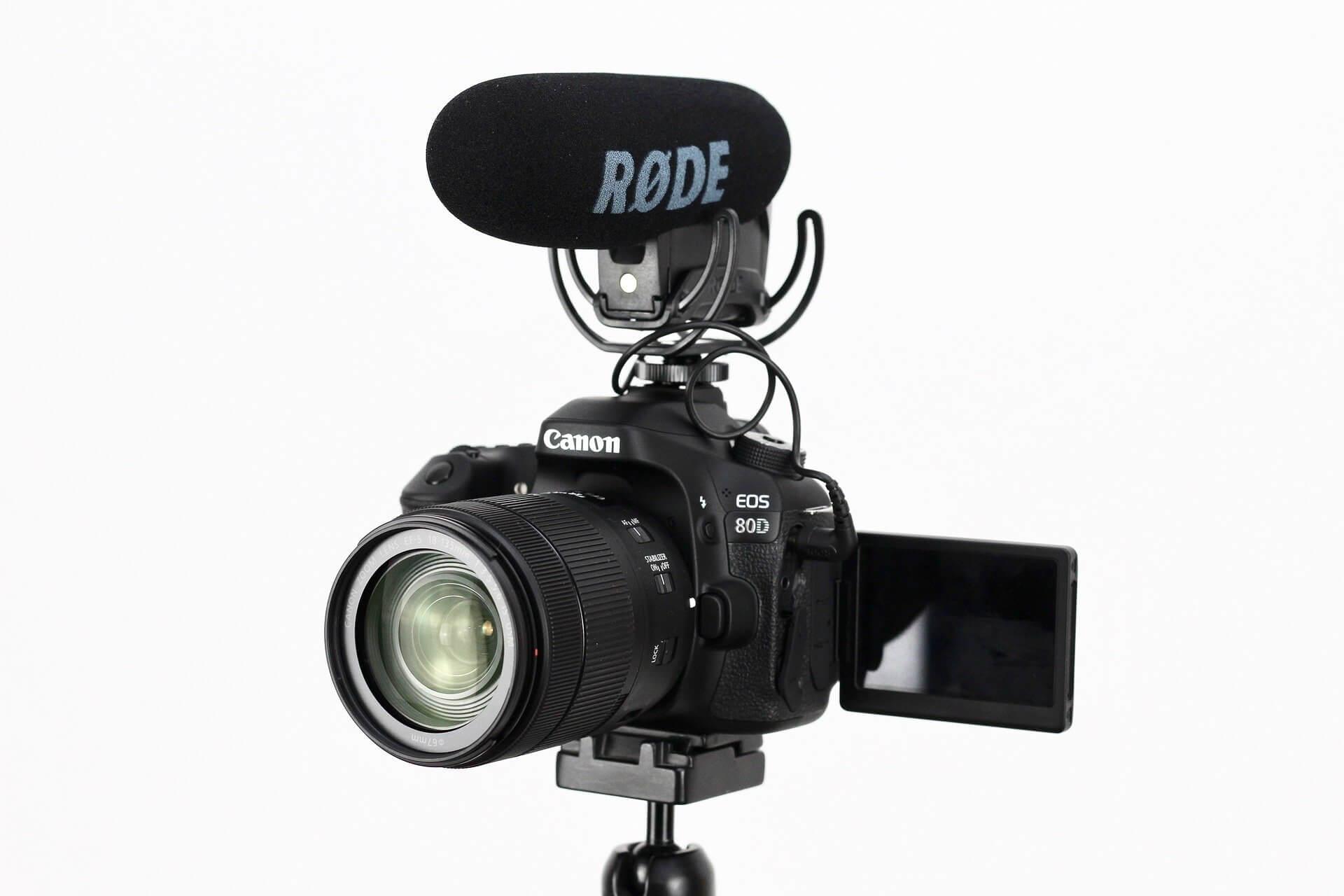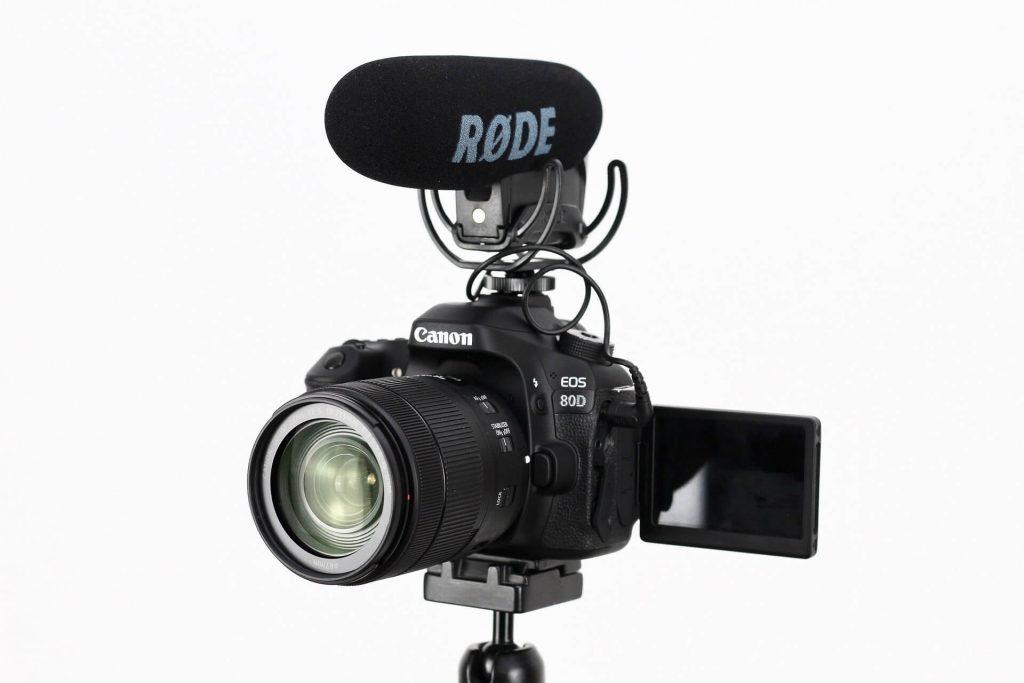 Choosing the best vlogging camera under $400 can be a difficult task. You have to look at the features and specifications of the device to determine whether it will meet your needs. Here are a few things you should consider before making a purchase decision.
Image processor features
A good camera for vlogging should help you capture high-quality images in different conditions. This is why it is important to look at the image processor features. The image processor is regarded as the brain of the camera, controlling how the device functions as well as depicts and records images.
When it comes to the image processor, you should ensure that it allows you to capture beautiful images even at high ISO speeds, promotes fast and accurate autofocus, delivers great continuous shooting performance, and supports a wide range of other camera features.
High-resolution video
Apart from taking still photos, vloggers also shoot videos that they post on various social media platforms. If you are to attract the attention of your target audience and get them interested in the content, you should start by capturing sharp and clear videos.
High-resolution videos let you zoom in clearly so you can cut to close-ups and eliminate jump-cuts from the end product. A camera that delivers high-resolution videos will ensure your footage looks better through image stabilization. Depending on the reason for shooting the video, this will help you project a professional image.
Portability
Vlogging activities and adventures can take you to different places from time to time. The best camera for vlogging should be compact and lightweight so you can carry it with you wherever you go. Such a camera will fit perfectly in your hand or jeans pocket.
This will help you to travel light and shoot without drawing too much attention to yourself. In this way, you will have the flexibility you need to take beautiful and detailed images and videos. Apart from being portable, the device should be comfortable to hold and deliver high-quality videos and photos.
Slow-motion and other effects
There are several effects that you can use to ensure you achieve professional results. Slow-motion shooting helps you to get the most out of a single scene. For instance, filming water splashing in slow motion allows you to see the delicate dance of the droplets.
This improves the feel of the action or effect by making certain scenes visible to the naked eye. Some of the other camera effects you should consider include shutter effects, lighting effects, lens flares, forced perspective, and filtration.
Easy previewing and control
A camera with easy previewing enables you to use the display screen as a viewfinder. This lets you preview framing and other exposure before taking a photograph.
Apart from viewing the subject before taking the photo, you should also be able to control what the final image will look like. Quality images will play a big role in contributing to the growth of your vlog.
Final words
A camera is one of the main tools that vloggers need to take decent photos and videos. However, you will need to understand the type of content you plan to create. You should also think about the platform you intend to use and the audience you wish to reach.
Once you know what to look for in a vlogging camera and have chosen the right platform, you will be a step closer to finding the best camera to purchase. With the numerous options, you will have to choose from.
You will have to invest time and effort to find the best device. It would also be important to compare the different brands and models so you can understand what each of them offers.
Related Posts:
Subscribe to the CameraIO Newsletter
Photography & Camera News + DEALS