Subscribe to the CameraIO Newsletter
Photography & Camera News + DEALS
Filmmakers and video professionals have a challenge in need of acquiring the best performance cameras that suit their professional needs on a budget, without having to overstretch beyond their capabilities.
Moreover, the rapid growth in development in innovations and inventions seeing the domination of DSLR cameras enables the filmmakers to have a wide variety of options to choose from. The DSLR cameras are the embraced camera companions in the filmmaker's arsenal of the best cameras on a budget.
Therefore, in looking for the best cameras, then individuals should have a selection of the following best-performance filmmaking cameras:
Best Cameras for Filmmaking on a Budget (Reviews)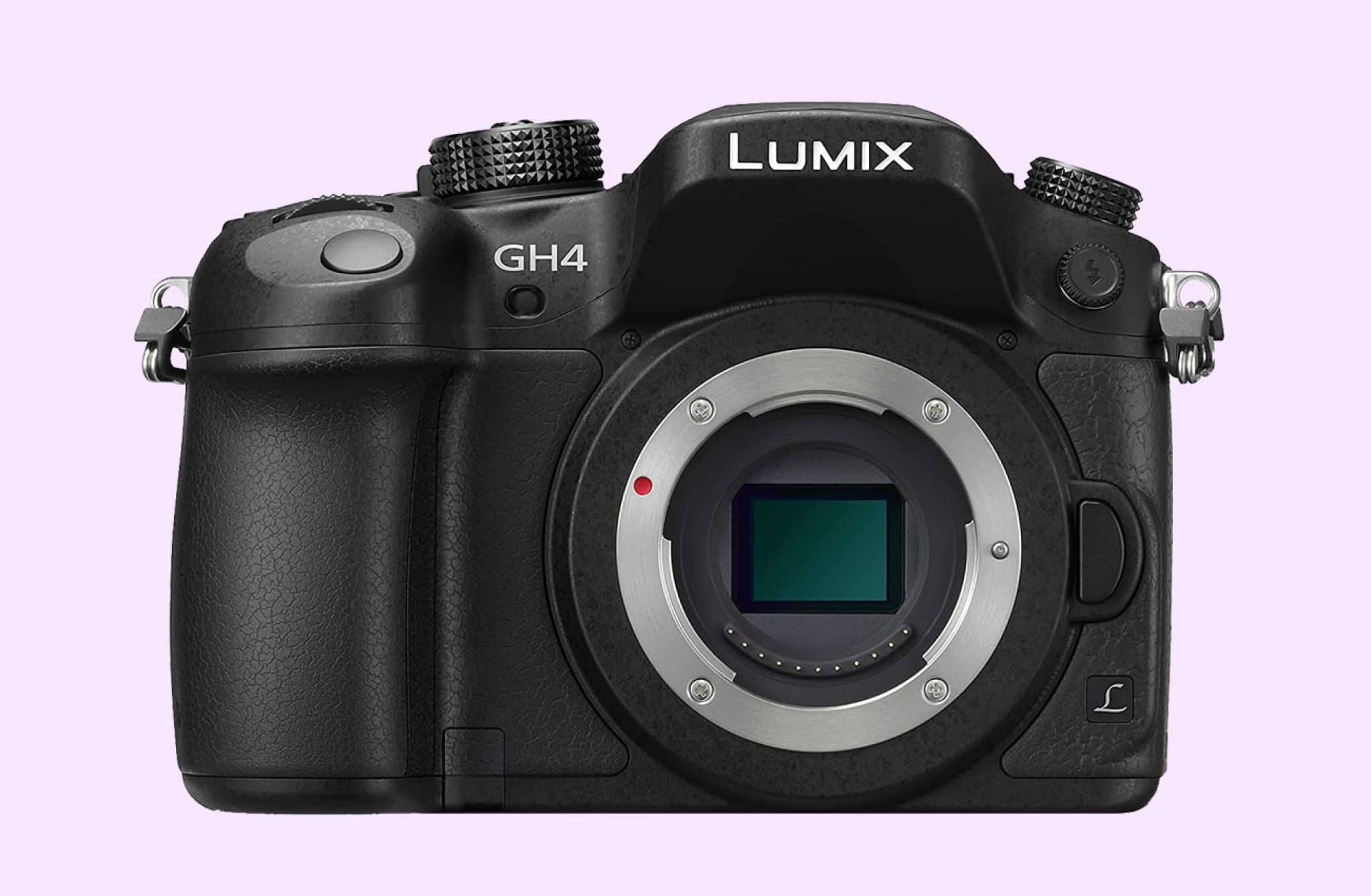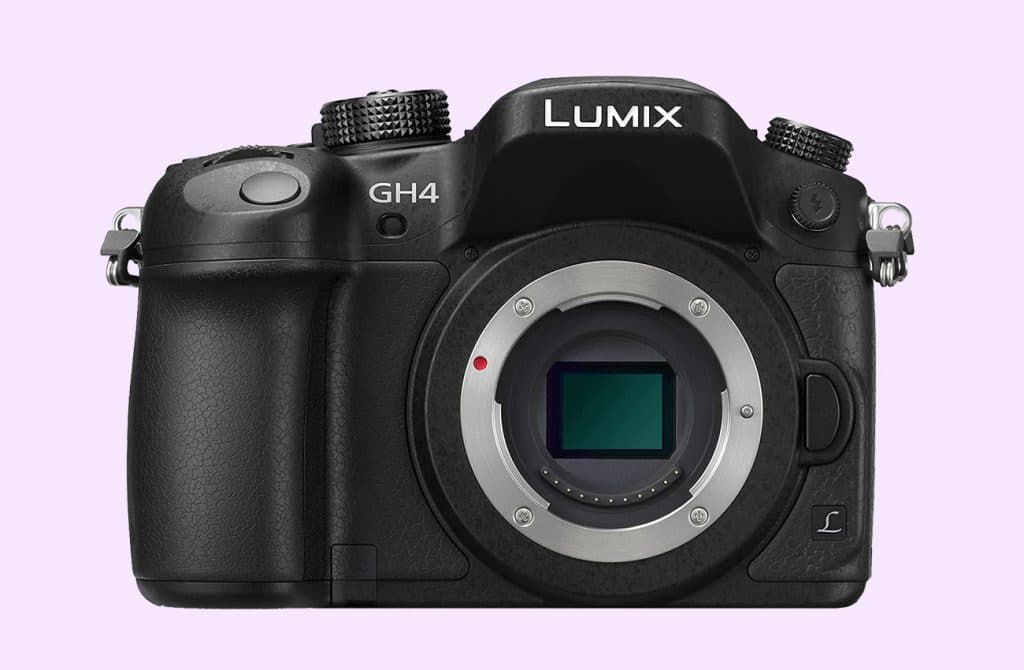 Best Budget Camera for Filmmaking: Panasonic Lumix GH4
The GH4 has extraordinarily fast autofocus suiting all the video professional's needs on a budget.
The battery life duration is above average therein assuring a lengthened usage time.
While working in the dark, the camera guarantees a good flash range, necessary in videography.
The built-in Wi-Fi is without a doubt a step up in transferring files from the camera.
The quality of the video in the aftermath is quality with excellent video detail, colors, and dynamic range.
It has a lower shutter lag as compared to its predecessors.
In selecting the best mirrorless filmmaking cameras in the market, then the Panasonic Lumix GH4 is the best selection to meet the needs of a video professional on a budget. It is a mirrorless camera guaranteeing high speeds with autofocus features both in taking a photo and video imaging.
Moreover, it also guarantees a professional photo performance experience alongside exceptional suppression. The Lumix GH4 also boasts the fitted 16.05 megapixels with 4K 24p cinematic video among its primary features. The high speeds are 49 areas in autofocusing. Therefore, it is without a doubt that it is ideal for ideal hybrid photography.
Of the notable features of the Lumix GH4 is the 4K video recording that boasts concurrent high resolution 8.8 megapixels image capture. The still frames can also be recorded in the course of recording or video capture therein promising future hybrid photography for filmmakers.
Moreover, the megapixels see the achievement of high quality and sensitivity images from the quick response even to objects in motion. The video recording feature also allows 29 minutes and 59 seconds of record time depending on the format of recording.
Finally, the shutter feature champions professionally graded durability, delivering about 200,000 release times. GH4 also sees the compatibility with memory cards therein increasing the storage of the camera for professional needs.
The always-evolving DMC of the GH4 delivers professional, high-quality videos alongside the magnesium alloy body that is tough enough to withstand both indoor and outdoor use, with dustproof features sealing most of the joints, dials, and buttons. Therefore, the GH4 is one of the best cameras in filmmaking that a video professional can have on a budget.
---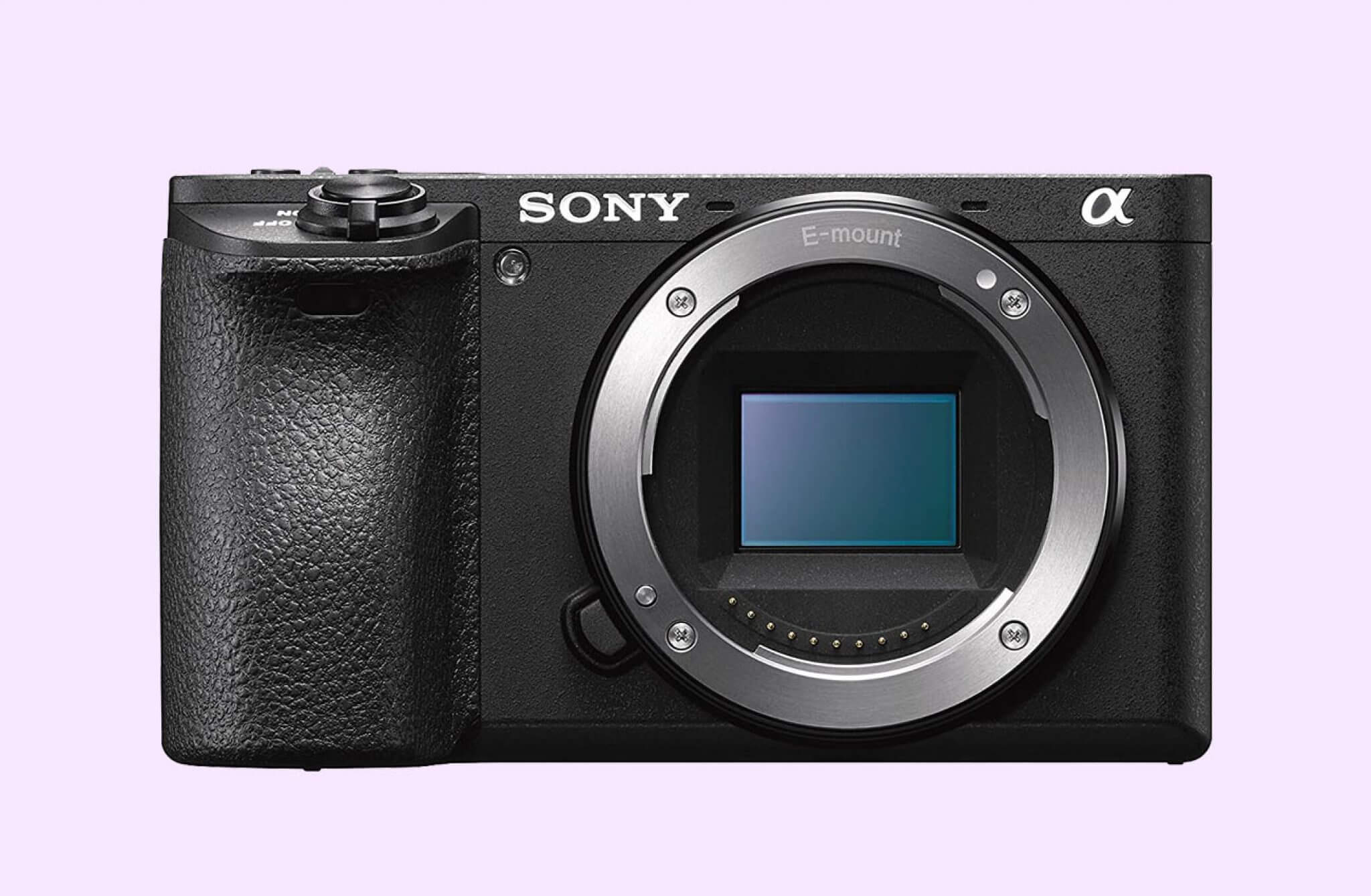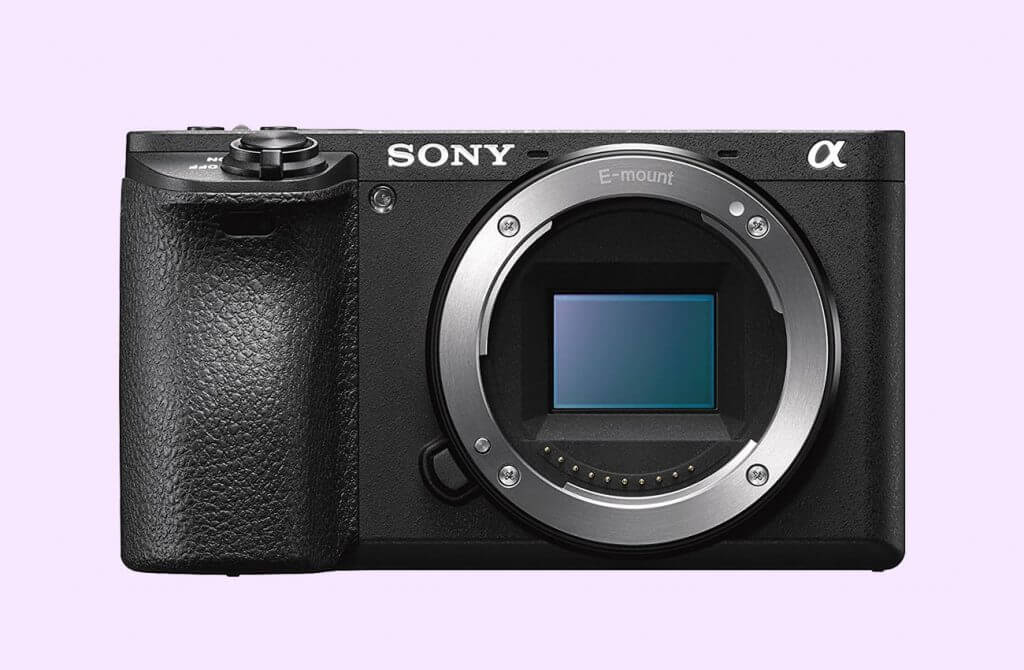 Best Sony Camera for Filmmaking: Sony Alpha a6500
Its image quality is unmatched, being of excellence and high quality.
It is useful in the delivery of multi-shots and related modes.
For a mirrorless camera, it has a good battery life therein assuring a lengthy performance.
In the relaying and provision of full 4k videos, it is unmatched with videos and pictures of up to 120fps.
Its focus is without a doubt above average and thus recommended in the film industry.
With the DSLR mirrorless cameras dominating the contemporary filmmaking industry, the Sony Alpha a6500 mirrorless camera has been among the top providers of quality images and videos. The 24.2-megapixel sensor with a wide variety of 425 phase detections of points to autofocus competitively meets the needs of filmmakers and video professionals.
Given that Sony is one of the renowned suppliers of the best digital devices, it is evident that the Sony alpha camera makes its way among the top Sony devices. It has a 4D focus that contains the best fast autofocus points that can have subjects in as low as 0.05 seconds focused on.
Besides the unmatched autofocus, it has a high-speed continuous shooting mode. One can easily navigate through the speeds they intend to capture the subject under focus, with an auto-exposure feature that adapts to the constant shooting option for the best performance in quality shots.
Among the features that make the camera ideal for consideration for individuals on budgets include the high contrast resolution equipped with the camera. The high-resolution XGA OLED provides visibility termed as corner-to-corner, in its Tru-finder with about 2.4 million dots.
The feature is accompanied by the feature allowing the display of smooth actions, having the Tru-Finder subject tracking easier. The last 4K movie recording feature recording, as well as the secure connectivity to smartphones or other media devices from Wi-Fi, enables easy control in the transfers without the need for computers.
It also boasts the plane phase-detection with A-mount lenses. It is from the extensive focal coverage that the 425 focal plane comes into play with rapid responses and high optical performances.
---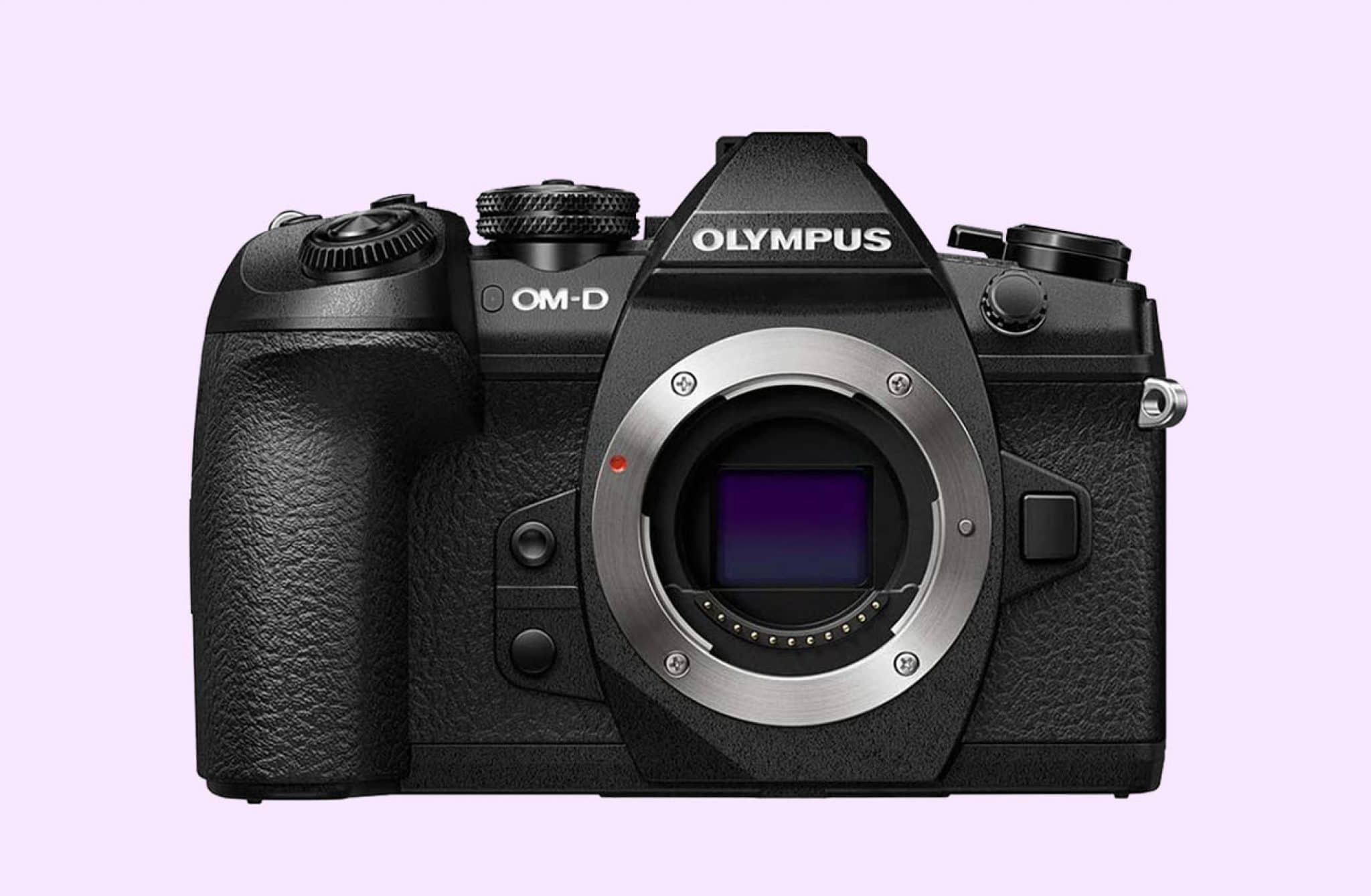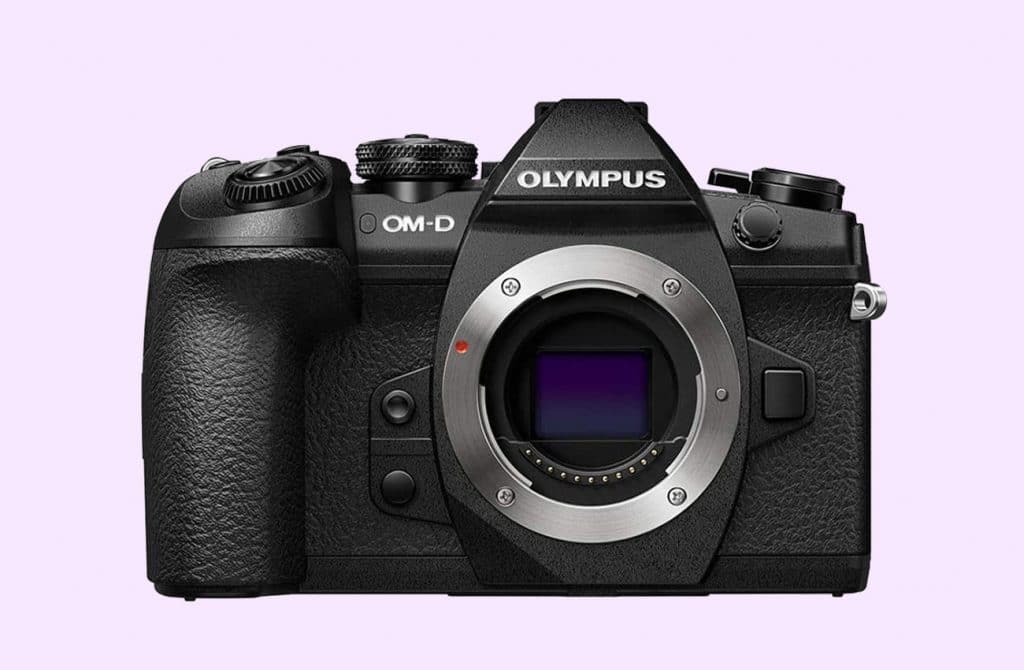 Best Professional Camera for Filmmaking: Olympus OM-D E-M1 Mark II
Concerning dynamic range, it has one of the best in the camera and film industry.
It contains inbuilt wi-fi that assures effective transferring of files from the camera to other devices without a laptop.
The dual SD card slots mean that the camera has a broadened memory and storage thus high performance.
For its class, it has a good battery life; therefore, a lengthy performance is assured.
It contains a fast startup that has the video professional always up to date whenever needed as well as a fast mode switching capability.
Consequently, the series of the Olympus OM-D E-M1 Mark II camera with the mirrorless lenses that can easily see to interchanging is ideally recommended for the video professionals on a budget.
The recommendations are from the affordability of the camera to the design of the camera to adapt to the needs of the filmmakers. Besides affordability, the interchangeable lens cameras enable the filmmakers to have their desired quality of shots with their choice of lenses.
Mark II is one of the cameras that brings the vintage 70's look with the styling in its physical being with the accompanying brown leather bag. It is, therefore, one of the most beautiful cameras on the market with dials and buttons suited for easy navigation without straining.
It further boasts 3-inch touchscreen framing shots in excellent contrasts and smoother images. It is light, weighing about 14 ounces making it easy to carry.
Mark II is a 16.1-megapixel camera delivering quality shots and videos over time. It has an improvement of 8.5 fps in the frame rate from 8, and a focus of 81 focal areas. Moreover, it has a variety of colors and solid accuracy from the creative effects. The effects enhance the photos and videos with the filters to have the desired editing of the images at a click.
In shooting images and recording at high speeds or harsh conditions, the stabilization 5-axis feature ensures the attainment of perfect shots. The video quality with High Definition resolutions of 1080/60p from the 4K video capture. Similar to the Sony Alpha camera, it has built-in Wi-Fi for easy transferring of files.
Therefore, it is recommended to individuals on budgets and seeking came interchangeable lens cameras consider investing in Mark II.
---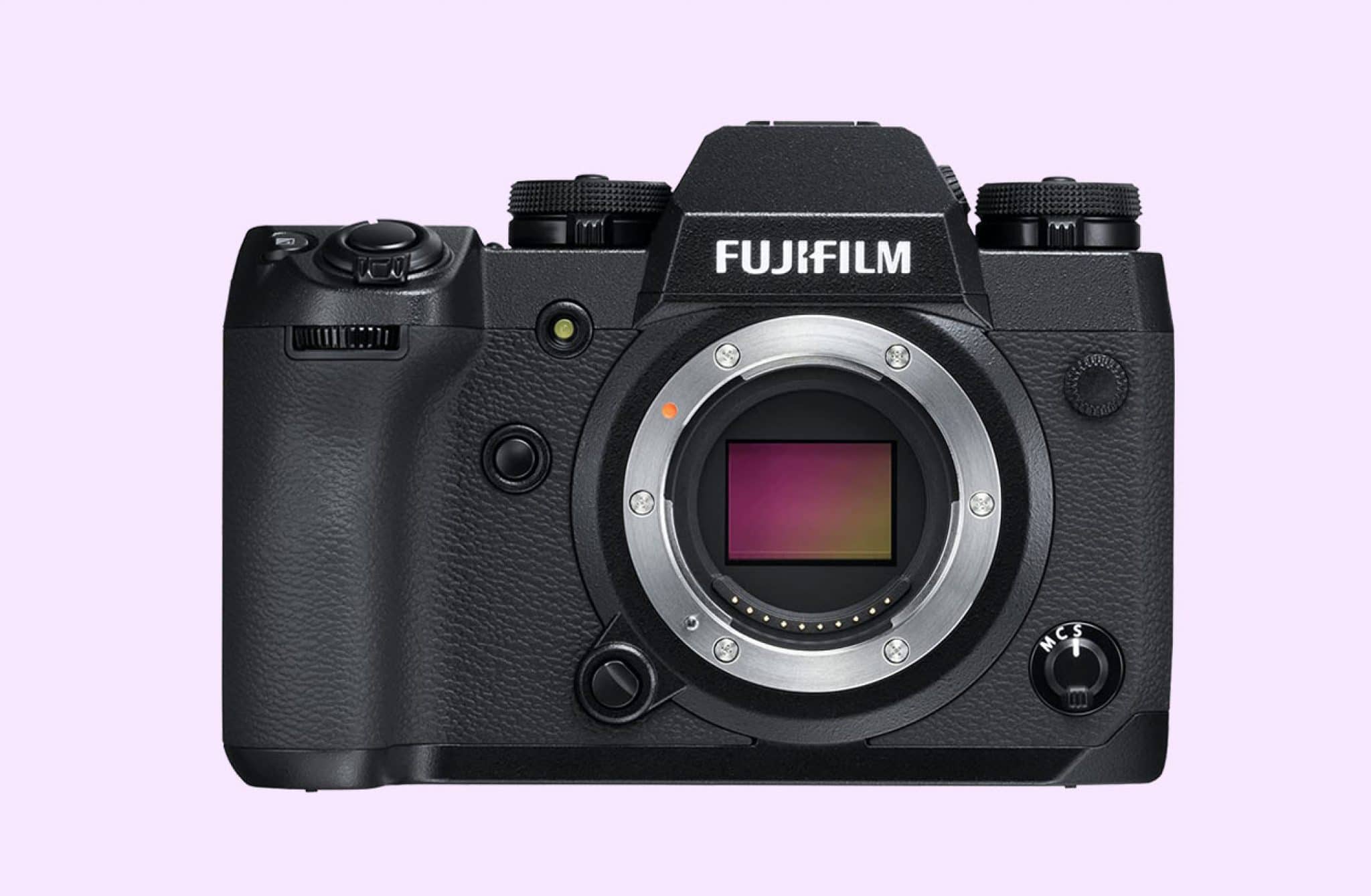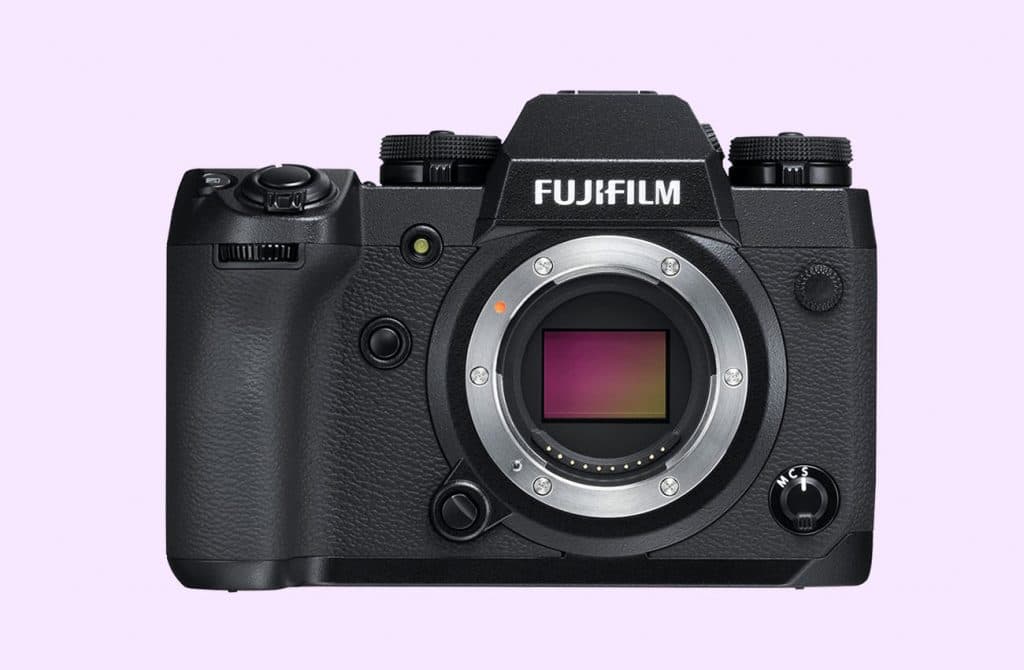 Best Mirrorless Camera for Filmmaking: Fujifilm X-H1
In file formatting, it provides the best RAW and JPEG image qualities.
Built for high performance, it contains excellent autofocus for both video and imaging production.
It is robust weather-resistant and thus efficient in all seasons.
The image stabilization is perfect for still shots and video shooting therefore useful in the video professional's needs.
It goes without question that the Fujifilm X-H1 digital camera is among the most competitive cameras in the market with its range of world-changing features. Meant to see to the needs of individuals on a budget, the Fujifilm camera has a 24-megapixel sensor with stabilization components for taking shots and recordings from its diversified video options. It also has enlarged grips to increase the safety in handling with large buttons for easy navigation.
The significant specifications besides the 24 megapixels sensor and stabilization are the 3.69-dot OLED viewfinder. To reduce the cumbersome process of transferring files from the camera, it has Wi-Fi and Bluetooth connectivity for linking with other devices in moving the data.
It is also able to shoot high-definition videos with its enhanced 4K mode that captures approximately 200mbps. To keep up with the modern trends of the new technology, it has a touch sensitivity rear LCD containing tilts of two-axis. To shoot under different conditions and lighting, the anti-flicker option aids in the shots under artificial lights.
Fittings of three batteries supplying the power to the camera ensure efficiency for long hours with the grips doubling up to reduce the buildup of heat in the same place. The duration for recording the video runs 29 minutes and 59 seconds with a wide variety of parameters for movie and film shooting.
Such parameters as noise reduction and sharpness as well as focus check add up to the reasons for choosing X-HI in meeting all the filmmaking needs. Finally, Fujifilm also exploits the dynamic range mode that enables individuals to capture additional information, alongside the shutter mechanism.
The shutter mechanism provides quieter shutters for stealth shots therein highly recommended for individuals on a budget.
---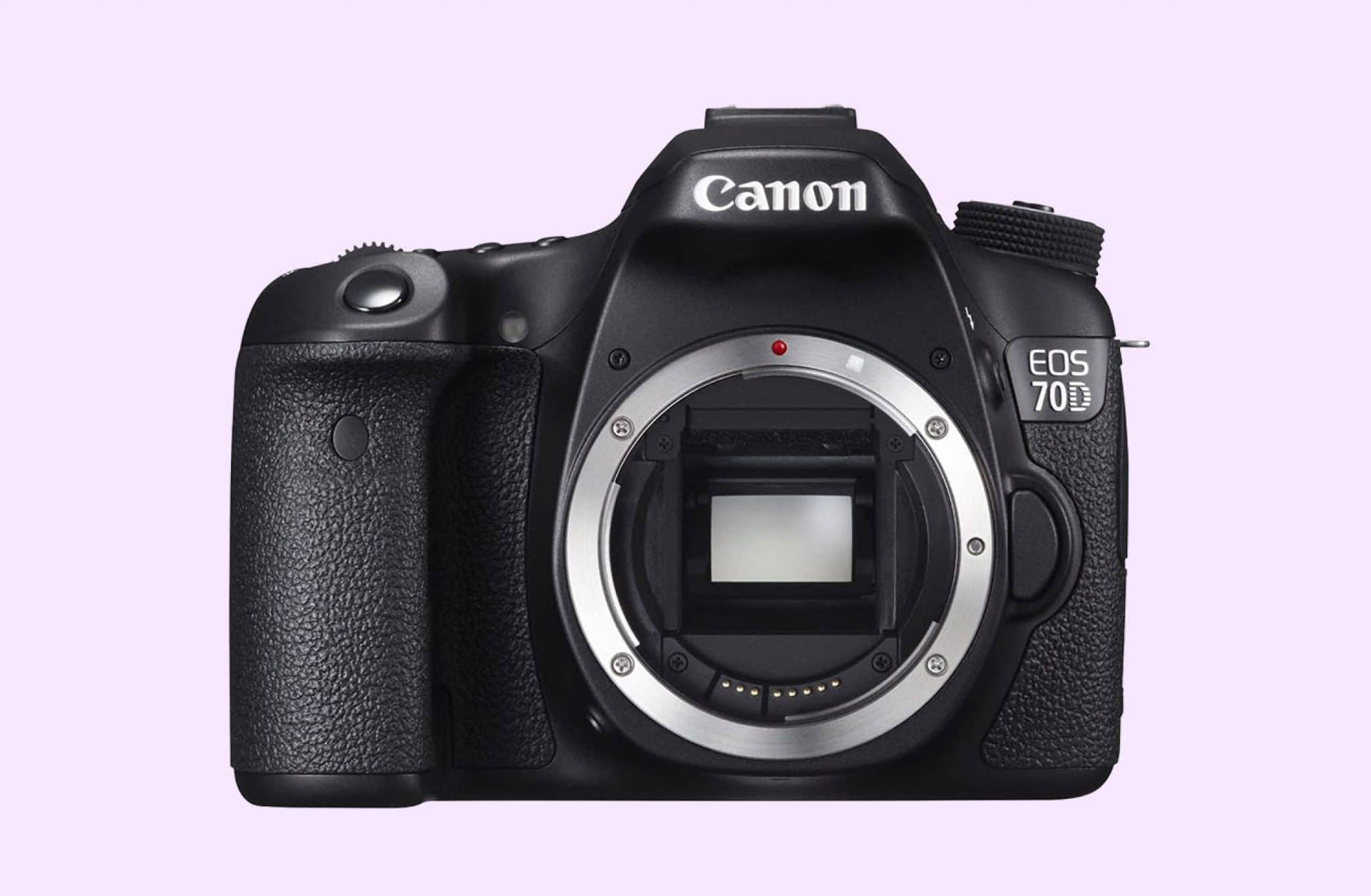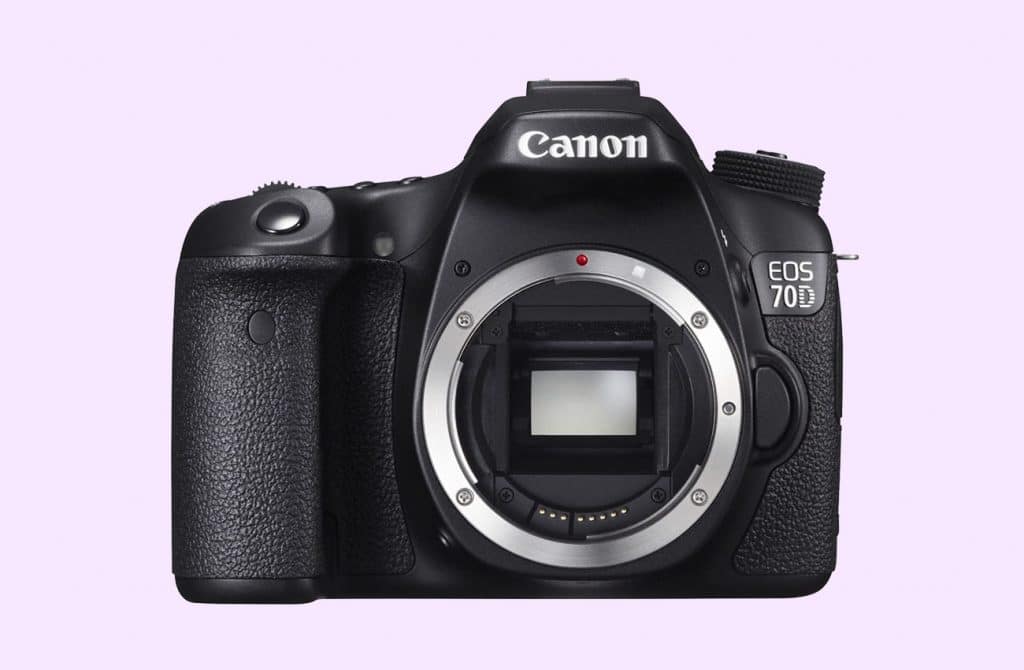 Best Beginner Camera for Filmmaking: Canon EOS 70D
It has a 20.2 MP APS-C sensor ensures it produces high-quality videos for filmmaking.
It has built-in Wi-Fi which makes it easier for users to go live when sharing videos.
Its easy-to-use touch screen display for easier navigation.
It has a face detection focusing feature that makes it easier to separate characters in a film.
It has a long battery life which makes it perfect for longer filmmaking sessions.
Its 1080 max video resolution guarantees high-quality videos; an essential requirement in the filmmaking industry.
Its articulate screen makes it easy to navigate and control features.
Not only does the camera come in handy for filming but it works perfectly well for photography. This is made possible by the 20.2MP APS-C CMOS sensor and the DIGIC 5+ image processor. You get a 19-point cross-type AF system and up to 7fps shooting. The camera quickly shoots like an areal camcorder with manual and auto capabilities.
The ISO 100 to 12800 setup is expandable to 25600 for better imaging. A dual pixel CMOS AF is ideal for a quick focus and live view and filmmaking. The camera is compact and easily portable with a built-in flash that has an integrated Speedlite transmitter and clips to a hot shoe.
You also get an intelligent viewfinder enhanced by an electronic overlay. The camera can shoot videos at 1080 at 30, 25, 24 fps, and 720 at 60, and 50 fps as well as HD video in H.264/MPEG-4/MOV format. Connectivity is aided by Wi-Fi sharing to peripheral devices for transfer of files, processing of photos and films, printing and so much more.
The camera comes with extras such as GPS compatibility that can be acquired separately, a full manual video mode as well as a fully functional built-in external microphone port or stereo. You are sure about good quality sound during recording.
The camera is compatible with most lenses and is perfect for those that want to enhance their filmmaking skills. Storage is done on an SD/SDHC/SDXC memory card.
---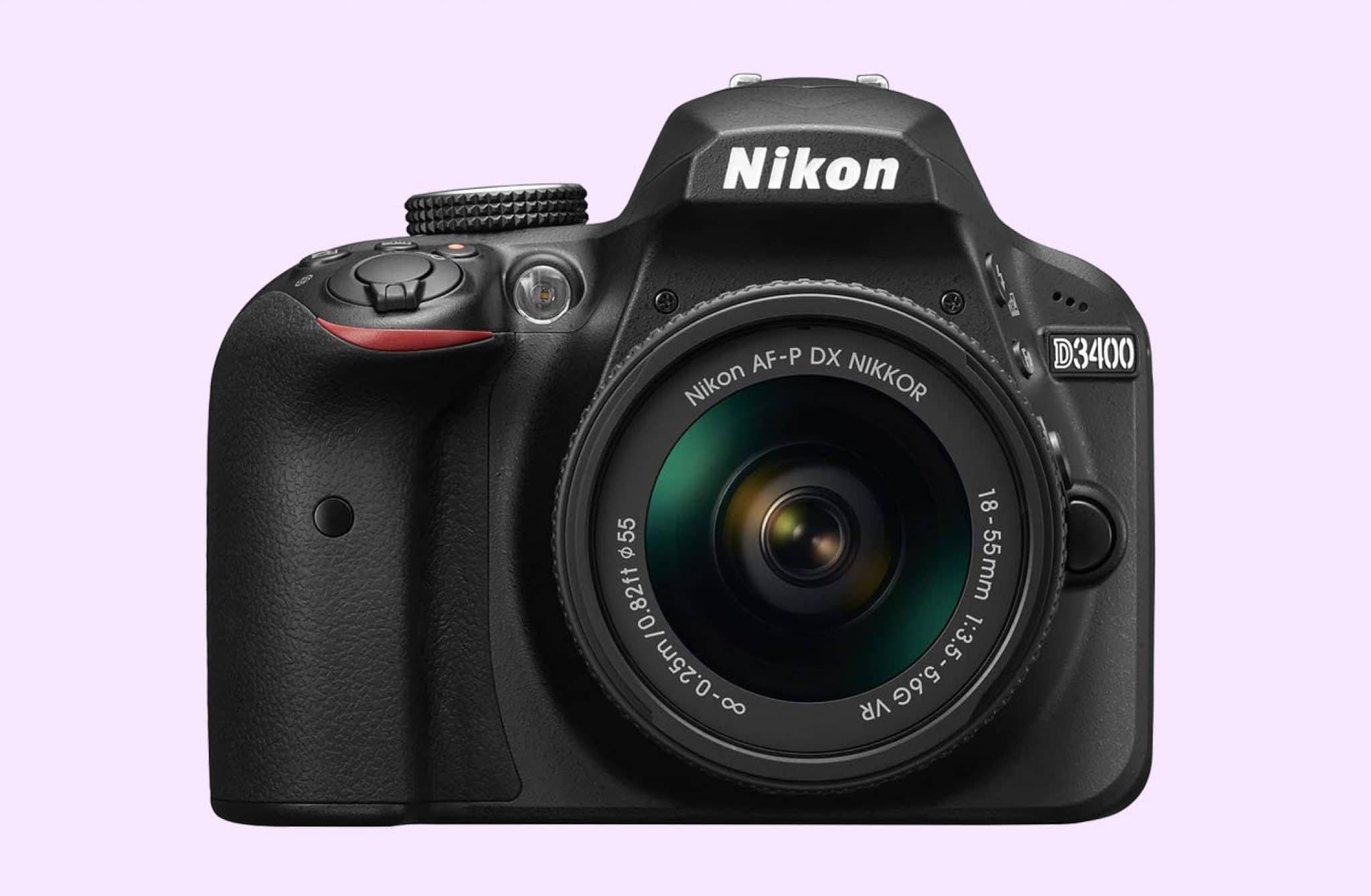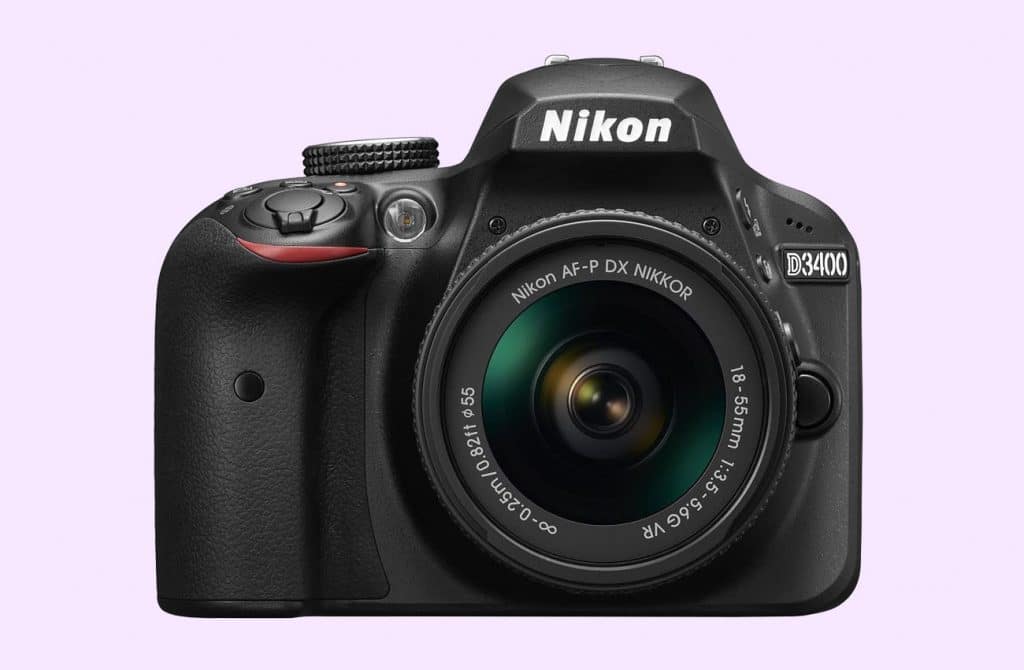 Best Affordable Camera for Filmmaking: Nikon D3400
The camera is compatible with most EF lenses.
Enjoy Bluetooth connectivity and the ability to share data with the people around you for faster processing.
Faster connectivity also makes it easier to access more space on the camera storage disks.
The 24.2MP enables you to shoot for 4K films though this may not be a huge factor at times as long as you can shoot in HD.
The camera records in MOV (Video: H.264/MPEG-4 AVC and Audio: Monaural Linear PCM)
You get a sound quality with a monaural Linear PCM system.
The camera comes with both automatic and manual control settings for the user to choose from.
The Nikon D3400 DSLR camera tops our list thanks to a list of features that seems to go on and on. The Camera comes with a snap bridge Bluetooth connectivity that is ideal for sharing and transferring your films and videos to other devices fast and easily.
You also get a 24.2 MP sensor that does a splendid job when it comes to processing photos and videos to excellent quality. The DX-format CMOS sensor is also ideal for the camera 4K video shooting, HD photos, and Raw formats for editing. This is also aided by the EXPEED 4 image processor for quality films.
The camera does not come with a low-pass optical filter, so the photos are crystal clear. The camera comes with an impressive Native ISO 100 to 25600 mode that supports up to 5fps shooting. It is also compatible with C firmware and lots of lenses for those looking for more exquisite detail in the field. The camera also shoots 1920 x 1080 (Full HD) and 1280 x 720 (HD). The focus type works for both manual and auto functions and is pretty easy to use.
The camera also allows you to enjoy excellent sound quality during video recording. The camera is compact and portable fitting in small spaces without the added lenses of course. You get a 3-inch LCD screen that can tilt to your convenience for better shots. This is the perfect traveling companion and filmmaking project.
---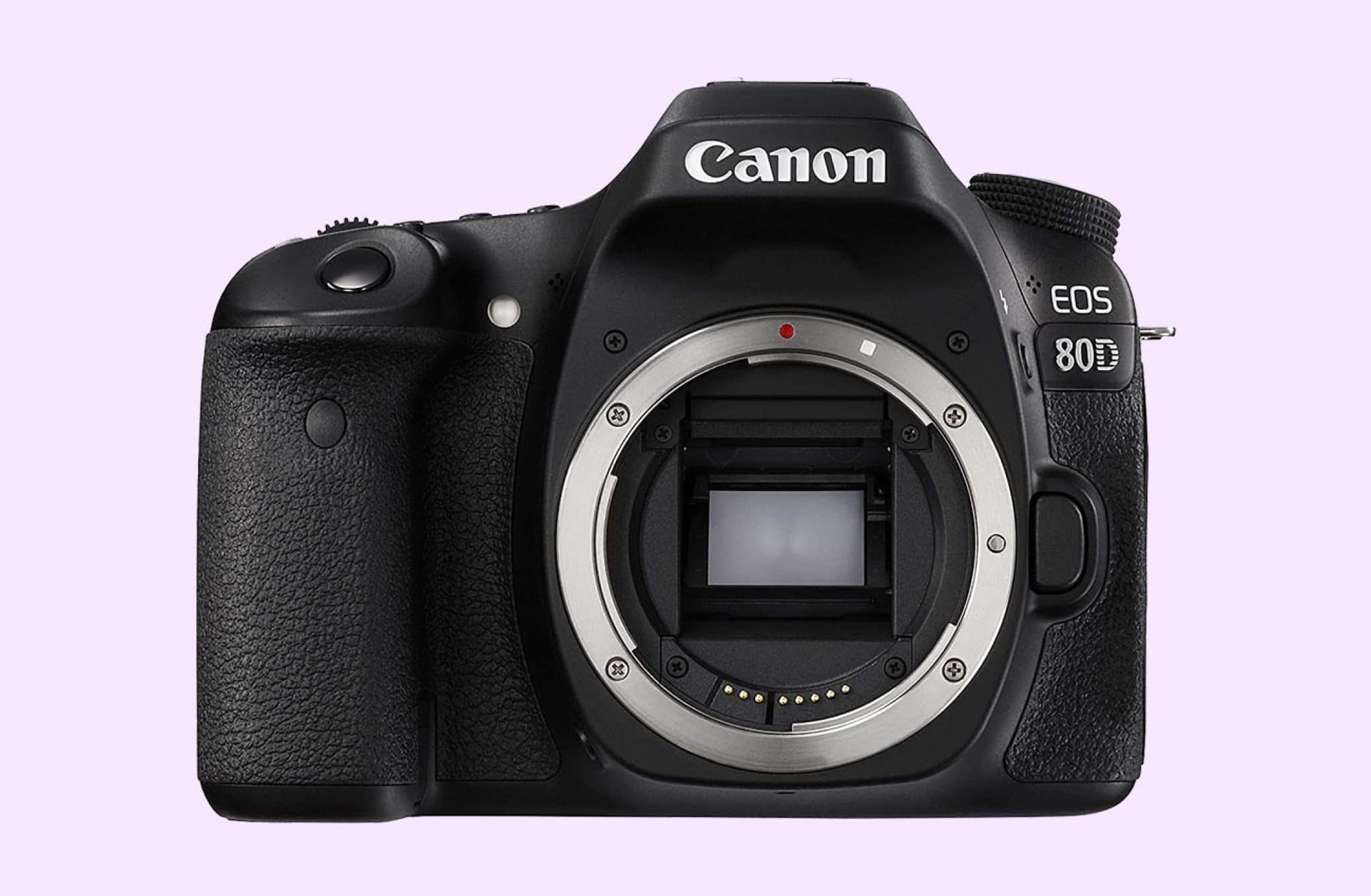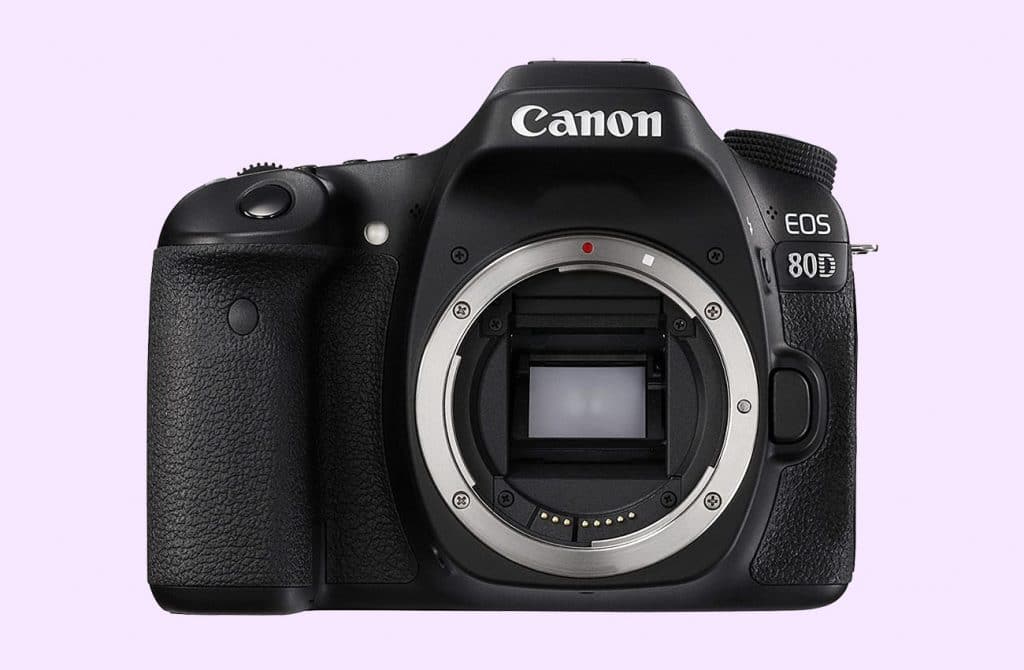 Best DSLR Camera for Filmmaking: Canon EOS 80D
The camera is compatible with all EF-S lenses.
The camera supports Wi-Fi connectivity enabling sharing within a huge number of peripheral devices.
A 24.2 MP sensor helps you get high-quality videos and also allows faster and smoother shooting that is also accurate.
You get H.264, MOV, and a Maximum Video Resolution of 1920 x 1080.
High-quality sound with an external microphone input.
The camera is both manual and auto-enabled for preference.
The Canon EOS 80D Digital SLR kit comes with remarkable features which is why it makes it on our list at the third position. Filmmaking has never been easier thanks to the 45-point cross-type AF setup that not only allows you to make films in low light but using some presets such as single-point AF, Large Zone AF, Zone AF, and 45-point AF auto selection.
This is excellent when using the optical viewfinder allowing you to focus on selected modes. The intelligent viewer produces almost perfect viewfinder coverage aided by a 24.2 MP dual CMOS. This also creates remarkable high-resolution videos and photographs.
The camera also the sensor are designed to give you a smooth, fast, and accurate autofocus while stilling the images with an instant and precise AF. The microphone is sensitive and comes with an input for excellent audio quality. The camera is also compatible with most EF lenses. It is compact and easily fits in small spaces making it an ideal option for travel filmmaking.
---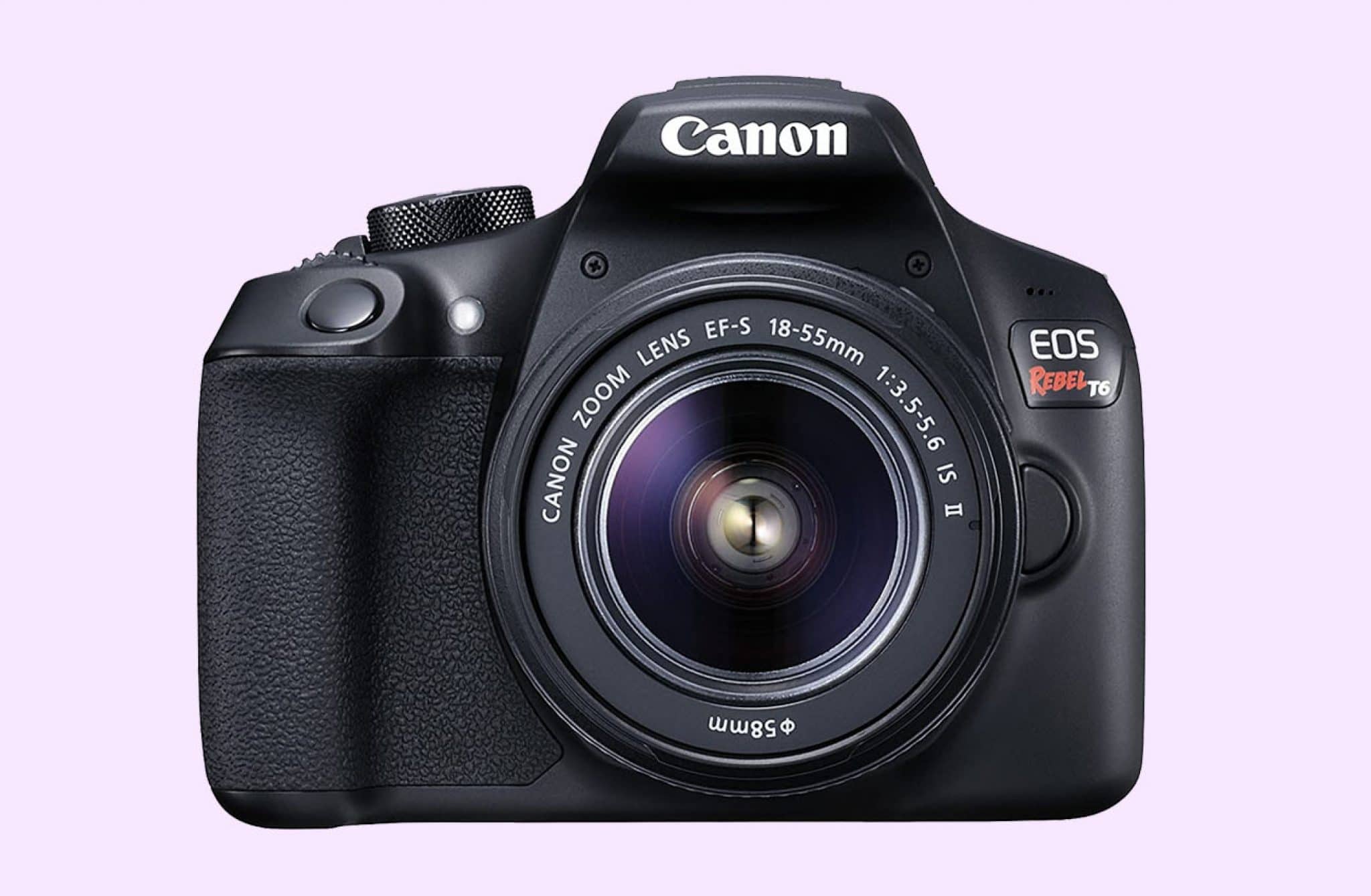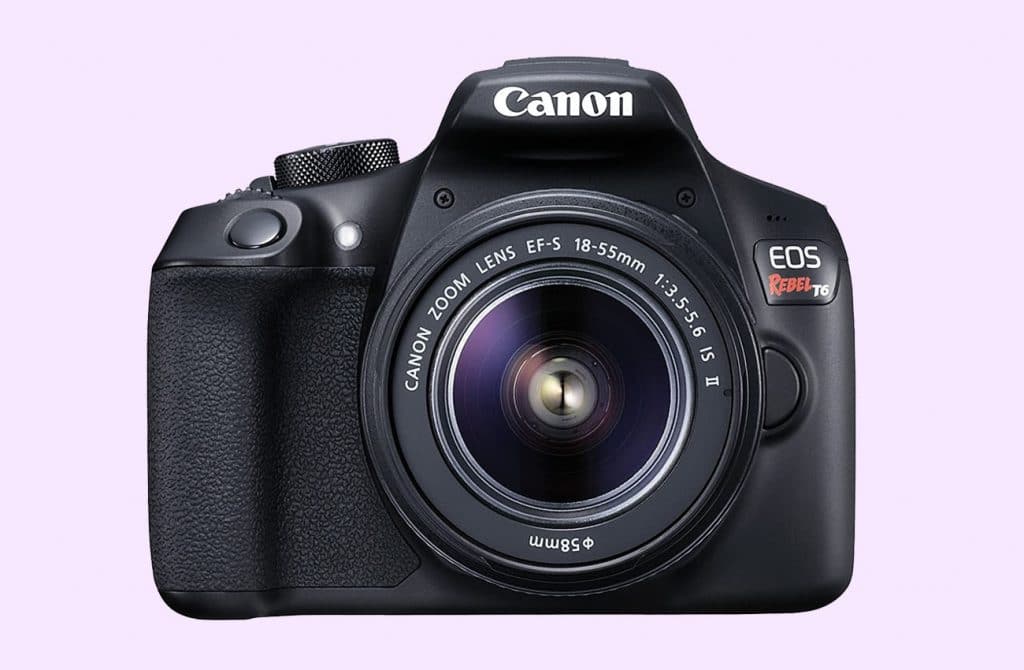 Best Inexpensive Camera for Filmmaking: Canon EOS Rebel T6
The camera is compatible with most lenses.
you get a Built-in NFC and Wi-Fi for ease of connectivity and sharing with family and friends.
The camera shoots in high-quality formats including HD and 4k for great film production.
The camera can record EOS Full HD Movie mode helps perfect videos in MP4 format
You get a high-quality sound recording with an audio input port.
The camera comes with both auto and manual control properties.
The camera is perfect for filmmaking projects due to its high ratings in resolution and versatility. You get a 24.2 CMOS APS-C sensor with an expandable ISO of 100 to 12800. The EOS full HD mode enables you to shoot high-resolution videos in MP4 format. 5.0fps makes the camera capable of burst shots and continuous shooting for fast-action moments.
The autofocus comes with a remarkable 19-point all-cross-type AF system for great performance. The camera is a hub of connectivity with built-in Wi-Fi and NFC for sharing clips and images across some platforms.
The camera is compatible with some lenses including EF-S lenses other than Canon EF lenses. It is also compact and light to carry around whether you plan to travel or walk around your neighborhood.
---
Things to Consider Before Buying Cameras for Filmmaking on a Budget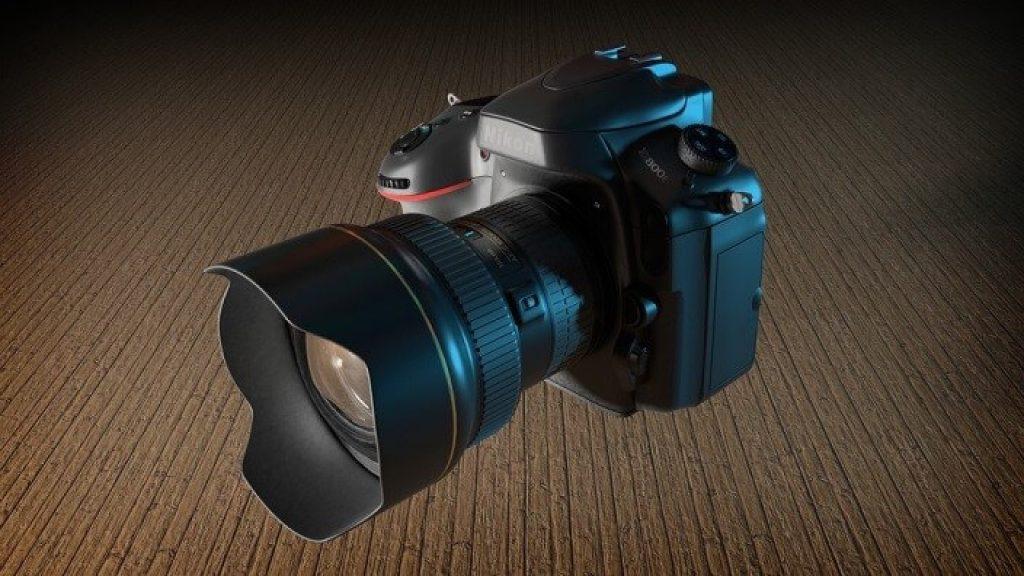 Pricing
It is almost impossible to overemphasize how much pricing should not be the determining factor when buying any camera. It is also a daunting fact that it will always be an issue. Balancing the two issues then has to be done in a very smart way.
The first thing you need to understand is that camera production will not entirely be determined by the camera but by other available accessories and some will cost a fortune. It is still crucial that you pick a camera that will play ball with most of these accessories while providing you with the best basic needs when it comes to filmmaking.
The five cameras in this least are the best at what they do when it comes to budget cameras. They will still need support if you want to advance in the filmmaking field.
Take the time to shop around for the cameras with the best features in line with what you need, and you will not be disappointed. Cheap cameras are not necessarily the best and expensive ones will not undoubtedly be what you need. A middle ground is essential.
Lens compatibility
It is a fact that you will not need to start buying lenses for your small project at the beginner level. It is also a fact that you might not even know to use them that well. This does not negate the fact that you will need to use them at some point. Buying a camera that does not support the use of lenses will be a waste especially when you get to a point where you need to advance your skills.
The compatibility of lenses is essential for future projects in filmmaking. It will save you from buying another camera and help you develop slowly as you get one lens after another. You will soon realize that you own quite a large gear of filmmaking devices.
Some camera lenses may come in handy yet unusable. Not to worry; lenses nowadays come with adapters that allow you to use those that are not compatible with your camera across the board.
This then means that you can use one camera to create amazing films. Take time and research the type of lenses compatible with the camera you buy to avoid being too off when it comes to making these purchases.
Connectivity
Connections make the world go around and so cameras with the best connections will be the most preferable. Gone are the days when getting a way to transfer data from your camera to the computer was a nightmare. You can now easily transfer all your data fast with a simple wireless connection across some platforms.
Apps have also made this easier with some coming with the ability to control the camera itself during shots. Some of the camera firmware is also upgradeable from peripheral devices. Wi-Fi allows you to connect to the internet to other devices and send data across the world.
This has opened up a world of filmmaking communities that can share their films and ideas without having to move away from their cameras. NFC has also come in handy enabling devices to send information across the board with a single click.
Connectivity has also allowed cameras to do simple jobs such as printing and live previews while shooting. Connectivity enables you to share what you are doing fast and easily also making the time taken to do processing bliss.
Production Quality
The quality of the film the camera produces will determine how good the camera is. One of the things you need to note at this point is that 4K features will not be needful for small filmmaking features. These are ideal for cinemas and tremendous documentaries.
The cameras on our list will do well in full HD capabilities which is more than sufficient for typical filmmaking projects. High video quality formats will also take up a lot of space and take longer to process. Lower qualities will be smaller but will not also look as lovely when presented.
You need to ensure that your camera allows you to pick the level of quality you want. The ability of the camera to shoot great videos is affected by the number of fps it can handle as well as the processor.
Recording Format
Most cameras nowadays will shoot incompatible modes reducing the time taken to process and convert the clips. One of the most common production formats is MOV in 1080p at 20, 40, and 60P. Some cameras will also do mp4 and MOV at the same time.
Cameras that allow you to pick different recording formats are the best at the end of the day. This is well indicated in their manuals or merely inquires about making the purchase. It is for this reason that taking the time to study the camera before buying is essential.
Sound
The fact that you will be recording films means that sound will be everything. Sound can be edited, but even the raw feature needs to be good enough. The best cameras will also allow you to input external audio devices to enhance sound capture.
A better sound will mean lesser editing. A lot of noise and disruptions in the sound will cost you long hours of sound editing, especially if what you are capturing will not have voice-overs. You can quickly do trial recordings at the store to ensure that you pick the best camera for you.
It is wise to note that sound will work differently in different environments. Some cameras will have extra settings for sound to enhance quality. This may come in handy if you know what you are doing.
Manual control
The camera controls are all about preference. These auto features are best for beginners that have not mastered much about the camera.
They are also used by professionals that can do their own presets for quick shooting. The manual setting is much more complex but works perfectly well in the hands of a good user. These are ideal when you want to affect certain parts of the film directly from the camera. They also enhance or change the quality of the films immensely.
Learning how to use both will not only put you at an advantage but make your choices easier when buying these cameras, Ensure you go for one that has both so that you can have the ability to choose between the two.
Frequently Asked Questions (FAQs)
How do I pick the best?
Picking the best filmmaking camera on a budget was not an easy task because there are very many options in the market. This, however, was the easier part because my friends and I had some experience when it came to what was already working for us. Picking the bets involved putting in a month of research and hours of testing some cameras.
Having worked as a camera salesman had already put me and some of my friends on the map with camera stores and so getting our hands on most was not a challenge. We also put together a group of professionals running projects and got some of the cameras to be part of some of them. These were both professionals and beginners.
The beginners gave us a realistic view of the novice user which included fumbling through the devices as they handled some filmmaking projects. The professionals gave us a mastery level field of view where we compared the projects the camera did with the high-end camcorders.
We were confident by the end of the day that the cameras we picked had the best chances if you are looking for something within a budget that will sort you out. Choosing very cheap cameras that will compromise certain aspects is a risky affair if you are serious about filmmaking.
Picking costly ones does not also mean that you are at an advantage unless you are very good at using them. The cameras we picked came with options such as manual and auto controls that would work perfectly well for intermediate users and professionals alike.
All these cameras also came with powerful processors that can produce full HD videos. We also considered the connectivity and compatibility with other accessories in case you need to expand in the same area.
Is this for me?
This piece is for everyone looking to step into the world of filmmaking at both the beginner and professional levels. The first thing you will need is a camera besides knowing the basics of how to use one. Just like most hobbies, you can only get better with time, research, and interest. We have picked these five cameras because they play nicely in both fields. By both fields here I mean photography and filmmaking.
These cameras are excellent for beginners that need something easy enough to navigate and learn and professional enough to run with the big boys if well mastered. Navigating the world of cameras is so confusing that making a mistake is easy.
The salespersons will not make this more comfortable with attractive pitches and great adverts running all over. The many discounts posted all over the online stores also make it hard to choose primarily if you are working on a budget. The first piece of advice I would give anyone looking to enter this field is to avoid working with a budget solely.
The reason for this is that filmmaking is an expensive venture. You will soon realize that the camera was the least of your worries when it comes to cost. It will constitute a very small fraction of your needs with the gear taking the most of it.
The idea is to ensure that you balance all your purchases well enough to get started. This piece is also for the professional looking for a camera that will be great for some things besides filmmaking. It is also a great extra device for travel photography if you are looking for something that will be close to the edge yet provide great shots along the way.
Why trust me?
Filmmaking for me has been more of an obsession for as long as I can remember. It did not always start with videography but began with a keen interest in how movies are made. Filmmaking is an art that takes time to develop for those that it does not come naturally and a while to master even for those that have a natural eye for the camera. I have also spent a very large amount of time in photography with motion photography being my favorite.
Every film makes will have a bit of photography mastery in them because one develops into another. Working with a large number of enthusiasts over time has also helped me deepen my roots in filmmaking and especially in professional documentaries. I have also spent a good part of my life retailing cameras for photographers and videographers which has taught me immense lessons on what cameras to buy and what to stay clear of.
All this wealth of knowledge has opened up a world of understanding of what the best cameras are when it comes to filmmaking and what the best cameras are when it comes to photography. One of the most visible mistakes people will make is budgeting for cameras without a clear understanding of what they want at the end of the day.
Unlike photography, filmmaking is extensive and needs mastery whichever way you look at it if you're going to make some money out of it. You may not need to do so if all you want to do is shoot our family and friends over a barbeque.
Conclusion
I would recommend that every buyer take some time and do good research before making any purchase when it comes to budget filmmaking cameras. It is possible to get an excellent camera at a bargain, but this will need proper investigation and a little knowledge in the area which is why this article is useful.
The guidance of a professional will also come in handy at this point. Professionals will have walked the path and will understand the level you are at as well as your desire to grow. Attending a master class for professionals and taking recommendations or a beginner's class and also making suggestions is also a great way to ensure that you get a good camera at the end of the day.
Buying from the stores is the best option as you will take the time to navigate through the camera. This time is still not enough to decide if you have not done any prior research. Knowing what field, you are walking into will help you pick the specific camera.
Camera preference will differ from one person to another even for professionals, and that is why you will find one with many, yet use them all.
Related Posts:
Subscribe to the CameraIO Newsletter
Photography & Camera News + DEALS