Subscribe to the CameraIO Newsletter
Photography & Camera News + DEALS
As a YouTube enthusiast, it could be that you have been looking to make some videos that you can post there. The only challenge, of course, is finding a high-definition camera to create high-quality videos. Thankfully, technology continues to evolve, making the best cameras for making YouTube videos easily accessible and affordable. Before you hit the market to hunt for a camera, there are several things you need to establish.
Good Cameras for YouTube Video (Reviews)
It's advisable to know what type of videos you want to be making. For indoor shooting, you need not stress about buying a very powerful camera. But you may need a more expensive camera if you intend to be doing most of your shooting outdoors where there's a lot of light. It's also important to know a thing or two regarding the sound quality of the camera you are looking for, as well as such things as optical zoom quality and connectivity. That said, let's look at five of the best cameras for filming YouTube videos in the market currently.
1. Canon EOS 70D
This camera was designed for SLR enthusiasts. The video camera comes to replace its predecessor, 60D. It features several enhancements that set it apart from such models as the 80D. The camera has a significantly large intelligent viewfinder that has an electronic overlay. Expect to see a lot of single-function buttons, which is great for enthusiasts that love to manually operate their video cameras. On the camera's top plate, there's a 3″ articulating touch panel LCD screen with 1,040,000 dots.
It also comes with a built-in flash, integrated Speed lite transmitter, and hot shoe. If you are looking for the exposure settings, then you can access them easily through a rear wheel on the camera. This beast produces sublime 20.4-megapixel images and some very remarkable videos. The video camera is also fully manual in video mode. It allows instant sharing of imagery and footage as well as a remote control since it has built-in Wi-Fi and an EOS Remote app.
70D's performance depends entirely on what lens you are using. With the Canon EF-S, 18-135mm IS STM lens, you get more zoom ratio than the usual kit lens and some pretty good performance compared to cameras in its class. The lens has a generous optical zoom of 7.5X. The range is 35mm and a range of 29-216mm. With the new STM design, expect a smoother, quieter focus in live view and movies. There's also greater sharpness and contrast.
The video camera has built-in Wi-Fi. The functions of this Wi-Fi include remote control via a smartphone that has access to the exposure settings of the camera. The phone is quite responsive when you're shooting remotely, unlike its predecessor.
The video camera features a lot of nice features that result in a great performance. For instance, there's a 20.2 MP APS-C CMOS sensor, as well as DIGIC 5+. The ISO is 100-12800, which is expandable to 25600. For fast focus during live view and video, there's a Dual Pixel CMOS AF. This camera has a compact design, making it very portable. It weighs only 755 g, which is remarkably light for a camera with all the features that this video camera has.
The camera has two settings for the continuous shooting mode. At high-speed continuous shooting mode, the camera will capture up to 7 frames per second. In your camera, this is the default Sports Scene mode. The second setting is the low-speed continuous shooting mode, which you'll probably hardly use unless you are shooting something that's moving fast. In this setting, your camera can capture about 3 frames per second.
---
2. Canon EOS Rebel T6i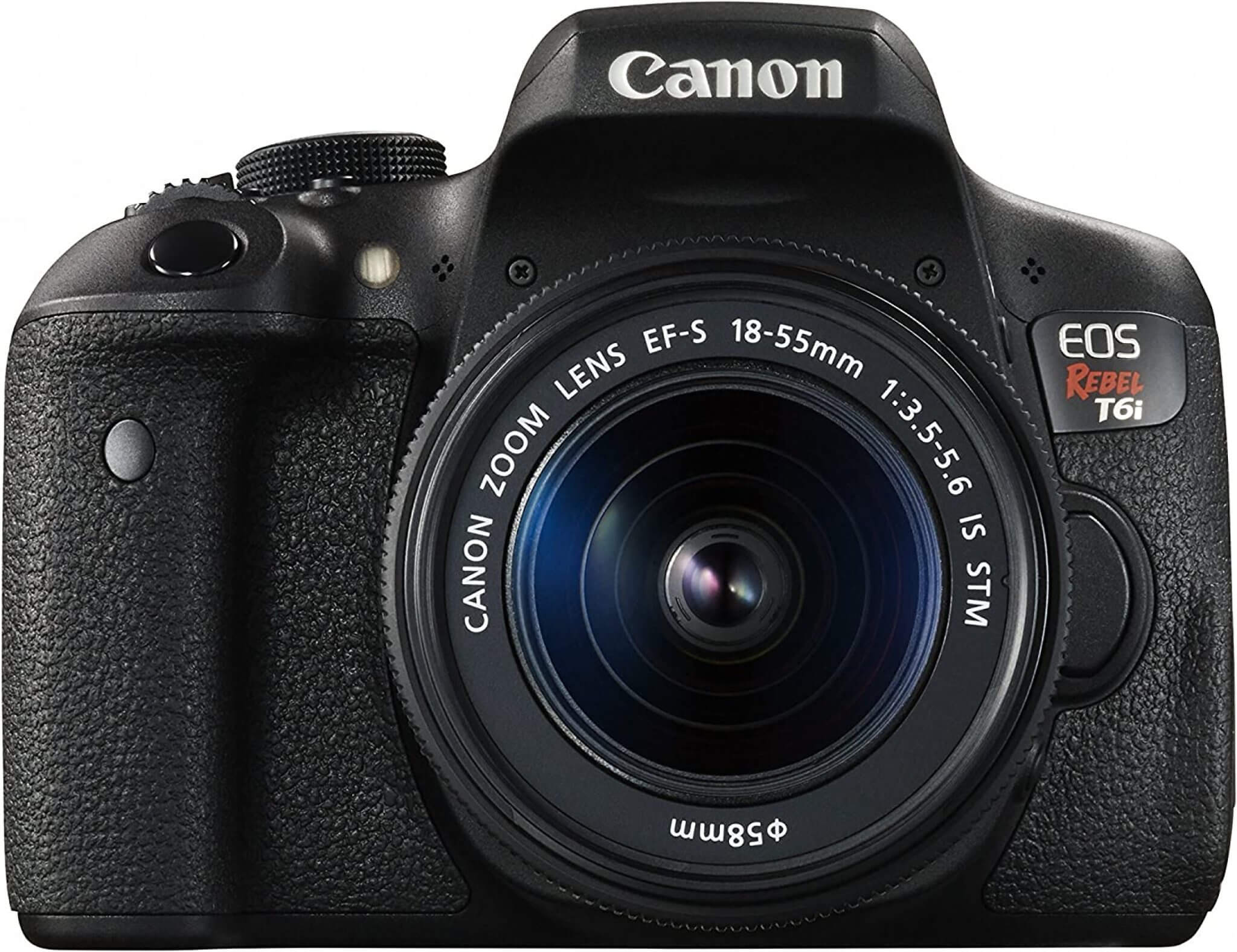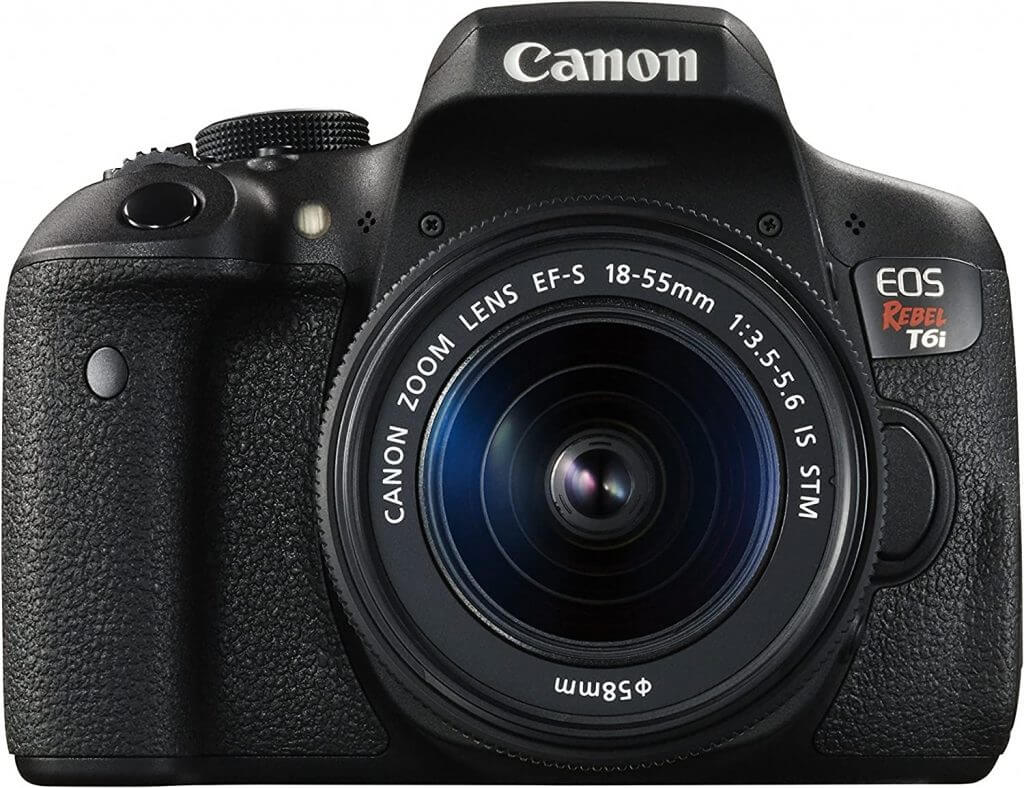 A lot of people that want to get into DSLR photography tend to grab one of Canon's Rebel cameras. That's because these video cameras boast quite impressive video proficiencies. In recent times, the Rebel line is becoming quite popular with vloggers as well. It affords beginner videographers a lot of power in a quite affordable camera. Some of the notable features in this camera include Wi-Fi connectivity, 1080p recording capability, a flip screen as well as 19 cross-type autofocus points. These and more qualities make the rebel T6i such a great camera for serious vlogging.
While the T6i does not have a focus peaking feature, it does let you zoom in 5X and 10X on the image. This allows you an increment for manual focusing. When shooting through the viewfinder, the camera allows you 0.82X magnification.
This camera has built-in Wi-Fi that you can use almost in as many ways as you can imagine. You can, for instance, use the connectivity to transfer images directly between cameras, or connect to smartphones to view or transfer images. There's the EOS utility that allows you to connect with a remotely operating camera. Other options include printing photos from the camera to a network printer, as well as viewing media on a smart TV or some other DLNA device.
This camera is the highest resolution camera on the Canon APS-C list so far. Expect top-quality videos for your YouTube videos, especially with the remarkably high ISO performance. The camera's improved dynamic range means that you can expect better performance than the older T5i. Users will also love the very fast autofocus of the T6i features. Some of the cons for this camera include the below-average battery life, as well as the shallow buffer depth when it comes to RAW files.
The camera measures 5.2 x 4.0 x 3.1 in. and weighs 776 g including batteries and kit lens. This makes the camera one of the most easily portable in its class. There are two continuous shooting modes in the T6i, the continuous and the silent continuous. In the first mode, the T6i takes five photos per second if you are using high-speed memory. In the latter continuous mode, the camera takes up to three photos per second.
---
3. Canon G7 X Mark II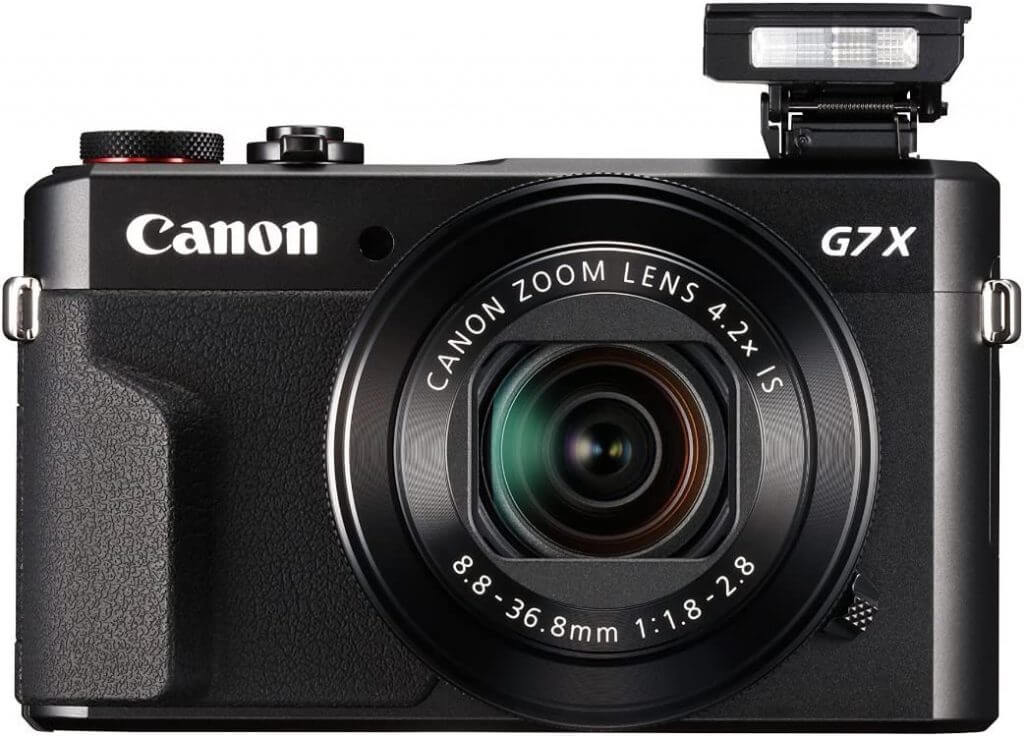 The Canon PowerShot G7 is the third Canon video camera that's perfect for vloggers. That's because it can produce quite impressive videos besides being an affordable option for videographers who want to save. The camera has a 20X optical zoom, which is good if you're looking for high-quality photographs. Added to this feature is the 25mm wide-angle lens, as well as a CMOS sensor that features a 12.1-megapixel high sensitivity sensor. What makes this video camera a joy for video makers is the fact that it can film in 1080p full HD. Other niceties include the Smart AUTO feature that allows for the optimization of up to 58 different settings. To add to that, the camera features a face ID technology that gives priority to faces it has seen before.
The camera features a 4X optical zoom lens. The lens delivers an equivalent focal length of 24-100mm, covering an aperture range of f/1.8-f/2.8. The camera has built-in Wi-Fi, allowing for connectivity with your smartphone and PCs at home. It also allows for NFC for you to directly transfer content to other cameras and compatible devices by simply holding them next to one another.
The G7 X II delivers superior quality images, thanks to its ability to perform superbly in both well-lit and low-lit environments. When it comes to videos, the camera does not have the 4K capability that we would like to have seen. However, it still provides full HD 1080p footage at 60/50 frames per second. This is what makes this camera is so popular with YouTube vloggers. The customer does not have a microphone input or headphone output, which is a shame. Still, the built-in mics work well, as long as you're not in very noisy situations.
Regarding portability, this camera is both compact and light, making it easy to carry around. The camera is small enough to be put in your pocket. To reduce slipperiness, the camera comes with a much-needed grip. Compared to its predecessor the G7X Mark I, the Mark II has a significantly faster burst mode, particularly if you are shooting raw files. The predecessor managed only 1 frame per second, which was a huge disappointment. The Mark II manages a jaw-dropping 8 frames per second for both Raws and JPEGs.
---
4. Panasonic Lumix G7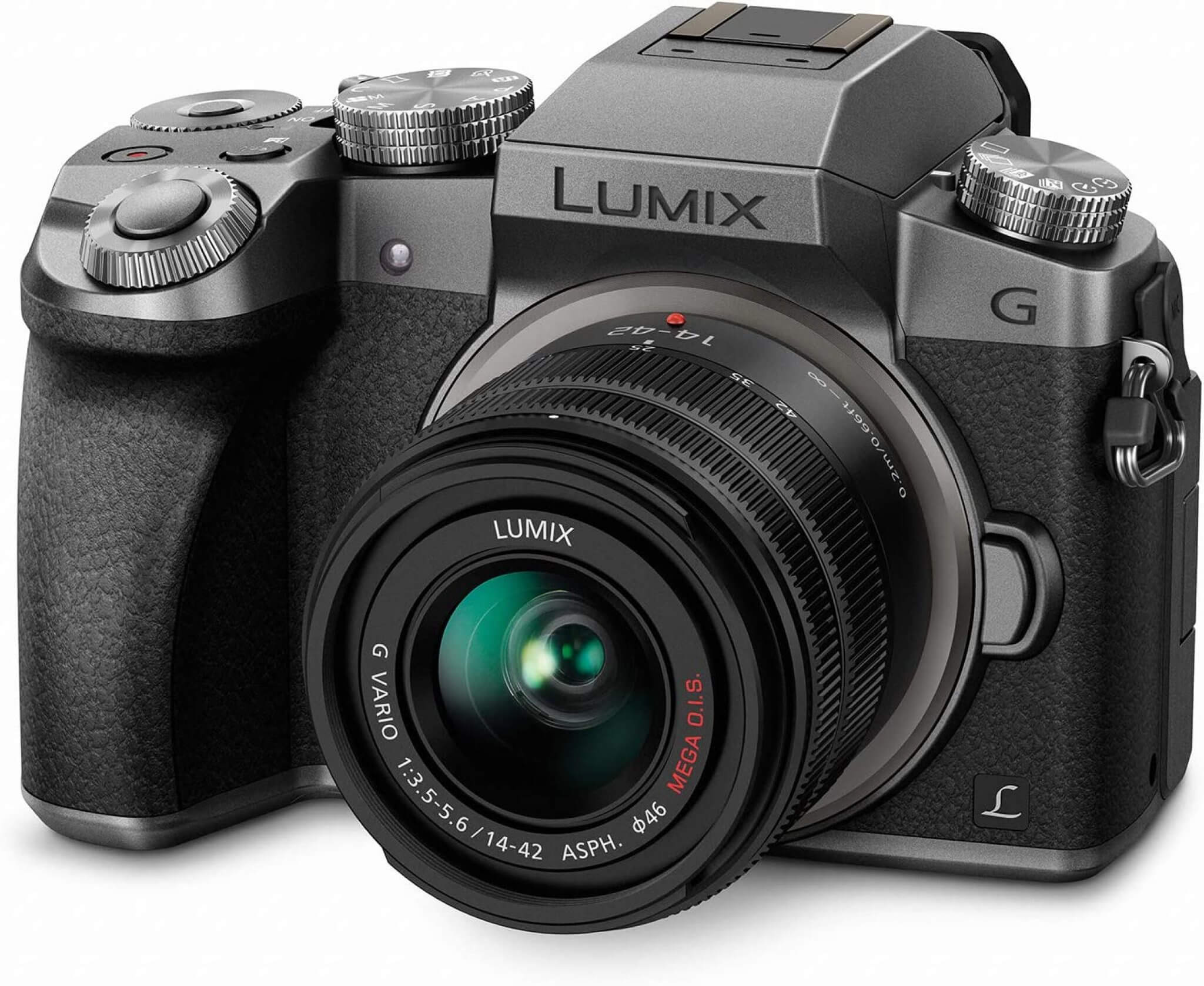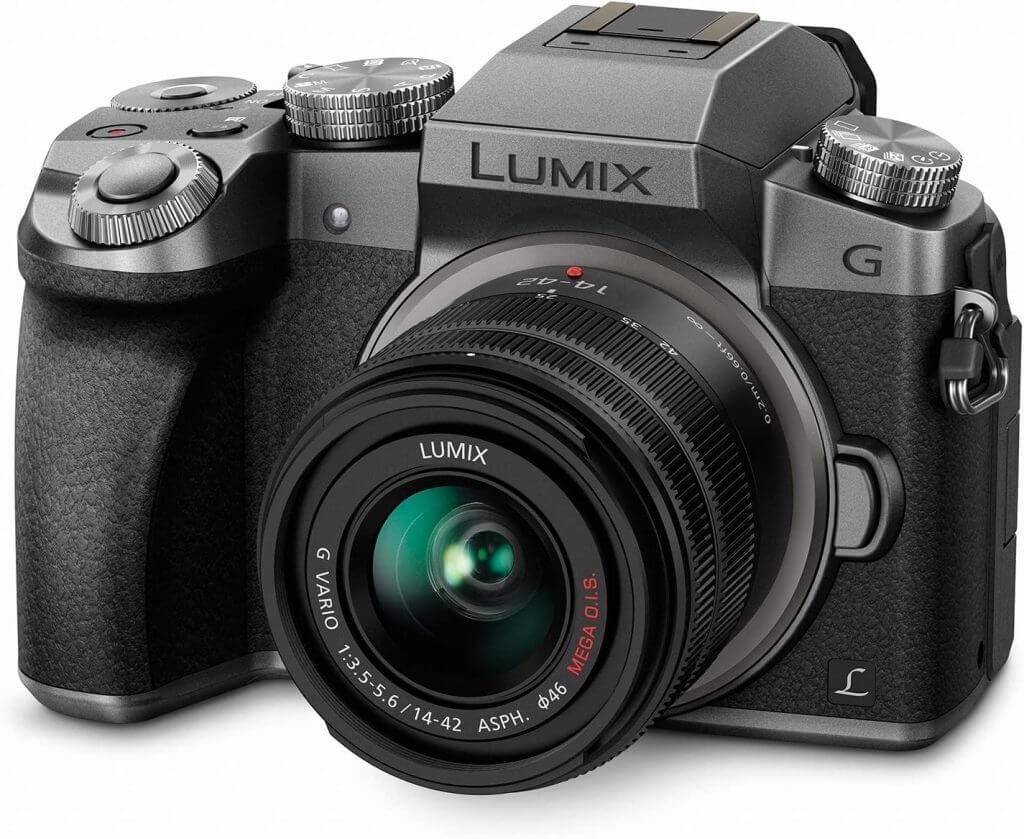 If you are familiar with mirrorless cameras, then you may be interested in knowing that the Panasonic G7 descends from the first-ever that was made. You'd thus expect that this camera shares lots of features with the mirrorless camera. But this isn't the case at all. What it resembles more is an interchangeable lens camera. Thus, this camera at first appears like a small DSLR. It has the control points you'll see more in a mid-range DSLR. With all the switches and buttons present in this camera, users who are more into manually controlled video cameras will fall in love with the G7.
Even better, as the G7 is a mirrorless camera, it can make great use of the fully articulated and touch-sensitive screen. The phone features a 16MP four-thirds CMOS sensor, which is impressive, although not rare. However, unlike the other cameras above, the G7 has 4K UHD capability, and that's a bit rare at the moment. Also, this camera provides focus peaking and zebra highlight warnings, features that you'll hardly find in its peers. When you don't want to shoot a video, you can use the '4K Photo' model which comes with an option to record 1-second chunks of video which are then written to the memory card as soon as you press the shutter button. The camera also comes with Wi-Fi capability that allows for remote shooting and transferring.
With this camera, zooming is possible when using powerful zoom lenses. The zoom ring does move quite smoothly. Like other Panasonic video cameras, the G7 offers a comprehensive Wi-Fi system. Users have the option to control the camera remotely. But that's not all, one can even transfer images over Wi-Fi to social sites, besides their iPhone. You also have the option to auto-transfer content across to your PCs and media server.
While the G7 does produce very good imagery, it performs even better when it comes to videos. To aid manual focus, the camera features autofocus, while the zebra is included for assessing overexposure. These two features combine with the flip-out screen to make it easy to shoot top-quality 4K UHD videos. The camera's on-screen touch controls are also well suited to this task. What makes this camera even more impressive is the fact that it has one of the most advanced 4K Photo modes features in its class.
Even with the 14-45 mm kit zoom, this video camera is still pretty small. The phone is designed to fit nicely in the hands and has a pronounced grip, which makes it less slippery. Even for users with bigger hands, the dial design makes the camera easy to control. G7's autofocus is impressive, with the capability to autofocus up to 6 frames per second. When the electronic shutter mode is switched on, the camera can autofocus up to 8 frames per second. The G7 also provides one of the most impressive subject trackings, getting the camera doggedly following a subject around the frame with just a single tap.
---
5. Sony RX100 IV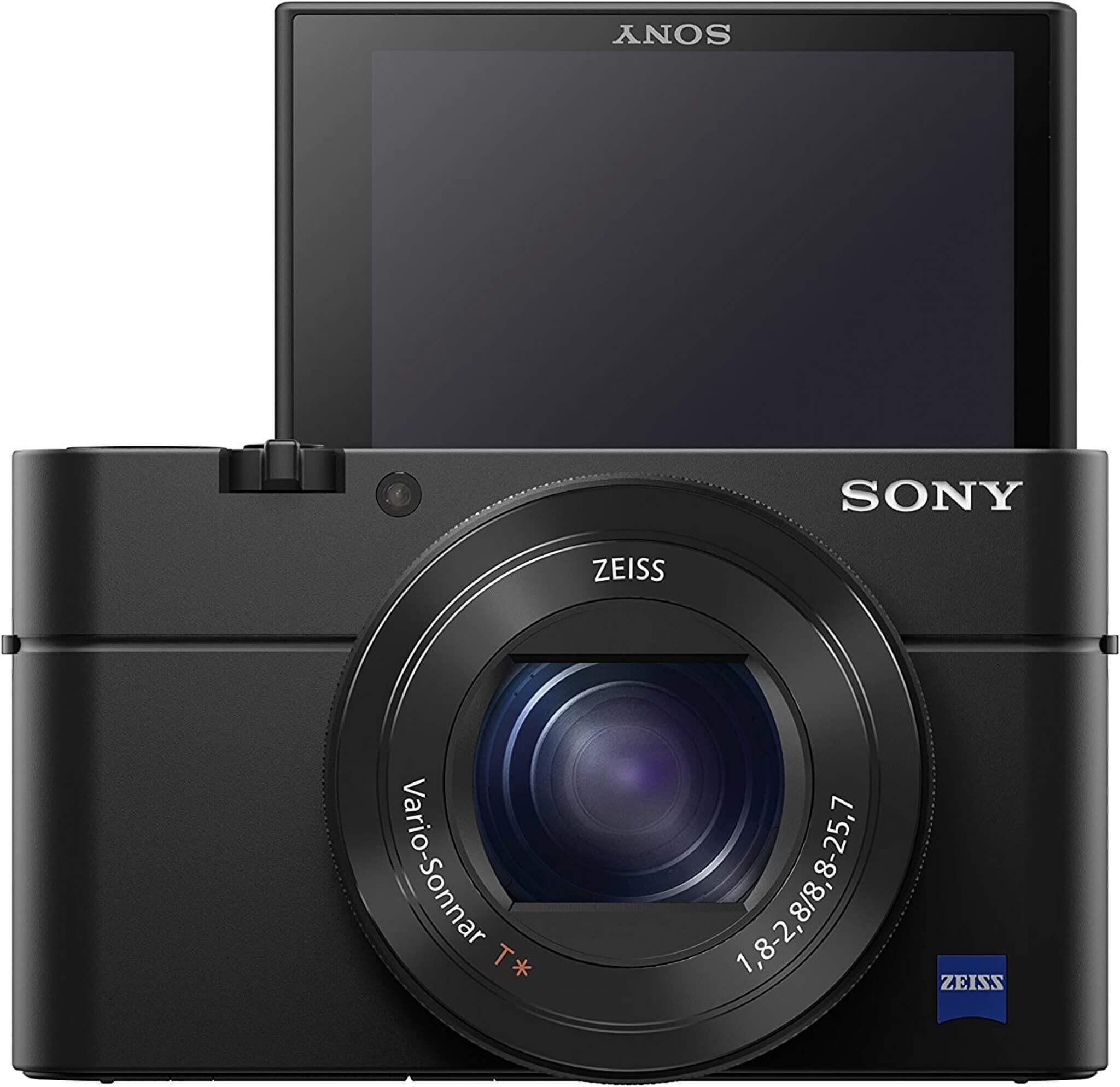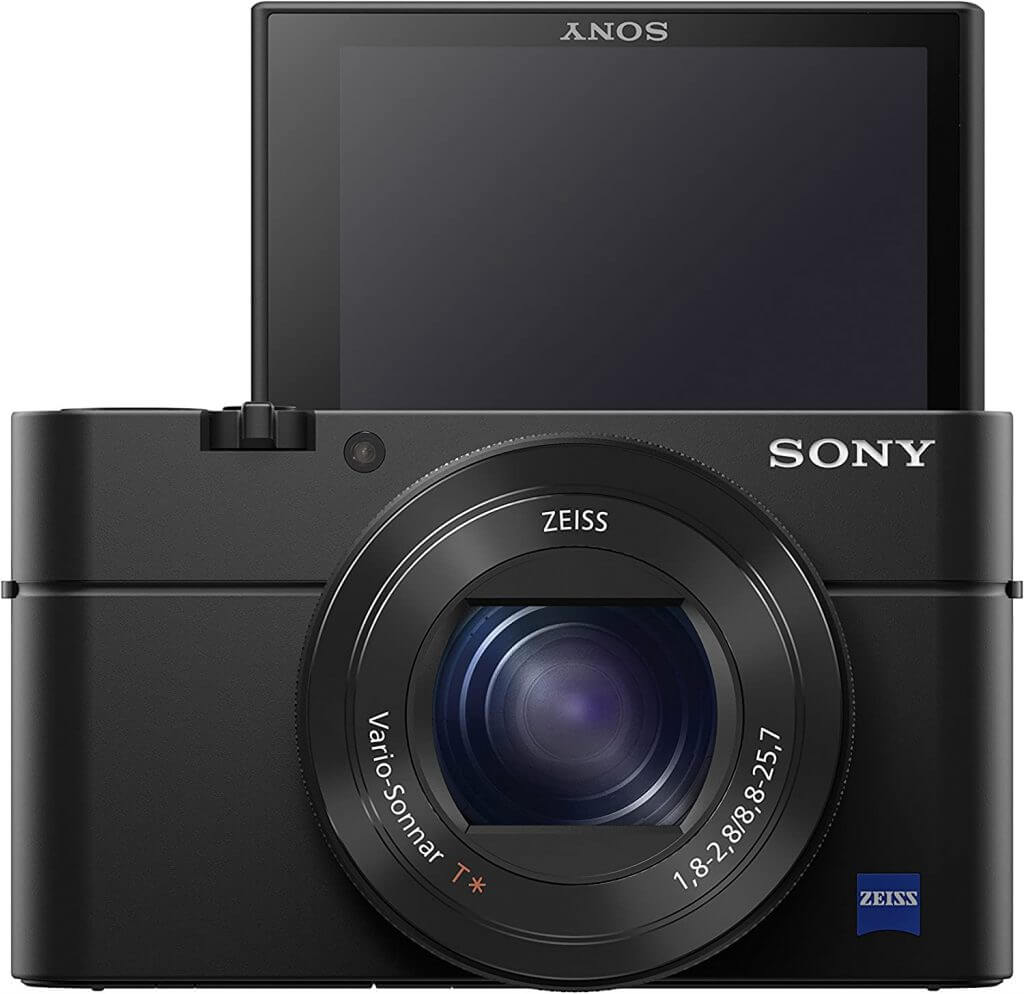 If ever there was a tiny blogging powerhouse, then Sony RX100 IV is it. This compact photo weighs just 10.5 ounces, which makes it extremely easy to fit in your pocket and carry around. What's impressive about this tiny camera is that it is capable of shooting 4K videos-the second camera with that feature on this list. The camera can shoot 4K videos at 30, 25, and 24 fps. At fps rates, this little monster can even go up to 1000. If you are a blogger who does a lot of shooting away from your home, this is the perfect camera for you.
The video camera features an f/1.8-2.8 optical zoom with the same Steady Shot image stabilization present in its predecessor. The Cyber-shot comes equipped with a built-in Wi-Fi function that allows you to transfer content to other compatible devices.
For a camera so compact, the Sony RX100 packs incredible performance. It is amazingly quick and capable, loaded with the excellent quality that the Sony RX series cameras have come to be known for. The camera has a greatly improved burst speed with a speed buffer. When it comes to resolution, this camera has one of the highest in its class, giving lots of detail when shooting in a good light. The camera has a high-quality 4K capability, which means that the camera can produce supreme quality footage. All in all, this camera is a blast to use.
While the Sony Cyber-shot packs a lot of incredible features surprisingly little. It weighs only 250g, making it one of the lightest video cameras. It can comfortably fit in your pocket. Thanks to the new sensor of the camera which has enhanced speed, the camera has an incredibly fast continuous shooting mode, up to 16 frames per second, with a frame rate as high as 960 frames per second.
---
Things to Consider
Price
Price, as always, is a big factor when planning to buy a video camera. As there are so many options in the market, it's important to know your budget as you set out to shop for a video camera. Of course, a camera's price will depend on what specs it has, but keep in mind that sometimes even cameras in the same class may differ in price based on brand. While you can get a decent consumer-focused camera for less than a thousand dollars, professional and cinematic types usually cost much higher than that. So if you are looking for a budget-friendly camera, then you are better off getting a digital camera, an action cam, or a mini recorder. These options are great for YouTube videos.
Zoom capabilities
When shopping for the best video camera for shooting, then the issue of zoom capability must come into play. Keep in mind aspects of the lens of the camera you are buying. A video camera with a high optical zoom capacity is better. A camera with 20X optical zoom capability should serve you quite well. Make sure that the lens has a fixed aperture to ensure there's consistent exposure while you are zooming. Other features you want to look out for include image stabilization and simplicity of use.
Connectivity
Videographers like to work quickly and efficiently, whether it's in the shooting stage or when they're transferring footage. Luckily, technological advancement makes it easier to connect and upload images faster. Wi-Fi cameras are becoming a common sight in the market, enabling videographers to get images online so the rest of the world can see them instantly. Near Field Communication is also becoming increasingly popular where, by touching devices together, you can transfer content. While buying a camera, these are some of the top features you want to look for.
Quality
Vlogging can be quite broad, which is why you need to make up your mind from the outset about what types of videos you want to be making. If for instance, you intend to be shooting all of your videos inside your home, classroom, or office then you don't need to invest in an expensive DSLR camera with a powerful exposure. All you need is to make sure that the room has adequate lighting at the time of the shooting. However, if you intend to be shooting videos outdoors, you must get a video camera with a quality built-in headphone jack that enables you to monitor what you are recording on the clip's soundtrack, as well as a reliable viewfinder. But if you intend to be shooting in low light conditions, then you need a camera with a larger sensor for improved image quality. But when you are not sure what conditions you'll be shooting in, then you must find a versatile camera with the ability to shoot in varying environments.
Portability
If you are going to be making videos all the time, then the last thing you want is a bulky, cumbersome video camera. This is why it's so important to consider the size and weight of the camera you want to purchase. Luckily, a lot of the cameras available in the market are quite compact and easy to carry around. You can easily find a 4K capable camera that weighs a little over 10 ounces and is easy to carry in your pocket.
Continuous shooting modes
The progressive format when it comes to cinematic shooting is 24 fps. But, likely, you are not interested in a professional-grade video camera at the moment. So, 6 frames per second aren't that bad for your YouTube videos. Some of the video cameras can even autofocus at 8 frames per second when you switch them to electronic shutter mode. There are even cameras that have a pre-burst mode, like the Panasonic G7.
Frequently Asked Questions (FAQs)
Q: How do I pick the best?
Answer: Choosing from dozens of very good video cameras in the market is easier said than done. It took a great deal of time, effort, and skill. Cameras were selected based on various criteria. First of all, we looked at the price of the camera, keeping in mind that we wanted a consumer-focused camera. Using these criteria, we sampled cameras that were listed below $1000 as this is the region, we found reasonable for a decent video camera. Next, we looked at the features of the cameras. It was important that the camera can shoot videos of reasonable quality, so we considered only cameras with 1080p full HD and 4K capability. Next, we looked at other features such as connectivity and zoom capabilities.
Q: Is this for me?
Answer: While answering this question, there are a few things that should come into focus. First of all, if you are a beginner or intermediate videographer, then this is the ideal camera for you. Later, when you've become a professional and are looking for cinematic shooting, you can upgrade to something better. Secondly, this camera is a bargain, yet it will provide you will offer you the ability to create excellent YouTube videos. Moreover, this is a camera that you can easily carry around with you for everyday use. There's hardly a better option for Vlogging cameras in the market now.
Q: Why trust me?
Answer: After trying out the different video cameras available in the market, I was able to narrow down five of the best ones. And while there are, without a doubt, other options in the market that will help you create outstanding YouTube videos, it's difficult to find cameras that will beat the ones on this list regarding both performance and price. Having worked with cameras for many years, I know this to be the case.
Recommendations
You probably know lots of vloggers that make YouTube videos for fun and even earn millions from their videos. Whether you are looking to make this your career or simply want to tell your stories through your videos, then you'll need the ideal camera for you. The good news is that there's always a good fit for you out there. But keep in mind that the market is saturated with options you can choose from, which may make it even more difficult to make up your mind. When you find yourself in that predicament, consider renting first. Once you've tried out a few different options, it should be easy to decide which one fits your needs.
Related Posts
Subscribe to the CameraIO Newsletter
Photography & Camera News + DEALS