Subscribe to the CameraIO Newsletter
Photography & Camera News + DEALS
One of the best ways to promote your music is to make great music videos. To make quality music videos, and if you are working on a budget, it's advisable to invest in a good video camera that allows you to record HD. The best-recommended cameras for music videos are mirrorless or DSLR cameras, and the quality gets better with the price hike.
8 Best Cameras for Music Videos (Reviews)
Here are some of the best cameras for music videos you are likely to come across: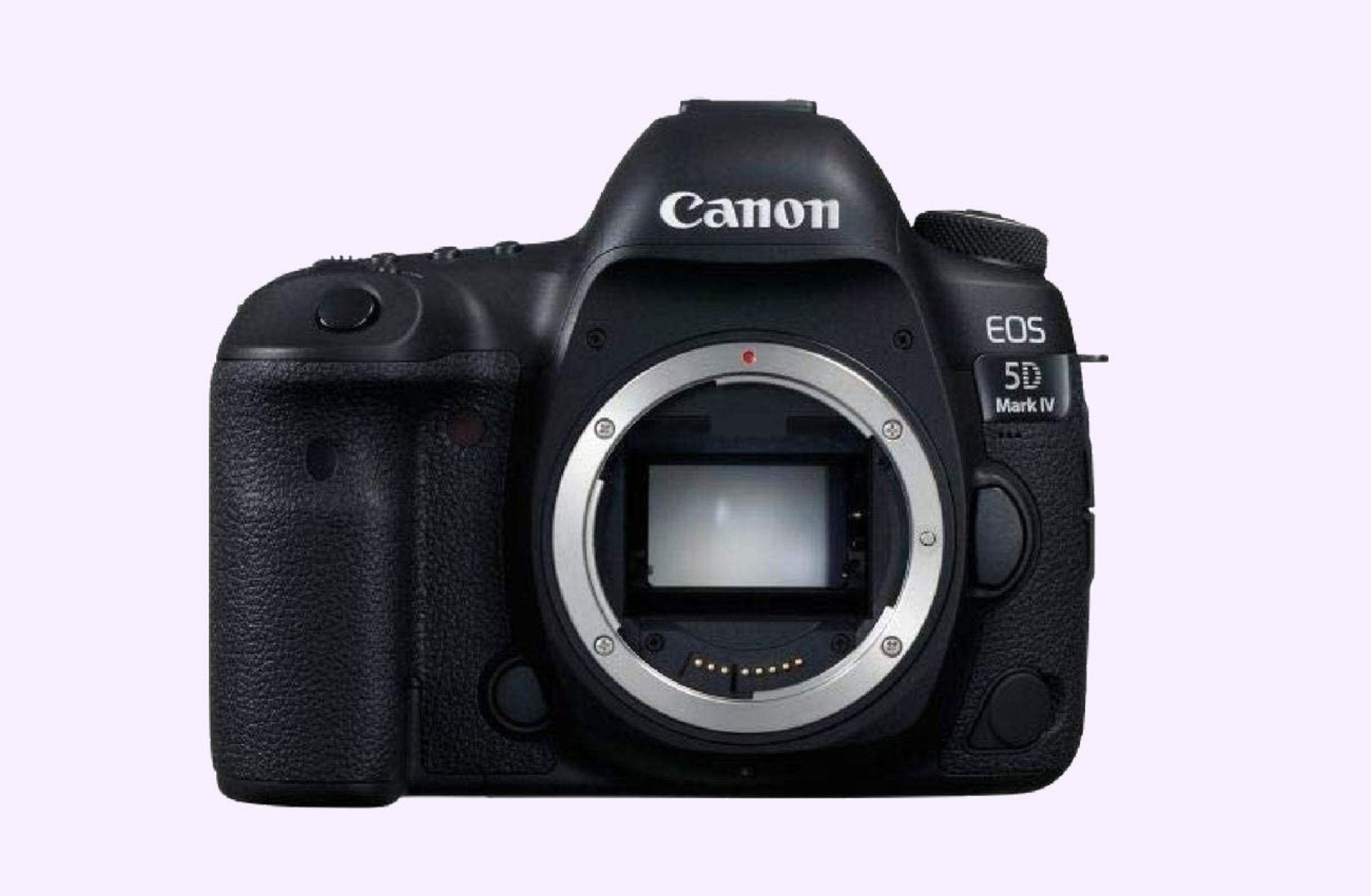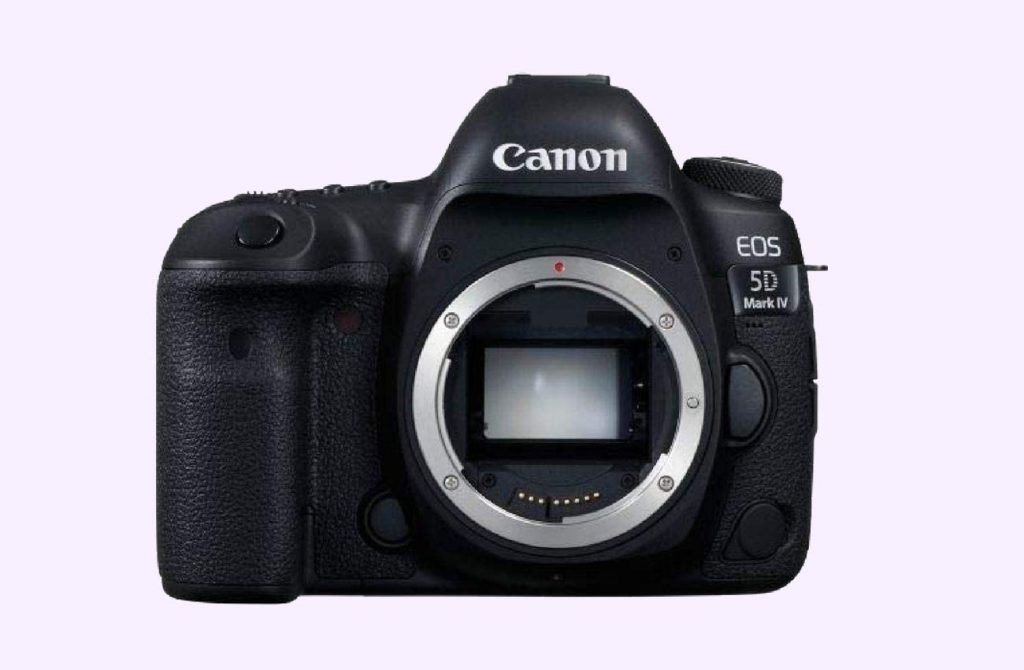 Best canon camera for music videos: Canon EOS 5D Mark IV
This camera is one of the most well-rounded and complete DSLRs in photography today. It is suitable for capturing music videos from a range of subjects and settings such as landscapes, wildlife, and sports with brilliant video quality and performance.
This product has a rich camera heritage, and even though it lacks some landmark features of its predecessors, it has some improved features. It has a full-frame CMOS sensor, which allows versatility when shooting in low light and an expandable ISO range. It features a superb dual-pixel CMOS AF, which allows for smooth and responsive AF during live view and video shooting. This camera has an LCD monitor with a full touchscreen interface. This camera also uses the EOS utility webcam Beta Software, which turns it into a high-quality webcam.
This camera builds on the powerful legacy created by the canon 5D series with a range of spectacular refinements in performance, image quality, and versatility. Like other canons, this camera is committed to achieving excellent image quality and producing images and videos with brilliance and power in portrait, wedding, landscape, and nature photography. This camera has an improved AF system, which makes it one of the complete cameras today, and is preferred by both professionals and amateurs alike.
This camera has an expandable ISO of 50-102400, which makes the EOS 5D Mark IV ideal for shooting in low-light photography. It has a sensor with an improved S/N ratio and an improved algorithm for noise processing, which helps in the delivery of high resolution and high-level light sensitivity. The image quality is not compromised whether you work in a dim auditorium, at night, trying to suppress camera blur or if you want to capture the action at the fastest possible shutter speed. Its extended ISO range is responsible for its excellent performance in any setting.
This camera boasts a full-frame, high-speed CMOS sensor, which is suitable for a variety of applications. This camera has remarkable and excellent image and video resolution abilities, and it captures brilliant still and 4K videos. This camera is ideal for significant cropping, retouching, and post-processing, and it is versatile for use in all kinds of light and shoot settings. The still images and 4K videos produced by this camera have a consistent and excellent quality and are easily compatible with different workflows.
If you want stellar image and video quality, this camera has a full-frame sensor for phenomenal results with a lot of ease and efficiency. It incorporates Canon's fantastic technology and engineering for the delivery of stunning and outstanding photographs and 4K videos virtually anywhere. It has a compelling and portable design and a dual Pixel CMOS, which detects shifts in movement, allowing for continuous automatic AF and AF tracking for overall improved camera performance.
---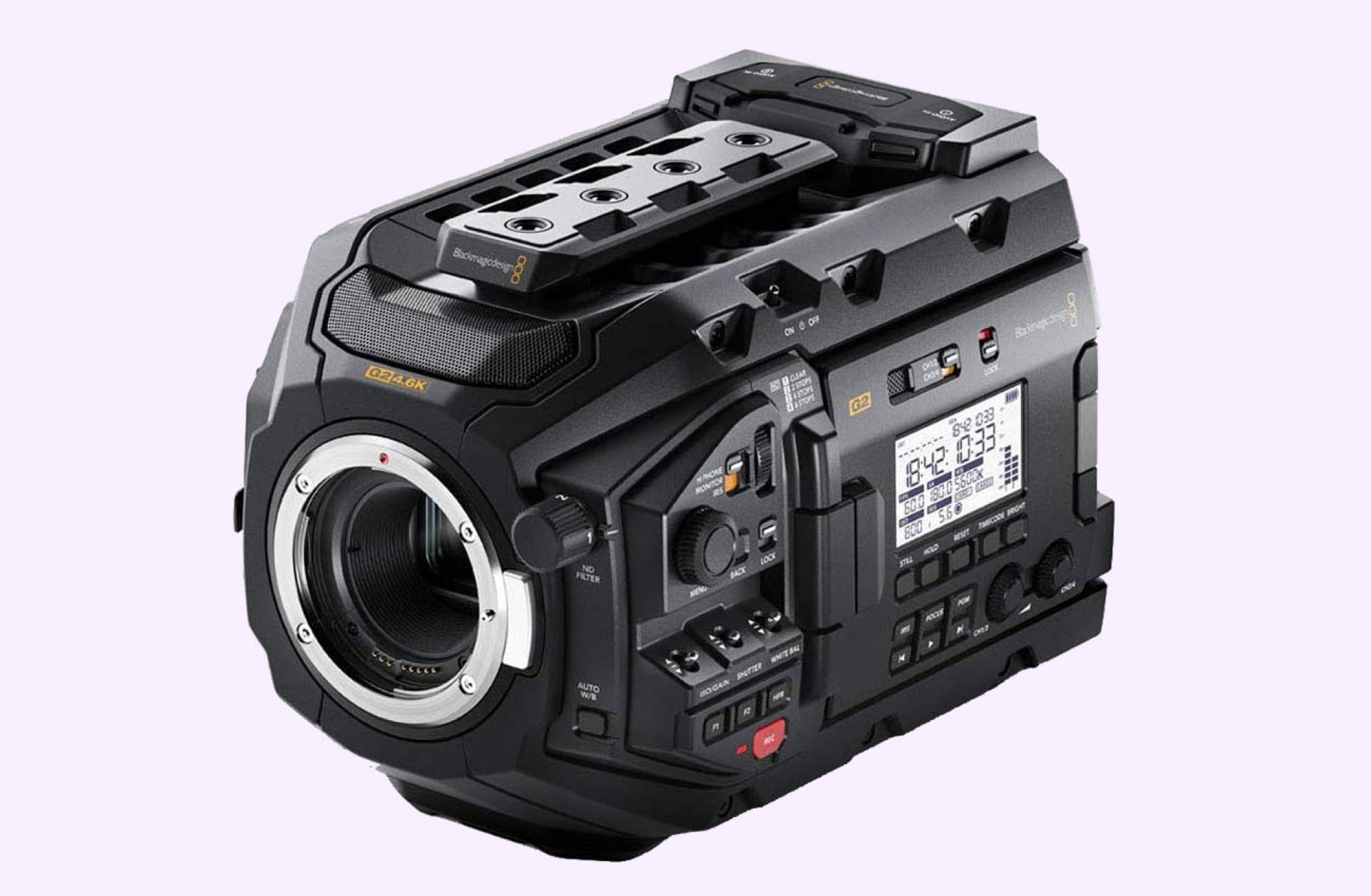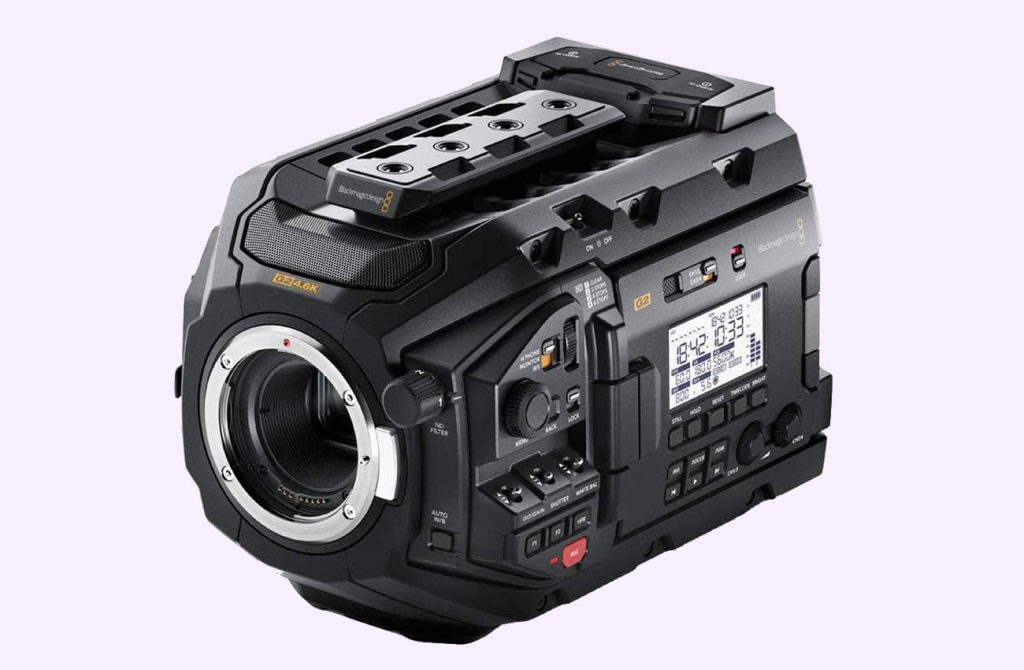 Best professional camera for music videos: Blackmagic Design URSA Mini Pro
This camera from Black magic design comes in smaller, and it is more handheld friendly. It records cinematic videos and captures brilliant images with its super-35mm 4.6K sensor and with a dynamic range of 15 stops. This camera has an ergonomic body design, which is balanced to suit a variety of filmmaking styles. It is compatible with a variety of popular lenses, and it delivers different and quality aesthetic options.
The Black Magic Design URSA mini digital camera is suitable for Canon EF Mount. It allows compressed raw recording, features built-in microphones, and allows professional audio recording. It features an LCD capacitive touchscreen and a magnesium alloy body design. It comes with a variety of professional-grade connections like reference input, 2 LANC inputs, HD-SDI monitoring out, time code-in, and a balanced XLR audio.
This camera is a revolution in digital film and photography with a build of the award-winning URSA Mini body. Its combination of 80 megapixels per frame and the flexibility provided by Blackmagic RAW makes it perfect for high-resolution photography. This camera features an interchangeable PL mount, and it has built-in ND filters, UHS-II S card recorders, and a dual CFast, among others.
This camera supports a wide range of Active Canon EF lenses that provide outstanding apertures and focal lengths. Its sensor makes it easy to shoot life-like videos with an excellent resolution and at a dynamic range. This camera has a 4-inch diagonal LCD capacitive touchscreen with a 1080p resolution for capturing and viewing subjects with ease. For added flexibility, this camera allows recording of full HD videos and UHD using ready-to-edit ProRes files, depending on the work you have.
The best thing about this camera is the dynamic range and its resolution, which is why we liked it. It allows capturing 4608×2592 pixels, and its Super35-sized sensor is useful for this too. This camera will enable you to capture as many as 15 stops of dynamic range, even when recording RAW, which is incredible.
With its ergonomic design and very compact size, this camera is ideal for shooting professional and quality film and photography. It is designed with a 4.6K Super-35mm sensor, which allows you to shoot real-time videos with a resolution of more than 4K and with up to 15 stops of dynamic range. It comes with a variety of professional-grade connections with phantom power. It has an ongoing magnesium alloy construction, which makes it very lightweight and durable.
---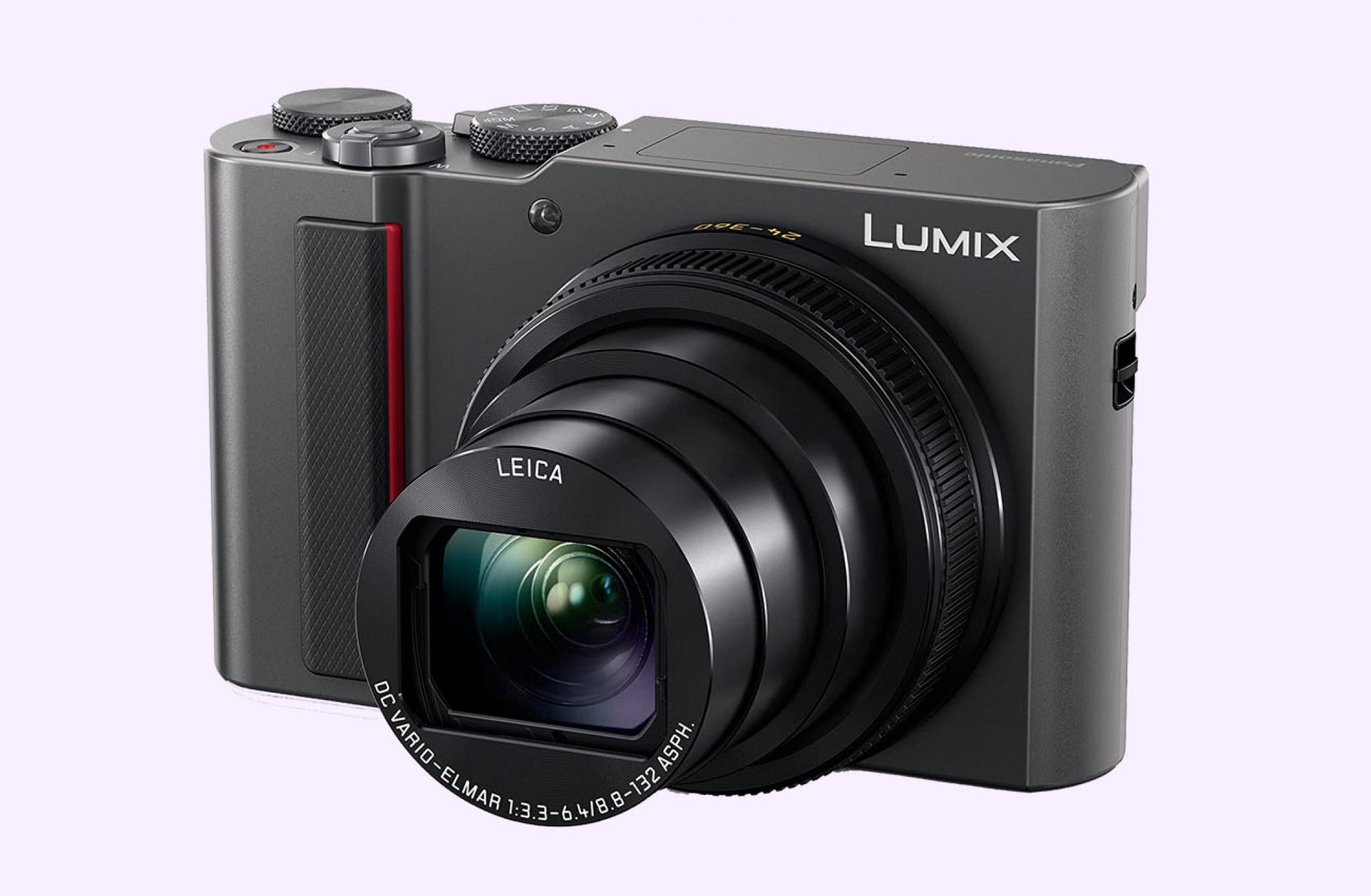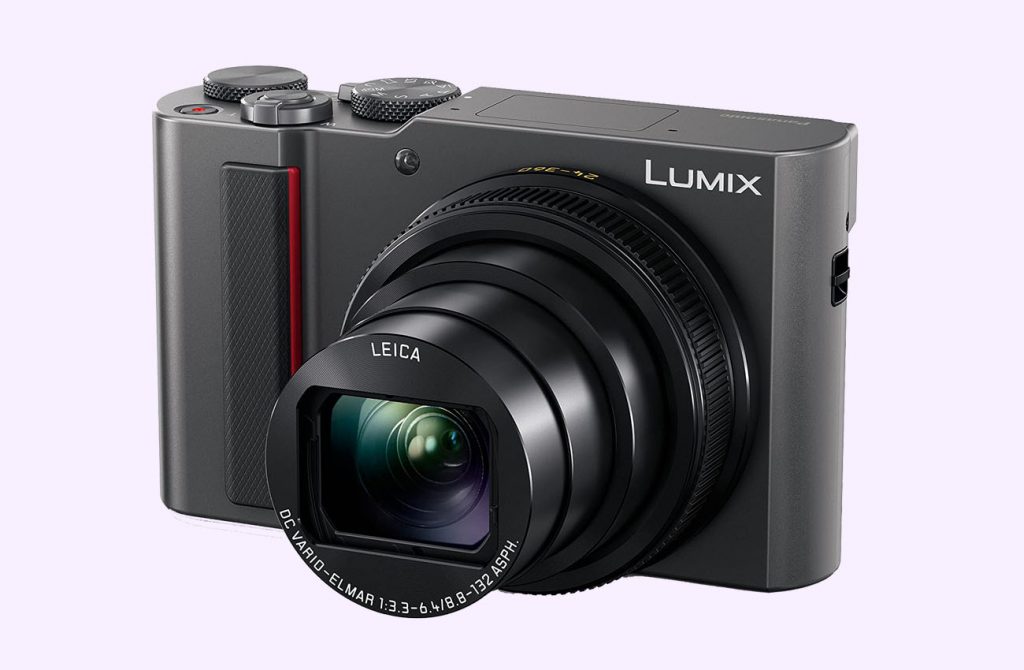 Best point and shoot camera for music videos: Panasonic Lumix ZS200
This camera is one of the best long-zoom compact cameras in the film industry today, perfect for shooting music videos. The camera features a 24-360mm equivalent lens and a sensor more giant than the average sensors of long-zoom cameras. It is perfect for capturing UHD 4K videos and 20MP still images with a combination of decent space and brilliant performance. This camera, however, has a relatively slow lens.
The zs200 has a longer lens compared to its predecessor, the ZS100, which makes it possible for it to achieve a maximum focal length of 360mm. This additional lens length doesn't affect the camera's size, only its weight, and the extra reach is very crucial when capturing scenes and subjects from afar. The extra zoom lens, however, makes the lens slower, and as it can't take much light, the result is more noise in your photography. This camera has a rubberized grip, which makes it very compact and easy to hold when shooting with one hand. However, the small buttons on the rear are a bit cramped, and it has a fixed LCD.
This camera has a 4K photo feature, which allows you to capture a series of images from a 4K video, choosing the best. It has a Sequence Composition feature, which will enable you to capture many shots and stitch them together to create one photo, as long as you have a consistent background. This camera has an Auto ISO feature, which sometimes causes slow shutter speeds, so you have to choose an upper ISO range and the minimum shutter speed, which isn't always advisable for a long-zoom camera. This camera performs exemplarily when it comes to options for video capture and sensitivity to light. This camera is quite speedy and with very generous buffer depths. It shoots fast and feels fast in use as well with very responsive and quick menus.
This camera is a 1-type compact camera with a very crucial telephoto reach. It has a longer battery life compared to other similar models, and it isn't as bulky either. The rubberized grip is an improved feature, which makes it compact and very easy to use.
This camera performs exemplary in touch sensitivity and various options for video capture, and it also has an extra zoom feature on the lens. It has a good battery life and numerous shooting modes for capturing 4K JPEG images at up to 3o frames every second.
---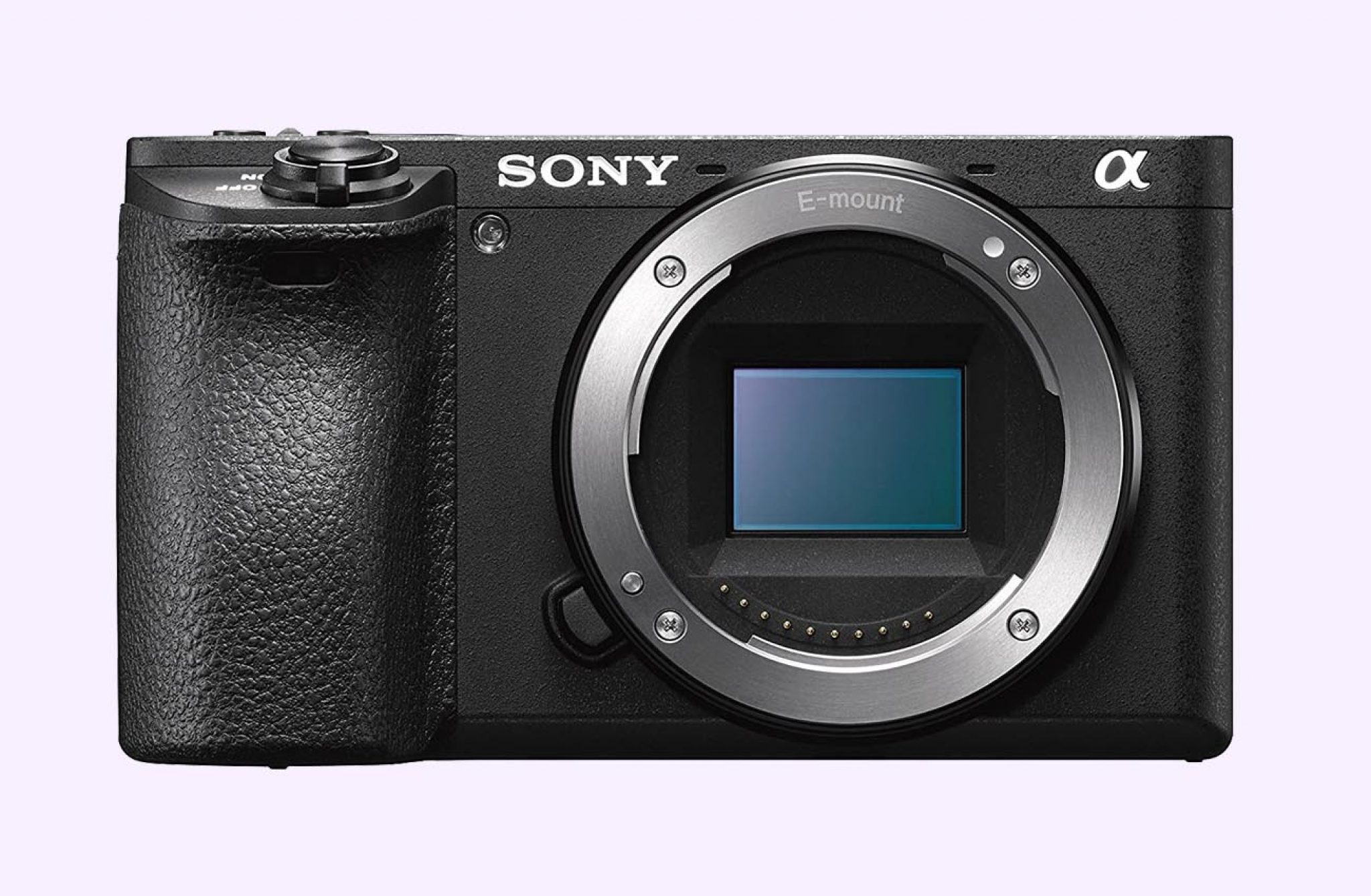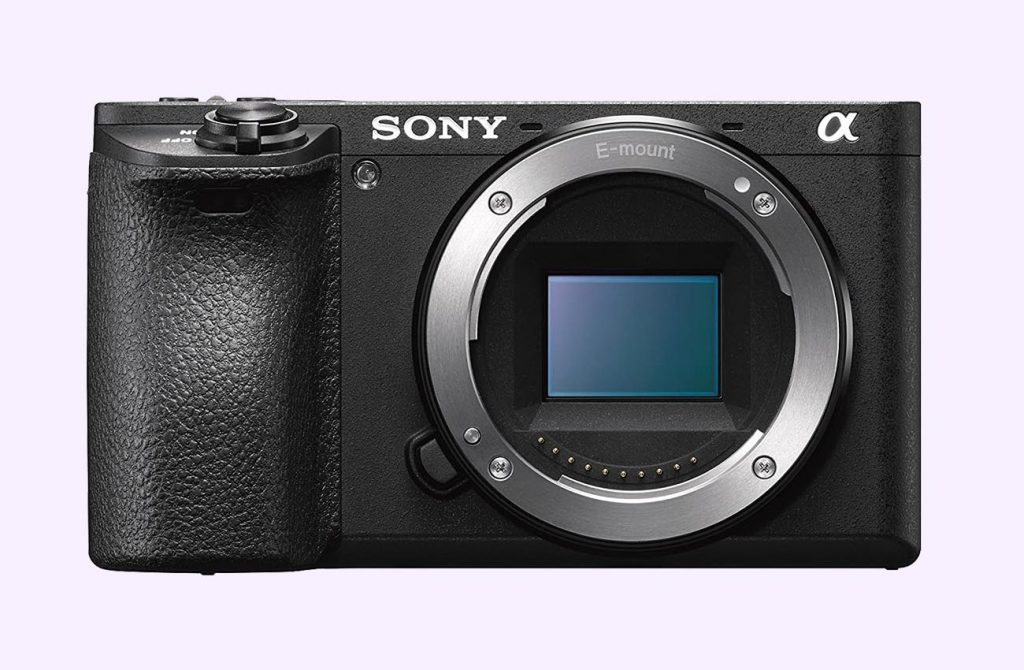 Best mirrorless camera for music videos: Sony Alpha a6500
This camera is one of Sony's best APS-C mirrorless camera models, which allows the capturing of 24MP still images and videos with image stabilization. It has added touchscreen sensitivity and capability and stabilization for professionals who value image quality and high resolution.
This Sony a65oo maintains a small and compact design, which makes it ideal for travel photography. It has a rugged professional body with a very durable shutter mechanism, which makes it ideal for steady handling. This camera provides solid reliability and makes it easy to withstand the rigors of field shooting. It has a strong and rigid magnesium alloy body and seals around the main buttons, dials, doors, and ports to keep off dust and moisture. The double-layered structure enhances the sealing effectiveness, and it has a very durable and reliable shutter unit.
This camera features a Hybrid AF and a 5-axis image stabilization, which makes it easy for you to enjoy unparalleled handheld shooting. It is compatible with wide-ranging mountable lenses and has an EVF that is crisp, bright, and vibrant, allowing you to see your exposure before pressing the shutter button. This mirrorless camera delivers brilliant image quality, and it has fantastic autofocus and quality JPEGs. The eye autofocus allows for capturing tack-sharp images, and in good light, the results are consistent and accurate.
Sony offers image stabilization with this model, which allows you to use any lens, fast prime, or otherwise for stabilization. This results in sharp images even at slower shutter speeds, and it allows you to capture good handheld video footage.
This camera is feature-packed, and it offers tremendous image quality. When it comes to shadow recovery and dynamic range, it is perfect for ensuring unreal resolution and sharpness, allowing you to get the best out of your film and photography. It's compact enough, and its weight and size make it ideal as a travel camera or for capturing music videos.
---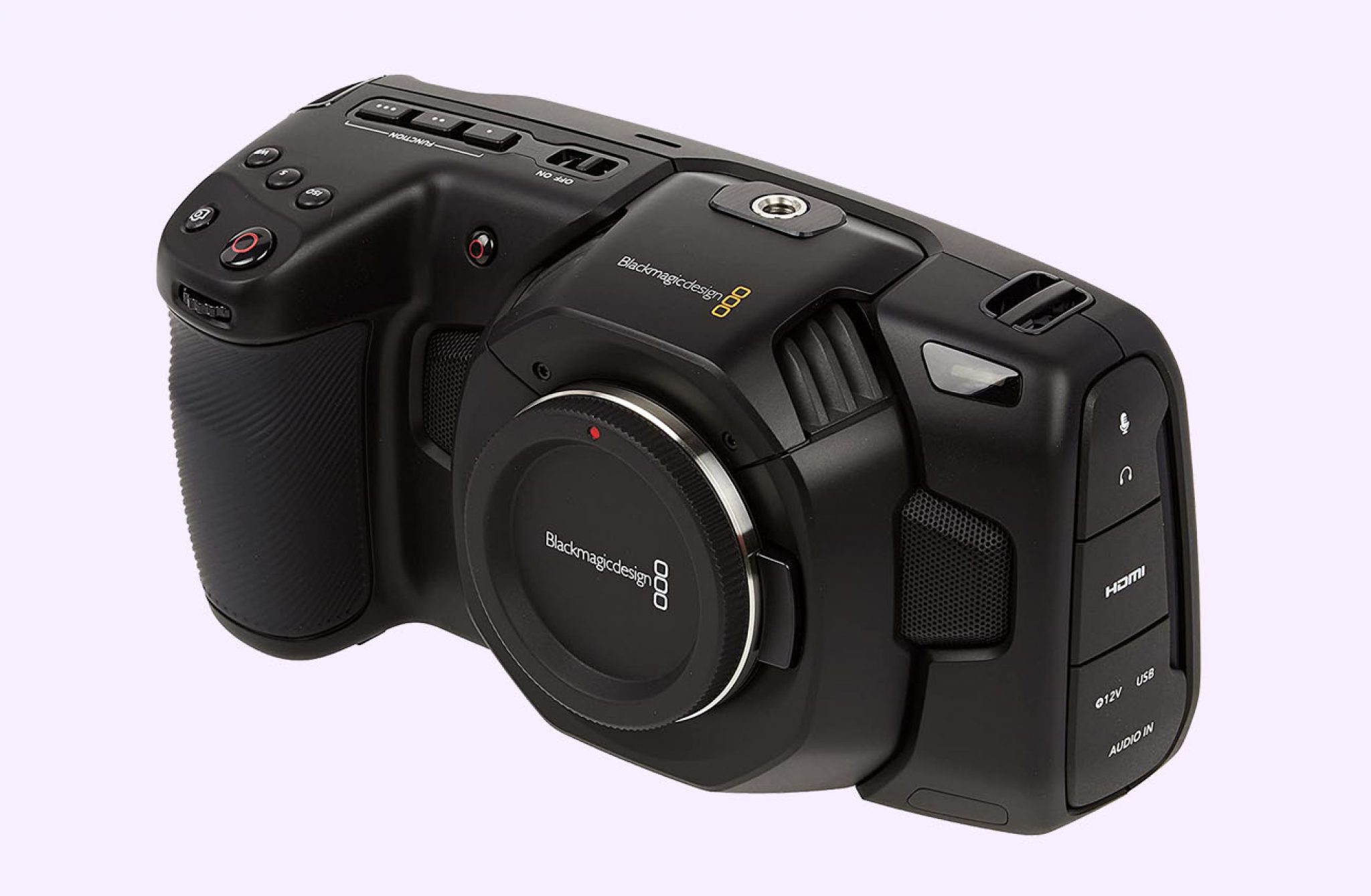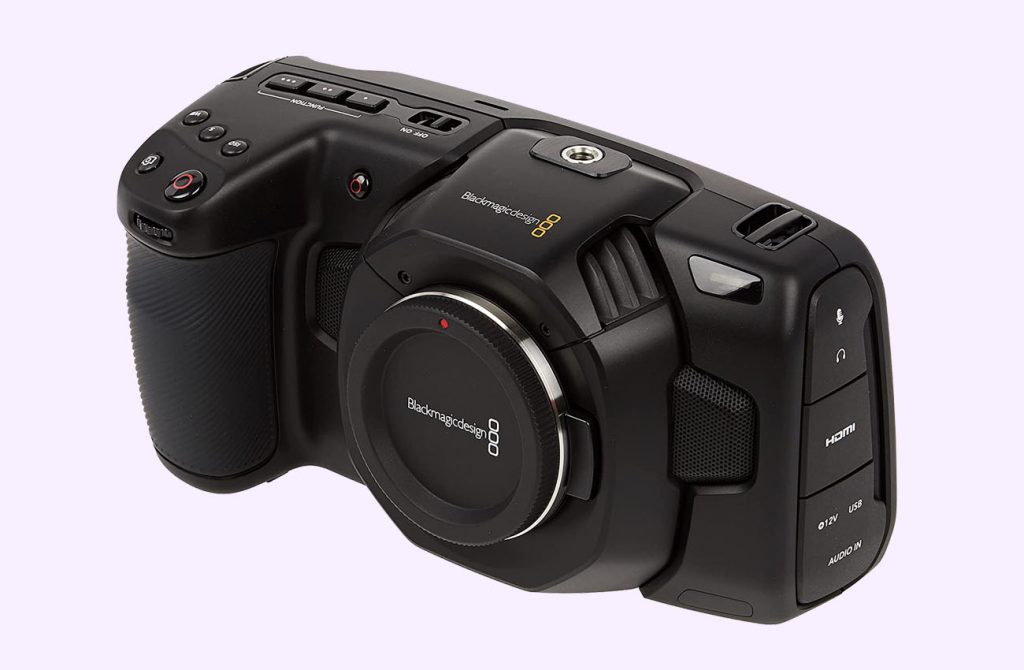 Best lightweight camera for music videos: Blackmagic Design Pocket Cinema
This Black magic Pocket Cinema Camera has some professional features which allow you to create stunning, high-resolution films. This camera has a combination of great performance in low light and a high dynamic range, which, together with the Blackmagic RAW, gives your images and films a precise tone and brilliant organic color concentration.
The elegant design of this camera makes it a high-end film camera. It packs a miniaturized, handheld design, and it's made from carbon fiber polycarbonate composite, which is very lightweight. It has back panel controls, which are conveniently located below the right thumb rest. This allows a quick change of shooting speeds with the high frame rate button and gives you easy access to setup menus as well as a quick playback of shots for reviews. There is also a magnifying glass in this design, which allows you to zoom into images for sharper autofocus.
This camera features an MFT lens mount, and a 4/3 image sensor with a resolution of 4096 x 2160, allowing you to capture a wide dynamic range. The lens mount allows you to use affordable, lightweight, and super compact lenses, making it convenient for you t carry your camera around. This camera features a multifunction handgrip, which has a variety of controls for ISO, White Balance, Recording, and shutter angle at your convenience. This camera has some professional features required for feature films, documentaries, and television programming, which is also applicable in revolutionizing other types of work. These features allow capturing deeper colors with high image details and a wide dynamic range in deep shadows or bright colors.
This camera has fingertip shooting controls for ease of use and convenience. At the front and top part of this camera, there's a record start/stop and still button with dedicated controls for ISO, WB, shutter speed, and iris. This camera's main power switch is located next to 3 customizable function buttons for that Hollywood look in your films.
This camera is compatible with photographic and cinema lenses alike so you can choose between MFT or EF lenses. As such, the Blackmagic Pocket Cinema Camera is compatible with the most popular lenses and those with the largest range in the film industry. When using this camera, the commonly available photographic lenses ensure incredible creativity, and the brilliant feature film quality lens effects give you greater flexibility.
---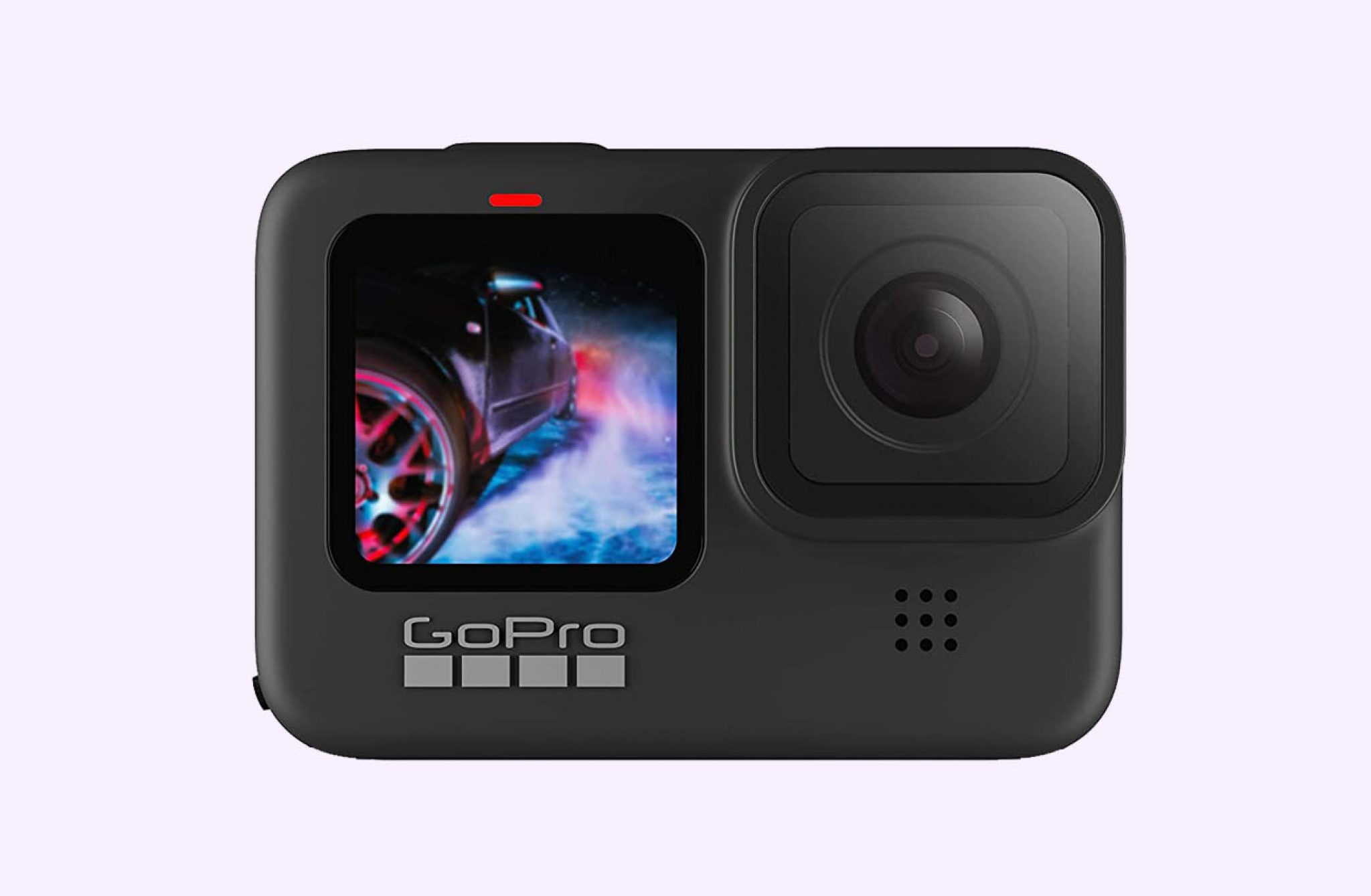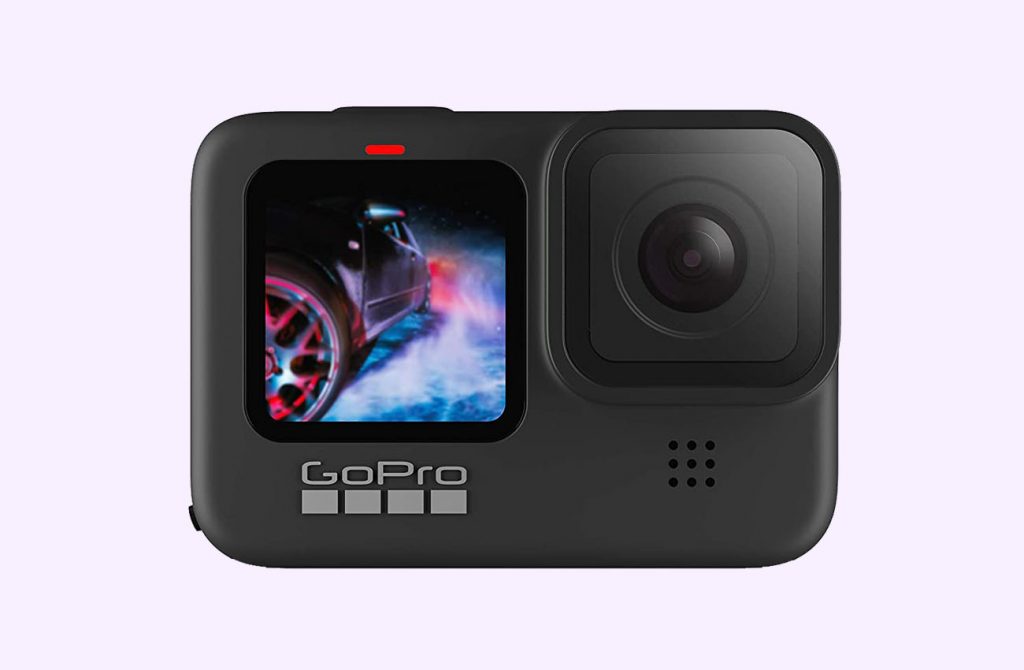 Best action camera for music videos: GoPro HERO9
This camera is one of the company's best action cameras ever made, and it is ideal for any kind of action, including underwater filming. It has image stabilization, which is improved, and it is budget-friendly and small in size for convenience.
This camera has a small size design, which allows it to be attached to drones and other objects, which isn't possible with some DSLR cameras. This camera has a Super Photo+ improved HDR, which delivers blur and shred-free videos for action shots. It has high-fidelity audio, which helps in the reduction of wind noise for a more natural audio quality.
This camera has some new improvements in features that allow you to add mics, lights, and other features to enhance your creativity. These improvements allow you to capture the best views through Narrow, wide, linear, and Super View settings. This camera features a HyperSmooth 3.0 enhancement, which ensures video stabilization, and regardless of the attachments you have, your footage will still be smooth and with 5k quality. Also, this camera features a TimeWarp 3.0 with an automatic speed selection, which has a mind-blowing effect.
The performance of this camera is great, it allows you to bring scenarios to life using fast forward and slow-motion effects built into the camera. It delivers shred-free and blur-free films and images, which minimizes post-production color correction. This camera's performance improves during night shooting as the scene becomes detailed and enriched with high-fidelity audio.
This camera has expanded video capabilities and I'ts integrated with HyperSmooth 3.0 stabilization tech for better image stabilization. This camera is known to be the most versatile and unshakable camera from HERO8. It has a streamlined design, which makes it easily portable and pocket-able. The camera has built-in folding fingers, which makes it easy to swap mounts in seconds.
This camera has an optional Media Mod, which allows ultimate expandability. As such, you can add an extra screen, pro audio, or even more lighting. This camera is compatible with digital lenses, which are the best for framing a perfect shot and allows toggling between narrow, wide, SuperView, and linear.
---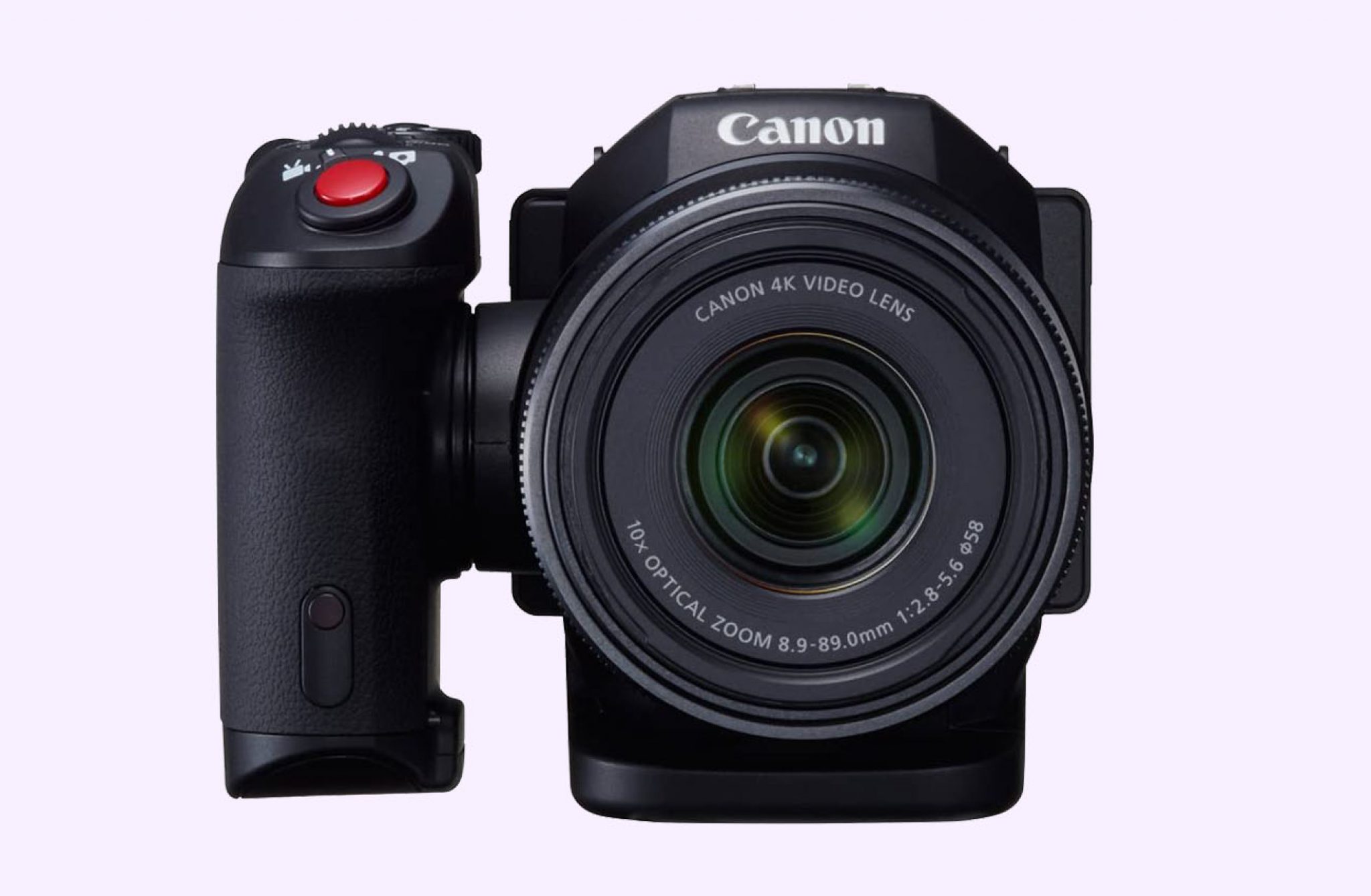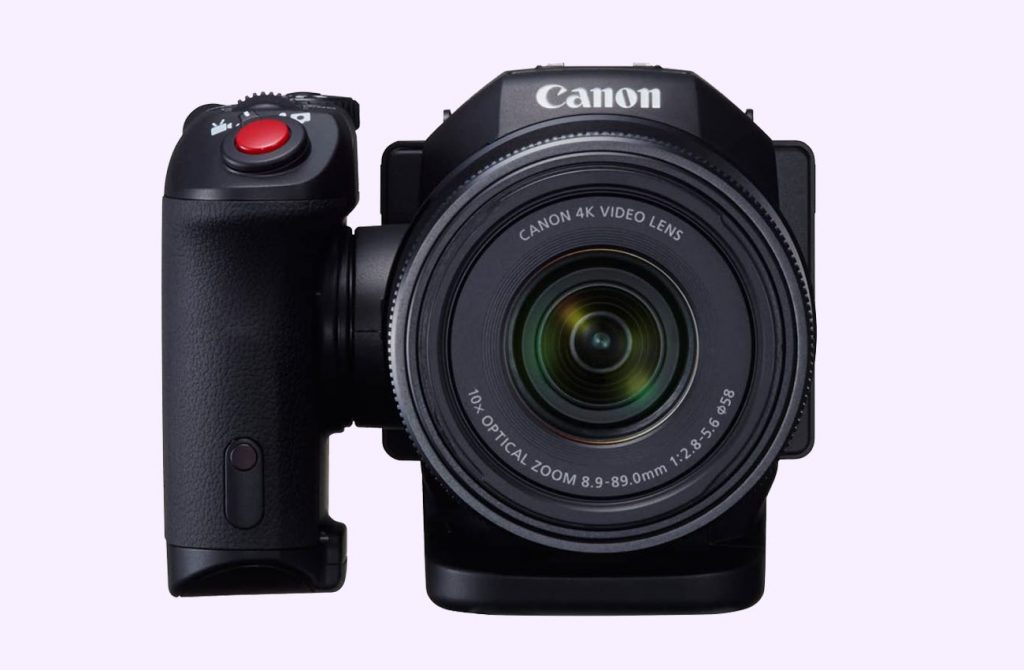 Best 4k camera for music videos: Canon XC10
This advanced camera incorporates a stunning blend of a variety of new features making it a good product that can meet the diverse imaging needs of the current content creation era. Its unique construction makes it light and versatile, thus enhancing portability and convenience. The ergonomically convenient camcorder has allowed accommodates a variety of videos and can satisfy a broad range. Additionally, the XCLO 4K Camcorder is designed with special innovations giving room for creative expression and capturing quality images and videos. Its design also makes it compatible with various EOS LP-E6N series of batteries and the LC-E6 battery charger.
XC10 is the best choice for professionals who use cameras in their field ventures because of its lightweight construction and compact shape. It is designed with a rotating handgrip, which offers support during the shooting process. The button layout is also designed to allow easy adjustments of the critical settings, thus making it user-friendly. Moreover, its controls can be swiftly accessed, and given its shape and size, you can wrap it around your fingers without much difficulty.
Its 10x optical zoom lens is a variable aperture type with the ability to access the f/2.8 aperture range except when it is zoomed, and the aperture falls to f/2.8. This type of lens offers a 21to 273 focal range in video mode, which makes it a good choice for many professional video shooters. The XC10 shooting process is a bit varied from the mirrorless cameras and DSLR units. This is because it has a small 1′ sensor that negatively impacts its performance, especially in low light conditions. However, it offers implausible video shooting abilities with little effort for storage management because of its 4k settings and 1080p resolution level.
The XC10 4K camcorder appeals to many media professionals because of its many special features. First, it can capture 12 Megapixel still images extracted from a 4K motion video. The built-in lens has a strong zoom ability since they offer a zoom ratio of 27.3-273mm for movies ad 24.1-241mm. The lens also has a 2x digital teleconverter that increases image magnification when switched on in a movie mode. Its image stabilization resulting from the built-in Canon optical enhances easy operation eve by a single user and can suit a variety of shooting situations.
Many professionals ranging from next-generation advanced amateurs to professional 4K, HD videographers, and digital filmmakers should buy this camcorder because apart from being cost-effective, It is also flexible in operation and has a high level of compatibility. For instance, the tiltable touch screen LCD enables shooting with a wide variety of angles. Additionally, its compact cabinet makes it easy to be operated.
---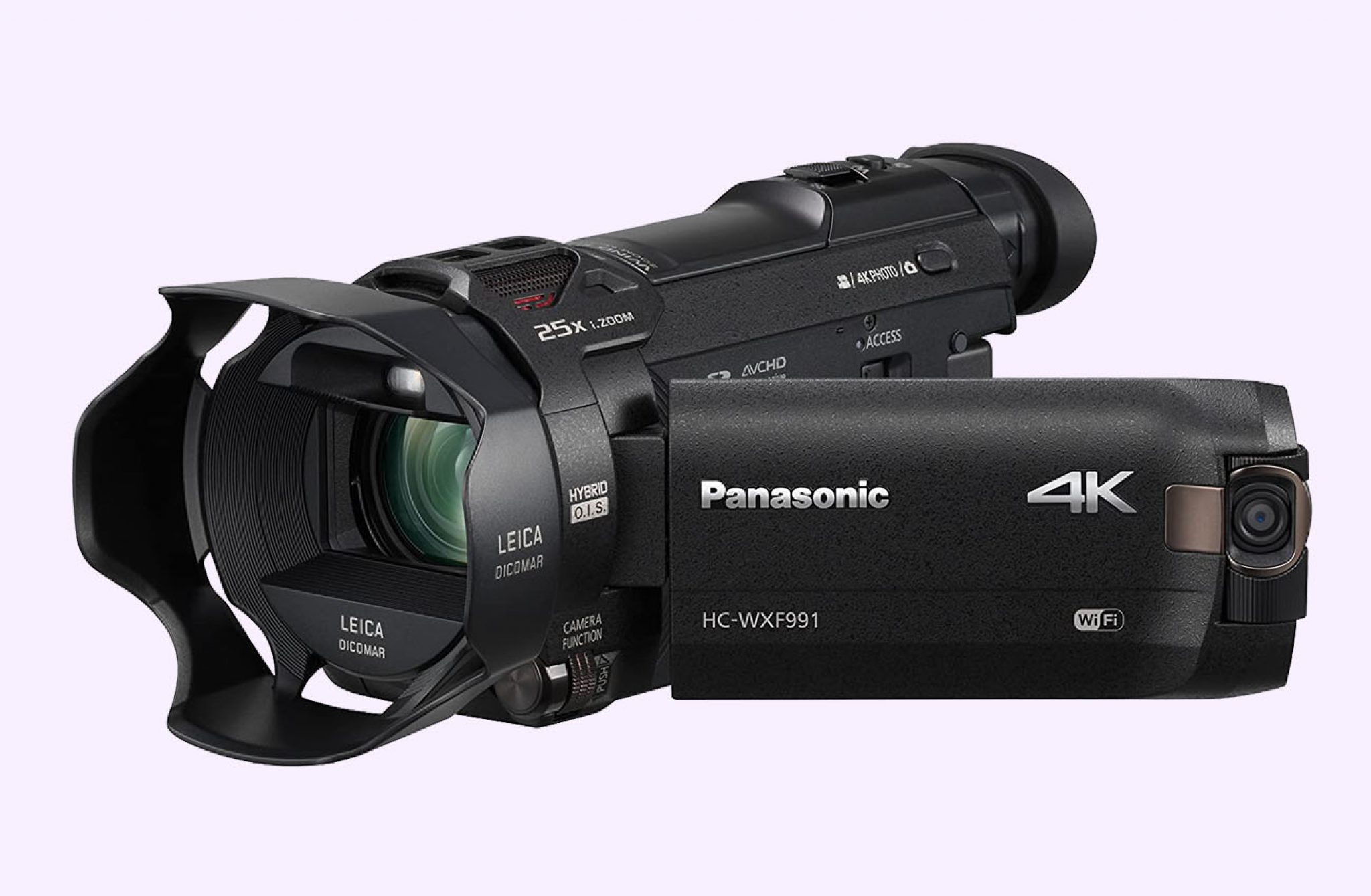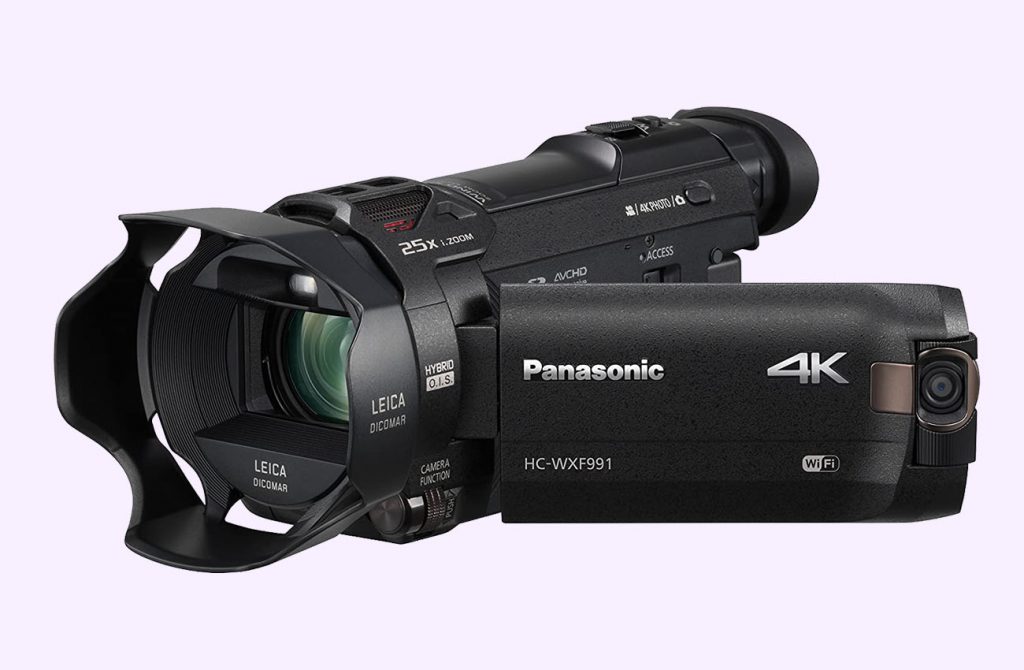 Best value camera for music videos: Panasonic HC-WXF991K
Panasonic 4K Cinema is a handheld 4k video capture with a variety of features that make it a special kind. It features in-camera cinema creative and editing solutions and a second in-built camera, which provides a second HD feed for picture-in-picture video. Additionally, its wireless nature enhances its accessibility via Wi-Fi.
The camcorder is designed with a secondary camera placed at the edge of the LCD monitor. The purpose of this second-twin camera is to enable users to record two angles simultaneously. With this, the user can emphasize his/her voice during the recording. Its wireless multi-camera allows multiple mobile devices to be connected to it. This enhances the users' creativity as they can capture multiple angles and viewpoints at the same time. This design also allows users to control the camera remotely using their devices, given the camcorder has the Panasonic mobile app. Finally, in-camera editing gives room for actions such as video cropping and the addition of various effects such as stabilization, panning, and zooming.
Using the 4K photo mode feature, the user can easily pause a video at any given moment and extract 4k images from those frames. The shooting process is also efficient since the camcorder comes with a range of cinema-like effects such as Dolly Zoom, slow motion video, and a slow and quick video. Gradation of the images taken in a back-lit situation can be maintained using the special feature of High Dynamic Range Movie. On the other hand, users can make the recording process comfortable in highly lit backgrounds by adjusting the 0.24′ screen using the tilting electronic viewfinder. Therefore, blurring and jitters in videos can be voided.
The camcorder has very good video quality because of its ultra-sharp 4k Ultra HD recording and the in-built camera editing effects for 1080p. Moreover, it enhances the users' creativity and increases the convenience of handling due to its ability to capture videos from various angles.
Panasonic 4K cinema is a camera gem since it allows the user to shoot 4k video. Besides, professionals can create appealing footage since it offers in-camera cinema creative and editing solutions. Lastly, the Electronic Viewfinder makes shooting in multiple situations possible.
---
Things to Consider Before Buying (Buyers Guide)
When choosing a good camera for music videos, it's important to consider the variety of options there are in the market today. The most appropriate choices for this function should be compact and easy to use. Cameras for music videos should be stable enough, so stabilization is one of the key features to look into.
A music camera should allow you to move around and attach to instruments for better focus of your subjects and scenes. These cameras can have some important improvements in color, lighting, and settings, so if you're looking to purchase a camera for music videos, go for the best. Music videos are meant to communicate and convey ideas and thoughts.
Settling on a decision to buy photography gear is not easy or simple; you need to consider the fact that the market, costs, and patterns are very inconsistent. You need to focus on what you intend your image quality to be and the type of videos and films you want to shoot.
A camera is most effective if it has multipurpose use because investing in specific media equipment isn't advisable. Investing in a variety of gear is advisable, as it helps you make exceptional videos and music. A good camera helps you take brilliant and breath-taking photography, art videos, and films with a high-quality resolution to jump-start your photography career.
Frequently Asked Questions: (FAQs)
What equipment do I need to make a music video?
When making a music video, there is some essential equipment needed. These include high-quality 4K and Full HD recording, audio inputs, good lens options, and manual controls. You should also invest in a good and solid tripod, video editing software, and video lighting kit. Also, you need an external camera monitor, headphones, and a music player.
How long does it take to shoot a music video?
Music video production takes a long time and a full team of professionals, especially if you want the best music video quality. Every minute of a song in a music video can take a team between 2 to 10 hours of production, ranging from shooting, editing, and finishing. However, taking a very long time might create a risk of abandoning your project.
How do you shoot a music video by yourself?
The first thing when shooting a music video by yourself is to choose a shooting scene, preferably a quiet room with a good background. Round up your gear and set it up, then begin your shoot while optimizing for your preferences. Take advantage of remote recording and pump yourself up! Shoot in one location and make it count.
What makes a great music video?
A great music video is one with a brilliant image and video quality. The audio quality should also be impeccable, with no noise in the background or blurring in the video.
How do I start making a music video?
The important thing when making a music video is to have the right gear. Music videos require cameras and lenses with high resolutions and features that allow autofocus in various settings. Choose a preferred location for your shoot, and ensure the background is okay, then start your shoot.
Conclusion
To choose the best camera for your music videos, you need to consider such factors as your budget, the camera's quality, and other features to make the best out of your video shoots. There are many choices for cameras for music videos, and depending on how much money you're willing to invest in your gear, you get quality equipment.
Related Posts:
Subscribe to the CameraIO Newsletter
Photography & Camera News + DEALS