Subscribe to the CameraIO Newsletter
Photography & Camera News + DEALS
The movie-making industry is growing and advancing from time to time. Nowadays movies produced or rather created are of high quality. High-quality movie production is made possible due to the cameras used in movie making. Below are some of the best video cameras for movie making:
Best Video Cameras for Movie Making (Reviews)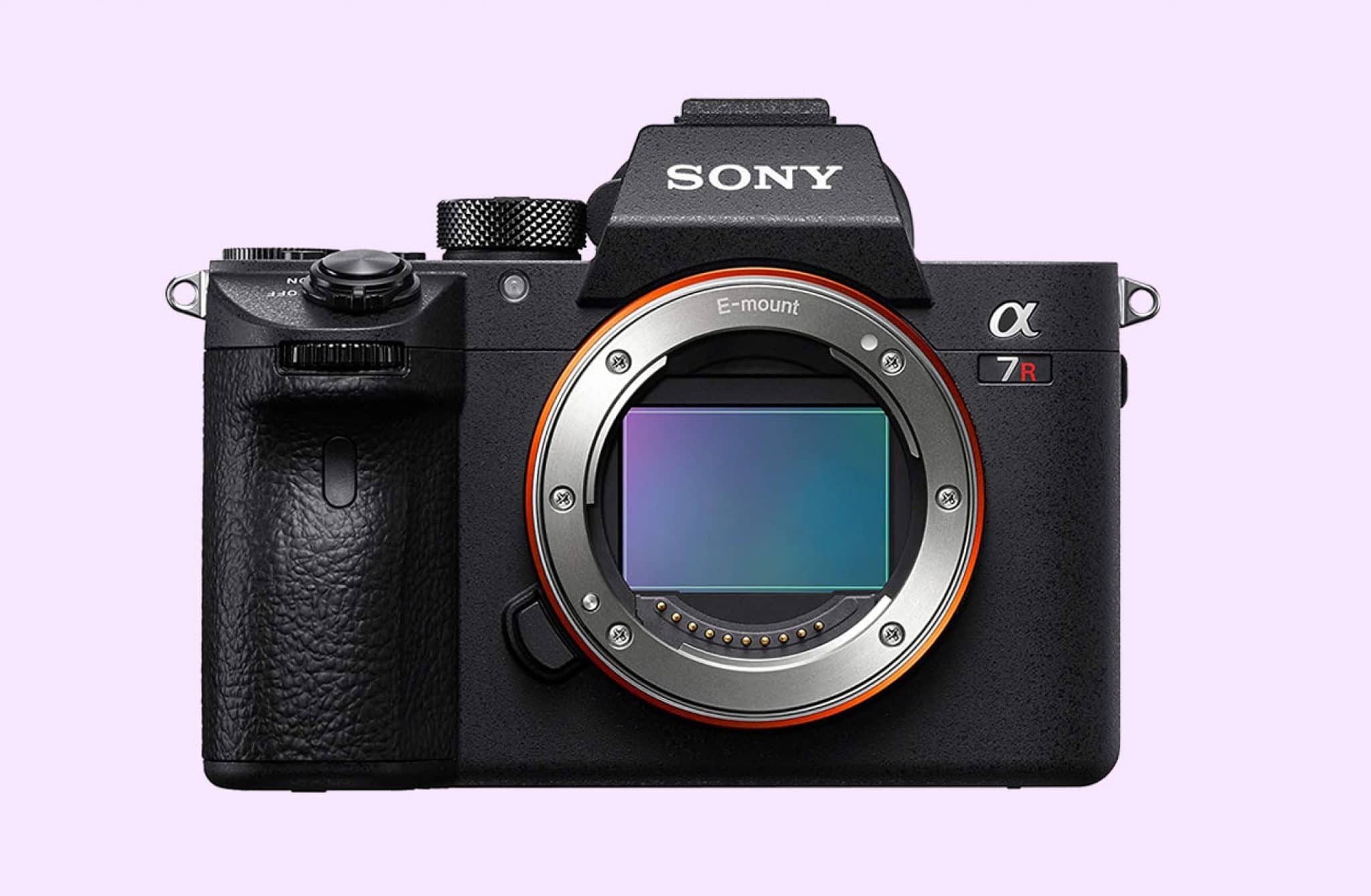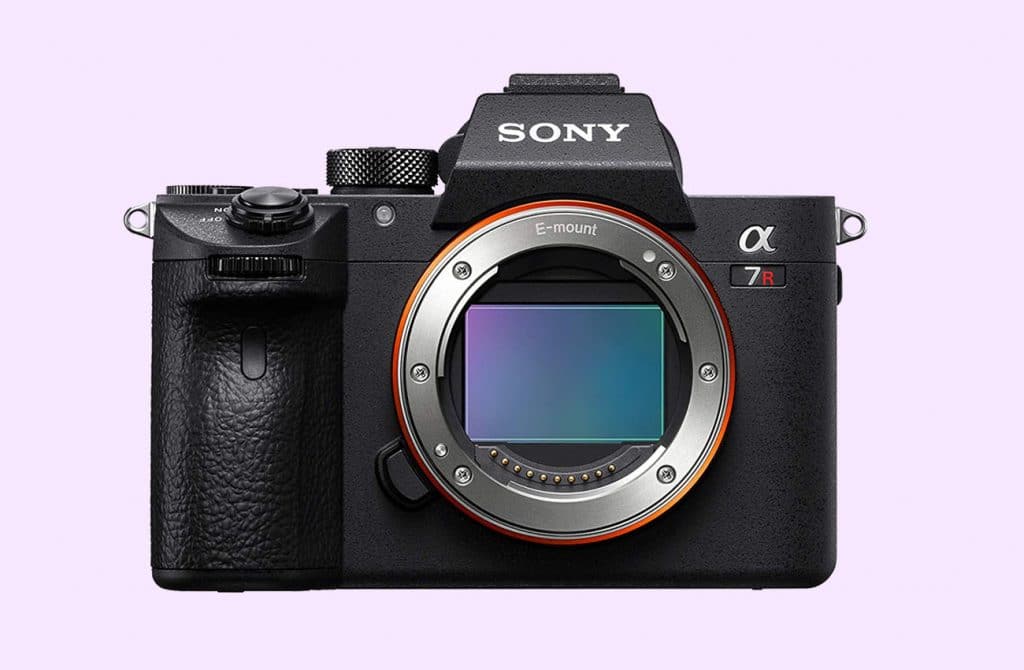 Best sony camera for movie making: Sony a7R Mark III
It has dual memory card slots.
It has a tilting touchscreen LCD.
It captures quality HD videos.
It can autofocus even in extremely low light.
It has good battery life.
It has a better ISO performance.
It has excellent button controls.
Being one of the highly sought mirrorless cameras in the contemporary filmmaking industry, a7R is without a doubt the most recent high-resolution camera from the Sony Company. Similar to such cameras as Nikon's latest release, the resolution goes hand in hand with high speeds alongside autofocus features therein seeing quality results in videography. The high speeds conform to shooting about ten frames per second.
Moreover, the Sony product boasts a high and fast processor with improved focus and handling as well as a large battery for more extended performance hours. The most significant features of the camera include the 42-megapixel sensor with faster video processing and lower noise reduction i9n image processing.
Between the shots, the camera provides updates that keep the user up to date on the performance and nature of their work. It also contains a touchscreen with a joystick to improve focal positioning. It has a thicker grip than its predecessors therein proving to be the best in features with the meaningful longer battery life and customizations.
The video features that distinguish it from the rest are the 4Kfootage oversampled to a 5K capture. The video's focus is also inclined to ensure that there is a refocus on the background. To see to the storage issue in video cameras, the a7R contains twin slots for inserting SD Cards, of UHs-I and UHS-II that appear not to be compatible with most cameras.
Since all the filmmakers' objectives have high-resolution videos, the camera contains the Bayer-cancelling Mode in the multi-shot option to enhance the high resolutions. Finally, it utilizes the phase-detection mode even with adapted lenses therein maximizing performance for better results therein essential to video professionals on a budget.
---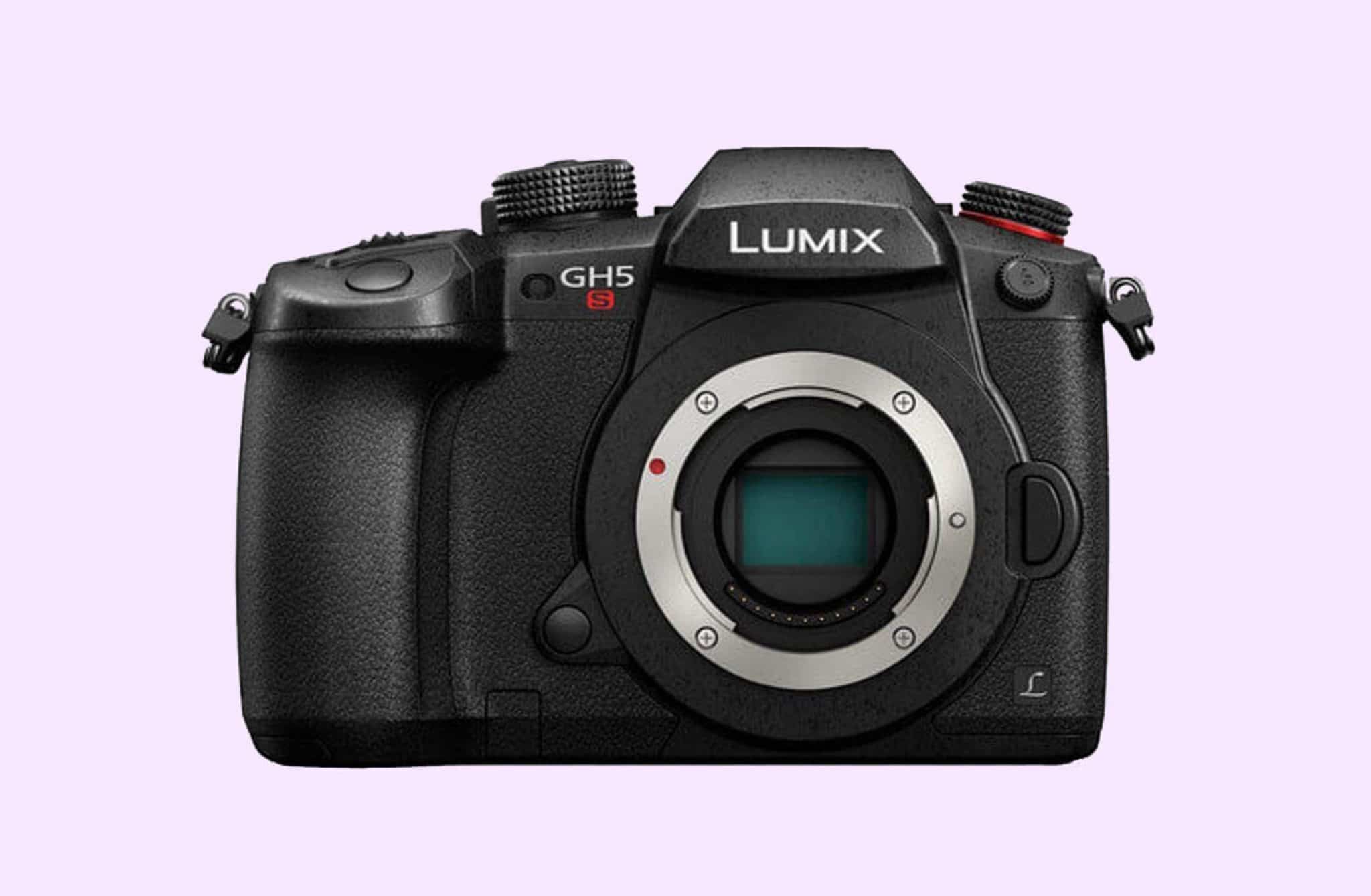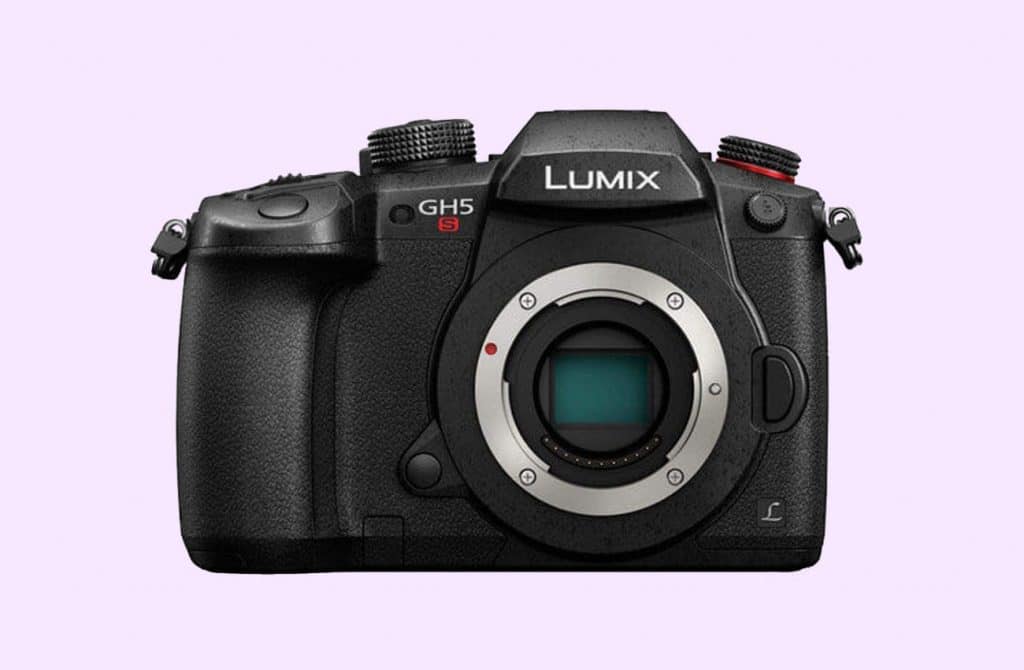 Best mirrorless camera for movie making: Panasonic Lumix GH5s
Produces quality images even in low-light locations.
Recording time is not limited.
It has an anamorphic mode.
It has long battery life.
The presence of a holder for the HDMI cable ensures that it is tightly held into position.
It is partially resistant to water, dust, and moisture.
It is relatively light.
It is durable.
Panasonic Lumix GH5s are among the few digital cameras whose introduction to the filmmaking industry platform has set new standards at this time. It is designed to offer an experience that results in professional and amazing works due to its highest sensitivity sensor and best image quality ever recorded in LUMIX history.
The mirrorless Panasonic GH5s offer a variety of compact lens options like the LEIKA set with interchangeable lens camera standard (ILC) which are meant to meet the quality of the video regarding brightness and sharpness of images. Its mirrorless design ensures high performance, mobility, and durability.
Besides, this specific design ensures light gathering is well accounted for to provide professional cinematic and optically distorted images in 4k video production. This amazing camera still cuts the edge by being installed with up to 60 pixels per image with a multi-aspect and dual native ISO, a brand of up to 10 bit, and offering unlimited recording.
Lumix GH5s supports important recording features such as the 14bit RAW, Panasonic XLR mic-adaptor support, the return of multi-aspect capture, and a dual native ISO. It is also capable of using a high-speed video class of at least 60 SD memory cards that are recommended for a 4K video recording. Besides, it is still compatible with an SD memory card of video speed class 90.
The Panasonic Lumix GH5S is fitted with a 3.5mm mic jack with a line input, a 3.5mm headphone jack, an HDMI socket, and a 2.5mm remote socket. It allows the transfer of JPEG and RAW files of data through a swift switch to a fast Wi-Fi of 50GHz (IEEE802.11ac). Alternatively, the user can use the 3.1 USB-C 3.1 socket for file transfer.
---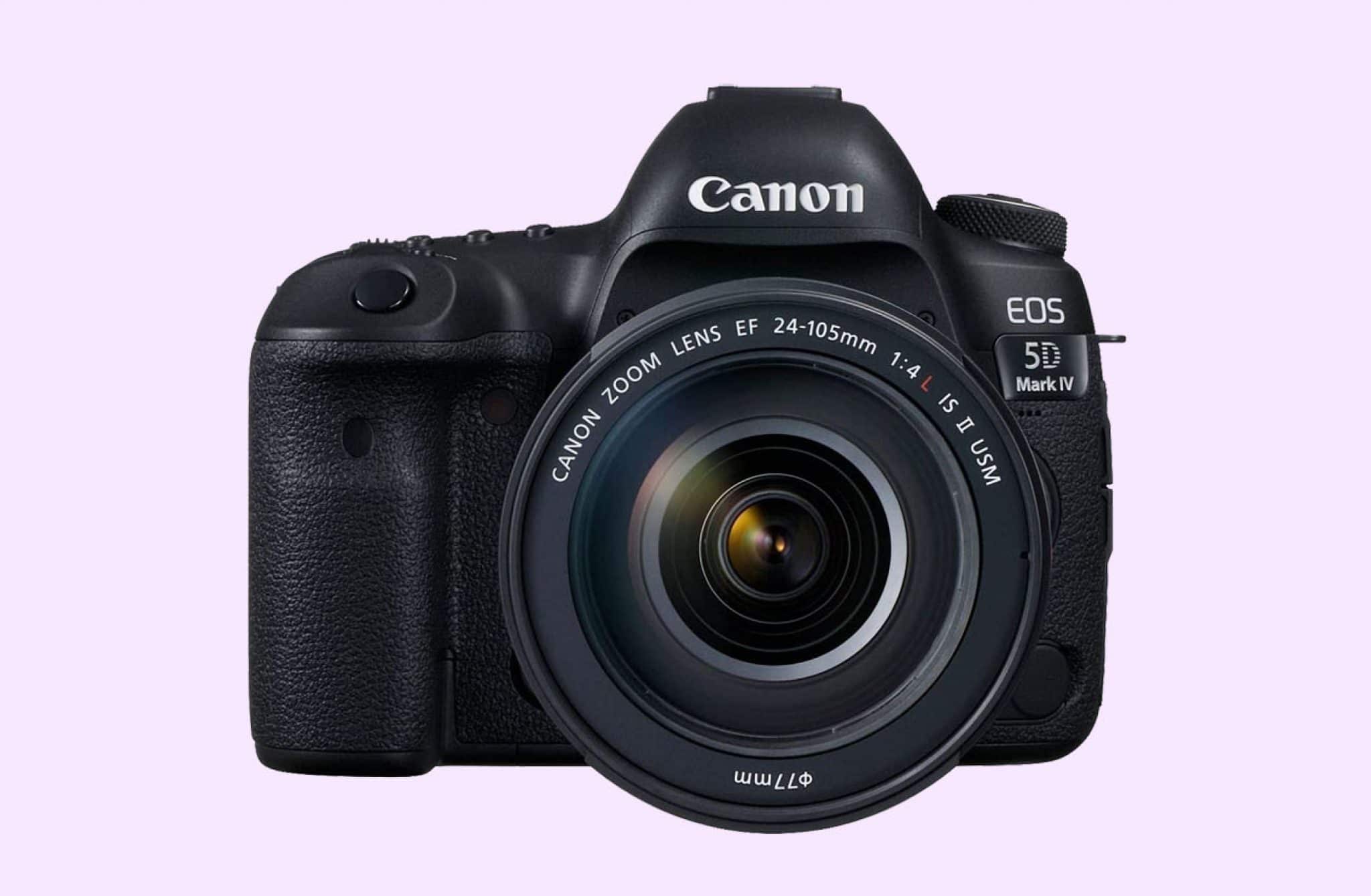 Best dslr camera for movie making: Canon EOS 5D Mark IV
Long battery life.
It is comfortable and easy to use.
Suitable for any weather.
It has built-in WI-FI and GPS good video and image quality.
Excellent color.
It has dual slots for memory cards.
It is relatively cheap.
In filmmaking, Canon Mark IV is without a doubt the most significant camera in attending to a range of different video features from landscapes to wildlife and sports. It is a 30.4-megapixel camera, from the canon company, just as competitive and renowned as Sony.
From its features, it turns out to be an improvement on its predecessor 5D Mark III. It has a full-frame DLSR with a touchscreen LCD that enables the video professionals to dictate the focal point before and during the recording manually. The Mark IV contains a long battery life of 900 shots with a 4K video recording mode.
For a quick and reliable mode of transferring data, it contains an in-built Wi-Fi that connects to other devices such as tablets without necessarily needing laptops. It is, therefore, a top performer, with high-quality shots from the camera. In the latest innovations, the camera boasts having the dual pixel Raw, able to shift focus after taking the shots of choice.
The dual-pixel feature also sees the image and video micro-adjustments that have more exceptional final products. The feature, therefore, aids individuals not to miss focus or efficiently use the camera, it has buttons fitted for almost all the settings thus having smooth navigation.
Since it is ideal for both indoor and outdoor shoots, it contains the anti-flicker feature for adjusting exposures. Moreover, the introduction of built-in GPS enables the videographer to geotag specific information on the pictures and videos shot.
Being among the most advanced cameras, it can have continuous shots of up to 7fps therein ideal for both studio work and quick video clips thus essential for utilization by individuals on a budget.
---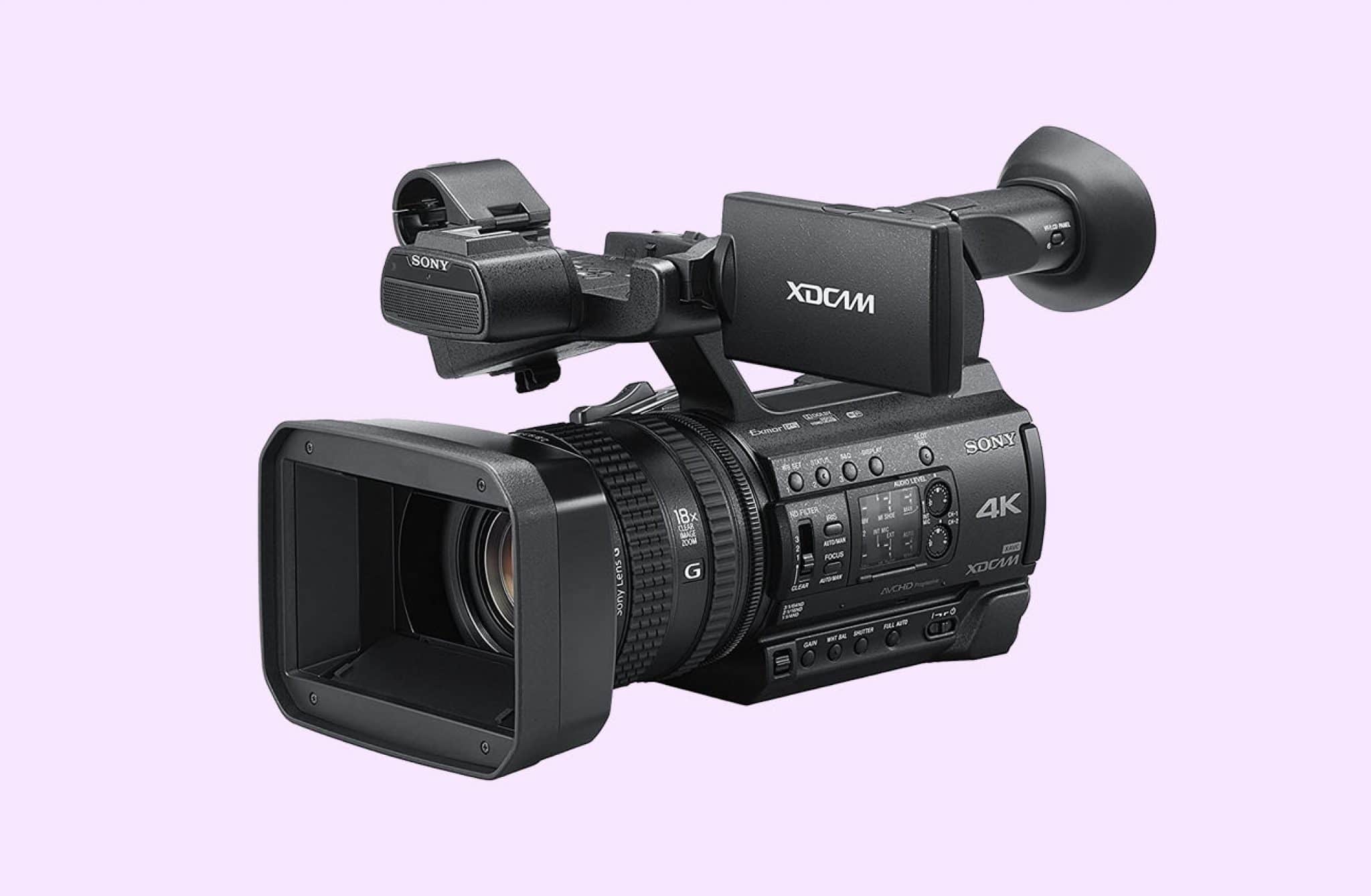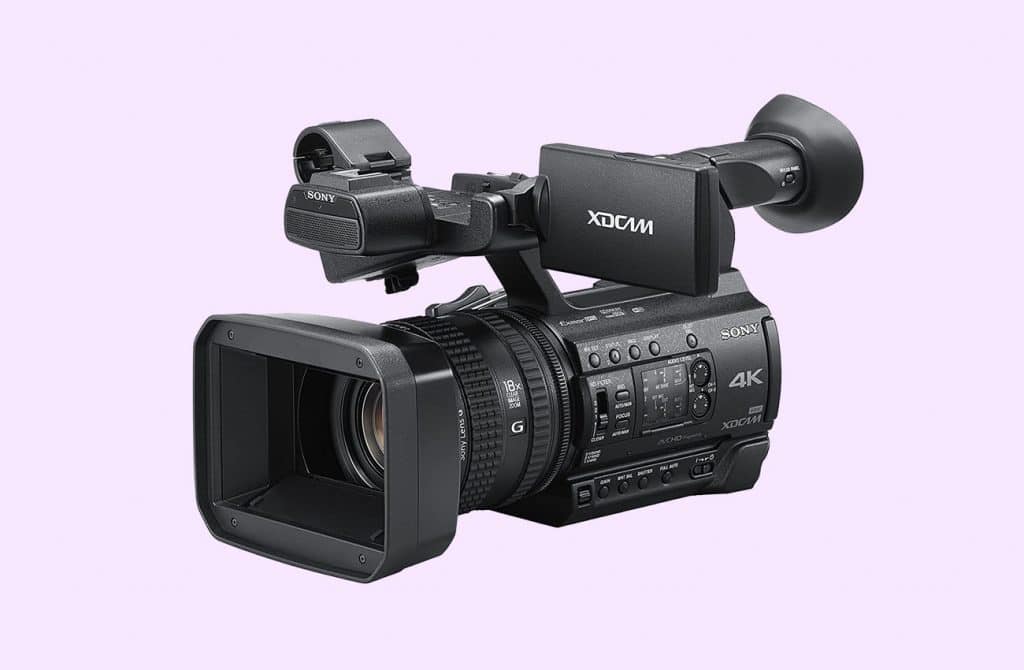 Best 4k video camera for movie making: Sony PXW-Z150
It has a lightweight body hence it is portable.
It performs better even in low light.
It allows users to capture images even in the dark.
It has a built-in Wi-Fi capability thus users can store videos in FTP servers.
It can be remotely controlled.
It has a long-lasting battery.
The Sony PXW-Z150 is definitely among the best cameras for movie making. First, the Z150 has 120fps and an image stabilizer, this way you do not need a tripod for you to capture quality videos and movies. The camera is equipped with a 1″ Exmor sensor to ensure that more light reaches the camera sensors.
The sensor is about 20x megapixels so as a filmmaker it is possible to focus on a specific background and defocus the rest of the background. The readout speed of the Sony PXW has been doubled compared to other previous Sony cameras to ensure 5x slow-motion image capture.
The Sony PXW-Z150 provides and captures high-quality videos for 4K and HD productions. The PXW-Z150 gives its user the option to choose and switch between the NTSC and PAL. It has a 12x optical zoom lens to capture even the most distant videos. The lens is 29-348mm wide to ensure that the video captured has superb clarity and sharpness.
Equipped with a pixel super-resolution technology the camera can enlarge or rather zoom 4K videos and images up to 18x and HD videos up to 24x. The Sony PXW-Z150 is very light. Thus it is easy to use when shooting movies. The camcorder is both automatic and manual.
The manual option is preferred by moviemakers who want to be creative. It has two memory slots to extend the recording time. It supports SDXC and SDHC memory cards. PXW is equipped with a relay mode to switch from one memory card to the other when recording.
Finally, the PXW-Z150 camcorder has WI-FI and NFC networking capabilities. It is useful for live streaming. Sony's content browser mobile software ensures that you can control the camera from your smartphone, you can pause, and record zoom.
---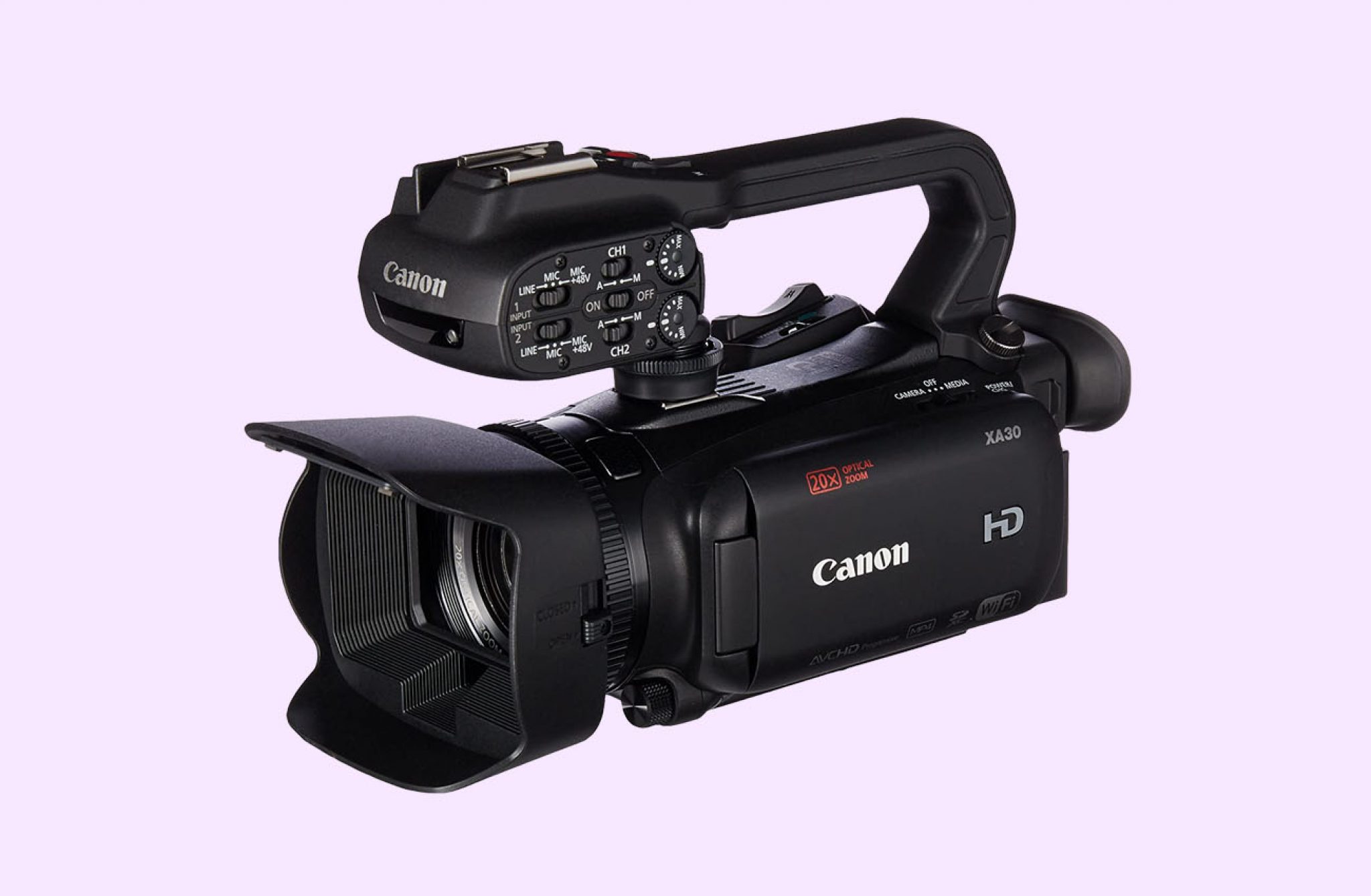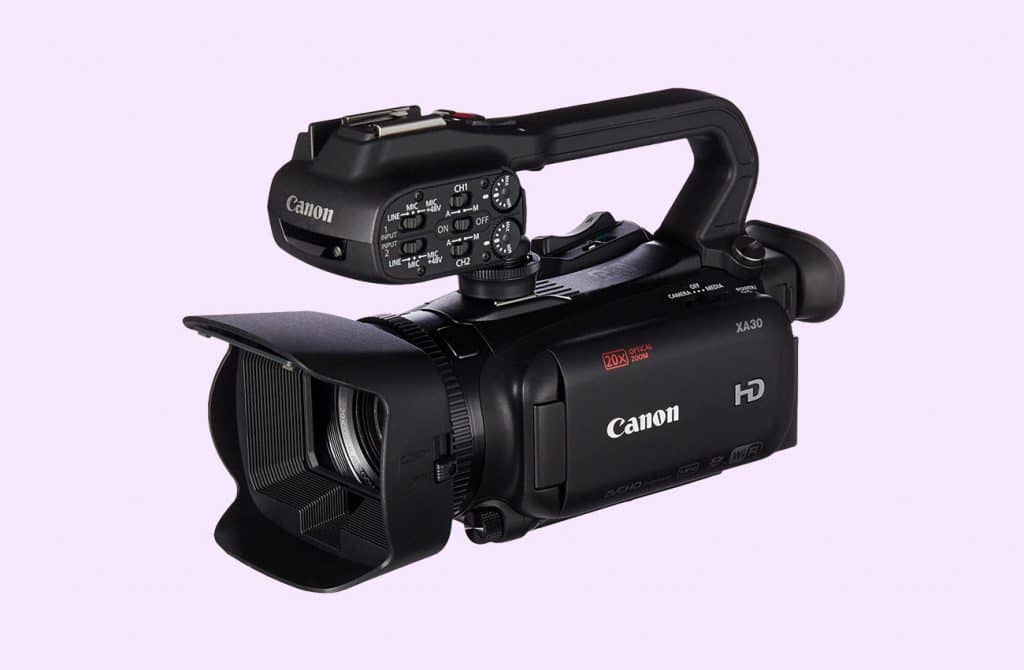 Best canon video camera for movie making: Canon XA30
It has a pro sensor with improved sensitivity.
It has a wide DR mode that allows it to maintain highlights.
It has a built-in dual-band Wi-Fi for remote control.
It has a versatile and wide-angle lens.
It has two new picture settings that allow you to control the contrast, highlight, and shadow areas.
With an easy-to-use OLED touch screen.
Canon's announcement that they would be releasing the new XA30 was welcome news for event shooters and documentary producers. This camcorder, which features the latest and most impressive video recording abilities, looks designed for professional use if the price tag is something to go by.
Still, it's a camera anyone can have and operate without problems. The Canon XA30 has an undeniably professional-looking design, although it is quite lightweight. The camcorder features Canon's latest new HD Pro CMOS image sensor, which makes its performance in low light quite remarkable.
This sensor eliminates the difficulty that camera users often face while trying to adjust their cameras in a way that outputs what they're seeing. With the new sensor, you get images that reflect exactly what you see with your eyes.
Thus, you only need to focus on the scene you're shooting without worrying about the quality of the images. You also get a +3dB upgrade to your signal-to-noise ratio, which makes it possible for you to get very clear pixels when working in environments with poor lighting.
The camcorder features a new 20X optical zoom lens. Expect an amazing zoom range of 35mm, while the minimum image distance is 23.3″. Unlike its predecessors, the Canon XA30 features an improved eight-blade design. This feature makes your images appear more natural and realistic.
The camcorder has an easy-to-use standard zoom ring. The ring allows you to make use of the available sensitivity modes. The flexibility of the lens is quite remarkable, allowing you to use a wide variety of adjustments.
You can easily adjust everything including recording modes/ codecs and frame/bit rates. If you wish to shoot a documentary or film, you can always use the default frame rate, which is 24p. During shooting out in the field, you have the option to speed up or slow down your video because it's available during playback.
This feature is made possible by the camcorder's upgraded software. For action movements, you can slow down footage, while speeding is ideal for time-lapse. You can also create time lapses on the spot, thanks to the interval recording feature.
---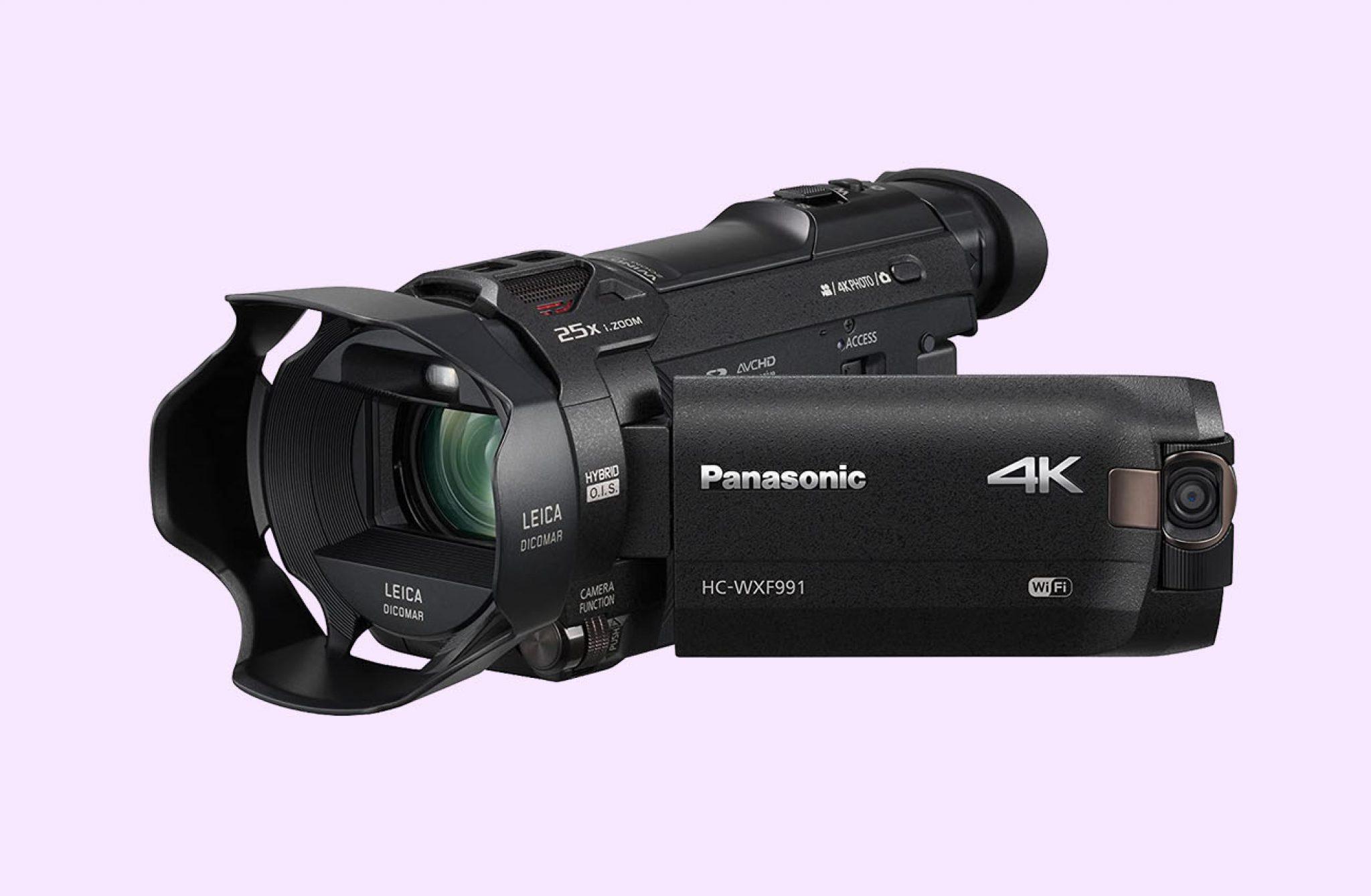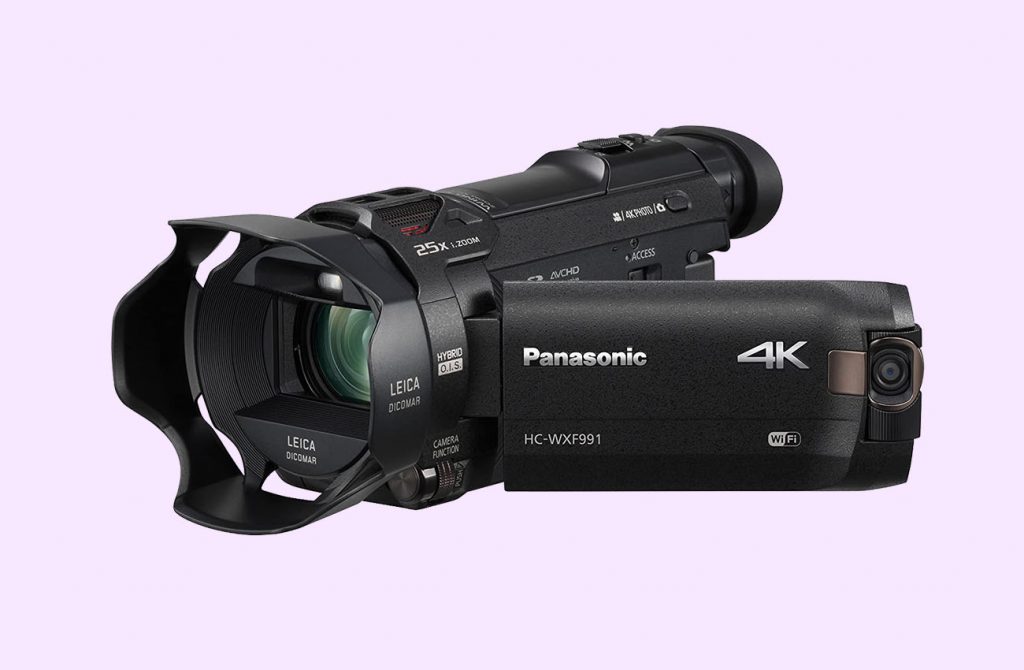 Best panasonic video camera: Panasonic 4K Cinema
The camera has a 20X optical zoom.
Allows Wi-Fi connectivity.
The camera performs rather wonderfully, even during cloudy days.
The camera lets you zoom into a section once you've captured a 4K shot.
The camera also makes it possible to shoot a 60fps HD clip and slow it down to 24 fps.
One of the impressive things about this camcorder is that it's neither bulky nor very robust as it is made of plastic.
Can manage 60 fps in HD clip.
Panasonic 4K Cinema has been generating positive vibes among lovers of camcorders around the world. The camera's shape has earned it the name "football" form factor, although it isn't the only camcorder built with this appearance. While this impressive video recorder may share similar looks with other camcorders that have been produced over the years, it does feature some unique features that set it apart from other cameras.
For instance, this camera is one of the select few that feature UHD 4K. The other camera in the market with this feature is, of course, the Sony AX33. Even then, the Panasonic boasts a 20x optical zoom compared to Sony's 10x optical zoom. This camera has a second camera on the flip-out display.
The obvious question, of course, would be why a second camera is necessary on the camcorder. Well, there are various possible reasons why the manufacturer may have decided to include this unique feature. First of all, the twin camera works perfectly for a blogger who wants their face to be part of what they're discussing.
Secondly, the second camera makes it possible to capture all people present on an occasion, including the one who's shooting. Additionally, the camera is perfect for behind the scene videos. The camera smoothly rotates to capture images that are towards the operator to the side or towards the front, allowing for a second angle. Just rotate the camera to selfie mode to turn it on.
The camera lets you zoom into a section once you've captured a 4K shot. You can select the speed of the zoom and make a new clip. The camera also makes it possible to shoot a 60fps HD clip and slow it down to 24 fps. This is especially impressive if you do not fancy using a computer for those functions.
When operating the camera in very windy conditions, you may need to be careful that the wind doesn't blow it away, particularly if you're mounting the camera on a tripod as the camera is rather light. Aside from that problem, you should be fine as the wind reduction feature on this camcorder works wonderfully, reducing noise significantly.
Being a consumer camera, the camera doesn't have too much information in the shadows if you are shooting on very sunny days where there are prominent shadows. Still, the camera does possess the auto exposure feature which helps a lot in these conditions.
Of course, if you are looking for something more professional-oriented, you may opt for a camera that allows more manual control when it comes to exposure since this camera does not provide that option. When shooting in areas of low lighting, you may notice that the more is apparent and somehow distracting. Otherwise, the camcorder functions quite impressively.
You'll fall in love with the 20X optical zoom. The zoom has an impressive focal length that measures between 30mm and 626 mm. In short, shooting from a long distance away isn't a big problem if you can keep the shot steady. Other camcorders that are peers to this camera tend to have half the performance.
---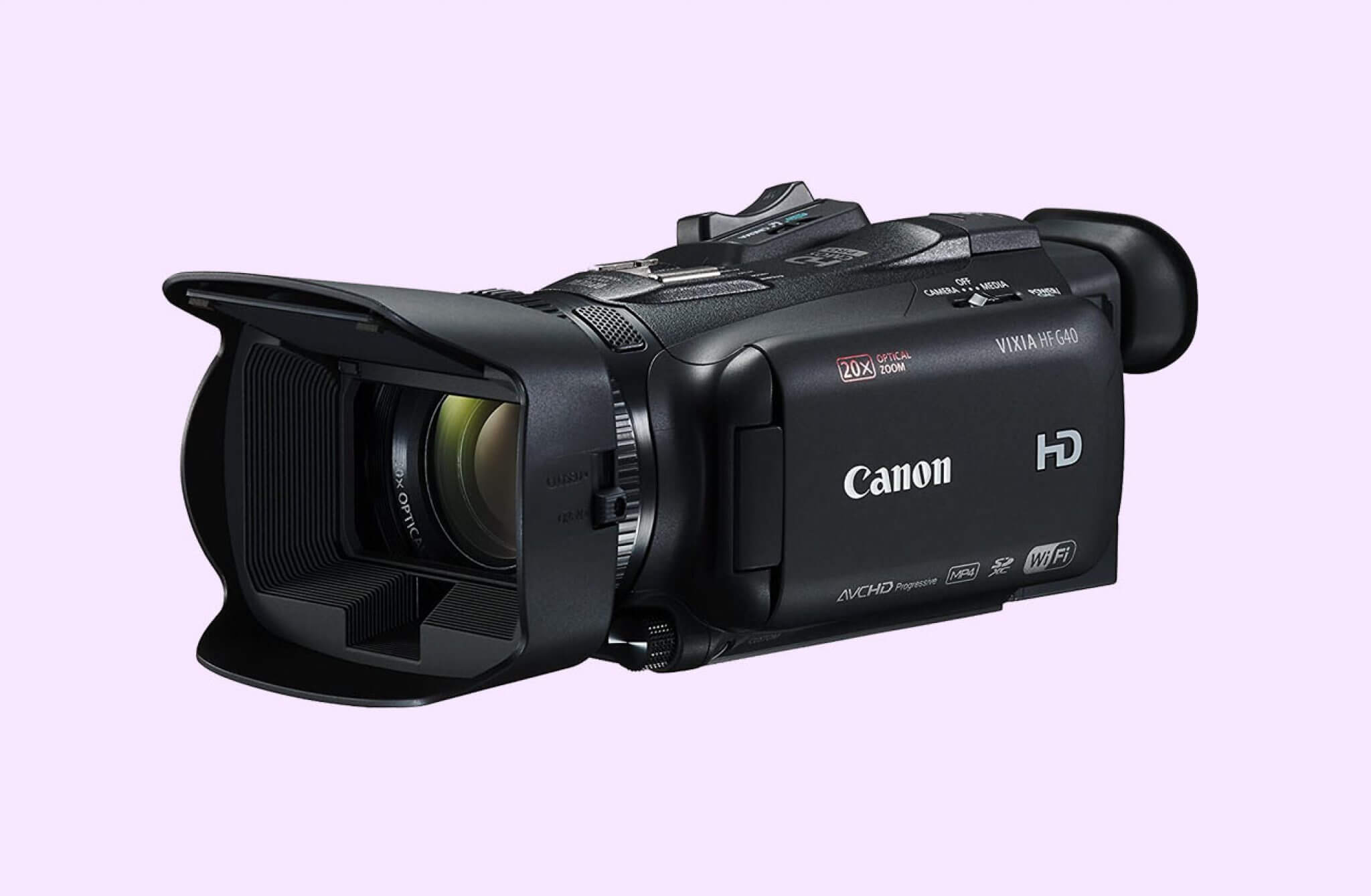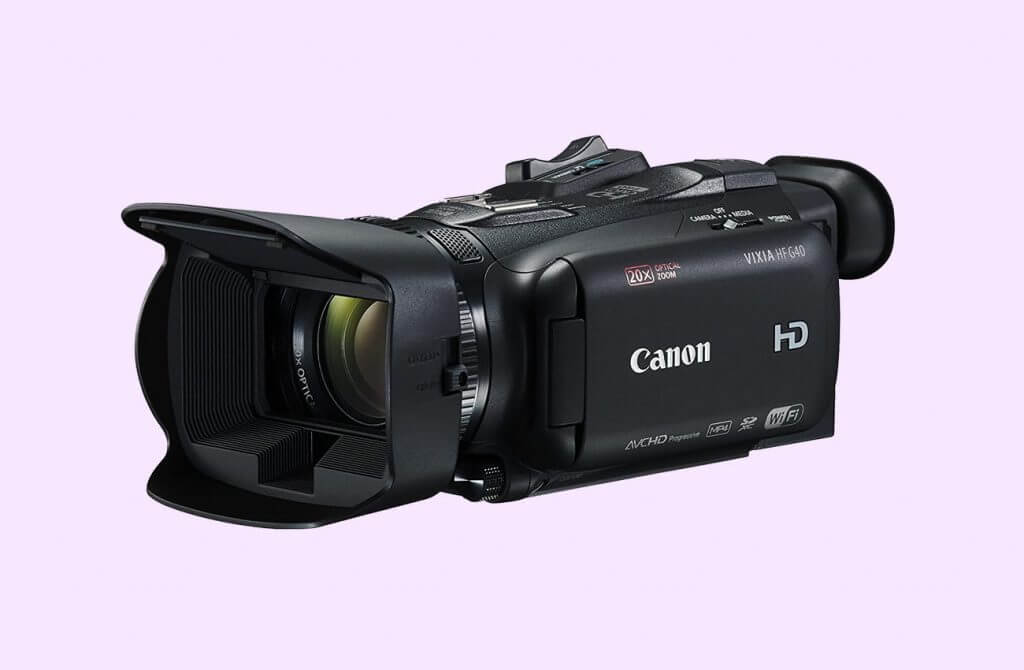 Best hd video camera for movie making: Canon VIXIA HF G40
The VIXIA HF G40 features an impressive 20X optical zoom.
The camcorder has an impressively powerful dual-band Wi-Fi module.
The camcorder can connect to wireless networks.
The Canon VIXIA HF G40 makes each recording both sharp and highly detailed.
The camcorder has top-notch low-light performance and will capture dim sessions without adversely affecting the camera's pixel resolution.
The total weight of the camera is about 1.7 pounds which makes it easy to carry around.
Capable of up to 59.94 fps, which is very remarkable.
Videos are a big thing today, and every day, stunning new ones hit YouTube and other social sites. What's amazing is that many of these high-quality videos are made using smartphones, thanks to the latest technologies in lens productions, making it easy to shoot impressive 1080p and 4K videos.
Add that to the cutting-edge software people have access to, and it's easy to see why it's currently so easy to come up with such impressive productions. But no smartphone can shoot better videos than a dedicated Canon camcorder, especially the VIXIA HF G30 that hit stores back in 2015.
The camcorder made it possible to shoot top-quality videos without needing to spend a fortune on a big camcorder. And now with the HF G40, things are even better. So, what exactly sets this one-of-a-kind camcorder apart?
One of the instantly recognizable things about the HF G40 is the 3.5-inch OLED display. Expect an electronic viewfinder too, as well as a lens hood that comes with a barrier. The camcorder does not come with internal memory, but that shouldn't be a problem as it is equipped with dual SD slots.
The total weight of the camera is about 1.7 pounds, but with a grip so fine, it feels very comfortable to use. Other notable features in the camcorder include an HDMI cable, an interface cable, and a wireless controller. And if you're looking to use other Canon accessories, the camcorder is compatible with a 5.1 surround mic, as well as the Video Light VL-5.
This camcorder is designed to record 1080p/60p video in both MP4 if you are looking for small-sized videos for sharing. If you'd like to record files for archiving, then you are better off using the AVCHD formats. While both of these are achievable by using just one SD card, using the dual recording feature available in the camcorder makes it possible to record a session and save it in both AVCHD and MP4 formats.
You could also do relay recording using both SD cards, which allows for longer recording sessions as you can combine both SD cards. The camcorder will swiftly transition to the next SD card once the first one runs out of space without interrupting the footage. Of course, having two SD cards is much better than having one since you don't lose all your files in case one SD card gets destroyed.
Another impressive feature of this camcorder is the impressively powerful dual-band Wi-Fi module which has a capacity for both 2.4 GHz and 5 GHz. The camcorder can connect to wireless networks, allowing pairing with smartphones and computers within the network.
What makes the HF G40 different from the HF G30 is its new look setting that has some imaging effects that are lacking in the camcorder's predecessor. The imaging effects make it possible to make the videos look better depending on the scene. As a result of the advanced HD CMOS Pro image sensor, the Canon HF G40 makes each recording both sharp and highly detailed.
The camcorder has top-notch low-light performance and will capture dim sessions without adversely affecting the camera's pixel resolution. And with a low-luminance noise rating of +3 dB, you'll never have issues capturing scenes in areas with poor lighting. Also, deserving recognition is the camcorder's image stabilization feature which is markedly better than that of previous models. The feature allows for better stabilization of the camera across all zoom levels.
When it comes to zoom, the G40 features an impressive 20X optical zoom HD video lens. This feature helps the user sneak into greater detail from a long distance away, and when coupled with the image sensor and processor, then it becomes possible to get some high-quality recordings.
---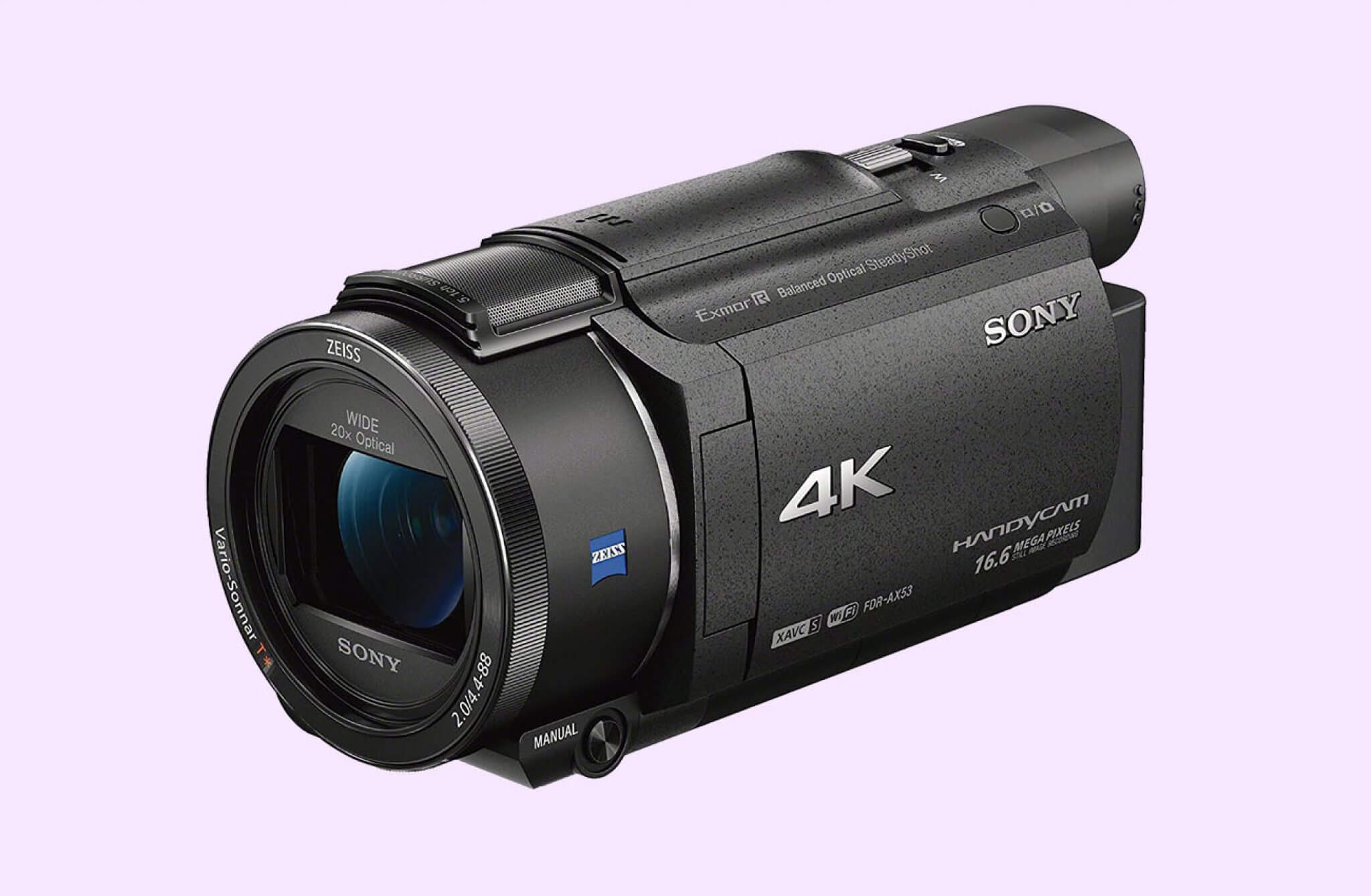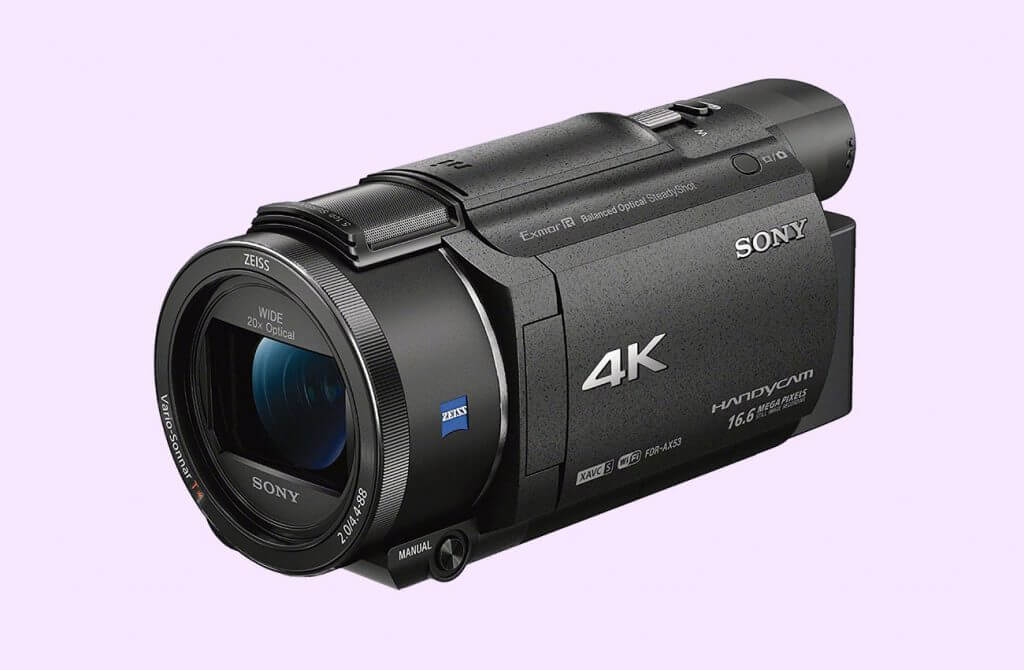 Best camcorder for movie making: Sony FDRAX53/B
The optical zoom of the FDR-AX53 is 20X.
Other notable features of the camcorder include built-in Wi-Fi.
This camera features lots of advanced shooting options.
For instance, there's a multipurpose ring to allow you to adjust the zoom, IRIS, focus, exposure, shutter speed, and so on.
The electrical viewfinder is also excellent for live preview.
The camera is neither bulky nor heavy.
In the last few years, various manufacturers have demonstrated an interest in releasing 4K camcorders. Sony, in particular, has been one of the companies that have unveiled more than just one 4K camcorder within that period. Later, in the following year, the manufacturer followed up its first 4K camcorder with a news release, this camera.
This new camcorder traded at half the price of the previous model. It seems like that price resonated well with consumers, for the latest sony Camcorder, the FDR-AX53, which was an improvement of its predecessor, went for the same price when it was released.
The newest 4K camcorder hit the stores in 2016, and with its many refinements, the product may soon be a good enough reason for consumers to ignore the FDR-AX33. One of the most striking improvements on the camera is the improved ZEISS Vario-Sonnar T lens. The new lens allows one to shoot videos at a 26.8mm wide-angle. Unlike in the FDR-AX33, the optical zoom of the FDR-AX53 has been doubled to an impressive 20X.
And there's the clear image zoom feature that allows the user an artificial boost of up to 30X for 4K and 40X for HD. Compared to the digital zoom, the clear image zoom looks quite awesome. The camcorder also features a more Exmor R CMOS sensor that now has 1.6X bigger pixels as compared to the previous model.
The result, of course, is much better performance in low light. And compared to the FDR-AX33, this camcorder autofocus is jaw-dropping 40 percent faster. And with this model, you need not worry too much about vibrations, thanks to the 5-axis Intelligent Active mode on the camera's Balanced Optical Steady Shot (BOSS) image stabilizer.
The only problem, of course, is that this mode does not work on the 4K video. Thanks to the several shooting modes that have been added to the Sony FDR-AX53, it is now possible to capture 4K time-lapses, a nicety that was sorely lacking in some previous models.
What's more, people can record 120/100fps slow-motion video in HD. The sound performance is better too, with the inbuilt 5.1 channel microphone featuring a new structural design. And while the mainstream non-4K Sony cameras lack an electronic viewfinder, the FDR-AX53 features one.
---
Things to Consider Before Buying A Video Camera for Movie Making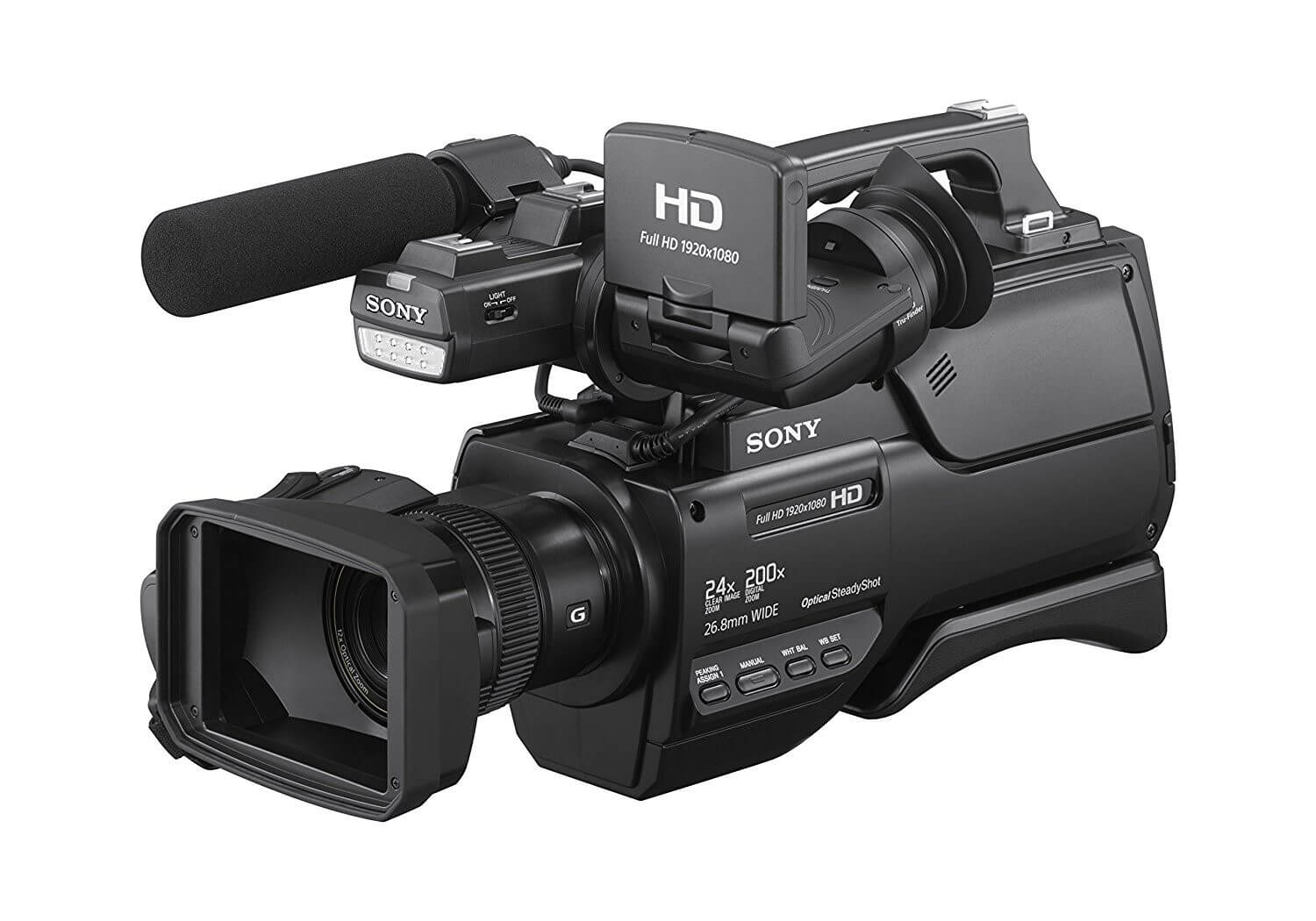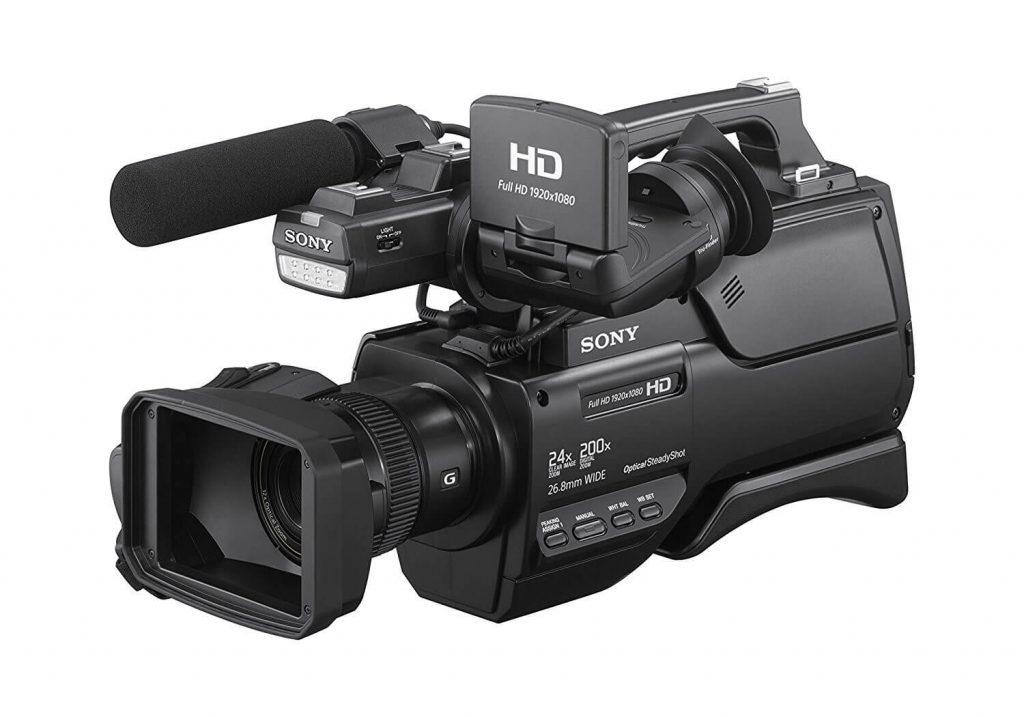 When picking a camcorder, it's essential to realize to have a budget. As you draw a budget, it's important to have an idea of how much a decent camera goes for at the moment. Of course, a camcorder's features will determine how much the camera costs.
Zoom capabilities
The zoom capability of a camera does affect its performance significantly. Some decent camcorders have a 10X optical zoom. However, many improved models have a 20X optical zoom lens. These are better as they have a higher zoom range. That said, it's smart to consider how flexible a camcorder is when it comes to operating the zoom function.
Some have a focus assist function to help the user zoom in and focus on images precisely. Some let you select the part of an image you want to zoom in on easily. Opt for a camcorder with both high optical zoom and which are easier to operate.
Connectivity
Fortunately, most camcorders have a connectivity feature. They can connect to your smartphone and other computers through Wi-Fi, allowing you to share footage and pictures from the camera to your other devices. If you want to transfer raw footage to someone else, you can do that via the cloud, or to any private server that uses FTP.
To add to that, the camcorder should be able to connect to any wireless hotspot, computer, wireless-enabled smart TV, smartphone, and so on. Simply download the app and use it to control the camera while shooting.
Quality
Some camcorders feature the advanced HD CMOS Pro image sensor, which makes each recording both sharp and highly detailed. You want a camcorder that has top-notch low-light performance too, one that will capture dim sessions without adversely affecting the camera's pixel resolution.
Check the low-luminance noise rating, so you never have issues capturing scenes in areas with poor lighting. Also, deserving recognition is the camcorder's image stabilization feature. The feature allows for better stabilization of the camera across all zoom levels. Again, it's always good to choose the 20X optical zoom HD video lens.
This feature helps the user sneak into greater detail from a long distance away, and when coupled with the image sensor and processor, it becomes possible to get some high-quality recordings.
Portability
A camcorder's portability will usually depend on, among other things, its weight and size. While most camcorders will not be small enough to fit in your pocket, they will usually have a handle that makes them much easier to handle and carry around.
Continuous shooting modes
The camcorder's continuous mode, also known as burst mode or sports mode, lets you capture several photos in quick succession. Some camcorders have a high fps, allowing you to capture many still images per second so you can choose the best. The processing power of the camera is the biggest determinant of the speed at which it captures successive photos.
Frequently Asked Questions (FAQs)
How do I pick the best?
In choosing the camera, I looked at some factors. First of all, I wanted a camera that was not too pricey. Seeing as I wasn't looking for a professional camcorder, my budget was about 1000 dollars. Fortunately, I found that most consumer dedicated camcorders went for a price in that region.
Secondly, I wanted a camcorder that would produce high-quality images and footage. While my first option was to get a 4K camcorder, I was open to getting a decent 1080p option. I also wanted a camera with a 20X optical zoom lens for higher-quality shots. Such features as compatibility came into play too as I wanted a camcorder that's easy to handle and move around with.
Is this for me?
What makes this camcorder ideal for you is that it can fit a wide array of occasions. For instance, budding filmmakers who are making simple stories that have few or no crew can make great 4K productions using this camcorder.
It's also the perfect piece for family use at home or during vacations. And for the traveling videographer who wants to make quality videos without needing to use professional cameras, this camera comes in handy. Educators will also find this camcorder useful for class settings as a teaching and learning tool.
Finally, social media enthusiasts who love producing typical everyday content can go for this camcorder too.
Why trust me?
Having worked with camcorders for many years and sampled different models of cameras over the years, I know a thing or two about the features that make for a good camera for shooting videos.
Indeed, I have tested different brands, shooting in a variety of environments to establish the quality of footage and images each camera offered. This is the reason you should take my recommendations seriously.
Conclusion
The camcorder market offers quite impressive options for enthusiasts, and with enough research, you should be able to get just what you are looking for. The cost of the camera is a factor when choosing a camera, but it should never be the top factor when you are selecting an item.
You'll be surprised how good some discounted cameras are when compared to their more expensive peers. Still, expect that professional camcorders will cost much higher than consumer-dedicated ones. Ultimately, look for features like zoom, image quality, and flexibility in operation as you pick a camera.
Related Posts:
Subscribe to the CameraIO Newsletter
Photography & Camera News + DEALS