Subscribe to the CameraIO Newsletter
Photography & Camera News + DEALS
Hunting may not be necessary today, but it remains an essential and priceless hobby or recreational activity for those who still engage in it. Some families have even developed traditions that have transcended generations that involve hunting together as a family, thereby sharing memorable moments with loved ones.
There are generally four types of cameras that would be used by an entry-level consumer. They are camcorders, action, DSLRs/Mirrorless, and phone cameras. All four can effectively do the job, but it would be best to note that DSLRs are less preferred due to their bulky nature, increasing the hunt's difficulty.
Best Cameras for Self Filming Hunts (Reviews)
Here are some of the best cameras for self-filming hunts you are likely to come across: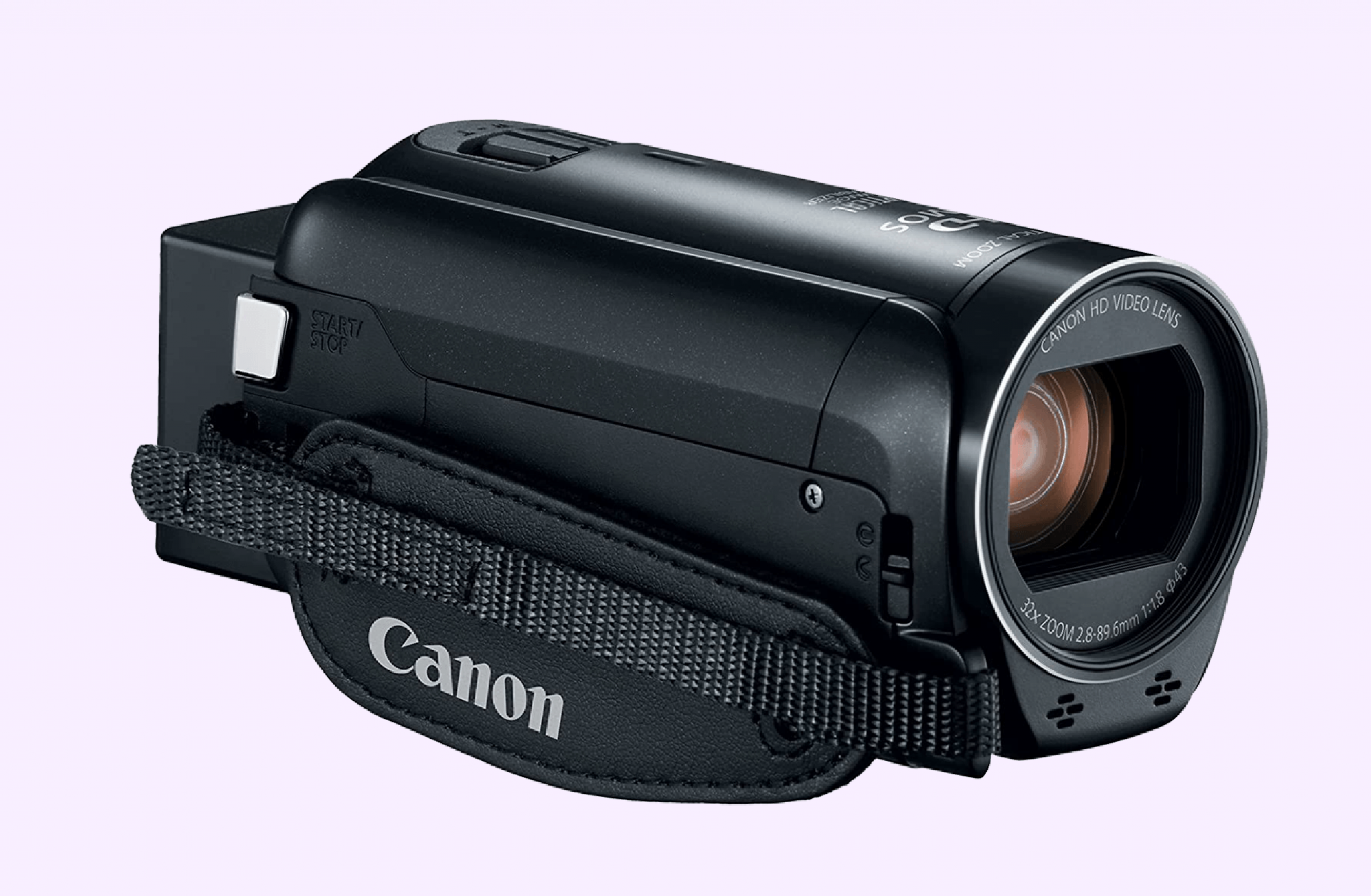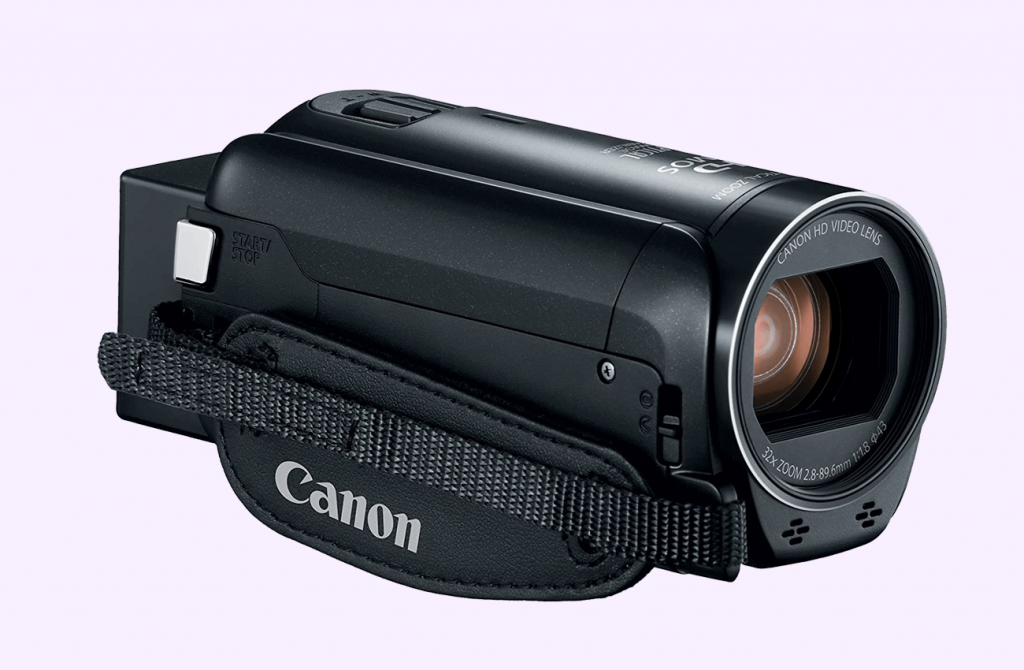 Best canon camera for self-filming hunts: Canon VIXIA HF R800
This camera enables you to effectively capture your hunting moments with ease. Courtesy of its powerful zoom, you can record moments that are near, far, and intermediate. It also has improved slow and fast recording options that allow you to experiment with different ways of recording your hunts. Since the camera is impressively lightweight, it gives you the luxury of keeping it on hand as you record and with that wherever you want.
This camera's versatility enables you to create H.D. videos quickly and easily. The camera's 57x zoom feature lets you enjoy optical image stabilization, reducing camera shake while bringing you up close to distant scenes. The onboard DIGIC DV 4image processor captures extra light and removes noise for enhanced images. It has a 3-inch color touch screen LCD that gives you a clear view of the action you're recording or reviewing.
The CMOS sensor offers stunning detail and clarity when it comes to videos and still images. The zoom lens that also has instant autofocus help to eliminate blurry photos. It has a photo mode that captures digital images that are still at 1920 x 1080 resolution. The device provides for high-speed video transfer as a result of the HDMI and USB interfaces. Another plus would be that its stereo audio signal provides a rich soundscape.
The advanced zoom that takes the camcorder's telephoto power from 32.5mm to 1853mm means outstanding shooting flexibility. The device offers continually variable zoom speed settings with 15 available levels, ensuring more convenient shooting and better creative control over your videos. The continuous adjustment throughout the zoom range allows for the Dynamic Image Stabilization system to stabilize rotational camera shake, ensuring smooth, virtual distortion-free videos. Clarity is brought to every frame with the on-chip noise reduction, which gives rich and incredibly detailed videos even in darkness.
The 3.0-inch capacitive touch panel LCD screen is bright and visible even in the outdoor sun, coupled with excellent natural color reproduction. You will be able to enjoy minimal or no distraction when taking videos as the 57x advanced zoom allows you to create videos with dynamic variety. The SuperRange Optical Image Stabilizer ensures that even handheld videos taken at long focal lengths are sharp and steady as it helps in correcting camera shake swiftly. It features a high-capacity battery pack BP-727 that enables you to shoot for more extended periods and catch all the action.
---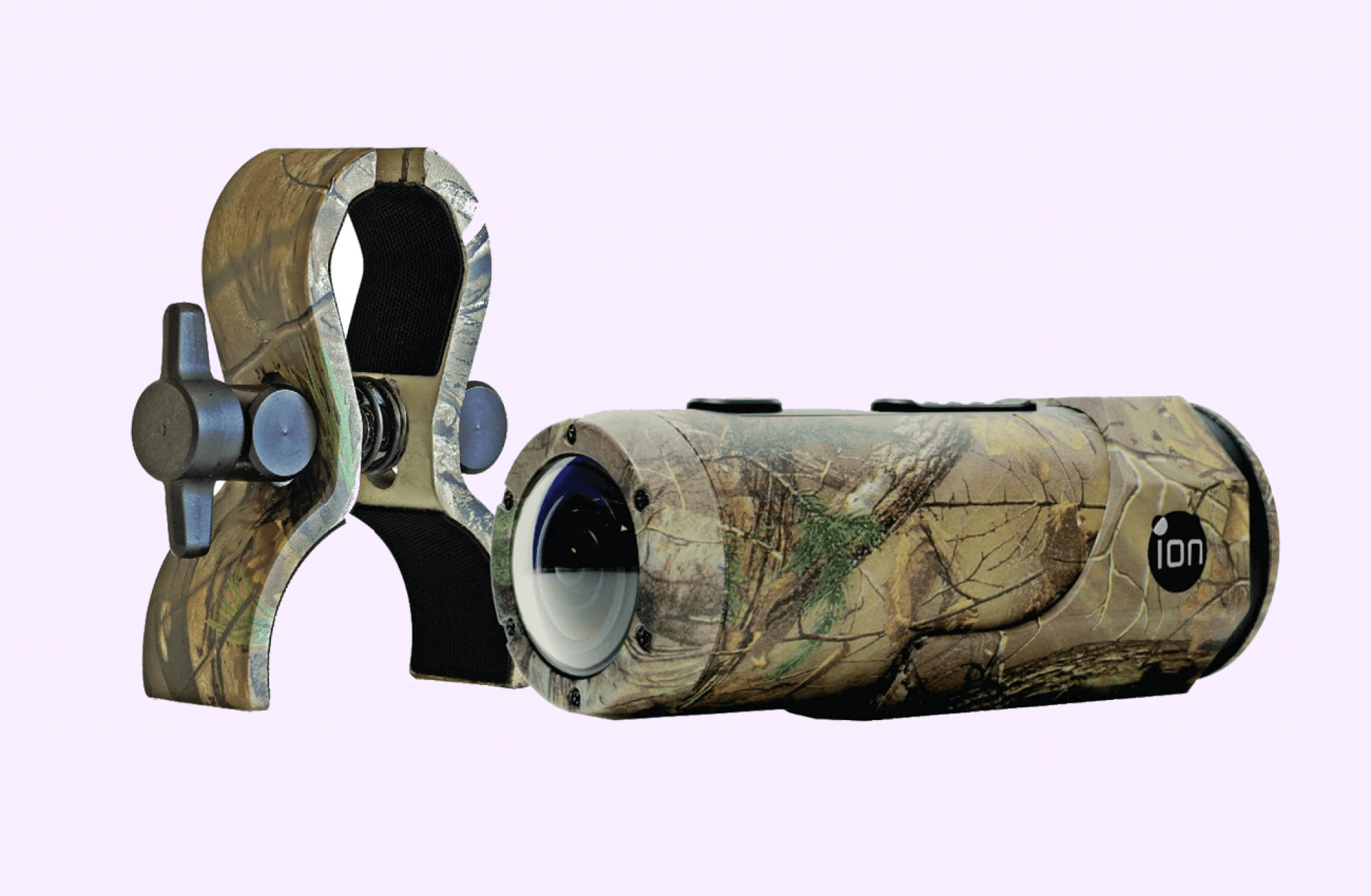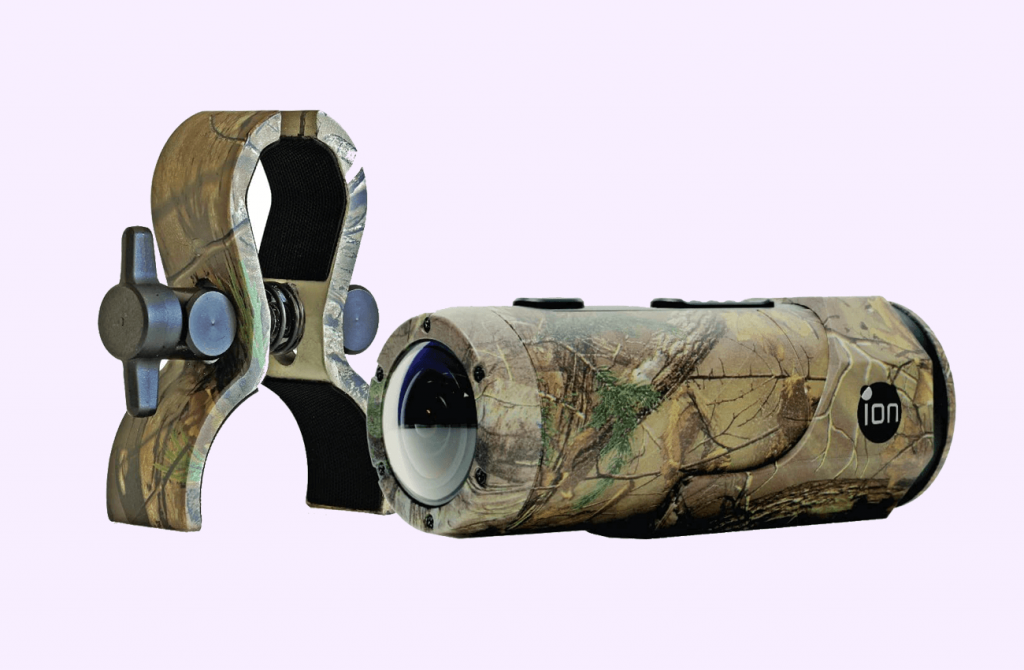 Best budget camera for self-filming hunts: iON CamoCam
The camera boasts an ultra-wide-angle lens and crystal-clear full HD at 1080p/30fps or 720p/60fps resolution. It also sports a bona fide Realtree camouflage pattern that enables you to stay hidden and blend in for the perfect shot. This camouflage also resists heat and corrosion and won't blemish your finish. Additionally, its package is inclusive of an aluminum sports mount and is also waterproof and shockproof even against shotgun recoil. It is also very user-friendly as its one-touch silent recording capability enables you to operate it using just one finger, ensuring none of the action escapes your attention. In the end, it delivers a great sportsman experience as it goes the extra mile to complement your outdoor mojo and improve your experience.
This camera brings out a unique and kind experience first due to its Realtree Xtra camouflage, which ensures it blends in with the outdoor environment. It also boasts a 14MP still image sensor for clear and vivid visuals. Given that it features a waterproof finish eases you from the burden of using casings as well as increasing the scope of your hunting grounds.
You will enjoy a non-disruptive experience courtesy of the long battery life of 2.5 hours of continuous recording. It boasts 10 G.B. of cloud space where you can save and store your content safely. This also means you can access your content anytime and from wherever you are, mobile or not. Its ultra-wide lenses ensure you can get a super-wide field of view and, in turn, capture lots of content.
This camera is waterproof to depths of 10metres (32ft), which allows you to operate it in extreme outdoor conditions. It can capture a full 1080p H.D. video at 30fps, ensuring you get very quality videos and images. It has the Wi-Fi PODZ, which allows you to connect the camera to your phone devices through the free iON app. This will enable you to send content from your library directly to social media sites. You can enjoy free cloud storage worth 10 G.B., accessible whenever you want and wherever you are.
It has a 14 Megapixel CMOS sensor that enables you to get quality 14MP images. The images are either single, burst-shot, or timelapse images as supported by the camera. It offers relatively superior audio sound quality with a built-in microphone that allows for A.A.C. compression and auto gain control. Advanced Audio Coding(A.A.C.) manages to achieve higher sound quality than mp3 at the same bit rate and takes up way less storage space.
Given that it is Wi-Fi enabled, it facilitates remote use, and it can be mounted elsewhere but controlled by your smartphone or tablet. The mount, which also allows you to mount the camera on the rifle barrel, bow, fishing net, or rod, means it is less bulky, and it also eliminates the need for a second person to deal with filming. Perhaps the most outstanding feature would be the camouflage, which allows you to stay hidden and gives the perfect disguise for efficient game hunting.
---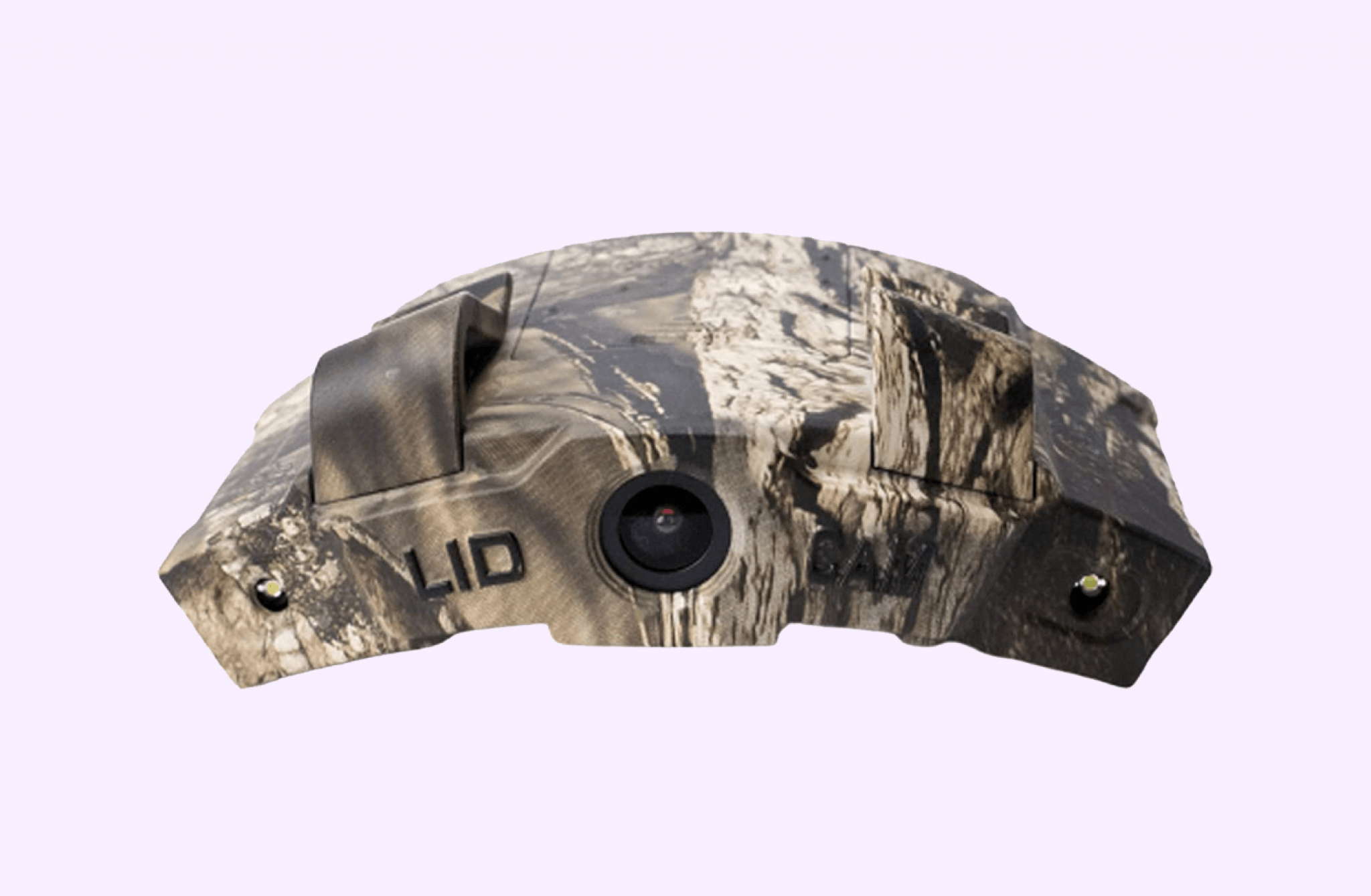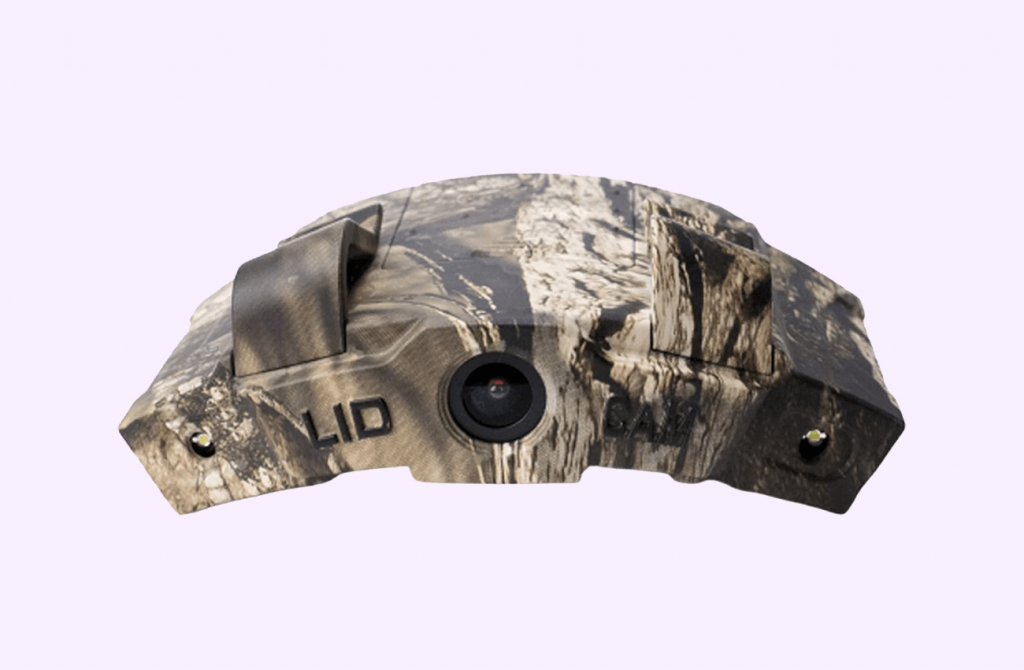 Best affordable camera for self-filming hunts: LiDCAM
This camera is ideal for hunting, fishing, and any outdoor activity that requires shooting quality images and videos. The LIDCAM features some advancements and improvements to make sure you get your perfect shot every time. It is lightweight, allowing ease in portability and WIFI connectivity, allowing you to control using your smartphone.
This camera has a wide-angle full definition lens of a 1080p resolution for capturing an entire field of vision. It also features WIFI connectivity, which enables you to control your camera and review the shots taken from your smartphone's comfort. The LIDCAM features dual L.E.D. Lights help in navigation through challenging outdoor terrains. This camera also features a removable and rechargeable Lithium-Ion battery, a USB cable, and a wall charger. It is printed in Mossy Oak camouflage and has an image stabilizer for capturing clear and sharp shots.
This camera makes outdoor activities fun because it's easy and fun to record your adventures and hunts, even as an amateur videographer. It is light in weight, which makes it ideal for travelers and hunters on hunting trips, and with its 120-degree field of view, you don't have to make adjustments to the lens by hand.
This camera has a wide-angle eyesight lens for capturing great shots, and it films full 1080p high definition videos with full audio. It is ideal for capturing the whole field of view, and its Wi-Fi connectivity is an important feature for control. This camera is suitable for hunters and enthusiasts of the outdoors who enjoy recording their own experiences and preserving memories.
In addition to the great features and improvements of the LIDCAM, it has an optional 12mp photo mode for capturing even better, more precise shots. This camera weighs less than 4 ounces, making it the ideal tool for hunters, travelers, and even a gift to outdoor enthusiasts.
---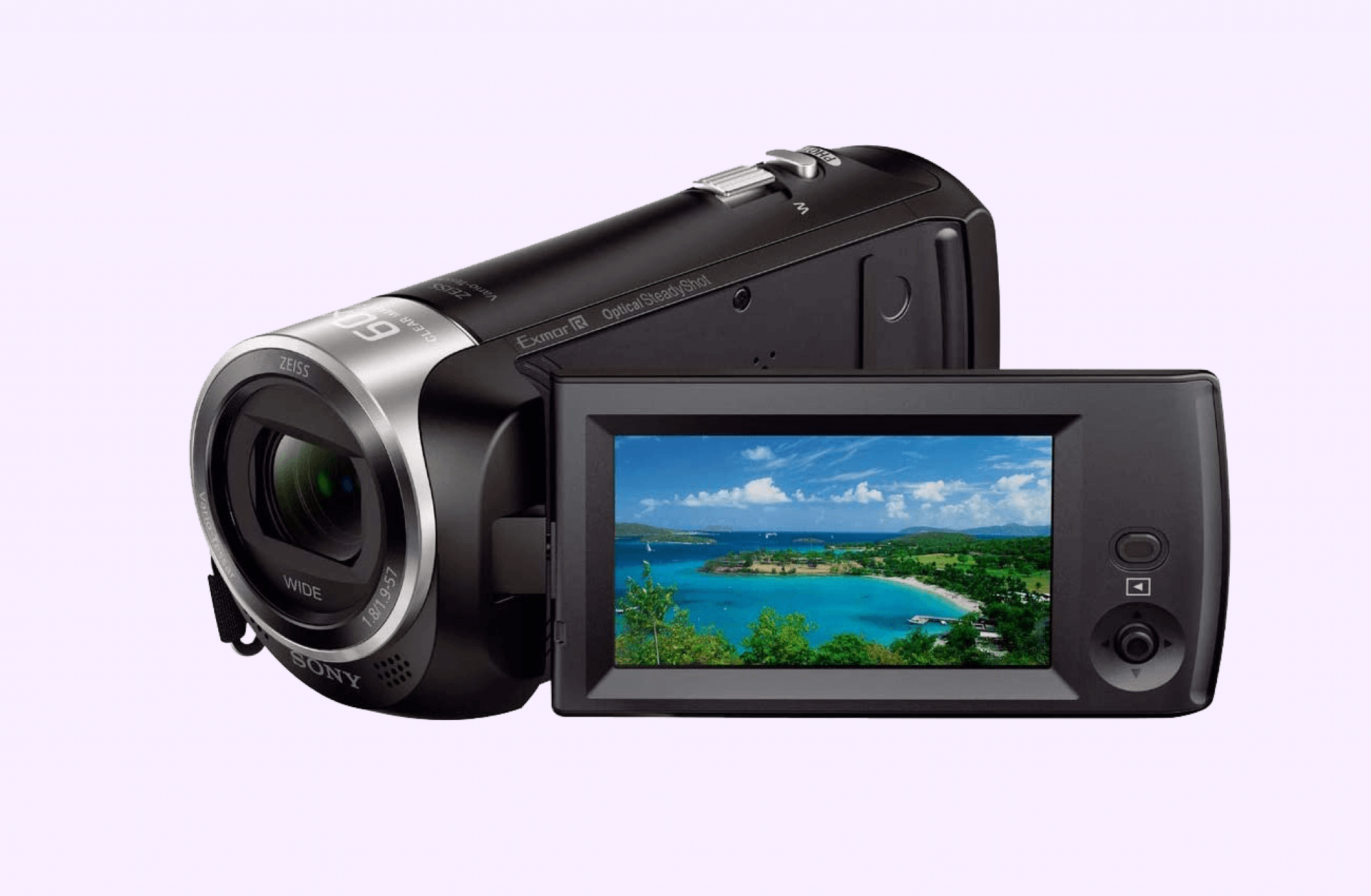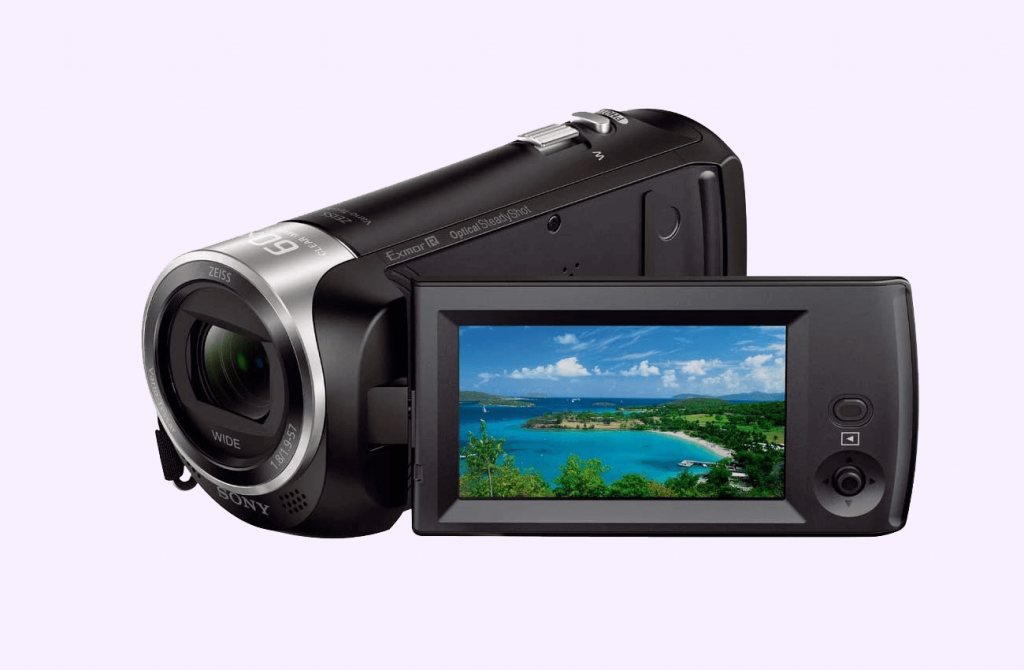 Best sony camera for self-filming hunts: Sony HDR CX405
This is the perfect camera to capture brilliant footage in low light and control. It is an ideal starter camera for photographers as it guarantees the shooting of steady shots with good image stabilization using clear zoom. This camera captures terrific and quality footage even in low-light settings and control.
This camera features a 27x zoom and a wide-angle Carl Zeiss lens, enabling you to get closer to the action, capturing clear footage. It has Steady Shot image stabilization and an illuminated Exmor R CMOS sensor to create high-definition videos and still images. Besides, this camera has a 54x Clear Image digital zoom, which is a powerful processor resulting in more precise, more realistic, and high-quality shots. It has a built-in cable, which ensures easy transfer and sharing of files and charging. This camera features Sony's voice enhancement and face detection, which allows you to adjust flash, exposure, white balance, and focus for the delivery of crisp and adequately lit images.
This camera allows you to enjoy exceptional low-light sensitivity and improved image clarity. Its Exmor R CMOS sensor ensures minimal grain in images and maximizes the light-gathering areas for better and clearer shots. The 2.7-inch Clear Photo LCD ensures the composure of sharp, vivid, and bright images in any scene.
The camera's built-in USB cable can be connected to the computer for file transfer or charging, and as it fits conveniently in the hand strap, it's a convenient choice. It has picture effects, with an AVCHD and MP4 dual recording, suitable for capturing precious and special memories. The camera has an Intelligent Auto mode, which allows you to select the most appropriate settings from various distinct scene modes.
This camera allows capturing shots in distinct modes and 60 different combinations such as Backlight, Landscape, Portrait, Macro, Lowlight, Spotlight, Baby, and Tripod. The picture effects add a new expression level for videos and images, making ordinary portraits and landscapes make your focal point outstanding. Its steady Shot Image Stabilization technology allows you to capture blur-free. Also, it has a built-in 3-way canceling feature for frustration-free and shake-free videos.
---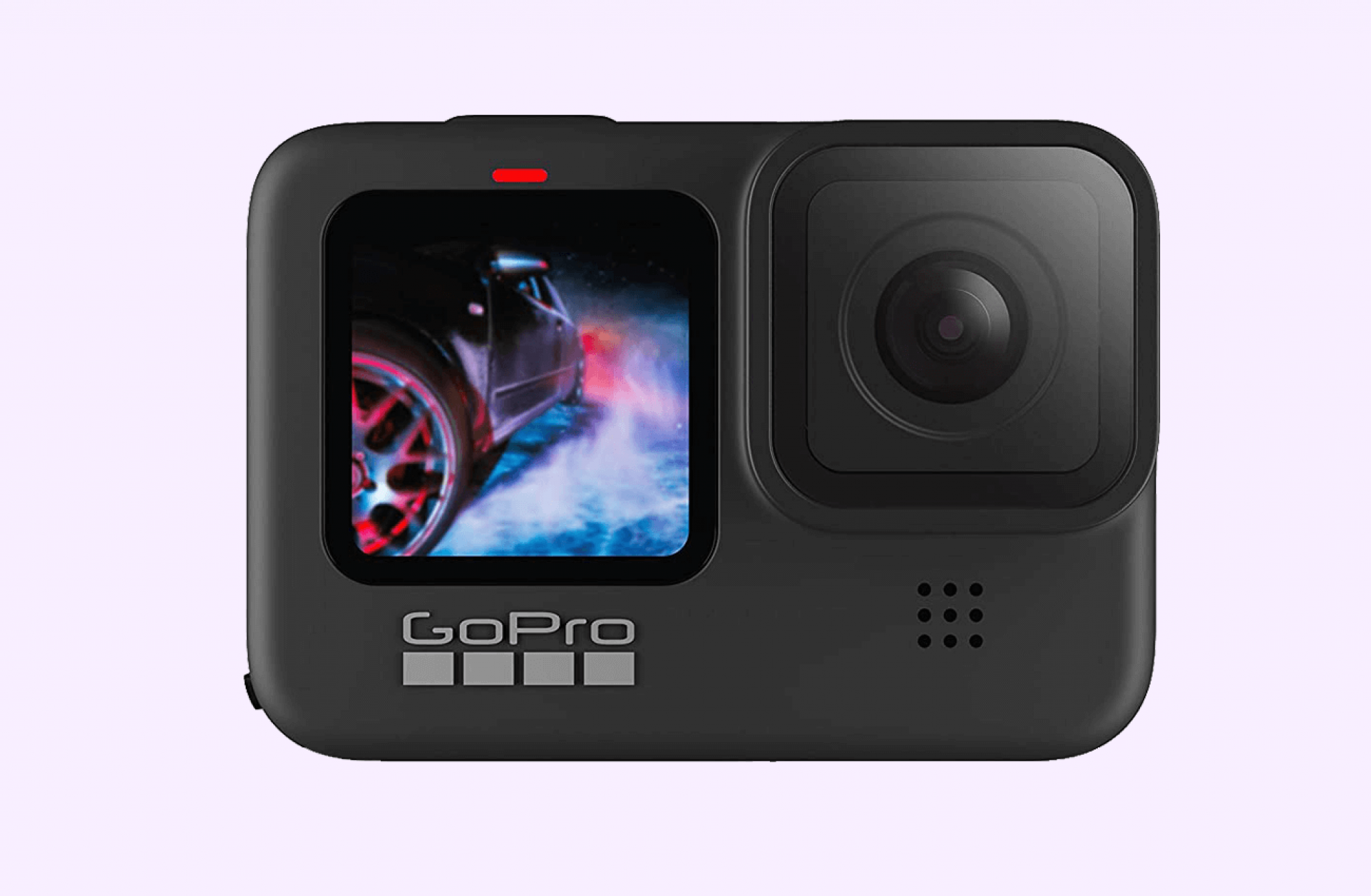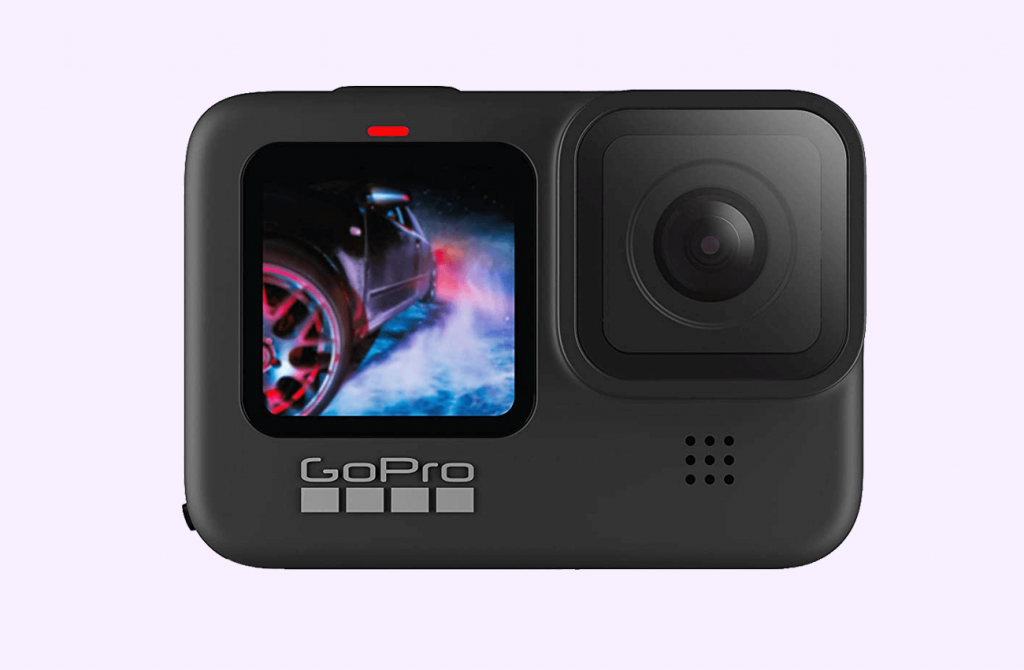 Best action camera for self-filming hunts: GoPro Hero 9
This is the ideal camera for you if you want more power, clarity, and stability during your self-filming hunts. It has a dazzling front display for delivery of live previews to aid in framing and a large rear touch screen for fast and intuitive control.
This camera features a 23.6MP sensor, which allows the recording of 5K video and brilliant 20MP images. Hero 9 features Hindsight, a powerful feature suite, and it also supports Webcam mode and live-streaming. The HyperSmooth 3.0, a built-in mounting, and other features make this camera tough, and waterproof too. This tool's available mods are inclusive of Light Mod, Display Mod, ultra-wide Max Lens Mod, and Media Mod, all of which aid in the expansion of your creative options.
This camera allows the shooting of stunning videos of 5K resolution. The results are in detail even when the subject is zoomed in. it has a new 23.6 MP sensor, which is a complete powerhouse for the delivery of sharp and impressive images and videos. It features Super photo, which allows capturing crisp and pro-quality images with a clarity of 20 M.P.
It has a new and larger rear touch screen with a touch zoom function and a dazzling new front display, which makes framing easy and aids in intuitive control of the camera. This camera allows live streaming in 080p, and with its HyperSmooth stabilization and the help of GoPro Mounts, this camera creates your ideal webcam setting.
This camera has HyperSmooth 3.0, an advanced video stabilization that allows you to experience ultimate smoothness in your photography. This feature aids in in-camera horizon leveling. You can also record time-lapse scenes as you move using the TimeWarp feature, which condenses time to capture specific moments.
---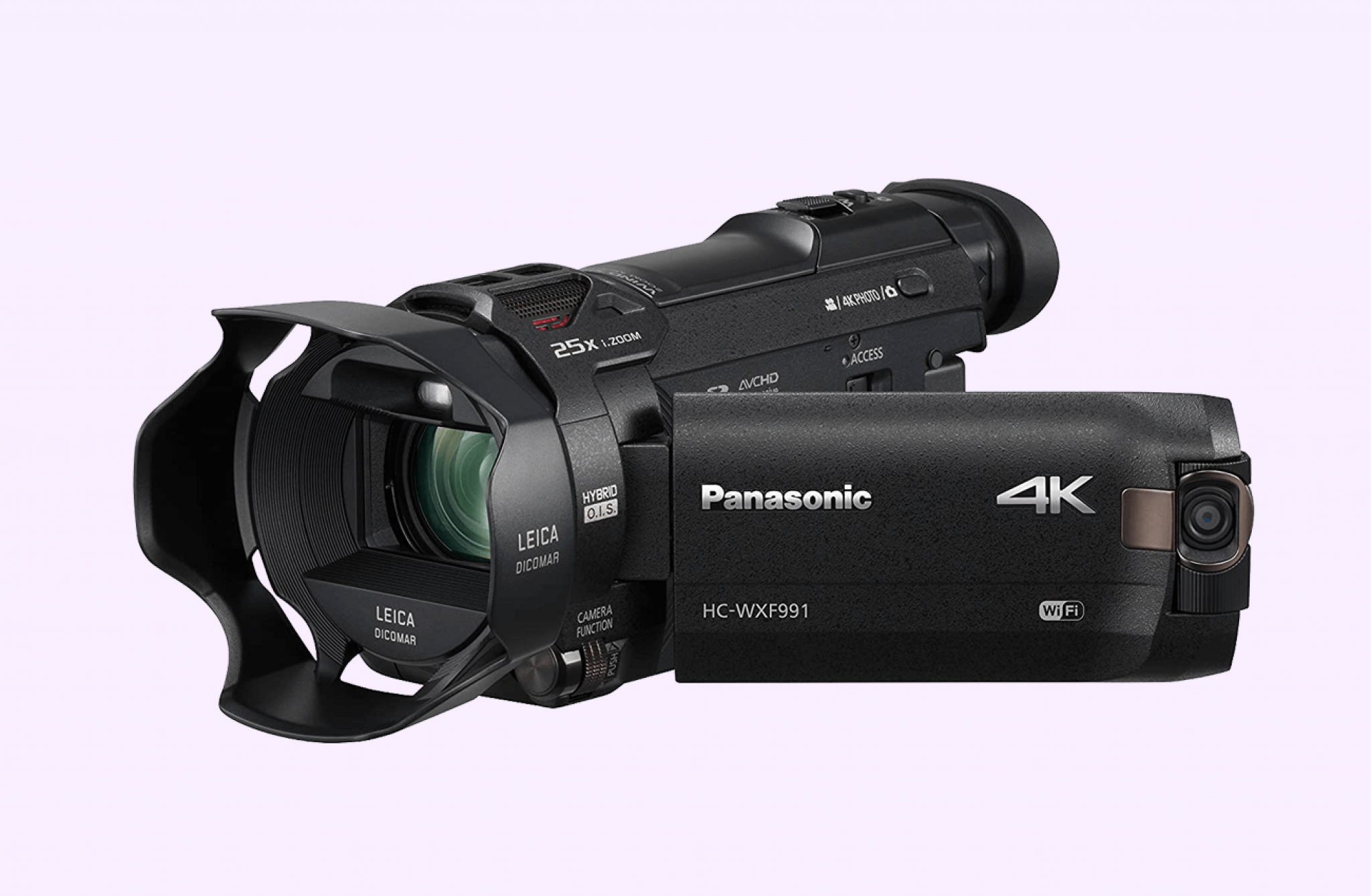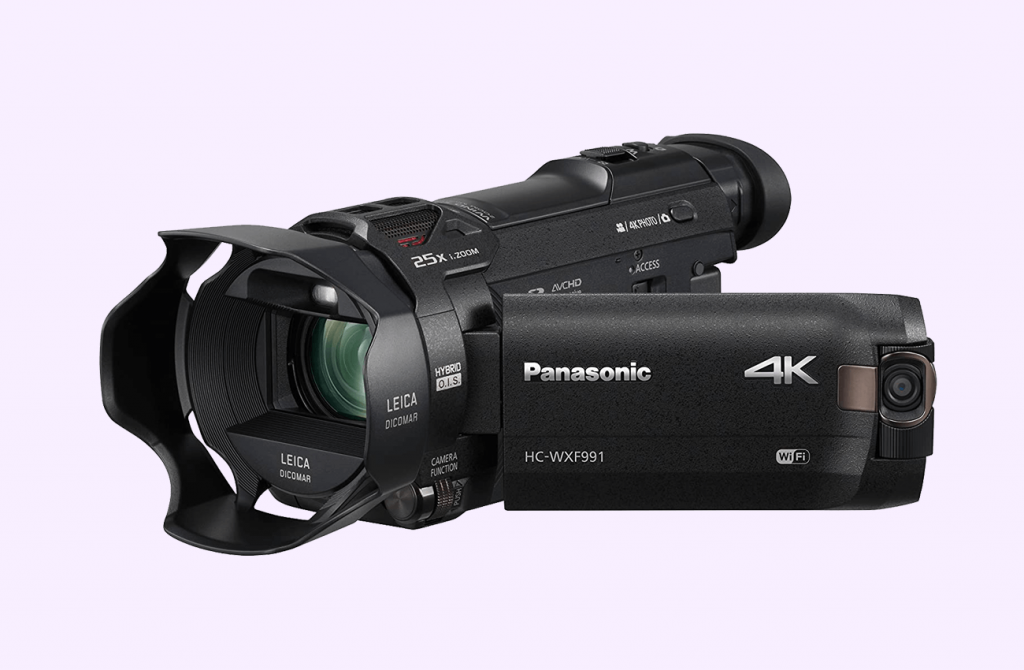 Best value camera for self-filming hunts: Panasonic HC-WXF991K
This camera is a great option for handheld 4K video captures. It has a built-in camera that allows you to enjoy multi-camera scene picture-in-picture recording for brilliant images and videos. It has high quality and core technologies, which help in its function and efficiency.
This camera features an Exclusive High Dynamic Range mode (HDR), which minimizes the effects of underexposed and overexpose shooting conditions. It has an Electric ViewFinder (EVF), which offers you an almost professional shooting and recording experience. This camera features a level shoot function, which helps in automatic detection and correction of camera tilting, but this feature is not available with the 4K mode. It has a dedicated HDR button, which allows you to quickly change between modes. The High Dynamic Range allows the combination of two images with different exposures to eliminate blocked shadows and blown highlights.
It has a LEICA Dicomar lens and an advanced B.S.I. Sensor supported by a 4K Crystal Engine. This camera allows suppression of distortion for an accurate rendering of the field of view. This camera has built-in Wi-Fi links, which allows up to three smartphone cameras to record picture-in-picture from different angles.
This camera makes it possible to shoot in settings with too much or too little light exposure with quality and brilliant image and video quality. It allows smooth zooming, so you can easily zoom in on objects and subjects without adjusting your camera angle. Its 4K post-editing allows for easy tracking of the subject, so he automatically stays inside the cropped area.
This camera has a convenient stabilizer, which allows auto adjustment and compensation for image shaking and blur. You can record in 4K, which allows you to pause and extract the precise moments from 4k Video frames into still images with good quality. It has a port for an external microphone and an external hot shoe for lighting.
This camera guarantees you clear and blur-free results, with a HYBRID O.I.S. and a 5-axis correction, which greatly suppresses the blurring caused by unwanted camera handheld shaking. If you want to record and capture like a professional, this is the ideal camera featuring multiple in-camera cinema editing and creative solutions. This camera is suitable for multi-camera pic-in-pic recording using the extra built-in camera. This camera allows a Wi-Fi link to a smartphone's camera for better and more creative opportunities.
---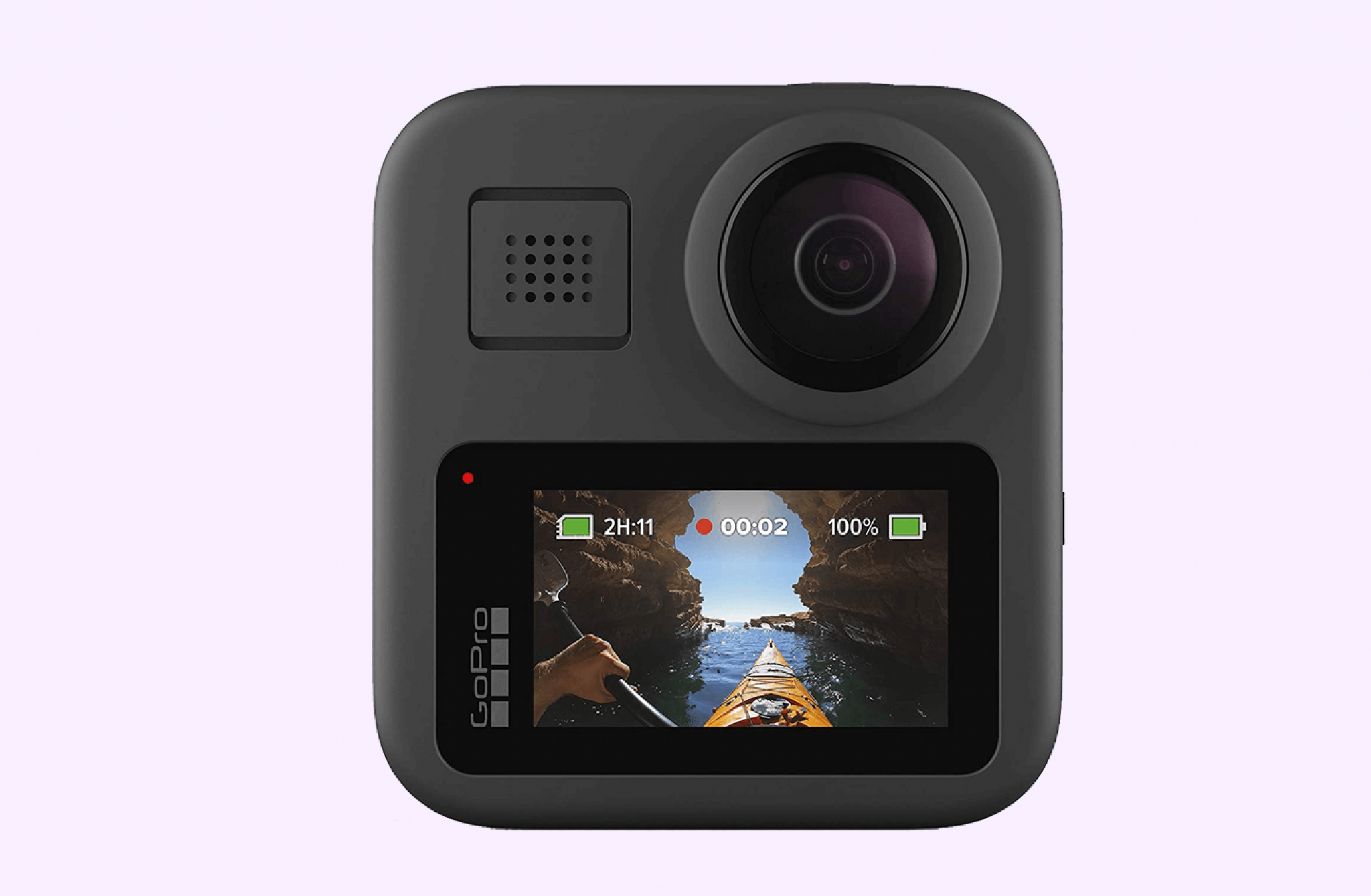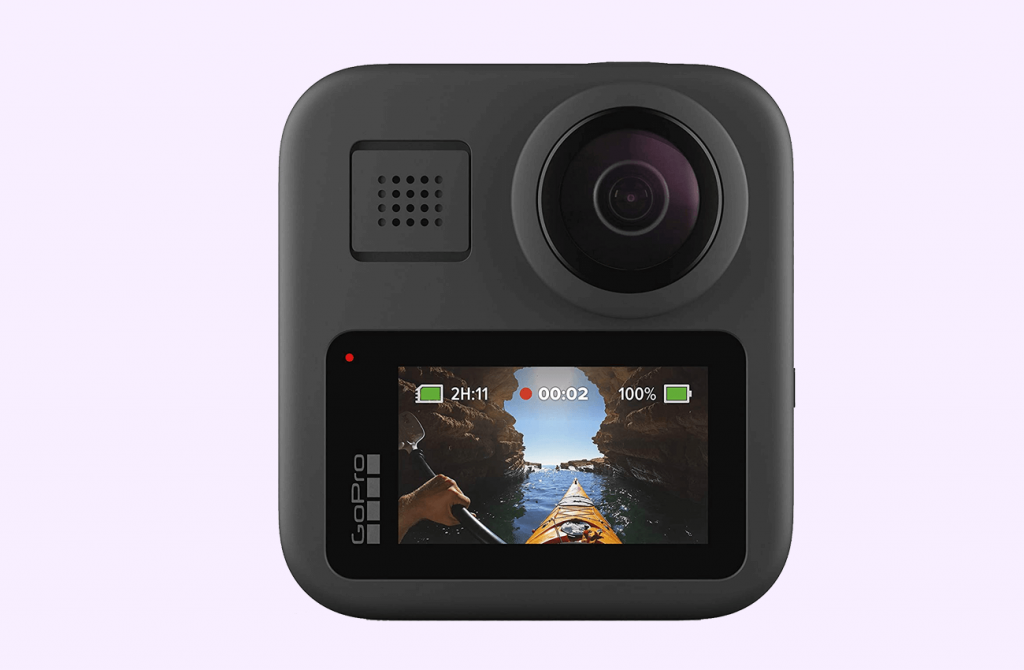 Perfect action camera for self-filming hunts: GoPro Max
The GoPro Max is a replacement for the GoPro Fusion, the first-generation 360 camera from GoPro. It is three cameras in one, which allows capturing of panoramic shots without much struggle. It allows you to maximize your freedom of creativity, so you can shoot traditional hero-style images and videos, or even immersive 360 footage.
This camera features max HyperSmooth, which allows you firm stabilization using 1800 capture. It has four digital lenses to choose from, and they come in hero mode for the perfect shot, so you can capture photos and videos in Linear, Wide, Narrow, and Max SuperView, so you can capture through an activity. It has a Go-Pro built tough, and as it is waterproof, it can be used in rough terrains and tough weather conditions. It features three GoPro Max-specific modes, the Max TimeWarp, Max SuperView, and PowerPano, which use both lenses to capture extra-wide and panoramic views. It is a basic miniature version of the GoPro Fusion, with two cameras on either side of the camera's body.
This camera allows you to capture super stabilized time-lapse videos, and in hero mode, you can automatically adjust speed depending on lighting, speed, and scene detection. With the Max TimeWarp, you can slow down the effect to real-time, which allows you to enjoy and savor moments as they pass. You can then tap to speed it back up to when you want. This camera produces clear photos, and it offers Max HyperSmooth, which is regarded as the most stable form of stabilizing videos.
The Max TimeWarp feature guarantees a time-lapse video. It is one of the most versatile tools for videography to date. This camera features a dual camera set-up with footage possibilities of up to 360 degrees, and it is as easy to use as it is to edit the footage after shooting. It is squatter, thus shorter compared to other cameras, which makes it ideal and more ergonomic for use as an action camera.
This camera has a rubberized body and a lens on either side, or it features more than six microphones that are dotted across the camera's boy. It also has a touch-sensitive LCD, which is very responsive and bright enough for outdoor and indoor use. This camera has a toughened build, which makes it ideal for action-ready recording and capturing.
---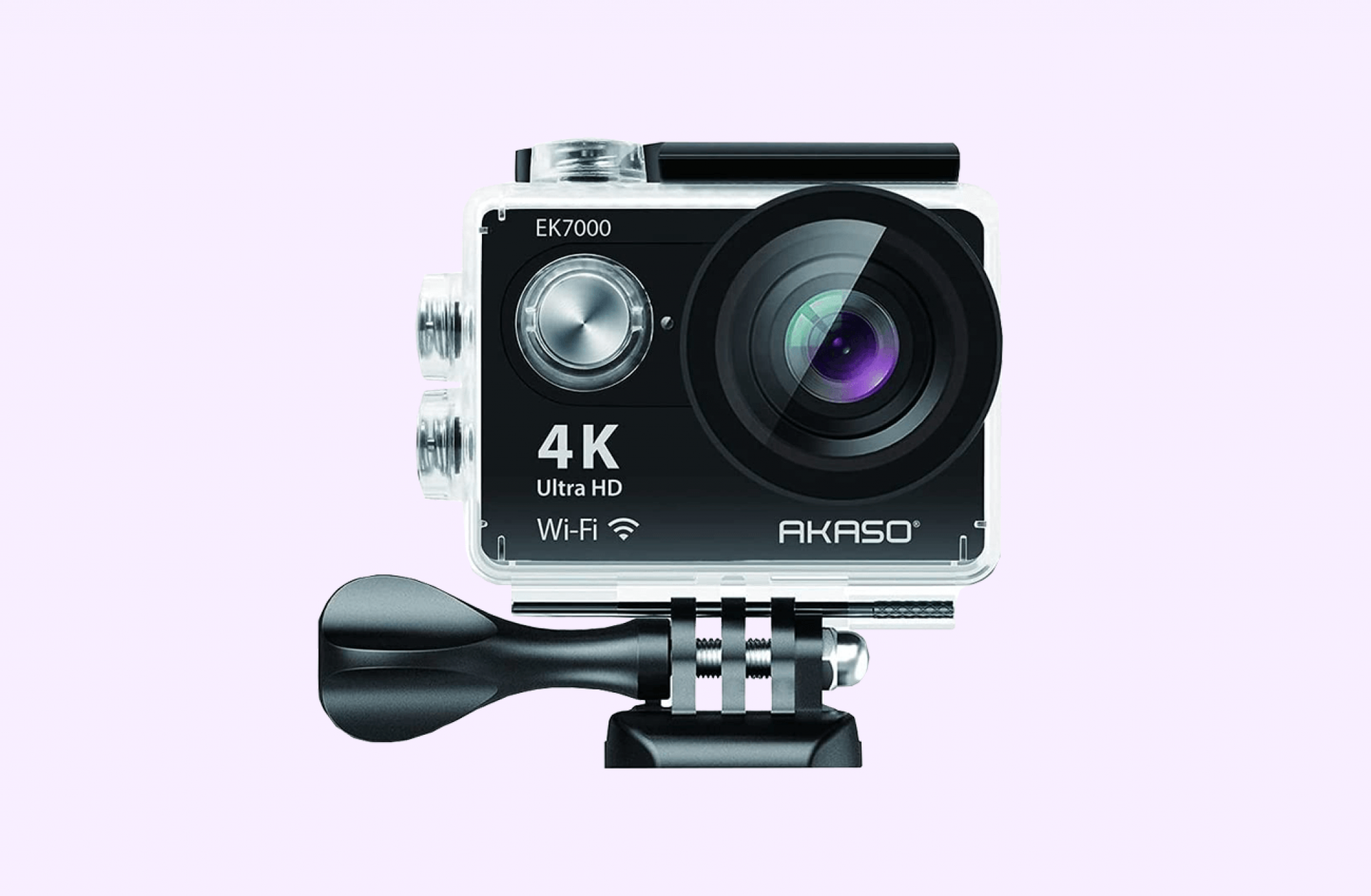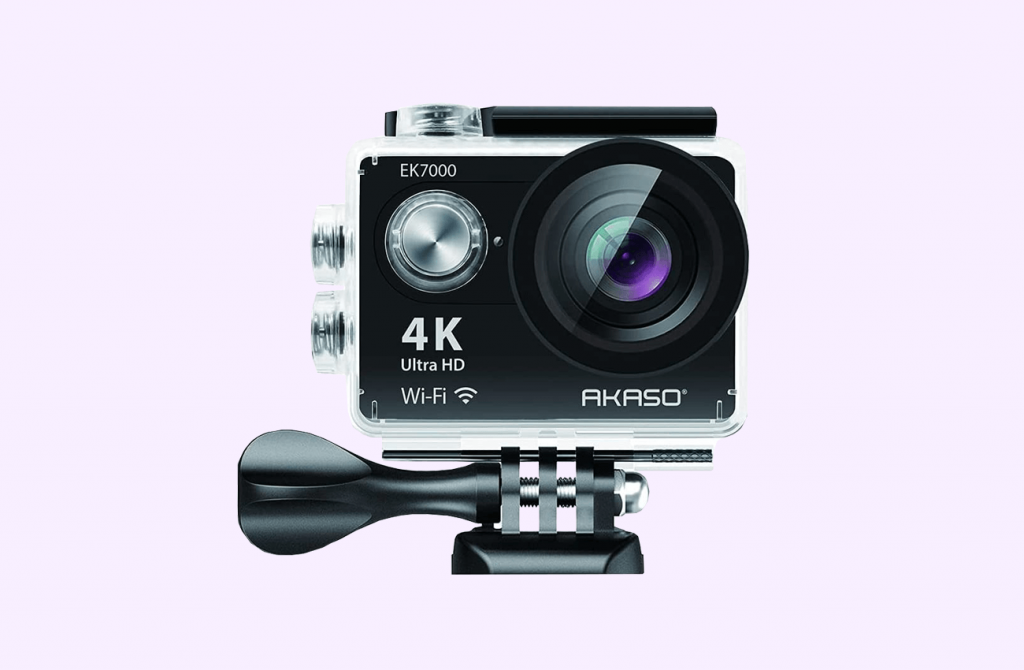 Best cheap camera for self-filming hunts: AKASO EK7000
This AKASO action camera is considered one of the most budget cameras, which has resulted in its rising popularity among users. This camera is extremely affordable, and it is inclusive of most features found in more expensive devices. It is very versatile but compact, and it allows capturing of professional and brilliant video quality.
It features ultra H.D. 4K video recording, which allows capturing of stunning images and videos with sharpness and clarity. This camera comes with a splashproof remote, which allows control of the camera at a distance. It also permits switching between photo and video modes with ease by simply pressing a button on the remote. It has built-in Wi-Fi, which allows sharing of files and connectivity with your smartphone. This camera features a rectangular shape, and it is small and lightweight, making it an ideal action camera. It comes inclusive of such accessories as multiple mounts to make it easy to mount on your gun and bow.
It offers great convenience and even greater convenience to sharing on social media platforms. This underwater camera s inclusive of a waterproof case that allows you to dive and record underwater. It is a multi-function action camera that offers different varieties of shooting modes such as time-lapse, loop recording, and burst photo. It is Wi-Fi enabled, which allows connectivity to your tablet or smartphone, and a Wi-Fi app that allows previewing and offloading your footage with convenience. This camera is suitable for underwater activities, and it comes with a waterproof case.
This camera is suitable for such outdoor activities as swimming, drifting, diving, water-skiing, and surfing. It's 170-degree wide-angle allows capturing of a wider angle of view than most cameras with the same specs. This camera allows capturing of a more expansive field of view due to its viewing angle. It is one of the best budget cameras for capturing videos and still images when hunting to help you look back on your adventure with clarity.
The Akaso ek7000 can be mounted at whichever location you choose using included accessories. It can shoot images of up to 12 M.P. with a 16:9 aspect ratio for video recording. It is easy to control this camera, even from a distance using a remote control, making it easier to set the perfect angle of view and capture without camera shake. You can easily mount this camera on your bike, head, chest, or wherever you want using the accessories included.
---
Things to Consider Before Buying (Buyers Guide)
Despite the apparent aesthetic effect that comes with filming, it is also quite tedious. Hunting and filming require knowledge of the right equipment and camera gear to invest in to ensure the production of quality images and videos with clarity. If you lack in this department, there are some tips to ensure you get the right camera and gear for your self-filming hunts. Different people have different motivations to go hunting, depending on which you can select your preferred category of camera.
There are four different types of cameras used to capture hunting: phone cameras, action cameras, DSLR or mirrorless cameras, and point and shoot cameras. These cameras are used in capturing different aspects of your hunting experience. Hunting acts as both a sport and a survival technique, and recording hunts is done differently than capturing regular videos.
If you are going hunting by yourself, you will require a camera that does most of the work so that you can capture shots and videos with clarity. A good camera for self-filming hunts should be lightweight and able to sense motion. Action cameras and camcorders are the best for this purpose as they are portable, sturdy, and even lightweight. They also have the upper hand in focusing abilities, and their lack of additional lenses ensures there isn't a distraction from the prey when zooming and focusing.
You can use accessories such as mounts, camouflage skins, tripods, and microphones to ease your hunt by stabilization of the video. The mounts ensure you can safely put your camera in such places as your car, helmet, chest, wrist, or gun and bow, and the microphones are for recording better and quality sound.
Frequently Asked Questions: (FAQs)
How do you set up a hunting camera?
Whether you are an outdoor enthusiast, a hunter, or you simply want to keep tabs on animals and people, you need to set your camera right to get amazing footage. You need to determine the best location for setting up based on what you intend to capture on film. You should ensure that the batteries are charged and its SD is installed. It's important to confirm that the trigger frequency, speed, flash, and timer settings are configured to your preference. Then mount your camera securely so that you have a clear shot of the field of vision as desired.
How high should a trail camera be off the ground?
For perfect shots, a trail camera should be mounted at the same level as the target's chest or subject. If you are capturing a large game, nits advisable to mount the camera approximately 3″ off the ground. Take into account the angle of the land in front of your camera. It's advisable to clear any debris that can diminish results and target an area of approximately 25-35 feet in front. If there's a need to mount the camera high, ensure that the camera aims down to where you expect the subject to be, but remember that this diminishes the detection range.
Where is the best place to put a trail camera?
There are different places and locations where you can place a trail camera, depending on the season and what you're shooting. Some of the best places to set up a trail camera are on the downwind side of water sources, bedding areas, and pinch points. These places can be near a tree stand location, in wallows, in feeding areas, and on game trails. It is advisable to place your trail camera as early as possible so that you don't risk missing an early glimpse of the game due to the wrong location setting.
What is the P.I.R. setting on the trail camera?
P.I.R. refers to passive infrared, and cameras that have a large P.I.R. Angle means that they easily detect movement, and since they do it fast, they have higher chances of a perfect shot. P.I.R. Angle is the extent or degree to which a camera senses any movement, which allows you to capture subjects in the frame's center rather than the edges like the cameras with lower qualities do.
Conclusion
Self-filming hunts are a good way of making outdoor activities more interesting and wholesome. But how is it beneficial? It enables you to relive the experience repeatedly and allows you to share the story with others. You would also learn more about the prey and its behaviors, including observation, thus improving your hunting skills. As it would mostly include a separate cameraman, these hunting trips help in bonding between the hunting partners.
Related Posts:
Subscribe to the CameraIO Newsletter
Photography & Camera News + DEALS